Posts Tagged 'International Solidarity'
Sunday, August 25th, 2013
Civilization is not established by itself but by the people who support it. People who turned themselves into one of the poles of the civilization. Humans are the ones who gave birth to civilization. It also means that no one is innocent or not guilty in this present life. Every one plays their part in supporting the sustainability of civilization. So, every part of work, values, property, actions and every one who enjoy the benefits from civilization are enemies for us.
How it can be?
Humans are the creators for what is so-called: Culture. Culture is the direct mirror of civilization. Culture is but one of the brainwashing processes to make one bow and degrade the wild desires. Culture is not only a batch of values but tools of repression and hegemony. And two forms of among many culture's faces is school and arts.
It lead us to send our fire to the Arts Institute of Jakarta located in Cikini, on 20th August. We brought our hatred to the heart of the hangout place of artists who are only puppets of civilization. We put an incendiary device in an empty room of the third floor in the afternoon. We did our action directly in the face of a group of artists who are the self-considered "avant-garde" and who felt that they were revolutionaries. We set the fire to laugh at their passivity which is nothing but another gesture that supports the civilization to keep running.
Arts Institute of Jakarta for a long time are filled with illusions. This place breed individuals who play a main role in creating a "counter-culture" which is only another culture, rather than to discover and attack the whole picture of culture: Civilization. They produce songs, paintings, buildings, poems, and different forms of arts to help civilization stick its nails of domination.
Our only regret is how the fire does not accomplish itself to burn down the whole building because of another of civilization's helpers: the firefighters, who came in less than one hour to extinguish fires. But it's not the end or our last action. We will hit you again.

ELF-Indonesian Fraction
PS: We send our greetings to the FAI / Friends of Earth in Argentina who burned down hundreds of cars and comrades of ELF-Russia. Also to the revolutionary prisoners around the world.
mass media link:
http://news.detik.com/read/2013/08/20/184808/2335547/10/gedung-kampus-ikj-cikini-terbakar
http://news.detik.com/read/2013/08/20/193158/2335586/10/api-yang-membakar-gedung-kampus-ikj-berhasil-dipadamkan
Tags: Arson, Earth Liberation Front, ELF- Indonesian Fraction, Indonesia, International Solidarity, Jakarta, Sabotage
Posted in Direct Action
Saturday, July 27th, 2013
More FOTOs from action: http://grecjawogniu.info/?p=15905

Our shoes are worn out from all the boring peace walks we have joined. Not only have we noticed holes on the shoe soles, but we have also realised that we are stuck in one place and our inner ferocity is now lulled into gentleness. Demonstrations are not a good outlet for our anger, which cannot be satisfied with mere tramping the streets, all under the watchful eye of the police. Thus, we feel forced to seek new paths of action.
This is why, on the 1st of May we went for a walk without informing the authorities. We took with us a few litres of paint and made a resolution that we need to do something for our comrades. We painted windows of two banks located in two different parts of the city. Their owners should know that not every potential visitor will have peaceful intentions and will beg for a loan.
We dedicate the operation to Felicity Ryder, an anarchist from Australia, who has been hiding for months from the watchdogs, as well as to those arrested in Greece, Italy and other parts of the world.
Banks are a perfect target for anarchist attacks. Behind their rehearsed smiles, the clerks hide everyday tragedies. Banks play the role of blood vessels of this fucked up system, they back up armies and multinational corporations, they help to concentrate the capital in the hands of very few, they protect business of the rich, and speculate with the money of the poor. Banks are the very institutions on which financial market dictatorship rests. Through banks' throats there runs a monstrous assembly tape of contemporary civilisation, which covers the globe with chains of wage labour causing exploitation, alienation, and eco-catastrophe. (more…)
Tags: International Solidarity, Lublin, Paint attack, Paintbombs, Poland, Solidarity Action
Posted in Direct Action
Sunday, July 7th, 2013
On the afternoon of the 4th of July a banner was hung in Hamburg in solidarity with comrade Kostas Sakkas who at that point was already 1 whole month on hungerstrike. Also a leaflet and Poster in solidarity was distributed.

Solidarity knows no borders!
Freedom for all prisoners!
Tags: Germany, Greece, Hamburg, International Solidarity, Kostas Sakkas
Posted in Prison Struggle
Wednesday, June 26th, 2013
"Brothers in chains, comrades in suffering, the battle is at hand. Soon we will launch our attack, intoxicated with vengeance; the enemy will flee, because the Federation of Sorrow is terrible." —Bruno Filippi
Our action (if it can) can be named PHOENIX PROJECT-PART 3. This is our collective decision to respond to the call from our Greek comrades – (1), (2).
Tonight (June 26) we moved out and brought the fire and burned down the third floor of former Sheraton Hotel, 'The Media Hotel and Tower', in Sahari Mountain Street, Jakarta. Our fire is to respond to the call from our brothers in Greece in the Phoenix project and as a gesture of solidarity to K. Sakkas, anarchist in hunger strike action to reach his freedom. We put the incendiary with timer in one of the trash cans in the karaoke room (which is located on the third floor) and let the fire speak for us.
Bring far our revolutionary greetings to the members of Conspiracy of Cells of Fire; Imprisoned Members Cell, to the 4 anarchists who were arrested in Kozani –we never forget you, for Cospito and Gai, to Carla, Ivan, Juan, Marcelo and Freddy, and to Henry and always to the anarchists prisoners in Greece and Italy, and to other cells of FAI – IRF around the world.
We will never say that we are just a few, but we will let the fire speak on our behalf.

Let's make the Phoenix project as an international project for revenge!

ANGER UNIT
INTERNATIONAL CONSPIRACY FOR REVENGE
IRF – FAI
–
News media link:
http://news.detik.com/read/2013/06/26/231703/2285333/10/ruang-karaoke-hotel-sheraton-gn-sahari-terbakar?9911012
Tags: Alfredo Cospito, Anger Unit / ICR-FAI-IRF, Carla Verdugo, Conspiracy of Cells of Fire, Conspiracy of Cells of Fire : Imprisoned Members Cell, Freddy Fuentevilla Saa, Henry Zegarrundo, Indonesia, Informal Anarchist Federation (FAI), International Conspiracy for Revenge, International Revolutionary Front, International Solidarity, Ivan Silva, Jakarta, Juan Aliste Vega, Kostas Sakkas, Kozani, Marcelo Villarroel Sepúlveda, Nicola Gai, Phoenix Project, RO-FAI (Indonesia Section), Sheraton Hotel
Posted in Direct Action
Wednesday, June 26th, 2013
June 11th has been defined as a day of international solidarity with comrades Eric McDavid and Marie Mason and with all political prisoners who are incarcerated all over the world. Imprisoned comrades experience this situation not only due to their direct action and the transubstantiation of their words into action, but also because of their choice to be anarchists.
In the struggle for degradation and destruction of state/authoritarian complex, anarchists comrades and activists-abroad and in Greece, too-consider as an integral part of animal and earth liberation human liberation, too.
In U.S.A., the Animal Liberation Front and the Earth Liberation Front have been proclaimed by FBI as the No. 1 enemy of domestic terrorism. Eric McDavid and Marie Mason were arrested in January 2006 and September 2008 respectively,
without proof but with plenty of accusations. The State's choice of their imprisonment was far more than random. (more…)
Tags: ALF, Athens, Earth Liberation Front, Eric McDavid, Greece, International Solidarity, June 11, June 11th Solidarity, Marius Mason, USA
Posted in Prison Struggle
Saturday, June 22nd, 2013
Hidden inside a quiet business park in Portishead, just outside Bristol, is a UK Border Agency office from where an immigration crime team work with police, including launching raids in the south-west. We visited Thursday night into Friday (with the death of anarchist Carlo Guiliani in combat with police during the G8 summit 12 years ago still fresh in our minds) to set fires that damaged the building and burnt 6 vehicles stationed there – 3 cars, 2 blacked-out people carrier vans (known to be used for dawn snatches of immigrant family groups) and 1 large van. The border regime mercenaries draw the attention of our total contempt the same as any other cop does, and now this long arm of the State has felt that we are close and we don't stop.
A couple of weeks earlier, high noon on Sunday 2nd at a Tascor corporation depot at a Cribbs Causeway/Patchway area trading estate, 2 minibuses with barred passenger windows had their windscreens smashed and multiple dents to the bodywork of the cabs. Tascor (formerly Reliance Secure Task Management) work for the Border Agency and Border Force to 'escort' detainees between immigration prisons and to their deportations, utilizing the consequence-free violence their position furnishes them with such as during the recent forced removals of Marius Betondi and Raul Ally, and are the largest private sector provider of this 'service' worldwide (having taken over these duties in the UK from Group 4 Security in 2011). They also run designated holding rooms and short-term holding facilities throughout the UK as well as for UK border forces in Calais and Coquelles, France.
Capitalism profit greatly from a pool of cheap migrant labor, including known 'illegals' who are even more vulnerable to the bosses' blackmail. The State criminalizes those they decide are non-productive, utilizing poisonous nationalism to further divide the exploited (like the recent wave of hatred against anyone thought to appear 'Muslim') and to win elections. The 'lucky' migrants get to arrive in the slums of alienated Western society and are thrust into competition with other urban poor, the 'unlucky' or unprofitable in deportation prisons, in both cases governed by fear and racialized policing. However this sorting of human bodies doesn't always go as smoothly as planned: mass hungerstrikes in Dutch detention facilities and heavy rioting on the streets of Sweden are recent instances of refusal to submit to such degradation.
We don't want a world where the tyranny of immigration bureaucrats can mean the difference between life and death, and unique beings are categorized and labelled to wring the maximum profit and subordination from us all. We don't want the indignity of every movement being scrutinized for the purposed of social control and enclosure, whether at borders, on the housing estates, in school or at work.
The legend has it that 'we' are lucky to live here, under democratic totalitarianism with some comfortable cages and technological addiction to escape from reality. But infact we are surrounded by depression, divides of wealth and race and gender, devoid of any earth-based selfsufficiency and dependant on the very machine we hate. This machine is only fuelled by rampant exploitation here and largely in the countries that migrants have fled from, creating a disgusting feedback loop as industrial civilization consumes everything in its path. We want to demolish the myth that there is any good place to be within a global system of interconnected misery.
Our struggle is far from the calls for peaceful (re)integration of 'illegals' into this faceless society. We also don't want to set ourselves up as advocates of homogenized groups of migrants, nor to sanctify them all for their specific oppression. Instead of abstract humanitarian charity, we search for the rebel affinity that may be found with migrants who maybe want more than a different regime, and who breach borders, wound guards and destroy prisons from the Mediterranean to Australia; that may be found in the hearts of those who self-organize, with or without accomplices.
Borders are just one significant expression of the currently dominant order, in a world of divisions both physical and psychological, of walls segregating populations, classes and imaginations. Our attack carries the seeds for another world. One where each and every creature is free to roam as they choose. Our borderless solidarity bursts out like our flames for people struggling for life unchained, for Gabriel Pombo da Silva, the CCF imprisoned members, comrades raided in Belgium, Marco Camenisch, Henry Zegarrundo, the anarchists held in Italy and Denmark, the dignified criminals, lawless fugitives, rebellious migrants and other socially disaffected who arm their rage to fight for liberation.
We would consider this our leaving gift to the UK Border Agency, due to be renamed and reorganized in the future – except it turns out it'll mainly be "the same jobs", "in the same places", "with the same mission". We know that their same regime of exploitation will continue more adapted and integrated, so likewise our war is perpetually against all forms of categorization and control that attempt to hinder free movement and wild life on Earth. Nothing is over, everything continues.
Borderless Solidarity Cell (Informal Anarchist Federation)
Tags: Arson, Border Agency, Borderless Solidarity Cell (Informal Anarchist Federation), Bristol, Carlo Giuliani, Conspiracy of Cells of Fire, Conspiracy of Cells of Fire : Imprisoned Members Cell, Gabriel Pombo da Silva, Informal Anarchist Federation (FAI), International Revolutionary Front, International Solidarity, Marco Camenisch, Migrant Struggle, Migrants, Portishead, Racism, Tascor, UK, UKBA
Posted in Direct Action
Saturday, June 22nd, 2013
The Informal Anarchist Federation (FAI) – International Conspiracy for Revenge claims the responsibility for the placing of an explosive mechanism and the blowing up of the car of known people-guard Argiris Gelbouras who serves at Navplio prisons. This attack is a part of the "Phoenix Project" which began with the blowing up of the car of the director of Koridallos prisons by the Conspiracy of Cells of Fire.
The choice to strike this specific prison guard was not accidental. Argiris Gelbouras (a.k.a. Rex) is for years now a faithful watchdog of authority. He is one of those in charge of the dozens of beatings of prisoners in the prisons and is at the same time a good friend of the plain clothes cops of Navplio police station. Often he uses prisoners-lackeys of his in order to frighten or hit other prisoners who demand their obvious "rights" or simply do not belong in his circuit of influence inside the prisons. Argiris Gelbouras is a bully in a uniform. If some screws insist on having 'relevant behaviours' and take out their complexities and frustrations on the prisoners, we will visit them with worse intentions. Nothing will remain unanswered. The enemies of freedom have names and addresses.
Simultaneously with this attack, we wanted to break the veil of silence which covers up the tortures and the wretched living conditions of the prisoners in Navplio prisons (and not only). Navplio prisons are a cement grave where about 600 prisoners have been "buried" (at the same time when the "specifications" of the building are for 300). In the cells which fit 2-3 people, there are 6-7 prisoners, half of which sleep on the floor.
A few months ago on 4/3 a young prisoner in Navplio was let to die because of the homicidal negligence of some correctional employees. The specific prisoner suffered from tuberculosis and for days was complaining that he is in pain and did not feel well. The answer of the service and the prison doctor was the same which mockingly echoes in all prisons in Greece: "Take some paracetamol (if there is any) and be patient". "Paracetamol" cures everything in prison… even tuberculosis. That day, the 26 year old died of cardiac arrest when transferred to the hospital too late. On Tuesday 5/3 the prisoners of wings 1 and 3 revolted because of his death and did not go into their cells. The answer of those in charge at the Ministry of Justice and Navplio prisons was as simple as the paracetamol, only now it's called MAT (riotcops). So two units of the dogs raided the prison and the prisoners returned to their cells. Order and security triumphed in Navplio prisons. After that, for about a month and a half the prison guards of the gated cement bordelo of Navplio repeatedly beat the prisoners in revenge for the revolt and to remind those who disputed it even a bit, of who is boss. Society can calmly continue its eternal sleep. All its ugliness is well hidden away in the prisons of democracy, there where revenge is called justice and punishment correction.
In prison most prisoners become guinea pigs to the sadistic moods of every sergeant or employee. It is not only overpopulation, terrible food, lack of medical staff, but also the daily punishments of the service which roam around like axes over the heads of the prisoners. Because a prisoner in prison does not only have to do the sentence imposed by the scarecrows of justice, but often do double time because of the disciplinary punishments imposed by the self appointed little tyrants who wear a suit or tie and are called guards, sergeants, directors and prosecutors of prisons.
Disciplinary actions, isolation, beatings, humiliating searches, sudden transfers – kidnappings consist a part of the kidnapped daily life of the prisoners. But the authority of the little tyrants does not stop there. It poisons even the little daily moments of those captive. In each prison depending on the sadism of each sergeant or director the prohibitions are on the daily list. Each prohibition is accompanied always by the same answer: "Impossible because of security reasons". Fans for the summer, heaters for the winter, hobs and utensils, weights for working out, mattresses to sleep on… "Impossible because of security reasons".
The refusals and irrationality continues even for what the prisoners buy from the grocer. In some prisons you get some foods that in other prisons are forbidden. Of course, there are not many times where the irrationality meets the lure of economic interests. The economic agreements and supplies under the table between the suppliers and the prison directors or sergeants are known in the prison world. All this is known in the palaces of the Ministry of Justice of sensitive leftist clown A.Roupakiotis. Besides, it's not long since his secretary Kanelopoulos pocketed many millions of euros from V.Milionis and the rest of the ENERGIA clique who took 560 million euro from the society of the self-enslaved, bribed prosecutors and juridical circles in order to be released from prison, at the same moment that thousands of poor-devils are piled up in the prisons. Of course, no one speaks up and everyone bows the head yet again. But no sheep ever saved itself with bleating. This is why we choose the path of the lone wolf. We have no illusions about peaceful changes and fair solutions from authority. Even if democracy created a "golden" prison with equal rights for the prisoners, with hot water, clean mattresses and larger yards, it would always remain a prison, a place of captivity. We are not looking therefore for better solutions, but for all those ways that we can tear down the prisons, with dynamite, with TNT, with guns, with bulldozers…
Simultaneously most prisoners must tear down the prison they have in their heads. The ethics of prison, the mentality of the incarcerated hyena which devours the weak, the pseudo-nationalisms of every kind, the humiliating dependency on drugs, the authority of the leaders and the enslaving of the subjects… This is the only way that the walls will collapse and the bars will bend.
On the other side of the walls, we the "free besieged" choose for ourselves the choice of weapons and dynamite against the prison guards of our lives, the bosses and their directors, the priests and their followers, the cops and their Golden-Dawners, the journalists and their viewers, the politicians and their voters.
The new anarchist urban guerrilla is not a means of struggle, it is our existence itself. All the rest which does not promote the continuous anarchist insurrection is ideological cowardice.
FAI (Informal Anarchist Federation) in cooperation with the Conspiracy of Cells of Fire aims to create a diffuse network of direct action cell in the Greek territory which will strike where the enemy does not expect it. Small autonomous flexible armed cells watch, collect info, sometimes cooperate sometimes not and choose the moment of sudden attack. Only in the attack is there life. We are anarchists of action, chaotic, nihilist, egoists, godless, we are the carriers of the black flags of anarcho-nihilism.
For the diffusion of FAI (Informal Anarchist Federation) and IRF (International Revolutionary Front).
Now and always
Insurrection, Attack, Revenge
SOLIDARITY and STRENGTH to the unrepentant outlaws and the guerrillas of the CCF
Informal Anarchist Federation (FAI) – International Conspiracy for Revenge


Translated by boubourAs and originally posted on the net by actforfree.
Tags: Argiris Gelbouras, Argos, Conspiracy of Cells of Fire, Conspiracy of Cells of Fire : Imprisoned Members Cell, Greece, Informal Anarchist Federation (FAI), International Conspiracy for Revenge, International Revolutionary Front, International Solidarity, Navplio, Phoenix Project, Sabotage
Posted in Direct Action
Friday, June 21st, 2013
As the second part of the Phoenix Project, an explosion destroyed the personal car of a hated prison guard in Argos, Greece. The International Conspiracy for Revenge / FAI have taken responsibility for the direct action as part of their incendiary campaign of revolutionary solidarity. Despite the moves of the repressive authoritarian forces, the new anarchist urban guerrilla develops and conducts new operations, constructing and evolving the black international. Long live anarchy. Destroy all prisons.
The full claim in Greek language is here.
Tags: Argos, Conspiracy of Cells of Fire, Greece, Informal Anarchist Federation (FAI), International Conspiracy for Revenge, International Revolutionary Front, International Solidarity, Phoenix Project, Sabotage
Posted in Direct Action
Thursday, June 20th, 2013
Tags: Chile, Freddy Fuentevilla Saa, International Solidarity, Juan Aliste Vega, Marcelo Villarroel Sepúlveda
Posted in Prison Struggle
Sunday, June 16th, 2013
As has been known, in the first days of January 2013, I suffered a serious head injury after an accident. What followed were two successive head surgeries and a three-month stay in various hospitals. Of course, for some time now, I have escaped danger and I'm on the mend, awaiting a final restoration surgery on the skull. Now I am back among my comrades and my brothers and sister of the CCF, which in itself makes me feel better.
I gradually get some insight into the interest expressed during my hospitalization, and I feel the need to thank all those who stood by me in various different ways, from donating blood (which was much needed), to fundraising for covering medical expenses.
I have a special place in my heart, however, for the comrades of the International Conspiracy for Revenge-FAI/IRF who burned a private vehicle in Indonesia, and for the compas of the Insurrectionary Anti-authoritarian Cell-FAI/FRI who targeted with incendiary devices the building of Chile's national association of penitentiary functionaries and previously attacked facilities belonging to the Chilean Gendarmerie, because of the great honour they have done me by giving my name in the direct action cells that claimed responsibility for these anarchist attacks against domination. Brothers and sisters, you should know you're in my thoughts and that these actions have moved me deeply. May the fire of Insurgence and Anarchy always keep your hearts warm, and your hands armed against the enemies of freedom.
Finally, I would like to thank all those direct action groups in Greece and abroad who were interested in my condition and wished me a good recovery.
I am happy to see that all this time the project of FAI/IRF remains dynamic and active. I'd like to hope that, in the future, its intensity will grow enormously, and its diffusion will cause fear among the rulers globally.

LONG LIVE FAI/IRF
LONG LIVE THE BLACK INTERNATIONAL OF ANARCHISTS OF PRAXIS
Panagiotis Argirou
Member of the Conspiracy of Cells of Fire
Tags: Conspiracy of Cells of Fire, Conspiracy of Cells of Fire : Imprisoned Members Cell, Greece, Informal Anarchist Federation (FAI), International Conspiracy for Revenge, International Revolutionary Front, International Solidarity, Letter, Panagiotis Argirou
Posted in Prison Struggle
Saturday, June 15th, 2013
Berlin-Kreuzberg salutes the people revolting in Turkey
Everyday since the beginning of the revolt about two weeks ago, people went on the streets in Berlin to show their solidarity with the ongoing fights in Turkey. Another short and wild demonstration took place in the center of Kreuzberg yesterday evening, the 7th of June, where around 50 people marched towards Kottbusser Tor, shouting slogans and lighting fireworks.
Material from a construction site got pulled on the street, so after a short while the traffic was blocked in every direction. The cops, that were making a drugraid at this moment, got attacked with stones, paintbombs and fire. After that the mob dispersed. (more…)
Tags: Berlin, Demo, Germany, International Solidarity, Turkey
Posted in Direct Action
Saturday, June 8th, 2013
cna-m.blogspot.com
nodo50.org/cna
Tags: #J11, International Solidarity
Posted in Prison Struggle
Sunday, June 2nd, 2013
from indymedia, translated by waronsociety:
Over the past few nights in Paris, the screens of two ATMs were cracked, we were thinking of the anarchist comrade Henry Zegarrundo, imprisoned by the Bolivian State for a year now (he was arrested on May 29, 2012, held in prison and recently released to house arrest).
All the States, the prisons, all the banks are of this world that we hate, let's attack them!
* * *
Paris: Acción en solidaridad con Henry Zegarrundo
desde indymedia, trad. waronsociety:
Durante las últimas noches en París, se rompieron las pantallas de dos cajeros automáticos, estabamos pensando en el compañero anarquista Henry Zegarrundo, enjaulado por el Estado boliviano desde hace un año (detenido el 29 de mayo de 2012, mantenido en prisión preventiva y mas reciente en arresto domiciliario).
Todos los Estados, las carceles, los bancos son de este mundo que odiamos, los ataquemos!
Tags: Bolivia, France, Henry Zegarrundo, International Solidarity, Paris
Posted in Direct Action
Friday, May 31st, 2013
Who is Alexei Gaskarov?
Alexei Gaskarov, a Russian social activist and economist, was arrested in Moscow on April 27, 2013. Gaskarov first became known to the broader public both in Russia and abroad in 2010, as one of the "Khimki hostages", when he was arrested the day after a grassroots protest action in the Moscow suburb of Khimki, apparently because of his role as a spokesman for the anti-fascist and environmental movements. After three months in a pretrial detention facility and a triumphant acquittal on all charges, Gaskarov did not give up his activism. On the contrary, he became even more involved in numerous campaigns and causes. Having gained fame as an anti-fascist, Gaskarov has over the past two years become a visible young public figure thanks to his energy, intelligence, passion, and commitment. (more…)
Tags: Alexei Gaskarov, International Solidarity, Khimki, Repression, Russia
Posted in Social Control
Tuesday, May 28th, 2013
Who believed that May would pass without direct action?
With fire we responded again.
Recalling the warrior Mauricio Morales and showing solidarity with the comrades imprisoned in Temuco, we set fire to the entrance of the National Association of Prison Guards, located at Santa Monica steps in downtown Cumming Street of the city of Santiago, on Sunday May 12. With this we add a new action to those which have already been claimed by other groups in "alternative medias" but silenced by the "official release".
We said in our previous attack on a property of Gendarmerie of Chile in January this year, we will not let the torturers be tranquil in their dens. The criticism of the authoritarian system and prison facilities cannot be separated from the direct attack on those who try to break the will of our rebel imprisoned comrades. Prison guards have decided voluntarily to live as enemies of freedom and are active contributors to domination, in exchange for shares of power that materialize in confinement and to humiliate our prisoners and their families.
In April, the anti-authoritarian comrade Ariadna Torres was punished in the Women's Prison of Temuco for insulting a judge and the jailers who seized a letter from the companion to the outside.
We sent a copy of this email again to the jailers of Chile so that they know that our anarchist comrades, anti-authoritarians and revolutionary prisoners in Chile are not for the authorities little games, and for every attack the answer will come back with fire, explosions and shrapnel.
We ask comrades of action why there has been a decline in violent activity against the enemy? One thing is the excitement of the street-fighting, but in May there has been fewer direct attacks and planned bombings, arson and sabotage against the wealthy, and also their system of misery. That the anti-authoritarian attacks are sustained over time and not by a police story, depends on us. That the option for revolutionary violence and its connection with the anti-authoritarian struggle (and its various forms of being implemented) be not just a youth fashion, depends on us. Boosting and multiplying the direct actions in quantity and quality depends only on our will.
In May, we remember those comrades murdered by the State in Chicago in 1886; to Daniel Menco, young man killed in 1999; to young Rodrigo Cisternas, worker killed by police in Chile in 2007 after being crushed by a police vehicle with a backhoe; to the compa Henry prisoner since May of last year in Bolivia [currently on house arrest]; and Nicola Gai and Alfredo Cospito, prisoners in Italy, imprisoned for a year accused of the shot to the leg of a boss of a scientific nuclear company.
Regards to the clandestine comrades and prisoners worldwide.
MAURICIO MORALES LIVES IN DIRECT ACTION.
Insurrectional Anti-authoritarian Cell Panagiotis Argyrou, affinity of the FAI/FRI. Chile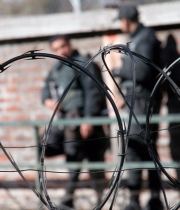 Tags: Alfredo Cospito, Arson, Chile, Conspiracy of Cells of Fire, Conspiracy of Cells of Fire : Imprisoned Members Cell, Greece, Henry Zegarrundo, Informal Anarchist Federation (FAI), International Revolutionary Front, International Solidarity, Italy, Mauricio Morales, Nicola Gai, Panagiotis Argirou, Santiago
Posted in Direct Action