Posts Tagged 'International Solidarity'
Friday, February 27th, 2015
And once again autonomous cells struck. This night we carried out a sabotage in Berlin, in complicity with all the fighters of our worldwide conspiracy. With fire we transformed two cars belonging to the company 'Sicherheit Nord' completely worthless for the watchdogs of the system. With this attack we promise our attention and support to those persecuted and incarcerated by the pigs.
Strength to Tamara Sol Farías Vergara, Mónica Andrea Caballero and Francisco Javier Solar Domínguez.
Strength to the prisoners of the Revolutionary Struggle (Epanastatikos Agonas), who are locked up in maximum security prisons.
The dogs that are hunting us down will be hunted by us at any time. Furthermore, we enjoyed the attempted prison escape by the Conspiracy of Cells of Fire, as well as the assassination of the chief executioner of Domokos type C prison.
We encourage all those who are able, to make attacks against the prison system on a daily basis.
Also the prison laborers who bake donuts for the Olympics propaganda, and thus further dig their own grave, could instead poison a few sports fans of the Berlin Senate with arsenic.
… for a society without coercion and prisons!
For Anarchy!
Freedom for all prisoners!
Translation notes:
Recently, as part of the city authorities' push to represent Germany in the bid for the 2024 Olympics, the Berlin Justice Senator Thomas Heilmann tried to give away donuts (Pfannkuchen) decorated with the Olympic rings that were baked by inmates from Tegel prison.
Final message on video reads: "See each other on the 18th of March in Frankfurt – make ECB's opening into a disaster."
-ContraInfo
Tags: Arson, Berlin, Car Burning, CCF Escape case, Conspiracy of Cells of Fire, Francisco Solar, Germany, International Solidarity, Monica Cabellero, Revolutionary Struggle, Sicherheit Nord, Tamara Sol
Posted in Direct Action
Wednesday, February 25th, 2015
First reports are coming in that an Australian YPG volunteer named Ashley [also known by his Kurdish name, Hevan Bagok] has been killed in combat defending the town of Shingal, also known as Sinjar in Nineveh Province near Mt Sinjar. There are also reports coming in of another foreign fighter killed in combat, however no confirmed details have been released yet.
Tags: Ashley (Hevan Bagok), Australia, International Solidarity, Iraq, Islamic State in Iraq and Syria (ISIS), Kurdistan, Lions of Rojava, People's Defence Units (Y.P.G.), Rojava, Sinjar, Syria, War
Posted in Autonomy
Saturday, February 7th, 2015
"Group of Popular Fighters", which in the past had carried out an attack with Kalashnikovs against the German ambassador's residence in the Athens suburb of Halandri on 13 December 2013, has taken responsibility for a similar attack on the Israeli Embassy which took place 12 December 2014.
Last week an anonymous caller rang mainstream news outlet Efimerida ton Syntakton and told them where they could find the USB stick which contained the claim. The document of responsibility is 19 pages long and has not been released yet.
The armed attack against the embassy followed a similar operational detail as used in their previous attacks, validating their claim, plus the results of the forensic ballistics confirmed that the weapons used in the attack were the same as the previous bloodless and highly-symbolic attacks which the group has taken responsibility for.
The armed group first appeared on 14 January 2013 when it carried out an attack on the New Democracy party headquarters on Sigrou Avenue. The group took responsibility for the attack in a statement released six months later.
During that attack a group of four people had attempted to fire a rocket at the offices, which however failed, as was explained in the communique issued by the group.
Another attacker subsequently fired 9 bullets at a window on the third floor. The bullets penetrated the glass with one bullet falling adjacent to (Ex-President) Antonis Samaras's desk.
The attackers then left the scene in a Toyota Corolla that had been stolen a few days earlier. The charred remains of the vehicle was found in an empty lot 3-4 kilometers away.
The group's second attack came on the 30 December 2013 when at least 4 people arrived outside the residence of the German Ambassador Wolfgang Dolt in the Athens suburb of Halandri. From the street the attackers sprayed the building with at least 60 bullets. The majority struck the outside of building including the outside wall of the room in which the ambassador's daughter was sleeping. Another bullet entered the living room of an apartment behind the ambassador's residence.
A statement was later issued claiming responsibility for the attack in which they stated that it had been carried out in memory of Dimitris Christoulas, a man who had committed suicide in Syntagma Square in April of 2012. "Dimitris Christoulas made the choice to give his life a tragic ending, as opposed to living a tragic life," the authors wrote, adding, "However this act was not isolated, it did not concern only him and the dead end he had reached."

In the same declaration the group revealed a double failure in its attempts to strike a Mercedes Benz dealership in a northern suburb of Athens with a shoulder fired missile on the 12th of January 2014, writing:

"On Sunday the 12-01-14 at about 23.00 we succeeded in approaching the target without being seen and this time we attempted to not have a repeat of last year's misfortune outside of the offices of New Democracy, despite the fact that we came close to this outcome. And this because on the first attempt to fire a rocket against the offices of Mercedes, it once again failed due to faulty ammunition, however this time we employed the second rocket that we had brought with us and which ultimately fired normally and took the predetermined course. The fact that even as this text is being written about our attack it hasn't become – in any way – known to enforcement authorities and to the media leads us to the following conclusions: either there has been a pathetic attempt to cover up the action (which will be revealed in the coming days after the publication of this declaration), or, because of our erroneous choice of shooting position, (possibly far from the target) the rocket did not travel the desired distance and is located around the perimeter of the Mercedes-Benz offices."
Tags: Athens, Attentat, Embassy, Greece, Group of Popular Fighters, International Solidarity, Israel
Posted in Direct Action
Saturday, February 7th, 2015
SOLIDARITY IS STRUGGLE AND ACTION
During the last years after the outbreak of the world financial crisis, which, since 2009 has hit Greece among others countries, the state, under the authority of international financial organizations such as the International Monetary Fund, the European Central Bank and the European Union, has adopted a policy that aims to rescue the capitalistic system. This was followed at the same time by the intense increase of the suppression and the further hardening of the state against those who fight for the subversion of capitalism and the state, against those who choose armed revolutionary action, challenging the state's monopoly of violence and power, against those who, using every means of fighting, stand against this policy of salvaging the system. (more…)
Tags: Athens, Greece, International Solidarity
Posted in Prison Struggle
Saturday, February 7th, 2015
Vegan food, liberated price
For the address: blancarde2015@riseup.net
*The film is in Spanish but the subtitles are in English
International solidarity with those implicated in Operation Pandora

"For those who struggle, the sense of solidarity intends to dismantle
the loneliness of incarceration, waging a battle against forgetting our
comrades abducted by states, bringing to light the logic of domination
that seeks to condemn them to surrender."
– anarchists of Pandora
A year after the end of the "Caso Bombas" farce, the Spanish and Chilean
ministries, judges and cops are working together on a new case, this
time on this side of the ocean. Mónica Caballero and Francisco Solar,
both ex-suspects in the "Caso Bombas" case, are arrested in Barcelona,
suspected of placing an explosive at the Basílica del Pilar in Zaragoza,
planning a similar action and belonging to an alleged terrorist
organisation. (more…)
Tags: 14/14, Chile, France, International Solidarity, Marseille, Operation Pandora
Posted in Social Control
Thursday, February 5th, 2015
Last week, Nicanor Cortez was arrested for his alleged participation in property destruction in the anti-police riots in Oakland, California, during late November and December. He faces seven counts of felony vandalism and a misdemeanor charge for concealing his face with a mask. Specifically, he is accused of smashing the windows of the Oakland Tribune [newspaper], the police internal affairs division, as well as other businesses.
This is a call for action in solidarity with our captured comrade. When the state captures our comrades we must answer that aggression with unrelenting fire and attack on the bastions of capitalist power. Strike hard wherever you are. Don't let them take one of us without fury and destruction.
Harness the flame while you still have breath.
Wildfirecell
Tags: Fuck the Police, International Solidarity, Nicanor Cortez, Oakland, Repression, USA
Posted in Social Control
Friday, January 23rd, 2015
Last night, in Kadıköy, anarchist groups called 'Anarchist Front' and 'Shadowlesses', took an action in support of imprisoned anarchists after 'Operation Pandora'. With black flags and masks, anarchists started to march to a much used street, attacked ATM's, bank windows and some capitalist shops like Adidas and chanted for solidarity with anarchists prisoners in Spain and all around the world.
During the march, anarchists took down dustbins to blockade roads and attacked some ATM's and multinational capitalist shops. Also, they spoke out about the situation of imprisoned anarchists in Spain prisons. And they chanted: "İnsurrection, Destruction, Anarchy, Long Live Statelessness of People, Freedom for Anarchist Prisoners".
Tags: Demo, International Solidarity, Operation Pandora, Solidarity Action, Turkey
Posted in Direct Action
Saturday, January 17th, 2015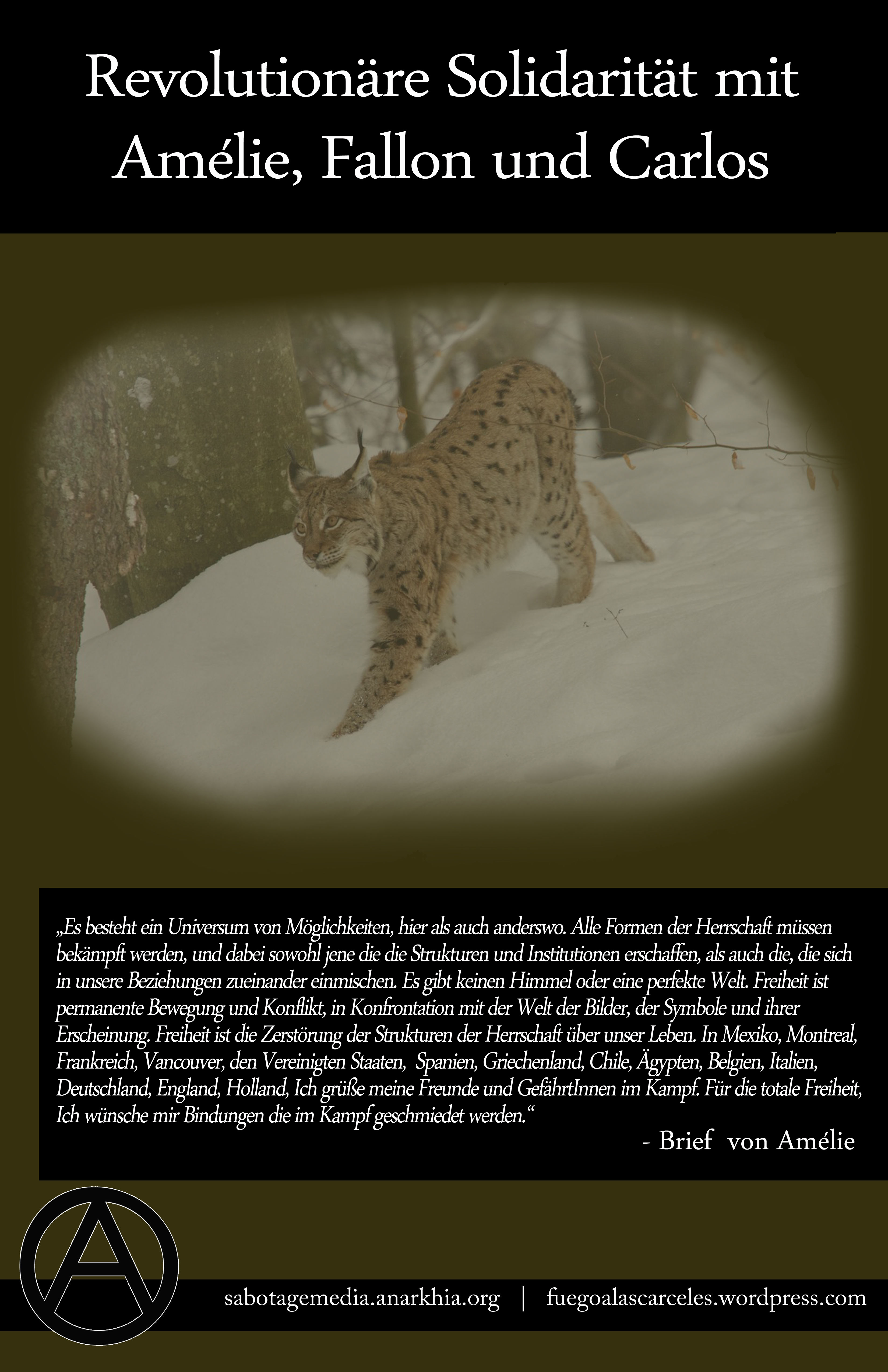 http://www.abc-wien.net/?p=1773
Tags: ABC Wien, Amélie Trudeau Pelletier, Austria, Carlos López Martin, Fallon Poisson, Flyposters, International Solidarity, Vienna
Posted in Prison Struggle
Friday, January 16th, 2015
Complicidad y solidaridad más allá de los idiomas, banderas y fronteras.

Con el comienzo del año y aprovechando las celebraciones, el gobierno griego dio comienzo a un proceso de traslado de prisionerxs hacia la Cárcel de tipo C de Domokos, con el claro objetivo de aislar a lxs prisionerxs en guerra e intentar amainar la lucha anárquica que cada día se intensifica en las calles y dentro de los siniestros muros de las prisiones.
El primer prisionero trasladado fue el compañero anarquista Nikos Maziotis miembro de Lucha Revolucionaria a lo que rápidamente de sumaron Dimitris Koufontinas, miembro de la organización 17 Noviembre, Kostas Gournas miembro de Lucha Revolucionaria, Yannis Naxakis y Grigoris Sarafoudis, condenados por atraco a mano armada y por supuesta participación en las CCF. (more…)
Tags: 17 November, Burning Barricades, Chile, Christodoulos Xiros, Conspiracy of Cells of Fire, Dimitris Koufodinas, Giannis Naxakis, Greece, Grigoris Sarafoudis, International Solidarity, Kostas Gournas, Nikos Maziotis, Revolutionary Struggle, Santiago, Solidarity Action, Type C prisons
Posted in Direct Action
Thursday, January 15th, 2015
English translation via War on Society
Un Paleógrafo es un paleógrafo…pero es más que un trozo de papel cuando
viene enmarcado en una forma de ver y entender el combate desde la
multiformidad permanente.
Es un mínimo gesto de respuesta, un guiño cómplice a nuestrxs compañerxs
secuestradxs por el Estado Español, nuestras complicidades se extienden
mas allá de cualquier frontera.
La complicidad entre el Estado chileno y Español se hizo evidente en el
coqueteo publico entre sus organismos represivos, materializándose con el
encuentro entre sus autoridades con diversos viajes entre ambos
territorios durante los últimos meses.
La operación Pandora no es simplemente la re-edición ciega de un modelo
represivo, sino que además incluye un movimiento de avanzada, contemplando
la falsificación de la realidad al apuntar a los GAC como una célula de
acción directa (tal como aquí las casas okupas fueron señaladas como
fachadas de una "organización terrorista"). Pero además el salto represivo
esta dado en la fantasiosa trampa de acusar a lxs compañerxs de conformar
una "organización terrorista" que no ha cometido ningún ataque conocido.
Esto es la Democracia, el absurdo que se autoafirma para perpetuarse en el
poder. Como antiautoritarixs no tenemos nada que mendigar, solo declarar
nuestro desprecio.
Desde las diferentes latitudes y territorios aprendamos de la maniobra
represiva en España, entendiendo que la Guerra Social se vive a nivel
global. Los Estados se comparten información y estrategias. Nosotrxs no
solo contemplamos, sino que somos parte de la misma marea contra el poder.
No olvidamos a nuestrxs hermanxs Francisco y Mónica, nuestros corazones
han estado y estarán con ustedes.
Solidaridad y lucha con lxs compañerxs secuestradxs por la Operación
Pandora y con nuestrxs entrañables compañerxs de la Conspiración de
Células del Fuego y Christodoulos Xiros recientemente
encarcelado:¡Guerrillero una vez, Guerrillero Siempre!
Algunos Anarquistas
$tgo-Chile. Enero 2015.
Tags: Banner drop, Chile, Christodoulos Xiros, Conspiracy of Cells of Fire, Francisco Solar, International Solidarity, Monica Caballero, Operation Pandora, Santiago, Solidarity Action
Posted in Prison Struggle
Monday, January 12th, 2015
Inter Arma received and translated:
[Athens, 25-31/12/2014]
FROM CHILE TO GREECE
"Bad evening my lords even if it's not your will… the rebels are on the ramparts fuck your Christ!"*
These "holy" days when social problems are buried beneath the hypocritical smiles of a rotten society – that forgives itself with a smokescreen of fake love and joy, in an atmosphere full with festive togetherness, trying to stimulate the sense of security, prosperity and of a fictional consuming ability of the citizens in order for the commercial economy affected by the crisis to counterbalance its losses – and the streets of the metropolis inundated by giggly consuming assholes, while dozens of homeless people are suffering in the darkest corners and workers in the trade sector (without them being blameless) spit blood for the exhausting work hours and the "white nights" of the bosses, we decided to "mail" our own gifts to our loved ones and at the same time send some greeting mines to our enemies with the promise of a rebellious 2015. (more…)
Tags: Black December, Francisco Solar, Informal Anarchist Federation (FAI), International Revolutionary Front, International Solidarity, Lambros Foundas, Monica Caballero, Nikos Maziotis, Operation Pandora, Permanent Unholy Synod / FAI-IRF, Sebastián Oversluij Seguel, Sol F. Vergara, Solidarity Action, Type C prisons
Posted in Direct Action
Friday, January 2nd, 2015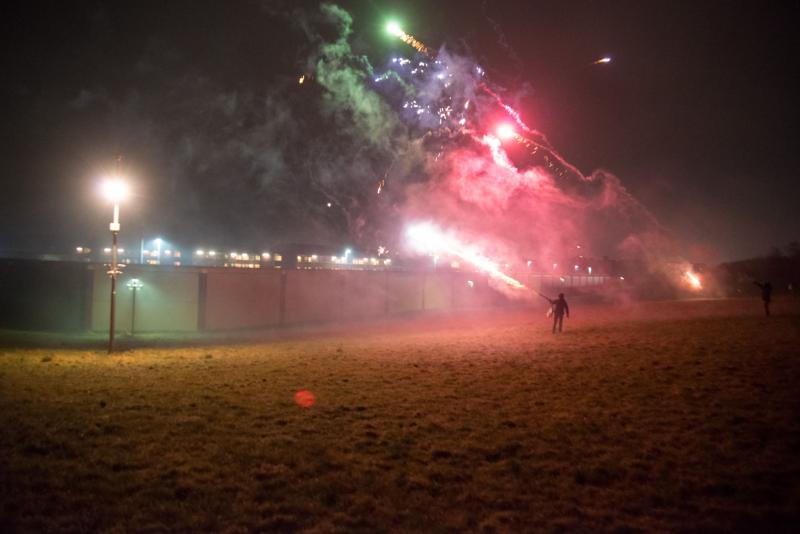 Here's some links compiled of anti-prison new year demos that have taken place. The picture above is from the New Year greetings at Uelzen prison, Germany. We'll add more links as the reports are published and circulated. For a rowdy 2015!

Germany: New Year's Eve demo at the prison of Freiburg
Germany: New Year's Eve at the prison of Münster
Rennes, France: New Year's solidarity against all types of incarceration
Ittre, Belgium: Fireworks against the jails
Florence, Italy: ATMs, luxury shops and company cars attacked
Turin, Italy: New Year's Eve greetings
Paris, France: Solidarity with all the incarcerated!
Athens, Greece: Anti-prison demo at Korydallos prisons
Hamilton, Ontario, Canada: New year's noise demo reportback
USA: First Annual Jackson, Mississippi, NYE Anti-Prison Noise Demo Report Back
London, UK: Fire to the Prisons! on NYE Demo at Pentonville & Holloway prisons
Dortmund, Germany: Anti-prison demo on New Year's Eve
Berlin, Germany: Anti-prison demo at JVA Moabit prison
North Germany: Anti-prison demo at JVA Uelzen
Tags: Demo, International Solidarity, New Year, Prison demo
Posted in Prison Struggle
Wednesday, December 24th, 2014
Tags: Insurrection, International Solidarity, Islamic State in Iraq and Syria (ISIS), Jordan Matson, Kurdistan, Lions of Rojava, People's Defence Units (Y.P.G.), Syria, Turkey, USA, War, Women's Defense Units (YPJ)
Posted in Autonomy
Wednesday, December 24th, 2014
Tags: Dean Parker, Insurrection, International Solidarity, Iraq, Islamic State in Iraq and Syria (ISIS), Kubani, Kurdistan, Lions of Rojava, Rojava, Syria, Turkey, USA, War
Posted in Autonomy
Sunday, December 21st, 2014
PDF : Solidaridad.pdf
SOLIDARIDAD INSURRECTA CON LXS ANARKISTAS ARRESTADXS EN ESPAÑA
¡¡¡ NINGUNA AGRESIÓN SIN RESPUESTA!!!
Ante la nueva operación represiva que el 16 de diciembre dejó a una
decena de espacios anarquistas invadidos por la policía y 7 compañerxs
anarquistas prisionerxs en el Estado español acusadxs de terrorismo,
nuestra respuesta no puede ser otra más que la multiforme solidaridad
anárquica internacional en ofensiva permanente contra todas las
expresiones del dominio.
Que nuestrxs compañerxs sientan el calor de la solidaridad y nuestro
enemigo arda en el fuego de la lucha antiautoritaria por la libertad.
NI CULPABLES NI INOCENTES,
SIMPLEMENTE ENEMIGOS DEL PODER Y DE TODA AUTORIDAD.
¡¡¡MÓNICA CABALLERO, FRANCISCO SOLAR, GABRIEL
POMBO DA SILVA Y TODXS LXS COMPAÑERXS PRESXS EN ESPAÑA Y EL MUNDO, A LA
CALLE!!!!

Sin Banderas Ni Fronteras
sinbanderas.nifronteras@riseup.net
Tags: Catalunya, Chile, International Solidarity, PDF, Repression, Sin Banderas Ni Fronteras, Spain
Posted in Social Control