Posts Tagged 'International Solidarity'
Friday, August 14th, 2020
14 DE AGOSTO 2020: 10 AÑOS DESDE CASO BOMBAS 1
23-30 AGOSTO 2020: SEMANA INTERNACIONAL DE SOLIDARIDAD CON LXS ANARQUISTAS ENCARCELEDXS
SOLIDARIDAD INSURRECTA CON MÓNICA, FRANCISCO Y TODXS LXS PRESXS ANARQUISTAS, SUBVERSIVXS, MAPUCHE Y DE LA REVUELTA EN CHILE Y EL MUNDO.
SEGUIMOS ESTANDO EN TODAS PARTES (A)
Tags: 14/14, Chile, Flyposter, Francisco Solar, International Solidarity, International Week for Anarchist Prisoners, Mapuche, Monica Caballero
Posted in Library
Wednesday, August 12th, 2020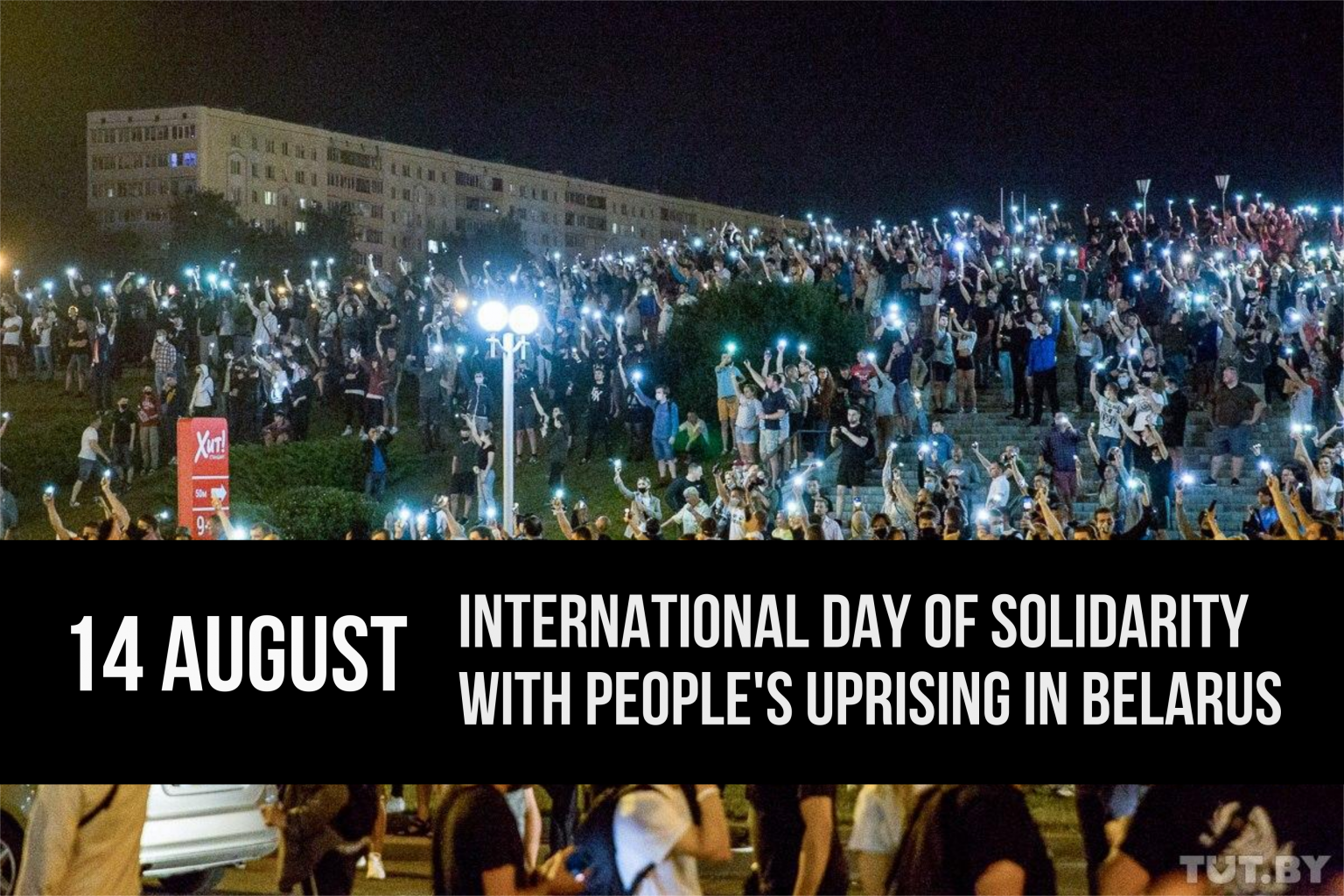 For the first time in the history of Belarus, people across the country rebelled against the dictatorship. Many thousands of demonstrations are held not only in the capital, but also in small towns. People take to the streets and not only peacefully protest against the authorities, but also fight against the state apparatus – they help friends and comrades and clash with punishers.
August 10, barricades appeared in the streets of Minsk for the first time, while protesters began using molotov cocktails. Some enterprises and firms went on strike.
In recent days, standing shoulder to shoulder, we have felt what the energy of the people means. We have realized that together we can overthrow a tyrant!
The blockage of the Internet could not stop the news flow. People all over the world have learned that the Belarusian dictatorship is ready to drown the population in blood just to stay in power. In three days, police and internal troops detained more than 5000 people, hundreds suffered from cop violence. At least one person has been killed.
Now more than ever, international solidarity is important in the fight against Lukashenko. Therefore, we call you all to join the international day of actions in solidarity with Belarusian people! In what format can you express your solidarity? You can hold rallies and demonstrations at Belarusian embassies and other institutions of Belarusian power in your country. Take collective photos. Take part in direct actions. Any, even the smallest solidarity can support the fire of rebellion that will tear down the dictatorship in our country!
Send your reports to belarus_abc@riseup.net or post on social networks with the #Belarus hashtag.
Tags: ABC Belarus, Belarus, Dictatorship, International Solidarity, Repression, Riots, Social Insurrection
Posted in Autonomy
Tuesday, August 11th, 2020
Active and revolutionary solidarity for our imprisoned comrades.
Tags: Chile, Francisco Solar, International Solidarity, Monica Caballero, Santiago
Posted in Prison Struggle
Tuesday, August 11th, 2020
Elephant in the room – Bringing down the dictatorship. Interview on protests in Belarus
Since Sunday streets in Belarus are filled with rage of protesters trying to bring down the dictatorship. People from all parts of the society have been clashing in the night of August 9 in 33 different cities around the country. They are fighting against president Lukashenko who is ruling the country for the last 26 years.
We got together with one of comrades from Belarus who is living in emigration and clarified some things that are happening in Belarus right now.
Music:
Lyapis Trubetskoy
Zdrada Pałki
–
How did the Belarusians come to rebellion against the dictatorship
From Pramen:
If you had asked people in Belarus how long the dictatorship of Lukashenko was left in early 2020, they would have looked at you like a fool. In a respected dictatorship, such questions are not asked, because you know what can happen. And in general, it so happens that the reign of the great leader is timeless. But the situation has changed so radically over the last 8 months that Belarusians took to the streets and for the first time in the new history of Belarus they fought back the police in at least 33 different cities of the country.
Today Belarusians have woken up in a new country. In it, people openly talk about hatred for the government and prepare for a violent confrontation with the police and state. They discuss online and live effective methods of struggle. Several factories went on strike the day after the elections. (more…)
Tags: Belarus, Coronavirus, Dictatorship, Elections, International Solidarity, Minsk, Repression, Riots, Social Insurrection
Posted in Autonomy
Monday, August 10th, 2020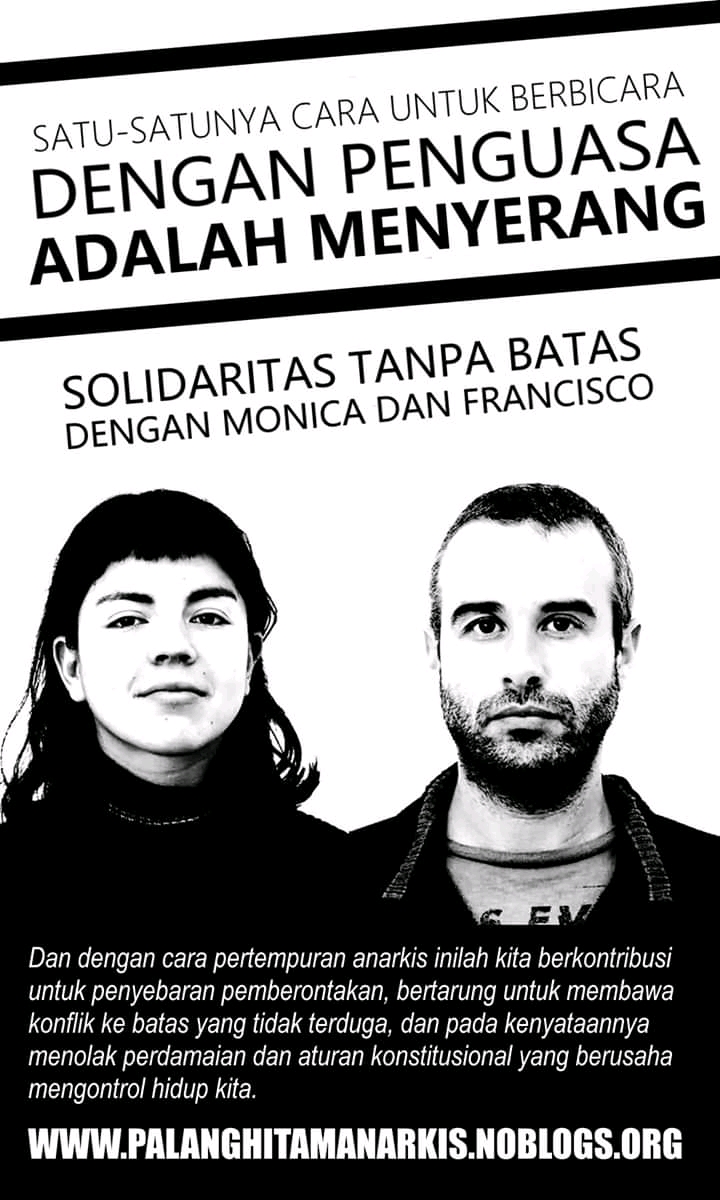 From Indonesia… To Chile…
Palang Hitam Indonesia / Anarchist Black Cross Indonesia menerbitkan poster solidatas untuk tahanan anarkis Mónica Caballero dan Francisco Solar dari Chile. Sebarkan solidaritas!!
Tautan unduhan:
• File PDF
• File JPG
Solidaritas kami akan lebih kuat dari tembok penjara mereka!! Free Monica and Francisco!
Tags: ABC Indonesia, Chile, Francisco Solar, Indonesia, International Solidarity, Monica Caballero
Posted in Prison Struggle
Monday, August 10th, 2020
ACTIONWEEK FOR LIEBIG34 – 07.09 – 13.09.20
Liebig 34 is being threatend by eviction. When state, cops and the owner want to evict, they will only have a desaster on their hands. As an anarcha-queer-feminist selforganized house-project without cis-men, directly at the square "Dorfplatz" in Friedrichshain, Liebig 34 is a place where resistance actions and collective moments are decided and organized. A place where self-organization becomes a dangerous word, where a project is becoming a starting point of struggles and not just a space of self-reference and alternative entertainment. The project itself has taken part in the planning of many of demonstrations, published numerous calls and texts and carried out various radical actions. But it is also a symbol of radicalization and empowerment for the antagonistic scene in Berlin and in Germany, as it shows how to fight various forms of resistance.
Liebig34 consists of a collective which is working with a focus to overcome more and more internalized structures of capitalism and patriarchy. In a world where patriarchy makes up one of the main pillars of the capitalist system, militant feminist groups and collectives, which make clear that the resistance and the fighting back is not a cis-men privilege, are more than necessary. In a patriarchal world, in which patriarchy and capitalism are interwoven, it is more than necessary to actually fight patriarchy and not have it be a sidenote in a text. Let us not be divided by oppression and let's fight together in this for a liberated society.
Join the fight and defend Liebig34!
Feminist action week 07-13.09.20
More information coming as soon as possible.
Autonomous Groups for Liebig34
check: https://defendliebig34.noblogs.org/
Tags: Berlin, Eviction, Germany, International Solidarity, Liebig34, Liebig34/XB
Posted in Autonomy
Sunday, August 9th, 2020
Jornada de agitación y propaganda con lxs presxs anarquistas.
14 DE AGOSTO DEL 2010
A diez años de la arremetida del poder en el Caso Bombas 1 y ante un nuevo golpe represivo en contra de nuestrxs compañerxs Mónica y Francisco, hacemos un llamado para este 14 de agosto a levantar por todos los rincones de este territorio gestos de propaganda y solidaridad. Dando rienda suelta a la creatividad desde el lugar que estemos y como podamos, haciendo una vez más que la solidaridad sea más que palabra escrita.
Ni culpables, ni inocentes, anarquistas simplemente.
Solidaridad activa y revolucionaria con Mónica y Francisco!
–
A day of agitation and propaganda for anarchist prisoners.
AUGUST 14TH, 2010
Ten years after the onslaught of power in the first "Bombs" case (Caso Bombas 1) and in the face of a new repressive coup against our comrades Monica and Francisco, we call for this August 14 to raise gestures of propaganda and solidarity in every corner of this territory. Giving free rein to creativity from wherever we are and however we can, making solidarity once again more than just a written word.
Neither guilty, nor innocent, simply anarchists.
Active and revolutionary solidarity with Monica and Francisco!
via Anarquia.info
Tags: 14/14, Flyposter, Francisco Solar, International Solidarity, Monica Caballero
Posted in Prison Struggle
Sunday, August 9th, 2020
One of the Tangerang anarchist prisoners who was previously sentenced to 4 months in prison, on August 8, 2020, has been released.
Of course his release does not make us forget the repressive actions he experienced during his arrest, interrogation and isolation for some time.
Congratulations for Comrade AA's freedom.
2 Tangerang anarchist prisoners and 1 Bekasi prisoner, will undergo trial Tuesday [11 August 2020].
#TillAllAreFree
Tags: Bekasi, Indonesia, International Solidarity, Tangerang
Posted in Prison Struggle
Wednesday, August 5th, 2020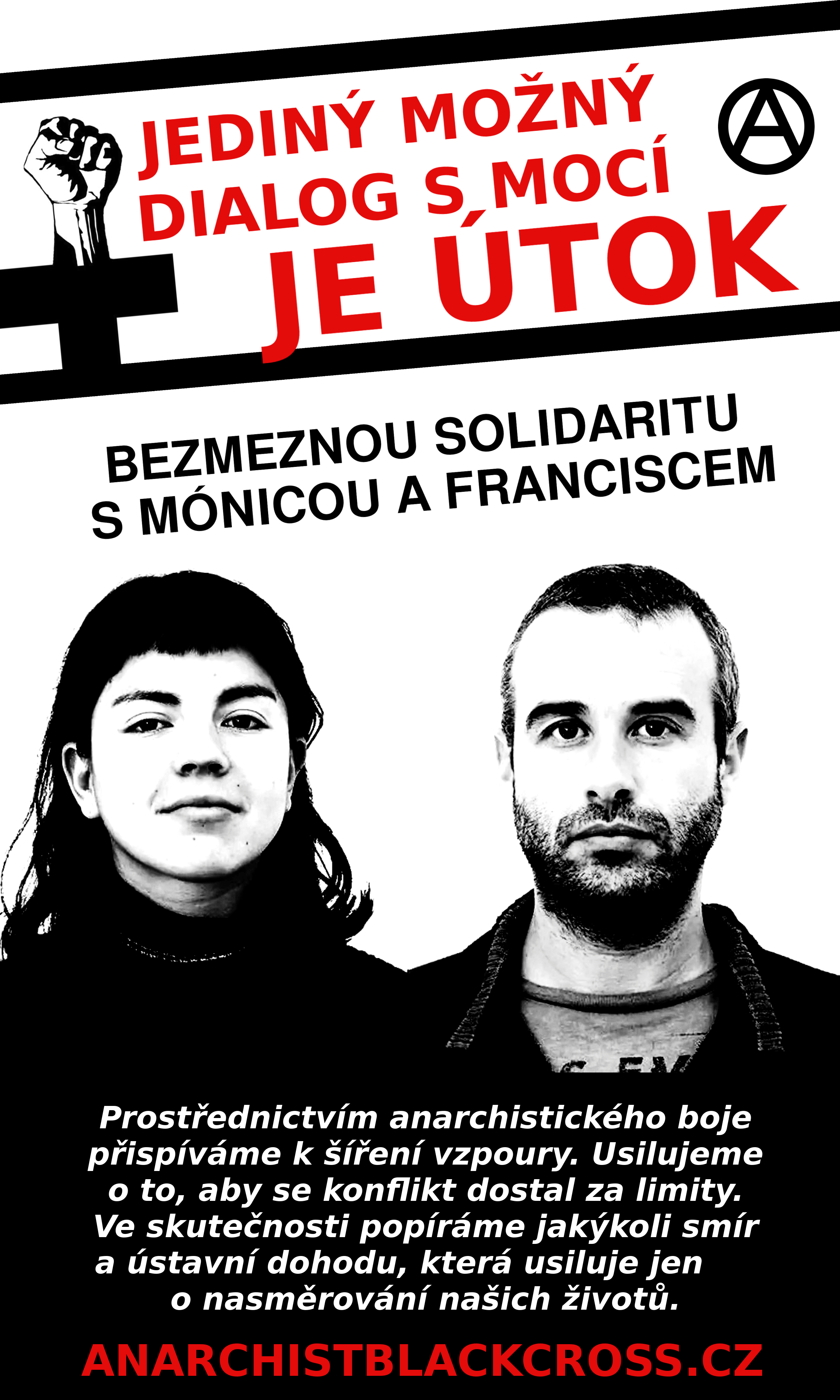 Anarchist Black Cross (Czech) created a new poster in solidarity with Mónica Caballero and Francisco Solar.
Our solidarity is stronger than their prisons!
Tags: ABC Czech Republic, Flyposter, Francisco Solar, International Solidarity, Monica Caballero
Posted in Prison Struggle
Sunday, August 2nd, 2020
PT | Porto Alegre, Brasil: Barricada incendiária e faixas ao amanhecer em solidariedade com Mônica e Francisco
Porto Alegre. Burning barricade and banners at dawn in solidarity with Mônica and Francisco. In front of the enemy: Indomitable!!!
Since last Friday, July 24th, we have felt the imprisonment of two anarchists Mônica Caballero and Francisco Solar, known enemies of the State and of domination. They spent years arrested first in Chile for the Bombs Case, and then in Spain, more than 4 years kidnapped, accused of attacking a basilica, a Catholic church. And today, they are kidnapped again by the Chilean state accused of sending two explosive packages, one against a police station famous for leading repression and the other against former Interior Minister Rodrigo Hinzpeter, an old repressor and boss of sending the bullets from his office, what some would call the intellectual author of the crimes of the Chilean state. They are also accused of being responsible for two explosive devices left in the building of a luxury real estate company, Tánica. (more…)
Tags: Brazil, Burning Barricades, Francisco Solar, International Solidarity, Monica Caballero, Porto Alegre, Solidarity Action
Posted in Direct Action
Thursday, July 30th, 2020
EN | PDF: 325 #12 – 'Against the Fourth and Fifth Industrial Revolutions'
ES | PDF: 325 #12 – 'Contra la Cuarta y Quinta Revolución Industrial'
Presenting 56 pages of anti-organisational, insurrectional, anti-civilisation anarchy of the 21st Century. A collection of critical texts and letters from anarchist points of view examining the new changes in production and social control brought about by new technologies which are ushering in a totalising prison-world and the advance of smarter-than-human machines. This issue of 325 builds on the considerations and content of the last issue which took as it's focus the subject of the Technological Singularity. Six years later, the mechanisms, ideologies and impacts of this global dystopian project are nearer and clearer and the texts you will read in this new issue deal with the emerging realities of these technological revolutions.
For the first time, 325 is coming out in 3 languages: First in English, with Spanish and Italian to follow. Printed copies are available, but we also encourage people to print out their own copies and distribute them in their area.
CONTENTS : 325#12
3. Editorial
4. Automation, Robotics & Labour in the 4th & 5th Industrial Revolutions
8. From Riot to Insurrection – Excerpt
9. A Small Criticism of Science and its World
10. Covid-19 World: Epidemics in the era of Capitalism
12. The Fractures of Dominion
13. Coordinated Incendiary Attacks Against Relay Antennas in Grenoble, France
14. The 4th and 5th Industrial Revolutions
17. The Artificial Reproduction of the Human: The Road of Transhumanism
23. Machine Psychology: A Disappearing Act
25. Oblique Look
28. Smartphones, Ringtones, Capital
29. Cashless Societies and Crypto-Currencies: End of the Traditional Era of Banking and Finance
32. Contribution to the 1st International Meeting Against Techno-Sciences by imprisoned anarchist Dino Giagtzoglou
38. Cybernetic Society and its World
48. Against Starlink
50. Space : Part 1
51. To Be Released
53. Direct Action Chronology
ANTI-COPYRIGHT NETWORK 2020
Tags: 325 Magazine, Analysis, Anti-Prison, Anti-technology, Artificial Intelligence (AI), Artificial Reproduction, Biotechnology, Coronavirus, Crypto-Currencies, Cybernetics, Fifth Industrial Revolution, Fourth Industrial Revolution, Insurrection, International Solidarity, Konstantinos Yagtzoglou, Nanotechnology, PDF, Prison Society, Robotics, Sabotage, Starlink, Technological Singularity, Transhumanism, Zine
Posted in Library
Thursday, July 30th, 2020
Tags: Anti-Fascism, Anti-technology, Indonesia, International Solidarity, Jurnal Anarki, Video, West Papua, Zine
Posted in Library
Monday, July 27th, 2020
FRENTE A LA RECIENTE DETENCIÓN DE LOS/AS COMPAÑEROS/AS MÓNICA CABALLERO Y FRANCISCO SOLAR.
El día de hoy, viernes 24 de julio, se ha llevado a cabo una razzia contra las/os compañeras/os anarquistas Mónica Caballero y Francisco Solar, quienes han sido acusadas/os por distintos ataques explosivos ocurridos en la capital de Santiago de Chile.
La irrupción por parte del GOPE y demases polícias se dio en los domicilios de los/as compañeros/as por la mañana, incluyendo un operativo por artefactos sospechosos en el domicilio de Mónica en Santiago Centro. Hasta la tarde del día de hoy se han confirmado allanamientos contra otras personas, desconocemos los motivos y/o vinculaciones. (more…)
Tags: Chile, Francisco Solar, International Solidarity, Monica Caballero, Repression, Santiago
Posted in Social Control
Monday, July 27th, 2020
We need about 4,000 euros for lawyers – now, and another 4,000 for the queer campaign we want to start next month. All raising funds above this amount will be donated to the Polish Anarchist Black Cross and to anti-repressive activities.
We're "Stop Bullshit" – we're a radical, feminist and queer collective.
We work for LGBTQ+ – smart, educated, brave, and most of all- with a causative power. We differ from the rest of LGBTQ+ groups in Poland on account of our shameless mugs, unapologetic nature, and methods which neither TVP.info ( "News" station affiliated with the government), nor the rest of right-wing asshats would dare to dream about. Everything we've done here results from the anger in response to the cruel, harmful, iIl-conceived actions of the fanatics. You can learn more on our facebook, by watching videos on our youtube or by reading this whip-round.
RECENT EVENTS:
On the morning of July 14, police in plain clothes came to the flat in which Margot stayed in as a guest. They first threatened to bust the door, and when they were let in they didn't give a reason for their intrusion, nor allowed their information to be written down. Then they brutally dragged Margot out of the flat in her pyjamas (without shoes, socks or a sweatshirt), and took her to an unmarked car, threatening her with abuse and death, calling her a f*ggot and a loser. Only after countless of people and NGOs intervened, did the D.A. reveal that Margot was charged in connection with the destruction of a homophobic truck.
The activist was held up all night, and released the next day by the court, without arrest. Now she needs funds for herself and other people at risk, as well as for further actions of her collective.
The activist was held up all night, and released the next day by the court, without arrest. Now she needs funds for herself and other people at risk, as well as for further actions of her collective. (more…)
Tags: International Solidarity, LGBTQ+, Poland, Queer, Repression
Posted in Cognitive Liberty
Saturday, July 25th, 2020
Received from comrades in Amerikkka, the correspondence address for anarchist comrade Xinachtli's current assigned unit in Texas, find previous posts concerning Xinachtli here.
To: Bro. "Xinachtli",
(s/n Alvaro Luna Hernandez),
TDCJ-CID#00255735,
James V. Allred Unit,
2101 F.M. 369 North,
Iowa Park, Texas 76367
From Comite Pro Defensa Xinachtli
Central Texas ABC
Tags: ABC Texas, International Solidarity, Texas, USA, Xinachtli
Posted in Prison Struggle