Posts Tagged 'International Solidarity'
Sunday, August 9th, 2020
One of the Tangerang anarchist prisoners who was previously sentenced to 4 months in prison, on August 8, 2020, has been released.
Of course his release does not make us forget the repressive actions he experienced during his arrest, interrogation and isolation for some time.
Congratulations for Comrade AA's freedom.
2 Tangerang anarchist prisoners and 1 Bekasi prisoner, will undergo trial Tuesday [11 August 2020].
#TillAllAreFree
Tags: Bekasi, Indonesia, International Solidarity, Tangerang
Posted in Prison Struggle
Wednesday, August 5th, 2020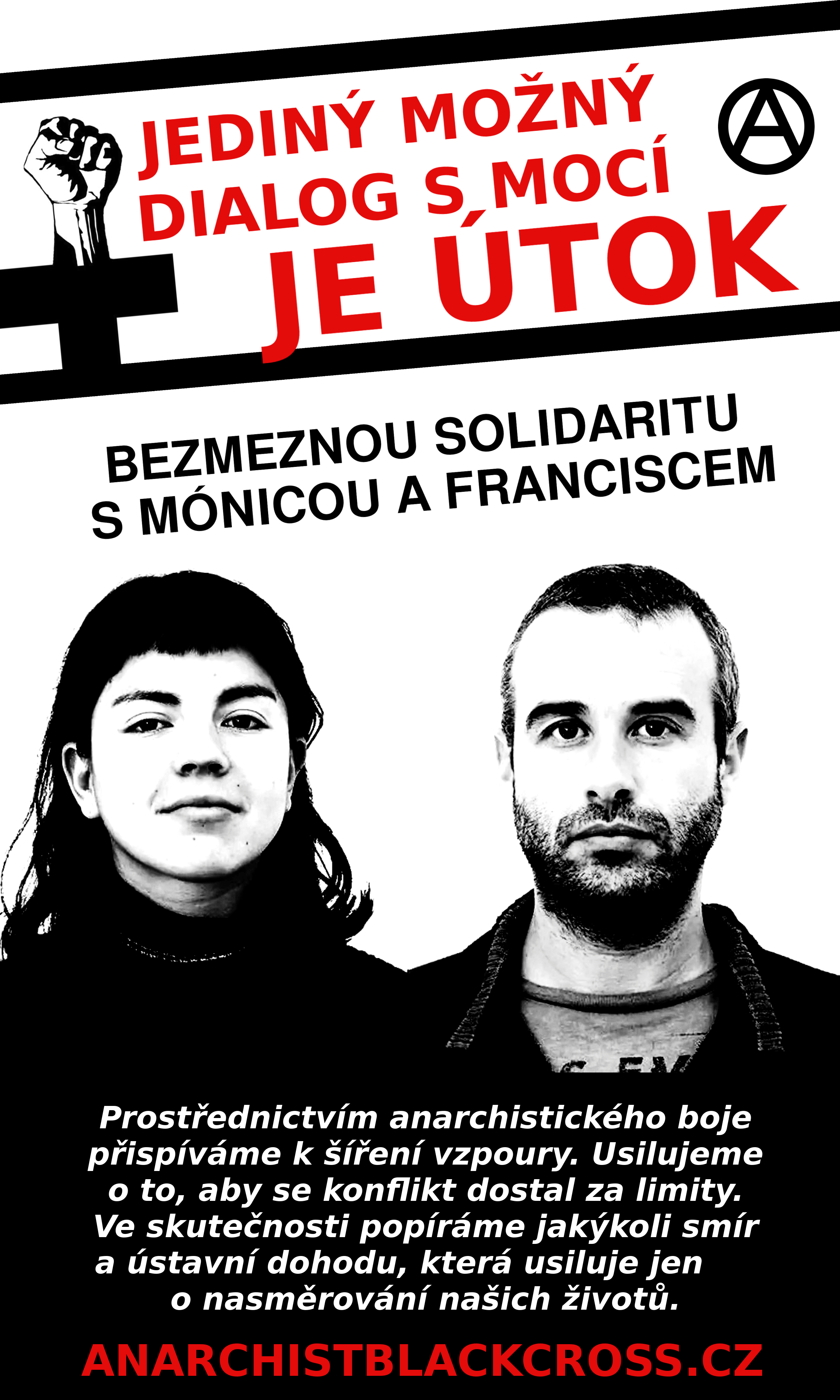 Anarchist Black Cross (Czech) created a new poster in solidarity with Mónica Caballero and Francisco Solar.
Our solidarity is stronger than their prisons!
Tags: ABC Czech Republic, Flyposter, Francisco Solar, International Solidarity, Monica Caballero
Posted in Prison Struggle
Sunday, August 2nd, 2020
PT | Porto Alegre, Brasil: Barricada incendiária e faixas ao amanhecer em solidariedade com Mônica e Francisco
Porto Alegre. Burning barricade and banners at dawn in solidarity with Mônica and Francisco. In front of the enemy: Indomitable!!!
Since last Friday, July 24th, we have felt the imprisonment of two anarchists Mônica Caballero and Francisco Solar, known enemies of the State and of domination. They spent years arrested first in Chile for the Bombs Case, and then in Spain, more than 4 years kidnapped, accused of attacking a basilica, a Catholic church. And today, they are kidnapped again by the Chilean state accused of sending two explosive packages, one against a police station famous for leading repression and the other against former Interior Minister Rodrigo Hinzpeter, an old repressor and boss of sending the bullets from his office, what some would call the intellectual author of the crimes of the Chilean state. They are also accused of being responsible for two explosive devices left in the building of a luxury real estate company, Tánica. (more…)
Tags: Brazil, Burning Barricades, Francisco Solar, International Solidarity, Monica Caballero, Porto Alegre, Solidarity Action
Posted in Direct Action
Saturday, July 25th, 2020
Received from comrades in Amerikkka, the correspondence address for anarchist comrade Xinachtli's current assigned unit in Texas, find previous posts concerning Xinachtli here.

To: Bro. "Xinachtli",
(s/n Alvaro Luna Hernandez),
TDCJ-CID#00255735,
James V. Allred Unit,
2101 F.M. 369 North,
Iowa Park, Texas 76367

From Comite Pro Defensa Xinachtli
Central Texas ABC
Tags: ABC Texas, International Solidarity, Texas, USA, Xinachtli
Posted in Prison Struggle
Saturday, July 25th, 2020
In the night of July 23rd we sprayed slogans in solidarity to the squats Liebig34 and Rigaer94 in Berlin on the LIDL supermarket in Neos Cosmos / Athens. After we destroyed all windows with hammers.
Every eviction has its price. This is a message do all those responsible for the aggressive gentrification of many European cities, which always goes on with the eviction of squats, the state terror against the radical movement and the rising of rents. We noticed the eviction thread against Liebig34 in Berlin and the attack by so called owners and their companies together with the cops against Rigaer94. With the eviction of Dervenion56 in Exarchia the government of ND continues its operations against the combative and solidarity resistance, which we always will be – with squats or without.
One of many answers to an evicted squat is the destruction of a consumer symbol the capitalist system offers to the inmates of the prisons called the Metropolis. To support the struggle of our comrades in Berlin we found a German company, but it can be also real estate agencies or luxury cars or tourism.
The LIDL supermarket chain was targeted already some time ago in Germany because of its bad working conditions for their employees. This action is an offering of solidarity to this aggressive campaign against the working conditions in LIDL WORLDWIDE. 8 to 10 hours per day with a fake smile for pity money, sitting in front of hundreds of products, in a cashier, becoming a robot which just counts and counts. Or lifting big weights destroying your back. Why all these? What is the role of supermarkets ?
Supermarket are big financial mechanisms which seem very innocent to the majority of the people. The truth is, they are not.
Colonilization
Supermarket are colonizing the economies of local societies in all the earth. All the small markets, grocery stores and other kind of shops are shutting down whenever a new supermarket is opening. There is no need for a new supermarket in most of the areas, its just matter of expanding and absorbing. Also, is reducing the use of local products and producers. Slowly slowly, the residents of an area are becoming workers, mainly women, of this industry, losing all their independence (even in liberal terms)
Anti-ecological
The opening of chain supermarkets, local or multinational, is also increasing importing of products. This is happening because the production companies are
exploiting people in a cheaper way in other countries, or because they make better offers to a multinational company because of the massive consumption. What is happening at the end is a big consumption of petrol by the ships to transfer products all around the world. The paradox of capitalism, the fact that a product from 2000 miles far is cheaper than the local, is killing faster the nature.

Food Control
All these brings us to the bigger problem. Supermarkets are the greatest tool for multinational food companies to takeover all of our nutrition process. We eat shit, we don't produce anything, we need money to buy everything, we need to work for them for ever to be able to buy them and cure our selves from the sickness their food is creating
Do we smash supermarket?
Yes we do. But we have to know that most of the people will not understand why. So we must do more propaganda against this mechanism. And for sure it is better to smash without people being inside. Our target is to spread fear to the side of the bosses not to the side of the random population. But if somebody break a supermarket with people inside without putting someone in danger, its okay, we can overpass it.
Solidarity to Liebig34 and Rigaer 94
We hit the German interests in solidarity with the resistance in the German controlled territory
Solidarity to Dervenion 56 and all the evicted and the still resisting squats in Greece
Support to the workers that suffer in the food and product industry worldwide
(source https://athens.indymedia.org/post/1606472/)
+
As a note, we place a link here for a poster we made years ago, concerning supermarkets, one of the core nodes of 'everyday life'
Tags: Athens, Dervenion 56, Greece, International Solidarity, Lidl (Supermarket), Liebig34/XB, Rigaer 94
Posted in Direct Action
Monday, July 20th, 2020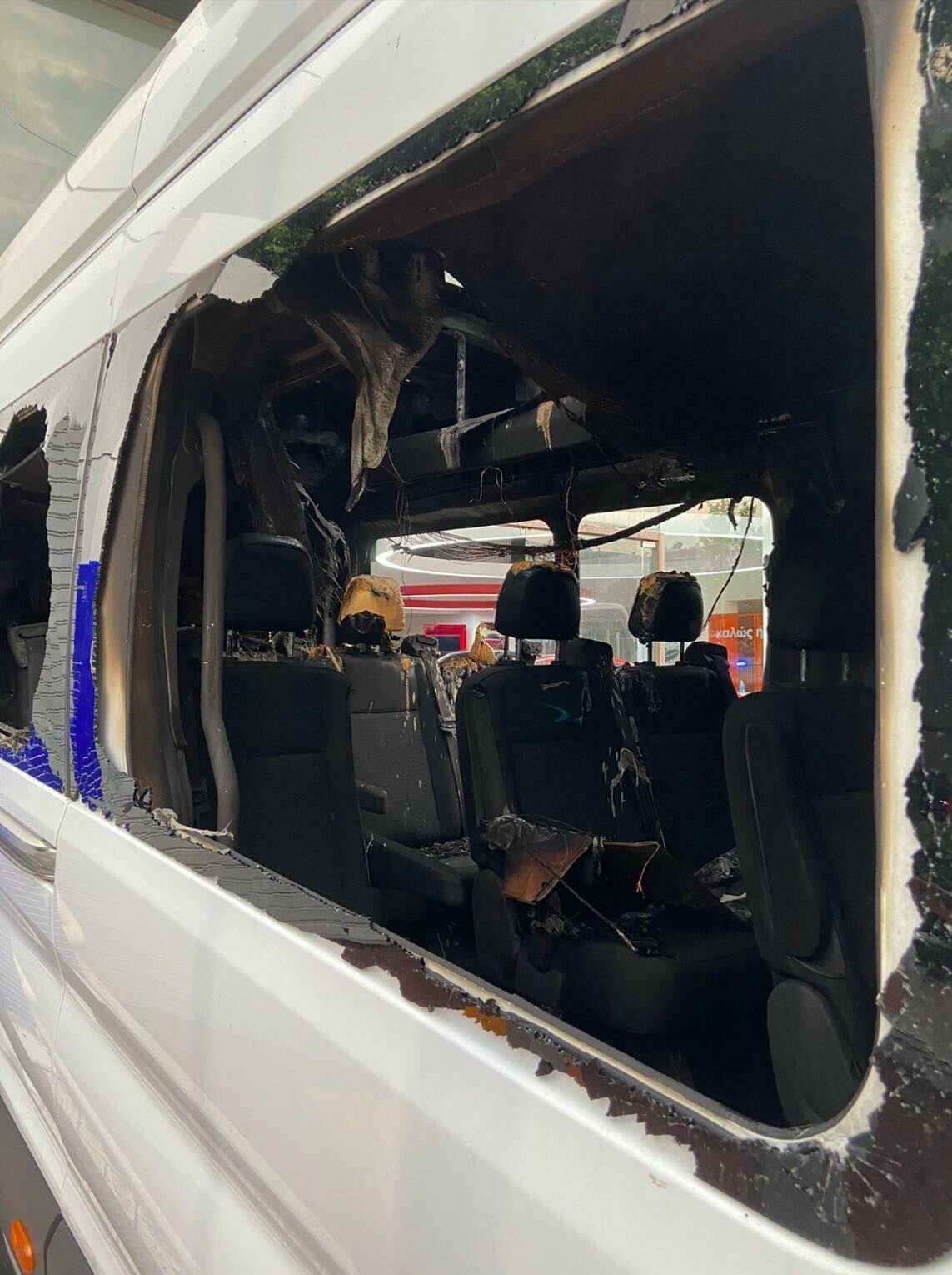 Besieged bodies among the concrete, between the cameras eyes, crossing daily life with careful but daring steps, moved by an ethic forged by negations.
We are folks that woke up from the social lethargy, having as weapon our solidarity to the fighting individuals towards the world. We want to be the crack that will join the others, destroying a system that represents injustice and "deadly injuries".
So, at the night of 7/7/2020, we chose to plant four incendiary devices to the Ford car dealership of Sfakianakis company, resulting to three burnt-down vehicles and a destroyed showcase. Our target was totally not random, as this specific company equips the state apparatus with vehicles, and also the moment of our attack coincides the uprising in USA, the homeland of Ford.
By that we choose to be the aroma of night-flower that bungs the nostrils of the decay, and we want this smell to break every authoritarian nose, to close every mouth that pukes shit, to cut every hand that points at our bodies full of racism, homophobia and sexism.

Carmine Night-Flowers
Tags: Arson, Athens, Ford, Greece, International Solidarity, Sabotage
Posted in Direct Action
Thursday, July 16th, 2020
Recibido el 16.07.2020:
[Scroll Down For English Version]
¡¡¡PABLO MUÑOZ MOYA PRESENTE!!!
A 28 AÑOS DE SU KAÍDA EN KOMBATE
16 DE JULIO DE 1992-2020
"El Guatón Feña" miembro de las Fuerzas Rebeldes y Populares Lautaro muerto el 16 de Julio de 1992 a los 21 años de edad en un enfrentamiento kon los pakos en el sector de Ñuble kon Santa Elena, zona centro sur de Santiago, al ser detectado kuando se movilizaba en un auto junto a dos kompañerxs en dirección a un asalto bankario.
Reivindikamos su historia komo expresión de lucha konfrontacional kontra el poder, kombatiendo la amnesia y desmemoria, los akomodos y justifikaciones para la renuncia por encima de las estrechas fronteras de su militancia.
Rekonocemos en Pablo y en todxs lxs kompañerxs muertxs en los primeros años de Demokracia la inspiración inevitable para konstruir nuestro largo kamino de Subversión Autónoma y Libertaria.
Hoy, Pablo vive y vuelve en la Revuelta. En kada akto de transgresión a la paz social de los rikos; en kada kompañerx ke konspira buskando la destruxión del kapital y del aktual orden social ke perpetua la miseria y la sumisión.
Por la Liberación Total avanzamos promoviendo el atake frontal, con Resistencia Ofensiva komo praxis subversiva autónoma ke se multiplika por todo el territorio en un kamino de lucha sin vuelta atrás hasta ke este podrido mundo estalle.
KON TODXS NUESTRXS HERMANXS MUERTXS DE AYER Y HOY…
¡¡¡KON MEMORIA, RESISTENCIA Y SUBVERSIÓN!!!
¡¡¡MIENTRAS EXISTA MISERIA, HABRÁ REBELIÓN!!!
¡¡¡NADA HA AKABADO, TODO KONTINÚA!!!
******
Received on 16.07.2020:
PABLO MUÑOZ MOYA PRESENT!!
28 YEARS AFTER HIS FALL IN COMBAT
16 JULY 1992-2020
"El Guatón Feña", member of the Lautaro Popular Rebel Forces, died on July 16, 1992, at the age of 21, in a confrontation with the cops in the sector of Ñuble and Santa Elena, in the central-southern zone of Santiago, when he was detected while driving with two comrades following a bank robbery.
We reclaim his history as an expression of confrontational struggle against power, combating amnesia and desmemoria [forgetfulness], accommodations and justifications for renunciation over the narrow borders of his militancy.
We recognize in Pablo and in all the comrades who died in the first years of Democracy the inevitable inspiration to build our long road of Autonomous and Libertarian Subversion.
Today, Pablo lives on in the revolt. In every act of transgression against the social peace of the rich; in every comrade who conspires seeking the destruction of capital and the current social order that perpetuates misery and submission.
For Total Liberation we advance by promoting the frontal attack, with Offensive Resistance as an autonomous subversive practice that multiplies throughout the territory on a path of struggle without turning back until this rotten world explodes.
WITH ALL OUR DEAD BROTHERS & SISTERS OF YESTERDAY AND TODAY…
WITH MEMORY, RESISTANCE AND SUBVERSION!
AS LONG AS THERE IS MISERY, THERE WILL BE REBELLION!
NOTHING IS OVER, EVERYTHING CONTINUES!

Translated into English by Anarchists Worldwide
Tags: Chile, International Solidarity, Pablo Munoz Moya, Santiago
Posted in Autonomy
Tuesday, July 14th, 2020
Solidarity means attack – no eviction remains without response
Today (10/7/2020), as a first response to the raid and evictions in the front building of Rigaer94, we attacked a branch of the Berliner Sparkasse in Lichtenberg with stones and destroyed the windows.
The raid and eviction are the beginning of the planned elimination of various projects in the coming months. In addition to an attack on one of our spaces, yesterday's raid concerned the extension of the siege in the northern district of Friedrichshshain and the attempt to prepare the framework for the eviction of Liebig34. This will not remain without consequences. With our action we call for
decentralized actions against their plans. We do not want to wait for Day X, the phase of evictions has already begun and we must give a strong, collective response on the streets.
In doing so, we are joining the call of the Koukaki Squats in Athens in order to enter into dialogue with the comrades there who are facing similar challenges. The evacuation of Dervenion56 in Exarchia was the occasion for this international call [1].
In Greece, since last summer, there has been a general attack on solidarity structures and occupations. In the 12 months of the ND's reign, more than a dozen occupied houses have already been cleared and barricaded. The right-wing government of New Democracy sees the anarchist movement and its free spaces as its harshest and most dangerous critic.
What is happening in Athens and other Greek cities is an attack on anarchist and autonomous structures, which is taking place in Berlin under different conditions and circumstances, with the threat of eviction of house projects, the suppression of autonomous bars and the siege of the resisting Norkiez in Friedrichshain. The anarchist perspective in the neighborhood struggle also requires international exchange about the methods of our enemies. In societies which generate exploitation and repression and against the servants of capital, we show boundless solidarity with those who choose conflict, creating thereby collective moments.
For self-organization and the occupation of space
Solidarity with Dervenion56, Liebig34 and Rigaer94
[1] https://athens.indymedia.org/post/1606123/
Translation from http://4sy6ebszykvcv2n6.onion/node/94951
Tags: Berlin, Dervenion 56, Germany, International Solidarity, Liebig34/XB, Rigaer 94, Sabotage, Solidarity Action, Sparkasse Bank
Posted in Direct Action
Saturday, July 4th, 2020
EL | [Κουκάκι] Δράση αλληλεγγύης για Δερβενίων 56 // Διεθνές κάλεσμα αλληλεγγύης // Συγκεντρωτικό δράσεων
We are calling for international actions in solidarity with the Squats. Make the Greek state, the Greek capital and its partners regret the choice they made to attack the movement and its spaces in Greece. To defend Dervenion 56 and all squats,to prepare the ground for the coming social uprising.
On Friday 26/6, in Exarchia, the Greek state evacuated and sealed Dervenion 56 squat and the building at Dervenion 52. An immediate gathering of solidarity was held at Exarxia Square for several hours.In the evening of the same day, a solidarity march was held with the participation of 300 people. The march ended at Dervenion squat, barricades were set up around the perimeter and then comrades broke the concrete blocks of shame. (more…)
Tags: Athens, Dervenion 56, Ermou, Eviction, Exarchia, Greece, International Solidarity, Koukaki, Molotovs, Riots, Squatting
Posted in Autonomy
Tuesday, June 30th, 2020
Buenos Aires, Argentina. June 2020
"…Anarchism is either illegal or it's not anarchism. That is its essence and its meaning. Its nature. For the same reason, it sometimes seems so obvious to us that we forget to insist punctiliously on the anti-authoritarian and therefore, the consequently anti-systemic character of anarchism. Rabidly anti-systemic! We are against all authority. That is our maxim… That we are against the system of domination, that we are fighting against the social order as a whole, we are objecting to its order and the laws that support it. All laws have been and will be made to give legal support to oppression and domination…"
– Gustavo Rodriguez
This is an appeal to our friends, to our comrades, like-minded and not so like-minded. A warm invitation to practice beautiful disobedience and take back our lives. A call to conflict against all that exists here and now, assuming the consequences of a life at war.
For anyone who lives in the territory dominated by the Argentine State, or almost anywhere in the world, currently there is a state of alert in the face of the current situation. The appearance and expansion of covid-19 quickly became a global problem, and while we do not want to question its existence or veracity, we want to show how the "epidemiological outbreak" unmasks the harmfulness of the class society and neoliberal capitalism maintained by the States its main economic groups. (more…)
Tags: Analysis, Argentina, Buenos Aires, Fanny Kaplan Antagonistic Cell (FAI-FRI), Informal Anarchist Federation (FAI), International Revolutionary Front, International Solidarity
Posted in Autonomy
Friday, June 19th, 2020
ADESSO CHE AVETE PAURA.
E' sempre più chiaro ormai come il modello economico dominante, sacrifichi alla legge del profitto e della competizione esasperata qualsiasi espressione di libertà individuale, uguaglianza e solidarietà sociale.
Di fronte a tutto ciò, numerosi sono gli scenari di rivolta che esplodono e si ramificano in ogni parte del mondo.
Dal confederalismo democratico curdo, ai territori autonomi zapatisti, da Hong Kong al Chile.
In questi ultimi mesi, il modo in cui la pandemia da Covid è stata gestita ha ulteriormente amplificato e reso evidente la disuguaglianza tra chi il sistema lo subisce e chi pretende di controllarlo.
Questo ha reso più estrema la tensione sociale e il suo potenziale esplosivo.
La morte di George Floyd, di per sé un evento non eccezionale nel contesto della brutalità di un sistema che giornalmente uccide e devasta, vissuto nel momento del lock down globale a causa della pandemia, ha scatenato a livello internazionale un'esplosione di rabbia che si è manifestata in molteplici forme: dall'assedio dei distretti di polizia, ai saccheggi di quei beni a cui molt* non hanno più o non hanno mai avuto la possibilità di accedere, alle grandi manifestazioni di piazza. (more…)
Tags: Berlin, Coronavirus, George Floyd, Germany, International Solidarity, Italy, Operation Bialystok, Repression
Posted in Social Control
Friday, June 19th, 2020
The following interview is the 3rd part in an ongoing dialogue between anarchist comrade Alfredo Cospito, who is currently imprisoned at Ferrara Prison, and the editors of the Italian anarchist newspaper Vetriolo [Vitriol]. As far as we know, the first part of the interview has not been made available in English, however part two was translated by the Abolition Media Worldwide comrades in April 2019. Vetriolo have published the interview in parts, and have plans to publish the interview in its entirety in a forthcoming publication. We hope that we have captured the original spirit of the interview with our translation, however we are acutely aware of the possibility that some errors may have been made and we welcome any correspondence regarding any errors that may need correcting. To request copies of Vetriolo, they can be contacted via vetriolo[at]autistici.org
In some of your recent writings you have wanted to open a debate on: action and affinity groups, individual actions, claims of responsibility, ways to informally organize oneself among anarchists and propaganda through direct action. There are many different experiences that reach the present day, many and diverse within the different tensions of anarchism. We do not believe that there is, for the anarchism of action, an unavailability or impossibility with respect to the current historical context. Anarchists, in different ways and in every age, have always acted "here and now". We would like to ask you, evaluating these experiences and different ways of acting and organizing in a horizontal and anti-authoritarian way: could one say that there is, especially in Italy, an ideological prejudice against "informal organization", "anarchist groups", and "claims of responsibility"? Equally, is the debate, which often ends up in mockery for its own sake, far from being able to confirm absolute validity or theoretical-practical evidence regarding "reproducibility, informality, anonymity", in the Italian context conditioned by methodical, functional and a priori productive calculations, in a distorted logic of "factions"?
The "ideological" prejudice against informal organisation here is nothing new. Although there is no doubt that some concretizations of informal practice are more acceptable to "classical" anarchist organising than others. The "small" reproducible, unclaimed actions against structures of domination, without initials of any kind, create fewer problems than actions that endanger the lives of men and women in power, especially if these are claimed with initials that have a constancy over time. The former compared to the latter are more acceptable to the "movement" for the simple reason that they give rise to less intense repression by the State. The rejection of insurrectionism or informal experiences such as FAI/FRI by "classical" anarchism is almost always motivated as an "ethical" rejection of violence and specifically of certain actions (bomb attacks, arson attacks, parcel bombs, knee-cappings, expropriations…). (more…)
Tags: Alfredo Cospito, Analysis, Black International, Informal Anarchist Federation (FAI), Insurrection, International Revolutionary Front, International Solidarity, Italy, Roberto Adinolfi, Vetriolo
Posted in Interviews
Saturday, June 13th, 2020
12/6/20: Pending further information we learn from the regime press that this morning the judiciary in Rome carried out 7 arrests resulting in 5 people being taken to jail within a repressive operation named "Bialystok".
https://roundrobin.info/2020/06/roma-nuova-operazione-di-polizia-ed-arresti/
Arrests in Rome [one arrest was made near Almerìa, Spain, and one in Saint Etienne, France, with the collaboration of police of those respective states]
The comrades Daniele, Nico, Francesca, Falla, Flavia, Claudio and Robi, have been arrested, perhaps for 270bis and instigation.
Named "operation Bialystock", according to the newspapers seven comrades have been arrested with the accusation of association for the purpose of terrorism or subversion of the democratic order, act of terrorism with deadly devices and explosives, possession of and carrying explosive material, instigation to commit crimes against State personalities as well as fire and aggravated damage with the purpose of terrorism and subversion of the democratic order.
The investigations started after the explosive attack on the Roma San Giovanni carabinieri barracks on December 7 2017.
https://plagueandfire.noblogs.org/arresti-a-roma/
Translated by Act for freedom now!
–
About the Bialystok operation
Aridaje.
The umpteenth anti-anarchist repressive operation began at dawn on 12/06/20 in the territories dominated by the Italian, French and Spanish states. In grand style, wearing balaclavas and carrying weapons, the guards searched several houses, seized the usual equipment and arrested 7 people, 5 of them are in jail and 2 under house arrest.
Nothing new under the starry sky.
The charges that the state moves against them are various, including the usual subversive conspiracy to commit terrorism as well as arson, incitement to commit crimes, etc., etc..
Now, it is not important to stay behind their judicial quibbles, but it is necessary to reiterate that direct action, mutual support, rejection of all hierarchy and all authorities and that the practice of solidarity are an expression of our anarchic tension.
We are not interested in entering into the logic of innocent / guilty, the individuals affected are our comrades and will have our closeness, solidarity and complicity.
Ros merde
To each their own.
– An occupant of the Bencivenga Occupato
For the moment, the known addresses of the arrested comrades are:
Nico Aurigemma
C.C Rieti
Viale Maestri Del Lavoro, 2 – 02100 Vazia (RI)
Flavia Di Giannantonio
C.C Femminile Rebibbia
Via Bortolo Longo 92. Roma 00156
Claudio Zaccone
C.C Siracusa Via Monasteri, 20C.
Contrada Cavadonna
Siracusa 96100
via Round Robin, translated into English by Anarchists Worldwide
Tags: Bencivenga Squat, France, International Solidarity, Italy, Operation Bialystok, Raids, Repression, Rome, Spain
Posted in Social Control
Friday, June 12th, 2020
On the night of June 10, 2020 the building of Criminal Investigations Department (Kyiv, 25, Naberezhne highway) was attacked by petrol bomb.
The other day appalling news came from Kagarlyk, Ukraine, where on the night of May 24, police officers assaulted and raped a woman who had been summoned as a witness. The details – policemen put a gas mask on a woman, handcuffed her and shot from their duty weapons above her head – flashed around the nation.
Same kind of news come from the other side of the Dnepr river, where police officers who killed a five-year-old boy in Pereiaslav-Khmelnytskyi were released from prison on bail.
Since the beginning of this quarantine the police flooded the streets of Kyiv. Control and police pressure have increased, unwarranted and unjustified inspections have become more frequent. Like the conduct of the police in Kyiv's Podol: stop-and-search inspections of passersby under false pretenses, solicitation of bribes, beatings in police stations.
These episodes are merely details of the big puzzle. "Police reforms" remain a complete waste of time, because police is an instrument of violence in the hands of the State. It is criminal per se, all misdeeds of its personnel – simply extreme manifestations of monopoly on violence.
Through our action, we slap the police in the face. We appeal to the society and to every person to join in this endeavour, to not remain indifferent, to organize themselves and to resist actively. People from Minneapolis, USA are setting an example for us – in response to the racist killing of a black man by beastly policeman, they started a real street war against state oppressors and sadists in uniform.
Society can protect itself from both the crime and the police. This requires determination, mutual assistance and self-organization – developing institutions of self-government and peoples militia.
We encourage everyone to act so all atrocities of the police and the State do not remain unpunished!
We're calling to arms!
Brave Ones
–
UPDATE: Ukranian mass-media and the police confirmed that the attack on the Criminal Investigations Department of Kyiv had taken place on the night of June 10, 2020. There are reports that fire destroyed at least one office in the building, a few more are badly damaged. Some journalists have managed to "connect" the attack with Pavel Sheremet murder case.
Video from "Kyiv Operative" shows Kyiv firefighters putting out a fire in Criminal Investigations Department building, which was attacked by anarchists.
–
Tags: Arson, Fuck the Police, George Floyd, International Solidarity, Kiev, Molotovs, Police Bastards, Sabotage, Ukraine
Posted in Direct Action
Thursday, June 4th, 2020
Basel, Switzerland / Violence against refugees is systematic: A call
Recently it became publicly known that systematic violence is perpetrated against refugees in the federal asylum camp in Basel (Switzerland). Obviously this violence is neither an isolated case nor is it limited to the asylum camps in Switzerland.
This violence is systematic and the system has names. Those responsible are internationally represented and operate in many different places. Let's name them and show them that their actions bear consequences.
The spread of the coronavirus has highlighted the violence of the European migration regime – both at the EU external border as well as in local asylum camps and prisons.
This call wants to continue the intensified struggles against it.
What are federal asylum camps?
Since the spring of 2019, asylum seekers in Switzerland are being administered in so-called federal asylum centres. The accelerated asylum procedues related to the erection of these new structures do not result in fairer procedures for most of the persons affected, but in faster deportation. The federal asylum camps are often geographically isolated. The type of constuction, the location, as well as the rules imposed are reminding of prisons and other instituions that deprive people of their freedom. They are contributing to the racist constructs of the nation state and borders. (more…)
Tags: Basel, Coronavirus, International Solidarity, Migrant Struggle, Securitas, Switzerland
Posted in No Borders