Posts Tagged 'International Solidarity'
Saturday, April 20th, 2013
OPERATION SPY-HUNT
We attacked 'Europol Investigazioni' with a parcel bomb. This agency, like many others, provides the forces of order with equipment such as microchips, micro-cameras and other technological wickedness, which the forces of order scrupulously place in houses, cars and other places familiar to comrades, rebels and any other individual enemy of the law and its hangmen.
In this way any single aspect of life and daily experience becomes material for enlarging investigation files and is examined by the servants in uniform with the intent to analyse them according to the standards of the penal code, and use them to take our freedom away and lock us up in the concentration camps of the state.
We believe it is time to break this malicious chain thanks to which many comrades are imprisoned today, and many others who continue to struggle with generosity and determination are compelled to cope with the constant risk of being intercepted and spied on. One thing must be clear to these collaborators of repression: if you help, no matter how, armed dominion do its job, you automatically join its ranks, with all the consequences that this entails.
Another parcel bomb was sent to the notorious shit paper known as 'La Stampa', always ready to corroborate the frame-ups of carabinieri and police, especially when they strike those who are at war against the state. We know even too well that repression would be less effective without the fundamental help of pennivendoli [word sellers, TN], and it is for this reason that we decided to make them pay for their responsibility once again. We are aware of the fact that 'La Stampa' is just one of the many newspapers of the regime, therefore any single pennivendolo is a possible target of our war against the state and society that supports it and legitimizes its existence every single day.
This action is meant to continue the campaign started by the comrades of the 'Olga' nucleus with the wounding of stinker Adinolfi, manager of Ansaldo. This time we chose the targets among those who provide dominion with the technological appendages necessary to repression. They are as responsible as Ansaldo for harmfulness and suffering.
We dedicate this action to the comrades locked up in the AS2 unit of the prison of Ferrara: Sergio, Alessandro, Alfredo, Nicola, Peppe and Stefano; to the comrades imprisoned in Rebibbia: Elisa and Paola; to Marco Camenish, Gabriel Pombo da Silva, our Greek comrades of the CCF and Theofilos Mavropoulos. To all rebel anarchists locked up all over the world.
We hail the cells of FAI/FRI, by now so numerous, that attack dominion in all corners of the globe.
LONG LIVE FAI/FRI
LONG LIVE ANARCHY
INFORMAL ANARCHIST FEDERATION/INTERNATIONAL REVOLUTIONARY FRONT
DAMIANO BOLANO CELL
Tags: Damiano Bolano, Damiano Bolano Cell / FAI-FRI, Europol Investigazioni, Informal Anarchist Federation (FAI), International Revolutionary Front, International Solidarity, Italy, La Stampa, Letter Bomb, Roberto Adinolfi
Posted in Direct Action
Friday, April 19th, 2013
An open letter of solidarity with all imprisoned freedom fighters and those under trial!
I'm long past disappointment with black flags, books on theory in red covers and ideal utopias that never age. I've been asking "what next?" for quite some time now.
Everybody gets older, quits, sells his ideals of youth for comfort within the system. Nobody is ready to sacrifice his feeble status for freedom and utopian dreams. I don't believe in anything anymore.
Belief won't get us closer to freedom. What inspires me are your letters, comrades. Letters from those who had been violently put to cages of stone. You await letters from "outside" just as we wait for another letter from the "inside". You are so many. Your dignified and uncompromised stance warms our hearts. That is why I dedicate these lines to you. (more…)
Tags: International Solidarity, Letter, MY, Prison Letter
Posted in Prison Struggle
Saturday, April 13th, 2013
The left-radical group TŘÍDNÍ VÁLKA (CLASS WAR) based in Czech Republic, sent us the new text they have released about the situation in Egypt. You can find the links below to their blog with downloadable PDF file.
http://autistici.org/tridnivalka/egypt-nothing-has-changed-but-everything-begins/

http://autistici.org/tridnivalka/wp-content/uploads/egypt-nothing-has-changed-but-everything-begins.pdf
Everyone, whatever he says, whatever he does, takes part in the class struggle… Either in an active or a passive way… While developing and deepening it or while denying it… As a subject of his own existence or as an object of his survival under the dictatorship of value… In the camp of the proletariat or that of the bourgeoisie… As a human being or as a useful idiot of capital… "The history of all hitherto existing society is the history of class struggles." (Karl Marx) (more…)
Tags: Czech Republic, Egypt, International Solidarity, Tridni Valka
Posted in Autonomy
Monday, April 8th, 2013
Absolution for the May 29 defendants! No highway through TIPNIS! Freedom for all prisoners!
On May 29, 2012, 13 people were arrested by police in La Paz, Bolivia.
All of them were connected to anarchist participation in the defense of TIPNIS, an indigenous territory and national park. The 13 were accused of a series of arsons, bombings, and sabotage claimed by the Informal Anarchist Federation-International Revolutionary Front (FAI-FRI). The actions, occurring from September 2011 to May 2012, targeted government buildings, banks, car companies, fast food restaurants, supermarkets, and animal industries. Some of the attacks were claimed in solidarity with the struggle to defend TIPNIS, others in solidarity with comrades facing repression in Chile, others in support of animal liberation. (more…)
Tags: Animal Liberation, Bolivia, Indigenous Struggle, Informal Anarchist Federation (FAI), International Revolutionary Front, International Solidarity, Repression, TIPNIS
Posted in Autonomy
Wednesday, April 3rd, 2013
We speak through fire. To remember and always keep on our mind, our sisters and brothers who are kidnapped by the state and seized behind bars. To continue the urban guerrilla warfare against enemies of freedom. Let the action speak for us.
On March 31, we burned down 3 buildings owned by the Major of Aceh Tamiang, Hamdan Sati. This is our first action done in Aceh, a region where religious fundamentalists in the past threw 64 punks into a rehabilitation camp and made them 'normal'. But, we want to clarify that we aren't Acehnese. We have no citizenship because we are borderless. We are the angry ones who light the fire of freedom.
Solidarity to the imprisoned members of CCF and Th. Mavropoulos, Camenisch, da Silva and Italian comrades arrested during the Ardire, Thor, and Mangifuoco operations and to Cospito and Gai. And last but not least, we salute our fire to comrades of Kozani 4 who were recently arrested.
War continues
Anger Unit
ICR/FAI/IRF
–
Mass media video links about the action:
video.news.viva.co.id/read/24435-kelompok-misterius-bakar-3-gedung-milik-bupati-aceh-tamiang
Tags: Aceh, Alfredo Cospito, Anger Unit / ICR-FAI-IRF, Arson, Conspiracy of Cells of Fire, Conspiracy of Cells of Fire : Imprisoned Members Cell, Gabriel Pombo da Silva, Hamdan Sati, Indonesia, Informal Anarchist Federation (FAI), International Conspiracy for Revenge, International Revolutionary Front, International Solidarity, Kozani, Marco Camenisch, Nicola Gai, Operation Ardire, Operation Thor, RO-FAI (Indonesia Section), Theofilos Mavropoulos
Posted in Direct Action
Tuesday, April 2nd, 2013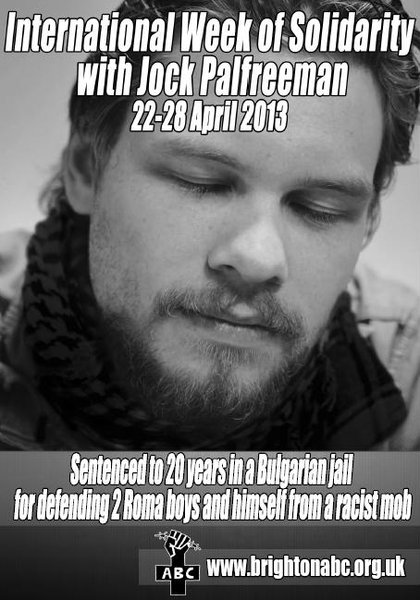 More details via ABC Brighton.
Tags: ABC Brighton, Ant-Facism, Bulgaria, International Solidarity, Jock Palfreeman, Racism
Posted in Prison Struggle
Saturday, March 23rd, 2013
The DB burns as a solidarity token for imprisoned anarchists in Greece!
In the early hours of February 27th, in search of a suitable target for a solidarity action with Nikos Romanos, Dimitris Politis, Andreas-Dimitris Bourzoukos and Yannis Michailidis, we spotted a vehicle belonging to the Deutsche Bahn in the neighbourhood of Prenzlauer Berg, in Berlin, which we wrapped up in the flames of international solidarity.
At the Deutsche Bahn AG (German railway corporation), ten managers of its subsidiary DB International have bribed public officials for engineering services contracts in several African States and in Greece, as the Frankfurt judiciary confirmed (according to a report of the 'Süddeutsche Zeitung' in April 2010).
Since 2008, in a number of legal battles, it has been documented that the German companies Siemens, MAN Ferrostaal and Deutsche Bahn have bought off politicians in Greece on a large scale, and thus 'financed' political decisions in their favour. So, the Siemens Group alone 'invested' since the mid-1990s and for about a decade 15 million euros per year in Greece, in order to propitiate in this way politicians of both major parties, Nea Dimokratia and PASOK.
While another Deutsche Bahn subsidiary, the Schenker logistics company, transports war supplies for the Bundeswehr (German armed forces), the Deutsche Bahn and the Defense Ministry are running a symbiotic cooperation: "The BwFuhrparkService GmbH has developed and implemented an economical and customer-oriented mobility concept for the German military. […] The company is a joint venture of the Ministry of Defense as well as the Deutsche Bahn AG. The BwFuhrparkService guarantees customized logistic concepts, reduction of costs and an increase of the utilization and provision of secure vehicles. As a mobility services provider of the German military, the company offers comprehensive experience in the management of more complex fleet vehicles and the production of individual fleet solutions" (excerpts from dbfuhrpark.de/index.php?id=131).
In January 2013, Dr. Rüdiger Grube spoke on the topic 'The Deutsche Bahn AG – Current Challenges and Perspectives' at the military academy of the German armed forces, while 61-year-old Moorburger—chairman of the board of the Deutsche Bahn in Berlin since May 2009—explained to over 200 guests the DB AG corporate strategy and processes.
On the 16th of April, the DB Mobility Logistics and the Berlin's BFD ('Vocational Advancement Service' for the education and training of military personnel) will hold a Soldiers Day under the motto 'No job like any other.' The event is aimed at men and women soldiers who are interested in being trained and employed by the Deutsche Bahn.
Therefore, we classify the Deutsche Bahn as a de facto belligerent power and component of the German military/NATO, that will not allow any social changes in Greece but will rather go to any lengths in order to assist the suppression of a revolt. The Deutsche Bahn is one of the German enterprises that profit from the crisis in Greece, as was its predecessor, the Reichsbahn during German fascism.
Last night's fire was meant to show to the prisoners Nikos Romanos, Dimitris Politis, Andreas-Dimitris Bourzoukos and Yannis Michailidis that we are aware of their arrest and torture on the 1st of February after the double robbery in Kozani, and here, in the heart of the beast, we will try everything possible for the downfall of capitalism and its helpers.
Long live Anarchy! Death to all States!
Chaotics of the Night
Tags: Andreas-Dimitris Bourzoukos, Arson, Car Burning, Deutsche Bahn, Dimitris Politis, Germany, Greece, International Solidarity, Kozani, Nikos Romanos, Yannis Michailidis
Posted in Direct Action
Sunday, March 17th, 2013
On Sunday, 10th March an anarchist guerilla group placed an incendiary device at the entrance of the offices of Swift Mail express courier's company in Pagrati, Athens. This is the shop where the company's owner wife Reklitou Fotini works. Based on her detailed statement in 2010, the cops were able to mobilize their forces and arrest the comrades of CCF, who on that day sent a mail bomb to the embassy of Mexico using Swift Mail.
The anarcho-nihilist guerilla group "Untouched Revenge Cell, FAI-IRF" claimed responsibility for the act by publishing a communiqué. The comrades dedicated the attack to the imprisoned anarchist guerillas in Greece, Italy, Russia, Holland, Mexico, Indonesia and Belarus.
Tags: Athens, Conspiracy of Cells of Fire, Gerasimos Tsakalos, Greece, International Solidarity, Pagrati, Panagiotis Argirou, Reklitou Fotini, Swift Mail, Untouched Revenge Cell / FAI-IRF
Posted in Direct Action
Sunday, March 17th, 2013
In the spirit of March 15's past, a cop car was set on fire on the evening of March 15th, at the Poste 33 police station in Parc-Ex, Montreal. This action was taken to complement the 17th annual demonstration against police (and their brutality) that took place earlier that day.
We also send a message of support to Marco Camenisch in his struggles from inside prison in Switzerland.
—
Note: Police units attacked the annual anti-police demo in Montreal this year and arrested over 200 people in a preemptive assault. The target of the demo was the downtown policestation.
Tags: Arson, Canada, Fuck the Law, International Day of Action Against Police Brutality, International Solidarity, Marco Camenisch, Montreal, Police Bastards, Police Brutality, Switzerland
Posted in Direct Action
Friday, March 15th, 2013
via contra-info:
On Monday, March 11th, anarchist comrade and Conspiracy of Cells of Fire member Panagiotis Argirou was transferred from the general hospital of Nikaia back to Koridallos prison's hospital. His transfer was made after the state of his health was much improved.
Panagiotis has now fully recovered from his serious injury and talked with his comrades on the phone. He will remain in the hospital of Koridallos prison until several mobility problems are restored, that were caused due to his two-month hospitalization and the length of time he was under sedative medication. For now, he is recovering and 'shares' the same cell with his friend Spyros Dravilas, who is also recovering there after his successful hunger strike.
We know we haven't provided updates on the health condition of Panagiotis for a long time, but this was not done by chance: each time we released positive news on the comrade's health, the anti-terrorist force and the external armed guards that had undertaken his custody pressured the hospital staff to permit Panagiotis' immediate transfer to the prison for 'security reasons' (his file bore the indication 'Dangerous to escape').
A big thank you to all the comrades and friends who were interested in Panagiotis, who sent letters, donated blood, and supported the R.O. Conspiracy of Cells of Fire. Finally, a flaming hug to the brothers and sisters of the Argirou Cell/International Conspiracy for Revenge/FRI-FAI from Indonesia, as well as the Panagiotis Argirou insurrectionary anti-authoritarian cell/FAI-FRI from Chile, who made solidarity among anarchists praxis through their incendiary attacks.
Tags: Athens, Conspiracy of Cells of Fire, Conspiracy of Cells of Fire : Imprisoned Members Cell, Greece, Informal Anarchist Federation (FAI), International Solidarity, Korydallos Prison, Panagiotis Argirou, Spyros Dravilas
Posted in Prison Struggle
Wednesday, March 13th, 2013
During the night of 08/03/13 we placed 3 incendiaries on construction vehicles in a sand extraction complex of Solnechnogorsk district (near Moscow).
The sand from this site goes to the highway construction projects in Khimki forest as well as some other regional development projects. Two vehicles were completely destroyed: a tracked dozer and an excavator.
Because of damp weather one of the devices failed to ignite, so we had to backtrack. With ravaging flames from burning excavator at our backs, we approached the bomb and re-wired it.
Wholehearted support to CCF-Russia, Indonesian rebels from Kulon-Progo, ALF/ELF/FAI groups around the world.
Combative solidarity with "ALF lone wolf" Walter Bond, imprisoned members of Greek CCF, Marco Camenisch and Italian anarchist persecuted under the police operations of 2012 like Thor etc.
Felicity Rider: remain free!
Tortuga: we enjoyed reading your letters man!
– Wolfpack, ELF/FAI
Tags: Conspiracy of Cells of Fire, Forest Struggle, International Solidarity, Khimki, Kulon Progo, Lone Wolf, Luciano Tortuga Pitronello, Marco Camenisch, Operation Ardire, Operation Thor, Russia, Solnechnogorsk, Walter Bond, Wolfpack ELF/FAI
Posted in Direct Action
Wednesday, March 13th, 2013
In the night of the 10th. we went to an area called red square in Noeerrbro in Copenhagen, to put up a banner in memory and in recognition of the anarchist Lambros Foundas and the group Revolutionary Struggle.
The struggle continues.
Nothing Forgotten!
Nothing Forgiven !
Some anarchists
Tags: Copenhagen, Denmark, Greece, International Solidarity, Lambros Foundas, Noeerrbro, Revolutionary Struggle, Solidarity Action
Posted in Direct Action
Saturday, March 9th, 2013
Thursday 8.3.2013 a group of people gathered in front of Finlandia Hall [in Helsinki, Finland] to demonstrate their discontentment against environmental crimes done by Finnish mining company Talvivaara* while the company was having shareholders meeting.
At the same time we did a solidarity action at Talvivaara headquarters in Espoo.
We throw smoke bombs inside the corridor of the building and decorated the wall with anti-Talvivaara slogan.
Our action was in solidarity with all those who have been suffering of the operations of Talvivaara mine and those who are fighting against the company.
Also we want to express our solidarity to smallholder rebellions in Kulon Progon area in Java Island [in Indonesia] and Tukijo that is imprisoned by Indonesian state.
We are deeply sorry about extra heart beats we caused for the worker in the corridor.
* Finnish mining company having a huge open-pit mine in North-East Finland. For years the local people and activists have brought up the fundamental violation of environmental legislation of Talvivaara. In December 2012 the company had major leak of poisonous waste water into lakes around the mining area causing of large scale pollution and it has still serious problems to "clean" the production line – probably never succeed. Talvivaara is mining mainly nickel and zinc, but uranium as well.
source: Takku via contrainfo
Tags: Coastal Reclamation, Espoo, Finland, Helsinki, Indonesia, International Solidarity, Kulon Progo, Mining, Talvivaara, Tukijo
Posted in Direct Action
Wednesday, March 6th, 2013
The fire still burns. With the news of the release of two of the three Grand Jury Resistors ( Matt and it warmed our hearts but also filled them with anger. The state has taken parts of their life they will never get back. We also have not forgotten about the third resister (Maddy) and all the other nameless ones.
So last night, we decided to send a message that the release of our comrades will not stop our attacks on financial infrastructure, government and all others who oppress and take away our freedom. An unsuspecting bank, CIBC, had a Molotov cocktail thrown at it. The flames brought new life to our minds and destruction to the bank and a sense of insecurity to the Vancouver Police and the banks investors that they will never be able to stop us and that our attacks will increase.
The fire will always burn. Last night, we let that fire burn a financial institution that profits off the lives of the workers and foreclosures of families homes. Let this inspire anarchists and other radical elements of Vancouver, Coast Salish Territory, to attack and to attack now. We cannot be stopped.
Love, to all comrades from CST Vancouver
–
Also see: Attack on Seattle "Green Development" Solidarity with Grand Jury Resistors (USA)
Tags: Arson, Canada, CIBC, CST Vancouver, Grand Jury, International Solidarity, Molotovs, Vancouver
Posted in Direct Action
Sunday, February 24th, 2013
There is no reason to step back. War continues as always and must be more violent each and every time. All of the infrastructures of the society are our targets and there are no excuses to let one still stand against the beautiful sky. All the buildings are the walls against our sight to see the stars, the same stars which our imprisoned and guerrilla comrades in other part of the world are also seeing.
Through the fire, we want to send our warmest greetings to the knights warriors around the globe who still carry on attacks as our revolutionary way. To the brave and dignified prisoners who kept their head up against the misery and cowardice of 'reformist' anarchists.
Last night (Friday, 22 February), we burned down another property of Society. We placed an incendiary of fire in the middle-class shopping areas in North Jakarta. We burn the shops as our sample and to once again call the individuals to create their own attacks –especially in Indonesia and South East Asia. We showed through practice that each individual can bring their anger into fire and gasoline without the specializations of elite units. We are not vanguards or the messiah to save the Society. We are the angry individuals who only want to burn down Society.
Only cowards –even self-proclaimed as anarchists– who only see the fire is rising and covering the sky with dark smokes and doing nothing. Cowards are the integral parts of the Society who are always waiting for the 'right moments' and trying to keep their life in the comfort zones. And we point out the cowards as our enemies and we will hunt you down also. In the future, we will not feel sorry if in our actions to attack Society, we are risking the life of someone.
From now, we will limit our revolutionary greetings to the comrades who in our judgements are revolutionary. We will not let our fire warm the 'innocent', 'reformist', 'pacifist', 'formal and pro-judicial anarchists', 'facebook anarchists' and other cowards. Our actions always are only for ourselves and our individualistic values and for the revolutionary comrades.
And through the fire, we send our love to the imprisoned comrades: Conspiracy of Cells of Fire, the 4 anarchists who are recently accused for double robbery in Greece, Alfredo and Nicola and other comrades who accused in Operation Thor, Ixodae, Mangifuoco, and similar repressions in Italy, to Gabriel Pombo da Silva and to Marco Camenisch, to Marcelo, Juan, Fredy, Ivan & Carla in Chile, to Henry in Bolivia, to injured one Tripa Lopez in Mexico, to Tukijo and to the insurrectionary prisoners behind state bars who always kept their dignity and revolutionary values. We also want to send our love to the comrades on the run: Felicity, Hans and others. Keep running and do not let the enemies catch you.
Love and revolutionary greetings to the individuals, cells and groups of Informal Anarchist Federation – International Revolutionary Front. Let's surround Society with our fires.
War continues until the collapse of the society.

Anger Unit
International Conspiracy for Revenge
FAI – IRF
Tags: Alfredo Cospito, Anger Unit / ICR-FAI-IRF, Arson, Bolivia, Chile, Conspiracy of Cells of Fire, Conspiracy of Cells of Fire : Imprisoned Members Cell, Gabriel Pombo da Silva, Indonesia, Informal Anarchist Federation (FAI), International Conspiracy for Revenge, International Revolutionary Front, International Solidarity, Jakarta, Kozani, Marco Camenisch, Mario 'Tripa' Lopez, Nicola Gai, Sabotage, Tukijo
Posted in Direct Action