Posts Tagged 'International Solidarity'
Tuesday, February 21st, 2012
From culmine, translated by war on society:
8 February 2012
In the early hours of February 8, 2012, the group Uncontrollable Forces in Solidarity with the Black Rebels, painted graffiti on the walls of downtown La Paz in solidarity with the comrade Zerman Elias who faces an abbreviated trial after spending months within the Chilean prisons, accused of being a danger to the public order after being arrested in a street confrontation; and also in solidarity with the comrades Billy and Eat who in Indonesia face the charges of placing an incendiary device at an ATM, both members of the FAI [Informal Anarchist Federation.]
We emphasize, as has already been done by means of an appeal, the RO-CCF, in making the days of trial against the comrades into days of unrest and rage against those directly or indirectly involved in keeping the comrades as prisoners of war with a future "exemplary punishment."
Their "punishments," our attacks

ACTIVE SOLIDARITY WITH ALL THE FUGITIVE AND INCARCERATED WARRIORS

Uncontrollable Forces in Solidarity with the Black Rebels,
Informal Anarchist Federation / International Revolutionary Front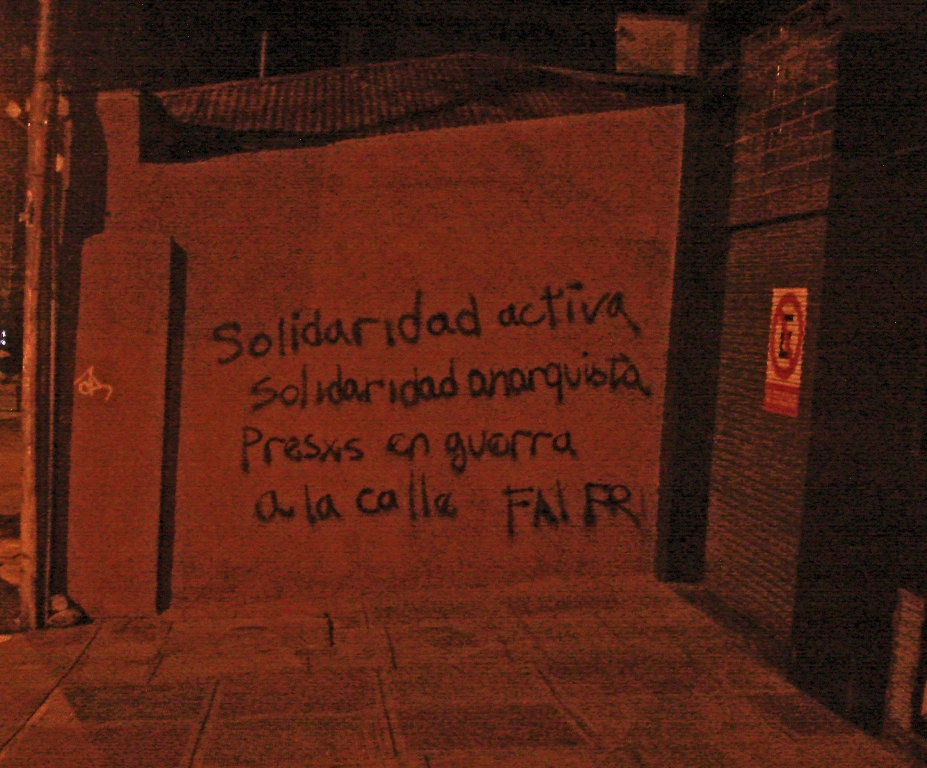 Tags: Billy, Bolivia, Chile, Conspiracy of Cells of Fire, Eat, Graffiti, Greece, Indonesia, Informal Anarchist Federation (FAI), International Revolutionary Front, International Solidarity, Uncontrollable Forces in Solidarity with the Black Rebels, Zerman Elias
Posted in Direct Action
Tuesday, February 21st, 2012
325 receives and transmits:

2 cell phone towers torched south of Moscow (Rostov-na-Donu direction). The cottage settlement we chose to disable is a popular site among hunters. And not only that. Local residents decided to add to the abuse of wild life and started two commercial fishing resorts. They breed fish to be hunted by tourists.
So in a festive winter spirit (New Year/Xmas and St. Valentine's Day) we decided to send them a message of love and harmony: 1 tower was left completely burned out, another one – severely damaged.
We used incendiaries with 1.5 liters of gasoline/kerosine each.
Words of solidarity and support to Marco Camenish, members of Indonesian FAI (both in prison and on the run), and Silvia, Costa and Billy.
Our respect and wholehearted support of actions carried out by ITS (Individuals Tending towards the Wild), as well as other animal/ earth liberation collectives.
Long live ALF/ELF!
Long live FAI!
With love,
ALF/ELF-Moscow region / FAI
Tags: ALF, Arson, Billy, Costantino Ragusa, Earth Liberation Front (Russia), Eat, Individualists Tending towards the Wild (ITS), Indonesia, Informal Anarchist Federation (FAI), Informal Global Federation / Anarchist Network, International Solidarity, Luca Bernasconi, Marco Camenisch, Moscow, RO-FAI (Indonesia Section), Russia, Silvia Guerin, Switzerland
Posted in Direct Action
Tuesday, February 21st, 2012
325 receives and transmits:
19 February 2012
"The spirit of insurrectionalism is still in the air like a light of hope – in this
dim atmosphere of cages of repression." – Eat & Billy (Indonesian FAI)
We hate rich cunts in BMWs, in fact they piss us off so much that to show our hate of them and all their like we set a BMW on fire and another SUV nearby, on Kimberly avenue Cambridge in the early hours of Feb 19. Right in front of the houses of these fuckheads who obviously have signed up willingly on the side of this massive prison industrial civilization, for the destruction of our mother earth and against everything we love. Just another small gesture of our war on their world. We were filled with love burning as hot as our hate – our thoughts with REYHARD RUMBAYAN ('Eat') and BILLY AUGUSTAN on trial a few days ago in Indonesia for burning a BRI Bank in Yogyakarta back in Oct. 7 2011, for which they take proud responsibility as members of the Long-Live Luciano Tortuga Cell – Indonesian FAI (Informal Anarchist Federation). Their torture and the long imprisonment the bastards of the Indonesian State have planned for them under 'anti-terrorist' laws are just another reason we'll remain stubborn in our attack all over the world – the insurrectionary anarchists of the black international – with arson, bombs, sabotage and bullets.
We also send our love to subversive comrades JUAN ALISTE, FREDDY FUENTEVILLA, and MARCELLO VILLARROEL banged up in Chile accused of three bank robberies and killing a cop in October 2007, mindful of the international call for days of solidarity between Feb19 and Feb29 and these comrades hunger strike for which they've been isolated in maximum security isolation cells – declaring "our protest contemplates no demand of the intraprison appeal type. More accurately, it is a gesture — an act of attacking anticapitalist Resistance uniting us with each and every Subversive Autonomous Anarchist Revolutionary prisoner who, from different places and different death/isolation camps, keeps alive the revolt in pursuit of Social Revolution and the disappearance of class society". Strength to the dignified revolutionaries Freddy, Juan and Marcello who daily give us so much strength! And flaming solidarity to all our comrades all over the world taking the difficult path of revolt against all odds. Turns out we don't have to look too far to see others who warm our hearts with their irreducible rebelliousness against this grey prison world of cars and roads and shopping centres and metal fences and identical housing estates and schools/workplaces/jails. the local press speculated that the Nov 22 2011 arson of cars at a Histon Vauxhall garage was by the Fire Cell / FAI. That's not the case and we send our warm greeting to these anonymous arsonists – keep burning until all the cities turn to ashes to fertilise an unimaginable feral future!!! Likewise we welcome the arson attack that partially damaged the Santander bank in the center of Cambridge on Feb 1 2012 and regret the arrest of a young man afterwards, ALL OUR SOLIDARITY TO THE ANTI-SYSTEM FIRESTARTERS And of course to those arrested after the riot in Cambridge in the uprizing of August in which some cops got mashed down and everyone else who felt the flame of life burn brighter – we'll have our time again, as long as we're rioters, the riots not dead – NOTHING IS OVER EVERYTHING CONTINUES.
Of course, there's no need to wait to start destroying, just like we don't stop looting off the capitalist system just because there's not a riot – you just need to be a bit more sneaky! Everyone can form a cell of the leaderless resistance and carry out actions (taking the common sense security measures, being lo-tech), and can choose to communicate thru action claims like this one, sharing methods and ideas and anonymously coordinating strikes on the enemy, across all borders, just like our comrades in Bristol, Nottingham, London and all over the world!!
TERRORIZE THE ENEMY
SPREAD THE FIRE

Fire Cell / Informal Anarchist Federation – International Conspiracy for Revenge
Tags: Arson, Billy, BMV, Cambridge, Chile, Eat, Fire Cell / Informal Anarchist Federation, Freddy Fuentevilla Saa, Indonesia, Informal Anarchist Federation (FAI), International Conspiracy for Revenge, International Solidarity, Juan Aliste Vega, Marcelo Villarroel Sepúlveda, RO-FAI (Indonesia Section), Santander Bank, SUV, UK
Posted in Direct Action
Tuesday, February 21st, 2012
325 receives and transmits:
17 February 2012
Solidarity with the revolts in Greece (Bielefeld/Germoney)
Our hearts beat for freedom. When we look to Greece where thousands each time more intense rise in revolts against state, capital, social cuts, exploitation and opression and show their anger they beat even faster. In solidarity with those revolting, we want to take part in spreading the uprising here in the nearly pacified territory of capitalism.
We stand full of passion for a free, solidaritarian society in which everyone self-determines her/his life and in which money has no role when it comes to the question of (basic) needs.
In deep denial of the ruling system of money, privileges and authority we took our anger against the windows of a 'Commerz' bank and an ATM in the city of Bielefeld in the night of the 17th February.
Anarchist group
Tags: ATM, Bielefeld, Germany, International Solidarity, Sabotage
Posted in Direct Action
Monday, January 30th, 2012
Correction – Court Update – Trial continues Tuesday February 7 2012
From Indonesia to Chile…

October 7th, 2011 – two anarchists are arrested and imprisoned in Yogyakarta, Indonesia, after an explosive incendiary attack against an empty branch of BRI ATM bank. The action is declared through a written document which the police catch the anarchists in possession of. The written declaration states that the action is in solidarity with Luciano 'Tortuga' (a young anarchist combatant in Chile, who was accidentally maimed in a bomb attack against Santander bank), as well as many anarchist prisoners, including those of 'Caso Bombas' in Chile and the Revolutionary Organisations – Conspiracy of Cells of Fire and Revolutionary Struggle in Greece. Situating themselves firmly within the global revolutionary war for liberation and freedom, Eat & Billy also state that their action is a direct attack against the terrorism of the Indonesian State and their police and military. (more…)
Tags: Billy, Eat, Indonesia, Informal Anarchist Federation (FAI), Informal Global Federation / Anarchist Network, International Revolutionary Front, International Solidarity, Long Live Luciano Tortuga Cell - International Revolutionary Front - FAI, RO-FAI (Indonesia Section), Trial, Yogyakarta
Posted in Prison Struggle
Friday, January 6th, 2012
From liberaciontotal, translated by war on society:
Communique:
By means of this communique we claim responsibility for the deliberate arson of two luxury vans last morning–the first at the intersection of Rawson and Diaz Velez in the Almagro neighborhood, totally destroying the vehicle, and the second at the intersection of Senillosa and Rondeau, Boedo, burning the van with partial damages.
This action is framed within gestures of international solidarity for with the prisoners of the Conspiracy of Cells of Fire, who have shown courage and consistency in their recent escape attempt, in solidarity with Eat and Billy, anarchist guerrillas belonging to the FAI captured in Indonesia, and in clear support of all the prisoners in war against authority, especially Freddy, Marcelo and Juan, Gabriel Pombo da Silva, Marco Camenisch… likewise in complicit wink to the comrades who beat up the enemy in the streets.
We take this occasion to reiterate that on December 20, approximately at 2:30 am, we left an incendiary/explosive device at the front door of the 3rd Precinct located at 1560 Tucuman, in vengeance for the fallen during the revolt of 2001 and in clear destructive feeling toward the servants of order. We released a communique to this effect at the time, to various mass media (which obviously censored it), but also to an internet page of the anarchist space, which it did not include for reasons we do not know of. [As LT explain in posting this release, the 12/20 communique must have been lost due to technical email problems since they do not censor these kinds of communication – transl.] From now on, we will send copies of our communiques to various anarchist sites, and another communique when the situation requires it to the mass media..
We reproduce below the [12/20] communique released at that time.
To continue the offensive with what we have at hand…
Against the anti-terrorist law, the biometric identification law,
and against all the laws, fire and gunpowder!!!
Death the gendarmeria, prefectura and every kind of police!!!
To not await any social consensus, to attack now and immediately what intends to destroy us, to position ourselves, to wage war!!!
Antagonist Cell for Complete Freedom / FAI – IRF
–
Communique from 12/20:
Last night, hours after the beginning of the new anniversary of December 20, we have deposited our rage embodied this time in a liter of gasoline and a good amount of black border at the door of the 3rd Precinct located at 1560 Tucuman st, under the very noses of the torturers. We carried out this action in vengeance for the fallen during the revolt of December 2001, but also in memory of Dario Santallan and Maximiliano Kostecky, later murdered during the command of the narco-trafficker Eduardo Duhalde, and in memory of all those murdered by the police in times of progressive democracy and applauded by the vast majority of the society. We, for ourselves, are not going to remain passive observing how they murder fighters in cold blood, however ideas may separate us, the practices of direct confrontation bring us close, as well as the sincerity in the struggle. To all those who in one way or another confronted and confront authority, this gesture is directed to them, DEATH TO ALL THE POLITICAL PARTIES WHO IN A FEW HOURS WILL COME TO THE PLAZA DE MAYO WITH THEIR SHIT PACIFYING DISCOURSE, SHITTING ON THE MEMORY OF THE DEAD!! LONG LIVE LOOTING, DIRECT ACTION, ROBBERY, LONG LIVE ANARCHY!!! FOR PRECISION AND DEADLINESS IN OUR BLOWS!!!
With love for comrade Luciano Pitronello and the comrades of the Conspiracy of Cells of Fire…
Antagonist Cell for Complete Freedom / FAI – IRF
Tags: Antagonist Cell for Complete Freedom / FAI – IRF, Argentina, Arson, Billy, Buenos Aires, Conspiracy of Cells of Fire, Conspiracy of Cells of Fire : Imprisoned Members Cell, Dario Santallan, Eat, Freddy Fuentevilla Saa, Gabriel Pombo da Silva, Informal Anarchist Federation (FAI), International Revolutionary Front, International Solidarity, Juan Aliste Vega, Luciano Pitronello Schuffeneger, Marcelo Villarroel Sepúlveda, Marco Camenisch, Maximiliano Kostecky
Posted in Direct Action
Tuesday, December 27th, 2011
On the 11th of December 2011, in the very conservative and religious province of Aceh in Indonesia, 64 punks who were attending a punkrock show, were arrested and taken to jail without any criminal charges whatsoever.
The only reason for them to be victim of that totally arbitrary state repression was that they are punks. The police shaved their hair off and removed their piercings, their clothes were taken away from them, replaced by "decent" ones and they were forced to wash themselves in a "religious ritual". Then they were brainwashed and "re-educated" for ten days through "religious education" and "military discipline".
Against this outrageous police action, solidarity actions and demonstrations took place in Moscow, London, San Francisco, Los Angeles, China and Malaysia. (more…)
Tags: Aceh, Aceh 64, Fuck the Law, Indonesia, International Solidarity, Istanbul, Punx, Turkey
Posted in Direct Action
Tuesday, December 27th, 2011
As part of the campaign for solidarity with the freedom struggle in Indonesia, we print this report from a comrade there:
On 24 December 2011, the tragedy happens in Bima, West Nusa Tenggara, Indonesia. Four people (media local said) died (eight now confirmed dead – killed by police during the resistance). It began when thousands of people including farmers blockaded the harbour of Sape in Bima. They protest to the government which had given permission to PT SMN to mine gold in the area of the area about 24.980 hectares. The people there are worried about the environmental damage. It is because most of the people there work as farmers and fisherman. The presence of the mine will destroy water sources and finally the agricultural ways in the area will be damaged.
For sources:
Negasi-Negasi (Indonesian anarchists/anti-authoritarians web-portal)
Australia IMC
Corporate news
1
Tags: Australia, Bima, Indonesia, International Solidarity, Mining, Police Brutality, Repression, West Nusa Tenggara
Posted in Eco Struggle
Thursday, December 22nd, 2011
"A stone will be thrown at the State, and a stone will be thrown at the churches"
Kode9 – 9 Samurai
From the burning streets of London, Bristol, Nottingham, Manchester, Birmingham and dozens of other places, urban rage explodes with action and speech. Social peace is shattered by the repressed anger of thousands of individuals, united by anti-police and anti-system violence. The modern British project of the perfectly ordered prison-society run by the police and the politicians is shattered, no-one cares about the CCTV anymore and the pigs are being beaten, attacked and running away. This is a war, and only the start of it, let their ranks and divisions of police and intelligence teams come, the collapse of society has begun and the choice is resignation to modern fascism or insurrection.
The imprisoned members of the Revolutionary Organisation – Conspiracy of Cells of Fire and Theofilos Mavropoulos have our irreducible solidarity and anarchist friendship. They are some of the courageous and resolute individuals who have acted against the capitalist and governmental parasites and their functionaries, helping create the formation of an international insurrectional network of which they are an integral part.
The fire they have started is the same fury as the blaze of August, and exists around the world regardless of any anti-terrorist operations and secret service maneuvers to dampen it, because this is the beginning of the end for the capitalist-dominator social model. It doesn't matter if we, the insurgents, are in prison, maimed, dead – our ideas and our actions live in the inferno of freedom where new generations of conscious individuals ignite themselves to attack the dominating elites, their servants and the reproductive aspects and values of servility. It is not only in the dreams of the few, it's in the daily thoughts of the used and denigrated, all those who didn't yet learn to love work and authority.
The only intelligent way to react to the prison-world is to try to escape, and in this time of repression and war, the only real way is to take weapons and fight for your freedom.
The rebels in UK have come into a nihilistic fervour, with almost no participation in, or intervention from, the progressive-left activist/anarchist racket. There is zero anticipation that there will be any "social change" from the established regime, only unending economic misery and urban prison; but without the trappings of ideology, revolutionary and anarchistic principles are the first spoken from many lips when given time to express their ideas and question the existent order.
The antagonistic trends here are those most at risk of exploitation, imprisonment and police brutality: young people/teens, migrants/the different, the "anti-social", the excluded and rebellious. 325 is proud to be some of the "scum" on those streets during August, despite the repression and the acceleration of fascism this country was ripped into. We, the rioters, ruined the facade of social peace. As the world of the old bigots crumbles, the British dream of an imperial paradise descends into the urban estate reality of a vast chaotic mess. The insurrection, which of course was not a 'utopia', did not finish in August. Even in the shithole deadzone places, such as Cambridge, you could find unexpected incidents of anti-social arson, such as a car dealership going up in flames in a wealthy area claimed by Fire Cell / FAI. In Birmingham, a police station is burnt down and 40-50 people attack the police with molotovs, stones and handguns. In Nottingham, four police stations are attacked with stones and one with molotovs, and later Cell of Joy / FAI take responsibility for an arson attack against a vehicle of the prison guards at the local prison. In Bristol, the personal cars of the mayor and of a ruling party politician are set on fire outside their homes and claimed by Class Terror / FAI. In London, the Sony Warehouse covering hundreds of square metres is looted and reduced to ashes. These are some incidents/moments where anti-political people exclaimed they had "the best days of their life" and seek future chances, co-conspirators and more.
Not guessing when there will be another uprising, we don't wait, but the certainty of another is clear. An entire section of the population cannot be pushed much further and the divisions are deep. The plunder and injustice is too blatant, unapologetic, without even the pretence of 'social conscience' and it is intolerable.
August was unimaginable a few years ago and now anything can happen. The best days of our lives are to be had. With knives and dreams, pistols and pens, we reload our magazine and prepare to return fire…
FOREVER ANARCHISTS – FOREVER DANGEROUS – FOREVER IN CHAOS
SOLIDARITY TO THE IMPRISONED MEMBERS OF THE CCF, THEOFILOS MAVROPOULOS & ALL REBELS
325 / Anti-Copyright Network
Tags: Conspiracy of Cells of Fire : Imprisoned Members Cell, Greece, Insurrection, International Solidarity, International Words of Solidarity with the Conspiracy of Cells of Fire pamphlet, Theofilos Mavropoulos
Posted in Prison Struggle
Thursday, December 22nd, 2011
From IMC UK:
15 December 2011
At 4:30 am on Thursday 15th of December we attacked Bristol LLoyds bank depot in solidarity with comrades imprisoned in Greece, Chile, Switzerland and all over the world. We painted the message "UNTIL ALL ARE FREE" on the building and positioned three bins of flamable material soaked in gazoline in front of their wooden doors and set them alight. Unfortunately our attempt to burn the building down was scuppured by fast emergency services response.
We took this action to send our love and solidarity to our Revolutionary Struggle comrades on trial in Greece and to the Chillean comrades persecuted for the "bomb case", also to Silvia, Costa and Billy the Swiss comrades persecuted for "IBM nanotechnology building" and for all those imprisoned for their political beliefs.
ATTACKS WON'T STOP UNTIL WE ARE ALL FREE!
Anarchist individuals/ Cells of FAI
Tags: Anarchist individuals/ Cells of FAI, Arson, Bristol, Chile, Costantino Ragusa, Greece, International Solidarity, Lloyds Bank, Luca Bernasconi, Revolutionary Struggle, Silvia Guerin, Switzerland, UK
Posted in Direct Action
Friday, December 16th, 2011
325 receives and transmits:

15 December 2011
On December the 15th a group of anonymous punks from Moscow decided to act upon receiving news of brutal state repression of Indonesian punk-scene. We consider ourselves anarcho-punks and these news offended us in the deepest sense. We wont tolerate any religion to hold sway over living being's freedom, especially over our subculture. Thus on the same evening we gathered to express our rage. We chose Indonesian embassy as our target. For us solidarity starts on subcultural level. We feel that modern Russian anarchists pay too little attention to subcultures of resistance. We wish the news of our action to reach Indonesian comrades. We hope they will have their spirits soar after hearing that in such far-away country there are folks who feel solidarity with their struggle.
Punk is not a crime. Religion is fascism. Fight for your looks.
We didn't want to make video, but it was agreed upon after a tedious discussion that even the most pacifist action should have video documentation. So here it goes:

youtu.be/f9cXpVqjsCw
Some photos:
– general view on the embassy
– writing says "Religion = fascism"
– writing says "Punk is not a crime"

Link to the statement of responsibility (Russian).

Up the Punx!
Tags: Aceh, Fuck the Law, Indonesia, International Solidarity, Moscow, Punx, Repression, Russia, Solidarity Action
Posted in Direct Action
Thursday, December 15th, 2011
7/12/11 – Frankfurt, Germany : CEO Josef Ackermann is the intended target of a fully operational explosive parcel which is mailed to Deutsche Bank headquarters. Bank security staff identify the device during x-ray screening, and it is later neutralised by police. A claim of responsibility is recovered from the device, which is published in the corporate press.
9/12/11 – Rome, Italy : Chief Director Marco Cuccagna of Italy's tax collection office, Equitalia, receives a letter-bomb which explodes after he opens it, causing damage to his hands, blowing off part of his finger and almost blinding him after his glass desk shatters in the explosion.
12/12/11 – Paris, France : The Greek embassy in Paris is the target of a third explosive device which is identified and neutralised.
Amidst the wave, mainstream media report that envelopes containing bullets and threatening letters are mailed to Italian Justice Minister Paola Severino and Rome Mayor Gianni Alemanno. An additional parcel of vengeance was received by Equitalia on the 15th December, but was identified and neutralised. A note inside the latest package said "don't kill yourself, rebel: death to usurers!"

Here is a translation of the claim of responsibility that accompanied the package bomb to the central headquarters of Deutsche Bank in Frankfurt:

FREEDOM AND HAPPINESS FOR OUR BROTHER GABRIEL POMBO DA SILVA. DEATH TO THE BANKS THAT STRANGLE THE PEOPLE.
THREE PARCEL BOMBS IN THESE DAYS ARE TRAVELLING TOWARD BANKS AND BANKERS, TICKS AND LEECHES. WITH THESE SMALL BUT RESOLVED ACTIONS, WE OF THE EAT & BILLY ITALIAN CELL JOIN IN THE NEW ANARCHIST INTERNATIONAL, THE INFORMAL ANARCHIST FEDERATION AND INTERNATIONAL REVOLUTIONARY FRONT. WE HAVE THIS NAME IN SOLIDARITY WITH THE INDONESIAN FAI, WITH OUR BROTHERS EAT AND BILLY. WE DON'T NEED SPECIALISTS OF ACTION, ANYONE CAN ARM THEIR OWN HANDS, ANYONE CAN ASSEMBLE THEIR OWN GIFT PACKAGE. WAR ON THE EUROPE OF THE BANKERS, DEATH TO THE LEECHES THAT GOVERN US.
LONG LIVE THE INDONESIAN FAI
LONG LIVE THE C.C.F.
VIVA THE NEW ANARCHIST GUERRILLA
VIVA THE FAI/IRF
FREE EAT AND BILLY CELL FAI/IRF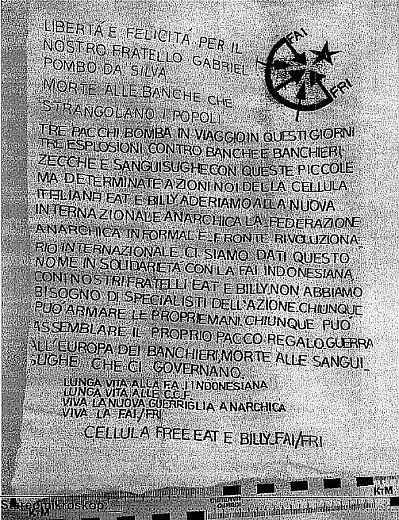 Tags: Billy, Deutsche Bank, Eat, Equitalia, France, Frankfurt, Free Eat & Billy Cell FAI/IRF, Germany, Greece, Greek Embassy, Indonesia, Informal Anarchist Federation (FAI), International Revolutionary Front, International Solidarity, Italy, Letter-bombs, Paris, RO-FAI (Indonesia Section), Rome
Posted in Direct Action
Thursday, December 15th, 2011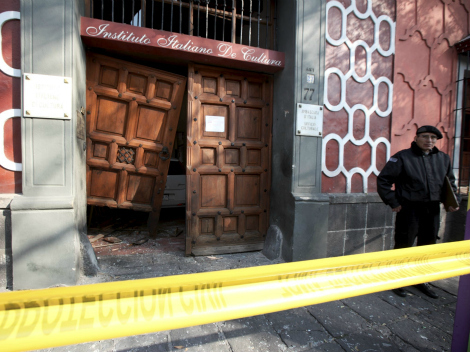 From culmine via war on society
13 December 2011
Last night we decided to give a demonstration of our anti-indulgence with respect to the norms that govern this society, the unmasked consumerism, the "commodity" of not thinking and refraining from an infinity of alternatives, and of, zombie-like, letting oneself be carried by commercialism, walking without a fixed course, without a project, passing stores, malls, barracks, museums of the State full of culture and useless "art" that has infatuated many "alternative people" thinking that with paintings about an unreal reality they can change something, they can see a different world and envision a future without violence, without hate, with agreement, without conflict… and passivity! eternal ally of the State/Capital, the useless urge to not do anything for oneself nor for anyone nor anything, nor to change minimally our situation as individuals. (more…)
Tags: Autonomous Cells of the Immediate Revolution – Praxedis G. Guerrerro, Federico Buono, Informal Anarchist Federation (FAI), International Revolutionary Front, International Solidarity, Italian Institute of Culture, Italy, Mexico, Mexico City, Revolutionary Anarchist Cell - Gabriella Segata Antolini, Solidarity Action
Posted in Direct Action
Thursday, December 15th, 2011
325 receives and transmits:

28 November 2011
Communique:
On the night of November 28th, 2011, we sabotaged a rail line in Southern Oregon as part of a coordinated effort to disrupt the flow of commerce on the West Coast. We got tired of watching trains pass through our towns loaded with lumber, ore, cheap commodities, and other resources pillaged from the earth without consequence. We didn't do this out of a desire to create a more green, sustainable or humane civilization—we want nothing less than to see the total failure of this sick and rotten society.
This action was not only easy to carry out, but positively satisfying. We used 4AWG copper wire with the ends stripped of insulation and wrapped around the two sides of the track with the rest of it buried in the middle, which falsely indicated to a sensor that there was a train stopped on the railway.
We did this in solidarity with currently imprisoned members of the Long-Live Luciano Tortuga Cell/Indonesian FAI, to whom we send our most passionate revolutionary greetings.
We would also like to send our love to ALF prisoner of war, Walter Bond.
Towards an end to this nightmare world
Tags: Billy, Eat, Indonesia, International Solidarity, Luciano Pitronello Schuffeneger, Oregon, RO-FAI (Indonesia Section), Sabotage, USA, Walter Bond
Posted in Direct Action
Friday, December 9th, 2011
Global Noise Demo: New Years Eve 2011/2012
Outside & inside prisons, jails, and detention centers everywhere.
This event is inspired by the North American call out for a day of action against prisons in the New Year of 2011, which remains relevant unchanged:
Noise demos outside of prisons in some countries are a continuing tradition. A way of expressing solidarity for people imprisoned during the New Year, remembering those held captive by the state. A noise demo breaks the isolation and alienation of the cells our enemies create, but it does not have to stop at that.Prison has a long history within capital, being one of the most archaic forms of prolonged torture and punishment. It has been used to kill some slowly and torture those unwanted – delinquents to the reigning order – who have no need of fitting within the predetermined mold of society. (more…)
Tags: Anti-Prison, Demo, Fuck the Law, International Solidarity, New Year
Posted in Prison Struggle