Posts Tagged 'International Solidarity'
Saturday, July 25th, 2020
In the night of July 23rd we sprayed slogans in solidarity to the squats Liebig34 and Rigaer94 in Berlin on the LIDL supermarket in Neos Cosmos / Athens. After we destroyed all windows with hammers.
Every eviction has its price. This is a message do all those responsible for the aggressive gentrification of many European cities, which always goes on with the eviction of squats, the state terror against the radical movement and the rising of rents. We noticed the eviction thread against Liebig34 in Berlin and the attack by so called owners and their companies together with the cops against Rigaer94. With the eviction of Dervenion56 in Exarchia the government of ND continues its operations against the combative and solidarity resistance, which we always will be – with squats or without.
One of many answers to an evicted squat is the destruction of a consumer symbol the capitalist system offers to the inmates of the prisons called the Metropolis. To support the struggle of our comrades in Berlin we found a German company, but it can be also real estate agencies or luxury cars or tourism.
The LIDL supermarket chain was targeted already some time ago in Germany because of its bad working conditions for their employees. This action is an offering of solidarity to this aggressive campaign against the working conditions in LIDL WORLDWIDE. 8 to 10 hours per day with a fake smile for pity money, sitting in front of hundreds of products, in a cashier, becoming a robot which just counts and counts. Or lifting big weights destroying your back. Why all these? What is the role of supermarkets ?
Supermarket are big financial mechanisms which seem very innocent to the majority of the people. The truth is, they are not.
Colonilization
Supermarket are colonizing the economies of local societies in all the earth. All the small markets, grocery stores and other kind of shops are shutting down whenever a new supermarket is opening. There is no need for a new supermarket in most of the areas, its just matter of expanding and absorbing. Also, is reducing the use of local products and producers. Slowly slowly, the residents of an area are becoming workers, mainly women, of this industry, losing all their independence (even in liberal terms)
Anti-ecological
The opening of chain supermarkets, local or multinational, is also increasing importing of products. This is happening because the production companies are
exploiting people in a cheaper way in other countries, or because they make better offers to a multinational company because of the massive consumption. What is happening at the end is a big consumption of petrol by the ships to transfer products all around the world. The paradox of capitalism, the fact that a product from 2000 miles far is cheaper than the local, is killing faster the nature.
Food Control
All these brings us to the bigger problem. Supermarkets are the greatest tool for multinational food companies to takeover all of our nutrition process. We eat shit, we don't produce anything, we need money to buy everything, we need to work for them for ever to be able to buy them and cure our selves from the sickness their food is creating
Do we smash supermarket?
Yes we do. But we have to know that most of the people will not understand why. So we must do more propaganda against this mechanism. And for sure it is better to smash without people being inside. Our target is to spread fear to the side of the bosses not to the side of the random population. But if somebody break a supermarket with people inside without putting someone in danger, its okay, we can overpass it.
Solidarity to Liebig34 and Rigaer 94
We hit the German interests in solidarity with the resistance in the German controlled territory
Solidarity to Dervenion 56 and all the evicted and the still resisting squats in Greece
Support to the workers that suffer in the food and product industry worldwide
(source https://athens.indymedia.org/post/1606472/)
+
As a note, we place a link here for a poster we made years ago, concerning supermarkets, one of the core nodes of 'everyday life' – Against Society & Culture
Tags: Athens, Dervenion 56, Greece, International Solidarity, Lidl (Supermarket), Liebig34/XB, Rigaer 94
Posted in Direct Action
Saturday, July 25th, 2020
Received from our comrades in Indonesia:
Solidarity actions for Rojava from Indonesia:
https://palanghitamanarkis.noblogs.org/post/2020/07/20/multiple-cities-indonesia-day-of-international-solidarity-for-rojava/
Trial update of the anarchist prisoners of Tangerang and Bekasi (Indonesia):
https://palanghitamanarkis.noblogs.org/post/2020/07/23/indonesia-trial-update-on-tangerang-bekasi-anarchist-prisoners/
Update about Paypal address to support Tangerang anarchist prisoners (Indonesia):
https://anarchistsworldwide.noblogs.org/post/2020/07/16/updated-info-about-the-solidarity-fund-for-anarchist-prisoners-in-indonesia/
Tags: Bekasi, Indonesia, International Solidarity, Rojava, Tangerang
Posted in Autonomy
Saturday, July 25th, 2020
Received from our comrades in the Philippines:
We are propagating against the existence of police authority and calling to build a much better community. In this pandemic era, we experienced the harsh condition, the neglect and the incapability of the government to handle health crisis. They've given much support on deploying police in uniform to fight the spread of Covid 19 virus and passed Anti-Terrorism Law which we see is inappropriate in this kind of situation.
We are calling to abolish police.
Build a just and better community without authority.
Please help us to share this and support our cause.
https://black-mosquito.org/de/community-not-authority-komunidad-hindi-awtoridad-soli-t-shirt.html
Tags: Coronavirus, International Solidarity, Philippines, Repression
Posted in Autonomy
Monday, July 20th, 2020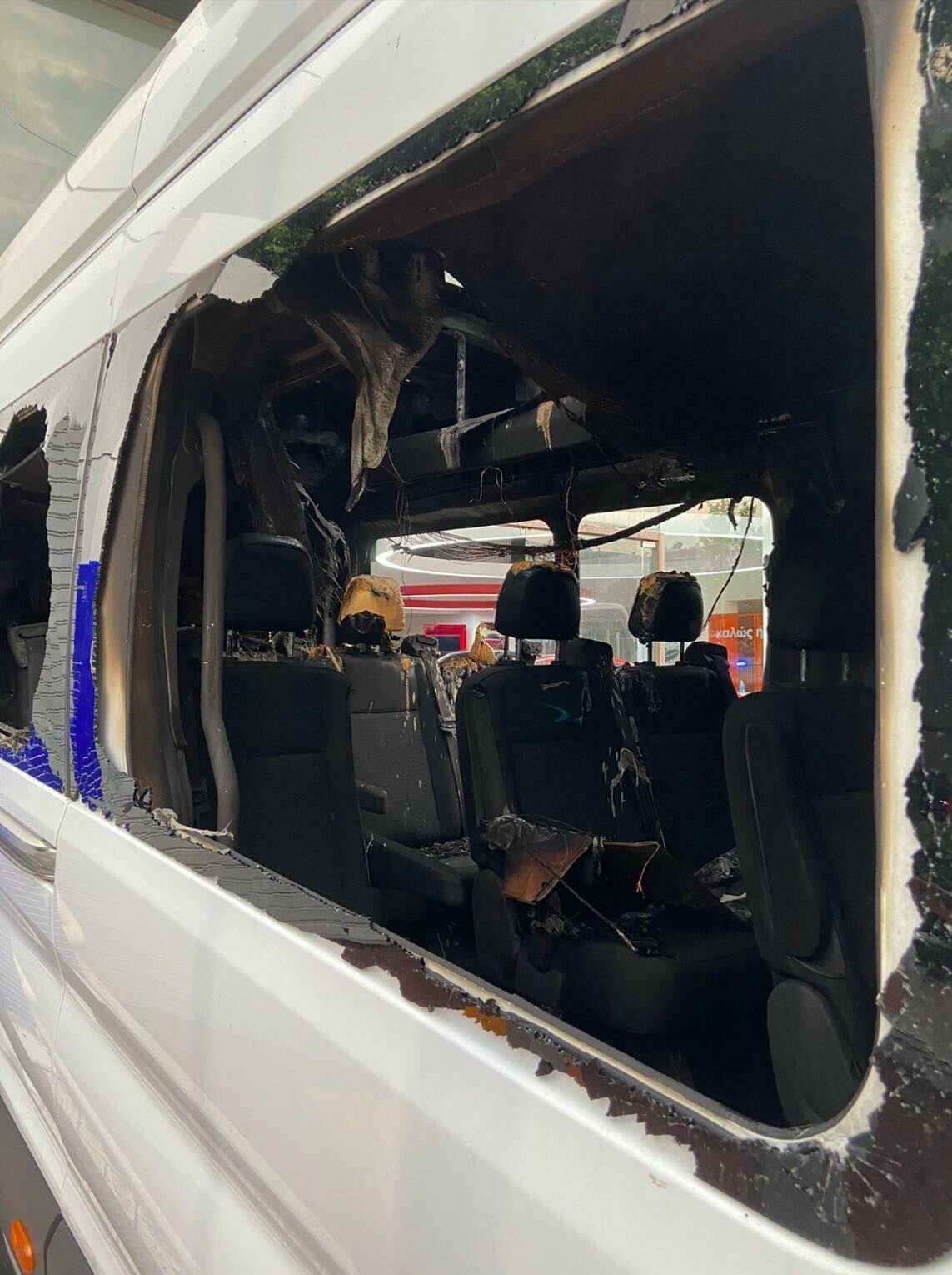 Besieged bodies among the concrete, between the cameras eyes, crossing daily life with careful but daring steps, moved by an ethic forged by negations.
We are folks that woke up from the social lethargy, having as weapon our solidarity to the fighting individuals towards the world. We want to be the crack that will join the others, destroying a system that represents injustice and "deadly injuries".
So, at the night of 7/7/2020, we chose to plant four incendiary devices to the Ford car dealership of Sfakianakis company, resulting to three burnt-down vehicles and a destroyed showcase. Our target was totally not random, as this specific company equips the state apparatus with vehicles, and also the moment of our attack coincides the uprising in USA, the homeland of Ford.
By that we choose to be the aroma of night-flower that bungs the nostrils of the decay, and we want this smell to break every authoritarian nose, to close every mouth that pukes shit, to cut every hand that points at our bodies full of racism, homophobia and sexism.
Carmine Night-Flowers
Tags: Arson, Athens, Ford, Greece, International Solidarity, Sabotage
Posted in Direct Action
Sunday, July 19th, 2020
INTERNATIONAL CALL!!
JOIN US IN THE HAMBACHER FOREST FOR A WEEKEND OF DISCUSSION, WORKSHOPS AND REVOLT FOR ANIMAL LIBERATION
24-27 SEPTEMBER 2020
After months of dystopian weirdness and unprecedented state-repression imposed on the basis of corona, borders are opening up and rage is exploding around the world. But with potentially no radical anti-speciesist gatherings in Europe this summer to contribute to the clash, we felt the need to set a rallying point!
The Hambacher Forest is an ongoing focal point for anti-capitalism and radical ecology on the continent – let's find each other there and take the opportunity to share skills and perspectives on how to confront human supremacy in the current context. In continuation with the anarchist animal liberation gatherings which took place in Marseille (2016), Bristol (2017), Bilbao (2018) and Rome (2019), we aim to connect those who incorporate the fight alongside other animals and their habitats into a broader struggle against all hierarchies – a struggle for total liberation.
A list of workshops – both hands-on and more theoretical – is soon to be announced. We also want to invite you to propose your own, whether over the coming weeks or more spontaneously once the event begins. Other contributions in the form of literature, stalls and whatever else are also warmly invited.
Remember, this event is:
– FREE, including vegan food for the duration of the event
– SELF-ORGANISED, so if you see a job it's yours!
– SQUATTED, taking place in an illegal land occupation
– ANTI-OPPRESSION, so fuck right off if you have racist/sexist/heterosexist/cissexist/speciesist or otherwise bigoted views + behaviour
– IN A FOREST, so be ready to camp and respect the ecosystem
More info about what to expect and how to get there will be released on the following website later on. You can also find translations of this callout there, soon to include German, French, Italian, Spanish, and more: www.forestantispedays.noblogs.org
Feel free to contact us with questions or whatever here:
forestantispedays (at) riseup.net
Spread the world and stay wild!!!
Tags: Anarchist Gathering, Animal Liberation, Forest Struggle, Germany, Hambach, Hambach Forest, International Solidarity
Posted in Eco Struggle
Sunday, July 19th, 2020
As anarchists we believe, direct action and insurrection is the soul of anarchism itself, while prison and humiliation are the consequences of every direct action we take.
If humiliation is the answer to every direct action, then pacifism is the answer right? Unfortunately not, giving up on pacifism means letting our necks stepped and getting stepped again!
Our comrades in Tangerang and Makassar have decided to fight back against state oppression and must now be locked up in prison, and this is our duty to ensure they are not alone! We did a little decoration in an unused building a few days ago as our solidarity, let's make and spread solidarity!
Our hugs and love for Makassar and Tangerang anarchist prisoners. Fire for prison! No anarchy without abolition of prisons and police!
Tulungagung Anarchist Individual Network
via Palang Hitam Indonesia / Anarchist Black Cross Indonesia
Free All Anarchist Prisoners
Tags: Graffiti, Indonesia, International Solidarity, Makassar, Makassar City, Solidarity Action, Tangerang, Tulungagung
Posted in Prison Struggle
Sunday, July 19th, 2020
On Friday the 31st of July and Saturday 1st of August people will take action in The Hague, Netherlands, for the right to housing and the city. We invite you all to take part during these two days to struggle against gentrification, precarity and capitalism.
https://woonactiedagen.wordpress.com/
INTERNATIONAL
We call on international solidarity and participation as capitalism and gentrification, capitalism in urban areas, know no borders, so why should we?
Displacement of people from cities and rising rents is a world wide trend. In the trendy neighbourhoods of Berlin, to the housing projects in Chile built on stolen land, in the streets of Exarcheia and parks in Istanbul a social struggle is being waged. People are (re)asserting their right to the city, and their right to life and self-determination.
Wherever we may be, we are not alone, new pockets of resistance to capitalist domination, and its multiple oppressive dynamics, are being formed everyday across the globe. We will manifest our resistance in a few weeks time and we invite you to join us! (more…)
Tags: Den Haag, Gentrification, International Solidarity, Netherlands, Squatting
Posted in Autonomy
Thursday, July 16th, 2020
Recibido el 16.07.2020:
[Scroll Down For English Version]
¡¡¡PABLO MUÑOZ MOYA PRESENTE!!!
A 28 AÑOS DE SU KAÍDA EN KOMBATE
16 DE JULIO DE 1992-2020
"El Guatón Feña" miembro de las Fuerzas Rebeldes y Populares Lautaro muerto el 16 de Julio de 1992 a los 21 años de edad en un enfrentamiento kon los pakos en el sector de Ñuble kon Santa Elena, zona centro sur de Santiago, al ser detectado kuando se movilizaba en un auto junto a dos kompañerxs en dirección a un asalto bankario.
Reivindikamos su historia komo expresión de lucha konfrontacional kontra el poder, kombatiendo la amnesia y desmemoria, los akomodos y justifikaciones para la renuncia por encima de las estrechas fronteras de su militancia.
Rekonocemos en Pablo y en todxs lxs kompañerxs muertxs en los primeros años de Demokracia la inspiración inevitable para konstruir nuestro largo kamino de Subversión Autónoma y Libertaria. (more…)
Tags: Chile, International Solidarity, Pablo Munoz Moya, Santiago
Posted in Autonomy
Tuesday, July 14th, 2020
Solidarity means attack – no eviction remains without response
Today (10/7/2020), as a first response to the raid and evictions in the front building of Rigaer94, we attacked a branch of the Berliner Sparkasse in Lichtenberg with stones and destroyed the windows.
The raid and eviction are the beginning of the planned elimination of various projects in the coming months. In addition to an attack on one of our spaces, yesterday's raid concerned the extension of the siege in the northern district of Friedrichshshain and the attempt to prepare the framework for the eviction of Liebig34. This will not remain without consequences. With our action we call for
decentralized actions against their plans. We do not want to wait for Day X, the phase of evictions has already begun and we must give a strong, collective response on the streets.
In doing so, we are joining the call of the Koukaki Squats in Athens in order to enter into dialogue with the comrades there who are facing similar challenges. The evacuation of Dervenion56 in Exarchia was the occasion for this international call [1]. (more…)
Tags: Berlin, Dervenion 56, Germany, International Solidarity, Liebig34/XB, Rigaer 94, Sabotage, Solidarity Action, Sparkasse Bank
Posted in Direct Action
Saturday, July 4th, 2020
EL | [Κουκάκι] Δράση αλληλεγγύης για Δερβενίων 56 // Διεθνές κάλεσμα αλληλεγγύης // Συγκεντρωτικό δράσεων
We are calling for international actions in solidarity with the Squats. Make the Greek state, the Greek capital and its partners regret the choice they made to attack the movement and its spaces in Greece. To defend Dervenion 56 and all squats,to prepare the ground for the coming social uprising.
On Friday 26/6, in Exarchia, the Greek state evacuated and sealed Dervenion 56 squat and the building at Dervenion 52. An immediate gathering of solidarity was held at Exarxia Square for several hours.In the evening of the same day, a solidarity march was held with the participation of 300 people. The march ended at Dervenion squat, barricades were set up around the perimeter and then comrades broke the concrete blocks of shame.
(more…)
Tags: Athens, Dervenion 56, Ermou, Eviction, Exarchia, Greece, International Solidarity, Koukaki, Molotovs, Riots, Squatting
Posted in Autonomy
Tuesday, June 30th, 2020
Buenos Aires, Argentina. June 2020
"…Anarchism is either illegal or it's not anarchism. That is its essence and its meaning. Its nature. For the same reason, it sometimes seems so obvious to us that we forget to insist punctiliously on the anti-authoritarian and therefore, the consequently anti-systemic character of anarchism. Rabidly anti-systemic! We are against all authority. That is our maxim… That we are against the system of domination, that we are fighting against the social order as a whole, we are objecting to its order and the laws that support it. All laws have been and will be made to give legal support to oppression and domination…"
– Gustavo Rodriguez
This is an appeal to our friends, to our comrades, like-minded and not so like-minded. A warm invitation to practice beautiful disobedience and take back our lives. A call to conflict against all that exists here and now, assuming the consequences of a life at war.
For anyone who lives in the territory dominated by the Argentine State, or almost anywhere in the world, currently there is a state of alert in the face of the current situation. The appearance and expansion of covid-19 quickly became a global problem, and while we do not want to question its existence or veracity, we want to show how the "epidemiological outbreak" unmasks the harmfulness of the class society and neoliberal capitalism maintained by the States its main economic groups. (more…)
Tags: Analysis, Argentina, Buenos Aires, Fanny Kaplan Antagonistic Cell (FAI-FRI), Informal Anarchist Federation (FAI), International Revolutionary Front, International Solidarity
Posted in Autonomy
Friday, June 26th, 2020
On June 18th Eric was taken into the showers while shackled and attacked. The guard took the metal detection wand and swung at each of his ankles and then when he would lift his leg this officer would swing at the other. The guard then picked Eric up and dropped him on his head onto the concrete in the shower. He woke up after loosing consciousness for 10 seconds thinking they were pouring water on his face. But it was his own blood.
Eric was transported to Swedish Medical Center and was given 6 stitches and was diagnosed with a moderate to severe concussion. They hospital would not give him the results of the scan or release it to his family or lawyer because they told him "he is government property".
The reality is folks have been fighting for over a month to be able to get an expert in to assess Eric. We believe he is suffering from a traumatic brain injury after officers at FCI Florence kicked him in the head for 5 minutes in August of 2018. We were so hopeful that we were going to be able to get help for him and see where he is at with the mixture of trauma and brain injury he has been struggling with. His memory has been affected as well as many other aspects of his life. Officers at FCI Englewood know this. They knew that we were trying to get a medical expert in because of a head injury concern… and then they dropped him on a concrete fucking floor on his head in the bathroom while Shackled up. (more…)
Tags: Anti-Prisons, Eric G. King, FCI Englewood, International Solidarity, Repression, USA
Posted in Prison Struggle
Thursday, June 25th, 2020
EN | Genoa, Italy: Incendiary Attack Against a Police Vehicle Depot in Marassi
I danni della globalizzazione sono arrivati anche in occidente e ci siamo trovati a farne I conti direttamente. La reazione non è stata certo in una prospettiva di soluzione delle cause, bensì un ulteriore passo veloce verso il progresso ed un intensificarsi del dominio tecno-scientifico, della trasformazione e del rapido adeguamento delle logiche di autoritarismo e profitto.
Anche in tempi di pandemia il governo ha garantito gli affari delle case farmaceutiche e dei signori della guerra. Attraverso le politiche capitaliste gli Stati hanno continuato la produzione industriale a scapito dei lavoratori e le operazioni militari a scapito di intere popolazioni.
Anche nel porto di Genova hanno continuato a transitare navi cariche di carri armati e altri armamenti, dirette verso gli Emirati Arabi.
Lo Stato ha chiarito quali sono I suoi interessi, molto lontani dai reali bisogni degli individui, ed in continuità con la politica tecno-industriale:
imposizione di tecnologie nocive come il 5G e controllo sociale di massa (realizzato con la militarizzazione dei territori, l'accellerazione tecnologica e l'utilizzo di vari mezzi come droni, GPS, motoscafi, elicotteri e vari progetti "smart"). (more…)
Tags: Arson, Genoa, International Solidarity, Italy, Operation Bialystok, Operation Prometeo, Operation Scripta Manent, Sabotage
Posted in Direct Action
Friday, June 19th, 2020
ADESSO CHE AVETE PAURA.
E' sempre più chiaro ormai come il modello economico dominante, sacrifichi alla legge del profitto e della competizione esasperata qualsiasi espressione di libertà individuale, uguaglianza e solidarietà sociale.
Di fronte a tutto ciò, numerosi sono gli scenari di rivolta che esplodono e si ramificano in ogni parte del mondo.
Dal confederalismo democratico curdo, ai territori autonomi zapatisti, da Hong Kong al Chile.
In questi ultimi mesi, il modo in cui la pandemia da Covid è stata gestita ha ulteriormente amplificato e reso evidente la disuguaglianza tra chi il sistema lo subisce e chi pretende di controllarlo.
Questo ha reso più estrema la tensione sociale e il suo potenziale esplosivo.
La morte di George Floyd, di per sé un evento non eccezionale nel contesto della brutalità di un sistema che giornalmente uccide e devasta, vissuto nel momento del lock down globale a causa della pandemia, ha scatenato a livello internazionale un'esplosione di rabbia che si è manifestata in molteplici forme: dall'assedio dei distretti di polizia, ai saccheggi di quei beni a cui molt* non hanno più o non hanno mai avuto la possibilità di accedere, alle grandi manifestazioni di piazza. (more…)
Tags: Berlin, Coronavirus, George Floyd, Germany, International Solidarity, Italy, Operation Bialystok, Repression
Posted in Social Control
Friday, June 19th, 2020
Welcome to the 35th edition of Bad News. This is our Angry Voices From Around The World for June, 2020. A report from the international network of anarchist and anti-authoritarian radios.
If you'd like to get involved in the network or want to hear more – send an email to a-radio-network@riseup.net.
Check out all the shows look for the a-radio-network collection on archive.org or at our website, a-radio-network.org.
Contents:
1. The Final Straw Radio:
• Interview about the liberation of a former Sheraton Hotel in Minneapolis.
2. A-Radio Berlin:
• Interview about a new feminist campaign in Germany to raise awareness to the abortion topic.
3. Radio Fragmata:
• Updates on the general situation, the movement and the struggles in Greek territory.
4. Invisible Radio:
• Voices of people from Moria camp
5. R.O.S.E. (Athens):
• News from Greece.
Tags: Anarchist Radio, Anarchistisches Radio Berlin, Anti-Prison, Athens, Berlin, Final Straw Radio, George Floyd, Germany, Greece, International Solidarity, Invisible Radio, Migrant Struggle, Minneapolis, Moria, R.O.S.E (Athens), Racism, Radio, Radio Fragmata, Repression, USA
Posted in Autonomy