Posts Tagged 'International Solidarity'
Tuesday, December 27th, 2011
On the 11th of December 2011, in the very conservative and religious province of Aceh in Indonesia, 64 punks who were attending a punkrock show, were arrested and taken to jail without any criminal charges whatsoever.
The only reason for them to be victim of that totally arbitrary state repression was that they are punks. The police shaved their hair off and removed their piercings, their clothes were taken away from them, replaced by "decent" ones and they were forced to wash themselves in a "religious ritual". Then they were brainwashed and "re-educated" for ten days through "religious education" and "military discipline".
Against this outrageous police action, solidarity actions and demonstrations took place in Moscow, London, San Francisco, Los Angeles, China and Malaysia. (more…)
Tags: Aceh, Aceh 64, Fuck the Law, Indonesia, International Solidarity, Istanbul, Punx, Turkey
Posted in Direct Action
Tuesday, December 27th, 2011
As part of the campaign for solidarity with the freedom struggle in Indonesia, we print this report from a comrade there:
On 24 December 2011, the tragedy happens in Bima, West Nusa Tenggara, Indonesia. Four people (media local said) died (eight now confirmed dead – killed by police during the resistance). It began when thousands of people including farmers blockaded the harbour of Sape in Bima. They protest to the government which had given permission to PT SMN to mine gold in the area of the area about 24.980 hectares. The people there are worried about the environmental damage. It is because most of the people there work as farmers and fisherman. The presence of the mine will destroy water sources and finally the agricultural ways in the area will be damaged.
For sources:
Negasi-Negasi (Indonesian anarchists/anti-authoritarians web-portal)
Australia IMC
Corporate news
1
Tags: Australia, Bima, Indonesia, International Solidarity, Mining, Police Brutality, Repression, West Nusa Tenggara
Posted in Eco Struggle
Thursday, December 22nd, 2011
"A stone will be thrown at the State, and a stone will be thrown at the churches"
Kode9 – 9 Samurai
From the burning streets of London, Bristol, Nottingham, Manchester, Birmingham and dozens of other places, urban rage explodes with action and speech. Social peace is shattered by the repressed anger of thousands of individuals, united by anti-police and anti-system violence. The modern British project of the perfectly ordered prison-society run by the police and the politicians is shattered, no-one cares about the CCTV anymore and the pigs are being beaten, attacked and running away. This is a war, and only the start of it, let their ranks and divisions of police and intelligence teams come, the collapse of society has begun and the choice is resignation to modern fascism or insurrection.
The imprisoned members of the Revolutionary Organisation – Conspiracy of Cells of Fire and Theofilos Mavropoulos have our irreducible solidarity and anarchist friendship. They are some of the courageous and resolute individuals who have acted against the capitalist and governmental parasites and their functionaries, helping create the formation of an international insurrectional network of which they are an integral part.
The fire they have started is the same fury as the blaze of August, and exists around the world regardless of any anti-terrorist operations and secret service maneuvers to dampen it, because this is the beginning of the end for the capitalist-dominator social model. It doesn't matter if we, the insurgents, are in prison, maimed, dead – our ideas and our actions live in the inferno of freedom where new generations of conscious individuals ignite themselves to attack the dominating elites, their servants and the reproductive aspects and values of servility. It is not only in the dreams of the few, it's in the daily thoughts of the used and denigrated, all those who didn't yet learn to love work and authority.
The only intelligent way to react to the prison-world is to try to escape, and in this time of repression and war, the only real way is to take weapons and fight for your freedom.
The rebels in UK have come into a nihilistic fervour, with almost no participation in, or intervention from, the progressive-left activist/anarchist racket. There is zero anticipation that there will be any "social change" from the established regime, only unending economic misery and urban prison; but without the trappings of ideology, revolutionary and anarchistic principles are the first spoken from many lips when given time to express their ideas and question the existent order.
The antagonistic trends here are those most at risk of exploitation, imprisonment and police brutality: young people/teens, migrants/the different, the "anti-social", the excluded and rebellious. 325 is proud to be some of the "scum" on those streets during August, despite the repression and the acceleration of fascism this country was ripped into. We, the rioters, ruined the facade of social peace. As the world of the old bigots crumbles, the British dream of an imperial paradise descends into the urban estate reality of a vast chaotic mess. The insurrection, which of course was not a 'utopia', did not finish in August. Even in the shithole deadzone places, such as Cambridge, you could find unexpected incidents of anti-social arson, such as a car dealership going up in flames in a wealthy area claimed by Fire Cell / FAI. In Birmingham, a police station is burnt down and 40-50 people attack the police with molotovs, stones and handguns. In Nottingham, four police stations are attacked with stones and one with molotovs, and later Cell of Joy / FAI take responsibility for an arson attack against a vehicle of the prison guards at the local prison. In Bristol, the personal cars of the mayor and of a ruling party politician are set on fire outside their homes and claimed by Class Terror / FAI. In London, the Sony Warehouse covering hundreds of square metres is looted and reduced to ashes. These are some incidents/moments where anti-political people exclaimed they had "the best days of their life" and seek future chances, co-conspirators and more.
Not guessing when there will be another uprising, we don't wait, but the certainty of another is clear. An entire section of the population cannot be pushed much further and the divisions are deep. The plunder and injustice is too blatant, unapologetic, without even the pretence of 'social conscience' and it is intolerable.
August was unimaginable a few years ago and now anything can happen. The best days of our lives are to be had. With knives and dreams, pistols and pens, we reload our magazine and prepare to return fire…
FOREVER ANARCHISTS – FOREVER DANGEROUS – FOREVER IN CHAOS
SOLIDARITY TO THE IMPRISONED MEMBERS OF THE CCF, THEOFILOS MAVROPOULOS & ALL REBELS
325 / Anti-Copyright Network
Tags: Conspiracy of Cells of Fire : Imprisoned Members Cell, Greece, Insurrection, International Solidarity, International Words of Solidarity with the Conspiracy of Cells of Fire pamphlet, Theofilos Mavropoulos
Posted in Prison Struggle
Thursday, December 22nd, 2011
From IMC UK:
15 December 2011
At 4:30 am on Thursday 15th of December we attacked Bristol LLoyds bank depot in solidarity with comrades imprisoned in Greece, Chile, Switzerland and all over the world. We painted the message "UNTIL ALL ARE FREE" on the building and positioned three bins of flamable material soaked in gazoline in front of their wooden doors and set them alight. Unfortunately our attempt to burn the building down was scuppured by fast emergency services response.
We took this action to send our love and solidarity to our Revolutionary Struggle comrades on trial in Greece and to the Chillean comrades persecuted for the "bomb case", also to Silvia, Costa and Billy the Swiss comrades persecuted for "IBM nanotechnology building" and for all those imprisoned for their political beliefs.
ATTACKS WON'T STOP UNTIL WE ARE ALL FREE!
Anarchist individuals/ Cells of FAI
Tags: Anarchist individuals/ Cells of FAI, Arson, Bristol, Chile, Costantino Ragusa, Greece, International Solidarity, Lloyds Bank, Luca Bernasconi, Revolutionary Struggle, Silvia Guerin, Switzerland, UK
Posted in Direct Action
Friday, December 16th, 2011
325 receives and transmits:

15 December 2011
On December the 15th a group of anonymous punks from Moscow decided to act upon receiving news of brutal state repression of Indonesian punk-scene. We consider ourselves anarcho-punks and these news offended us in the deepest sense. We wont tolerate any religion to hold sway over living being's freedom, especially over our subculture. Thus on the same evening we gathered to express our rage. We chose Indonesian embassy as our target. For us solidarity starts on subcultural level. We feel that modern Russian anarchists pay too little attention to subcultures of resistance. We wish the news of our action to reach Indonesian comrades. We hope they will have their spirits soar after hearing that in such far-away country there are folks who feel solidarity with their struggle.
Punk is not a crime. Religion is fascism. Fight for your looks.
We didn't want to make video, but it was agreed upon after a tedious discussion that even the most pacifist action should have video documentation. So here it goes:

youtu.be/f9cXpVqjsCw
Some photos:
– general view on the embassy
– writing says "Religion = fascism"
– writing says "Punk is not a crime"

Link to the statement of responsibility (Russian).

Up the Punx!
Tags: Aceh, Fuck the Law, Indonesia, International Solidarity, Moscow, Punx, Repression, Russia, Solidarity Action
Posted in Direct Action
Thursday, December 15th, 2011
7/12/11 – Frankfurt, Germany : CEO Josef Ackermann is the intended target of a fully operational explosive parcel which is mailed to Deutsche Bank headquarters. Bank security staff identify the device during x-ray screening, and it is later neutralised by police. A claim of responsibility is recovered from the device, which is published in the corporate press.
9/12/11 – Rome, Italy : Chief Director Marco Cuccagna of Italy's tax collection office, Equitalia, receives a letter-bomb which explodes after he opens it, causing damage to his hands, blowing off part of his finger and almost blinding him after his glass desk shatters in the explosion.
12/12/11 – Paris, France : The Greek embassy in Paris is the target of a third explosive device which is identified and neutralised.
Amidst the wave, mainstream media report that envelopes containing bullets and threatening letters are mailed to Italian Justice Minister Paola Severino and Rome Mayor Gianni Alemanno. An additional parcel of vengeance was received by Equitalia on the 15th December, but was identified and neutralised. A note inside the latest package said "don't kill yourself, rebel: death to usurers!"

Here is a translation of the claim of responsibility that accompanied the package bomb to the central headquarters of Deutsche Bank in Frankfurt:

FREEDOM AND HAPPINESS FOR OUR BROTHER GABRIEL POMBO DA SILVA. DEATH TO THE BANKS THAT STRANGLE THE PEOPLE.
THREE PARCEL BOMBS IN THESE DAYS ARE TRAVELLING TOWARD BANKS AND BANKERS, TICKS AND LEECHES. WITH THESE SMALL BUT RESOLVED ACTIONS, WE OF THE EAT & BILLY ITALIAN CELL JOIN IN THE NEW ANARCHIST INTERNATIONAL, THE INFORMAL ANARCHIST FEDERATION AND INTERNATIONAL REVOLUTIONARY FRONT. WE HAVE THIS NAME IN SOLIDARITY WITH THE INDONESIAN FAI, WITH OUR BROTHERS EAT AND BILLY. WE DON'T NEED SPECIALISTS OF ACTION, ANYONE CAN ARM THEIR OWN HANDS, ANYONE CAN ASSEMBLE THEIR OWN GIFT PACKAGE. WAR ON THE EUROPE OF THE BANKERS, DEATH TO THE LEECHES THAT GOVERN US.
LONG LIVE THE INDONESIAN FAI
LONG LIVE THE C.C.F.
VIVA THE NEW ANARCHIST GUERRILLA
VIVA THE FAI/IRF
FREE EAT AND BILLY CELL FAI/IRF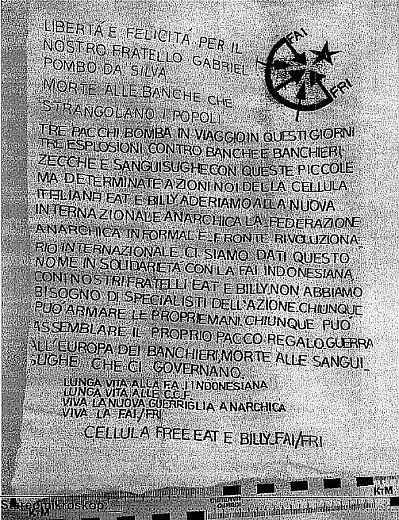 Tags: Billy, Deutsche Bank, Eat, Equitalia, France, Frankfurt, Free Eat & Billy Cell FAI/IRF, Germany, Greece, Greek Embassy, Indonesia, Informal Anarchist Federation (FAI), International Revolutionary Front, International Solidarity, Italy, Letter-bombs, Paris, RO-FAI (Indonesia Section), Rome
Posted in Direct Action
Thursday, December 15th, 2011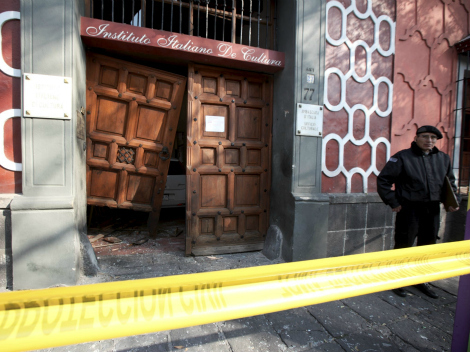 From culmine via war on society
13 December 2011
Last night we decided to give a demonstration of our anti-indulgence with respect to the norms that govern this society, the unmasked consumerism, the "commodity" of not thinking and refraining from an infinity of alternatives, and of, zombie-like, letting oneself be carried by commercialism, walking without a fixed course, without a project, passing stores, malls, barracks, museums of the State full of culture and useless "art" that has infatuated many "alternative people" thinking that with paintings about an unreal reality they can change something, they can see a different world and envision a future without violence, without hate, with agreement, without conflict… and passivity! eternal ally of the State/Capital, the useless urge to not do anything for oneself nor for anyone nor anything, nor to change minimally our situation as individuals. (more…)
Tags: Autonomous Cells of the Immediate Revolution – Praxedis G. Guerrerro, Federico Buono, Informal Anarchist Federation (FAI), International Revolutionary Front, International Solidarity, Italian Institute of Culture, Italy, Mexico, Mexico City, Revolutionary Anarchist Cell - Gabriella Segata Antolini, Solidarity Action
Posted in Direct Action
Thursday, December 15th, 2011
325 receives and transmits:

28 November 2011
Communique:
On the night of November 28th, 2011, we sabotaged a rail line in Southern Oregon as part of a coordinated effort to disrupt the flow of commerce on the West Coast. We got tired of watching trains pass through our towns loaded with lumber, ore, cheap commodities, and other resources pillaged from the earth without consequence. We didn't do this out of a desire to create a more green, sustainable or humane civilization—we want nothing less than to see the total failure of this sick and rotten society.
This action was not only easy to carry out, but positively satisfying. We used 4AWG copper wire with the ends stripped of insulation and wrapped around the two sides of the track with the rest of it buried in the middle, which falsely indicated to a sensor that there was a train stopped on the railway.
We did this in solidarity with currently imprisoned members of the Long-Live Luciano Tortuga Cell/Indonesian FAI, to whom we send our most passionate revolutionary greetings.
We would also like to send our love to ALF prisoner of war, Walter Bond.
Towards an end to this nightmare world
Tags: Billy, Eat, Indonesia, International Solidarity, Luciano Pitronello Schuffeneger, Oregon, RO-FAI (Indonesia Section), Sabotage, USA, Walter Bond
Posted in Direct Action
Friday, December 9th, 2011
Global Noise Demo: New Years Eve 2011/2012
Outside & inside prisons, jails, and detention centers everywhere.
This event is inspired by the North American call out for a day of action against prisons in the New Year of 2011, which remains relevant unchanged:
Noise demos outside of prisons in some countries are a continuing tradition. A way of expressing solidarity for people imprisoned during the New Year, remembering those held captive by the state. A noise demo breaks the isolation and alienation of the cells our enemies create, but it does not have to stop at that.Prison has a long history within capital, being one of the most archaic forms of prolonged torture and punishment. It has been used to kill some slowly and torture those unwanted – delinquents to the reigning order – who have no need of fitting within the predetermined mold of society. (more…)
Tags: Anti-Prison, Demo, Fuck the Law, International Solidarity, New Year
Posted in Prison Struggle
Friday, December 9th, 2011
On November 22, 2011, six of our friends pled guilty to counselling charges for organizing to disrupt the Toronto G20 summit in June, 2010. On November 28, 2011, Erik Lankin, Adam Lewis and Peter Hopperton were each sentenced to 3-5.5 months in jail. Leah Henderson expects to be sentenced to 10 months on December 20, 2011. Mandy Hiscocks expects to be sentenced to 16 months on January 13. Alex Hundert expects to be sentenced to 13.5 months, date to begin TBA. (more…)
Tags: Canada, G20, Guelph Anarchist Black Cross, International Solidarity, Main Conspiracy Six, Toronto
Posted in Prison Struggle
Friday, December 9th, 2011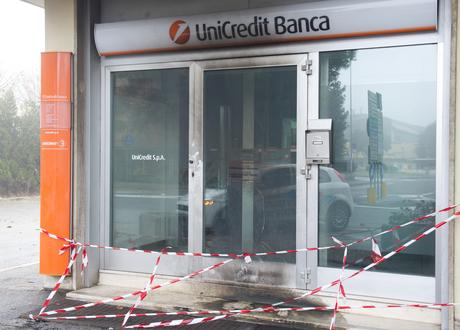 From Anarchists for the Destruction of the Existent, via culmine and war on society:
3 December 2011
Many are the reasons that groups or individuals go on the attack, and great is the hatred for a world that does not belong to us and in which we spend too much time.
Everywhere, brave comrades decide to attack the system with direct action of any kind against any of its aspects – offices, banks, schools, churches and so on – carrying forward the war against all authority.
We have decided to take part in this war, attacking during the night of December 3-4 a Unicredit Bank branch, leaving a clear message to the exploiters of Ravenna and of the whole world and to all their guards: the powder keg is about to explode. We will reappropriate all that they have taken by force and with all means.
This is no time to remain immobile in the face of the destruction of our lives and of our dreams. It is time to attack, here and now.
We also want to renew the call to international solidarity, asking all comrades in affinity to strike Capital as they see fit and as the opportunity presents itself.
We dedicate this action to the comrade Luciano "Tortuga" and we send him all our affection. We are with you comrade, and we hope that these flames are able to show you that.
We are close to the comrades in Bologna who face trial December 12. You have all our support and we hope that this has given you some strength.
We want to send a fiery embrace to the comrades of the Conspiracy of Cells of Fire because their courage and determination have inspired us. We are on your side in this war, until the end.
We salute, finally, any comrade who chooses to attack with any means this nightmare, and all those who find themselves imprisoned for their desire for freedom.
For comrades who are fallen or confined in society's cages
For a Black International
For Anarchy
Anarchists for the Destruction of the Existent
Tags: Anarchists for the Destruction of the Existent, Arson, Black International of Anarchists of Praxis, Bologna, Chile, Conspiracy of Cells of Fire, Greece, International Revolutionary Front, International Solidarity, Italy, Luciano Pitronello Schuffeneger, Ravenna, Unicredit Bank
Posted in Direct Action
Friday, November 18th, 2011
When the prison bars stop our hands from throwing the fire of anarchy into the world of power, our words become the sharp rasp of escape.
Armed with thoughts, desires, secret plans, new conspiracies, we give a warmest embrace in our imaginary meeting with the comrades of action across the world.
Now we want our voice to reach our brothers and sister in distant Chile to Luciano (Tortuga) prosecuted on November 22 and to Monica, to Felipe, to Francisco, to Omar, and Carlos on November 28, because they are anarchists and enemies of power. (more…)
Tags: 14/14, Black International of Anarchists of Praxis, Chile, Conspiracy of Cells of Fire, Conspiracy of Cells of Fire : Imprisoned Members Cell, Cristobal Bravo Franke, Informal Anarchist Federation (FAI), International Revolutionary Front, International Solidarity, Letter, Monica Cabellero, Theofilos Mavropoulos
Posted in Prison Struggle
Friday, November 18th, 2011
A society, which you find around yourself when you became a kind of conscious individual, should damage you by a great multitude of disgusting injustice which inherent in its very structure. It appears in everything: social institutions, interpersonal mutual relations, imposed pseudo-values and even in patterns of thinking and feeling. All these yawning sores are poisoning every day of our existence. It seems, these hidden bitterness and disappointment are the main reasons why individual comes to an anarchist belief. Anarchist world-view is an attempt to abolish all the constructs, which built in a human world but hostile to a very human nature. To abolish – and to create on the ruins new society of freedom. Anarchist movement is a community of people which aim their thoughts and actions on realization of a liberation idea. (more…)
Tags: Black Bloc, Conspiracy of Cells of Fire, Conspiracy of Cells of Fire : Imprisoned Members Cell, Greece, International Solidarity, Russia
Posted in Cognitive Liberty
Tuesday, November 15th, 2011
325 receives and transmits:

9 November 2011
In the night of 9th November 2011, in Milano (Italy), we smashed 7 bank ATMs.
We decided to attack the banks as they are the symbolic institutions of money, the pillar of today's alienated and false social relations (work/consume) and of the power relations between the dominant élites and the mass of the exploited.
Crisis or no crisis, it's the same existence of any economic system that disgusts us, a system that we're not interested in saving or reforming but only in destroying.
The executives of the financial institutions, closed in their offices, everyday move huge quantities of capital, in order to gain as much profit as possible, not caring about the devastating effects that the projects they finance (wars and weapons, highways, energy plants, high speed trains, security and social control systems and so on) have on entire territories and populations.
This action is dedicated to Luciano Tortuga, Chilean anarchist comrade wounded while he was attacking a bank in Santiago.
Solidarity is not only words! Complicity and solidarity to all the prisoners that resist, and to anybody who fights here as in Chile, Greece, Russia, Belgium, Germany, Indonesia, Spain, Sweden, USA and anywhere else… against any form of oppression!
Riot shouldn't be just a day of temporary joy but a permanent life condition… to take our lives back in our hands… more attacks against the symbols of State and Capital!
Revolting Individualists
Tags: ATM, Belgium, Chile, Economic Crisis, Germany, Greece, Indonesia, International Solidarity, Italy, Luciano Pitronello Schuffeneger, Revolting Individualists, Russia, Spain, Sweden, USA
Posted in Direct Action
Sunday, November 13th, 2011
The anarchist prisoners Eat and Billy are imprisoned comrades of the Long Live Luciano Tortuga Cell / Informal Anarchist Federation, Indonesia Section, who are currently in prison before trial, having taken responsibility for setting fire to a BRI ATM bank in Yogyakarta on 7th of October '11, by causing an explosion. The action was declared in solidarity with Luciano Tortuga, injured anarchist combatant of Chile, with revolutionary prisoners and fighters in Indonesia and across the world, in complicity with the international clash with capitalism and hierarchy.
Despite isolated conditions and the inevitable harsh and endless interrogations, the comrades never co-operated or collaborated with the repressive apparatus, and the application of the anti-terrorist law has not diminished them. The repressive wave which the Indonesian State and the mainstream media initiated against not only them, but against also autonomous spaces and individuals, and which extends into the continued murderous practices it employs across the islands, has failed to obscure the evident : that the Indonesia State and the corporations operating there are exploiters and terrorists.
This open letter comes alongside a continued call for international solidarity with the environmental, indigenous and anti-capitalist/anti-state struggle in Indonesia, and the imprisoned comrades additionally wanted to focus attention on places like Wera (Bima) where the people are resisting an iron mine, and also the situation of renewed social war in West Papua, as the rebels and the students are escalating the conflict against the police, military and the mafia Freeport McMoran Copper & Gold Inc..
You can read a previous flyer (with multiple language translations from the excellent Greek anarchist anti-info collective Contra-Info) about the general case here (nb. there was another person arrested who was subsequently released), plus a solidarity booklet by Actforfreedom/Elephant Editions is here.
It is possible to send financial aid via ABC Berlin.
–
Dear comrades, with respect, love and rage
It's been 35 days since we were caught and we are sorry for writing this letter too long as our only possible communication comes only from our friends and lovers who still have the courage to meet us here. Direct letters are impossible.
We've been waiting to hear some news from you all and like a strong warm breeze in this climate of repression, we once more regain back our energy and strength to hear the sound of revolutionary solidarity and a warm feeling of comradeship from all combatants and prisoners of freedom around the world – especially when we have the chance to read a newspaper about some recent insurrection in Rome, Italy, it gave us both a warm feeling that comrades are still fighting for a true revolutionary change… and the spirit of insurrectionalism is still in the air like a light of hope – in this dim atmosphere of cages of repression.
We send our hugs to all the FAI members around the world (those who are free and imprisoned) and as well CCF members in Greece, our true revolutionary and warm feelings to all of you..
On a sad note, we are truly disappointed that some our local comrades who are inspired by fear and media sensationalism which make them to retreat from the front line but let's put this aside, as we are still convinced that they still have the ideas in their heart of resistance… that would light the darkness once more in the glimmering light of passion for rebellion.
Warm hugs and salute to all combatants in Chile, Greece, Portugal, Italy, Spain, Germany, and all of the revolutionary anarchists who never back down in the face of repression.
Revolutionary Greetings and Hugs to all of you.
Members of Long-Live Luciano Tortuga Cell – Indonesian FAI
EAT and BILLY
–
THE PASSION FOR FREEDOM IS STRONGER THAN THE PRISON
Tags: Billy, Bima, Chile, Conspiracy of Cells of Fire, Eat, Informal Anarchist Federation (FAI), Informal Global Federation / Anarchist Network, International Conspiracy for Revenge, International Revolutionary Front, International Solidarity, Letter, Long Live Luciano Tortuga Cell - International Revolutionary Front - FAI, Luciano Pitronello Schuffeneger, RO-FAI (Indonesia Section)
Posted in Prison Struggle