Posts Tagged 'International Solidarity'
Wednesday, November 2nd, 2011
While reading letters written by imprisoned comrades and their communiques, we can feel with all our hearts their hatred towards status quo, their anxiety to create another world by destroying this one. Each line of such texts flows like a stream through your veins. It gets right to the core and stays forever in your soul.
While walking down cold and dark streets of the metropolises, we never forget about hundreds of imprisoned comrades and thousands who have died. Sorrow mixed with anger channeled through a prism of revolutionary consciousness give us a huge pulse to make revolution a reality. (more…)
Tags: Conspiracy of Cells of Fire, Conspiracy of Cells of Fire : Imprisoned Members Cell, Conspiracy of Cells of Fire: Russian Cell, Greece, Informal Anarchist Federation (FAI), International Revolutionary Front, International Solidarity, International Words of Solidarity with the Conspiracy of Cells of Fire pamphlet, Letter, Russia
Posted in Prison Struggle
Tuesday, November 1st, 2011
New booklet just released from Act for Freedom / Elephant Editions, all about the struggle in Indonesia against the mega-project threatening the coastal farming communities of Kulon Progo, featuring action reports, communiques, international solidarity and more.
Download the booklet from 325
The booklet is designed in a format to be printed out and reproduced. Please distribute.
–
Soli-website for Kulon Progo.

FREEDOM FOR THE PRISONERS IN INDONESIA AS ELSEWHERE
Tags: Bandung, Indonesia, Informal Anarchist Federation (FAI), International Conspiracy for Revenge, International Revolutionary Front, International Solidarity, Kulon Progo, PPLP (Paguyuban Petani Lahan Pantai = Shoreline Farmers' Association), PPLP-KP (Coastal Farmers Association of Kulon Progo), RO-FAI (Indonesia Section), Tukijo
Posted in Eco Struggle, Library
Saturday, October 29th, 2011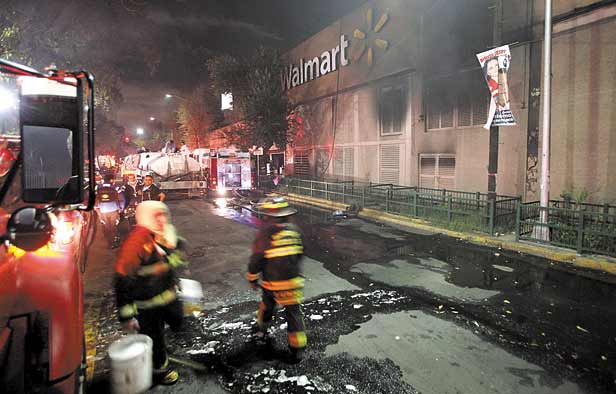 From culmine via this is our job:
To all like-minded arsonists and antagonists, the fourth communiqué from the Conspiracy of Cells of Fire – Mexico / Informal Anarchist Federation:
Neither exasperated, indignant, nor broken! Arsonists at war against every authority!
All our solidarity with comrade Gabriel Pombo da Silva!
We're celebrating two months of direct attacks on capital and the State!
Against the system of domination!
For Total Liberation!
Yesterday [26/10/11] at 6:23 p.m., liberatory fire again burned where it hurts most, destroying merchandise. The Conspiracy of Cells of Fire (CCF) faction of the Mexican Informal Anarchist Federation (FAI-M), Veracruz section, gave life to liberatory fire at the Wal-Mart located at Universidad and Avenida Las Palmas in the heart of Coatzacoalcos, Veracruz. With this new attack, we avenge comrade Gabriel Pombo da Silva (held captive in Aachen prison) and demand his immediate release from the German and Spanish states. We also stand in solidarity with our comrade Tamara, with the Bombings Case compas in Chile, with the imprisoned Conspiracy of Cells of Fire compas in Greece, and with all our comrades abducted by the State in Mexico and the rest of the world. (more…)
Tags: 14/14, Arson, Coatzacoalcos, Conspiracy of Cells of Fire, Conspiracy of Cells of Fire - Mexico, Conspiracy of Cells of Fire : Imprisoned Members Cell, Gabriel Pombo da Silva, Germany, Informal Anarchist Federation - Mexico (FAI-M), Informal Anarchist Federation (FAI), International Solidarity, Luciano Pitronello Schuffeneger, Mexico, Revolutionary Struggle, Spain, Tamara, Veracruz, Wal-Mart
Posted in Direct Action
Saturday, October 22nd, 2011
Incoming : Hackers who are fighting online in the frame of the international resistance have attacked the International Association of Chiefs of Police and released their data online to mark the International Day of Action Against Police Brutality. Communique follows…
22 October 2011
The IACP thought they could hold their 2011 annual conference in Chicago unfettered by the clutches of insurrection. They must not have known their conference starts on the Day of Action Against Police Brutality. They must not have known that all over the world people are in the streets demonstrating discontent with capitalism and the state. They also had no idea that for the past few months black hat hackers have been owning their websites and databases. They should have expected us.
In solidarity with the Occupation Movement and the International Day of Action Against Police Brutality, allied #anonymous and #antisec vessels took aim at the corrupt bootboys of the 1%: the police. We hacked, defaced, and destroyed several law enforcement targets, leaking over 600MB of private information including internal documents, membership rosters, addresses, passwords, social security numbers, and other confidential data. According to the IACP's development documents, their systems cost several hundred thousand dollars. We are pleased to destroy it all for free, leaking their private info and defacing their websites in one swift blow.
We attacked MatrixGroup.net, a multi-million dollar Washington DC based web development firm, which serves over a hundred government, corporate and association websites. Many lulz have been had as we owned their white hat "professional" intranet, clients and employee wiki portals– accessing records and passwords, internal communications, company schedules, and development notes for over a hundred clients. We intentionally excluded the unions and other unrelated sites on their servers because, unlike the police and those who support them, we will never betray our working class comrades. We realize our role in the social struggle against capital and against the state, deciding instead to set our sights on the police, military and other government websites hosted by Matrix.
Our lulzboats also took aim at Boston Police in retaliation for the unprovoked mass arrests and brutality experienced by those at Occupy Boston. We hacked the Boston Police Patrolmens' Association (www.bppa.org), releasing full names and the cleartext, user-supplied passwords for a thousand members. Many lulz have been had while perusing their emails and facebook accounts, and we are now sharing their passwords for others so they can join in on the mayhem as well. Let this be a warning to BPD and police everywhere: future acts of aggression against our movements will be met with a vengeance so epic and relentless that your children's children will puke at the sight of swine.
After exhausting both sides of Milli Vanillis' "Girl You Know It's True" tape, we also decided to attack Alabama law enforcement systems, releasing the names, addresses, and social security numbers for 1000 Birmingham / Jefferson County police officers as well as defacing and destroying the website SherrifOfBaldwin.com. We are attacking Birmingham specifically because of their notorious racial discriminatory practices including the savage beatings and mass arrests endured by civil rights protesters during the 60s. Although we had records of inmates, active warrant names, addresses, charges and social security numbers the thought of releasing them never crossed our mind because we would never betray our brothers and sisters shackled and chained behind prison walls– our targets are the ones who beat and murder with immunity, the cowardly carcases and lifeless hosts of power who hide behind a badge.
We are also acting in solidarity with the dozens of alleged "Anonymous" members around the world facing charges for "hacking," including the Paypal LOIC defendants in San Jose, Commander X, Recursion, Topiary, Stephen Watt, and more. We are acting in solidarity with the thousands of prisoners in California on Hunger Strike fighting for better living conditions and an end to prolonged solitary confinement. We also call for the IMMEDIATE RELEASE of not only political prisoners(Leonard Peltier, Mumia Abu Jamal, the MOVE 9, the Angola 3, and more) but all prisoners everywhere including all Jon Burge torture survivors still behind bars.
We are attacking the police because they are the vicious boot boys of the 1% whose role in society is to protect the interests and assets of the rich ruling class. They are not part of the 99%– they are working class traitors who are paid to intimidate, harass, and repress political movements that would possibly stand a threat to the power structure of the 1%. We have no problem targeting police and releasing their information even if it puts them at risk because we want them to experience just a taste of the brutality and misery they serve us on an everyday basis. We hope those working for the police who have any humanity left refuse their orders and leak the police and their commanding officer's vital secrets and dirt. We must realize that police are no allies of ours and have violently attacked our movements all across the world throughout history.
In Chicago, where the International Association of Chiefs of Police conference is taking place, the CPD has a particularly bloody and ruthless history of brutality and repression of political movements. Throughout the 70s and 80s under Jon Burge (chief detective) and former Mayor Richard M. Daley (prosecuter at the time), dozens of CPD detectives many whom are still on the force tortured hundreds of innocent black men, forcing confessions and giving out decades-long prison sentences for crimes never committed. The CPD also operates notorious "red squad" COINTELPRO operations that attempts to discredit and disrupt revolutionary groups– including the assassination of Black Panther Party leaders Fred Hampton and Mark Clark. This repression continues today as they beat and arrested over 900 protesters when the second War in Iraq broke out, and just over a year ago dozens of protest organizers were raided by the FBI for alleged affiliation with resistance movements. The CPD just announced a new 'counter-terrorism' operation (taking tips from the NYPD playbook) likely to target protest organizers for the upcoming G8 and NATO conferences in May. Although they try to intimidate us by training over 13,000 riot police for these protests, we believe that they are the truly the frightened ones, and perhaps for good reason: the high profile hacks will continue, and the protests against the 1% are growing every day.
We are 99%. We are the working class that makes society function. We are not intimidated by the States attempts to disrupt our resistance through unprovoked arrests and harassments. As the violence of the cops, the courts, the FBI, La Migra, and Homeland Security intensifies, so must our resistance: we will continue to bring the ruckus on the streets and on the internet. We are believers and practitioners of direct action against all governments, militaries, banks, corporations, and police working towards our revolutionary goal: the immediate dissolution of capitalism and the state.
Hackers, join us to make 2011 the year of leaks and revolutions!
"We will destroy laughing, we will set fires laughing, we will kill laughing… and society will fall!!" – Renzo Novatore
–
view original defacement: http://zone-h.org/mirror/id/15679304
Tags: #anonymous, #antisec, 4 da lulz, Angola 3, Black Panther Party, Chicago, Fuck the Law, Hacking, International Day of Action Against Police Brutality, International Solidarity, Leonard Peltier, MatrixGroup.net, MOVE, Mumia Abu-Jamal, Police Bastards, Police Brutality
Posted in Direct Action
Wednesday, October 12th, 2011
10 & 11 October 2011
On the night of Monday 10 October, the windows of Bristol Magistrates Court were smashed and 'FIGHT BACK' sprayed on the front of the building. On the night of Tuesday 11 October, the windows of Bristol Civil Justice Centre were smashed.
One of many reasons these buildings were attacked was in solidarity with people persecuted after the riots. These attacks were part of the struggle against power, a struggle that flared up again in August as people fought police and attacked police stations, cop cars and courts as well as so much else.
Now the state is trying to make an example of the small percentage of rebels they've managed to catch – and is threatening collective punishment of families and households. Cracks are showing in the myth of democratic social consensus as authority, under attack, resorts to more naked force. They're trying to frighten the rest of us back into quiet obedience – but it's not going to work.
It should be obvious by now that we're not acting in order to ask for some kind of reformed, more 'just' replacement for this – or anything else – within this democratic society. The borders of democracy are made up of violently enforced racial, economic, social, sexual and governmental structures. Police, courts and prisons are just one part of this. 'Justice' has always been about maintaining hierarchies and inequalities through force. The rich always get away with shit while the poor are punished for the slightest transgression.
Physical attacks like these are just one part of the struggle for freedom, whether they're done in open joy by a crowd of former strangers or quietly in the dark by a small group of friends. At the same time, we struggle to overcome internal hierarchies and the cops in all of our heads. Much more is possible.
This action was done with thoughts of N Maziotis, P Roupa, K Gournas, C Kortessis, V Stathopoulos, S Nikitopoulos and M Beracha, standing trial far from here from October 24, accused of participation in Revolutionary Struggle's exemplary contribution to the fires that burn in Athens for many years with words and deeds: our struggle is one. Solidarity with the accused of that case who is still uncaptured and with every social fighter forced into clandestinity- stay free and stay fighting! Power has not won.
Nothing has ended, everything has begun.

International Revolutionary Front – some Bristol participants.
Tags: Bristol, Fuck the Law, Greece, International Revolutionary Front, International Solidarity, Nikos Maziotis, Revolutionary Struggle, UK
Posted in Direct Action
Wednesday, October 12th, 2011
325 receives and transmits:
10 October 2011
On the night of Monday 10 October we hit the bastard system again with more fiery anger. Two cars at the GP Motors dealership in Newnham, Cambridge, were arsoned – we hope the flames spread to the others, bringing a roaring inferno to the quiet leafy streets. No one was outside, the only sign of the middle class residents awake was the blue glow of TV screens from curtained windows! While the insurrectionary action cell had adrenaline pumping, joy in the heart, the moon shining bright above and the refreshing night air.
Shout out to the impatient and the bored shaking off passiveness and going on the attack against society!!
To the Greek uprizers and most especially the CCF, you fill us with strength, stay strong and stay unbowed!
And to the anarchists on the attack around the world, in Mexico, Chile, Spain, Indonesia, Russia, Argentina, Italy, and everywhere else – we are winning, winning against society's cloying herd mentality and the meaningless lot set out for us in life.
As we know in our hearts, what we win is right here right now living with the head held high, the smile as we face a new day with dignity, the knowledge that whether or not the broader population upsurges against the imposed system and we have anything like the anarchist dream of a world of freedom and equality with no domination, we live without regrets as anarchists NOW.
Against the whole fucking disgusting cage of civilisation – wild destruction for total liberation!
Fire Cell / Informal Anarchist Federation

Tags: Argentina, Arson, Cambridge, Chile, Conspiracy of Cells of Fire, Fire Cell / Informal Anarchist Federation, GP Motors, Greece, Indonesia, Informal Anarchist Federation (FAI), International Revolutionary Front, International Solidarity, Italy, Mexico, Russia, Spain, UK
Posted in Direct Action
Monday, October 10th, 2011
2 comrades, Eat and Billy are imprisoned having taken responsibility for this action. There has been a call-out for revolutionary solidarity with the struggle in Indonesia – translated into several languages, which can be found on the website Contra-Info, in Greek, Spanish, Italian, French, German and Portuguese. More details to follow.
7 October 2011
NEGARA-KORPORASI-POLISI-MILITER ADALAH TERORIS SEBENARNYA
"Pemberontakan sosial akan terus berlanjut karena mentari terus bersinar."
Kali ini kami mengatakan, bahwa apa yang kami lakukan merupakan puncak dari semua kegelisahan serta kemarahan kami terhadap sistem yang sedang berjalan ini. Sistem yang memberhalakan uang, sistem yang merecoki keseharian masyarakat dengan televisi, agar mereka membeli barang-barang yang tak mereka perlukan agar mereka terus bekerja seperti mesin. Sistem yang mengharuskan kami beserta masyarakat lainnya tidak memiliki kendali atas hidup kita sendiri.
Sistem yang lainnya menguntungkan borjuis, para pebisnis, dan para birokrat negara yang menjadi sekutu setianya. Bagi kami semua, ini bukan saatnya untuk diam, bukan saatnya untuk tenang menonton acara di depan televisi dan berkata bahwa "semua baik-baik saja".
Untuk setiap penindasan di Papua Barat.
Untuk setiap penindasan di Kulon Progo.
Untuk setiap penindasan bersejarah di Aceh.
Untuk setiap penindasan di Wera, Bima.
Untuk setiap penggusuran dan perampasan lahan di Takalar dan Pandan Raya di Makasar.
Untuk setiap penindasan terhadap kawan-kawan kami yang berjuang.
Untuk Tukijo dan para kombatan sosial yang mendekam di penjara hanya karena berjuang mempertahankan hak hidupnya.
Untuk setiap konsensi hutan yang akan menghancurkan setiap keanekaragaman hayati mengatasnamakan uang dan bisnis!
Dan untuk setiap penjara yang seharusnya terbakar rata dengan tanah.
Maka selama negara dan kapitalisme masih eksis, tak pernah akan ada kata damai antara mereka yang tak berpunya dengan mereka yang berpunya.
Penyerangan terhadap pusat-pusat finansial: ATM, bank, gedung korporat adalah target yang penting, karena mereka adalah salah satu kolaborator yang menyebabkan penderitaan di muka bumi ini. Ini bukanlah terorisme karena kami tidak mengadvokasikan untuk menyerang orang-orang, terorisme adalah peperangan antar negara. Terorisme adalah beras dan pangan di dapurmu yang semakin menipis. Terorisme adalah bajingan berseragam yang membawa senjata ke mana-mana. Terorisme adalah pembantaian orang-orang tak berpunya.
Maka kami mengatakan: sudah cukup!
Dan ini juga untuk kalian! Para kombatan yang tak pernah surut untuk berjuang di luar sana, meski kalian harus mendekam di jeruji besi karena keyakinan kalian akan kebebasan: Conspiracy of Cells of Fire (Yunani), kombatan Chile: Tortuga! Lives on! Gabriel Pombo da Silva, Thomas Meyer Falk (Germany) Polykarpos Georgiades, Revolutionary Struggle! Salut bagi kombatan Manado, Makassar, dan Bandung, kalian adalah inspirasi di tengah ketidakberdayaan masyarakat akan hidup mereka yang semakin tidak menentu dan tak berdaya.
"Biarkan api menyala dalam kegelapan!"
Long Live Luciano Tortuga Cell – International Revolutionary Front – FAI
–
English Translation:
STATES-CORPORATIONS-MILITARY-POLICE ARE THE TERRORISTS

"Social rebellion will continue as the sun continues to shine."
This time we say, that what we are doing is the culmination of all our anxieties and anger against a system that is running this. Systems that idolize money, a system that nags the public daily with television, so they buy things they do not need so that they continue to work like a machine. System that required us and other people to not have control over our own lives.
Another system that benefits the bourgeoisie, the businessmen, and state bureaucrats who become loyal allies. For us all, this is not the time to be quiet, not the time to calmly watch the event in front of the television and say that "all is okay".
For each incident of repression in West Papua.
For each incident of oppression in Kulon Progo.
For every historic repression in Aceh.
For each incident of oppression in Wera, Bima.
For any evictions and land seizures in Takalar and Pandan Raya in Makassar.
For each of the oppression of our comrades who are struggling.
To Tukijo and social combatants languishing in jail just because of fighting for their life right.
For each forest concession that would destroy any biodiversity on behalf of money and business!
And for every prison should have burned to the ground.
So long as the state and capitalism still exist, never will there be words of peace between those dispossessed by those who are propertied.
Attacks on financial centers: ATMs, banks, corporate buildings is an important target, because they are one of the collaborators who cause suffering on this earth.
This is not because we do not advocate terrorism to attack the people, terrorism is a war between countries. Terrorism is rice and food in your kitchen that are running low. Terrorism is a crook in uniform who carries weapons everywhere. Terrorism is the massacre of the dispossessed.
So we say: enough!
Tortuga! The combatants who never stopped to fight out there, although you have to crouch on the bars but you have freedom of thought: Conspiracy of Cells of Fire (Greece), combatants in Chile: Tortuga! Lives on! Gabriel Pombo da Silva, Thomas Meyer Falk (Germany) Polykarpos Georgiades, Revolutionary Struggle! Kudos for the combatants in Manado, Makassar, and Bandung, you are an inspiration in the middle of the powerlessness of their lives that society makes increasingly uncertain and helpless.

"Let the fire burn in the darkness!"

Long Live Luciano Tortuga Cell – International Revolutionary Front – FAI
Tags: ATM Burned, Billy, Chile, Conspiracy of Cells of Fire, Eat, Gabriel Pombo da Silva, Indonesia, Informal Anarchist Federation (FAI), Informal Global Federation / Anarchist Network, International Conspiracy for Revenge, International Revolutionary Front, International Solidarity, Kulon Progo, Long Live Luciano Tortuga Cell - International Revolutionary Front - FAI, Luciano Pitronello Schuffeneger, Polykarpos Georgiades, Revolutionary Struggle, RO-FAI (Indonesia Section), Thomas Meyer Falk, Tukijo
Posted in Direct Action
Thursday, October 6th, 2011
5 October 2011
"In Bristol last night (Wednesday October 5th) we broke into a police compound just south of the river. Under the cover of darkness we set fire to a marked police car. We didn't hang around long enough to see whether or not it went up… we can only hope.
We did this for a few reasons. One, as a show of our anger and disgust for the police after hearing about the beating of many friends and comrades in Amsterdam during a demonstration last week.
Wednesday also marked the beginning of the trial against the 'Revolutionary Struggle' group in Greece. With this solidarity action we send you heart felt greetings, you are an inspiration to many, stay strong and proud.
It should go without saying that this was done as much for these reasons as for our own enjoyment. With NO feelings of obligation we enjoyed every moment from the organisation to the orchestration. And of course this is not a glorification of foreign struggles, we have a laundry list of personal/regional reasons to resist, from raids and evictions to locally imprisoned rebels.
This action was done in the spirit of what has become known as the LEGEND OF THE EVENING POST SMASHER*."
Anon
–
[*Reference to a window smashing action against offices of a right-wing newspaper in Bristol, for which the cops seek a suspect from reported DNA evidence, which resulted in a local squat being raided. The cops didn't find the man they were looking for, but made a political investigation, and seized computers, phones, papers. The newspaper, which naturally had their journalists present at the raid, tried to play a key part in the local repressive operations of the police, exactly like every other newspaper in the country. They all justified the police murder of Mark Duggan and excused the daily brutality and disgusting behaviour of the police, printing suspects photographs and spreading hatred and vengeance etc. The newspaper, known as the 'Evening Post' is a very typical daily newspaper owned by Northcliffe Media (formerly Northcliffe Newspapers Group), it is a large regional newspaper publisher in the UK and Central and Eastern Europe, owned by the Daily Mail and General Trust. In UK, it operates from over 30 publishing centres, and also has 18 daily titles.]
Tags: Amsterdam, Arson, Fuck the Law, Greece, International Solidarity, Revolutionary Struggle, Trial, UK
Posted in Direct Action
Thursday, October 6th, 2011
3 October 2011
From Contrainfo:
During the night to October 3rd, we made a gift to the German economy. We attacked several vehicles with incendiaries at a site of Deutsche Telekom in Lichtenberg, Berlin. We selected the date for this action in reference to the trial against the organization Revolutionary Struggle which begins on October 5th in Athens.
We stand in solidarity with the actions of the Revolutionary Struggle and demand the release of Kostas Gournas, Panagiota 'Pola' Roupa, Nikos Maziotis and all other comrades who are imprisoned.
The option of armed struggle within autonomous and radical leftist forms of resistance should always be maintained but must not be led to isolation from other forms of actions and movements.
Here, there is no movement willing and able to back up the possibility of armed struggle. For this reason, there aren't any guerrilla groups in Germany at the moment.
However, the levels of resistance in Europe need to refer to each other in order to fight the project of the European superpower more effectively.
The troika set the privatization of state-owned enterprises as a condition for further credit loans to the Greek State. Within this framework, Deutsche Telekom has overtaken large shares of the Greek telecommunications organization OTE at times of hoped economic upturn. Since OTE's profits did not rise up to the anticipated amount, [its largest shareholder] Deutsche Telekom plans to launch layoffs and massive wage cuts against the employees. Also, Telekom specifies the payments to early retirees as a 'burden' in its balance sheet. Deutsche Telekom speculates via this pressure to acquire OTE's remaining shares, and thus completely overtake the company from the Greek State, in order to obtain the absolute supremacy. The example of this multinational corporation marks the inhuman capitalistic exploitation logic very well.
Furthermore, Telekom is involved through a security partnership with the police and the army in the comprehensive surveillance at Germany and abroad.
Our attack was also meant to support the strikes among the employees and workers in Greece, and to merge the struggle of the anarchist movement across the borders.
We hope that this action will also encourage others to participate actively in a militant perspective.
We commemorate Lambros Foundas who was shot dead by cops
in his struggle for freedom.
FOR ANARCHY!
'Propagandists of the Deed' (Propagandisten der Tat)
Tags: Berlin, Germany, Greece, International Solidarity, Lambros Foundas, Revolutionary Struggle
Posted in Direct Action
Tuesday, October 4th, 2011
From Liberación Total:
To all arsonists and like-minded antagonists, the third communiqué from the CCF-FAI of Mexico:
Like the joint communiqué by 11 Mexican insurrectionary anarchist and eco-anarchist groups says: "We are launching a frontal attack on the system of domination, causing maximum damage with minimum risk."

We have the capacity to rebel against a criminal, terrorist, unjust system, even until the final consequences!
On September 15, while BLACK SEPTEMBER was developing in Mexico, a new path of informal struggle against domination was being laid out: the Conspiracy of Cells of Fire (CCF) faction of the Informal Anarchist Federation of Mexico (FAI-M). Our first arson was carried out on September 27 by the Mexico City cells, who unleashed liberatory fire at the warehouse on Avenida Pacífico between Miguel Ángel de Quevedo and Eje 10 Sur in the Coyoacán area of Mexico City. War on the existent order had begun. The next day, we torched the Airport Staff training school of the National College of Professional Technical Education (CONALEP), located in the Third Ward of Arenal in the Venustiano Carranza area of Mexico City. On September 30, in an action coordinated between the Mexico City cells and the Jalisco cells, the CCF of Mexico simultaneously attacked capital in Mexico City and Jalisco, hitting where it hurts most: merchandise. Liberatory fire was born at the Wal-Mart on Calle Luis Donaldo Colosio in the Buenavista suburb of Cuauhtémoc, Mexico City and at the Pabellón shopping mall on Avenida Patria in Guadalajara, Jalisco.
Recent statements by Mexico City chief prosecutor Miguel Ángel Mancera continue to downplay the anarchist actions taking place in the capital. This is the same old strategy used by the PRD and Marcelo Ebrad to censor our struggle, as the Mexico City cells claimed responsibility for their attack in a communiqué released on the same day as the action. The Jalisco chief prosecutor's office is also adding to the silence and whitewashing that conceals our struggle, as the Jalisco cells publicized their attack that same night as well.
With our acts of propaganda during the events of this BLACK SEPTEMBER, we take retribution for comrade Tortuga, comrade Tamara, and our comrade prisoners in Mexico and the rest of the world.
The struggle has begun. Let's make sure it spreads everywhere.
Take a single comrade prisoner during tomorrow's march and we will make the cities burn!
We are all accomplices of the Conspiracy of Cells of Fire!
Long live the Conspiracy of Cells of Fire!
Long live the Informal Anarchist Federation of Mexico!
Long live the fighting insurrectionist and eco-anarchist groups!
Long live liberatory fire and avenging gunpowder!
Be strong, captive comrades in the Bombings Case!
Be strong, imprisoned comrades from the Conspiracy of Cells of Fire!
Be strong, comrades from Epanastatikos Agonas [Revolutionary Struggle]!
Be strong, comrade Tortuga!
Be strong, comrade Tamara!
Be strong, comrade Gabriel!
Against the technological system of domination!
For the demolition of prisons!
For the destruction of everything that dominates us!
For Total Liberation!
For international anarchist coordination!
For Anarchy!
— Conspiracy of Cells of Fire (Jalisco); October 1, 2011
Tags: Arson, Attack, Conspiracy of Cells of Fire, Conspiracy of Cells of Fire - Mexico, Gabriel Pombo da Silva, Informal Anarchist Federation - Mexico (FAI-M), Informal Anarchist Federation (FAI), International Solidarity, Luciano Pitronello Schuffeneger, Mexico, Mexico City, Tamara
Posted in Direct Action
Saturday, October 1st, 2011
SOLIDARITY WITH THE COMRADES OF R. S
I send you my support and hopes of strength for the trial.
A spectacle set up by corrupt judges, cops and politicians.
In the north, we will raise a clenched fist through the barred windows of the English prisons, high towards the sky.
Never losing sight of our goal.
Sharing dreams of freedom and victory.
With determination and courage, united we will succeed.
No one is free until all are free.
Fire to the prisons and the states that create them.
T. Blak
28/09/2011
–
TEXT IN GREEK

ΑΛΛΗΛΕΓΓΥΗ ΣΤΟΥΣ ΣΥΝΤΡΟΦΟΥΣ ΤΟΥ Ε.Α.
Σας στέλνω την υποστήριξή μου και τις ελπίδες δύναμης για τη δίκη.
Ένα θέαμα που έχει στηθεί από διεφθαρμένους δικαστές, μπάτσους και πολιτικούς.
Στο βορρά, θα υψώσουμε μια σφιγμένη γροθιά μέσα απ'τα κάγκελα των παραθύρων των Αγγλικών φυλακών, ψηλά προς τον ουρανό.
Ποτέ μην λησμονείτε τον στόχο μας.
Ας μοιραστούμε τα όνειρα της ελευθερίας και της νίκης.
Με αποφασιστικότητα και θάρρος, ενωμένοι θα πετύχουμε.
Κανείς δεν είναι ελεύθερος έως ότου όλοι να είναι ελεύθεροι.
Φωτιά στις φυλακές και στα κράτη που τις δημιουργούν.
T. Blak
28/09/2011
Tags: Greece, International Solidarity, Letter, Revolutionary Struggle, Thomas Blak, UK
Posted in Anti-Fascist, Prison Struggle
Saturday, October 1st, 2011
from Culmine, September 30th
"We believe that everything we were taught since childhood has been to make us unthinking beings, obedient and fearful citizens. From school to the family, which also passed by her, the powerful tell us what they want to say about the patriots, the heroes, and the "good" people, instead of speaking of the forgotten "Indians", as Columbus called them, who were eliminated here by Sarmiento with words and the Rock with the sword.
Today these forgotten people live in miserable slums and walk through life salvaging what they can to survive, despite all the overbearing behaviors that society teaches them. Such is the responsibility of the capitalist system.
Hardly anyone knows how to live without technology and every day they sell more unnecessary products. But whether people are offered them or demand them, they are only seduced by the vices of power and ambition, and with small or large investments they remain within the system and fit into society.
They still believe in religion and politics, and wait for a new leader to bring order to the country, some other fascist to remind them of Peron. Meanwhile, they're thrilled to buy fast cars, and if they can't afford that, they're content that "their team" won the soccer game, so they'll have something to talk about during their dreadful routine of work which they believe it is the only thing that makes them feel proud and useful. Otherwise they wouldn't be able to eat, would go crazy from boredom, they could become prisoners for their rebellion or even be killed. Those are the options available to people who are aware of the harsh reality that we live. And despite the different ways of understanding the world that exist, we're all the same, but some choose to simply drive cars, others decided to set them on fire in:
Marcos Paz and Pedro Lozano, Donato Alvarez and Tres Arroyos, Allende and Arregui, Emilio Lamarca and Nogoya.
Whether by day or night, at any moment we can attack that which oppresses us and keeps us from being free. Previously, in our last statement we forgot to mention that there were eight cars and luxury SUVs burned, on this occasion we claim only four.
Was it not luxury cars that were burned? If so, why not bring to light in the mass media?
This was for comrade Jose Lopez, imprisoned and charged with arson/bomb attacks against the established order in Madrid."
Friends of the Earth/Informal Anarchist Federation
Tags: Argentina, Arson, Friends of the Earth / FAI, Informal Anarchist Federation (FAI), International Revolutionary Front, International Solidarity, Jose Lopez, SUV
Posted in Direct Action
Tuesday, September 27th, 2011
Dear comrades,
We, the imprisoned fighters of the guerrilla group Revolutionary Struggle, express our solidarity with comrade Andi, member of the Revolutionärer Aufbau in Switzerland and the Secours Rouge International (International Red Aid), who is accused for arsons by the Swiss State.
Any incrimination of a comrade, anywhere in the world, is incrimination of all who fight against the Capital and the State.
In our struggle it is important to develop international solidarity, especially among the fighters, in our era where the war carried out by the international financial elite, the States and the governments against the people to support the current capitalist system is aggravated because of repression and state terrorism.
International solidarity is a relationship that not only connects and continues our struggle, but can also lay the foundation for the creation of an international revolutionary movement, the organization of which is now more necessary than ever, and can benefit from the present systemic crisis to attempt the overthrow of the current capitalist system and the State.

International solidarity is a necessary condition for worldwide social revolution.
No prosecution against comrade Andi
Freedom to all imprisoned fighters in the world
Pola Roupa, Kostas Gournas, Nikos Maziotis
–
Beginning of the trial against Andi: September 28th, 2011, 10.15 am, Viale Stefano Franscini 3, 6500 Bellinzona, Switzerland
Tags: Andrea 'Andi' Stauffacher, Greece, International Solidarity, Kostas Gournas, Nikos Maziotis, Pola Roupa, Revolutionary Struggle, Switzerland
Posted in Prison Struggle
Monday, September 26th, 2011
Note: Updated corrected email address – sinomosiapf (at) riseup (dot) net
To all anarchist prisoners:
Prison is the country of prisoners. From here inside, we want to send greetings to our comrades imprisoned around the world, as well as set a proposal in motion.
In the country of prisoners, the days go by one after the other, slow and indifferent, while everywhere cement and an immense boredom prevail.
Nevertheless, our minds often escape and secretly visit our brothers and sisters imprisoned in Chile, Mexico, Italy, Germany, Switzerland, England, Russia, Denmark, and wherever else there are cells full of people who haven't lost the desire for freedom.
Comrades, we talk to you even though we don't speak the same language. We see you even though we've never met face-to-face. We smile at you even though we don't know one another.
The enemy believes it can break our morale by locking us up in its cells for months and years. Power thus expects to receive a declaration of remorse, a renunciation of direct action, a revision of our anarchist values.
But the only thing it will receive is our utter contempt and our most potent rage. All of us who have assumed responsibility for belonging to the first phase of the Conspiracy of Cells of Fire expect sentences of many years—condemnation by a system we have declared war on because we will not tolerate it governing our lives.
We want to transform the upcoming trial of the Conspiracy of Cells of Fire into a trial of the system.
By way of our discourse and our attitude, it won't be us defending ourselves in front of the judges, but they defending themselves in front of us for the crimes committed by the Power they serve.
At the same time, we want to draw attention to the fascist mechanism constructed to persecute us via the collaboration of the police, the judiciary, and the mass media.
A mechanism that launched an unprecedented anti-anarchist campaign whose goal was not just our arrest, but also the creation of a climate of widespread fear in which even the possession of previously published texts by anarchist prisoners could lead to a date with the prosecutor.
This was preceded by numerous detentions, the issuing of arrest warrants, the publication of photos of those of us who were at large, mass media screenplays about "connections between all the guerrilla organizations," reports about the "revolutionary fund" and our participation in bank robberies, "specialist" analyses of each of our "psychological profiles," and many other methodical schemes whose objective was to isolate us morally and marginalize anarchist urban guerrilla warfare.
The State wants to wipe the choice of anarchist direct action off the map of values held by subversive circles.
It wants to portray direct action as a futile decision that leads directly to prison, changing nothing.
However, when you choose direct action, you choose to take your life into your own hands.
Through direct action, we break away from stagnant thinking, we negate spineless movements, and we sabotage the clocks of discipline, creating free time and space within the hostile environment of the metropolis.
There, where surveillance cameras record our every move, uniformed police pigs memorize our faces, and the screens of the spectacle fabricate our desires, we once again don our masks. Our hands grab hold of stones, Molotovs, bombs, pistols, and we pour into the streets in search of freedom.
Now, even in prison, we don't ever forget that feeling, and we'll do exactly the same thing again the first chance we get.
We therefore don't want intellectuals, university professors, or any of the well-known hacks from leftist cliques defending us at our trial.
What do any of them know about the adventure of direct action and its values?
What can be said by those who spend all day firmly seated in their comfortable offices, chitchatting against the system from the vantage point of their leftist salon culture while that very system feeds them?
No, let them keep their "sensitivity" and the guilt they feel for having sold out to the Power that wants to portray us as "troubled, socially impressionable youths."
We're not looking for fake sympathy or support from the Left. Far from it. We seek accomplices to the same crime: the fight for anarchy and freedom.
There can be no more appropriate place for our search than the prisons that constitute an obligatory stop on the path of many anarchist comrades.
Therefore, comrades, we present you with a proposal/invitation.
In a few months the second Conspiracy of Cells of Fire trial will be held.
Even now we know that they will sentence us, and not for one minute will we take a step back, nor will we lower our heads or our voices in order to benefit from some "extenuating circumstance."
Therefore, there can be no better or stronger argument for our defense that your own voice, comrades. It's from your expressions of solidarity and the attacks carried out by anarchist direct action groups that we draw the courage to look our persecutors directly in the eye. Surely you've felt the same thing, imprisoned in other countries and paying the same price for our shared passion for freedom.
More specifically, what we're thinking about and proposing is to release, ahead of the trial, a pamphlet containing your international words of solidarity with the Conspiracy of Cells of Fire case.
At the same time, given that solidarity is a reciprocal concept to us, we'd like it if those of you who want to contribute something—thereby giving us strength and support—accompany it with an introductory text explaining your own case.
The pamphlet we want to release will thus include summaries of each of your cases, carrying your own experience of struggle to Greece and the other countries where the publication will be distributed, creating new opportunities to instigate hostilities with the system as part of international solidarity.
Together we will create an international experience of struggle that far exceeds our specific case, since we don't view the Conspiracy of Cells of Fire as the simple calling card of an organization. We view it as a way of being that describes and comprises the features and trajectory of the anarchist struggle we're all engaged in, another part of which is our time spent in prison.
This is an experience we want to share with all you comrades who find yourselves prisoners in the hands of the State, and it's simultaneously a proposal through which we can also be accomplices to your experiences.
It thus becomes possible to reach, within international anarchist circles, a level of unity and coordination that isn't vague, but essential.
Contact between comrade prisoners at an international level transforms solidarity into a revolutionary workshop, revealing the different perceptions that shape a joint anarchist action front.
The first contact between us will be capable of creating the preconditions that open up an international dialogue among prisoners as well as comrades on the other side of the prison walls—a dialogue in which each person's specific perceptions and analyses can be discussed, thereby promoting coordinated attacking actions against the State. Of course, this doesn't mean the fusion or the dismissal of different opinions
Additionally, such differences cannot and must not be obstacles to reciprocal support.
This is about trying to move from sympathy, which has developed among us through letters and shared textual references, to international coordination. It's about trying to become accomplices, together forming the Black International of anarchist prisoners and supporting—if so desired—our Italian comrades' proposal regarding the strengthening and broadening of the Informal Anarchist Federation/International Revolutionary Front.
The potentialities opened by this commitment are enormous, since it concerns a process of intensifying hostilities between revolutionary anarchists and the system.
It's worth imagining the strength gained by something that, for example, begins in Chilean prisons, crosses borders, and winds up in the cells of Greece. An international solidarity campaign can thus be initiated from prison, just like in the past when it was a matter of supporting comrade Gabriel Pombo da Silva.
At the same time, the formation of an autonomous network of communication among prisoners creates the appropriate preconditions for the existence of a permanent flow of information about what's going on in each prison, the conditions of imprisonment, upcoming trials, potential sentences, and ultimately the preparation of a counterattack plan by comrades outside prison.
For each sentenced comrade, for each disciplinary measure, for each prohibited letter or visit, for each vindictive transfer: no guard, no embassy, and no police officer should feel safe. When prisoners have the potential to communicate in their hands, there will be decisive comrades everywhere responding with action, sabotage, and fire.
We consider the proposal to release the International Words of Solidarity with the Conspiracy of Cells of Fire pamphlet to be the first step in that direction.
There will certainly be many more steps to come, but at some point one must simply begin.
In conclusion, we salute and stand beside—with our thoughts as well as our hearts—the Chilean comrades charged in the Bombings Case and also comrade Tamara, who is facing State persecution for sending a letter-bomb.
From the prisons of Greece we send anarchist smoke signals to Mónica Caballero, Andrea Urzúa, El Viejo Loco, and the rest of the comrades charged in the Bombings Case; Gabriel Pombo da Silva; Thomas Meyer-Falk; Marco Camenisch; Silvia, Billy, and Costa; Braulio Arturo; Walter Bond; Villarroel and Fuentevilla; Thomas Black and the English antifascists; the imprisoned Italian insurrectionists; the Russians and Belarusians; the Danes; and all those we've forgotten or whose names we simply don't know but want to know, because all of us have together chosen to sail against our epoch, using anarchy as our compass.
The following excerpt is dedicated to us all:
One day of prison. Two days of prison. Three days of prison. A month of prison.
The door closes and opens, then closes and opens again. Three months of prison. A year of prison. I need to know if others are thinking about me as much as I'm thinking about them. The days can't go by fast enough now. Four-hundred-eighty-two days of prison. Four-hundred-eighty-three days of prison. Four-hundred-eighty . . . I've lost count. Fuck. It's better that way. Counting is no good in prison. The arithmetic makes no sense whatsoever. Prison has its own smell. A smell that gets all over you and follows you around. I'll never manage to get it off me. Yesterday marked two calendars in prison. Two fucking years. I don't get any sleep. I've forgotten how to smile and now I can't dream. "Clink clink" in the night. They wake me up for a search. Maybe they'll find the shanks? Seven-hundred-fifty-one days of prison. Are you satisfied, my dear judges? Pigs. Seven-hundred-fifty-two days of prison, pigs. Seven-hundred-fifty-three pigs. Coming and going and off I go. Coming and going and off I go. My cell is three meters by three meters. From the second floor window I see 20% of the sky over the top of the fucking prison wall. I walk through the yard like an automaton. I walk kilometers in a yard measuring just a few meters. Boredom and boredom again. Today I vomited up my very soul. I vomited bars, walls, solitary confinements, years of prison, judicial sentences. I vomited three years of prison. I don't want to count anymore. I completely close my eyes and think. I think about my comrades, whom they're keeping far away from me in other prisons. I think about fires on the prison roofs. I think about everything prison has tried to make me forget. I think about a smile, a caress, a journey that doesn't end over there where the wall ends, a glance that isn't trapped behind the fucking prison bars. I stop thinking. I open my hand. I look at the metal file I have. Now I know. I know exactly what I have to do. Let's go then, once again. This time with feeling. Until the end. Long live Anarchy.
—An altered excerpt from the text signed by J. and V.
LONG LIVE THE CONSPIRACY OF CELLS OF FIRE. LONG LIVE THE INFORMAL ANARCHIST FEDERATION/INTERNATIONAL REVOLUTIONARY FRONT.
P.S. The current proposal to release the International Words of Solidarity with the Conspiracy of Cells of Fire pamphlet will be mailed to all our imprisoned comrades around the world. In order to counteract potential difficulties (censored correspondence), and due to the lack of information regarding certain comrade prisoners (unknown prison mailing addresses), our proposal will also be posted on anarchist Web sites. But what's crucially needed is that our comrade prisoners be informed. All responses, texts, comments, and critiques can be sent by e-mail to sinomosiapf (at) riseup (dot) net and by conventional mail to:
Post Box 51076
TK 14510 Nea Kifissia
Athens
Greece

— Imprisoned Members of the Conspiracy of Cells of Fire : Panayiotis Argyrou, Michalis Nikolopoulos, Giorgos Nikolopoulos, Gerasimos Tsakalos, Christos Tsakalos, Giorgos Polydoras, Damiano Bolano, Haris Hatzimichelakis, Olga Economidou
Tags: 14/14, Braulio Arturo, Chile, Christos Tsakalos, Conspiracy of Cells of Fire, Conspiracy of Cells of Fire : Imprisoned Members Cell, Damiano Bolano, Gabriel Pombo da Silva, Gerasimos Tsakalos, Giorgos Nikolopoulos, Giorgos Polydoras, Haris Hatzimichelakis, Informal Anarchist Federation (FAI), International Revolutionary Front, International Solidarity, International Words of Solidarity with the Conspiracy of Cells of Fire pamphlet, Marco Camenisch, Michalis Nikolopoulos, Olga Economidou, Panayiotis Argyrou, Proposal, Thomas Blak, Thomas Meyer Falk, Walter Bond
Posted in Prison Struggle
Monday, September 26th, 2011
325 receives and transmits:
25 September 2011
"This is a claim for setting alight an SUV at the Lexus car showroom on Coldhams Lane, Cambridge, early in the morning of 25/09/11. This is done pushed not just by hatred of this society but inflamed with solidarity for comrades Luciano in Chile and Tamara in Spain, as well as those anarchist fighters coming up for trial in Greece, the Antifa prisoners here in the UK and also those coming up for trial in the same case. Luciano 'Tortuga' was wounded in an attempted bomb attack on a bank in May, and is now held hostage by the Chilean state, up on trial three days ago. Tamara Hernandez was recently sentenced in Spain to 8 years for sending a letter bomb in October 2009 to the scumbag in charge of the prisons in Spain. The spread of the informal federation of the insurrectionary attack and stubborn solidarity continues in the hearts and minds of rebels around the globe. Repression will lead to escalation. Counter-insurgency will just feed the insurgency, polarise the population, making clear the social war. Chaos is inevitable!! And anarchy is always possible!"
Fire Cell / Informal Anarchist Federation
Tags: Antifa, Arson, Cambridge, Fire Cell / Informal Anarchist Federation, Greece, Informal Anarchist Federation (FAI), International Solidarity, Lexus, Luciano Pitronello Schuffeneger, Revolutionary Struggle, SUV, Tamara
Posted in Direct Action