Posts Tagged 'International Solidarity'
Sunday, December 15th, 2019
From Anarchists Worldwide:
In the early morning hours of December 14th, 2019, the International Day of Action for Rojava, we paid a visit to the offices of local war profiteers, Trakka Corp/Trakka Systems, in Moorabin, south-east Melbourne, to let them know that their greed-driven collaboration with the fascist Turkish State's war machine has not gone unnoticed.
In August 2019, Trakka Systems were contracted by Sikorsky, a Lockheed Martin company, to supply "cutting edge, high intensity, multi-mission Trakka Beam A800 searchlights" for their Black Hawk helicopters, including the Sikorsky TAI (Turkish Aerospace Industries) variant destined for use by the fascist Turkish Armed Forces in their ongoing invasion and occupation of the Autonomous Administration of North and East Syria (Rojava).
As a small contribution to the International Day of Action for Rojava we decided to take direct action against Trakka Systems to express our solidarity with the people of Rojava and their internationalist comrades who, since October 9th, 2019, have courageously resisted the genocidal occupation plans of Erdoğan's fascist forces. We also carried out this action to highlight the shameless activities of capitalist vultures like Trakka Corp / Trakka Systems, one of many companies operating within so-called Australia who willingly collaborate with war-mongering authoritarian regimes for profit. Not only do Trakka Systems do business with the Turkish Armed Forces, they are also in bed with other international military and police forces such as those of Israel, Indonesia and the US, who they supply with the latest in 'Critical Vision Technology'.
Finally, we hope that our small action contributes in some way towards a revival of militant, targeted direct action and sabotage in so-called Australia.
Biji Rojava!
Death to Turkish State Fascism!
Death to War Profiteers!
Long Live International Solidarity!

– Anarchists
Tags: Australia, Graffiti, International Solidarity, Lockheed Martin, Melbourne, Rojava, Sabotage, Sikorsky, Trakka Corp / Trakka Systems, Vandalism
Posted in Direct Action
Sunday, December 15th, 2019
Posted on December 10, 2019. Note A2DAY: Ukrainian media, citing the police, report that on December 10 the tower of the operator Vodafone, not Lifecell, was burned in Kiev. A2DAY: "Makhnovists" affinity-group confirmed that due to the mistake tower of another operator was attacked.
Сommuniqué:
In the night of December 10 a group of anarchists burned down the cell tower of Lifecell operator settled by the crossroad of Hostomel road and Big Ring Road in Kyiv. Lifecell is owned by the Turkish company Turkcell. This company is the participant of aggression of Erdogan's regime against the people's self-government in Kurdistan. The latest episode of its criminal politics is the invasion of Turkish army into the Democratic Federation of Northern and Eastern Syria (Rojava) in October 2019.
Turkcell constructs its towers in the areas of Syria occupied by the Turkish government as it happened in Afrin, Shahba and Idlib. This mobile network which is under control of Ankara authorities appears in every place invaded by Erdogan's soldiers. Kurdish guerillas destroy Turkcell towers — we are proud to take the torchlight of the struggle from their hands. Revolutionary resistance and solidarity lie beyond state borders and national boundaries.
We performed an attack against Lifecell/Turkcell also as the response to the violent incident which took place in front of Embassy of Turkey in Ukraine. On October 11 anarchists and people from Kurdish community organized the peaceful demonstration against the aggression of the Turkish state. Embassy workers have attacked demonstrators and smashed a face of one of the female comrades participated in the event. Violence should not be left without a response.
Freedom to the peoples — death to the Empires!
Makhnovists
Tags: Arson, International Solidarity, Kiev, Kurdish Struggle, Lifecell, Rojava, Sabotage, Solidarity Action, Turkcell, Turkcell GSM, Ukraine, Vodafone
Posted in Direct Action
Thursday, December 12th, 2019
From ABC NYC:
This is a call for a raucous night of strong solidarity with those imprisoned by the state on one of the noisiest nights of the year. On New Year's Eve gather your crew, collective, community, organization, or just yourself and come together to raise a racket and remind those on the inside that they are not alone.
Internationally, noise demonstrations outside of prisons are a way to remember those who are held captive by the state and a way to show solidarity with imprisoned comrades and loved ones. We come together to break the loneliness and isolation. (more…)
Tags: Anti-Prison, Demo, International Solidarity, New Year, NYC ABC, Solidarity Event, USA
Posted in Prison Struggle
Thursday, December 12th, 2019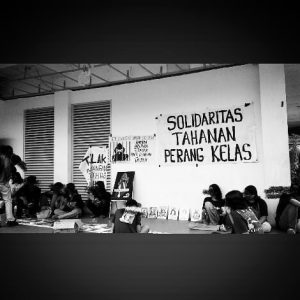 Surrendering to state domination is the death of living for humans, contempt in the face of this is freedom and independence.
Free choice to continue to survive and assemble all forms of power to keep burning and ready to burn all threats, to fight all forms of dictation of power, oppression and all forms of capitalism domination.
There is only one war, namely CLASS WAR !!!
CLASS WAR – FIGHTING SOLIDARITY

Solidarity is a Weapon
Palanghitam Anarkis / ABC Indonesia | More info: 1, 2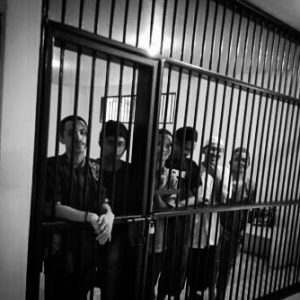 Tags: ABC Indonesia, Indonesia, International Solidarity, Makassar, Makassar City
Posted in Prison Struggle
Thursday, December 12th, 2019
PDF Flyer EN, + ES, IT
"On the altar of technological development we are sacrificing
every breath of our individual freedom and the possibility
to live a life that is really worth it."
NICOLA GAI.
"Anarchy rejects that life becomes an ideology,
shit or a little more, at best,
an impotent exit for frustrated men and women."
ALFREDO COSPITO.
It is a fact that the Italian war industry represents one of the "excellencies" of the national economy, as it is one of the few sectors that knows no crisis, it is certainly not a novelty, this field of investment that produces such high profits that are considered indispensable for the economy of any government, of any colour, with the due respect of all those who enjoy, for example, the hypocritical condemnation of the aggression carried out by Turkey towards the inhabitants and rebels of Rojava and who call for the formal blockade of the export of weapons produced in Italy to Turkey announced by the current government.
And if it is true that "the war begins here", which is where the weapons are produced, this is even more true because here, in Genoa, is one of the offices of Leonardo (formerly Finmeccanica), a state-controlled company, which is a world leader in the research and production of advanced technological systems for the military industries and for social control: Helicopters, fighter jets, drones, radars, attack systems, military land and sea vehicles, ammunition, electronic warfare systems and tele-operated, coastal and border protection systems, electronic social control systems to be applied in cities, ports and airports, and much more; Their catalogue is very wide. (more…)
Tags: Alfredo Cospito, Ansaldo Nucleare, Anti-Nuclear, Ecological Destruction, Finmeccanica, International Solidarity, Nicola Gai, Nucleo Olga FAI/FRI, PDF, Roberto Adinolfi
Posted in Eco Struggle
Tuesday, December 10th, 2019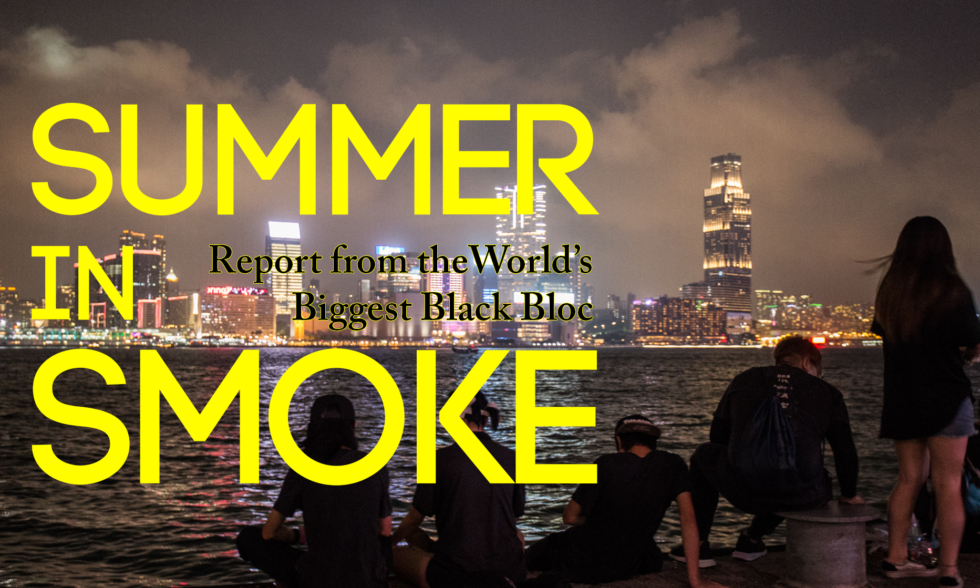 The following article was submitted to Chuang by Vitalist International. It is an account of events in Hong Kong over the summer and early fall of 2019, much of it from a firsthand perspective. We provided minor edits and designed the layout, but otherwise reproduce the piece here in more or less its original form. While the main thrust of the article is in agreement with our own views of events in Hong Kong, the piece is an intake and the opinions expressed here belong to its authors. At the bottom, we've included a gallery (provided by the authors) of 70+ posters, memes, graffiti and other graphics used in the movement.
für Sandra in liebendem Angedenken
by Vitalist International
It was only a matter of time before it happened. The protesters and the cops both knew it. On October 1st, a teenager was shot point-blank in the chest by police. The bullet missed his heart by approximately three centimeters.
Thousands of Hong Kongers gathered the next evening at a playground to fold paper cranes and wish the young protester a speedy recovery. They held banners saying "stop shooting our children!" and used the flashlights on their smartphones as torches to light up the night. In the center of the playground, a thousand origami cranes spelled out "Hong Kongers, Add oil!", a Chinese expression which has come to define the movement, meaning roughly: don't stop, keep going, add fuel to the fire. Within an hour, the protesters were setting up barricades in the streets and throwing molotovs at the nearest police headquarters.
The movement that began as a protest against a proposed extradition agreement with China has now entered its fourth month of unrest, with no end in sight. The bill — now withdrawn — would have granted the Chinese State unprecedented authority to extradite dissidents, criminals, and refugees to be processed in the shadowy court system of the mainland. Coming on the heels of 2012's Moral and National Education Law and 2014's Electoral Reform Bill,[i] this amendment was only the latest attempt at slowly dismantling the region's tenuous political arrangement of "One Country, Two Systems." With the movement rapidly evolving into widespread resistance against Chinese control, and the Hong Kong government declaring a State of Emergency, the situation has reached a political stalemate, with violence escalating on both sides. (more…)
Tags: Analysis, Arson, Black Bloc, China, Dictatorship, Hong Kong, How to make Molotovs, Intelligent Surveillance, International Solidarity, Letter, Repression, Revolution, Riots, Sabotage, Social Insurrection, Surveillance, Xinjiang
Posted in Autonomy
Tuesday, December 10th, 2019
+ Coordinated Attacks on 30 State and Capitalist Targets in Athens on Anniversary of Greek Insurrection
Here is a short report from last weekend in Athens, where a lot of things happened. On one hand the ultimatum of the government ended, according to which all squatters should leave the buildings until December 5th, and on December 6th the anniversary of the death of Alexis, who was shot by a cop in Exarchia in 2008 at the age of 15.
Originally published by Indymedia DE. Translated by Enough 14.
So we started on Thursday, December 5th with a demo of about 3000 people, all in black, many masked, helmets, wooden clubs, gas masks, the usual program. The demo went a round through the northern city centre with very loud shouts, among other things "All Greece hates the police" or "war against war", as a synonym for the fact that we are in a state of war, which now can only be answered with militancy. The demo passed the parliament, there were 63 Riot-Cops with gas masks standing around relatively bored, and it would have been easy for the demo to cause some trouble. But the demo remained peaceful, moved on to Exarcheia and simply dissolved there. Parallel to the demo, some people prepared a nice answer to the ultimatum: Instead of evacuating all buildings as demanded (in the greater Athens area alone that would be at least 46), 15 new buildings were symbolically occupied, one for each ultimatum day. Banners were placed and the situation of vacancy was pointed out, especially to migrants to use these buildings, with the support of the movement. Both the demonstration and the "house liberation" were kept silent by mainstream media, which is why the population barely noticed anything. (In the greater Athens area, by the way, countless buildings are currently empty!) (more…)
Tags: Alexis Grigoropoulos, Athens, Demo, Exarchia, Greece, International Solidarity, Squatting
Posted in Autonomy
Tuesday, December 10th, 2019
Arson Attack on Saxon federal office of taxes and finances – No one will be able to pacify our struggle – Solidarity Greetings to the fighting companions in Exarchia
The Saxon federal office of taxes and finances (LSF) is in charge of the financial administration of the Saxon federal state and provides the juristic basis for enforcement measures and the enforcement of juristic judgments, such as forced evictions or confiscations to compensate debts. Being under patronage of the German state, this ministry performs the political agenda of the free market. The LSF is enforcing the national financial policy, which privileges companies and disadvantages the people. This policy is driven by the ideology of the "Black Zero". The neoliberal doctrine of economizing provokes the capital's overarching control over all social spheres. Through privatization and the cutting of taxes for major companies, any social attempt is buried completely under the logic of profit.
Under guidance of the German State the dictate of economizing (Spardiktat), which is targeting us here, is enforced all over Europe and worldwide. Germany bears the blame for economizing the Greek public to complete destruction, as well as for letting loose the property of the Greek people to the total exploitation of private investors. In consequence rampant unemployment arose, many people lost their base of existence, some committed suicide, many died on the streets, because they haven't had shelter or couldn't afford necessary medical support or medication. (more…)
Tags: Arson, Exarchia, Germany, International Solidarity, Leipzig, Sabotage
Posted in Direct Action
Thursday, December 5th, 2019
New blog launched as the response to the COP25 summit is underway. This blog serves to encourage people to participate in the protests, questioning and pointing to the real leaders of the destruction of the earth. Those leaders will sit these days to make decisions about the destiny of the world, promising to fulfill agreements that they have all breached since all this time and driving us at their pace towards disaster.
We cannot leave the future, if it exists, in the hands of these miserable deceivers!
Let's confront them, so "that they can't say we didn't do anything".
https://contracumbrecop25madrid2019.noblogs.org/
Tags: Black Bloc, Climate Chaos, Cop25, Demo, Ecological Destruction, International Solidarity, Madrid, Spain
Posted in Eco Struggle
Tuesday, December 3rd, 2019
Tags: China, Flyposter, Hong Kong, International Solidarity, Repression, Riots
Posted in Library
Sunday, December 1st, 2019
The New Democracy party, in the wake of SYRIZA's social-democratic strategy, has placed its bets on pointing out an internal enemy so that it can proceed seamlessly with management adjustments of domestic capital that go unnoticed and without reaction. Thus, the issue of Exarchia,"confronting lawlessness in neighbourhoods and universities", the imposition of the "law and order" doctrine, is high on the right-wing agenda, investing in the most cannibalistic and conservative characteristics of the local population and by building a cover-up strategy for the ever-increasing degradation of the labour force. A strategy of making the dead, tortured and excluded at the borders, on the sea, at workplaces, on metropolitan roads, detention centres and prisons, invisible. A strategy that would turn the public eye to the antiauthoritarians' conflicts with the cops and the attacks on the symbols, structures and people of power, characterizing it as the dominant, structured form of violence, and therefore the most prominent threat that lies over mainstream citizens' heads.
The wording used by the dominant authoritarian narrative is not chosen by chance, depicting occupations (outlaw dens), social centres in universities (hideouts), people fighting on the street with cops (vandals), people who capitalism's violence turned away from their homelands to try to find a better fate here (illegal immigrants), armed guerrillas and radical expropriators (terrorists, robbers and murderers). And linking all these expressions with the "Exarchia" abstraction. (more…)
Tags: Athens, Chile, Dimitris Armakolas, Eurobank, Exarchia, Friends of Asymmetric Violence, Greece, International Solidarity, Sabotage
Posted in Direct Action
Sunday, November 24th, 2019
Munich, 20.11.19: In Chile tens of thousands of people have been revolting for weeks against the prevailing normality. Police stations, churches, banks, shopping malls, buses, subway stations and universities burn. The normal everyday life has come to a standstill and the state and capitalist power is attacked.
How can we express our solidarity and solidarity with the revolts there?
There are various possibilities … in Munich, for example, In recent nights, several ticket machines have been lit and burned at various stations. Also, the Chilean Consulate was defaced with color and "Fire to all states! (A)" sprayed next to this. A nearby church was smeared and sprayed with "No God No State No Patriarchy" on it.
It would be nice if such proposals were to be disseminated wildly and other possibilities of solidarity put into practice.
–
Actforfree received anonymous email 21/11/19
Tags: Arson, Chile, Germany, Graffiti, International Solidarity, Munich, Sabotage
Posted in Direct Action
Sunday, November 24th, 2019
The Anarchist Union of Iran and Afghanistan believes that the Islamic Republic of Iran's regime will not hesitate to massacre millions of Iranians, like it has done in Syria and Iraq as well as in Iran these these last few days. Therefore, the Anarchist Union of Iran and Afghanistan is prepared to declare that it will cooperate with all Kurdish, Arab and Baloch armed opposition forces. With respect to the widespread repression of defenseless people in Iran, we must be able to provide them with the right tools to defend themselves, before there are more dead and the people's movement has been permanently suppressed. Therefore the need to form an armed revolutionary front to support and defend the people against the Islamic regime's executioners is urgent and necessary. If it is possible to transport weapons to people inside Iran, you should not hesitate for a moment to prevent more people from being bled and buried. The duty of the revolutionary and radical opposition outside of Iran is to provide logistical and strategic support to the struggles and resistance of the people inside Iran
Anarchist Union of Iran and Afghanistan
آدرس و اسامی صفحات مرتبط با اتحادیه آنارشیستهای ایران و افغانستان
Tags: Afghanistan, International Solidarity, Iran, Repression, Social Insurrection, War
Posted in Autonomy
Thursday, November 14th, 2019
IT/EN (October 31st, 2019)
Social peace in Chile is now a thing of the past. And tolerance and consensus for State and capitalist barbarism also belongs to the past. Submission to the modern version of the Pinochet dictatorship, represented by the Piniera government. Chile is burning with the insurrectional proletarian flame of the oppressed.
It all started on October 19 when a student protest against an increase in public transport ticket prices was met with violent repression from the police forces. From then on, everything took its course. Day by day millions of insurgents flood the streets, attack the police forces, burn and plunder the symbols of wealth and power. They are burning their past, marching on the insurgent horizons of tomorrow. 11 years after the uprising in the Greek territories, these rebels remind us of what we loved most: the refusal to return to normality.
Insurrection is no longer a dead word. It is the dying breath of order and safety within a society that has been choking from the misery and barbarism of capitalism. And the result of the persistent labour of all those who work so consistently and stubbornly to question and destabilize the regime's social consensus. Against the first retreat of the regime which hastily went to negotiations, proposing new, more favourable measures, the rebels respond without repentance: Tomorrow starts a new day of class war. Let's take everything! (more…)
Tags: Arson, Arsonists of the Chile-Millenium, Car Burning, Chile, Greece, International Solidarity, Sabotage, Thessaloniki
Posted in Direct Action
Thursday, November 14th, 2019
In October 2019 the Turkish state invaded Northern Syria. The target of their aggression was Democratic Federation of Northern and Eastern Syria (Rojava). By the fault of rulers blood is being shed again and peacful people are suffering and dying. The goal of the president of Turkey Erdogan is to destroy revolutionary Autonomy of Syrian Kurds. Revolutionaries of Kurdistan build a society of stateless popular self-management. And Rojava became an example and model for Kurds in Turkey. That is why «Turkish sultan» started a war.
In the night of November 11 we destroyed two cell phone network towers of the Lifecell company settled by the Zahaltsy and Piskivka settlements in Kyiv region. Lifecell is fully owned by Turkish giant TURKCELL, the largest mobile provider of the State of Turkey. As a large corporate tax payer Turkcell appears as the indirect sponsor of the aggression of Erdogan`s regime. There are also widely known connections of the provider with the ruling «Justice and Development Party» which construct the basis of the current system in the country. These are the reasons why we consider the property of Lifecell as a legitimate target for the sabotage.
We stay in solidarity with revolutionaries and people of Kurdistan. They fight the occupation and oppression — for the liberty and social justice. We call to everyone who cares about the situation to participate in the resistance in a manner according to their abilities.
Freedom to the peoples — death to the Empires!

Сell of Revolutionary Solidarity
Tags: Arson, International Solidarity, Kiev, Kurdish Struggle, Lifecell, Rojava, Sabotage, Syria, Turkcell, Turkey, Ukraine, Сell of Revolutionary Solidarity
Posted in Direct Action