Posts Tagged 'International Solidarity'
Sunday, November 15th, 2015
Video:
https://vimeo.com/145530683

Communique:
On the 11th of November, while fascists scums were holding marches in all of Poland, we – the anarchists – decided to release our hatred upon the state and capital.
We're expressing our support for fighting against an oppressive system in every part of its front, from unions to direct actions.
We believe that this symbolic bank arson will raise radical fire in all country.
Solidarity with all prisoners of the system!
We dedicate this action for Czech anarchists in custody during police operation "Fenix".
Let acts speak!
Solidarity in combat!

BLACK RANKS Group
Tags: Arson, Black Ranks Group, Czech Republic, International Solidarity, Poland
Posted in Direct Action
Thursday, November 12th, 2015
325 receives and transmits:
To Comrade Nikos Romanos and all the young fighters who are imprisoned in the
jails of Troika and Syriza,
We attach the appeal to the international day of struggle for December 12th
that we want to propel with you.
From the south of Argentina we want to send you a warm hug. You are not
alone, we are together!
Here the oil and mine imperialist companies plunder our natural sources
with impunity and get huge profits with our muscles and bones, with daily
shifts of 12 and 14 hs per day. Every time we fight for our rights they
chase us, repress us, imprison us and convict us with the government and
its justice.
Thus on December 12, 2013, the Videlist justice convicted us for fighting
in 2006 against outsourcing and against a tax on our wages that bosses and
government cinically call it "tax on profits". It is a robbery to our low
wages, even more in the south where the cost of living is two times higher
than the rest of the country.
For this fight, four of us are convicted for life and there are six
comrades who received a sentence of 5 years. (more…)
Tags: Argentina, Greece, International Solidarity, Mining, Nikos Romanos, SY.RIZ.A.
Posted in Prison Struggle
Thursday, November 12th, 2015
Full coverage of Black December via Contra-Info on this #tag.
Also read: International call for a Black December.
I hate the individual who bends his body under the weight of an unknown power, of some X, of a god.
I hate, I say, all those who, surrendering to others, out of fear, out of resignation, a part of their power as a man, are not only crushed themselves but crush me, and those I love, under the weight of their frightful cooperation or their idiotic inertia.
I hate, yes, I hate them, for I sense it, I do not bow before the officer's braid, the mayor's sash, the capitalist's gold, moralities or religions; for a long time I have known that all of this is just baubles that can be broken like glass.
— Joseph Albert (Libertad)
There are times in history when the randomness of some events can cause dynamic variables, able to almost entirely paralyse the social space-time.
It was Saturday night, on 06/12/2008, when the culmination of a conflict between two worlds took place in just a few moments. On one hand, the youthful, enthusiastic, spontaneous and impetuous insurrectionary violence; on the other hand, the official state institutional organ that, legitimately, claims the monopoly on violence through repression.
No, it was not about an innocent kid and a paranoid cop found in the wrong place at the wrong time, but a rebellious young comrade who attacked a patrol car, in an area where clashes with the forces of repression were common, and a cop who patrolled the same area and, out of a personal perception about the honour and reputation of the police, decided to confront the troublemakers on his own. It was a conflict between two opposing forces: on one Insurgency, on the other Power, with the main protagonists of this conflict each representing their own sides.
The murder of Alexandros Grigoropoulos by the cop Epameinondas Korkoneas, and the large-scale riots that ensued, caused a powerful, high-tension social electroshock, because the image of "social peace" was shattered and the existence of these two opposing worlds was made visible, in the most manifest way, triggering situations from which there was no easy return, at least not without a creation and manifestation of events whose momentum nobody could any longer pretend they did not notice, they did not see, they did not hear, they did not take into account. (more…)
Tags: Alexis Grigoropoulos, Black December, Conspiracy of Cells of Fire, Conspiracy of Cells of Fire : Imprisoned Members Cell, Greece, Informal Anarchist Federation (FAI), International Revolutionary Front, International Solidarity, Korydallos Prison, Nikos Romanos, Panagiotis Argirou, Sebastián Oversluij Seguel
Posted in Direct Action
Tuesday, November 10th, 2015
Manifestación en la Embajada de España en Londres en solidaridad con los anarquistas perseguidos a raíz de la Operación Pandora en Barcelona en los últimos meses.
Demonstration at the Spanish Embassy in London in solidarity with anarchists persecuted following Operation Pandora in Barcelona in the last months.
Saturday, November 14
6:00pm
Spanish Embassy
SW1X 8SB, London, UK
Solidarity to all the prisoners of the Spanish State – Destroy the Prisons.
https://www.facebook.com/events/926372350792952/
Tags: Demo, International Solidarity, London, Operation Pandora, Solidarity Action, Spain, UK
Posted in Social Control
Monday, November 9th, 2015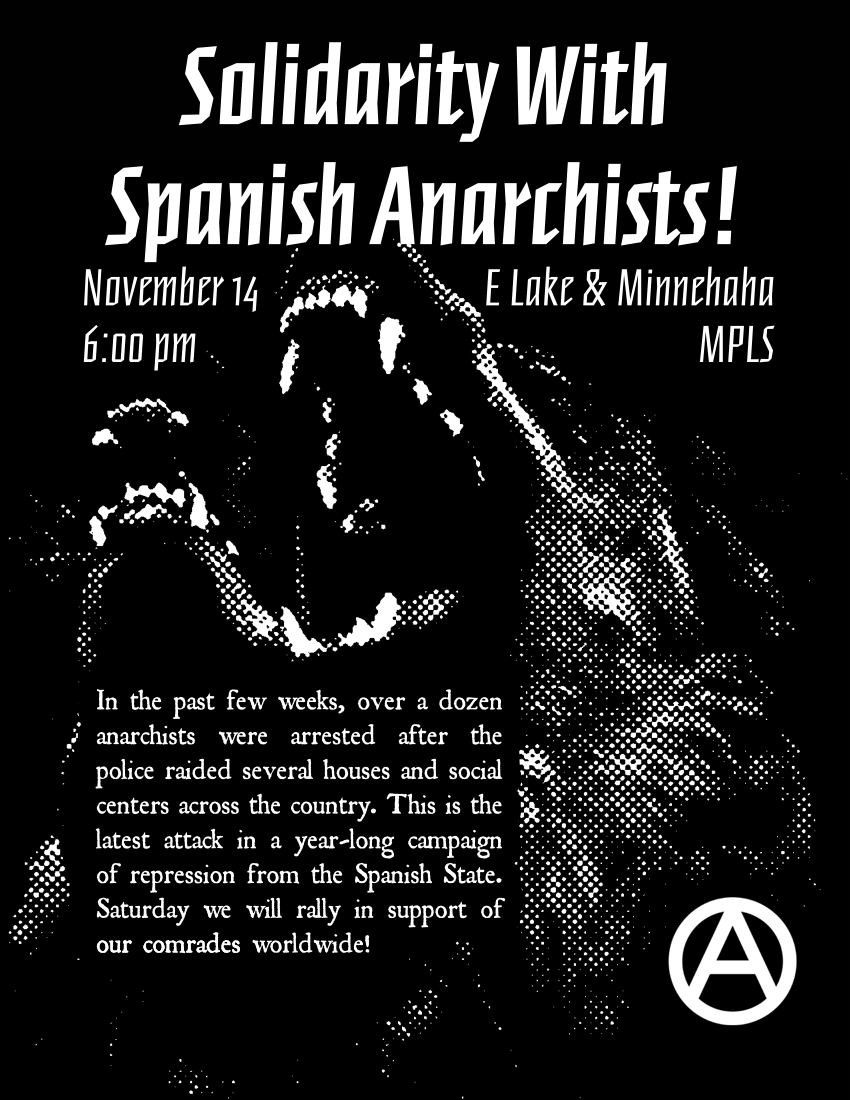 Updated: Here's the reportback.
Almost a year ago, the Spanish State began a campaign of repression against anarchists, arresting dozens, including nine in late October, and five more in November of this year. Their imprisonment is justified with the invention of a fictional terrorist group, the GAC-FAI-IRF. No attack has ever been claimed with this set of acronyms, and the GAC (Coordinated Anarchist Groups) are only the authors of a recent book, Contra la Democracia (eerily similar to the Tarnac Affair and The Coming Insurrection in France, 2008).
On Saturday we will rally in solidarity with those arrested, at 6:00pm at the corner of E Lake St & Minnehaha Ave in Minneapolis.
More info here: Efecto Pandora & Conflict MN.
Tags: Catalunya, Demo, GAC (coordinated anarchist groups), International Solidarity, Minneapolis, Spain, USA
Posted in Social Control
Monday, October 26th, 2015
325 receives and transmits – We add the clarification after a contact with our comrades, Sin Banderas-Ni Fronteras, in Chile, that this letter is published mainly for reference, not as an approval. Our nihilist-anarchist and anti-civilisation perspective obviously has a critique of the authoritarianism of Marx-Lenin-Trotsky. Solidarity to the imprisoned comrades, for a new internationalist struggle:
October 2, 2015
Comrades,
Firstly, we wanted to send you a big hug, a hearty encouragement and our entire sympathy and support in the fight for your freedom in the dungeons of the Greek regime, especially to comrade Evi Statiri, who is now recovering from her hunger strike.
We are the Collective for the Re-foundation of the IVth International – FLTI. We are an international current with militancy in Syria near Aleppo, resistance against the genocidal Assad; we are also working alongside the rebel militias in Libya who yesterday defeated Khadafi; we are fighting in Zimbabwe and South Africa in Black Africa; and also in several Latin American countries.
We are writing to you because we have been carefully following your struggle and denouncing and fighting together with you against the brutal imprisonment that dozens of comrades are suffering, who today are still in prison at the hands of the Syriza's Government, those "merchants of hope" -as comrade Nikos Romanos denounced them – that are actually jailers and oppressors.
We want you to know that this claim and this fight that you are carrying forward, is also ours. We know that you are imprisoned for fighting; for defending migrant workers attacked by the fascist gangs of Golden Dawn. Today it is thousand times more necessary to deepen this fight, when tens of thousands of political refugees arrive in Europe fleeing from genocide as that perpetrated by dog Al-Assad against the Syrian revolution before the "crocodile tears" of European Governments and Obama who are the ones that command these massacres against the rebel masses.
So when we hear of students that have taken the technological Institute of Athens to fight for the freedom of political prisoners and in defense of the refugees, we greet their action with revolutionary fervor and say that this is a huge example to multiply and deepen. (more…)
Tags: Argentina, Greece, International Solidarity, Libya, South Africa, Syria, Zimbabwe
Posted in Prison Struggle
Thursday, October 8th, 2015
En un escenario político de evidente descomposición de las fuerzas
representativas tradicionales, y con toda una gama de propuestas que
buscan reformar el modelo de dominación construyendo formas "populares"
de administrar el poder, nuestra opción continúa siendo la ruptura
absoluta con el mundo de la autoridad, como única salida a la catástrofe
de la dominación.
Y en esa ruptura, el ataque directo a las instituciones y representantes
de la opresión y del poder sigue siendo propaganda de la necesidad de la
revuelta individual y colectiva por la destrucción de todo orden social
en la búsqueda continua de nuestra libertad.
Armadxs con estas ideas transformada en unos cuantos gramos de pólvora,
unos cuantos litros de bencina y un mecanismo de activación que nos dio
algunos minutos para salir sin problemas, atacamos con un artefacto
incendiario dependencias de la Fuerza Aérea de Chile, pertenecientes al
Servicio Religioso del Comando de Personal, ubicado en calle Cienfuegos
en la ciudad de Santiago, durante la madrugada del martes 06 de octubre.
Todo esto se realizó a una hora y con una carga incendiaria de tal tipo
que impidiera que transeúntes salieran heridxs, ya que no son el
objetivo de nuestros ataques. (more…)
Tags: Arson, Arsonist Anarchist Attack - "Fire and Consciousness" Cell - FAI/IRF, Chile, Informal Anarchist Federation (FAI), International Revolutionary Front, International Solidarity, Santiago
Posted in Direct Action
Monday, September 28th, 2015
Kurdish Red Crescent – This is a list of medical equipment and medicines that we need in Rojava.
If you can help please contact: solidaritywithrojava[at]gmail[dot]com
Tags: International Solidarity, Kubani, Kurdistan, Rojava, Syria
Posted in Autonomy
Monday, September 28th, 2015
Texte d'appel de la campagne
Au coeur du Moyen-Orient, les populations du Rojava (Kurdistan syrien) se sont soulevées depuis deux ans contre les forces réactionnaires qui oppressent la région depuis des décennies. Après avoir libéré le Rojava de l'Etat Islamique, les habitants du Rojava et les nombreux révolutionnaires étrangers qui sont venus les soutenir inquiètent à présent les impérialistes américains et l'OTAN, ainsi que les régimes réactionnaires et fascistes du Moyen-Orient : la Turquie, l'Arabie Saoudite et l'Iran. Tous à présent interviennent par bombardements ou ingérence, reproduisant les stratégies qui ont abouti à la création des nombreux groupes islamistes comme l'Etat Islamique, al Qaïda ou le front al-Nosra, des golems qui ont échappé au contrôle des pays capitalistes qui les ont façonnés. (more…)
Tags: International Solidarity, Kubani, Kurdistan, People's Defence Units (Y.P.G.), Rojava, Syria, YPJ (Women's Protection Unit)
Posted in Autonomy
Wednesday, September 23rd, 2015
With this call out we invite individuals, organizations, collectives to participate in or support our fight for liberation, liberation not only of the Kurds for their land, but first and foremost liberation from the power of the state and capitalism and of patriarchy. We invite you to come to Rojava, Canton Cizire and Kobani.
Rojava (Western Kurdistan) is a piece of land largely freed from the presence of ISIS but under embargo: an embargo implemented against us not only from Turkey but also from Iraqi Kurdistan, whose regime does not appreciate the social changes taking place here. This embargo limits the availability of basic necessities, but also on the shortage of medicines and medical equipment needed to treat the injured. Here there are thousands of martyrs, of people killed by war: many have lost their family and home.
Our region lives since four years in an intensive atmosphere of war and great popular resistance. The attacks of authoritarian forces of modern capitalism backed up by regional reactionary forces which are deployed in the region, and are practically embodied in extremist religious organizations with its different names, which can be summed up in ISIS, is not only an armed attack which is supported by all technical modern means against the forces of resistance, such as women, youth and the forces of protection, but it is an intellectual and ideological attack that represents the peak of authoritarian and monopolistic patriarchal mentality which is anti-women, youth and the whole society. It is an international war, all hegemonic powers are directly or indirectly playing their part, all because they want influence in this region. (more…)
Tags: International Solidarity, Islamic State in Iraq and Syria (ISIS), Kubani, Kurdistan, Lions of Rojava, People's Defence Units (Y.P.G.), Rojava, Syria, Women's Defense Units (YPJ)
Posted in Autonomy
Sunday, September 20th, 2015
A small act of solidarity from London for Rumah Api (KL): Banner drop outside
the Malaysian Embassy on the same day as a massive 'Malaysia Night' event
takes place in nearby Trafalgar Square. Rumah Api is a Kuala Lumpur based
anarcho-punk social centre and gig space, and was raided by armed police on
August 28th. This resulted in 160 people being arrested.
SOLIDARITY IS OUR WEAPON
Rumah Api website: http://rumahapi.weebly.com/
News story: http://325.nostate.net/?p=17229

Tags: Banner drop, International Solidarity, London, Malaysia, Rumah Api (social center/house project), Solidarity Action, UK
Posted in Direct Action
Wednesday, September 9th, 2015
Nos intentan obligar a una existencia sumisa y cobarde en el nombre del progreso tecnológico el control social y una mayor inclusión en lo que a pertenencia al sistema se refiere.
¡Pero nosotros no queremos ningún progreso, atacamos su control y rechazamos de manera consciente su inclusión!
Elegimos vivir la vida por el filo del abismo y no por los senderos de la muchedumbre mansa que se arrastra mendigando al poder las propias cadenas que los amarran. Nuestras motivaciones siempre serán en primera instancia la dignidad, la coherencia entre lo que decimos y hacemos, ese goce de
comprobarnos coherentes con lo que creemos. También nos motiva la sed de venganza, una venganza que sentimos tenemos que cobrar prácticamente desde niñxs cuando nos encierran en sus centros de domesticación y luego a lo largo de toda la vida encerradxs en fabricas, cárceles, manicomios… bibliotecas "anarquistas"…
¡Despreciamos toda esa mierda! ¡Hay otros caminos lejos de esa porquería monótona y anuladora del individuo!
En este andar mayormente solitario pero constante es que el 4 de septiembre pasado colocamos un artefacto incendiario en la concesionaria de motos y cuatriciclos ubicada en la Avenida Entre Ríos esquina Rondeau, el cual lamentablemente no funciono como lo esperábamos. ¡Pero continuaremos, siempre continuaremos!
Nuestra intención es clara: fomentar y propagar el ataque a todos los símbolos (físicos y edilicios) que representan ese entramado difuso que es el enemigo.
Objetivos a atacar… sobran… depende de nuestra voluntad, de nuestra decisión.
A generar todo el caos posible ante la mierda electoral que se avecina y su competencia entre candidatxs por ver quien saca mas policías a las calles y quien gestiona mejor la miseria.
Fuerza a Sol Vergara, valiente compañera encerrada en las prisiones chilenas. Fuerza a lxs demás compañerxs anarquistas, antiautoritarixs, nihilistas y subversivxs encerradxs por el Estado en Chile, México, Grecia, Italia, España…
Con nuestrxs muertxs en la memoria…
¡VIVA LA INTERNACIONAL NEGRA!
Célula Nihilista del Ocaso de Fuego.
Tags: Argentina, Buenos Aires, Célula Nihilista del Ocaso de Fuego, International Solidarity, Sabotage, Tamara Sol
Posted in Direct Action
Wednesday, September 9th, 2015
El día jueves 24 de agosto a eso de las 2 am colocamos un artefacto explosivo de fabricación casera compuesto por una botella plástica de medio litro rellena de pólvora negra , mechas detonantes y de iniciación. Adheridas a un cigarrillo que sirvió como retardo, todo únido a dos camping gas (gas butano) en la entrada de una de las sedes del circulo de suboficiales de la policía federal argentina ubicada en Alberti entre Chile y Mexico del barrio porteño de Balvanera. A pesar de que las cámaras sigan nuestros pasos, contamos con buenos amigxs y la determinación e imaginación creativa para evadir la seguridad de esta paz social.
Con este gesto nos solidarizamos con las y los compañeros anarquistas fugados y encarcelados en distintas partes del mundo. Que son ejemplos de lucha y convicción!
El poder es quien ejerce el monopolio de la violencia, la jurídicamente justificable, no solo la policial (la económica, la mediática, la social, el discurso democrático).
Por eso ESTAMOS con los amotinadxs, con los fugadxs, con los pibes y las pibas encerradas en los penales y psiquiátricos de argentina (y el mundo) "comunes" y anónimos que se rebelan, con los "suicidados" asesinados por el servicio penitenciario.
Memoria y vindicación a SERGIO "URUBU" TERENZI, MAURICIO MORALES Y SEBASTIAN OVERSLUIJ
Hagamos practica la libertad, enfrentemos la resignación. Exaltemos la vida!
Saludos y ánimos.
Algunos anarquistas y nihilistas
Tags: Argentina, Buenos Aires, International Solidarity, Mauricio Morales, Sabotage, Sebastián Oversluij Seguel, Sergio Urubu Terensi
Posted in Direct Action
Tuesday, September 8th, 2015
LATEST DIRECT ACTIONS IN ITALY
2nd of September, MODENA – Anonymous claim: "2nd of September, Saliceta street – Some cables of a Wind phone mast are set on fire. Let's sabotage the infrastructures complicit with the cop control. Freedom for Pippo, Tommy and Andrea accused of having set the house of a fascist on fire. Solidarity with the comrades hit by the requests of special surveillance in Trentino and Sardegna. Fire to the gears of ordinary repression".

31st of August, PISA – A 28 years old guy threw a molotov to the entrance of a building that was hosting – in the past – a Lega Nord (xenophobic party) headquarters. Arrested by the Carabinieri [paramilitary police] thanks to the cooperation of citizens who witnessed the scene. He declared to be anarchist and to have attacked the Lega Nord because it's a fascist party. He's now held in the jail of Pisa.
19th of August CREMONA – A phone mast is set on fire and a spraypainted message is left on the place: "Revenge for Emilio". Emilio is a comrade from Cremona who fell into a coma after a fight with the Nazis of Casa Pound and is now slowly recovering. The people from the communist social centre CSA Dordoni in which Emilio is involved, immediately took distance from the action declaring that "Antifascism is a serious issue that we need to address urgently. To set a phone mast on fire doesn't go in this direction". In the same night also the car of Gianluca Galli, the boss of Casapound Cremona, goes on fire and is completely destroyed.
29th of July PARMA – During the night a sabotage hits the TAV (high speed line) railway between Bologna and Milano. Around 4 am the cables in the manholes between Fidenza and Fontanellato were set on fire, causing troubles to the circulation. No claim of the action was released.
July GENOVA – A telecommunications mast was set on fire in a village close to Genova, an anonymous claim is released on the 13th of July:
"AGAINST TECHNOLOGICAL DICTATORSHIP
Without any doubt we could describe present society as a technocratic system in which, at a global level, reckless science and the products it launches in the market dominate and regulate life. Since their very existence, the corporations keep their dominion over the Planet thanks to the States and international institutions (ONU, UE, FMI, BCE).
The hyper-technological society is the perfect society to fulfill the two main necessities of the Power: profit and social control. Thanks to science and technology, promoted as modern deities, profit doesn't know any more limit: from military devices to the incredible quantity of useless products put on the market. Also social and life control cannot but spread even more every day, from the simple cameras to the use of nanotechnologies. People, already deprived of any autonomy and own will, are introduced to the fabulous world of science through a partial and fictitious access to technology.
With the fantasy of improving the quality of life, the only real effects are a reckless production, the wasting of the minds and of our own abilities, the erasing of real emotions, therefore of life itself.
All of this happens while in front of our eyes nature gets devastated to build huge projects that will allow to move these goods even faster and to trace them even more easily. All of this happens while television, in the general indifference, broadcasts images of populations wiped out and starved to exploit the available resources to increase the production of these goods.
For once we simply decided to elude control and threaten the profit of the technocratic society.
We set fire to the power source cables of a telecommunications mast property of Italsite Spa, a company specialized in this sector in Italy and Europe.
FOR THE IMMEDIATE LIBERATION OF MARCO CAMENISCH
IN SOLIDARITY WITH THE ANARCHISTS IMPRISONED IN ITALY, CHILE, GREECE, SPAIN AND MEXICO"
11th of July MODENA – Anonymous claim: "11th of July – Cabins and cables of a phone mast are set on fire against repression and telematic control. From Baltimora to Frankfurt, from Milano to Cremona, the State is the one who devastes and plunders. Revenge for Emilio! Ciao Soledad". The phone mast was so damaged by the fire that it had to be cut down and removed.
10th of July PADOVA – Fifteen trucks loaded with GMO animal feed, property of the company Mangimi Veronesi, are set on fire and are completely destroyed. Incendiary bottles are found under the trucks, and a spraypainted writing that says: "No GMO, no farming". The Coordinamento Zero OGM which has run since 2014 a campaign against this company for its use of GMO animal feed immediately dissociated itself from the action.
6th of July UDINE – The local headquarters of the fascist group Casa Pound are stained and spraypainted with messages like "You'll burn", "Dirty fascists", etc.
24th of June FIRENZE – Anonymous claim: "Florence, in the night between 24th and 25th of June we set on fire a Fiat 500 of the carsharing service of ENI, Frecciarossa and Vodafone in via del Bisarno. Solidarity to the imprisoned anarchists".
Tags: Casa Pound, Cremona, CSA Dordoni, Firenze, Genova, International Solidarity, Italsite Spa, Italy, Lega Nord, Marco Camenisch, Modena, Padova, Parma, Pisa, Sabotage, Udine
Posted in Direct Action
Monday, August 31st, 2015
Inter Arma received and translated:
On September 3, the Judicial Council is going to decide on the extension of the pre-trial detention of Evi Statiri.
In the context of the nationwide call for action and solidarity which has been organized by comrades for the 2nd of September, we invite all anarchist individualities, direct action cells and comrades to sabotage normality and to destroy the clock of power. To brake the silence with counter-info actions (posters, flyers, banners, slogans) and to end the immobility of passivity with actions and sabotage.
On September 2, let us challenge the world of organized apathy with hostile gestures of insubordination.
NO REGRET
NO DEFEAT
IMMEDIATE RELEASE OF EVI STATIRI
2 SEPTEMBER NATIONWIDE DAY OF ACTION

individualities tending towards chaos
Tags: Athens, CCF Escape case, Conspiracy of Cells of Fire, Evi Statiri, Greece, International Solidarity, Korydallos Prison
Posted in Prison Struggle