Posts Tagged 'International Solidarity'
Tuesday, December 22nd, 2015
Dear Sir/Madam,
We are women who have come together as the Women's Freedom Assembly (KÖM)
in order to create a common language regarding all aspects of women's
struggle for freedom, to intervene and collectively demonstrate presence in
all spheres of life, to be a party and take active role in the peace and
negotiation process in Turkey. At this moment,
The war in Turkey is intensifying; people, all living beings and history
is being destroyed!
As the State becomes more and more ISIS-like, the peoples' resistance
resembles Kobanê!

In the Kurdish towns/provinces of Hakkari, Dargeçit, Sur, Nusaybin, Silopi
and Cizre, the State:
· Has removed all doctors' leaves and permissions, calling all
medical equipment personnel to be prepared,
· Has emptied out student dormitories, placing security forces
within them instead of students, (more…)
Tags: International Solidarity, KÖM (Women's Freedom Assembly), Kubani, Kurdistan, Repression, Rojava, Syria, Turkey, War
Posted in Autonomy
Monday, December 14th, 2015
Llamado a la insurrección antiautoritaria.
Por un diciembre negro con nuestros caidos en la memoria.
Saludos. Mediante este comunicado nos presentamos como grupo en la forma que creemos mas indicada (nuestras acciones son lo que importa, no nuestros rostros), también invitamos a combatir el letargo practicando la insurrección antiautoritaria y a nutrirnos de ella.
Material incendiario.
Hace unas semanas con unos objetos envueltos en llamas bloqueamos una autopista en Lima y dejamos algunos mensajes. El motivo fue atacar el funcionamiento del orden impuesto por el Poder. No pedimos reformas, no pedimos jefes mas "buenitos", no pedimos gobernantes que roben o que hagan obras, no pedimos trabajo o aumento si no su abolición.
Con esta acción apoyamos la ofensiva anarquista alrededor del mundo, en especial el DICIEMBRE NEGRO (venganza por los asesinatos de los companieros Alexandros Grigoropulos y Sebastian Oversluij).
Asimismo bienvenidx sea quien asista al llamado y rompa el papel de espectador. Te afecta a ti, a mí y a los que se oponen a este mundo de dominación consciente o inconscientemente.
Libertad a lxs anarquistas presxs.
Viva la propaganda pro el hecho.
Libertad a todos los animales.
Saludos a los miembros de las Celulas del fuego, Monica Caballero y Fransisco Solar.
Apoyo total a quienes no esperan la rebelion de las masas para salir a atacar.

Grupo de acción Divanggio
Tags: Arson, Black December, Burning Barricades, International Solidarity, Lima, Peru, Sabotage
Posted in Direct Action
Wednesday, December 9th, 2015
via ContraInfo:
In the fiery craters of our inner volcanoes, made with the lava of emotion and the fire of passion, we've fed our lust for life… And to Society that wanted to impose its laws and its morals on us, we will firmly respond with our "no," while all others repeat their cowardly "yes."(Enzo Martucci)
In the early hours of Friday December 4th [in Lycabettus area in Athens], we approached the house of the high priest of corruption, and former Minister of PASOK party, Kostas Laliotis and placed incendiary devices at his home entrance and his car.
As has rightly been said, the responsibilities of those who have served in administration centres of the capitalist machine can neither be forgotten nor retire.
Kostas Laliotis has been one of the most corrupt politicians following the metapolitefsi [transitional period after the fall of the Greek military junta]; his name and trajectory are linked to greed, deception, scheming, interwoven interests and arrogance, all of which are basic and integral characteristics of puppets staffing the political personnel of capitalist domination.
Maggots like Kostas Laliotis and his likes should be beaten or shot; they should see their houses burn, and live their miserable and crappy life in fear.
The fires of anarchist insurgency that lit at the house of a powerful former state official of the establishment was a contribution to the call for a Black December, which is spreading inside and outside the prisons all over the world, creating a multifaceted insurrectionary anarchist front that, having informal coordination, the acceptance of multiformity and the lasting anarchist insurgency as tools, crystallises the prospect of a generalised anarchist offensive against the world of Power.
Our captive comrades Nikos Romanos and Panagiotis Argirou have put an idea on the table of anarchist dialectics. They have proposed an idea relating to a theme any of us could set at the edge of a month of coordinated actions – actions originating from the entire spectrum of anarchist practices, from public gestures to guerrilla actions.
It is a proposal that opted to set the seven years since the assassination of comrade Alexandros Grigoropoulos as a theme, so as to test an experimentation of an informal coordination of multiform anarchist action in practice.
Those who have the appropriate analytical tools understand that it is a proposal concerning any anarchist individuality or collectivity that's not clinging to theoretical patterns or immersed in apathy and reformism.
This is also why the kneelers of petty politics and professional search of disagreements do not lose the opportunity to shoot the arrows of their slanderous criticism once again.
But, as much as the "official" anarchist circles of cafes and gossip want to engage in mudslinging and slander, they cannot hide their discontent with the fact that the apathy which permanently pervades them is revealed in the clearest way.
Now, leaving aside those skilled in political speculation, let us talk about the essence of this proposal.
We believe anarchy must pose a real threat to the State, and to do this, anarchy needs to stay away from vanguards, leaderships, press offices, away from the logics of political cleansing and expulsions.
Informal organising doesn't need to arise from agreements in charters and proclaimed positions one has to embrace. In our anarchy, every individual and every group can contribute to a theme, a campaign, a strategy by synchronising and coordinating their action, irrespective of whether they share common political backgrounds.
To evolve spontaneity, which often prevails in the anarchist milieu, does not mean anarchy has to turn into a party; all that is needed for the feasibility of a formulation of strategies and actions chosen to be put in motion is a will to act and communicate with other comrades.
For we love the kind of anarchy that travels through the streets of fire, occupies space and time in the metropolises, and creates strongholds for the diffusion of anarchist theory and practice. The kind of anarchy that blows up the pillars of normality, robs our lost time, and throws the morals of this world into fire.
This kind of anarchy does not fit in the hypocritical respectabilities of this society, nor does it make concessions on its discourse or practices to be pleasing to the social majority.
Surely there's so much to say, but what comes first is intensifying our attacks, thickening the chaotic paths of liberatory struggle.
We will be back soon
Guerrilla signals to the FAI cells who have actively supported Black December in Greece, Chile, Spain, and those currently preparing their attacks; to the comrades of the Anarchist Insurgent Movement (M.I.A.) from Brazil; to all arsonists and rioters who set fire to the symbols of domination.
Strength and solidarity to all anarchist comrades inside and outside the prisons who support Black December with texts, translations, posters, flyers, graffiti and banners that complete the mosaic of multiform anarchist action.
A hug full of affection to our brothers and sisters who are locked up in prisons in Spain, Chile, Switzerland, Italy, Mexico, Germany, the US, and elsewhere; to Mónica Caballero, Francisco Solar, Marco Camenisch, Alfredo Cospito and Nicola Gai, Juan Aliste, Freddy Fuentevilla and Marcelo Villarroel, Juan Flores, Guillermo Durán, Nataly Casanova, Enrique Guzmán, Thomas Meyer-Falk, Ignacio Muñoz, Tamara Sol, Michael Kimble, and all other captive comrades whom we have unwittingly forgotten to mention.
For a Black December
For the upsurge of anarchist insurgency
Freedom for those in prison cells

Alexandros Grigoropoulos Cell/Informal Anarchist Federation (FAI-IRF)
Source: Athens IMC
translated by Black International
Tags: Alexandros Grigoropoulos Cell / FAI, Alexis Grigoropoulos, Arson, Athens, Black December, Greece, Informal Anarchist Federation (FAI), International Revolutionary Front, International Solidarity, Kostas Laliotis, Nikos Romanos, Panagiotis Argirou, Sabotage
Posted in Direct Action
Tuesday, December 8th, 2015
Barcelona, Spanish State: The attack continues in the face of the blows inflicted by power
After the recent police operations against anarchist milieus, so much has been written and said; statements and opinions mainly denounce or 'condemn' the repression inflicted by the authorities. After the latest repressive operation and the reactions that followed, we reckon we should give our point of view.
Starting from the fact that the ongoing repression is the State's logical response to those who consider themselves (or the State considers) its enemies, we don't understand certain communiqués full of victimization, where in practice (and with the most appropriate words, of course) they beg the State to stop unleashing its cops 'indiscriminately' against anarchists. And they say that repression is unjustifiable, and of course they use and abuse the word 'frame-up', and say we do nothing wrong, and that they attack us because we 'think in a different way'… They try to give a picture of 'normality' and endeavour with all means to make this picture clean and socially acceptable. They do their best to take distance from violent words and actions; and as they become entrapped in the game of power and use the latter's language, they make distinctions between 'good' anarchists and 'bad' ones, thus promoting criminalization from within their ranks.
At this point some of these 'anarchists' don't feel ashamed at giving pitiful interviews to the media, and what is worse they pose as spokespersons of the 'anarchist movement' (and then of all social movements); these would-be politicians and leaders of the masses try their best to alienate anarchism from its subversive and conflictual character, and present anarchism as a simple movement of activists, deprived of any words or actions that clash against power and the established order.
Then there are those who just talk of how terrible repression is, how all comrades are under strict surveillance, and one can't do anything; this kind of attitudes only spread collective panic and paranoia, and these are the attitudes of those who hide their inactivity behind the pretext of ever present repression, surveillance, 'I'm being strictly watched', etc. Anyone who is reluctant to take responsibility can be so according to their personal decisions; but to hide oneself behind uncontrolled and often groundless fear and to spread discouraging feelings wherever one goes, is dangerous and counter-productive. This doesn't mean that there are the 'brave' ones and the 'cowardly' ones; it's perfectly normal to fear police checks, prison, beatings, torture and murders committed by cops and jailers…
But spreading fear leads to panic and paranoia, and in turn this leads to discouraging speeches calling for inaction, maintaining that 'to behave' is better for both oneself and other comrades so as not to be the objects of police investigations.
To conclude this topic it must be said that even if the State has shown us nothing more than the tip of the iceberg, this is nothing compared to what could happen; in fact it's sufficient to look at repression currently occurring in other areas of the world (and not even that far) or in the Spanish State itself a few decades ago. It should be clear that as we stand as anarchists we live with the risk and possibility to be hit by the machine of repression, also at the margins of our practices, because, as we've seen, there are times when the same repressive machine tries to stir fear among the enemies and strikes everyone rather than inflict targeted blows; as a consequence anyone of us can be a target.
However, in spite of the deployment of police operations, arrests and slanders that have been carried out (and in spite of what has to come yet), power knows that there will always be individuals who cannot be controlled or frightened, no matter what, our desire to destroy everything that oppresses us cannot be put off. We are glad to see how in spite of everything, they didn't manage to stop the attack on the existent; every day there are some who still don't give in to fear and social submission and go on constant attack. Multiform anarchist action keeps on spreading through many neighbourhoods, cities and countries in the form of publications and militant texts, posters, graffiti, banners, sabotage, fires and explosions, roads blocked with barricades, clashes, attacks on the buildings of power and disorders during demonstrations…
Although the Spanish state prefers not to make claims known so that actions are silenced, we know for certain what's happening, with more or less frequency. The violence of the minority will continue, and we talk about violence openly and without troubles because we are convinced that power won't fall by itself, nor will any Messiah come from heaven with a solution.
We don't use words such as 'self-defence' or 'counter-violence'; nor do we talk of anarchist violence only in a context of mass uprising when it's more acceptable. We've found out that in spite of everything, insurrectional practices and attacks are still possible; police can't be everywhere, they don't spy on us all or control us all, some common sense, good planning and good will are more than enough to prove that the picture of a controlled and pre-arranged world is just an illusion; it's up to us to break this illusion of tranquility.
For in the face of the blows of power and the misery of some 'anarchists' who only care to give an image of good innocent boys to society in order to be safe, we arm our desires and passions, and go on the attack. To the masses and their inactivity we offer our aggressiveness, we expect nothing and throw ourselves into constant anarchist revolt.
We are the rebels who have decided to carry on and run the risk, and dare live anarchy here and now.
Words without action are dead words to us, so we take the occasion of this communiqué to claim the following actions carried out in several neighbourhoods in Barcelona: the fire on vehicles of security companies, private ones as well as State-owned ones; attacks on bank branches through damages to windows and ATMs caused by hammers, stones, paint and fire; fire and destruction of urban structures.
With this communiqué we want to give our warm greetings to our prisoners, especially Monica and Francisco, who have been in pre-trial detention for over two years always with their heads held high; to comrades Nicola and Alfredo, the comrades of the CCF and the comrades imprisoned in Chile; and we want to remember our fallen ones and greet those who day by day continue to bet on constant conflict and anarchist insurrection, and make anarchy be once again a threat.
For a Black December everywhere!
For the black international of the anarchists of action!
For the spreading of chaos and Anarchy!
Nothing ends, the war continues…

Individualities for the Diffusion of Chaos – FAI / FRI

–
via: croceneranarchica
Translated by act for freedom now
Tags: Alfredo Cospito, Arson, ATM Burned, Barcelona, Black December, Catalunya, Chile, Conspiracy of Cells of Fire : Imprisoned Members Cell, Francisco Solar, Informal Anarchist Federation (FAI), International Revolutionary Front, International Solidarity, Monica Caballero, Nicola Gai, Sabotage, Spain
Posted in Direct Action
Monday, December 7th, 2015
-En el marco del llamamiento a un Diciembre Negro.
-A 2 años de la muerte en combate del Anarquista Sebastián Oversluij.
-A lxs Rebeldes Subversivxs, Revolucionarixs, Anarquistas y
Antiautoritarixs que luchan por la destrucción de toda forma de Poder y
Autoridad en el mundo entero.
Queremos recordar lo bonito que es que se paralice el espacio-tiempo
social, a través de pequeños o mayores cortocircuitos sociales. Queremos
recordar lo peligrosa que es la anarquía cuando quiere. Por un Diciembre
Negro. Nikos Romanos, Panagiotis Argirou.
Desde las prisiones griegas, desde la resistencia cotidiana en las
entrañas de la bestia de la sociedad carcelaria se gesta un llamado al
recuerdo de la inestabilidad de la paz social bajo la amenaza constante
de rompimiento de la normativa, el que nos invita a hacer de este
recuerdo particular una iniciativa que se multiplique en la
multiformidad del ataque antagonista y antiautoritario, que nos invita a
propagar la acción que desborda la teoría sin dejar pie para excusas o
letargos. (more…)
Tags: Black December, Chile, Greece, International Solidarity, Sebastián Oversluij Seguel
Posted in Autonomy
Tuesday, December 1st, 2015
via contrainfo:
We claim responsibility for the incendiary attack against the Hellenic Post (ELTA) branch in the district of Pefki [in the early hours of November 23rd]. Anarchist prisoners, currently on trial in the terror-court of Koridallos prisons for a series of cases of anarchist violence, are also accused of committing robbery at this branch, that's why we made sure it went up in flames, to send them a symbolic message of solidarity in view of the court decision.
This particular attack is our response to the call for a 'Black December' launched from inside prisons by our captive brothers Nikos Romanos and Panagiotis Argirou.
The political rationale of this specific proposal – one we entirely support – stands for an open wager for reinitiating the anarchist insurgency, and attempting to create an informal platform that may become an invisible point of encounter and coordination between comrades in every trench of multiform anarchist struggle.
Not much else to say at the moment; now is the time for action, for constant and ceaseless multiform struggle.
Strength and complicity to the arsonists who set fire to social peace and sabotage the social normalcy in Brazil, Chile, Mexico, spreading Black December in every corner of the world.
Strength and complicity to those who will take to the streets seeking to vandalise representations of domination, throw stones at cops and burn symbols of Power.
Strength and complicity to all anarchist prisoners in every corner of the world.

Solidarity means attack!
For a Black December!
For the anarchist offensive against the world of Power!

Combative Anarchy/Informal Anarchist Federation (FAI-IRF)
Tags: Arson, Athens, Black December, Combative Anarchy - FAI/IRF, Greece, Hellenic Post (ELTA), International Solidarity
Posted in Direct Action
Monday, November 30th, 2015
We are going in front of Kandıra No.1 F Type Prison to support Osman Evcan…
Osman Evcan is resisting authority as an anarchist against speciecism for uninterrupted 23 years in state prisons. Osman Evcan supports the struggle for animal liberation as an anarchist since 2003. He has been a name for us, who voices the demand for total freedom against ecological destruction, hunger, poverty, carnage and war policies created by the state and capitalism.
Osman Evcan is recently located in Kandıra Kocaeli F-Type Prison No. 1 after being exiled to almost all the prisons in Turkey for resisting and never bending his head against systematically and continuously imposed intimidation. Osman Evcan's and all political prisoners most basic and vital right to a healthy diet according to their preference and will is blocked by the prison management with the knowledge and instructions of the Ministry of Justice. (more…)
Tags: ABC Istanbul, Animal Liberation, Demo, Hunger Strike, International Solidarity, Kocaeli No:1 F Type Prison, Osman Evcan, Prison demo, Turkey
Posted in Prison Struggle
Tuesday, November 17th, 2015
via contrainfo:
—We claim responsibility for incendiary attacks against four banks in the city of São Paulo. The attacks occurred at the Santander bank branches in Largo da Batata, another in the Liberdade area, and the other two in the central region and in a peripheral region.—
Manifesto:
The "Carlo Giuliani" cell of the Anarchist Insurgent Movement (M.I.A.) assumes responsibility for the four incendiary attacks that consumed bank branches in the early hours of November 15th 2015 in the central region of the city of São Paulo.
On November 15th the proclamation of the republic is "commemorated", within large and ironic quotation marks. We have this fetish of commemorating historical dates and personages that remind our massacres and subservience. We do not commemorate the insurgencies of slaves or the Canudos Insurrection, nor do we celebrate the epic past of Marighella, Zumbi, João Cândido, Jesuíno Brilhante, Olga [Benário], or Espirtirina Martins. Going against logic, we buy the canned historical version, told by the winners who still continue to dominate us.
The fetid and corrupt monarchy that parasitised Brazil, deposed after the proclamation of the republic, does not differ in absolutely anything from the elite which nowadays parasitises the so admired democratic republic. Bankers, lobbyists, politicians, corporatists, CEOs, speculators and landlords, all worms that accumulate innumerable richness at the expense of others' sweat.
(more…)
Tags: Arson, Black December, Bradesco Bank, Brazil, Carlo Giuliani, Célula Carlo Giuliani - Movimento Insurgente Anarquista, Conspiracy of Cells of Fire : Imprisoned Members Cell, International Solidarity, Movimento Insurgente Anarquista (MIA), Sabotage, São Paulo
Posted in Direct Action
Sunday, November 15th, 2015
Video:
https://vimeo.com/145530683

Communique:
On the 11th of November, while fascists scums were holding marches in all of Poland, we – the anarchists – decided to release our hatred upon the state and capital.
We're expressing our support for fighting against an oppressive system in every part of its front, from unions to direct actions.
We believe that this symbolic bank arson will raise radical fire in all country.
Solidarity with all prisoners of the system!
We dedicate this action for Czech anarchists in custody during police operation "Fenix".
Let acts speak!
Solidarity in combat!

BLACK RANKS Group
Tags: Arson, Black Ranks Group, Czech Republic, International Solidarity, Poland
Posted in Direct Action
Thursday, November 12th, 2015
325 receives and transmits:
To Comrade Nikos Romanos and all the young fighters who are imprisoned in the
jails of Troika and Syriza,
We attach the appeal to the international day of struggle for December 12th
that we want to propel with you.
From the south of Argentina we want to send you a warm hug. You are not
alone, we are together!
Here the oil and mine imperialist companies plunder our natural sources
with impunity and get huge profits with our muscles and bones, with daily
shifts of 12 and 14 hs per day. Every time we fight for our rights they
chase us, repress us, imprison us and convict us with the government and
its justice.
Thus on December 12, 2013, the Videlist justice convicted us for fighting
in 2006 against outsourcing and against a tax on our wages that bosses and
government cinically call it "tax on profits". It is a robbery to our low
wages, even more in the south where the cost of living is two times higher
than the rest of the country.
For this fight, four of us are convicted for life and there are six
comrades who received a sentence of 5 years. (more…)
Tags: Argentina, Greece, International Solidarity, Mining, Nikos Romanos, SY.RIZ.A.
Posted in Prison Struggle
Thursday, November 12th, 2015
Full coverage of Black December via Contra-Info on this #tag.
Also read: International call for a Black December.
I hate the individual who bends his body under the weight of an unknown power, of some X, of a god.
I hate, I say, all those who, surrendering to others, out of fear, out of resignation, a part of their power as a man, are not only crushed themselves but crush me, and those I love, under the weight of their frightful cooperation or their idiotic inertia.
I hate, yes, I hate them, for I sense it, I do not bow before the officer's braid, the mayor's sash, the capitalist's gold, moralities or religions; for a long time I have known that all of this is just baubles that can be broken like glass.
— Joseph Albert (Libertad)
There are times in history when the randomness of some events can cause dynamic variables, able to almost entirely paralyse the social space-time.
It was Saturday night, on 06/12/2008, when the culmination of a conflict between two worlds took place in just a few moments. On one hand, the youthful, enthusiastic, spontaneous and impetuous insurrectionary violence; on the other hand, the official state institutional organ that, legitimately, claims the monopoly on violence through repression.
No, it was not about an innocent kid and a paranoid cop found in the wrong place at the wrong time, but a rebellious young comrade who attacked a patrol car, in an area where clashes with the forces of repression were common, and a cop who patrolled the same area and, out of a personal perception about the honour and reputation of the police, decided to confront the troublemakers on his own. It was a conflict between two opposing forces: on one Insurgency, on the other Power, with the main protagonists of this conflict each representing their own sides.
The murder of Alexandros Grigoropoulos by the cop Epameinondas Korkoneas, and the large-scale riots that ensued, caused a powerful, high-tension social electroshock, because the image of "social peace" was shattered and the existence of these two opposing worlds was made visible, in the most manifest way, triggering situations from which there was no easy return, at least not without a creation and manifestation of events whose momentum nobody could any longer pretend they did not notice, they did not see, they did not hear, they did not take into account. (more…)
Tags: Alexis Grigoropoulos, Black December, Conspiracy of Cells of Fire, Conspiracy of Cells of Fire : Imprisoned Members Cell, Greece, Informal Anarchist Federation (FAI), International Revolutionary Front, International Solidarity, Korydallos Prison, Nikos Romanos, Panagiotis Argirou, Sebastián Oversluij Seguel
Posted in Direct Action
Tuesday, November 10th, 2015
Manifestación en la Embajada de España en Londres en solidaridad con los anarquistas perseguidos a raíz de la Operación Pandora en Barcelona en los últimos meses.
Demonstration at the Spanish Embassy in London in solidarity with anarchists persecuted following Operation Pandora in Barcelona in the last months.
Saturday, November 14
6:00pm
Spanish Embassy
SW1X 8SB, London, UK
Solidarity to all the prisoners of the Spanish State – Destroy the Prisons.
https://www.facebook.com/events/926372350792952/
Tags: Demo, International Solidarity, London, Operation Pandora, Solidarity Action, Spain, UK
Posted in Social Control
Monday, November 9th, 2015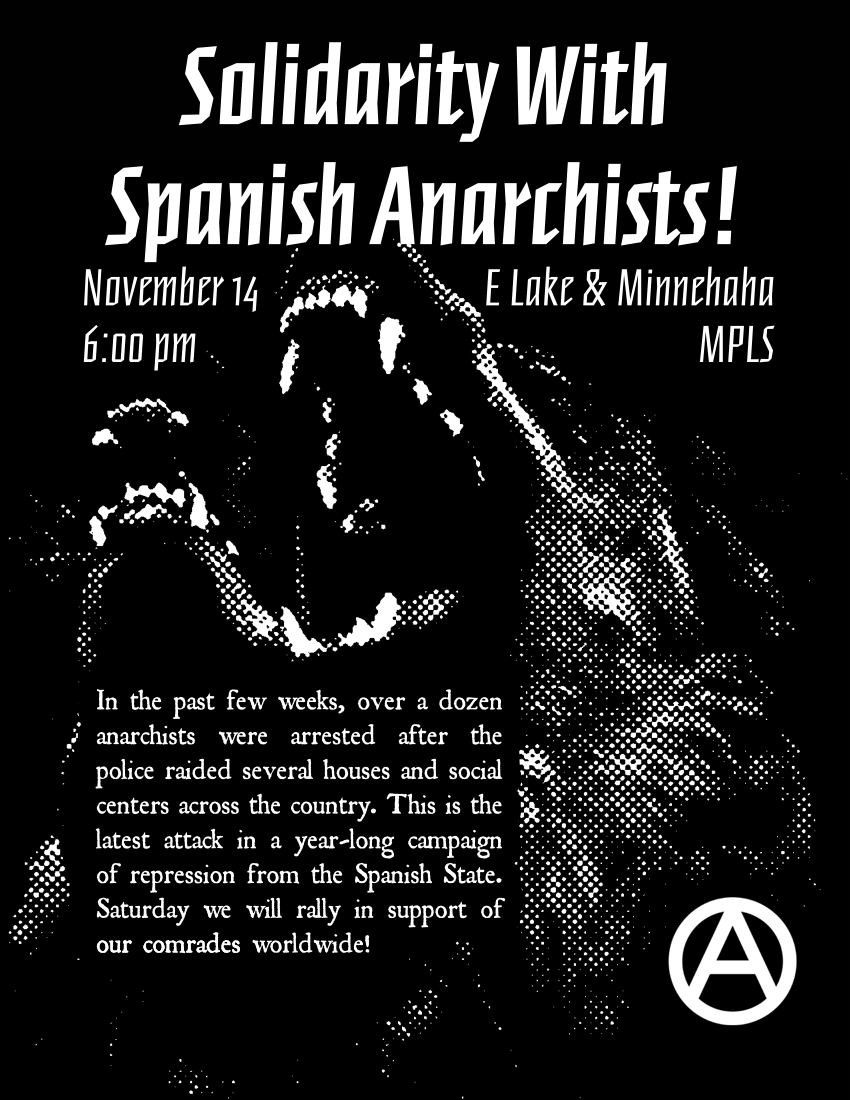 Updated: Here's the reportback.
Almost a year ago, the Spanish State began a campaign of repression against anarchists, arresting dozens, including nine in late October, and five more in November of this year. Their imprisonment is justified with the invention of a fictional terrorist group, the GAC-FAI-IRF. No attack has ever been claimed with this set of acronyms, and the GAC (Coordinated Anarchist Groups) are only the authors of a recent book, Contra la Democracia (eerily similar to the Tarnac Affair and The Coming Insurrection in France, 2008).
On Saturday we will rally in solidarity with those arrested, at 6:00pm at the corner of E Lake St & Minnehaha Ave in Minneapolis.
More info here: Efecto Pandora & Conflict MN.
Tags: Catalunya, Demo, GAC (coordinated anarchist groups), International Solidarity, Minneapolis, Spain, USA
Posted in Social Control
Monday, October 26th, 2015
325 receives and transmits – We add the clarification after a contact with our comrades, Sin Banderas-Ni Fronteras, in Chile, that this letter is published mainly for reference, not as an approval. Our nihilist-anarchist and anti-civilisation perspective obviously has a critique of the authoritarianism of Marx-Lenin-Trotsky. Solidarity to the imprisoned comrades, for a new internationalist struggle:
October 2, 2015
Comrades,
Firstly, we wanted to send you a big hug, a hearty encouragement and our entire sympathy and support in the fight for your freedom in the dungeons of the Greek regime, especially to comrade Evi Statiri, who is now recovering from her hunger strike.
We are the Collective for the Re-foundation of the IVth International – FLTI. We are an international current with militancy in Syria near Aleppo, resistance against the genocidal Assad; we are also working alongside the rebel militias in Libya who yesterday defeated Khadafi; we are fighting in Zimbabwe and South Africa in Black Africa; and also in several Latin American countries.
We are writing to you because we have been carefully following your struggle and denouncing and fighting together with you against the brutal imprisonment that dozens of comrades are suffering, who today are still in prison at the hands of the Syriza's Government, those "merchants of hope" -as comrade Nikos Romanos denounced them – that are actually jailers and oppressors.
We want you to know that this claim and this fight that you are carrying forward, is also ours. We know that you are imprisoned for fighting; for defending migrant workers attacked by the fascist gangs of Golden Dawn. Today it is thousand times more necessary to deepen this fight, when tens of thousands of political refugees arrive in Europe fleeing from genocide as that perpetrated by dog Al-Assad against the Syrian revolution before the "crocodile tears" of European Governments and Obama who are the ones that command these massacres against the rebel masses.
So when we hear of students that have taken the technological Institute of Athens to fight for the freedom of political prisoners and in defense of the refugees, we greet their action with revolutionary fervor and say that this is a huge example to multiply and deepen. (more…)
Tags: Argentina, Greece, International Solidarity, Libya, South Africa, Syria, Zimbabwe
Posted in Prison Struggle
Thursday, October 8th, 2015
En un escenario político de evidente descomposición de las fuerzas
representativas tradicionales, y con toda una gama de propuestas que
buscan reformar el modelo de dominación construyendo formas "populares"
de administrar el poder, nuestra opción continúa siendo la ruptura
absoluta con el mundo de la autoridad, como única salida a la catástrofe
de la dominación.
Y en esa ruptura, el ataque directo a las instituciones y representantes
de la opresión y del poder sigue siendo propaganda de la necesidad de la
revuelta individual y colectiva por la destrucción de todo orden social
en la búsqueda continua de nuestra libertad.
Armadxs con estas ideas transformada en unos cuantos gramos de pólvora,
unos cuantos litros de bencina y un mecanismo de activación que nos dio
algunos minutos para salir sin problemas, atacamos con un artefacto
incendiario dependencias de la Fuerza Aérea de Chile, pertenecientes al
Servicio Religioso del Comando de Personal, ubicado en calle Cienfuegos
en la ciudad de Santiago, durante la madrugada del martes 06 de octubre.
Todo esto se realizó a una hora y con una carga incendiaria de tal tipo
que impidiera que transeúntes salieran heridxs, ya que no son el
objetivo de nuestros ataques. (more…)
Tags: Arson, Arsonist Anarchist Attack - "Fire and Consciousness" Cell - FAI/IRF, Chile, Informal Anarchist Federation (FAI), International Revolutionary Front, International Solidarity, Santiago
Posted in Direct Action