Posts Tagged 'International Solidarity'
Saturday, February 22nd, 2020
The persecution of anarchist solidarity.
On October 29, 2018 in Madrid, two anarchist companions were detained, in their respective homes, on charges of property damage.
Specifically they are accused of damaging with fire a Bankia ATM on April 11, 2018 in solidarity with the anarchist prisoner Lisa, who was convicted of a bank robbery in Aachen (Germany).
The companions went to court on October 30, 2018 and they were released pending trial. During that year the classification of the offense was as a misdemeanor, however, in November of 2019, after the prosecution appeal, the crime was again classified as normal, giving rise to the possibility that they will be condemned to prison. Currently the investigation has already closed and they are waiting for the prosecution to present the indictment.
This is another one of the many attacks that the State carries out against anarchism, beyond the facts, without entering into terms of innocence or guilt, because they are nothing more than the terms of Power to condemn and pigeonhole anyone who rebels against authority. What are now targeted are anarchist principles and practices, legitimate practices like solidarity and direct action against everything that we apply pressure to.
That is why we consider it necessary that these cases do not remain forgotten, because the work of repression feeds on this by generating misinformation regarding anarchist ideas and practices and by trying to delegitimize and demobilize them through "exemplary punishments". Facing this continuous persecution of ideas and practices, anarchists must prevail and thus continue the offensive against the State.
Stay tuned for more information.
DEATH TO THE STATE AND LONG LIVE ANARCHY!
SOLIDARITY WITH ALL COMRADES FACING REPRESSION!
via ContraMadriz.
Tags: Arson, ATM Burned, Bankia, International Solidarity, Lisa, Madrid, Repression, Sabotage, Spain
Posted in Social Control
Friday, February 21st, 2020
Words of a prisoner in revolt, from Santiago. 1, Module 14, accused of throwing an incendiary device.
As an anarcho-nihilist individualist I write these words from a prison in the $hilean territory, already in my first month in prison I have been able to reaffirm my position as anti-prison and stubbornly unmanageable in front of the whole machinery and framework that tries to make you part of it.
Nowadays while the flame of the insurrection is still burning and continues with great force in different parts of the world and in this same territory, it is important to remain firm despite all the consequences that our actions bring. Nothing we do is in vain, but always being attentive especially in these moments, to where each time our enemies are becoming more and more professional, that it is of relevance that we also do so too and continue positioning ourselves even more in the realities that we live, going hand in hand with self-care, making it part of ourselves and throwing us on the path to which each one of us decided to take.
As an anarcho-nihilist prisoner I call for solidarity in its many forms and not to give up, I send my most complicit hugs and much newen [Mapuche term meaning Strength, Energy], I greet all those who remain steadfast and to the prisoners of the world.
BEFORE CONTROL, CHAOS AND INSURRECTION.
From Anarquia.
Tags: Chile, International Solidarity, Letter, Molotov, Riots, Santiago, Santiago 1, Social Insurrection
Posted in Prison Struggle
Wednesday, February 19th, 2020
Joseph Dibee was arrested in August 2018 after more than a decade on the run. He is accused of being part of a group that organized arson attacks against earth destroying and animal murdering enterprises. He is accused, for example, of taking part in the arson against the Wild Horse Meat Slaughterhouse in Oregon that was completely destroyed by fire and never reopened.
He has been locked up since his capture even though he has not had a trial yet. In January, Joseph was attacked by a "white-power" piece of shit. His jaw was shattered to bits and he suffered multiple skull fractures. His mouth is wired shut. He is stable, but needless to say he went through a very scary and terrible experience.
This comes as no surprise since the FBI has insisted on plastering the media with his full name (Joseph Mahmoud Dibee) alongside the word "Terrorist". They have paved the way for Joseph to be continuously attacked in prison because of this. They are utilizing any tool (in this case, the spread of anti-Muslim and neo-nazi philosophy) to make Joseph suffer as much as possible.
His lawyer has insisted to the judge over and over that Joseph is not a risk to society and that he has changed his life around, helping build solar and thermal systems in Syria and working as a teacher whilst on the run. The judge did not care and decided to keep Joseph locked up waiting for trial. We will say it again, he has not even been found guilty and he is supposed to pay the price.
Joseph could do with letters of support and love. Nobody should be writing anything related to direct action or to his case, but sending letters explaining how the day has been might be a good start to make him feel better.
Here is the address to send letters:
Joseph Dibee #101799,
Inverness Jail, 11540 N.E.
Inverness Drive,
Portland, OR 97220
USA
Remember that "Support the ALF" isn't just a fucking t-shirt!
PRISONS ARE FOR BURNING
UA.
via Unoffensive Animal, AWW.
See Also:
We Don't Forget – Support Joseph Dibee, Environmentalist Accused of Sabotage: Joint Statement by Crimethinc and It's Going Down
Previous article: Alleged ELF and ALF Fugitive, Joseph Dibee, Arrested After 12 Years (USA)
Tags: Animal Liberation Front, Earth Liberation Front, International Solidarity, Joseph Dibee, Neo-Nazis, Repression, Trial, USA
Posted in Prison Struggle
Wednesday, February 19th, 2020
IT: Richiesta di sostegno economico per la difesa legale di Gabriel Pombo Da Silva
Our comrade Gabriel, arrested on January 25 in Portugal, is still locked in the cells of the judiciary of Porto waiting for a possible extradition. The second part of the trial started on 27 January. It still hasn't begun yet, but it will take place in the next few days. Until we notify otherwise, the contact address for writing letters of support and solidarity to Gabriel remains the same.
Gabriel Pombo Da Silva
EPPJ Porto
Rua Assis Vaz,
109 4200-096 Porto
-Portugal-.
Whilst awaiting more news, his lawyer – who is in solidarity with Gabriel – has anticipated that the amount necessary for the defense will be considerable. You need to rely on and pay punctually those professionals with whom you are obliged to work; and we cannot act without the competing lawyers from Portugal and most likely from Germany.
Therefore, a constant amount of money is urgently needed to manage all the bureaucracy that involves the administrations of justice from three different countries (Spanish State, Germany and Portugal).
Currently the legal situation is as follows:
The Girona prosecutor's office intends that Gabriel spends another 16 years in jail due to the interpretation of a fusion of non-existent penalties. This denies a special principle (one of the legal reasons why it was possible that Gabriel was released in June 2016), which must be claimed by Germany at the request of Portugal, if optionally, they consider it appropriate.
The extradition order will be frozen while Portugal analyzes the situation, consults Germany about the "special principle" and determines in the situation whether to extradite him or not.
The objective of the defense is the immediate release of Gabriel by recognition of the same "special principle". If that was not achieved, the objective would be to avoid extradition and serve any supposed outstanding penalty in Portugal, avoiding the harassment that awaits him in the prisons of Spain.
In case of extradition, it would be fought so that this penalty was not fulfilled, applying any redemptions and mergers that until today have not been accounted for, an action that could also be implemented if it met with approval in Portugal.
In any case, you have to work legally so that no prosecution can reopen any previous case and end any possible order of arrest.
At the moment, a bank account has been opened for these purposes, in the name of his partner Elisa, to receive the solidarity contributions by the fastest, most direct and orderly way possible:
HOLDER: Elisa Di Bernardo
BANKINTER
IBAN: ES06-0128-0180-3601-0009-8696
BIC / SWIFT: BKBKESMMXXX
FREE GABRIEL!
FREEDOM FOR ALL!
LONG LIVE ANARCHY!
–
Petición de apoyo económico para la defensa jurídica de Gabriel Pombo Da Silva
Nuestro compañero Gabriel, detenido el pasado 25 de Enero en Portugal, continúa encerrado en las celdas de la judicatura de Oporto en espera de una posible extradición. La segunda parte del juicio iniciado el 27 de Enero todavía no comienza, pero tendrá lugar en los próximos días.
Mientras no notifiquemos lo contrario, la dirección de contacto para escribirle cartas de apoyo y solidaridad a Gabriel sigue siendo la misma (Gabriel Pombo Da Silva EPPJ Porto, Rua Assis Vaz, 109 4200-096 Porto -Portugal-).
En espera de más novedades, su abogado –que es solidario con Gabriel– nos ha adelantado que el monto necesario para la defensa va a ser considerable. Necesita apoyarse y pagar puntualmente a los profesionales con los que está obligado a trabajar; no puede actuar sin el concurso de los abogados de Portugal y muy probablemente de Alemania.
Por lo tanto, se necesita urgentemente una cantidad de dinero constante para hacerse cargo de toda la burocracia que implica las administraciones de justicia de tres países diferentes (Estado español, Alemania y Portugal).
Actualmente la situación jurídica es la siguiente:
La fiscalía de Girona pretende que Gabriel cumpla 16 años más debido a la interpretación de una fusión de penas inexistentes. Niega el principio de especialidad (una de las razones jurídicas por la que fue posible su liberación en el junio del 2016), que ha de ser reclamado por Alemania a petición de Portugal, si opcionalmente lo estiman oportuno.
La orden de extradición quedará congelada mientras Portugal analiza la situación, pregunta a Alemania sobre el "principio de especialidad" y determine la situación para extraditarlo o no.
El objetivo de la defensa es la liberación inmediata por reconocimiento del mismo "principio de especialidad". Si eso no se consiguiera, el objetivo sería evitar la extradición y que cumpliera la supuesta pena residual en Portugal, evitando el acoso que le espera en las cárceles españolas.
En caso de extradición, se lucharía para que no se cumpliera esa pena aplicando redenciones y fusiones que hasta hoy no han sido computadas, acción que también se podría implementar si cumpliese esa pena en Portugal.
En todo caso, hay que trabajar legalmente para que ninguna fiscalía pueda reabrir alguna causa anterior y terminar con toda posible orden de arresto.
De momento, se ha abierto para estos fines una cuenta bancaria, a nombre de su compañera Elisa, para recibir las aportaciones solidarias de la forma mas rápida, directa y ordenada posible:
TITULAR: Elisa Di Bernardo
BANKINTER
IBAN: ES06-0128-0180-3601-0009-8696
BIC/SWIFT: BKBKESMMXXX
GABRIEL LIBRE!
TODXS LIBRES!
VIVA LA ANARQUIA!
Tags: Elisa Di Bernardo, Extradition, Gabriel Pombo da Silva, Germany, International Solidarity, Portugal, Repression, Spain
Posted in Prison Struggle
Wednesday, February 19th, 2020
+ More info on the control regime implemented on comrade G.Michailidis.
On 29/1 anarchist Giannis Michailidis, Konstantina Athanasopoulou & Dimitra Valavani were arrested in Agia Paraskevi following their pursuit by the anti-terrorist unit. G. Michailidis was sought by the police authorities because of his escape from Tyrintha prison in June 2019 and K. Athanassopoulou for escaping before the announcement of a court order. D. Valavani was beaten by cop agents. Comrade G. Michailidis took full responsibility for the weapons found in the car they were driving.
G. Michailidis is being held in the prisons in Malandrino, K. Athanasopoulou in Thebes, and D. Valavani in Korydallos.
Freedom to Giannis Michailidis, Konstantina Athanassopoulou and Dimitra Valavani!
No one in the hands of the State!
The passion for freedom is stronger than all cells!
Solidarity gathering in Thebes prisons where Konstantina Athanassopoulou is being held: 23/2/20
The address for the 3 Anarchist Comrades :
Dimitra Valavani
(Δήμητρα Βαλαβάνη)
Dikastiki Fylaki Korydallou
Gynaikeies Fylakes, (Women's Prison)
T.K. 18110
Korydallos
Athens
Greece
–
Konstantina Athanasopoulou
(Κωσταντινα Αθανασοπουλου)
Eleonas Women's Prison
Thebes
T.K. 32200
Greece
–
Giannis Michailidis
(Γιαννης Μηχαιλιδης)
Malandrinou prisons (Κ.Κ. Μαλανδρίνου)
T.K. 33053
MALANDRINO
FOKIDAS
GREECE
Tags: Dimitra Valavani, Giannis Michailidis, Greece, International Solidarity, Konstantina Athanasopoulou, Repression
Posted in Prison Struggle
Wednesday, February 19th, 2020
February 19th, 2020. Makassar, Indonesia.
According to the court's decision, our comrades (Supriadi, Anto, Haerul, Alif, Agus, and Faruddin) were sentenced to prison for 1 year and 6 months, they were charged under art. 506 About Actions Against the law and art. 170 regarding acts of violence/destruction carried out jointly.
*Note: On September 26, They were arrested during the nationwide protests in Indonesia in September 2019. Insurrectionary anarchists in Makassar claimed responsibility for blocking a highway and attacking state vehicles.
Don't let them feel alone, solidarity never stop, anywhere!
Smash the state!
Tags: Indonesia, International Solidarity, Makassar, Trial
Posted in Prison Struggle
Wednesday, February 19th, 2020
FIVE AFFIRMATIONS FORMED IN SMOKE AND FIRE
1. In these fires we see the ongoing violence of more than two centuries of colonisation on this continent. In attempting to eradicate the sovereignty of First Nations people and their connections to country, so much long-held knowledge about taking care of this land has been dismissed. Instead of a holistic and interconnected relationship with the environment, there is a relationship based on domination and possession.
A colonial society is not capable of establishing a nourishing relationship with the environment.
2. In these fires we see the devastation that is arriving due to climate change. While mining and the fossil fuel industry should be targets of our anger, they do not speak to the entirety of the devastation. Industrial farming of water-hungry crops like cotton and rice while rivers run dry. Livestock churning through the soil as erosion leads to desertification. The logging of old-growth forests. The links in the chain connect to our whole way of life.
The scale of devastation is systematic, and so the entire system becomes our target.
3. In these fires we see the outcome of a complete disregard for life beyond generating wealth. And we know that there is no changing course within capitalism, with its endless drive for the next source of profit. The destitution that it inflicts upon all life and the environment through insatiable resource extraction has been noted. We won't be fooled by desperately staged attempts at green-washing.
Capitalism will get no further chances.
4. In these fires we see that there is no way forward in rebuilding back to the way things were. This might not be the end times or the apocalypse – it might simply be the new normality. Catastrophe, followed by catastrophe, followed by doing the best we can to recover. But if 'recovery' means desperately trying to return to a way of life that is untenable, we'd rather not. Colonised people have been living and fighting through catastrophe for a long time. Do the rest of us feel that we have enough skin in the game now to join them?
There is not much positive in this disaster, but from these ashes we can build something different.
5. In these fires we see that those who govern us – no matter what party they represent – will never provide for us, even in the hardest of times. Just ask one of the volunteer firies fighting the flames. If it wasn't Scotty from marketing, it would be some other insufferable fuckwit. They protect wealth and the economy, while playing on anxiety and fear. They do nothing to sustain us.
In these times of crises, we can only turn to each other in solidarity and mutual aid.
To finish…
This country now has its own climate refugees, joining millions of others from all around the world. We have seen people risk everything to assist each other, sharing resources and caring for others. This kind of humanity need not be reserved for extreme situations. While it might start the people immediately alongside us, the alliances we build and the mutual aid we enact will have to cross borders and reflect the global scale of what we are facing.
As the extreme becomes normal, so can our solidarity.
Tags: Australia, Climate Chaos, Ecological Destruction, International Solidarity, Melbourne
Posted in Eco Struggle
Wednesday, February 19th, 2020
We must not forget the anarchists and anti-fascists suffering repression in Russia! We are calling for people to take action of all forms to express support for these prisoners, to protest the prison system, and to spread information about the use of torture as an instrument of repression in Russia.
Why now? On 10th February, 630 kilometers from Moscow, the court in Penza passed sentence on seven people accused of organizing the so-called "anarchist terrorist community 'Network'". This entire case is based on confessions the defendants were forced to agree to via intense torture as well as weapons planted by police and an extremely tenuous accusation that they were "planning to plan terrorist actions to overthrow the government of Russia". For a "crime" without victims involving no real action and no real plan, the sentences decreed by the court are shockingly high. Dmitry Pchelintsev and Ilya Shakursky, the supposed organizers of this fabricated "Network," were sentenced to 18 years and 16 years in prison, respectively. The others have been sentenced as follows: Arman Sagynbaev 6 years, Andrei Chernov 14 years, Vasily Kuksov 9 years, Mikhail Kulkov 10 years, and Maxim Ivankin 13 years of imprisonment.
Scientists, journalists, human rights defenders, and other groups in Russia have protested and demanded that the sentence be repealed.
International solidarity is especially important at this moment because the "Network case" is not over. In St.-Petersburg, two more people, Viktor Filinkov and Julian Boyarshinov, await trial on related charges. The next court hearings are planned for February 25-28. This is why we ask that solidarity actions take place the last week of February.
Many other anarchists and anti-fascists in Russia are experiencing repression and torture, including Azat Miftahov, Ilia Romanov, Egor Lesnyh, Evgeny Karakashev and Kirill Kuzminkin. They also deserve our attention.
If you have a Russian consulate or embassy in your city, consider organizing an action in front of it!
Email action reports to rupression@protonmail.com or via Telegram to @RUPRESSION_bot or Rupression social networks.
We will inform the prisoners about any actions that take place.
For more information about the Network case, details of financial support and prisoners addresses: rupression.com
YOUR TORTURE WILL NOT KILL OUR IDEAS!
–
Russia – Un appello ad Azioni di Solidarietà – 22-29 febbraio
Non dimentichiamo le persone anarchiche e le antifasciste che subiscono la repressione in Russia!Chiediamo a tutt* di agire in qualsiasi modo per esprimere sostegno a questi prigionieri, per manifestare contro il sistema carcerario, e per
sensibilizzare sull'uso della tortura come strumento di repressione in Russia.
Perché ora? Perché il 10 febbraio, a 630 kilometri da Mosca, la corte di Penza ha giudicato sette persone accusate di organizzare la presunta «community anarchica terrorista di nome "Network" [NdT: Сеть, pronuncia "set'"]». L'intero caso è montato su confessioni estorte agli imputati sia con pesanti torture, sia su armi portate dalla polizia [NdT: come le molotov del G8 alla Diaz], e con l'accusa per niente fondata che stessero «pianificando azioni terroriste per sovvertire il governo della Russia». Per un "crimine" senza vittime che non implica né azioni e né piani reali, le sentenze decretate dalla corte sono drammaticamente alte. Dmitrij Pčelincev e Il'â Šakurskij, i supposti organizzatori di questo sedicente "Network", sono stati condannati rispettivamente a 18 e 16 anni di prigione. Gli altri sono stati condannati ai seguenti anni in prigione: 6 anni a Arman Sagynbaev, 14 anni a Andrej Černov, 9 anni a Vasilij Kuksov, 10 anni a Mihail Kul'kov e 13 anni a Maksim Ivankin.
Scienziati, giornalisti, difensori dei diritti umani e altri gruppi in Russia protestano e richiedono che la sentenza sia revocata [NdT: "repealed" in originale inglese].
La solidarietà internazionale è particolrmente importante in questo momento perché il "caso Network" non è finito. Altre due persone a San Pietroburgo, Viktor Filinkov e Ûlian Boâršinov, attendono un processo per accuse simili. La prossima udienza è fissata per il 25-28 febbraio. È per questo che vi chiediamo di tenere azioni di solidarietà l'ultima settimana di febbraio.
Molti altri anarchici e antifascisti in Russia stanno subendo repressioni e torture, fra cui Azat Miftahov, Il'â Romanov, Egor Lesnyh, Evgenij Karakašev e Kirill Kuz'minkin. Meritano la nostra attenzione.
Se avete un consolato o un'ambasciata russa nella vostra città, valutate di organizzare un'azione lì davanti!
Mandate resoconti delle azioni a rupression@protonmail.com o via Telegram a @RUPRESSION_bot o ai canali social di Rupression.
Informeremo i prigionieri delle azioni che avranno luogo.
Per altre informazioni riguardo il caso Network, dettagli per il supporto finanziario e gli indirizzi dei prigionieri: rupression.com
LE VOSTRE TORTURE NON UCCIDERANNO LE NOSTRE IDEE!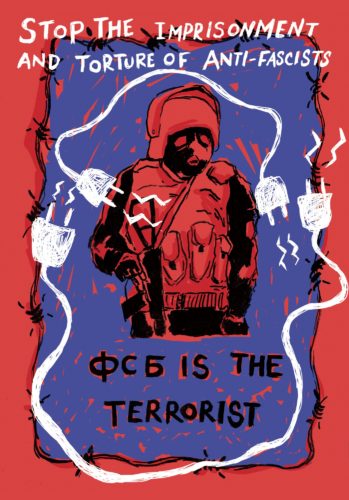 Tags: "Network Case", International Solidarity, Repression, Russia
Posted in Social Control
Thursday, February 13th, 2020
FR: Une carte des incendies d'antennes-relais – Solidarité avec Badger
PDF: International solidarity with Badger
Bristol Mast Fire
Fourteen arson attacks against telecommunications and mobile phone masts in the Bristol and Bath area took place over the last decade.
This imaginal map is an attempt to show a rough sketch of how these attacks were spread over a large area.
The Earth is being rapidly destroyed by a matrix of greed, consumerism, technology and industrial exploitation which has poisoned the air, rivers and land, harmed all living beings and made millions of species extinct.
These attacks caused substantial losses for the capitalist companies and shows that the system can be sabotaged through organisation and direct action. One way to hit the system is by economic and strategic sabotage in all fronts.
The cost of the damage can never equate to the profits the system loots from our lives everyday and the damage that it has done to the Earth.
Despite years of police repression against the anarchist movement no one has been charged with the fires but the cops have accused a fugitive anarchist comrade 'Badger' for involvement in one incendiary strike in 2013 that took out police radio, Vodafone services and TV and digital coverage to 80,000 homes and businesses.
The action was claimed by the FAI/ELF – Horizons of Burning Rage.
Police also accuse Badger of trashing the windows of right-wing rag 'Bristol Post' in the riots of 2011. Innocent or guilty is irrelevant to our solidarity.
Stay free Badger – Long live anarchy!
International solidarity to Badger
Freedom for ALL – Destroy Civilisation
Tags: Anti-technology, Flyposter, Huw 'Badger' Norfolk, International Solidarity, New Horizons of Burning Rage FAI / ELF, PDF, Sabotage
Posted in Library
Thursday, February 13th, 2020
via ContraMadriz:
We are at war
29th of May and 19th of October of 2018: Police raids in Madrid and Palencia related to the repression against the riots of Hamburg against the G20 summit in July 2017 take place. This police operation was coordinated at an European level, with a lot of cooperation between different states. Attacks in response to these police raids happen all around Europe, and they are still happening.
29th of October of 2018: Two anarchists are arrested in Madrid accused of burning a Bankia ATM the 11th of april of that same year. This action was done in solidarity with Lisa, an anarchist who is actually in prison for robbing a bank in Germany. A lot of banks receive the solidarity of the anarchists.
25th of April of 2019: An anarchist is arrested accused of attacking VOX headquarters in Madrid with a hammer. Several political headquarters are attacked during the election campaign.
13th of May of 2019: Antiterrorist operation against the anarchist movement in Tetuán (Madrid). Two anarchists are arrested under the charge of terrorism. Police break into a house and the Espacio Okupado Anarquista La Emboscada. Different attacks in solidarity happen all around the State.
During all 2019: There is an increase of evictions of squatted spaces all around the state. Dozens of people are arrested and are waiting for trial. Attacks and riots in defence of those squatted spaces.
Solidarity-Complicity- Attack.
No rest for the Exploiters.
No rest for the Power.
No peace for the State.
Tags: Flyposter, International Solidarity, La Emboscada, Lisa, Madrid, Palencia, Raids, Repression, Sabotage, Spain, Tetuan
Posted in Social Control
Tuesday, February 11th, 2020
On July 8th, 2019, the New Democracy government of Kyriakos Mitsotakis assumed power in Greece, after campaigning on a promise to 'clean up' the central Athens neighbourhood of Exarchia, and 'take it back' from the anarchists.
Since then, the Greek state has launched a renewed attack against the anarchist and self-organized migrant movements, targeting squats and promising future raids. Against this threat, Greek anarchists have responded with characteristic resolve and determination.
Featuring interview with Pangiotis Varthalis of the squat Lelas Karagiannis 37
Translated by Boubouras (Act For Freedom Now)
Tags: Alexis Grigoropoulos, Athens, Counter-info, Exarchia, Greece, International Solidarity, Lelas Karagianni 37, Migrant Struggle, Racism, Raids, Repression, Riots, Sabotage, Squatting, Video
Posted in Autonomy
Tuesday, February 11th, 2020
ACERKA DE LA RESISTENCIA A LA PRISIÓN Y LA NECESIDAD DE EXTENDER LA LUCHA AUTÓNOMA ANTIKARCELARIA.
Una breve mirada a las experiencias de lucha desde el encierro, sus énfasis y los kontextos en ke se han desarrollado.
«Sin ningún Comité Central ni ninguna jerarquía que clasifique nuestrxs miembrxs, solo podemos conocer caras extrañas como amigxs a través de sus acciones. Lxs queremos, Ixs abrazamos, al igual que sabemos que otrxs lo harán. Otras células, secciones, grupos.»
Brigada de la Cólera
1970.-
En tiempos de agudización del konflikto social la kárcel es el principal instrumento de kontrol y kastigo para kienes no se someten y se rebelan.
Históricamente el dominio a través de todos sus dispositivos ke sostienen el poder, la autoridad, el mundo de las jerarkías, el patriarkado y el kapital a usado la sanción normalizadora para kombatir toda forma de Resistencia ke atake y amenace su paz social.
Sin ir más lejos no fue sino en la diktadura de Pinochet en donde esta dinámika afectó masiva y sistemátikamente a miles y miles de Rebeldes ke la kombatieron entregando los mejores días de sus vidas.
Se reformuló el marko jurídiko fundado en la doktrina de seguridad nazional ke veía un enemigo interno al ke había ke aplastar bajo la exkusa de «kombatir el káncer marxista» según la voz de los genocidas de la époka.
Operaba la pútrida «justicia militar»:
Miles de muertxs, desaparecidxs, exiliadxs, perseguidxs, violentadxs, torturadxs son el rekuerdo imborrable y el triste legado de la refundación kapitalista neoliberal del imperio yanky a través de la insurrexión militar burguesa del genocida ejército chileno. (more…)
Tags: 14/14, Anti-Prison, Chile, Dictatorship, General Pinochet, International Solidarity, Isolation, Letter, Mapuche, Marcelo Villarroel Sepúlveda, Repression, Torture
Posted in Prison Struggle
Tuesday, February 11th, 2020
Note from the Russian Reader: This verdict doesn't leave me at a loss for words. I'm just convinced there is no point in using them when everyone who could listen has made a point of tuning out people like me. If someone invited me to appear on their aptly named alternative radio program or their globe-spanning Qatar-based international TV network (as nearly happened in the past), I could talk for hours about the Network Case. But that's not going to happen. Although if I were a betting man, I would wager that our tiresome planet's obnoxious pillars of liberal truth—the New York Times, the Guardian, the Washington Post, and Al Jazeera, among others—will suddenly weigh in on the case after blithely ignoring it for two years, as will many if not all of the crypto-Putinist "Russia watchers" in our midst, eerily silent until now. Barring a sudden revolution, don't imagine this is the last such case in Russia, a country that has worried so many people around the world for the last several years that they're determined not to know anything particular about it except "Putin" and "troll factories." And don't imagine that a show trial just as juicy and unjust won't be coming to a theater near you. Please don't reprint, repost or otherwise reference this article without prefacing it with my remarks. I'd like to preempt "spontaneous" shows of "solidarity" by people who couldn't be bothered to do anything when it would have made a difference. Despite the well-known saying, it IS a popularity contest, and seven innocent young men in Penza have lost it.
Bumaga
February 10, 2020
The Volga District Military Court, [sitting in Penza], has [convicted and] sentenced seven defendants in the Network Case.
Dmitry Pchelintsev was sentenced to 18 years in a maximum-security penal colony. Ilya Shakursky was sentenced to 16 years in a penal colony and fined 50,000 rubles. Investigators claimed they were organizers of a "terrorist community." Both men alleged that FSB officers had electrocuted them in order to obtain confessions.
Maxim Ivankin was given 13 years in a maximum-security penal colony, while Andrei Chernov was sentenced to 14 years, and Mikhail Kulkov, to 10 years. They were found guilty of involvement in a "terrorist community" and attempting to sell drugs.
Vasily Kuksov was sentenced to 9 years in a penal colony. He was accused of involvement in a "terrorist community" and illegal possession of a weapon. Another defendant, Arman Sagynbayev, received 6 years in prison.
The verdict handed down by the court in Penza suggests that the acquittal of the Petersburg defendants in the case is less likely, Viktor Cherkasov, the lawyer for Viktor Filinkov, a defendant in the Network Case, told Bumaga.
"It sends a message," said Cherkasov. "It is difficult to hope [for a positive outcome], but we are still determined to protect Filinkov's interests."
Cherkasov said that he planned in court to point to the faked evidence in the case. He also that he would take the case to the European Court of Human Rights if Filinkov were found guilty. The next hearing in the Network Case in Petersburg should take place between February 25 and February 28.
[In October 2017 and January 2018], antifascists and anarchists were detained in Penza and Petersburg. They were accused of organizing a "terrorist community," allegedly called "the Network." Its alleged purpose was to "sway the popular masses for further destabilization of the political situation" in Russia.
The defendants in the case said investigators had tortured them as a way of forcing them to confess and weapons had been planted on their persons and property to further implicate them. [Some of] the arrested men had played airsoft together: this, investigators, said was proof they were planning terrorist attacks.
Investigators claim that the Petersburg defendants in the case, Filinkov and Yuli Boyarshinkov, acted as the group's sapper and signalman, respectively. Their trial is scheduled to resume in late February.
Translated by the Russian Reader
Tags: "Network Case", Andrei Chernov, Arman Sagynbayev, Dmitry Pchelintsev, Ilya Shakursky, International Solidarity, Maxim Ivankin, Mikhail Kulkov, Penza, Repression, Russia, St. Petersburg, Torture, Trial, Vasily Kuksov, Viktor Filinkov, Yuli Boyarshinkov
Posted in Prison Struggle
Sunday, February 9th, 2020
Update on the situation of comrade Gabriel Pombo Da Silva
To write to comrade Gabriel Pombo Da Silva
Although we have no [new] news, we are pleased to announce that it is possible to write to our dear Gabriel Pombo Da Silva with the following address:
Gabriel Pombo da Silva
EPPJ Porto
Rua Assis Vaz, 109
4200-096 Porto
Portugal
For now, he will continue to be detained in Portugal until mid-February.
We will keep you informed with more updates about his case.
Free Gabriel!
Free Everyone!
Long live Anarchy!
–
Actualización de la situación del compa Gabriel Pombo Da Silva
Para escribirle al compañero Gabriel Pombo Da Silva
A pesar de que no tenemos novedades, nos es grato anunciar que es posible escribirle a nuestro querido Gabriel Pombo Da Silva a la siguiente dirección:
Gabriel Pombo da Silva
EPPJ Porto
Rua Assis Vaz, 109
4200-096 Porto
Portugal
De momento, continuará detenido en Portugal hasta la mitad de febrero.
Mantendremos informando con más actualizaciones de su caso.
Gabriel libre!
Todxs libres!
Qué viva la Anarquía!
Tags: Gabriel Pombo da Silva, International Solidarity, Portugal, Spain
Posted in Prison Struggle
Wednesday, February 5th, 2020
This week, people carried out a direct action in solidarity with the revolution in Chile. The people of Ghent woke up with slogans written on walls, electricity boxes, bridges and more than 60 parking meters covered up in paint.
This action was carried out against the neo-liberalization and in solidarity with the uprising in Chile.

Against all authority here and in Chile.
Fire and flames for every state!
Tags: Belgium, Chile, Ghent, International Solidarity, Sabotage, Vandalism
Posted in Direct Action