Posts Tagged 'International Solidarity'
Tuesday, April 25th, 2017
After midnight…
IN RESPONSE to the call for action in solidarity with the anarchists of the Aachen case, on April 16, 2017, at approximately 01:30AM we placed an explosive device that detonated at the facilities of the oil company EXXON in Mexico City, located at North 59, Vallejo Industrial Colony.
EXXON is an oil and chemical corporation based in Texas, USA which constitutes in itself a complete criminal, murderous, genocidal, ecocidal state. It's long and devastating history has spared no bloodshed with death, torture and exploitation wherever it's tentacles reach. And then, when the cries of the massacres they cause are silent, they dig the graves with exactly the same machines they use to suck the sweat of the Earth and human beings.
But now it is their turn. Take our offering of hatred and rage! …Because nobody is untouchable! Because we are not intimidated by the heavy silence that you have imposed on your crimes based on fear and violence, and we are not intimidated by the premiere of your Secretary of State… (more…)
Tags: Aachen, ExxonMobil, For the spread of cells of the Informal Feminist Commando of Anti-authoritarian Action (COFIAA), International Solidarity, Mexico, Mexico City, Pola Roupa, Sabotage
Posted in Direct Action
Monday, April 24th, 2017
June 11, 2017 – Communication is a Weapon
By now it is a platitude to speak of the isolation and silence that prisons strive to impose. Every week another one of our imprisoned friends tells us that their mail is getting fucked with, the phones on their unit are "broken," or that our publications are being rejected with no recourse.
For us, one of the most exciting elements of June 11, 2016 was the proliferation of words and ideas shared between and from anarchist prisoners. Along with spreading material solidarity internationally and keeping the names of our comrades on our lips, our contribution to facilitating that communication is one of our most important tasks. While the starting point of our project was support for Marius Mason and Eric McDavid (the first of whom remains imprisoned in an extremely restrictive unit, while the latter has been freed!), it has been through a spreading web of communications that we have expanded the scope of our project to solidarity with long-term anarchist prisoners around the world. This year, we are seeking to emphasize this communication.
Maintaining communication is a lifeline for those caught in the snares of state repression or locked in its dungeons. Prisons function to isolate those held within these dungeons, to remove them from human community, and to break their will. Receiving letters and publications, being able to connect with individuals outside of the walls, and being able to call upon the solidarity of comrades on the outside are all vitally important to retaining dignity in dehumanizing conditions. When Chelsea Manning attempted suicide, communication enabled her and those close to her to mobilize and act. For prisoners who seem to live under a microscope due to their rebellious activities, a constant stream of letters shows their tormentors that they have friends on the outside and that there will be consequences for any action taken against them. Throughout the September 9th US prison strike, the relationships built over years made it possible to know of work strikes and rebellions happening in prisons all over the country, allowing supporters to organize counter-repressive action.
(more…)
Tags: International Solidarity, June 11th Solidarity, Marius Mason, USA
Posted in Prison Struggle
Monday, April 24th, 2017
Responding to the international call for actions in solidarity with the compañerxs accused of robbery in Aachen, Germany, we placed an explosive device with a little more than one kilo of black powder at a Citibanamex branch located on Eje 10 [in Mexico City] at 2:30am on April 20.
We repeated the action carried out a couple months ago by compañerxs from the Night Cats and Evil Sorcerers Incendiary Cell. Upon seeing they'd rebuilt the branch after the compas' attack, we decided to help them redecorate it. (more…)
Tags: Aachen, CitiBanamex, Informal Anarchist Federation (FAI), International Revolutionary Front, International Solidarity, Mexico, Mexico City, Sabotage
Posted in Direct Action
Saturday, April 15th, 2017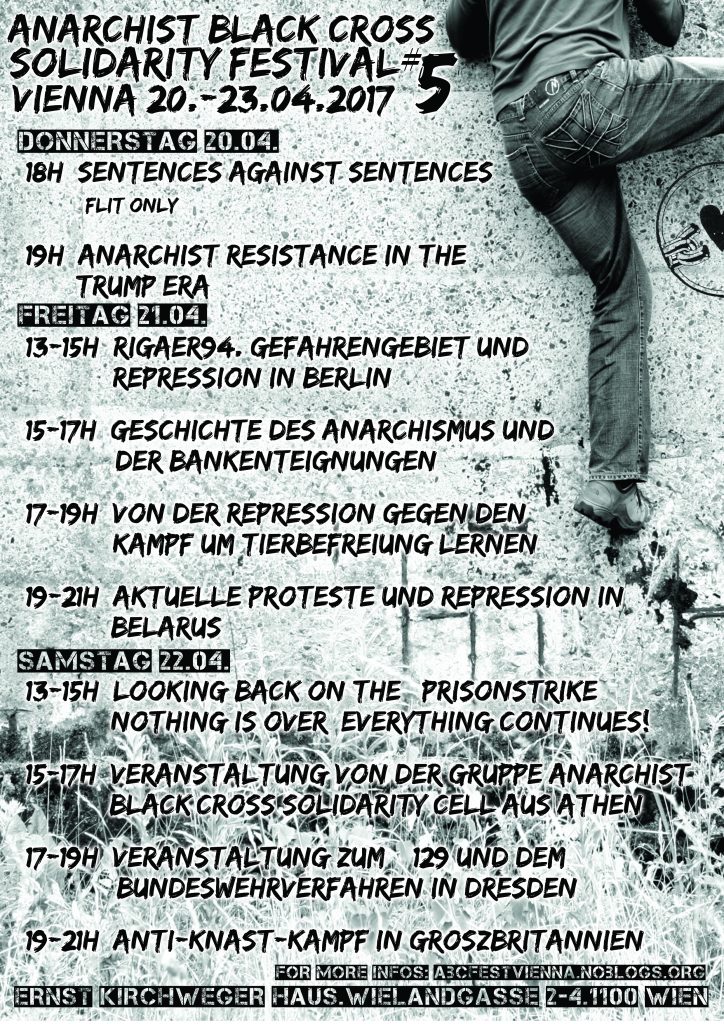 [Vienna] Solidarity event of "Anarchist Black Cross – Solidarity Cell" with imprisoned comrades of Koridallos prison (Athens) @ ABC FESTIVAL VIENNA (20. – 23. April 2017)

"As anarchists, we perceive the need of a multiform anarchist struggle, posing the issue of attack against state and vassalage that is imposed, with every means possible, here and now." (from the self presentation text of the ABC Group)
In this event the comrades from "ABC – Solidarity Cell" will talk about the importance of solidarity with anarchist prisoners and the connection of struggles inside and outside the walls.
Further, the talk will contain a deconstruction of the meaning of the 'anarchist movement' and the myth of the district of Exarchia.
"(…) we do not consider that the action of our anarchist comrades is finished after imprisonment or repression." (from the self presentation text of the ABC Group)
During the event there will be the presence of three anarchist prisoners, via Live-Connection, from Koridallos prison:

– Nikos Romanos
– Panagiotis Argyrou – CCF-Metropolitan Violence Cell/FAI-IRF
– Olga Oikonomidou – CCF-Urban Guerrilla Cell/FAI-IRF
They will talk about the following topics:
– The conditions in prisons and the situation of anarchist prisoners in Greece.
– The importance of solidarity assemblies for the anarchist prisoners and the connection of struggles inside and outside the walls.
– The choice and the importance of the armed struggle, the claim of responsibility for direct actions and the particulars of participation in armed organisations, and the importance and consignment of those choices.
– The choice of jail-breaking.
– The position of women in the armed struggle.
It will be also possible to raise questions to the comrades in prison, so the communication will be in both directions.
Some words from anarchist prisoner Panagiotis Argyrou dedicated to the ABC Festival:
There are times when you feel a certain kind of strength inside you.
This may be happening for different reasons each time but undoubtedly it is always a very positive feeling. Such a kind of strength a prisoner may feel when he/she discovers that there are other individuals wanting a touch, a contact, a communication, a conversation with him/her. It is a very strong feeling, a unique one, the feeling of a great strength filling you all over and this is something priceless. This feeling that you are not alone, that there are other comrades wanting to share moments, experiences or whatever, with you, is something so valuable that only freedom itself can compare with it. So let me thank you very much for the opportunity you offer me to have some contact even if it is for so little. I wish that the future brings us more opportunities so that one day we can have the chance to have a live talk outside the walls. A big warm hug,
Panagiotis Argyrou, member of CCF-FAI
Contacts:
ABC Solidarity Cell Website: https://abcsolidaritycell.espivblogs.net
E-Mail: abcsolidaritycell@riseup.net
Nikos Romanos State prison of Korydallos – Mens prison-ward A', P.C.
18110, Korydallos, Athens
Panagiotis Argyrou State prison of Korydallos – Mens prison-ward A',
P.C. 18110, Korydallos, Athens

Olga Oikonomidou State prison of Korydallos – Womens prison, P.C. 18110,
Korydallos, Athens
Other events @ the ABC Festival Vienna you can find here.
Location:

ERNST KIRCHWEGER HAUS
Wielandgasse 2-4
1100 Wien
Tags: ABC - Anarchist Solidarity Cell, ABC Wien, Anarchist Gatherings, Austria, Conspiracy of Cells of Fire, Exarhia, Greece, International Solidarity, Nikos Romanos, Olga Economidou, Panagiotis Argirou, Vienna
Posted in Prison Struggle
Thursday, April 6th, 2017
On the 7th and 8th of July 2017, when the most successful war criminals of the present, the most unscrupulous sweaters of human and nature, the self-titled leaders of this planet, meet in Hamburg, they will not be confronted and thus be revaluated with some demands for better governance or social enslavement.
They will feel the rage of the street, when they are rushing with their convoys through deserted districts and talk about the nightly attacks of the last few weeks.
This call, like so many others at similar meetings, does not want to lose itself in an analysis of the importance of the G-20 summit or the policy of their participants. The injustice of the world has been declared a thousand times, anyone who now feels no urge to act, does not need another text.
We want to speak of those who are already involved in the struggle against capitalism and its exerting states with their conforming societies – so, of US.
Since Seattle in 1999, summit protests were a catalysator of radical resistance; individuals and groups came together, swapped ideas, were standing together behind the barricades and carried the flame of resistance back to their regions. Even the shots of Gothenburg and Genoa, or the numerous infiltrated snitches could not stop the development of a Europe-wide chaotic network of autonomous / anarchist / antiauthoritarian tendencies. (more…)
Tags: Black Bloc, Counter-Summit, G20, Germany, Hamburg, International Solidarity, Riots
Posted in Autonomy
Wednesday, April 5th, 2017
Responsibility claim for the attack on Adonis Georgiades's bookstore.
On 3/15 we placed and detonated a clockwork explosive device at Adonis Georgiades's bookstore at 263 Kifissias Av.
Adonis Georgiadis is a well known to all … picturesque, saturated and at the same time, a ridiculous political figure, who over the years moves within the (far)-right milieu according to his interests. Now an MP of New Democracy (the main right wing party) he does not miss any opportunity to propagate the neoliberal ideas whether in the parliament or in some television broadcast, being addicted to television as a TV persona. When not selling his nationalist noonsense (such as the books of Kostas Plevris – national-socialist figure) he makes "gifts" of 65 million euros to pharmaceutical companies who trade in human life. Specifically, Georgiades, as health minister in 2014, changed the pricing of drugs in favor of the pharmaceutical industries particularly favoring the Novartis company. Combined with the fact that his wife's name featured in the Lagarde list, it's proven that the TV booksalesman does not limit himself to book sales. (more…)
Tags: Adonis Georgiades, Athens, Conspiracy of Cells of Fire, Enrique Guzmán, Greece, Informal Anarchist Federation (FAI), International Revolutionary Front, International Solidarity, Juan Flores Riquelme, Nataly Casanova
Posted in Direct Action
Saturday, March 25th, 2017
On the 7th and 8th of July 2017 the G20 summit is supposed to take place in Hamburg. The heads of the governments of the 19 richest and most powerful states of the world, accompanied by 6.000 delegation members, surrounded and permanently photographed by 3.000 journalists and of course cordoned off and protected by an army of at least 10.000 police and secret service operatives.
All this is supposed to take place in the middle of Hamburg: in the exhibition halls, in the town hall, in the Elbphilharmonie. Large-scale and multilevel barriers, ID controls, evacuated appartments – the main victims will be the people in the Karoviertel and the surrounding neighborhoods. Especially those, that are already more exposed to frequent controls and harrassments because of the color of their skin, their legal status, their precarious social situation or other reasons.
The residents are supposed to give way for an orchestration of power, a living city is turned into a dead scenery. The main performance is the illusion that the political elites of global capitalism have everything well under control, that they are somehow capable of providing security, peace, livelihood and a real future perspective to the people of the world. (more…)
Tags: Anarchist Gatherings, Arson, Autonome Aktion Europe, Black Bloc, Demo, Fuck the Law, Fuck the Police, Germany, Hamburg, International Solidarity, Riots, Sabotage
Posted in Autonomy
Saturday, March 25th, 2017
Tags: Chile, Enrique Guzmán, Flyposters, International Solidarity, Juan Flores Riquelme, Nataly Casanova
Posted in Prison Struggle
Thursday, March 16th, 2017
In the evening of March 15, International Day against Police Violence, we attacked a prowling Riot Police van in the "dangerzone" (label used by authorities for this Friedrichshain area) of Rigaer Street with many stones.
This was to send a small message of solidarity to the evicted squats in Athens, Villa Zografou and Alkiviadou Squat.
After the attack we left this area and learned from scum media, that a police helicopter came to Friedrichshain in order to find us and that this helicopter was attacked with laserpointer, what resulted in the arrest of three people.
Police started the war in our areas long ago, we must face this aggression. The execution of Hussam Fadel Hossein, Iraqi refugee, in the refugee camp of Kruppstraße in Berlin, on September 27. last year by police officers is one of many connections to the evicted Alkiviado Squat, that resulted in the arrest of many refugees.
And the eviction of Villa Zografou is the connection to the struggle of house projects in Friedrichshain against daily police aggression.

Anarchy and attack
Tags: Berlin, Fuck the Police, Germany, International Solidarity, Rigaerstrasse, Squatting
Posted in Direct Action
Thursday, March 16th, 2017
Conspiracy of Cells of Fire – Nemesis Project – Act 2
Nine Years after the first appearance of the Conspiracy of Cells of Fire in January 2008.
After more than 300 attacks against targets of domination that resulted in tens of millions of euros in damage and the transferring of fear to the camp of power.
After more than 60 arrests of comrades and other individuals over the years who have been accused of being our members and the thousands of years of imprisonment imposed upon them.
After so many times that Ministers and Police Chiefs have declared in the media that they have managed to 'dismantle' us and that "the CCF is finished."
After the inclusion of the CCF in lists of 'terrorist' organizations by the State Department in the US and by Europol in the EU.

… we continue even louder.
With the creation of an international conspiratorial network of FAI and CCF cells in dozens of countries that have carried out and continue to carry out guerrilla attacks.
With even greater passion and tenacity to not only attack the infrastructure of the system but also the people in power.
Always against social apathy.
Always against the oppressors of our lives.
Still they cannot understand that the CCF is an idea and that the idea cannot be imprisoned because it is like the Hydra. For each comrade that is imprisoned, new comrades are ready to take their place and continue on the path of attack.

We still have the rage…
We sent a booby-trapped parcel bomb to the German Minister of Finance within the context of the campaign of the second act of Project Nemesis.
A communique will follow in the coming months.
Comradely greetings to the FAI direct action groups in Chile and Greece for their contributions to Project Nemesis.
Rebellious greetings to the FAI comrades in Italy and the imprisoned members of CCF in Greece who remain unrepentant.
Forward for the Black International of Anarchists of Praxis.
Nothing has ended, everything continues.

LONG LIVE ANARCHY

Conspiracy of Cells of Fire / FAI

via Athens IMC, translated by Insurrection News
Tags: Athens, Black International of Anarchists of Praxis, Chile, Conspiracy of Cells of Fire, Germany, Greece, Informal Anarchist Federation (FAI), International Revolutionary Front, International Solidarity, Letter Bomb, Nemesis Project, Wolfgang Schäuble
Posted in Direct Action
Thursday, March 16th, 2017
On the night of January 28, we burned two vehicles of the company Prosegur near their headquarters in the Bellvitge neighborhood of Hospitalet. We do not think it necessary to justify this attack on these wretched guard dogs.
To carry out this action we have resorted to an old, well known method used by anarchists. The device consists of a small bottle filled with gasoline, a wick with some matches around it.
We want with this little gesture to send all our love and strength to the anarchists accused of having expropriated a bank in Aachen and who have been on trial since January 23rd.

Long live anarchy !!
Tags: Arson, Barcelona, Catalunya, International Solidarity, Sabotage, Spain
Posted in Direct Action
Thursday, March 16th, 2017
In 2015, a comrade from Amsterdam was arrested. She was accused of having participated in a robbery in 2013 against the Aachener bank in Aachen. After a few months spent in preventive and several weeks of trial, she was finally acquitted and released. Nevertheless, it can be assumed that the Aachen Prosecutor's Office will appeal this verdict and go to the revision court.
In April and June 2016, two other comrades, this time from Barcelona, were arrested and incarcerated by the spanish state, accused by the same prosecution office of having participated in another bank robbery. The two were then extradited to germany in June 2016, where they have since been under the U-Haft regime (investigative preventive prison). The trial against them began in January 2017 in the Aachen Justice complex and it is scheduled to run until May 22, 2017.
(more…)
Tags: Aachen, Bank Robbery, Germany, International Solidarity, Trial
Posted in Autonomy
Thursday, March 16th, 2017
March is a month that is particularly full of milestones that invite us with special strength to take to the streets and spread the anarchic agitation, with memory and solidarity as insurrectionist tools of action.
Among these milestones is the so-called 'Women's Day' (March 8), a day that like other commemorations has been assimilated by reformism and the market, offering us the possibility to spread anti-patriarchal ideas and link them with anti-state and anti-authoritarian critiques, marking our differences with social-democratic, leftist and / or authoritarian feminism.
Another important event that occurred in March was the 'Pampa Irigoin massacre' (also known as the Puerto Montt massacre), which occured on March 9, 1969 under the government of Eduardo Frei Montalva. By order of the Minister of the Interior, Edmundo Pérez Zujovic, police agents murdered nine villagers who had illegally occupied a plot of land to live with their families outside the city. As revenge for what happened, Pérez Zujovic was assassinated in June 1971 by members of the armed left-wing group Organized Vanguard of the People (VOP).
Also this month, March 10 marks the sixth anniversary of the murder of comrade Lambros Foundas who was shot dead in Greece during a shoot-out with police after attempting to steal a car. Lambros was a member of the anarchist guerrilla organization Revolutionary Struggle, and as his comrades stated later, the theft of the vehicle was part of a planned operation. (more…)
Tags: Chile, Day of the Young Combatant, Eduardo Vergara Toledo, Enrique Guzmán, International Solidarity, Javier Recabarren, Jonny Cariqueo, Juan Flores Riquelme, Lambros Foundas, Nataly Casanova, Pampa Irigoin massacre, Pérez Zujovic was, Rafael Vergara Toledo, Santiago
Posted in Autonomy
Friday, March 10th, 2017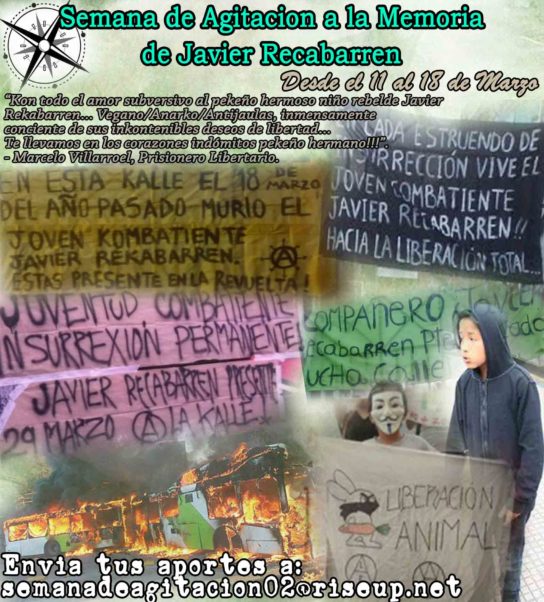 "Kon todo el amor subversivo al pekeño hermoso niño rebelde Javier Rekabarren… Vegano/Anarko/Antijaulas, inmensamente conciente de sus inkontenibles deseos de libertad… Te llevamos en los corazones indómitos pekeño hermano!!!".
–Marcelo Villarroel, Prisionero Libertario. 05/11/2015.
La memoria, un arma en la guerra contra el Poder.
Asumidxs hasta la muerte como enemigxs del Estado, asumidxs hasta las últimas como enemigxs del poder y toda representación de autoridad.
Lanzamos una vez más un llamado abierto de agitación y propaganda a 2 años de la muerte del compañero anarquista Javier Recabarren, quien falleciera el 18 de marzo del año 2015 tras ser atropellado por un bus del transantiago en Santiago, Chile.
Nuestra intención es clara, prevalecer la memoria de un compañero que con apenas 11 de años de edad comenzaba a cimentar su camino en la lucha antiespecista y antiautoritaria conociendo sus ideas a través de la propaganda. Acudiendo a actividades, ferias del libro y manifestaciones; y sin dudarlo, pasó a la acción armando barricadas, atacando a las policías, encapuchándose, para darle vida al desborde desde el anonimato. (more…)
Tags: Chile, International Solidarity, Javier Recabarren, Santiago
Posted in Autonomy
Tuesday, March 7th, 2017
At about 01:40AM on Monday, February 27, 2017, a loud explosion shook the wealthy suburb of Providencia on Suecia avenue between Cornel and Lota streets.
A fire extinguisher filled with gunpowder detonated in the Cap Ducal restaurant in front of the headquarters of the ultra-right political party UDI (Independent Democratic Union) without causing any major damage or any injuries. Immediately after the bombing, police and personnel from GOPE (Group of Special Police Operations) and LABOCAR (Criminal Laboratory of the Carabineros) arrived to inspect the area.
A leaflet was found at the scene which, according to quotations in the media, proclaimed:
"The justice of the street does not forgive nor does it forget. We are getting closer! …The real terrorists are in the Congress, the Palace and the institutions that govern the State..Take note, because we have returned. Neither Chileans, nor Argentines. Internationalists".
The bastard secretary general of the ultra-right UDI, Pablo Terrazas said "We do not want to get used to these facts. This is not the first time that the UDI has been the victim of a bomb attack…It is unfortunate because we know that this comes from the left, who always try to silence us…I would like to see (some reaction from) the Communist Party, an announcement to the left, who are part of this government. Why do they not condemn these facts? There is always silent complicity in this (type of) attack that are always against the UDI"
The investigation of the attack, as with other attacks of this nature is in the hands of the Southern Metropolitan Prosecutor's Office.
Not long afterwards, the Teodoro Suarez Vandalism Gang from the Antagonistic Nuclei of the New Urban Guerrilla claimed responsibility for the explosive attack against the Cap Ducal restaurant. The group previously claimed an attack against the Mutual Circle of Retired Non-commissioned Officers of the Federal Police in Buenos Aires in July 2011.
******
Responsibility claim for the explosive attack against the Cap Ducal restaurant
"We warn you: be careful. In any part of the places you frequent there may be a bomb; In your homes, in your supermarkets, gyms, shops and restaurants. In short, your days of tranquility are over. Your neighbourhoods will be transformed into minefields, so take care of every step you take, because you may encounter our explosive charges."
–Iconoclastic Caravans For Free Will–
Just like we did a couple of years ago in the territory dominated by the Argentine state, bombing its sacrificial banks (Palermo and Nación), the branches of two major airlines (American Airlines and Alitalia) and the Mutual Circle of Retired Non-commissioned Officers of the Federal Police, today we again attacked capitalist interests. This time it was the turn of the Chilean political-business mafia that stubbornly insists on believing that places like the one that we visited last night are safe. (more…)
Tags: Antagonistic Nuclei of the New Urban Guerrilla, Anti-Fascism, Arson, Cap Ducal restaurant, Chile, International Solidarity, Sabotage, Santiago
Posted in Direct Action