Posts Tagged 'International Solidarity'
Thursday, April 16th, 2020
31 March 2020
12 years after the death of Jonny Cariqueo Yáñez, who was assassinated on March 31 by a heart attack caused by a strong beating by the repressive forces of the State of $hile, during his arrest in a police hunt that March 29, 2008 in the commune of Pudahuel.
On the afternoon of March 31 of this year, a few hours from the curfew, we abandoned an homemade incendiary device on a Transantiago bus, for it to catch fire in or near its terminal, in one of the peripheries from the city.
This is an attack on the cruel and bloody machinery that governs civic life, against amnesia, passivity and inertia, attitudes which we reject, even in times of sanitary protection, since the war continues. The political-social-economic crisis that was being experienced in the country, which has been enhanced with the current world health crisis, shows us, once again, the clear interests and priorities of power in preserving the pockets of the rich and their companies rather than looking after the well-being of the common people, the poor people, the people marginalized and hostages of the police state. So we insist on breaking with the tranquility that seeks and promotes power. (more…)
Tags: Anti-Prison, Arson, Chile, Coronavirus, Day of the Young Combatant, International Solidarity, Javier Recabarren, Jonny Cariqueo, Norma Vergara, Santiago, Solidarity Action, Transantiago
Posted in Direct Action
Saturday, April 11th, 2020
On May 13, 2019, two comrades were arrested in Madrid; their houses and the squatted anarchist space La Emboscada were searched by the police. Since then, they have been awaiting trial under the accusation of terrorism, being investigated in relation to different actions against repressive bodies, banks, political parties and real estate.
We do not care if they are innocent or guilty, if they are criminals or terrorists. We do not want to legitimize their spectacle, nor a judicial and political system that the State has created for it's own interests. The only definition that we recognize, and in which we recognize ourselves in complicity, is that of being anarchists. Because we fight to recover our life and our autonomy against this authoritarian system.
For us, the best way to show solidarity is to continue with the struggles we share, that is why so many companions, beaten daily by the system, are present in them and inspire them. A wink of complicity, be they criminals, terrorists or simply anarchists.
Their cages don't stop us
https://quemandoarcas.noblogs.org
Tags: Flyposter, International Solidarity, La Emboscada, Madrid, Operation Arca, Raids, Repression, Spain
Posted in Social Control
Friday, April 10th, 2020
Translated from The Plague and The Fire:
People locked up. Hospitals and intensive care units that cannot cope. Nursing homes converted into morgues. Breweries and aircraft factories open. New construction sites empty. Gardeners in the parks and public transport full of workers. The military patrol whilst police arrest, fine and raid the immigrants gathered in squares.
We are witnessing the acceleration of an historical era. The coronavirus hasn't invented anything. It's a pandemic caused by the logic of capital and in turn is speeding up the systematic crisis of capitalism. It seems important to us to weigh up the catastrophe that we are currently living.
That which concerns every government is not the people but the health of its national economy. That's why, from the beginning, they trivialised the virus saying that by April it will have been forgotten by the whole world, insisting on the continuation of normal life. That of production and commercial activity; that of work and consumption; that of public demonstrations or sporting events. Everything is fine in the kingdom of trade, Ada Colau told us whilst insisting on celebrating the Mobile World Congress.
(more…)
Tags: Coronavirus, International Solidarity, Repression, Spain
Posted in Social Control
Thursday, April 9th, 2020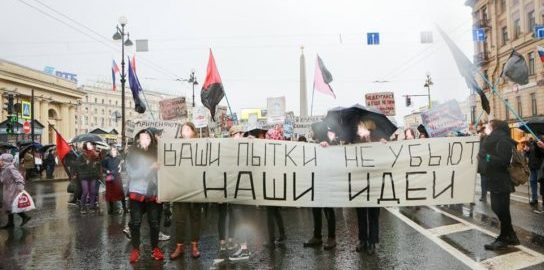 From ABC Dresden:
Around a month ago before the whole Europe was locked down by the national states, anarchist movement in different parts of the world was shaken by the news from Russia around "Network Case". Liberal news portal "Meduza" published information that some of the defendants from Penza were involved in murder of two people while they were on the run. This information brought back the topic of how we organize our solidarity and what are the limits of our solidarity. Although we are not located in the region, we have a connection to our comrades in Russia. We organized many solidarity events for those prosecuted under "Network" case in the city of Dresden. For example, an evening at the end of December, where we encouraged people to write to Russian Anarchists and Antifascists in prison.
This text is not an attack on the solidarity campaign or the anarchist movement in Russia. We are writing it to proceed with further discussion – only that way we can learn and avoid repeating the same mistakes as before.
"Network" creation
We think most of the people who are going to read this text already know the history of the case. But we will repeat a short version of it so everybody is on the same page here. (more…)
Tags: "Network Case", ABC Dresden, Analysis, Germany, International Solidarity, Russia
Posted in Prison Struggle
Tuesday, April 7th, 2020
Translated by Enough 14 from Madrid Cuarentena City:
We've been in a state of emergency for over a week now. The destructive capacity of the virus is no longer in question. But we would like to make some notes on its non-clinical consequences and on its origins.
Whether the COVID-19 virus came about because of a bat or an American attempt that has gotten out of hand, to disable the Chinese economy, we think is irrelevant now. This virus, like others before in history that massacred entire populations in the Amazon, Mesoamerica, Africa and Oceania, is a biological phenomenon. But the context in which it was born, how it spreads and how it is managed are social issues. This virus is the result of a system that commodifies every process, object, relationship or living being on earth. Spread rapidly across the macro-concentration of labour and the consumer corpus of cities, which feeds itself from agro-industry and intensive livestock farming. A flow of human assets (5 billion people fly around the planet each year) at frenetic speeds, reflected in 200 characters and 5000 likes.
It is precisely this effort to artificialize everything, even our emotions, everything being driven by profit, seeing the world through a screen, allowing our mind to be colonized by "efficiency", which has led to a gradual loss of the "human", of the "living". Facilitating such extreme measures, in which there are only two reasons to get out of the house (work and consume) have entered in a way that is not exaggeratedly traumatic. At the same time, it is proposed to us as a way to escape the same technophile dynamics that have led us to disaster. If we add fear to it, the rule of fear, we end up losing our way and reinterpret concepts like responsibility or solidarity.
(more…)
Tags: Coronavirus, International Solidarity, Madrid, Repression, Spain, Technological Singularity
Posted in Social Control
Sunday, April 5th, 2020
For a few weeks now, almost three billion people have been forced into home detention.
In Italy, as in other parts of the world, the first people who rebelled against the worsening conditions of their survival, the prisoners, have been repressed with dead and wounded.
While science proposes conflicting theses, part of the scientific community states that the quarantine period, although in alternating phases, will last at least until next year.
The state, however, has already chosen which truth to propagate to justify the measures taken. Forced isolation at home is being prolonged, the only proposal-constriction made to the population is to obey and wait by watching and self-surveillance… but for how long?
For now the end of the measures has been postponed until April 13th, but most likely there will be further extensions…
April 25th is the feast of liberation. Liberation not only from Nazi-Fascism, but from all forms of oppression.
The oppression of living in a world where movements are continuously controlled and monitored, with checkpoints, soldiers everywhere, drones, cameras, electronic bracelets.
The oppression of being individually considered as infected if we do not respect the laws and think that socializing and the possibility of going out are not transferable in exchange for the security of survival.
The oppression of living in terror of the invisible, because the problem is not the virus, but the ecological and social conditions in which it spreads. (more…)
Tags: Anti-Fascism, Climate Chaos, Coronavirus, Demo, Dictatorship, International Solidarity, Italy, Repression, Surveillance
Posted in Autonomy
Sunday, April 5th, 2020
FR | En mai, fais ce qui te plaît – Un appel au conflit
EL | Διεθνές κάλεσμα για έναν Επικίνδυνο Μάη
In May, Let's Play : A Call to Conflict
Here we can easily realize that rubbing alcohol gel can be used equally well to disinfect our hands as to start a fire.
In other terms: that we don't need guidelines from the state to take care of our friends, and, once we have taken care of the question of survival, we have nothing better to do than go out looking for ways to strike a damaging blow. More than ever we are in need of revenge and true friendships.
Now that we are stuck in this futuristic system, our only solution is to declare war on normality, if we don't want to die in asepticized boredom.
We face a dual movement. On one side it seems that power has never been so strong, winning its compliant citizens' hearts and minds. On the other hand, it seems that it never had to manage such a complex situation (at least since we were born).
Therefore, we can maybe conclude two things:
First of all, it is not about waiting for any masses that would wake up to confront it.
Secondly, the moment seems favorable for attack.
Favorable here doesn't mean the ONLY good moment. It's always the good moment to fight.
No, favorable here means that our opponent is totally busy with other things, and we cannot know what exactly will be the consequences of our actions (in such an unprecedented situation), neither if we will have another opportunity soon.
(more…)
Tags: Coronavirus, Dangerous May, International Solidarity, Sabotage
Posted in Autonomy
Saturday, April 4th, 2020
Greece : Transfer of Pola Rοupa to the prison of Eleonas in Thebes and update on the situation in the Greek prisons
We are experiencing the deepest systemic crisis that is killing. Covid 19 was created by deep poverty and inequality. Doctors have already spoken out about the new poverty conditions that all kinds of epidemics are hatching in different parts of the globe. Covid 19 is a child of inequality, and as it gets deeper, new viruses may be born that may be even more murderous than this coronavirus. Isn't it time for political criticism? But it is the very system of capitalism and the market economy of political oligarchy called representative democracy that creates an ever-widening gap between wealth and poverty, resulting in an ever-increasing poverty spreading across many countries on the planet.
A prominent pulmonologist who has publicly raised the issue of extreme poverty as a cause of the pandemic and has said that if inequality is not addressed, we will continue to have such pandemic phenomena, never again appeared on television screens. The way covid 19 is treated is also done according to social and class conditions, although the system is essentially responsible for this development. Covid 19 may not discriminate against who it hits, but not everyone has the luxury of proper care (large homes with compliance with safety and hygiene, good nutrition) and not everyone has the ability to purchase overpriced materials to protect themselves, especially now with the millions of unemployed in Greece, locked in their homes and even exposed to hunger. Patients with covid 19 no longer have access to public hospitals that are already under the weight of the pandemic due to shortages of materials, infrastructure, and staff, while diagnostic tests are limited. (more…)
Tags: Analysis, Coronavirus, Greece, International Solidarity, Letter, Nikos Maziotis, Pola Roupa, Prison Transfer, Repression, Revolutionary Struggle
Posted in Prison Struggle
Friday, April 3rd, 2020
PDF: PUBLICACIÓN MUNDO COVID-19.1
Corrected: "Sus virus Nuestros muertos" [their virus our deaths], Pieces et Main d'oeuvre (France)
MUNDO COVID-19, Nº 1
LAS EPIDEMIAS EN LA ERA DEL CAPITALISMO
– Recopilación de textos de análisis internacionales durante el estado de alarma.
https://contratodanocividad.espivblogs.net/
contratodanocividad@riseup.net
Tags: Analysis, Anti-technology, Contra toda Nocividad (Zine), Coronavirus, International Solidarity, Mundo Covid-19, PDF, Repression, Spain, Technological Singularity, Zine
Posted in Library
Wednesday, April 1st, 2020
FR | L'état-prison Royaume-Uni devient loi : le coronavirus
The Coronavirus Act 2020 in the UK is now in force for the next two years. It is a totalitarian coup by a right-wing government which has already shown it's utter contempt for the judiciary, for parliament and for the people. Many of the provisions of this Act are already experienced by those on the margins of society, by dissidents, those in the prison and criminal justice system, the poor, and ethnic groups consistently disposed of by the police and the system, through poverty, imprisonment and death. Now the grand experiment is whether the kind of control infrastructure and total suspension of rights already administered to particular groups can be rolled out to the entire population.
The most manipulable provisions come, as ever, under the Mental Health sections. Always a good catch-all since dissidence, illegality and criticism of the existent is already considered by the system to be tantamount to mental illness, people can now be hospitalised and medicated on the say-so of a single approved clinician. This power of one also decides the fate of those awaiting trial, convicted persons (we wonder whether that refers to anyone with a criminal record regardless of their current status) and those currently serving prison time: the Act allows a single person to sign off on a transfer from a prison to mental hospital. To the cynical, it might imply that unruly prison populations or undesirables (either currently or historically) are now living under the threat of being summarily detained or if already detained, then transferred and sedated with a no-questions-asked decision by a single clinician.
(more…)
Tags: Analysis, Anti-Fascist, Anti-Psychiatry, Coronavirus, Coronovirus Act 2020 (UK), Dictatorship, International Solidarity, Repression, UK
Posted in Social Control
Monday, March 30th, 2020
COMBATIENDO EL AISLAMIENTO DENTRO Y FUERA DE LAS PRISIONES
CONTRA LA COMODIDAD Y EL ESTANCAMIENTO
NADA HA ACABADO
TODO CONTINÚA
SOLIDARIDAD CON GABRIEL POMBO DA SILVA
Y CON LXS COMPAÑERXS PRESXS EN CHILE, ITALIA, GRECIA Y TODO EL MUNDO.
Tags: Anti-Prison, Chile, Flyposter, Gabriel Pombo da Silva, International Solidarity, Riots, Santiago, Social Insurrection
Posted in Autonomy
Friday, March 27th, 2020
We're all living quite a situation here. Before the virus had got near most of us, we were thrown into this necessary mode of life called social-distancing. Our lack of knowledge and the speed it has covered the globe and is transmitting within the locations we live has produced feelings of shock, confusion and fear. While these feelings make sense, we should also recognise and counter the tendency that they produce towards individualism and isolation.
Fear. Individualism. Isolation. Currently the circulation of these sentiments is exponentially bolstering the power of the state. As Crimethinc have said, "social distancing must not mean total isolation. We won't be safer if our society is reduced to a bunch atomised of individuals". Such an atomised society is the path to least resistance. Even as the virus spreads we must not become too isolated and disconnected from each other to be able to resist state control and the implementation of measures that fuck most of us over in a desperate attempt to save the economy.
We've never organised in a situation like this before. We've never organised where the idea that to be responsible to each other requires us to stay away from each other is common sense. And yet, we're still finding ways to set up networks of mutual aid and support, to get supplies to people who need them. As things progress – as what is a medical- scientific issue expands further and further into the terrain of the social – we'll find ourselves returning to the things we always knew, that we'd learnt in all our experiences of struggle and resistance.
Consider this a simple reminder of some of those things, to keep them in mind now, before fear and isolation means we've ceded too much ground to an increasingly authoritarian state. (more…)
Tags: Analysis, Australia, Coronavirus, Flyposter, International Solidarity, PDF, Racism, Repression
Posted in Autonomy
Thursday, March 26th, 2020
PDF: Quale internazionale? Intervista e dialogo con Alfredo Cospito dal carcere di Ferrara. Terza parte (Vetriolo, giornale anarchico, n. 4, inverno 2020)
Il testo che riportiamo qui è la terza e ultima parte di "Quale internazionale? Intervista e dialogo con Alfredo Cospito dal carcere di Ferrara", pubblicata nel mese di marzo 2020 nel numero 4 del giornale anarchico "Vetriolo". Le parti prima e seconda sono state pubblicate rispettivamente nel numero 2 (autunno 2018) e 3 (inverno 2019). Data la complessità e la vastità degli argomenti trattati e del testo stesso, non è stato possibile pubblicarlo integralmente in un solo numero del giornale e si è scelto di suddividerlo in tre parti. Tutto lo scritto verrà stampato in un volume di prossima pubblicazione.
Con l'occasione, segnaliamo e correggiamo un errore presente nella terza parte (invitiamo a fare attenzione a questo passaggio durante la lettura del giornale). L'errore si trova nella quarta colonna di pagina 11, righe 4 – 11. Per una maggiore comprensione riportiamo l'intera frase: «Questo concetto può riacquistare un senso, una sua concretezza, una sua attualità solo se accompagnato dalla «rivolta», dalla violenza. La «rivoluzione» si accontenta del "pathos" (sentimenti, passioni, fascinazione) e della "praxis" (azione distruttiva, la propaganda del fatto, la violenza)».
L'errore è nella parola «rivoluzione», cui bisogna sostituire «rivolta». Quindi la frase corretta è: «Questo concetto può riacquistare un senso, una sua concretezza, una sua attualità solo se accompagnato dalla «rivolta», dalla violenza. La «rivolta» si accontenta del "pathos" (sentimenti, passioni, fascinazione) e della "praxis" (azione distruttiva, la propaganda del fatto, la violenza)».
Per richieste di copie: vetriolo[at]autistici.org
Tags: Alfredo Cospito, Analysis, Ansaldo Nucleare, Attentat, Black International, Counter-info, Ferrara, Informal Anarchist Federation (FAI), International Revolutionary Front, International Solidarity, Interviews, Italy, Nucleo Olga FAI/FRI, PDF, Roberto Adinolfi, Sabotage, Vetriolo
Posted in Interviews
Thursday, March 26th, 2020
Frente a las crecientes medidas de excepción por el Covid-19, en Porto Alegre salimos a colar unos afiches, para que el miedo no sea el único estímulo en las calles.
Porque sabemos que cuando el poder dice preocuparse por nosotros, necesitamos urgentemente desconfiar de él.
La normalidad que defienden, en estos tiempos de pandemia, saldrá triunfante de ella, con un control propio de un estado de guerra, impuesto en nombre de la salud y seguridad. Así, para nosotrxs, lxs anárquicxs, es imposible defender esa normalidad, no defenderemos una vida de miseria. Por eso, no retrocedemos al colmo de fomentar plataformas alternativas, consumos alternativos, espiritualidades alternativas, lecturas alternativas, sumisión alternativa que ayuden a pasar la cuarentena online. (more…)
Tags: Brazil, Coronavirus, Flyposters, Gabriel Pombo da Silva, Ilya Romanov, International Solidarity, Marco Camenisch, Porto Alegre, Sabotage, Vandalism
Posted in Direct Action
Wednesday, March 18th, 2020
PDF: Portada – Memoria y Combate
PDF: Libro – Memoria y Combate
La presente publicación nace con la intención de difundir destellos de la vida de un anarquista de la región chilena que falleció producto de un accidente. La publicación busca ser un aporte para la construcción de la memoria combativa, que, en este caso y como podrán encontrar en sus páginas se ha manifestado con diferentes gestos concretos a lo largo de los años con iniciativas, propaganda, sabotajes, fuego, reflexiones, anécdotas y más, gestos anónimos por el compañero y que hoy son compilados y salen a la luz en un nuevo formato. Para nosotrxs la muerte de un anarquista no puede pasar desapercibida, sea la forma que sea su muerte. Un/a compañerx que asume su vida en permanente lucha contra la opresión, la explotación y el poder en sus múltiples formas y concreta sus ideas en hechos es totalmente dignx de rescatar, difundir y replicar, es por eso que no olvidamos a Javier Recabarren, su muerte es un llamado para continuar firmes en la praxis subversiva anarquista. (more…)
Tags: Chile, International Solidarity, Javier Recabarren, PDF, Santiago, Zine
Posted in Library