Posts Tagged 'International Solidarity'
Thursday, November 16th, 2017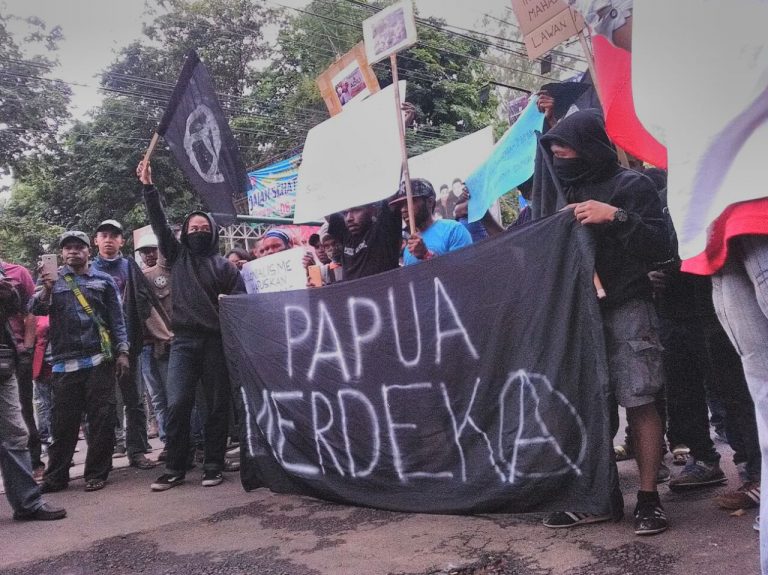 Freedom for Papua
15 November 2017
Solidarity between various alliances including Libertarian Student Federation (FML), Papuan Student Alliance (AMP) in the small town of Salatiga, at the Satya Wacana Christian University. This solidarity is a nationwide call from the KNPB (National Committee of West Papua) in order to give pressure to the Indonesian government to give rights to West Papuan independence and autonomy. In this case, anarchists and libertarians limited their solidarity for the full autonomy and freedom of West Papua from Indonesian state and not supporting the creation of West Papua as a nation-state.
Anarkis/FML
–
Salatiga (Jawa Tengah)
Solidaritas antar berbagai aliansi termasuk diantaranya Federasi Mahasiswa Libertarian (FML), Aliansi Mahasiswa Papua (AMP) terjadi di kota kecil Salatiga, tepatnya di Universitas Kristen Satya Wacana. Solidaritas ini merupakan seruan dari KNPB (Komite Nasional Papua Barat) dalam skala nasional untuk menekan pemerintah Indonesia agar memberikan hak untuk menentukan pilihan bangsa Papua Barat. Dalam hal ini, kaum anarkis dan libertarian, membatasi solidaritasnya dalam bentuk otonomi bangsa Papua Barat dan bukannya disintergrasi yang akan menciptakan negara baru lagi.
Videos Links (click on the links below):
Some anarchist students make their way out of campus
Demonstration outside of University
Tags: Demo, Indonesia, International Solidarity, Salatiga, West Papua, West Papua Independence
Posted in Direct Action
Tuesday, November 14th, 2017
From Athens IMC, Actforfreedomnow:
On Sunday 31st of August, a little before dawn, we carried out an armed intervention against the Mexican state, by shooting at the building of its embassy in Athens. On Wednesday 9th of October, at quarter to five a.m. we carried out another armed intervention against the French state, by throwing a hand grenade next to the guard of its embassy in Athens, opposite the Greek parliament. These two aggressive actions of our organization, together with our first armed intervention on the 25th of May 2014 against PASOK, defy in deed the armed domination of the Greek state and at the same time they express the vision of social revolution and of the dissolution of authoritative institutions here and now.
In order to construct a revolutionary movement on sturdy foundations, we must study the defeats of the past. We must focus on the contradictions of past movements and analyze the dynamics of class antagonism today, as a result of a historical evolution. The totalitarian capitalist aggression, which began two and a half decades ago and spreads around the globe, is connected to the fundamental crisis of the socialist movement.
The main contradiction which brought about the demise of the revolutionary wave of the 20th century is statism. Parliamentary democracy, dictatorship of political parties and, at the same time, the repression of workers' self organization implanted bourgeois authority in the loins of social revolutions, ever since the French revolution. The revolution in Russia was led by a political and technocratic elite. (more…)
Tags: Analysis, Athens, Attentat, Christoforos Marinos, Embassy, France, Georges Ibrahim Abdallah, Greece, Grenade, Hezbollah, Insurrection, International Solidarity, Mexico, Michalis Nikolopoulos, Nikos Maziotis, Organization for Revolutionary Self-Defense, Panagiotis Argyrou, Remi Fraise, Savvas Xiros, SY.RIZ.A., Turkey, Type C prisons
Posted in Direct Action
Monday, November 13th, 2017
On the morning of October 28, 2017, comrade Konstantinos 'Dinos' Yagtzoglou was captured by the anti-terrorist police. The arrest order, issued by Special Prosecutor E. Nikopoulos, was based on accusations of belonging to a terrorist organization and attempted murder for the letter bomb attack against former-Prime Minister Papadimos. The accusations are based on a mixture of genetic material that was allegedly collected and stored from objects following clashes with law enforcement during a demonstration in 2011, in which the comrade was arrested. This mixture, supposedly related to the explosive attack, is alleged to have been found by the police in the remains of the letter bomb, along with the DNA of Papadimos. The charges against the comrade, combined with the material allegedly found in his possession during his arrest have led to him being prosecuted under the 'anti-terrorism law' (187A).
On the same day, a comrade from Konstantinos's circle of friends was arrested. It is a constant tactic of the anti-terrorist unit to target people from an arrested person's family or circle of friends as a form of intimidation, and as an attempt to politically and physically isolate detainees. On October 29, Dinos was brought before the investigating judge for a continuation of the detention order, and was warned that he only had 3 days to prepare for his hearing. (more…)
Tags: Conspiracy of Cells of Fire, Greece, International Solidarity, Konstantinos Yagtzoglou, Loukas Papadimos, Repression
Posted in Prison Struggle
Saturday, November 4th, 2017
Copenhagen, Denmark
In the night between the 17th and 18th of October we vandalized the entrance of the Argentinian embassy in Copenhagen with paint. We also wrote the name Santiago Maldonado and a circled A.
We did this because the Argentinian state is responsible for the disappearance of the anarchist Santiago Maldonado that happened more than two months ago. A few days after our action we heard the sad news that his dead body had been found. The state and the police are responsible! We are angry!
Some anarchists.
Tags: Argentina, Copenhagen, Denmark, International Solidarity, Paint attack, Paint bombs, Sabotage, Santiago Maldonado
Posted in Direct Action
Sunday, October 29th, 2017
'Eliminando la spazzatura' da L [it]
'A quitar la basura' por L [es]
"There are so many stupidities, lies, fakes that it is almost impossible to respond in the rhythm indicated… lies after lies and a rhythm of vertiginous updating.
Millimeter by millimeter it is necessary to remove this trash… without discussion, without half-tints and without space for dialogue. Since always we were quite critical of the anarchist pages that began to publish ITS and its derivations… it was to give them space in view of the "novelty", to feed egos and messianic delusions that today we have to pay dearly."
From comrades in Chile
The eco-fascist and nihilist-right groupscule ITS Mexico, which originated from individualist and anti-technology ideas and which has begun attacking and threatening anarchists in Mexico and elsewhere, has established itself as an irrationalist authoritarian tendency, carrying out reactionary and repressive actions designed to inflict injuries and deaths against random individuals in the name of their religious concept, Wild Nature. In their exhortations to this sacred ideal, their militants have built a Church of ideological purity, repenting of their anarchy and gathering unto themselves an ultra-moralistic and sycophantic internet choir of shit-talkers, fakes and show-offs. (more…)
Tags: Analysis, Chile, Conspiracy of Cells of Fire, Eco-Extremism, Individualists Tending Toward the Wild (ITS), International Solidarity, Mexico, UK
Posted in Eco Struggle
Sunday, October 29th, 2017
Grecia – Arrestado un anarquista acusado de pertenecer a la CCF y de haber participado en el ataque contra el ex-primer ministro Papademos [es]
According to info via Athens IMC, comrade Kostantino Y. has been arrested and is suspected by the security forces of being involved in the letter-bomb attack against technocrat ex-prime minister and IMF employee Loukas Papadimos which took place in May 2017. The attack led to deep wounds to Papadimos and injuries to two other people accompanying him inside the vehicle he was in. Papadimos was hospitalised for a month.
The hostage comrade was inflicted an injury to his leg early Saturday morning during his violent kidnapping by the counter-terror unit. Apparently Kostantino is going to be charged with many felonies. Today he will be taken to the investigating judge where there will be a concentration in solidarity at the court.
This repressive action by state forces won't go unanswered and comrades in the struggle internationally should be aware of this latest move.
Corporate media reported from the police that Kostantino had been under surveillance for two weeks before being caught carrying eight forged ID cards, two guns, ammunition, an explosive device rigged with a timer and gunpowder in three hold-alls, a plastic garbage bag and a fanny pack. The police spread in the media also that the comrade was clearing out a safe house rented in a false identity. The police suspect him of links to Conspiracy of Cells of Fire and implicated him in several unsolved letter-bomb actions including the attack against German Finance Minister Wolfgang Schäuble. It doesn't matter if Kostantino Y. is guilty or innocent of the charges, no comrade is left alone!
Solidarity to Kostantino G: 29/10 19:00 Polytechnic Athens
OPEN ASSOCIATION OF SOLIDARITY TO KOSTANTINO Y.
Day / Time: 29/10/2017 at 7 pm
Location: EXARCHIA / GINI
OPEN ASSOCIATION OF SOLIDARITY IN KOSTANTINO Y. FIRST CASUAL INFORMATION. ALL THERE. NO COMRADE IN THE HANDS OF THE STATE.
Tags: Athens, Conspiracy of Cells of Fire, Greece, International Solidarity, Konstantinos Yagtzoglou, Loukas Papadimos, Raids, Repression, Wolfgang Schäuble
Posted in Social Control
Friday, October 27th, 2017
Chile / Brazil: Solidarity Is Action
As has been reported in some media and blogs, at dawn on October 25th in Brazil the civil police of Rio Grande do Sul invaded anarchist spaces and homes in the context of an investigation into attacks on banks, police stations, car dealerships and headquarters of political parties carried out by anarchists over the last four years in Porto Alegre.
All of this occurred on the eve of the 8th Annual Anarchist Book Fair in Porto Alegre, that was scheduled to begin on the 27th of October but has now been cancelled until further notice in light of the events that have taken place.
The police have named this new repressive coup against anarchists 'Operation Erebo'. In Greek mythology, Erebus (blackness) was a primordial god of darkness and shadow. (more…)
Tags: Brasil, Chile, International Solidarity, Operation Erebo, Porto Alegre, Raids, Repression, Sin Banderas Ni Fronteras
Posted in Social Control
Tuesday, October 24th, 2017
No to State, No to war. Yes for self-administration and the Social revolution
Immediate call to all our comrades Anarchists and Libertarians wherever they are
A direct and special call to our comrades Anarchists and Libertarians Arabic-speaking
No to State, No to war. Yes for self-administration and the Social revolution
For years and years we, anarchists and libertarians in Iraqi "Kurdistan", Europe and other countries all our publicities and our slogan have been about Yes for self-administration in everywhere and for all the communities, but No to State.
We raised our voice against the Kurdistan Regional Government (KRG) and its very recent scenario of referendum on "independent Kurdish State". We are very sure the other anarchists among Arab, Turkish, Assyrian and others had the same attitude. We also believe the same attitude from our anarchist comrades throughout the world to say no to State, authority, nationalism and to be against the nationalist and against pro-fascist war. (more…)
Tags: Anti-War, Civil War, International Solidarity, Iraq, Kurdish-Speaking Anarchist Forum (KAF), Kurdistan, Revolution, Syria, Turkey, War
Posted in Autonomy
Saturday, October 14th, 2017
On November 16th, at 10 am, in front of the high security court in Turin, will be held the first hearing of the trial Scripta Manent, and it will be a long-running case, in which 22 anarchist comrades are charged, and seven of them are still in prison.
The repressive State apparatus accuses a part of the anarchist movement of attacking it with the practices of: destructive direct action against its structures and agents, realization and distribution of anarchist publications, and support for revolutionary prisoners.
The theorem of prosecutor Sparagna is that the positions of accused comrades are isolated and distant from the anarchist context.
It is a blatant attempt to factionalise and confine the anarchism to certain fenced enclosures, legal and interpretative.
We demolish the attempt to isolate these comrades and we affirm that the practices and positions they are accused of, constitute a patrimony of all anarchists and revolutionaries, and we reaffirm our closeness and our solidarity with the defendants.
We make a call to take part in the gathering on Thursday, November 16th, at 10 am, in front of the high security court of "le Vallette" Turin prison, and we relaunch the call for international solidarity with all anarchist, rebel and revolutionary prisoners; in any place and in accordance with the modalities that each person considers more appropriate.
Tags: International Solidarity, Operation Scripta Manent, Trial, Turin
Posted in Prison Struggle
Saturday, October 14th, 2017
An international call for a week of action against speciesism, from October 30 and November 5, has been launched through social media. It encourages folks to carry out all kinds of actions, from street propaganda (paintings, posters, distribution of leaflets …) to workshops/forums and debates in your meeting spaces, to self-organizing various actions against specific businesses with the tools that each person may consider appropriate, to mass mobilizations and demonstrations.
May each one be organized as it suits each one involved, and may they shake all the cages. In memory of Barry Horne and all the human and nonhuman victims of speciesism and domination.
Both individual and collective measures of struggle are valid; from diffusion actions to mobilizations.

Solidarity between species is not just a written word!

The call out translated in several languages
Tags: Animal Liberation, Barry Horne, International Solidarity, Solidarity Event
Posted in Eco Struggle
Thursday, September 28th, 2017
On Wednesday more than 100 cops raided 14 apartments and a store in Hamburg and the German state of Schleswig-Holstein. The cops confiscated 7 iPhones during the raids. On October 1 there will be a demonstration to Billwerder prison in Hamburg. Many of the NoG20 prisoners are imprisoned in Billwerder. We also publish some of the addresses of NoG20 prisoners and the next trial dates. Earlier today NoG20 prisoner Orazio was released.
The cops confiscated 7 iPhones during the raids. The cops claim the iPhones were stolen as a mobile phone store was looted during the NoG20 protests in Hamburg on July 7. In a press conference the cops yesterday claimed that they are investigating 2000 people, but expect that this number will rise to 3000. Given the fact that yesterdays raids were based on located mobile phones that were allegedly stolen in a mobile phone store during the NoG20 protests, its possible that the 180 men/women strong special investigation squad "Black Bloc" actually don't seem to have that much. But activists should be aware that the cops are also investigating video material from public transport companies and that they use face recognition software to identify people. The 180 men/women strong task force will continue to investigate in order to repress as much people as possible, so stay alert. (more…)
Tags: G20, Germany, Hamburg, International Solidarity, Raids, Repression
Posted in Social Control
Thursday, September 28th, 2017
Transnational Gathering for G20 Prisoners Support from November 3rd until November the 5th, 2017, at the Rote Flora in Hamburg.
The campaign "UNITED WE STAND" is a loose network of different people and groups to support the ones who face repression after the G20 summit in Hamburg. Our focus is to support them during prison and trial.
We invite in particular those who have comrades, friends and relatives in jail because of the G20 summit – to get to know us, exchange experiences, come together, develop ideas and strategies and to learn from each other. We want to gain more power together to handle repression.
During the gathering, we want to develop future action strategies, it's not a wrap-up.
The schedule
Friday: arriving, food and get to know each other
Saturday: breakfast, actual situation of prisoners and trial, we
would like to discuss the following topics
Trial
Support
Networking
Sustainability
Sunday: demonstration the the jail in Hamburg-Billwerder with a manifestation with greetings, music and encouragement.
We welcome your ideas and suggestions for the weekend, please tell us
with the application.
Please write us if you come as soon as possible, thereby we can support
you with your expenses and to find a place to stay.
See you in November "UNITED WE STAND"
application: international.gathering [at] riseup [dot] net
sleeping: unterschlupf [at] riseup [dot] net

via enoughisenough14.org
Tags: G20, Germany, Hamburg, International Solidarity, Rote Flora, Solidarity Event
Posted in Prison Struggle
Monday, September 25th, 2017
On September 23, a group of Kiev anarchists held a picket outside the Belarusian embassy in solidarity with the anarchist prisoners. Activists unfurled a banner that said "DEATH TO THE DICTATOR!" and hung an effigy of Lukashenko on the fence of the embassy. At the moment, the Belarusian regime is holding anarchist comrades Dimitry Polienko and Kirill Alekseev in their dungeons.
We demand the release of all Belarusian political prisoners and express solidarity with their struggle for freedom against the dictatorial regime of Lukashenko. The death of the dictator is the only thing that will give the Belarusian people the opportunity to breathe freely.
Recently we have learned that the diplomats have already protested in connection with our last action. Anarchists will continue to carry out solidarity actions at the Belarusian embassy and violate the tranquility of the diplomatic corps, as long as there are political prisoners in the prisons of Belarus.

via Redvia, translated by Insurrection News
Tags: Belarus, Demo, Dictatorship, Dimitry Polienko, International Solidarity, Kiev, Kirill Alekseev, Solidarity Action, Ukraine
Posted in Direct Action
Thursday, September 14th, 2017
Here's a list of reported events so far that happened for the international week of solidarity to anarchist prisoners, reports from various counter-info sites via solidarity.international. Freedom to all the imprisoned comrades, and good luck to all those with warrants and investigations!
Multiform combat against global tyranny, irreducibility to the advance of state terrorism [Portugal]
Graffiti in Nizhny Novgorod, Russia
Three actions of solidarity in Moscow, Russia
Solidarity action in Saratov, Russia
Solidarity event in Zlin, Czech
Graffiti in support of Anarchists Prisoners in Tomsk, Russia
Solidarity event in Brno, Czech
Solidarity Action for Prisoners in Turkey and Worldwide
Letter writing event in Murmansk, Russia
Day of solidarity with anarchist prisoners in Minsk
Solidarity street art with anarchist prisoners. Khabarovsk, Russia
Letter writing evening in Irkutsk, Russia
Graffiti-raid solidarity with Russian anarchist prisoners. Krasnoyarsk, Russia
Solidarity action for prisoners in Graz and worldwide
Radiofragmata on the international solidarity week for anarchist prisoners
Proposal to create an International Anarchist Defence Fund
Tags: International Solidarity, International Week for Anarchist Prisoners
Posted in Prison Struggle
Tuesday, August 29th, 2017
Llamado internacional a manifestarnos por la aparición del compañero Santiago Maldonado. Desaparecido por el estado Argentino durante la represión a la comunidad mapuche el 1º de agosto en la lof en resistencia de cushamen (Chubut-Arg.). Este hecho nos demuestra una vez mas lo siniestro del estado y sus verdugos.
El primero de septiembre se cumple UN MES de la desaparición del "Lechu" "el Brujo". Un mes en el que el Estado y los medios de comunicación en mas de una oportunidad justificaron la desaparición y en otras tergiversaron la información, llegando a culpar a la comunidad mapuche y a su familia.

QUE LA RABIA Y LA ACCIONES DESBORDEN!
LA SOLIDARIDAD NO DESAPARECE!
Tags: Argentina, International Solidarity, Repression, Santiago Maldonado
Posted in Social Control