Posts Tagged 'International Solidarity'
Monday, July 24th, 2017
Appeal for solidarity against the punitive isolation of anarchist prisoner Davide Delogu
On July 18, a hearing was held at the Cagliari Court of Appeal for a complaint made by Davide against the conditions that he is being subjected to at the prison of Augusta.
Via the details of the complaint we learned that Davide, who is already subjected to the Article 41-bis prison regime, is undergoing a very extreme torture, he was 'sentenced' to six months of punitive isolation.
Complete isolation, in an underground cell, no TV or radio, no contact with other prisoners and without ever seeing the sun. In addition to this his correspondence is subject to censorship. The only people he ever sees are the guards and his lawyer.
Unfortunately we have only just learned that he has been living under these conditions for two months now. (more…)
Tags: Davide Delogu, International Solidarity, Italy
Posted in Prison Struggle
Friday, July 21st, 2017
International solidarity week for anarchist prisoners
This year, the International solidarity week for anarchist prisoners will be spent for the fifth time in 23rd to 30th August and we come stronger than ever!
Some political prisoners are already supported, but far from all of them. Also, the supported are usually involved in authoritarian politics and not grassroots activities. Anarchist prisoners are not often well-known people, even though they might be long term activists. Their ways to fight back oppressors and wrongdoings are not necessarily following the current laws of their location, which is judged by some authoritarian organisations. The vast amount and diversity of cases of anarchist prisoners is surprising to many.
We wanted to choose a week, so that it would be easy as possible to organise different kinds of expressions of solidarity, which would be supported by one another. The beginning of the week was chosen to be the execution date of Sacco and Vanzetti, two Italian-American anarchists, in 1927. They were convicted with very little amount of evidence, and many still consider that they were punished from their anarchist views.
Welcome to join!
Solidarity can express itself in many forms.
Please report us your done actions to the address tillallarefree@riseup.net. You can also announce your event in advance in the same address, we list them on our page http://solidarity.international/. From the pages you can also find examples and tips of actions and support mail to anarchists, links to prisoner lists and more.
Tags: International Solidarity, International Week for Anarchist Prisoners, Sacco and Vanzetti
Posted in Prison Struggle
Friday, July 21st, 2017
In a time of open hunt against anti-G20 protesters by the cops, the media and "the public" (including demands for a lynch law circulating on the internet), it is essential to remember those who were injured during protests against the G20 summit in Hamburg and the dozens who are still under investigation and caged by the German State.
No consideration however for a large part of society that, together with public authorities and their media, not only accepts the police state we witnessed in Hamburg, but also wants to see it reinforced.
It is now time for groups and individuals to organize solidarity events, raise donations, and express all kinds of support with those imprisoned, e.g. letter writing as soon as contact addresses are known.

Let's act in solidarity with all those affected by repression during the G20, and update about their situation through counter-information networks. Let's make sure that they don't remain alone.
The more actions, the more pressure on the authorities, the media and their world. For anarchy!
in German
contrainfo
Tags: G20, Germany, Hamburg, International Solidarity, Riots
Posted in Social Control
Saturday, May 13th, 2017
June 28th of this year will mark one year since Eric King was sentenced to 10 years in prison, and one year since he stood up in court in Kansas City, Missouri. EK read the statement he had prepared declaring why he took action on that fateful night and that he still has no regrets. Eric has seen and experienced a lot in the nearly three years of his incarceration, and every step of the way he is unwavering in who he is and with the principles he upholds. From long stints in the S.H.U (Secure Housing Unit), to getting moved from one institution to another, to anxiety filled situations where he doesn't know where he might be going next, he always maintains a kind of spirit that keeps him afloat no matter what they throw at him.
He also understands that while he may be locked up, he is far from forgotten about, as evidenced through the collective efforts of those actively supporting him directly or on the periphery. EK is emboldened by anyone who responds to that fire inside, fights against oppression as a part of the anarchist struggle undeterred, and who remains unrelenting no matter what that state throws at you. (more…)
Tags: Eric G. King, International Solidarity, USA
Posted in Prison Struggle
Saturday, May 13th, 2017
Dear Friends,
We have been waiting for over a year for the trial of the Warsaw 3. Today, we send this call out for solidarity actions on the first court sitting – the 31st of May 2017.
There is also a demonstration 'WE ARE ALL TERRORISTS' planned for that day in front of the court in Warsaw (adress: Marszałkowska 82).
The Polish government follows the international trend to see terrorist threat everywhere. There is no better reason to fuel war economy, enhance policing tools and prepare the ground for autocracy than the figure of the enemy. Either external threat – migrants (including kids ready to commit acts of terror), or the inside threat in the form of the domestic terrorism category is at this point commonly used in the whole EU to scare the population into obedience. (more…)
Tags: International Solidarity, Poland, Trial, Warsaw, Warsaw 3
Posted in Prison Struggle
Tuesday, May 9th, 2017
A text that sums up the ideas expressed during the meetings 'With our heads held high'
State repression is the most important part of the system of dominion and one of its most disgraceful expressions; it doesn't surprise us that those who are struck most are historically those who don't let themselves be recuperated by the system of power, i.e. anarchist, revolutionary and rebel individualities.
The latter respond to the physical, psychological, moral, social and economic repression unleashed by all the components of democratic power and to the brutal indiscriminate violence of its armed hands and the judiciary. This they do with direct action aimed at those responsible for repression, with the creative and liberating destruction of the places of dominion and the sabotage of its infrastructures, so as to put an end, or at least hamper, the causes of exploitation and oppression by human beings on other human beings, the earth and animals.
In the view of total liberation, to passively watch the reproduction of dominion means to be accomplices, so there are those who continue to hold their heads high and rebel. (more…)
Tags: International Solidarity, Italy, Operation Scripta Manent
Posted in Prison Struggle
Tuesday, May 2nd, 2017
Today on MayDay, the international day of struggle against capitalism and oppression four banners were hanged in The Hague, the Netherlands, and more than a 1500 flyers scattered in solidarity with the anarchists accused of bank robbery in Aachen, Germany.
In 2015 and 2016 three anarchist comrades, one from Amsterdam and two from Barcelona, have been imprisoned after the prosecution office of Aachen (Germany) issued warrants for their arrests on accusation of bank robbery in the same city. The comrade from Amsterdam, charged with a robbery in 2013, has been acquitted in December 2017; she is currently awaiting the revision appeal. The trial of the two other comrades concerns a robbery in 2014 and began on the 23rd January 2017; their court case will continue for the coming months.
We are not interested in knowing whether the comrade is actually responsible for the bank robberies or not. Expropriation is an ethically just and politically legitimate practice, a method of struggle that is part of the history of all revolutionary movements.
We want them free! Rage and solidarity!
Tags: 1st May, Aachen, Bank Robbery, Den Haag, International Solidarity, Netherlands
Posted in Autonomy
Sunday, April 30th, 2017
Tags: 1st May, International Solidarity
Posted in Autonomy
Friday, April 28th, 2017
The struggles of the Palestinian political prisoners are directly and inextricably
connected with the overall struggle of the Palestinian people. 70 percent of the
Palestinian families have at least one member that has been imprisoned for
action against the state of Israel. 20 percent of the total population has been
imprisoned at least once in their life while according to other estimations 40
percent of the male population has been imprisoned at some point in their life
within the past 30 years.
Another revealing manifestation of the situation the Palestinian strugglers find
themselves in while inside the Israeli prisons is the fact that until 1999 "mild
torture" during interrogation was considered legitimate practice by law. These
tortures included- among others – deprivation of sleep, immobilization in an
uncomfortable body posture, loud music, exposure to extremely cold or hot
temperatures, placement of malodorous cloths over the face etc. In 1999 the
supreme court of Israel upheld that in certain cases these practices were illegal
and thus imposed some restrictions. These restrictions did not, however, rule
out force-feeding as illegal in accordance with the UN provisions.
On the 1st of May 2000 almost 1000 out of the 1650 Palestinian political
prisoners participated in a large-scale hunger strike that lasted one month,
demanding better living conditions, better treatment by the guards, family visits,
abolition of the solitary confinement, access to healthcare and release of political
prisoners. During the solidarity demonstrations seven Palestinians lost their
lives while one thousand got injured. Meanwhile, sixty Israelis got injured, too.
On the 31st of the same month the government of Israel satisfied some of the
demands. (more…)
Tags: Andreas-Dimitris Bourzoukos, Antonis Stamboulos, Argiris Dalios, Dimitris Politis, Fivos Harisis, Gaza, Giannis Michailidis, Giorgos Karagiannidis, Greece, Grigoris Sarafoudis, Hamas, Hunger Strike, International Solidarity, Israel, Korydallos Prison, Letter, Palestine, Popular Front for the Liberation of Palestine (PFLP), Tasos Theofilou
Posted in Prison Struggle
Tuesday, April 25th, 2017
After midnight…
IN RESPONSE to the call for action in solidarity with the anarchists of the Aachen case, on April 16, 2017, at approximately 01:30AM we placed an explosive device that detonated at the facilities of the oil company EXXON in Mexico City, located at North 59, Vallejo Industrial Colony.
EXXON is an oil and chemical corporation based in Texas, USA which constitutes in itself a complete criminal, murderous, genocidal, ecocidal state. It's long and devastating history has spared no bloodshed with death, torture and exploitation wherever it's tentacles reach. And then, when the cries of the massacres they cause are silent, they dig the graves with exactly the same machines they use to suck the sweat of the Earth and human beings.
But now it is their turn. Take our offering of hatred and rage! …Because nobody is untouchable! Because we are not intimidated by the heavy silence that you have imposed on your crimes based on fear and violence, and we are not intimidated by the premiere of your Secretary of State… (more…)
Tags: Aachen, ExxonMobil, For the spread of cells of the Informal Feminist Commando of Anti-authoritarian Action (COFIAA), International Solidarity, Mexico, Mexico City, Pola Roupa, Sabotage
Posted in Direct Action
Monday, April 24th, 2017
June 11, 2017 – Communication is a Weapon
By now it is a platitude to speak of the isolation and silence that prisons strive to impose. Every week another one of our imprisoned friends tells us that their mail is getting fucked with, the phones on their unit are "broken," or that our publications are being rejected with no recourse.
For us, one of the most exciting elements of June 11, 2016 was the proliferation of words and ideas shared between and from anarchist prisoners. Along with spreading material solidarity internationally and keeping the names of our comrades on our lips, our contribution to facilitating that communication is one of our most important tasks. While the starting point of our project was support for Marius Mason and Eric McDavid (the first of whom remains imprisoned in an extremely restrictive unit, while the latter has been freed!), it has been through a spreading web of communications that we have expanded the scope of our project to solidarity with long-term anarchist prisoners around the world. This year, we are seeking to emphasize this communication.
Maintaining communication is a lifeline for those caught in the snares of state repression or locked in its dungeons. Prisons function to isolate those held within these dungeons, to remove them from human community, and to break their will. Receiving letters and publications, being able to connect with individuals outside of the walls, and being able to call upon the solidarity of comrades on the outside are all vitally important to retaining dignity in dehumanizing conditions. When Chelsea Manning attempted suicide, communication enabled her and those close to her to mobilize and act. For prisoners who seem to live under a microscope due to their rebellious activities, a constant stream of letters shows their tormentors that they have friends on the outside and that there will be consequences for any action taken against them. Throughout the September 9th US prison strike, the relationships built over years made it possible to know of work strikes and rebellions happening in prisons all over the country, allowing supporters to organize counter-repressive action.
(more…)
Tags: International Solidarity, June 11th Solidarity, Marius Mason, USA
Posted in Prison Struggle
Monday, April 24th, 2017
Responding to the international call for actions in solidarity with the compañerxs accused of robbery in Aachen, Germany, we placed an explosive device with a little more than one kilo of black powder at a Citibanamex branch located on Eje 10 [in Mexico City] at 2:30am on April 20.
We repeated the action carried out a couple months ago by compañerxs from the Night Cats and Evil Sorcerers Incendiary Cell. Upon seeing they'd rebuilt the branch after the compas' attack, we decided to help them redecorate it. (more…)
Tags: Aachen, CitiBanamex, Informal Anarchist Federation (FAI), International Revolutionary Front, International Solidarity, Mexico, Mexico City, Sabotage
Posted in Direct Action
Saturday, April 15th, 2017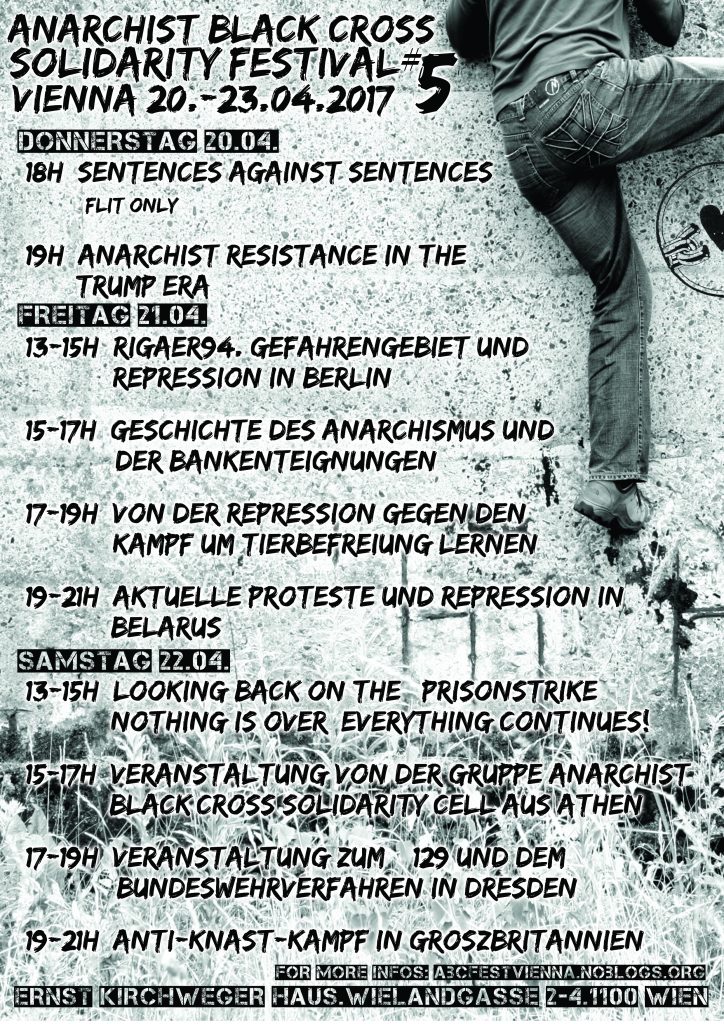 [Vienna] Solidarity event of "Anarchist Black Cross – Solidarity Cell" with imprisoned comrades of Koridallos prison (Athens) @ ABC FESTIVAL VIENNA (20. – 23. April 2017)

"As anarchists, we perceive the need of a multiform anarchist struggle, posing the issue of attack against state and vassalage that is imposed, with every means possible, here and now." (from the self presentation text of the ABC Group)
In this event the comrades from "ABC – Solidarity Cell" will talk about the importance of solidarity with anarchist prisoners and the connection of struggles inside and outside the walls.
Further, the talk will contain a deconstruction of the meaning of the 'anarchist movement' and the myth of the district of Exarchia.
"(…) we do not consider that the action of our anarchist comrades is finished after imprisonment or repression." (from the self presentation text of the ABC Group)
During the event there will be the presence of three anarchist prisoners, via Live-Connection, from Koridallos prison:

– Nikos Romanos
– Panagiotis Argyrou – CCF-Metropolitan Violence Cell/FAI-IRF
– Olga Oikonomidou – CCF-Urban Guerrilla Cell/FAI-IRF
They will talk about the following topics:
– The conditions in prisons and the situation of anarchist prisoners in Greece.
– The importance of solidarity assemblies for the anarchist prisoners and the connection of struggles inside and outside the walls.
– The choice and the importance of the armed struggle, the claim of responsibility for direct actions and the particulars of participation in armed organisations, and the importance and consignment of those choices.
– The choice of jail-breaking.
– The position of women in the armed struggle.
It will be also possible to raise questions to the comrades in prison, so the communication will be in both directions.
Some words from anarchist prisoner Panagiotis Argyrou dedicated to the ABC Festival:
There are times when you feel a certain kind of strength inside you.
This may be happening for different reasons each time but undoubtedly it is always a very positive feeling. Such a kind of strength a prisoner may feel when he/she discovers that there are other individuals wanting a touch, a contact, a communication, a conversation with him/her. It is a very strong feeling, a unique one, the feeling of a great strength filling you all over and this is something priceless. This feeling that you are not alone, that there are other comrades wanting to share moments, experiences or whatever, with you, is something so valuable that only freedom itself can compare with it. So let me thank you very much for the opportunity you offer me to have some contact even if it is for so little. I wish that the future brings us more opportunities so that one day we can have the chance to have a live talk outside the walls. A big warm hug,
Panagiotis Argyrou, member of CCF-FAI
Contacts:
ABC Solidarity Cell Website: https://abcsolidaritycell.espivblogs.net
E-Mail: abcsolidaritycell@riseup.net
Nikos Romanos State prison of Korydallos – Mens prison-ward A', P.C.
18110, Korydallos, Athens
Panagiotis Argyrou State prison of Korydallos – Mens prison-ward A',
P.C. 18110, Korydallos, Athens

Olga Oikonomidou State prison of Korydallos – Womens prison, P.C. 18110,
Korydallos, Athens
Other events @ the ABC Festival Vienna you can find here.
Location:

ERNST KIRCHWEGER HAUS
Wielandgasse 2-4
1100 Wien
Tags: ABC - Anarchist Solidarity Cell, ABC Wien, Anarchist Gatherings, Austria, Conspiracy of Cells of Fire, Exarhia, Greece, International Solidarity, Nikos Romanos, Olga Economidou, Panagiotis Argirou, Vienna
Posted in Prison Struggle
Thursday, April 6th, 2017
On the 7th and 8th of July 2017, when the most successful war criminals of the present, the most unscrupulous sweaters of human and nature, the self-titled leaders of this planet, meet in Hamburg, they will not be confronted and thus be revaluated with some demands for better governance or social enslavement.
They will feel the rage of the street, when they are rushing with their convoys through deserted districts and talk about the nightly attacks of the last few weeks.
This call, like so many others at similar meetings, does not want to lose itself in an analysis of the importance of the G-20 summit or the policy of their participants. The injustice of the world has been declared a thousand times, anyone who now feels no urge to act, does not need another text.
We want to speak of those who are already involved in the struggle against capitalism and its exerting states with their conforming societies – so, of US.
Since Seattle in 1999, summit protests were a catalysator of radical resistance; individuals and groups came together, swapped ideas, were standing together behind the barricades and carried the flame of resistance back to their regions. Even the shots of Gothenburg and Genoa, or the numerous infiltrated snitches could not stop the development of a Europe-wide chaotic network of autonomous / anarchist / antiauthoritarian tendencies. (more…)
Tags: Black Bloc, Counter-Summit, G20, Germany, Hamburg, International Solidarity, Riots
Posted in Autonomy
Wednesday, April 5th, 2017
Responsibility claim for the attack on Adonis Georgiades's bookstore.
On 3/15 we placed and detonated a clockwork explosive device at Adonis Georgiades's bookstore at 263 Kifissias Av.
Adonis Georgiadis is a well known to all … picturesque, saturated and at the same time, a ridiculous political figure, who over the years moves within the (far)-right milieu according to his interests. Now an MP of New Democracy (the main right wing party) he does not miss any opportunity to propagate the neoliberal ideas whether in the parliament or in some television broadcast, being addicted to television as a TV persona. When not selling his nationalist noonsense (such as the books of Kostas Plevris – national-socialist figure) he makes "gifts" of 65 million euros to pharmaceutical companies who trade in human life. Specifically, Georgiades, as health minister in 2014, changed the pricing of drugs in favor of the pharmaceutical industries particularly favoring the Novartis company. Combined with the fact that his wife's name featured in the Lagarde list, it's proven that the TV booksalesman does not limit himself to book sales. (more…)
Tags: Adonis Georgiades, Athens, Conspiracy of Cells of Fire, Enrique Guzmán, Greece, Informal Anarchist Federation (FAI), International Revolutionary Front, International Solidarity, Juan Flores Riquelme, Nataly Casanova
Posted in Direct Action