Posts Tagged 'International Solidarity'
Saturday, October 27th, 2018
Berlin, October 15th, 2018
The anarchist movement has sharpened it's profile. This has meant that the repression against us has intensified in recent years. From Germany, the G20 has triggered an increase in activity by security agencies because they have realized that they are not in control of us and it became so obvious that a response was necessary. The destruction in Hamburg, the lack of compromise and the determination of the hooded ones hit them exactly where it was intended. Uncertainty was triggered there, in a place where people people's property defines themselves and their complicity in a warring society. The luxury automobile or the patrol car on the verge of becoming a pile of charred plastic – a casualness towards the war against the poor, the outcast and the inept.
Following the publication of the text 'The Insurgent's Autism', in issue 9, June 2018 of the eco-anarchist publication Fenrir, we felt an urge to respond. And for a moment we attack the illusion of security in this society in a very specific place to engage in communication and open a space for discussion.
…We do not know what to think regarding what out comrade Alfredo Cospito is saying when he speaks about a vision of an anarchist praxis that would become more dangerous because it keeps on experimenting. We can only speak for ourselves, that we have become more dangerous and are quite successful because the power misjudges our real potential. The willingness to remain alone, the claiming of total responsibility for our destiny… (more…)
Tags: 'Amad Ahmad' Cell FAI-FRI, Arson, Berlin, Fenrir, Germany, Informal Anarchist Federation (FAI), International Revolutionary Front, International Solidarity, Operation Panic, Operation Scripta Manent, Sabotage, Securitas
Posted in Direct Action
Monday, October 22nd, 2018
Day : 10/11/2018 – 15:00 to 23:00
City: City of Mexico
Place: Foro El Mundano
There will be interventions, reflection, discussions and critique on current anarchism, as well as various activities concerning agitation.
There will be an informal talk with the comrades of Croce Nera Anarchica from Rome.
There will be live music and stands with anarchist material and self-productions. If you want a stand at the fair, send us your request before 1st November, as numbers are limited because of the space available.
Translated from Italian by act for freedom now!
anarhija.info
Tags: Anarchist Gathering, CNA Italia, International Solidarity, Mexico, Mexico City, Operation Scripta Manent
Posted in Autonomy
Wednesday, October 17th, 2018
We think that direct action is also a way to escape the impasses of the middle-class activist swamp and its unoffensive slogans and common practices that are uncritically accepted and all to often remain a dead end. Alone, associated for a night or for life- according to the needs of each- let's leave the dogmas behind and choose the chaos of life. For the defenders of this world we are criminals. We are simply its enemies and we are proud of it.
On the night of Thursday, October 11th to the 12th, on rue d'Hautpoul in the 19th arrondissement of Paris, a utility van of prison construction company Vinci and a car of SNCF (who hunt the poor and undocumented) were torched.
A thought for Krème, for the comrade incarcerated for the Limoges gendarmerie arson and for the anarchists who are facing trial in Italy (Scripta Manent and Panico).
Long live anarchy, long live freedom!
Tags: Arson, France, International Solidarity, Krème, Operation Scripta Manent, Paris, Sabotage, SNCF, Vinci
Posted in Direct Action
Wednesday, October 10th, 2018
Repressions and prisons have become part of our lives, as well as of lives of all those recalcitrant comrades who prefer to conduct an offensive struggle against the state and capital, attacking all manifestations of power and destroy the oppressive order. More and more often in the course of this struggle, we hear calls from all corners of the world for solidarity with repressed and imprisoned like-minded people, we hear stories how yet another one of us was put behind bars, beaten, tortured or even killed , and also hear how this or that infrastructure of anarchists was destroyed, plundered, how this or that initiative suffered from raids from punitive groups of the Ministry of Internal Affairs (MVD).
The authorities, like a hundred years ago, are trying to stop us. Today, like yesterday, we are opposed by the guardians of the state structures that were trained and endowed with the "legal right" or in simple words — state dogs loyal to their masters and interested in maintaining the status quo, repressing anarchists and other unruly people. (more…)
Tags: Andrei Chernov, Arman Sagynbaev, Arson, Dmitry Pchelintsev, Ilya Romanov, Ilya Romanov anarchist cell / FAI–IRF, Ilya Shakursky, Informal Anarchist Federation (FAI), International Revolutionary Front, International Solidarity, July Boyarshinov, Kiev, Maxim Ivankin, Mikhail Kulkov, Oleksandr Kolchenko, Sabotage, Sergey Romanov, Ukraine, Vasily Kuksov, Victor Filinkov, Yevgeny Karakashev
Posted in Direct Action
Wednesday, October 10th, 2018
Some prisioners from diferent spanish jails are going to start a new hunger strike. In the last hunger strike the 1th of May, they didn't get attention from media or society so they are going to make theirselves in danger again to get the rights that they legally have. Their objective is having a less hard diary life and prove that jail is not the solution: It's just a place to shut in people that are not agree with the system or these who are not productive for it. (more…)
Tags: Hunger Strike, International Solidarity, Spain
Posted in Prison Struggle
Saturday, October 6th, 2018
Each year the end of August (23-30.8.) is the time for the International Week of Solidarity with Anarchist Prisoners. And to make sure that you know what this week is about and why it is needed we made an interview with a comrade who is part of the group that organized this years' Week of Solidarity.
This audio has been published originally as part of the International Anarchist Radio Network's "Bad News" show #15 (September 2018), which you can find here.
You'll find the audio (to listen online or download in different sizes) here.
You can find other English and Spanish language audios here.
Tags: Anarchistisches Radio Berlin, International Solidarity, International Week for Anarchist Prisoners
Posted in Prison Struggle
Thursday, October 4th, 2018
Appeal from the International Anarchist Defence Fund, project of the Anarchist Black Cross and related groups.
A-Fund turned one year this September. This was the time when we issued our first call for joining the project last year. It took us another half a year to figure out collective processes and the concept of the fund. We have tried our best to reach out to groups with a call to donate, but so far we haven't received as much feedback as we were expecting. The lack of publicity results in low number of donations, and this situation can eventually lead to the loss of interest from the side of support-seekers. We would like to provide bigger support, but this involves attracting more donations. We are determined to break this vicious circle. But we need your help.
So, as our next steps, we have identified reaching out to all possible anarchist groups, asking them to spread information about the fund, spread our flyers, put a banner on their websites, putting advertisements in anarchist magazines, etc. But the problem is that we don't know so many languages and contexts, that's why we need the help of volunteers from all imaginable countries and regions who would help us compile a comprehensive list of anarchist collectives in their regions, get links to their websites and contacts, identifying sites with open publication, etc.
If you are one of these people, please feel free to contact us at a-fund@riseup.net
you can have a look at our last quarterly report
https://afund.antirep.net/second-quarterly-report/
Tags: International Anarchist Defence Fund, International Solidarity
Posted in Prison Struggle
Thursday, September 27th, 2018
Tired of being silent, tired of seeing systematic violence every day through racism, sexism and waged labor that take place in society, whose essential values are authority and profit. Sick of exploitation we see all political parties as main responsible, as they repress freedom with the state, reformist and repressive apparatus (TV, the mass-media, associations, the army, the civil protection, etc.) The state and capital are the biggest criminals, they even violate their own laws, they steal through taxes, they kill through wars and waged labor, rejections of migrants' boats in the sea, concentration camps for immigrants in Europe and Africa, they contaminate irreversibly men, animals and the entire planet, all for their profit and power.
Let's not forget the hypocritical complicity of society made of citizens who pretend not to see the horrors of present and past racism and nationalism. This acceptance is the pillar of totalitarianism and democracy: in the course of time the authority based on indifference, fear, apathy was able to create Gulags and nazi concentration camps, and today the concentration camps in Libya and outside our homes. It's history that repeats itself. (more…)
Tags: Haris Hatzimihelakis, Haris Hatzimihelakis cell/Black International (1881-2018), Informal Anarchist Federation (FAI), Insurrection, International Solidarity, Italy, Social War, Treviso
Posted in Direct Action
Thursday, September 27th, 2018
Erdogan – the stray dog from the Bosporus – will come to Berlin on September 29 and become a terrorist legitimized through the German state government. The warmongers and fascists will meet to resolve further deals on the "refugee issue". While the arms industry pops bottles and the Federal Republic of Germany grants arms exports into the billions, innumerable people are dying in this war. This is the reason for us to disturb, sabotage, and attack this state visit. Not all of us are facing this destruction deedless. Our signs of rage and resistance reached as well our international comrades, who will fight with us on the day the fascist is coming to Germany. Shoulder to shoulder against fascism! Down with Erdogan and his fascist collaborateurs! For freedom! (more…)
Tags: Afrin, Germany, International Solidarity, Kurdish Struggle, Rojava, Sabotage, Syria, Turkey
Posted in Direct Action
Tuesday, September 4th, 2018
On Sunday, 2/9/18, banners from prisoners in Larissa were hung in A Wing. The banners were in solidarity with striking prisoners in the US, the banner reads "SOLIDARITY TO ALL US STRIKING PRISONERS – UNTIL THE DESTRUCTION OF ALL PRISONS"
Outside of the prison, 15 comrades were present, they called out slogans and had a little contact with the comrades who put the banner.
Tags: Banner drop, Greece, International Solidarity, Larissa, Prison Labour Strike, Solidarity Action, USA
Posted in Prison Struggle
Sunday, September 2nd, 2018
With this we take responsibility for the incendiary device we placed in front of the building of the German Society for Foreign Politics (DGAP) in Drake-/Rauchstraße (Tiergarten) in the night of 21.8.18.
13 litres of a petrol-oil-mixture shall be the beginning of putting an end to the undisturbed and fearless existence of the DGAP as a political advisor of the German war society.
Since the beginning of this year increased attacks against the war industry, their profiteers and financiers take and took place over all the German controlled territory. We join these attacks and let the fire speak from our side. War starts here! War on the war!
War starts here, in the halls of politics. War starts everywhere, where people throw away their empathy, to profit from the globalized misery. In the war-industry, the thinktanks of science, in the faceless administration of bureaucracy, in the form of uniformed slaves, who receive and obey orders in rank and file. War starts between human beings, when concurrence and aspiration to power reigns over solidarity and the free development of the individual.
German Security – Profit through war
Through the choice of the DGAP as the target of our incendiary device we declare the ideological architects of German-European hegemonic politics, the scientists and forerunners of a security paradigm which works with as well as alongside of warmongers and in this way are our enemies. What they declare about security is not ours. Their foreign policy is a policy of order. And their order needs tanks against uprisings and frigates against inflatable dinghies, it builds fences against the suppressed and works continuously to extend their ongoing misery. (more…)
Tags: Arson, Berlin, G20, Germany, International Solidarity, Kurdish Struggle, Rojava, Sabotage, Solidarity Action
Posted in Direct Action
Saturday, September 1st, 2018


Above: Banner of solidarity hung by Utopia AD, Greece, with the prison labour strike of the US prisoners and with the anarchist prisoners around the world.
Solidarity text to prisoners of "Lee Correctional Institution" prison of U.S.A.

In light of what happened at the "Lee Correctional Institution" prison in the state of South Carolina, U.S.A., and with the tragic death of 7 of our detained and 17 seriously injured and with the full responsibility of the service of the prison, the director and the chief guard, as they knew they were members of rival gangs and intentionally placed them in the same wing, being proud about their cowardly result. We, the prisoners of the A' wing based on solidarity with all South Carolina imprisoned fighters and all the prisons of America, declare our support in the general situation of this time, setting as a primary purpose the opposition to the dirty manipulations the director and the guards exercise in the prisons, having for result the death of our retained brothers. (more…)
Tags: Greece, International Solidarity, Prison Labour Strike, USA
Posted in Prison Struggle
Wednesday, August 29th, 2018
There is a new text, which came out from the cooperation of some people from couple of Anarchist Black Cross groups and Crimethinc. It is published in connection with both the ongoing prison strike in US and the global week of solidarity with anarchist prisoners. ABC Czech Republic asked us to share and spread the article:
Taking a Global View of Repression – The Prison Strike and the Week of Solidarity with Anarchist Prisoners
Tags: International Solidarity, International Week for Anarchist Prisoners
Posted in Prison Struggle
Wednesday, August 29th, 2018

ES – SEMANA INTERNACIONAL DE AGITACIÓN Y PROPAGANDA ANTIFASCISTA
INTERNATIONAL WEEK OF ANTI-FASCIST AGITATION AND PROPAGANDA
Call for a week of anti-fascist agitation and propaganda, due to the growth and visibility that far-right groups have achieved in recent times which has reached into spaces in the mainstream media, in neighborhoods and in bourgeois politics.
Because of the above it is necessary that we make ourselves present everywhere, mainly in the streets, making it clear that the intention is not only to act in an effective manner to fascist provocations, but to act in an offensive manner, permanently promote an anti-authoritarian attitude, to make visible, question and stress the daily reproductions of fascist attitudes such as racism, xenophobia, sexism and homo/transphobia.
We are present with Heather Heyer, Rodrigo Lanza and those who confront fascism in any of its forms.
Any info: latinxantifa(at)riseup(dot)net
Tags: Anti-Fascism, Antifa, International Solidarity
Posted in Anti-Fascist
Saturday, August 25th, 2018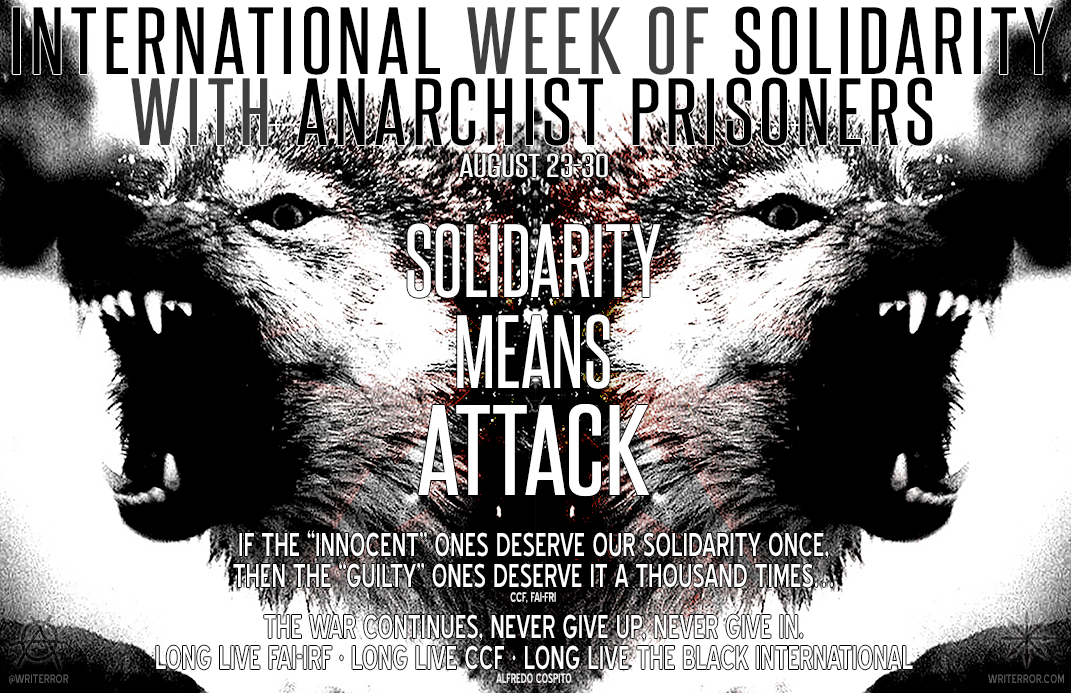 If the "innocent" ones deserve our solidarity once, then the "guilty" ones deserve it a thousand times… — Conspiracy of Cells of Fire, FAI-IRF / Imprisoned Members Cell

Solidarity will always be practiced as an indispensable feature of an anarchist way of life and action. The war continues, never give up, never give in. Long live FAI-FRI. Long live CCF. Long live the black international — Alfredo Cospito

Source
Tags: Flyposter, International Solidarity, International Week for Anarchist Prisoners
Posted in Prison Struggle