Posts Tagged 'International Week for Anarchist Prisoners'
Thursday, September 4th, 2014
As an act of solidarity with anarchist prisoners, an informal group of anarchists dropped a banner which read: "Against the system of domination and subordination. Against prisons and the society that imprisons." The banner was dropped from an overpass at the highway under which prisoners are frequently transported, which is located near the Central Prison in Belgrade.
–
From contra-info
Tags: Banner drop, Belgrade, International Week for Anarchist Prisoners, Serbia
Posted in Prison Struggle
Thursday, September 4th, 2014
A night in Bagcılar… we were at the foot of the Beast

Even though, the deepest darkness of the night is thought to hide all of this system's infamies, it also becomes accomplice to some furious hookers who want to destroy this shit before the dawn. Although street lights, shop lights, surveillance cameras and MOBESEs sure- the eyes and ears of the State- prowl to betray us by giving a feeling like we're under the surveillance of a rapist, this can not prevent us from transforming our rage against this rotten system to action by coalescing with shadows which remain for us from the night.
Here in one of the nights again, in Istanbul/Bagcilar, we attacked a yellow beast, which only has a task to dig concrete disintergrating the land, which takes an active role in the clear-cut of forests and in the urbanization of the last places remaining without concrete, by cutting the blood stream and defusing the connection between its organs.
We took this action in order to contribute to the "Anarchist Prisoners Global Week of Solidarity (23-30 August)". First, we dedicate this action to anarchist comrade Tamara Sol Farías Vergara who is now in prison under charge of shooting and wounding a security guard of a bank, then Nikos Maziotis, who is now in prison after being arrested in an armed conflict, claiming the tradition of never surrendering, and to his partner Panagiota Roupa who is on the run now. Also we dedicate this action to all anarchist and anti-authoritarian prisoners around the world who are fighting against the institutions of domination.

"We were awake last night, with the dawn somethings were going wrong somewhere."

FAI/IRF Furious Hookers Militia
Tags: Bagcilar, FAI/IRF Furious Hookers Militia, International Week for Anarchist Prisoners, Istanbul, Sabotage, Solidarity Action, Turkey
Posted in Direct Action
Tuesday, September 2nd, 2014
NB: English version here on Contra-Info.
Ogni Società che voi costruirete avrà i suoi margini e sui margini di ogni Società si aggireranno i vagabondi eroici e scapigliati, dai pensieri vergini e selvaggi che solo sanno vivere preparando sempre nuove e formidabili esplosioni ribelli!
Renzo Novatore
Scriviamo questo testo per tutti gli anarchici e i ribelli, dentro e fuori le mura del carcere in tutto il mondo, in risposta alla chiamata internazionale ad una settimana di azioni per i prigionieri anarchici (23-30 agosto). Una coordinazione di azioni di questo tipo è necessaria, soprattutto a livello internazionale, dato che sollecita indivudui e collettivi ad agire nel modo che sentono, e ad esprimere e diffondere la guerra di liberazione anarchica. Comunque sia, non dovremmo dipendere solo da queste chiamate per far sentire le nostre voci e mostrare le nostre azioni. Perciò, dando per scontato che siamo una guerra infuriata, e avendo scelto questa posizione, ci confrontiamo con un nemico che possiede ogni mezzo per batterci in qualsiasi momento dell'attacco. Eserciti, sbirri, tecnologie di controllo, sorveglianza avanzata, stoccaggio del dna e impronte digitali, i media, e molte altre istituzioni e menti costituiscono il dominio verso il quale noi siamo ostili. In questa guerra, l'unica certezza è che avremo prigionieri, o anche vittime, e ciò è il punto sul quale la verifica della stessa battaglia mente. (more…)
Tags: Greece, International Week for Anarchist Prisoners, Italy, Type C prisons
Posted in Prison Struggle
Sunday, August 31st, 2014
International week of solidarity with imprisoned comrades. We go out decisively and fearlessly to amuse ourselves breaking with their dogma of tranquility and legality. With the rebellion of José Huenante, boy assassinated in democracy, in mind.* Cops, screws, guards and every authority will burn with our warmful joy. Propagate the revolt.
In the defined night
the routine's twilight
infinite particles conspire in the dissocial shadow.
In the spectra of nothing
desires are moaned
rage is howled
the forgotten are shouted
the lost echoes are roaring.
In the disrepair of one power citadel
frantic machines, swarm of slaves,
makeup powders and devices of control.
The rebellious schizos, barbarian!
We deny the everyday existence: Prisons,
schools, families, madhouses, asylums, psychiatrists
and every individual nullification.
We open the wings to come out of crevices and caves,
to bifurcate the fire in every alley,
security perimeter and place of domination.
May it be known that we overflow in all directions,
towards all the points.
We are infinite particles looking for the explosion.
A small contribution from the territory called Chile, Talca of Maule region.
Affinity group of dogs, cats and frogs
The action took place on Wednesday, August 27th; a roadblock in one of the city's arteries, at eight in the evening.
_
* 16-year-old Mapuche, who 'disappeared' while being held in police custody in Puerto Montt in southern Chile.
– via Contra Info.
Tags: Burning Barricades, Chile, International Solidarity, International Week for Anarchist Prisoners, José Huenante, Mapuche, Molotovs, Talca
Posted in Direct Action
Saturday, August 30th, 2014
In the context of the NATO summit in Newport, a cell of the Federazione Anarchica Informale (FAI) has struck BAE Systems in Filton, Bristol:
We mounted our attack against the BAE Systems arms factory in the Filton area of Bristol by setting a fire against the fuel tank outside the onsite Advanced Technology Centre (Impact Facility – High Power Electro Magnetic Facility section) on August 29th. Today we now announce carrying this out in the context of the NATO summit in Newport in five days. Britain is rife with military industrial complex structures all year round and everyone can draw her or his own conclusion.
BAE Systems are possibly the largest so called defence multinational and they are Britain's largest manufacturing employer. Some of their major projects with the British Armed Forces alone are the NATO Eurofighter jets and nuclear submarines.
From artillery and aerial drones with specialist communication systems to the Israeli Air Force F16 fighter bombers and the shackles used on detainees in Guantánamo Bay you can find BAE Systems across the world behind imperialist conquest and the death or immiseration of millions. The company now has branches in criminal intelligence and investigation that deal with matters like cyber threats to the banking industry and was contracted by the European Union to devise the Strategic Crime and Immigration Information Management System : essentially an international police database. They are in line to profit from managing the transition of analytics from analysis of physical locations to analysis of individuals and how they interact for the advantage of law enforcement and intelligence agencies.
The factory where we hit produces hardware including that of naval frigates and combat vehicles and there hundreds of staff with the Advanced Technology Centre design cutting edge weaponry for global markets. Just a few of their specialities are :
Abnormal behaviour detection & video analytics
Bio-inspired technology
Micro & nanotechnology and smart materials
Technologies for covert & secure operations
BAE Systems are at the forefront of military robotics as well as the latest innovations such as cloaking devices for tanks and body armour formed from liquid to make the modern flesh and blood killing machine even more agile and deadly. Look to their armoured land vehicles which are autonomous of human supervision (like those patrolling the Israeli-Gaza and Israeli-Lebanon border zones) or the tiny above ground or under water machines modelled on insects for audio-visual reconnaissance to see a sign of our future they are preparing.
The company make explicit reference to the age of asymmetric warfare and the crossover from use of their products on the battle field to use within society at large : a common phenomenon in the sector. A case to illustrate this is the high power BAE Systems night vision gear finding its way into the civilian surveillance camera market to advance the project making open prisons out of the urban centres and anywhere it is needed to protect the system and its commodities.
Need we write more to demonstrate how technological development under the civilised power structure is leading us to a desolate automated landscape of near total dominance and potential annihilation? The hour is late and the brave new world with amplified demand for submission will be the price for our indifference.
To go after them on what they thought was safe ground is what we decided to return in kind for the business BAE Systems have chosen. Through the attack we are with those incarcerated for their own path towards anarchy :
Gianluca Iacovacci and Adriano Antonacci
Marco Camenisch
Nicola Gai and Alfredo Cospito
Every year they spend inside, the destructive acts will multiply. Honour also to fighters of days gone by who walked armed against dominance in their time.
FAI "Sacco & Vanzetti" Circle of Propaganda by Life & by Deed
August 23-30, Anarchist Prisoners Global Week of Solidarity!
Tags: Adriano Antonacci, Alfredo Cospito, Arson, BAE Systems, Bristol, FAI "Sacco & Vanzetti" Circle of Propaganda by Life & by Deed, Filton, Gianluca Iacovacci, Informal Anarchist Federation (FAI), International Week for Anarchist Prisoners, Marco Camenisch, NATO, Nicola Gai, UK
Posted in Direct Action
Thursday, August 28th, 2014
From ABC Hurricane:

Warm greetings,
We are ABC Hurricane, a UK-based Anarchist Black Cross group that supports prisoners in struggle.
We have named the group ABC Hurricane in order to be non-location specific and to be accessible to anyone wherever they are in the UK or internationally. We see ourselves as part of the Anarchist Black Cross and part of the Black International of Anarchists of Praxis.
We formed during the Anarchist Prisoners' Global Week of Solidarity this August 2014. This week highlights the different cases of our comrades across the world – some we know about, some we didn't know about until this week. This is a time for our prisoners, ABC, solidarity, counter-info and action groups to organise, expressing practical solidarity and the desire to see the destruction of all prisons. We believe that solidarity is not just fund-raising or charity networking but should also have an element of action and attack against the existent.
All the people in the group have been involved in prisoner solidarity work for many years but want to push the trajectory of our group beyond that. We don't see any difference between those social and political prisoners in struggle – almost all prisoners are political in this situation. We are for the class struggle but also for the destruction of the prisons and civilisation.
Over the next few weeks we will be creating and putting out images, publications and text, and we look forward to communication with rebels inside and outside the walls, and anyone that wishes to support our prisoners.
ABC Hurricane
abc-hurricane (at) riseup (dot) net
abchurricane.noblogs.org
Tags: ABC Hurricane, Counter-info, International Week for Anarchist Prisoners, UK
Posted in Prison Struggle
Wednesday, August 27th, 2014
Saturday 30th of August comrades are doing an event related to the International Week for Anarchist Prisoners. More info on indymedia.nl.
Spread the word!
Address: Voorstraat 36 in Utrecht

via contrainfo.
Tags: Holland, International Week for Anarchist Prisoners, Netherlands, Utrecht
Posted in Prison Struggle
Wednesday, August 27th, 2014
Del 23 al 30 de Agosto
SEMANA INTERNACIONAL DE SOLIDARIDAD CON LXS ANARQUISTAS EN PRISIÓN
El Jueves 28 en Karcelona….
JORNADA POR LA DESTRUCCION DE LAS KARCELES Y SUS KARCELEROS
desde las 19h
habrán pizzas vegan,
feria anarquika, fanzine kopilatorio de textos eskritos por presxs anarquistas
19.30 proyección del video sobre el proyecto fenix
20.00h charla informal entrono a la solidaridad kon lxs presxs
21.00h poesía acrata
22.00h kantautor Pedro Batalla
23.00h koncierto punk
tokaran:
Muerte Cotidiana (trash punk sudaka)
Infekzioa (d-beat zarata zikina)
y toda la noche soundsistem antikarcelario
en la okupa Pula Vida
c/salzareda, 8
(M)L.1 Baro de Viver
PRESXS A LA KALLE (A)
Tags: Barcelona, Catalunya, International Week for Anarchist Prisoners, Pula Vida
Posted in Prison Struggle
Wednesday, August 27th, 2014
From Riga, Latvia:
On August 24, 19:00, in the bar 'Chomsky' a film about "Sacco and Vanzetti" from 1971 was shown. After there was a discussion of the film and a talk about the activities of the Anarchist Black Cross and anarchist prisoners of Russia and Belarus.
–

This is a text written by Biblioteca Antiautoritaria Sacco y Vanzetti in Santiago, $hile, on the 87th year since the murder of Sacco and Vanzetti by the American State:
SACCO Y VANZETTI… a 87 años de su ejecución, con la memoria anárquica
intacta
"El enemigo nos quiere muertos y nos tendrá muertos para defender el
privilegio y la tiranía, para humillaros, para acobardaos, para
venceros, destruiros y encadenar los pueblos al carro de su esclavitud
(…) Y este mismo enemigo, clava sus inmundos tentáculos en la carne de
todos los pueblos de la Tierra, prepara el más grande militarismo del
mundo y se apresta a esclavizar la entera humanidad. Hay que aplastarle
la cabeza..".
Bartolomeo Vanzetti
El 23 de Agosto de 1927 en Massachusetts, EEUU, son ejecutados en la
silla eléctrica Niccola Sacco y Bartolomeo Vanzetti, dos inmigrantes
italianos y reconocidos anarquistas. Tras 7 años de juicio, son
encontrados culpables de robo con homicidio y se los condena a morir
electrocutados.
El caso de los compañeros Sacco y Vanzetti es quizá el que ha tenido
mayor repercusión internacional, es sin duda un caso emblemático por
todo el proceso judicial que los mantuvo en prisión y que generó
reacciones a nivel mundial. (more…)
Tags: Bar Chomsky, Belarus, Chile, CSO Sacco and Vanzetti, International Solidarity, International Week for Anarchist Prisoners, Latvia, Riga, Russia, Sacco and Vanzetti
Posted in Prison Struggle
Sunday, August 3rd, 2014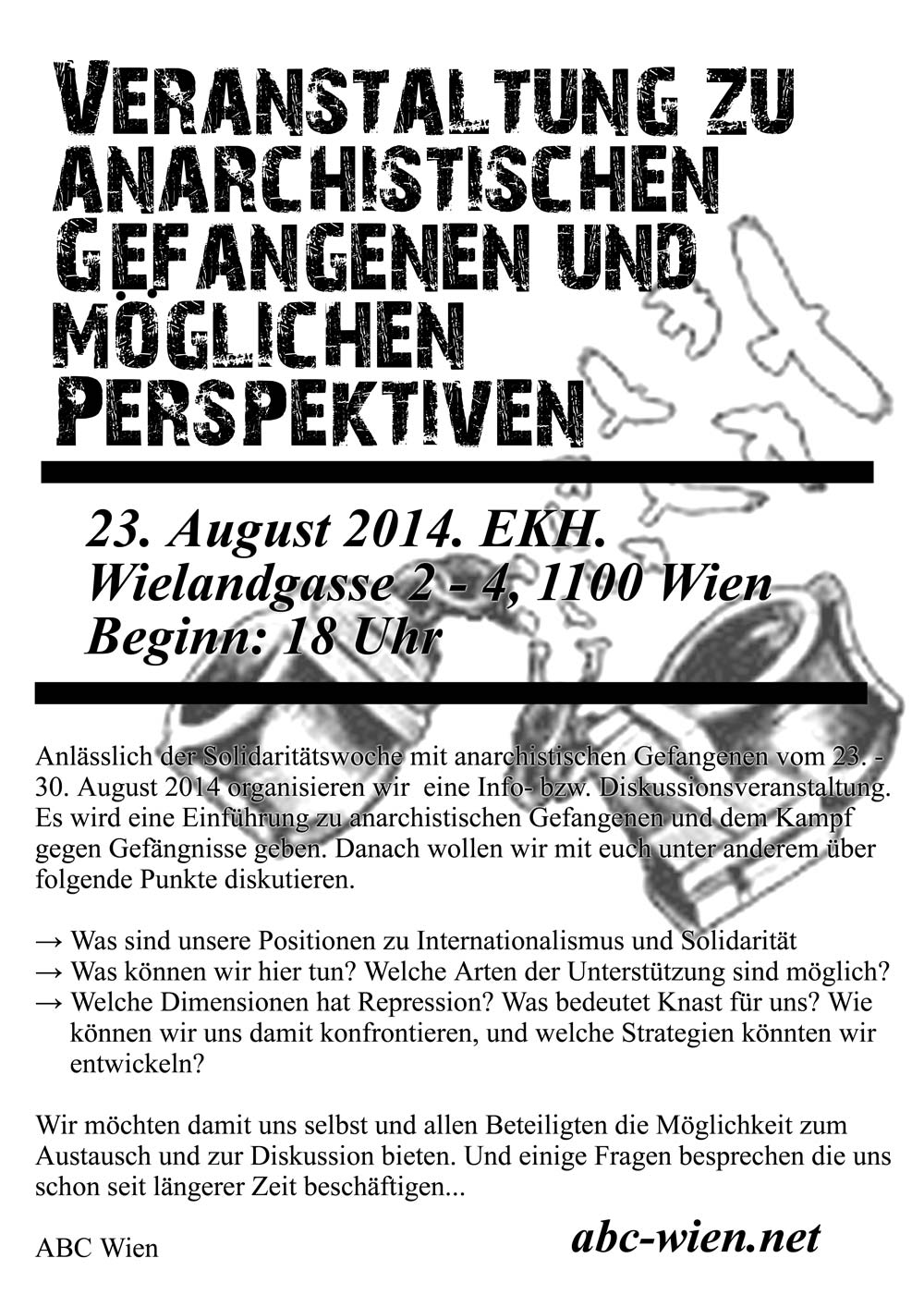 EKH. Wielandgasse 2 – 4, 1100 Wien
Beginn: 18 Uhr
Anlässlich der Solidaritätswoche mit anarchistischen Gefangenen vom 23. – 30. August 2014 organisieren wir eine Info- bzw. Diskussionsveranstaltung. Es wird eine Einführung zu anarchistischen Gefangenen und dem Kampf gegen Gefängnisse geben. Danach wollen wir mit euch unter anderem über folgende Punkte diskutieren.
→ Was sind unsere Positionen zu Internationalismus und Solidarität
→ Was können wir hier tun? Welche Arten der Unterstützung sind möglich?
→ Welche Dimensionen hat Repression? Was bedeutet Knast für uns? Wie können wir uns damit konfrontieren, und welche Strategien könnten wir entwickeln?
Wir möchten damit uns selbst und allen Beteiligten die Möglichkeit zum Austausch und zur Diskussion bieten. Und einige Fragen besprechen die uns schon seit längerer Zeit beschäftigen…
Tags: ABC Wien, Austria, International Week for Anarchist Prisoners, Vienna
Posted in Prison Struggle
Sunday, August 3rd, 2014
Muralismo, Filmes, Oficinas, Apresentacoes e Performances, Debates anti-carcerarios, mini-cursos, Gig contra as prisoes…
We are passing through a moment when there is a lot of discussions about political prisoners in Brazil, and especially in our town, Rio de Janeiro. To us all prisoners are political prisoners, nowadays we hear a lot this sentence, but we don't discuss it's real meaning and implications. We would like to take a deeper look at questions related do incarceration in our society and among our fellow comrades. Therefore we invite everyone to take part in the activities of the International Week of Solidarity with prisoners here in Rio de Janeiro, from the 23 of August to the 31. (more…)
Tags: ABC Rio de Janeiro, Brazil, International Week for Anarchist Prisoners, Rio de Janeiro
Posted in Prison Struggle
Sunday, August 3rd, 2014
International Week for Anarchist Prisoners
This August marks the first annual Week for Anarchist Prisoners.
Commencing on the anniversary of the execution of Sacco and Vanzetti, the week will run August 23rd-30th. A packed week of events will be hosted in Hamilton to spread information about anarchist prisoners and to fundraise in support of our incarcerated comrades.
All proceeds from the week will be donated and split between Mexico ABC and Moscow ABC.
Schedule of Events:

Monday, August 25th – 5E Anarchist Prisoners in Mexico
Join us for a presentation on the case of the 5E prisoners in Mexico. Friends of the incarcerated anarchists will cover details of the case, the context of anarchist organizing in Mexico, and discuss the support work being done throughout the continent. (more…)
Tags: Canada, Hamilton, International Week for Anarchist Prisoners
Posted in Prison Struggle
Wednesday, March 26th, 2014
Call for an international mobilization, here.
Tags: Flyposter, International Solidarity, International Week for Anarchist Prisoners
Posted in Prison Struggle
Tuesday, October 15th, 2013
Russian – Spanish – Greek – Italian – Portuguese – Czech – Dutch
In summer 2013 members of several ABC groups discussed the necessity of introducing an International Day for Anarchist Prisoners. Given there are already established dates for Political Prisoners Rights Day or Prison Justice Day, we found it important to emphasise the stories of our comrades as well. Many imprisoned anarchists will never be acknowledged as 'political prisoners' by formal human-rights organisations, because their sense of social justice is strictly limited to the capitalist laws which are designed to defend the State and prevent any real social change. At the same time, even within our individual communities, we know so little about the repression that exists in other countries, to say nothing of the names and cases involving many of our incarcerated comrades.
This is why we have decided to introduce an annual Week for Anarchist Prisoners on August 23-30. We chose August 23 as a starting point, because on that very day in 1927 the Italian-American anarchists Nicola Sacco and Bartolomeo Vanzetti were executed in prison. They were convicted of murdering two men during an armed robbery at a shoe factory in South Braintree, Massachusetts, United States. Their arrest was a part of a bigger anti-radical campaign led by the American government. The State's evidence against the two was almost totally non-existent and many people still today believe that they were punished for their strong anarchist beliefs. Given the nature and diversity of anarchist groups around the globe, we have proposed a week of common action rather than a single campaign on a specific day making easier for groups to be able to organise an event within a longer target period. Therefore, we call on everyone to spread the information about the Week for Anarchist Prisoners among other groups and communities and think about organising event(s) in your city or town. The events can vary from info-evenings, screenings and benefit concerts to solidarity and direct actions. Let your imagination run free.
Till all are free.
325
ABC Belarus
Brighton ABC
Bristol ABC
ABC Cardiff
ABC Czech Republic
ABC Finland
ABC Kiev
ABC Latvia
Leeds ABC
London ABC
ABC Mexico
ABC Moscow
Nizhny Novgorod antirepression group
ABC St.Petersburg
Tags: International Solidarity, International Week for Anarchist Prisoners
Posted in Prison Struggle