Posts Tagged 'Islamic State in Iraq and Syria (ISIS)'
Monday, November 16th, 2020
… war der sofortige Tenor der Regierungsklasse nach dem Terroranschlag in der Wiener Innenstadt am 2. November, der vier Menschen das Leben kostete und bei dem über 20 zum Teil schwer verletzt wurden. Natürlich wird genau das von diesen Politikern jetzt gemacht.
Von denen, die seit Jahren nichts anderes tun, als durch die konstante, weitere Verschärfung der Lebensbedingungen Hass und Gewalt zu kultivieren. Genau die sprechen sich jetzt öffentlich gegen Hass und Gewalt aus (z.B. Kurz & Nehammer). Einem rechten Innenminister ist es nicht zu blöd sich selbst als den starken Anführer sämtlicher Polizeieinheiten zu stilisieren, der keine Straftat unbeantwortet lassen will und "gegen jeden Extremismus mit eiserner Hand vorgehen wird" (Zitat Nehammer). Als hätte das jemals einen Anschlag verhindert. Dabei: war es nicht das Bundesamt für Verfassungsschutz und Terrorismusbekämpfung BVT (welches ja bekanntlich dem Innenminister unterstellt ist), das im Juli 2020 die Ermittlungen gegen den bereits amtsbekannten Attentäter vom 2. November eingestellt hatte und zwar exakt an dem Tag, als dieser nachweislich versucht hatte, in der Slowakei Sprengstoff und Munition zu erwerben? (more…)
Tags: Analysis, Austria, Islamic State in Iraq and Syria (ISIS), Islamism, Neo-Nazis, Racism, Repression, Vienna
Posted in Social Control
Monday, December 30th, 2019
The genocide in Syrian territory since the invasion of the fascist Turkish state, with the agreement and complicity of the international community, continues. Day by day hundreds of civilians find themselves on the agonizing receiving end of the bombings and attacks carried out Erdogan's fascist army and ISIS's reemerging Islamist terrorism. For 2.5 months the revolutionary forces of rebel militias intensify defensive confrontation with every means against the imperialist international monopolies, which attempt to occupy the Syrian territories, displacing thousands of civilians with their military operations.
The NATO summit in London at the beginning of December ended with a pervasive sense of unity and an exchange of guarantees between the member states, despite superficial disagreements over the fascist Turkish state's invasion of Syria. The constant arrests and interrogations of militants in various states on suspicion of supporting the Kurdish rebels are proof of this. The latest anti-terrorist operation in the UK against the family environment of a YPG volunteer has led to his father being arrested on charges of supporting a terrorist organization.
The fascist Turkish state builds rivalry in the areas of security and energy in the eastern Mediterranean as it chooses to seal the alliance with Libya on the same day as the slaughterer of the Palestinians, Netanyahu is in Athens for the trilateral agreement between Greece, Cyprus and Israel for the EastMed pipeline. They also called for NATO's support, demanding that alliance members officially declare the YPG and the YPJ as terrorist organizations. A prime example is Erdogan's message to the Greek government amid transnational shocks and destabilization in relations between the two states on the basis of the disputed agreement with Libya: power relations and instability can change for the benefit of the Greek state with the precondition that the YPG/YPJ and DHKP-C Kurdish and Turkish fighters are extradited as terrorists. (more…)
Tags: Arson, Car Burning, Greece, International Solidarity, Islamic State in Iraq and Syria (ISIS), NATO, People's Defence Units (Y.P.G.), Revolutionary Solidarity Commando Haukur Hilmarsson, Rojava, Sabotage, Syria, Thessaloniki, Turkey, War, YPJ (Women's Protection Unit)
Posted in Direct Action
Wednesday, November 20th, 2019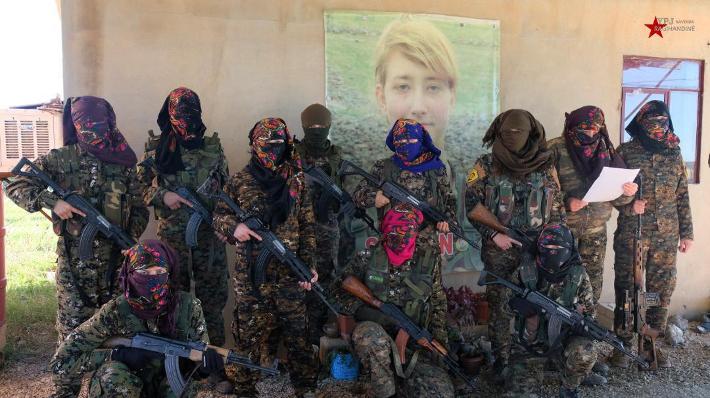 نامه ای از جانب یک آنارشیست انترناسیونالیست در روژاوا
Translation to Persian: Hasse Golkar
via barrikade:
Comrades,
I think it is important now that our voices of Rojava, out of the heart of that battle, are being heard. A fight for the life, for an existence in dignity, for real democracy and for the freedom of all women. I want to tell how the resistance of Serekaniye went on, how the beginning was, how the end was and also what happened in between. Serekaniye right now is in the hands of jihadist groups that are being supported by Turkey, upon approval by the United States. At a time they said there would be a five-day firearm rest…. we didn't believe it for one second. And that's how it was – the attacks didn't stop, maybe they've been reduced, but they continued attacking us with heavy artillery, bombings and airplanes. When there are bombings, there is not much that can be done; hide behind a tree and hope, that they didn't see you running or that they found your place.
Those five days of supposed firearm rest actually have been decisive for the United States and Turkey, to redefine the conflict, to realign the situation of war, confrontation and resistance against our forced withdrawal that no one expected. No one could believe it, after 11 days of resistance, beautiful and very hard at the same time. Leaving the city. The Turkish invasion of Serekaniye did start some days before, 8th of October, with a bombing of our military post that hasn't been answered, for not to unleash what happened later anyway. It was an attempt of the friends to protect the people and the society. But the next day, about 3 to 4 pm, another bombing of a post of the YPG took place, where 5 friends have fallen, and since then they bombed the whole border. (more…)
Tags: Islamic State in Iraq and Syria (ISIS), Kurdish Struggle, Kurdistan, Letter, People's Defence Units (Y.P.G.), Rojava, Serekaniye, Syria, Til Temir, Turkey, War, YPG International
Posted in Autonomy
Friday, October 11th, 2019
In the afternoon of 9 October the fascist Turkish occupation army and its Islamist murder gangs started their war of aggression against the liberated areas of Rojava. With massive artillery fire and widespread air raids on towns and villages along the Syrian-Turkish border, the front was opened and ground invasion began.
The fascist AKP-MHP regime is turning its threats into reality and under the cynical name 'Operation Sources of Peace' has launched a new campaign of extermination against the people of the region. From the North, jihadist gangs try to advance to the cities and settlements along the border and the villages in the vicinity have become the scene of fierce battles between the self-defence forces of the population and the invading troops. While the fascist invaders attack the civilian population of Rojava under the protection of their heavy weapons, artillery and the bombardment of their war planes, sleeper cells of the Islamic state carry out coordinated attacks in the interior and spread fear and terror. (more…)
Tags: Afrin, Al-Nusra Front, Antifa, International Solidarity, Islamic State in Iraq and Syria (ISIS), Kurdish Struggle, Kurdistan, People's Defence Units (Y.P.G.), Repression, Rojava, Syria, Turkey, War
Posted in Anti-Fascist
Monday, October 29th, 2018
Elefterya Hambi is an internationalist in northern Syria and is fighting in the YPJ ranks. In an interview, she talks about her reasons why she decided to help create a new social model in Rojava.
Tags: Germany, Hambach Forest, International Solidarity, Islamic State in Iraq and Syria (ISIS), Kurdish Struggle, Rojava, Syria, War, Women's Defense Units (YPJ)
Posted in Interviews
Friday, October 12th, 2018
ES: SIRIA: MUERE ANARQUISTA EN ROJAVA, ŞEHÎD ŞAHÎN QEREÇOX

This epitaph was written by a friend and comrade of Şahin / Waka / Farid

Şehîd Şahîn Qereçox, known as Waka to his many friends, was sadly martyred in the fight against Daesh in Hajin on 6th October. He had been serving in the YPG, fighting for the revolution in Rojava for 4 months. For as long as I'd known him he was a loving comrade and a true revolutionary. I'm still struggling to find the words to describe him – he was so thoughtful and creative he defied simple generalisation. Whatever I write will merely scratch the surface of what he meant to me and so many people. (more…)
Tags: Islamic State in Iraq and Syria (ISIS), Kurdish Struggle, People's Defence Units (Y.P.G.), Rojava, Şehîd Şahîn Qereçox 'Waka', Syria, War
Posted in Anti-Fascist
Thursday, October 4th, 2018
Memorial video for the anarchist internationalist fighter of Rojava Haukur Hilmarsson (Sahin Huseyni). Sehid Sahin has fought against I.S. (DAESH) in Raqqa and martyred while he was defending Afrin from Turkish State's military invasion.
Ruis Rojava
https://www.youtube.com/channel/UCtUPN9d4Y6I8Br8GrrfiFyg
Tags: Afrin, Haukur Hilmarsson, Islamic State in Iraq and Syria (ISIS), Kurdish Struggle, Middle East, People's Defence Units (Y.P.G.), Raqqa, Rojava, Syria, War, YPG International
Posted in Anti-Fascist
Saturday, March 25th, 2017
On March 22 there was an attack outside Parliament that has killed four and injured many. No sooner had this happened when Tommy Robinson, former leader of the EDL appeared at the scene of the attack to rave about a clash of civilisations and a war with all Muslims. This was swiftly followed up with an announcement of a march planned by Britain First in London.
The truth of the matter is this. These so called patriots are delighted that this has happened. This one fanatic has given them the opportunity they desired to try and start a conflict in society drawn down racial lines. They would seek to rebuild their failing movements off the blood and tears shed by ordinary people, they would use this attack to justify their own brand of jackbooted terror against the Muslim population of this country.
But we will not let them.
Our group and the national network know the reactionary ideology at the heart of the attack in the capital. Today the howls from the right are directed at us, to claim that we caused this attack through our tolerance of 'Islamic extremism' or our work to support the rights of refugees. These claims are built on the assumption that there is a clash of civilisations in this country. That 'English culture' and 'Muslim culture' cannot co-exist and a war is inevitable. (more…)
Tags: Anti-Fascism, Antifa, Britain First, Demo, English Defence League, Islamic State in Iraq and Syria (ISIS), Islamism, London, People's Defence Units (Y.P.G.), Racism, The Misery of Islam, UK
Posted in Anti-Fascist
Monday, January 2nd, 2017
From Avalanche – A conversation with two anarchist comrades from Den Haag, NL, an overview of the context, struggle and projects of a few anarchists from this city. We chose to transcribe this interview in order to better understand the particular path, circumstances and moments of revolt that have composed the experience of these comrades.
Tell me a bit about the city itself…
A – Den Haag is a city of 500 to maybe 600 thousand people, it is both the home to poor neighbourhoods, such as the Schilderswijk, the poorest neighbourhood in the Netherlands, and of the biggest institutions of justice of the European Union. The motto of the city is "Peace and Justice".
It is the host of some of the most important military, intelligence and justice institutions of the European Union… Europol, international summit centres, international courts, embassies…
B – There is also an international zone, protected by security delta, this is not only for the State but also companies, it attracts companies, capital. This city has all changed in the last 15 years, some- one in charge, from one day to the next, decided to flip the switch… and everything changed, all the dozens of squats were evicted, cleaned up, made the space for its new international role… (more…)
Tags: Den Haag, Islamic State in Iraq and Syria (ISIS), Mitch Henriquez, Netherlands, Police Brutality, Racism, Repression, Riots, Schilderswijk
Posted in Interviews
Tuesday, December 6th, 2016
**UPDATE** via Kurdish Question
People's Protection Units (YPG) volunteers, American Michael Israel (27) from Colorado and German Anton Neshek (Zana Ciwan), were killed by Turkish warplanes on 29 November according to another international volunteer fighting alongside the pair against the Islamic State group (IS/ISIS/ISIL), north of Raqqa. [updated].
On his Facebook page, the international volunteer, who was amongst the group killed by Turkish warplanes wrote:
"We were taking a small village when we got hit by Turkish jets in the night. Two of my friends, Anton and Michael were killed among many others. I'm staying to finish out my six months. Fuck Erdogan and Fuck Turkey."
The YPG have informed both men's families. (more…)
Tags: Islamic State in Iraq and Syria (ISIS), Kurdistan, Lions of Rojava, People's Defence Units (Y.P.G.), Raqqa, Rojava, Syria, Turkey, War, Women's Defense Units (YPJ)
Posted in Uncategorised
Tuesday, November 15th, 2016
The Apoist Youth Initiative has attacked a London-based organization that is close to Diyanet İşleri Başkanlığı (Presidency of Religious Affairs) and the Turkish Islamic Society in Newington Green / London.
The 30 youths who attacked these two fascist organizations declared that they had targeted them because of their dirty policies against the Kurdish freedom movement.
Both organizations were bombarded with fireworks, the windows were smashed and 'Turkey = ISIS (DAESH)' was spray painted on the walls.
The young people declared that similar actions would continue.
via Rojaciwan, translated by Insurrection News
Tags: Apoist Youth Initiative – NRW, Islamic State in Iraq and Syria (ISIS), Kurdish Struggle, London, Turkey, Turkish Islamic Society, UK
Posted in Direct Action
Wednesday, October 5th, 2016
1st of October
A minimum response on the call-out for the day of Rage against the massacre at Aleppo.
Even if there are only ruins left at Aleppo, the bombings haven't stopped. Even now, after 5 years of bombs and sieges, people still live in this city. Some because they didn't manage to leave, some because they didn't see a better future at Mediterranean's seabed, some because they refused to abandon the revolution against the dictatorship of Assad, that started with the Arab Spring. At Aleppo's ruins a guerilla warfare is taking place, that until now, Assad with Hezbollah, Iran and Russian military machine haven't achieved to defeat.
If the things that happened with the repression of Spanish Revolution by Franco and the Nazis were the rehearsal of World War II, probably the war in Syria is an image of the post-industrial future on earth. A future, where the democratic excuses collapse and the absolute violence prevails. A world, that despite the gigantic military power of the tyrants, the most effective way to control the insurrection is still by division. A situation of despair, where people in order to defend themselves and survive, are organized in groups manipulated by generals, who only seek more power and who lead the revolting crowds away from the fight against the regime and into a fight for control of the war zones of their interests.
The result is a constant war, a profitable business for the capitalists, who sell weapons and armament to war zones, where trade and economy still exist.
The example of Syria's punishment is a clear warning to everyone in the world, who even thinks about revolting.
In this chaotic total war, the reference point for us, are the few guerilla groups, organized outside the control the "moderate Muslims" of Al Nusra, or the "cosmics" of the FSA, who are both manipulated from the dominant powers of imperialistic competition, like USA, and both have the same target, a big piece from the power reallocation.
In a situation where people are cruelly attacked from one imperialist, and seek safety from the actions of its rival, we are affected by some revolutionaries, like the Leon Sedov Brigade, who stand against any imperialist and propose the solidarity and unity among the repressed of this world. We are inspired from the attempts of organization from the Revolutionary Coordination Committees against the dividing of the uprising, from the manipulant organizations.
Those rebels who try to self-organize in a battlefield with bombs and chemical weapons, who are still fighting despite the heavy losses, who prefer to die rather than surrender to the murderer Assad, who define and defend their freedom at all costs, they spread the message that in every condition struggle is possible, if there is the will to fight.
They spread a message that the powerful military machines of Al Assad, Iran, Lebanon, Isis, Russia and USA haven't achieved to defeat them for more than 5 years.
That explains the cruelty of the attack to Aleppo, the capital of revolution. After smaller towns were besieged and lead to starvation, the same tactic was attempted at Aleppo. But there were dynamic demonstrations where banks were expropriated, actions outside the guidelines of the army parties, which control the masses. That's why Aleppo is now being totally destroyed.
A major factor for the ongoing slaughter in Syria is the absolute absence of social resistance to this war, from the people of the imperialistic countries that invaded Syria.
European people, not only they do not react to the war, but the majority consent to the closure of the borders for refugees, who, if they survive from the death in the sea, are the only fighting, like the great example of Syrian refugees in Paris who went on hunger strike, demand the termination of the war.
We don't have a clear picture of what happens in movements in the rest of the world, but we are going to talk for the Greek case. Because after all, the economic crisis and poverty here in Greece, except from radicalizing parts of the people, lead more to the pacification. On the one hand we have people who take care of the refugees, rescuing them with their boats, independently from political parties and non-governmental organizations, and on the other hand there were beatings, fascist attacks and actions against the refugees. No big anti-war demonstration though, as happened in the past, because now economy is the only concern. Using it's left mask, Syriza combining fear management and harsh repression, lead social resistances, in general, to surrender. And now Greek state is placing refugees to concentration camps, obeying the demands of the European Union. Sadly, the solidarity to the refugees is limited to charity, without any reference to the revolution, that lead to war.
For the lefts, the "anti-american" feelings and the belief that "the enemy of my enemy is my friend" doesn't allow them to stand against Assad, while the majority of the anarchists, lacking analysis, refer exclusively to Rojava.
At the same moment, refugees give their own fights like the uprising in Moria, where after destroying a large part of the infrastructure, they escaped, but rather than run, as usually happens, they gathered and demonstrated, resulting their arrest.
In our opinion, we seek the expansion of the solidarity to the refugees, in a more general context, that will regard the war in Syria as an example of an uprising and how capitalists dealt with it, in order to be able to exclude the proper conclusions from it.
It's obvious, that the unity of the rebels doesn't come from the big, centralized, hierarchical organizations, that end up fighting each other for the biggest share of power. The only hope is a horizontal organization, that doesn't allow to any ambitious leader to sell the fight. The decentralized network of collectives that fight with their one will to a common direction, coordinating when possible, exchanging information, know-hows, arms and political ideas.
The views that see hierarchical organization as a necessary condition to achieve victory in a revolutionary war, were tried in the past and were lead to defeat or to the reproduction of the same social systems that they hypothetically fought.
The example of Syria, where small guerrilla groups and no centralized armies stand against the Russian military machine and the alliance of local armies, proves that what is missing is not the proper leadership, but a new mindset of organization. And that applies to every field of organization of revolutionary action, whether it is guerilla warfare, or the spread of revolutionary ideas, that do not persuade anyone because they are signed by the biggest federation, but are spread through initiative, close human contact, and co-action.
The massacre in Syria won't stop, unless we do something to stop it.
Unless we face it as a part of the repression that we all have felt. If we don't feel the tenacity of the rebels who don't surrender. If we don't realize that the distance from suffocating because of tear gas in demonstrations to the endless gas chamber of Syria is short. As long as we abstain from the streets, we give our permission to this bloodshed.
When captivity and death become universal condition, we are called to make insurrection and solidarity a universal condition.
EVERY DAY, A DAY OF RAGE
WAR AGAINST AUTHORITY ON EVERY INCH OF EARTH
Anarchists from D' wing of Koridallos Prison (Greece)
Tags: Al-Nusra Front, Aleppo, Analysis, Athens, Brigade León Sedov, Hezbollah, International Solidarity, Iran, Islamic State in Iraq and Syria (ISIS), Korydallos Prison, Lebanon, Letter, Migrant Struggle, Rojava, Russia, Social Insurrection, Syria, USA, War
Posted in Prison Struggle
Sunday, September 4th, 2016
PDF: ISIS AND TURKEY
ISIS and Turkey File
The Democratic Self-Administration of Rojava Foreign Relations Commisssion

Introduction
It is not a secret to any observer the relationship between Turkey's ruling Justice and Development Party (AKP) with all the armed groups in northern Syria. It began in Ras Alain and did not end in Afrin. The AKP's arguments revolve around changing the Syrian regime, bringing democracy to Syria, protecting Christians and Sunnis and unifying the country. These arguments have proven to be mere pretexts used by the AKP to intervene in Syria. The only goal of the AKP is to fight any democratic project for the future of Syria. To achieve this, the AKP has co-operated with the so-called Islamic State (Daesh) through providing training, supplying arms and facilitating the crossing of Daesh fighters to Syria through its borders.
Here are some compelling evidence for this cooperation through documents and confessions obtained by the People's Protection Units (YPG) throughout their operations in Rojava – north Syria.
Tags: Islamic State in Iraq and Syria (ISIS), Kurdish Struggle, Kurdistan, Lions of Rojava, PDF, People's Defence Units (Y.P.G.), Repression, Rojava, Syria, Turkey, War, Women's Defense Units (YPJ)
Posted in Library
Wednesday, August 31st, 2016
On 24 August 2016 Turkish Special Forces together with elements of the so-called Free Syrian Army started a cross-border offensive against the Northern Syrian town of Jarablus. According to official statements by both, Turkish officials and representatives of the FSA, target of this offensive is Islamic State as well as Kurdish People's Defense Units (YPG).
It was clear from the start that only Kurds would be targeted. During the last 5 days not a single confrontation took place between Turkish/FSA forces and ISIS. But from the beginning YPG and Syrian Democratic Forces (SDF) – the most effective forces on ground against ISIS – are being attacked by Turkish state forces.
The first day of the 'Euphrates Shield' operation, what Turkish officials have called an 'assault on Islamic State and YPG terrorists' as result of Turkish shelling of Kurdish majority neighborhoods in the east and west of Jarablus, at least 49 civilians have been killed. (more…)
Tags: Iraq, Islamic State in Iraq and Syria (ISIS), Kurdish Struggle, Kurdistan, Lions of Rojava, People's Defence Units (Y.P.G.), REPAK Kurdish Women's Relation Office, Repression, Rojava, Syria, Turkey, War
Posted in Autonomy
Thursday, August 18th, 2016
For more than 2 months there is a hard war going on in the area of Minbiç. Minbiç is a very strategic for the control over Rojava; it connects Turkey with the headquarters of ISIS, Raqqa. This area is important for the protection of Rojava and the democratic autonomy in Rojava. To be able to create a federal Syria where people of all ethnicities and religions can live in peace together, the liberation of the area of Minbiç is very important. In Rojava since four years a system of democratic autonomy exists. This model is an alternative to wars and instability in the Middle East. It offers the opportunity that all people can live together based on equality, freedom of women, ecology and democracy.
It is a well-known secret that Turkey supports ISIS and will do anything not to lose control in this area. If the area of Minbiç is freed of ISIS, it will open the road to connect the three cantons, which is a nightmare and opposed to the politics and objectives of Turkey. ISIS and Turkey are not only connected by political and economic interests; they are quite close in ideology and practices as well. Because this area is so important for the control in the Middle-East all hegemonic powers are present in this war. There are conflicting interests between the hegemonic powers which impacts and intensifies this war. It is possible to conceive the war in Syria and in Kurdistan as a third world war, where it is the main aim to imply a new division in the Middle East. (more…)
Tags: Islamic State in Iraq and Syria (ISIS), KJA - Congress of Free Women, Kurdistan, Lions of Rojava, Minbic, Minbij, People's Defence Units (Y.P.G.), Raqqa, Repression, Rojava, Syria, Turkey, War, Women's Defense Units (YPJ)
Posted in Autonomy