Posts Tagged 'Italy'
Tuesday, September 22nd, 2020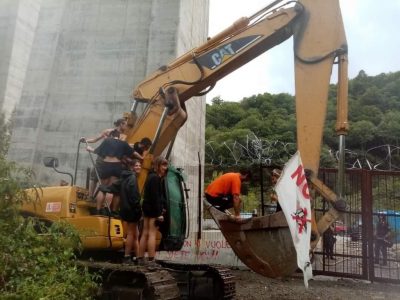 The No TAV campaign in northern Italy has been fighting an expensive, unneeded and corrupt high speed railway link for over three decades. The proposed mafia-linked freight train service from Turin to Lyon has been repeatedly exposed for its fantastical predictions and is slated by local people who see no reason to leave their homes for a white elephant. If you are already thinking about the similarities to HS2 here in England then you are in the right place. I will start by giving a very brief history of No TAV, then an update on recent events. In the second half, I will concentrate on what the Stop HS2 movement can learn from No TAV.
For those who have never heard of the No TAV movement, it is a campaign born thirty odd years ago to resist the construction of a 270 kilometre long high speed railway (Treno di Alta Velocita) between Turin (in Italy) and Lyon (in France). There is widespread opposition on both French and Italian soil, since the railway is a corrupt scheme proposing to transport freight based on fantasy figures and the people who live along the route see no benefit (the train won't be stopping there). They argue that the already existing railway infrastructure should be improved instead. The resistance is greatest in the breathtakingly beautiful Val di Susa (Susa Valley), which stretches from Turin to the Alps for fifty kilometres. In summer, the valley is bright with colours, the blue sky and green grass bisected by the snow on the mountains. It has a unique environment, since one side sees the sun and the other does not. The train line would rip straight through it before entering a tunnel of 57.5 kilometres to France. This tunnel would be longer than the Chunnel and in fact would just squeeze in as the longest rail tunnel in the world, if it ever gets built. Local people are concerned that drilling into the mountains will disturb uranium and asbestos deposts, that mafia construction will lead to health hazards and that the overall economic case for TAV no longer stands up. (more…)
Tags: Ecological Destruction, France, HS2, Italy, Lyon, TAV, Turin, UK, Val di Susa
Posted in Eco Struggle
Monday, September 14th, 2020
On 11th September a maxi-trial will begin in Lecce against almost a hundred demonstrators accused of having opposed the realization of the TAP gas pipeline in various ways. A sort of spectacular event with big numbers set up mainly to impress and leave a sign of repression that can also be a warning to others in some way. Besides the place, a bunker courtroom, chosen for the trial, officially for reasons linked to anti-Covid regulations, unofficially to create an atmosphere suitable for the criminalization of the TAP opposition, the obstinate and law-dependent clerks of Order and the Economy do not have much in their hands. In fact, we have nothing to defend. On the contrary: this trial should be an accusation that rebounds against those who are devastating the earth in the name of a progress that has been revealing its rotten face for centuries. Infrastructures with a strong impact such as a gas pipeline are feeding an energy-consuming system that only produces devastation, control, repression. It's enough to just take a look around. There is not one thing that is not connected and linked to everything else. That is why we can't see the realization of a gas pipeline as that alone. On the contrary, this is an operation that is colonizing places and minds. It is the expression of an economic system that is pushing the planet to the brink, to the slavery and death of millions of individuals. (more…)
Tags: Italy, Lecce, Repression, Trans Adriatic Pipeline (TAP), Trial
Posted in Eco Struggle
Sunday, September 13th, 2020
Updated contact addresses for solidarity correspondence:
Francesca Cerrone
c.c. Latina via Aspromonte 100
04100 Latina LT, Italy
Flavia Digiannantonio
C.C di Roma Rebibbia, via Bartolo Longo 92,
00156 Roma, Italy
(at the moment she is in cell with Anna Beniamino)
Nico Aurigemma
Casa Circondariale di Terni, Str. Delle Campore 32 ,
05100 Terni (TR)
Italy
Roberto Cropo
C.R. "San Michele"
Via Casale, 50
15122 Alessandria
Italy
(Same prison as Marco Bisesti from Operation Scripta Manent, but not in the same cell)
Tags: Flavia Digiannantonio, Francesca Cerrone, Italy, Nico Aurigemma, Operation Bialystok, Repression, Roberto Cropo
Posted in Prison Struggle
Monday, September 7th, 2020
Genoa, Piazza San Lorenzo
Saturday 26th September, 4pm 2020

Gathering against repression in solidarity with the anarchists arrested following operation Scripta Manent.

ANARCHY CAN'T BE LOCKED UP BEHIND BARS
The «Scripta Manent» appeal trial in Turin is coming to an end. It was on 6th September 2016 that eight anarchists were arrested and accused of having formed or participated in a «subversive association with aims of terrorism and subversion of the democratic order», a charge that about twenty anarchists are accused of in the trial. In particular the accusations are of carrying out, from 2005, several direct and armed actions against the police (police chiefs, carabinieri barracks, carabinieri training centres and RIS), men of State (mayors, the minister of the interior), journalists, companies involved in the restructuring of CIEs and the director of a detention centre for migrants, actions that were claimed FAI and FAI-FRI (Informal Anarchist Federation-International Revolutionary Front). In addition that of having written and edited anarchist publications including a historic publication of the movement, "Croce Nera Anarchica" [Anarchist Black Cross].
In April 2019, with the first-grade trial sentence, the comrades Alessandro, Alfredo, Anna, Marco and Nicola were given sentences ranging from 5 to 20 years of imprisonment, whereas another 18 were acquitted and two were released. In Alfredo and Nicola's case, years of imprisonment were added to a previous sentence for the kneecapping of the managing director of Ansaldo Nucleare, Roberto Adinolfi. This action was carried out on 7th May 2012 in Genoa and proudly claimed by the two comrades in court during the trial following their arrest in September of the same year. (more…)
Tags: CNA Italia, Informal Anarchist Federation (FAI), International Revolutionary Front, Italy, Operation Scripta Manent, Repression, Trial
Posted in Social Control
Thursday, August 27th, 2020
Illness, i.e.a faulty functioning of the organism, is not peculiar to man. Animals also get ill, and even things can in their own way present defects in functioning. The idea of illness as abnormality is the classic one that was developed by medical science.
The response to illness, mainly thanks to the positivist ideology which still dominates medicine today, is that of the cure, that is to say, an external intervention chosen from specific practices, aimed at restoring the conditions of a given idea of normality.
Yet it would be a mistake to think that the search for the causes of illness has always run parallel to this scientific need to restore normality. For centuries remedies did not go hand in hand with the study of causes, which at times were absolutely fantastical. Remedies had their own logic, especially when based on empirical knowledge of the forces of nature.
In more recent times a critique of the sectarianism of science, including medicine, has based itself on the idea of man's totality: an entity made up of various natural elements—intellectual, economic, social, cultural, political and so on. It is in this new perspective that the materialist and dialectical hypothesis of Marxism inserted itself. The variously described totality of the new, real man no longer divided up into the sectors that the old positivism had got us used to, was again encapsulated in a one-way determinism by the Marxists. The cause of illness was thus considered to be due exclusively to capitalism which, by alienating man through work, exposed him to a distorted relationship with nature and 'normality', the other side of illness. (more…)
Tags: Alfredo M. Bonanno, Analysis, Anti-Psychiatry, Coronavirus, Illness and Capital, Italy
Posted in Cognitive Liberty
Sunday, August 16th, 2020
via ilrovescio.info:
Anna Beniamino [sentenced in the « Scripta Manent » trial, whose appeal is currently taking place in Rome], has been transferred from Messina and is now in AS in Rebibbia prison.
To write to her the address is now:
Anna Beniamino
C.C di Roma Rebibbia
via Bartolo Longo 72
00156, Roma ,Italy
–
Actforfree notes:
And to write to the other anarchist comrades in the same case:
Marco Bisesti
C.C. di San Michele
Srada statale per Casale, 50/A
15121 – Alessandria (Italy)
Alfredo Cospito
Nicola Gai
Alessandro Mercogliano
Via Arginone, 327
44122 – Ferrara (Italy)
Translated by Act for freedom now!
Tags: Alfredo Cospito, Anna Beniamino, Italy, Marco Bisesti, Nicola Gai, Prison Transfer
Posted in Prison Struggle
Sunday, August 2nd, 2020
This is what the investigators looking into the unexpected blaze at the Parsec 3.26 on April 27, on the outskirts of Lecce in full lockdown, have had. And since Finimondo published a text which did not condemn what happened and were not outraged by it, quite the contrary, and as the animators of Finimondo live not far from the headquarters of that company whose social and economic reason for being is to embody Big Brother, you want to bet that 1 + 1 +
So today, Monday July 27th, we were dragged out of bed early in the morning. No, it wasn't the alarm clock, it was the Digos [political police]. They came to carry out a search and to give one of us a notice of investigation. They suspect he was the one who left "a pot containing petrol and two camping gas canisters" near the techno-cop company in Salento. The search, particularly attentive to computer equipment (which allows "understanding of the actual purposes of the act") and clothing (being strangely attracted to multicolour, black must have gone out of fashion), had a positive outcome. No, but what are we saying, positive is too little, we would go as far as to say very positive. In fact, it seems they have discovered that there are traces of Finimondo's text on the computer used by the suspect who has fired the Prosecutor's imagination so much (you don't say?). Moreover two camping gas canisters were seized (oh really?). Finally – you will never believe it! – they even found pots in his kitchen (seriously?). They didn't seize them, only photographed them, for everlasting evidence. As we anticipated, 1 + 1 + …
Who knows if all this will be enough for the brainstorming of the public prosecutor's office of Lecce, in the guise of prosecutors Guglielmo Cataldi e Giovanna Cannarile, to pass to action. With the times being as they are, that would be nothing surprising. Only the near future will tell. And then, this Parsec 3.26… with all its means and technique… at least a nice clear image of the skull, or the cheekbones, or the scrotum of the well-meaning arsonist… all their algorithms, for what? to have some Digos agents sent out to photograph a couple of pots? Crazy.
Well, we'll think about that tomorrow. We're going back to sleep…
[27/7/20]
Finimondo

Translated by Act for freedom now!
Tags: Arson, Facial Recognition, Finimondo, Italy, Lecce, Parsec 3.26 (Company), Raids, Repression, Sabotage
Posted in Social Control
Thursday, July 30th, 2020
"5G NETWORK HARMFUL TO HEALTH AND THE PLANET. STOP 5G!"
We learn from the press of the regime that between the end of June and the middle of July 2020 a blackout occurred in Cremona which left much of the city in the dark; in another episode a telephone exchange would have caught fire: some writings against 5G were found near the place of the fire.
via: roundrobin.info
Translated by Act for freedom now!
Tags: 5G, Anti-technology, Arson, Cremona, Italy, Sabotage
Posted in Direct Action
Sunday, July 19th, 2020
The preliminary hearing of the trial for «Prometeo» ("Prometheus") repressive operation, which was to be held on July 10th, 2020, at the Court of Genoa, has been postponed to July 29th at 10:00 a.m.. On that date Beppe and Natascia will not be physically present because the videoconferencing mode was imposed on them.
Updates on court developments will follow.
To write to comrades still locked up in prison the addresses are:
Natascia Savio
C. C. di Piacenza
strada delle Novate 65
29122 Piacenza — Italy
Giuseppe Bruna
C. C. di Pavia
via Vigentina 85
27100 Pavia — Italy
We renew the call for financial support. For those who would like to contribute with benefits to the prison and trial expenses – which in these months will become more substantial –, the coordinates are as follows:
– Postepay evolution card n° 5333 1710 9103 5440. Accountholder: Vanessa Ferrara. Iban: IT89U3608105138251086351095
– Postepay evolution card n° 5333 1710 8931 9699. Accountholder: Ilaria Benedetta Pasini. Iban: IT43K3608105138213368613377
Tags: Italy, Operation Prometeo, Repression, Trial
Posted in Social Control
Sunday, July 19th, 2020
July 4th, 2020
The following text is a letter from the anarchist Giuseppe Bruna, imprisoned since May 21st, 2019, for the «Prometeo» repressive operation, currently imprisoned in Pavia prison. To write to him: Giuseppe Bruna, C. C. di Pavia, via Vigentina 85, 27100 Pavia, Italy.
Dearly beloved,
I hope this one of mine finds you well!
I am writing to report a serious situation (yet another!) that I found myself facing between the afternoon of July 3rd and midnight of July 4th! As you will be aware, I have been locked up since about a year in a cell alone in the «protected» section [a section where are held ex-cops, infamous, pedophiles, rapists, ecc.] of Pavia's jail!, I have always refused such placement by putting in place various forms of struggle (hunger strike, air strike, etc.).
The [incomprehensible word, probably could be «direction»] health care of the Pavia jail, even though I was never underwent any medical examination (even if there was a specific request of the judge for the preliminary investigations, Basilone), stated that I am under treatment (with what?) for my thyroid lymph node (which has never been checked here) and that I had a serious form of bronchopneumonia and in case of need they would have provided to help me! (more…)
Tags: Giuseppe Bruna, Italy, Letter, Operation Prometeo
Posted in Prison Struggle
Sunday, July 5th, 2020
The imprisoned deported Sardinian anarchist comrade Davide Delogu informs us that in the Caltagirone prison (in Sicily), where he has just been transferred, he has once again been subject to regime 14 bis. Updates will follow.
Sardegna Anarchica
[Anarchist Sardinia]
Cassa di Sostegno per l'Anarchico Sardo Prigioniero Deportato Davide Delogu
[Support Fund for the Imprisoned Deported Sardinian Anarchist Davide Delogu]
Note: Article 14 bis of the Italian penitentiary law (not to be confused with 41bis) provides for special supervision of a prisoner.
The text in Italian was published in sardegnaanarchica.wordpress.com.
via Malacoda.
Tags: Davide Delogu, Italy, Prison Transfer, Sicily
Posted in Prison Struggle
Saturday, July 4th, 2020
PDF: Programme français
https://www.resistenzealnanomondo.org/necrotecnologie/programmetrois-journees-contre-les-techno-sciences-24-25-26-juillet-2020/
Tags: Alessandria, Anarchist Gathering, Anti-technology, Artificial Intelligence (AI), Artificial Reproduction, Biotechnology, Italy, Nanotechnology, PDF, Resistenze Al Nanomondo, Technological Singularity, Transhumanism
Posted in Eco Struggle
Friday, July 3rd, 2020
The reasons for opposing the 5G network are many, often overshadowed by the predominant (and absolutely legitimate) concern driven by an extremely noxious technology that will invade bodies and spaces with grave consequences from the point of view of health and environmental pollution. But when it comes to 5G we cannot just think of a mere advancement of the current 4G network, therefore a more rapid way of navigating. When we talk of 5G we can't even see it as "just" yet another toxicity, and oppose it exclusively in terms of health safety of individuals and protection of the environment. The 5G network is above all a necessary infrastructure for the various actors in the field. For the bosses to increase profits on the backs of the workers; for States to increase social control within national borders, and to better orchestrate military operations on the various war fronts.
Let's take a look at these aspects…
Yet another infrastructure for the bosses' benefit
The 5G network will permit more simultaneous connections and passing of data with zero delay. These characteristics are fundamental for the large scale explosion of technologies that use Artificial Intelligence. As we know, Artificial Intelligence is becoming part of the production process by replacing human labour (or trying to).
Thus the worker is becoming more and more dependent on a mechanism, often without knowing how it works, more and more alienated, more and more dominated by work rhythms dictated from above. Their autonomy can only be reduced. They are no longer a protagonist but the terminal of a machine which, if it doesn't overwhelm them, is because it has already kicked them out of the production process and taken their place. The 5G network corresponds more to the needs of industrialists than to those of average users (as they want us to believe). In fact, the Industry 4.0 model foresees that industrial plants (manufacturing, post-production and energy generation) will benefit from services created on the new mobile network. (more…)
Tags: 5G, Analysis, Anti-Militarism, Artificial Intelligence (AI), Biometrics, Corealis, Facial Recognition, Fourth Industrial Revolution, Horizon 2020, Internet of Things, Italy, Livorno, Smart Cities, Surveillance
Posted in Social Control
Friday, July 3rd, 2020
Our friend Andreas is dying… (July 2, 2020)
… and everyone is watching. What has been happening to Andreas in jail in Naples for at least a year is a result that both the German and the Italian state are responsible for. In spite of his poor health, Andreas is denied adequate medical care despite promises to the contrary by the hospital management. He is brought to a hospital every hour for questionable or senseless examinations and then back to prison.
Andreas was diagnosed with cancer at least a year ago, it spread all over his body and he had unspeakable pain. He can hardly walk anymore, just eat more baby food, he loses blood and is often unconscious for days. His Italian lawyer is fighting at all levels, but transfer to house arrest has now been refused.
Andreas is doing very badly, suicide seems to be the only way out for him in the current situation.
Both the Italian and the German state know Andreas' state of health. Nobody lifts a finger, fundamental human rights do not seem to apply to prisoners. What happens here is murder. And every suicide in jail is nothing else, because behind bars there are no free decisions.
We cannot stand by, although we are infinitely sad and angry and have no ideas what to do.
Confront the German and Italian authorities with their inactivity, call the Federal Foreign Office, Boschaft and the consulate.
Down with all prisons! Down with all states!
ABC Vienna, July 2nd, 2020
–

Notes:
The address to write to him:
Andreas Krebs
Sez.4 /Stz.5
Mediterraneo
Via Roma Verso Scampia 250
CAP 80144 Napoli (NA)
Italy
—
He has to pay for the urgently needed medication and reasonably usable food himself. If you want to donate money:
Receiver Krebs IBAN: DE 90 1005 0000 1067 1474 26
BIC: LOADED BEXXX
Purpose: Donation / Andreas Krebs
Tags: ABC Vienna, Andreas Krebs, Germany, Italy, Repression
Posted in Prison Struggle
Thursday, June 25th, 2020
EN | Genoa, Italy: Incendiary Attack Against a Police Vehicle Depot in Marassi
I danni della globalizzazione sono arrivati anche in occidente e ci siamo trovati a farne I conti direttamente. La reazione non è stata certo in una prospettiva di soluzione delle cause, bensì un ulteriore passo veloce verso il progresso ed un intensificarsi del dominio tecno-scientifico, della trasformazione e del rapido adeguamento delle logiche di autoritarismo e profitto.
Anche in tempi di pandemia il governo ha garantito gli affari delle case farmaceutiche e dei signori della guerra. Attraverso le politiche capitaliste gli Stati hanno continuato la produzione industriale a scapito dei lavoratori e le operazioni militari a scapito di intere popolazioni.
Anche nel porto di Genova hanno continuato a transitare navi cariche di carri armati e altri armamenti, dirette verso gli Emirati Arabi.
Lo Stato ha chiarito quali sono I suoi interessi, molto lontani dai reali bisogni degli individui, ed in continuità con la politica tecno-industriale:
imposizione di tecnologie nocive come il 5G e controllo sociale di massa (realizzato con la militarizzazione dei territori, l'accellerazione tecnologica e l'utilizzo di vari mezzi come droni, GPS, motoscafi, elicotteri e vari progetti "smart"). (more…)
Tags: Arson, Genoa, International Solidarity, Italy, Operation Bialystok, Operation Prometeo, Operation Scripta Manent, Sabotage
Posted in Direct Action