Posts Tagged 'Joaquín García Chanks'
Tuesday, November 5th, 2019
On the context of Revolt
We have witnessed an apparently unforeseeable phenomenon; from a practically harmless claim, thousands of youths gave free vent to their fatigue, facing their daily lives destroying symbols and flags, fears, lies and, why not, certain ways. It's not possible to try to analyse, perhaps in vain, the reason for such a situation in this short text; I don't think it is necessary to classify events in terms of superficiality and claiming slogans or to attribute this catharsis to an accumulation of situations; sometimes things are simpler.
Today I am smiling with happiness at the explosion of the order of things, the momentary rupture of the status quo, the burning of the symbols of lies and misery; I am enjoying the potential of this outbreak. Let's not deceive ourselves, it would be naïve to think that Revolt brings our values or our politics with it. That after the cathartic feast the counter of suffering incurred by existence will be zeroised or go to an inevitable becoming anarchist; the coming about of the Revolt must be enjoyed, the essential will that undermines all immobility, the flames of a momentarily chaotic becoming which can only survive with constant combustion to thus keep up its fearless beauty. Today I am smiling for a gift that no one gave me.
Joaquín García Chanks
24th October 2019
—
Translated from Italian by act for freedom now!
via: insuscettibilediravvedimento
Tags: Chile, Joaquín García Chanks, Letter, Santiago
Posted in Prison Struggle
Thursday, October 3rd, 2019
Algunas palabras previas
El compañero Joaquín García permanece en prisión desde noviembre del 2015, acusado de un atentado contra la policía. En este breve díptico buscamos no solo informar sobre su situación sino también agitar y aportar a fortalecer una solidaridad de combate. (more…)
Tags: Chile, Joaquín García Chanks, PDF, Zine
Posted in Library, Prison Struggle
Monday, April 1st, 2019
June 11th: The international day of solidarity with Marius Mason and long-term anarchist prisoners. In the 15 years this tradition has been observed, June 11th has facilitated support and action inspired by imprisoned anarchists — from noise demonstrations outside of jails to letter-writing nights, from fundraisers to arson. Setting aside this day is one way of remembering anarchists who are serving long prison sentences, generating support for them, and inspiring solidarity actions.
Because social struggles phase in and out, this day is a way to make sure that our imprisoned comrades are not forgotten. Our lack of memory is partially a result of the techno-alienation of the larger culture we're fighting against. But it's also a product of the dynamics of the anarchist space. People become burnt out and the cycle of forgetting continues.
June 11th is a way of combating that amnesia, of trying to sustain a long-term memory in the anarchist space. Not only does this generate support for anarchists locked in the state's prisons, it forces us to look back at what came before. Considering what previous generations did can both inspire us with ideas we've forgotten, and help us understand how our current practices came to be. (more…)
Tags: Connor C. Stevens, Eric G. King, Freddy Fuentevilla Saa, International Solidarity, J20, Jeremy Hammond, Joaquín García Chanks, June 11, June 11th Solidarity, Lisa, Marius Mason, Michael Kimble, Operation Panic, Operation Renata, Operation Scintilla, Operation Scripta Manent, Repression, Sean Swain, USA
Posted in Prison Struggle
Thursday, December 27th, 2018
"Antes, oh astro, matinal brillabas sobre los Vivos. Ahora, al extinguirte, vespertino brillas sobre los Muertos"
-Platón-
"Murió Adonaïs y por su muerte lloro.
Llorad por Adonaïs, aunque las lágrimas
no deshagan la escarcha que les cubre.
Y tú, su hora fatal, la que, entre todas,
fuiste elegida para nuestro daño,
despierta a tus oscuras compañeras,
muéstrales tu tristeza y di: conmigo
murió Adonaïs, y en tanto que el futuro
a olvidar al pasado no se atreva,
perdurarán su fama y su destino
como una luz y un eco eternamente"
-P.B. Shelley-
Quería escribirle a un tú ausente, tal vez inexistente; pensaba contribuir a las palabras de Shelley y darle vida a esta hermosa elegía, pero nunca le he escrito a un muerto y esta no será la excepción.
Cae sobre mí una falsa responsabilidad; muchos, consciente o inconscientemente, creen que nosotros, sus compañeros, poseemos el derecho o la autoridad de decir quien fue realmente nuestro hermano, y la verdad es que es una tarea imposible, tanto porque dicho derecho no existe, como por la complejidad que supone escribir en palabras sobre nuestro compañero; tal vez podríamos, como aquel alemán, destruir a martillazos la imagen que de él se ha construido. Es difícil comprender la falta de vergüenza de quienes revindican el nombre de Kevin, aun tal vez sin nunca haberlo leído/conocido, han acomodado a su interés la imagen del nuevo mártir, ni siquiera hace falta preguntarse cuantos realmente estuvieron, no hace falta porque aquí no existe ni existió nunca la mendicidad, la misericordia le pertenece a las víctimas y quien murió fue un guerrero: como bien lo recordó un hermano; "Él era solo él, Kevin contra el mundo". (more…)
Tags: Chile, Joaquín García Chanks, Kevin Garrido, Letter, Santiago
Posted in Prison Struggle
Monday, December 3rd, 2018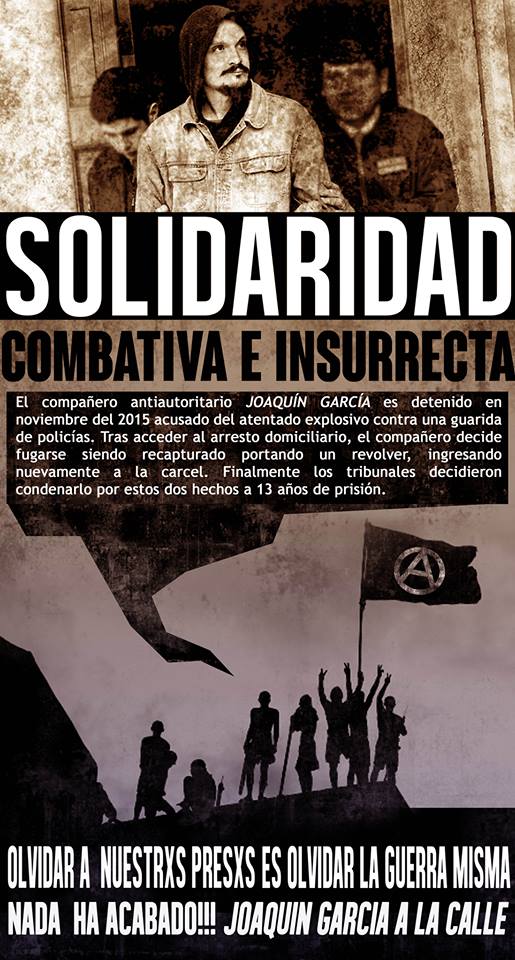 COMBATIVE AND INSURRECTIONIST SOLIDARITY
The anti-authoritarian comrade Joaquín García was arrested in November 2015, accused of an explosive attack against a police station. After being placed under house arrest, the comrade decided to escape but was recaptured carrying a revolver, and sent to prison again. Finally the courts decided to condemn him for these two acts to 13 years of prison.
FORGETTING OUR PRISONERS IS FORGETTING THE WAR ITSELF
NOTHING HAS FINISHED!! JOAQUIN GARCIA TO THE STREET!!
Tags: Chile, Flyposter, Joaquín García Chanks, Santiago
Posted in Prison Struggle
Friday, November 16th, 2018
On November 19, 2018, the appeal court will review the 13-year sentence against anti-authoritarian comrade Joaquín García, convicted for the placement of an explosive device against a police station and the possession of a revolver.
The intention of the legal defense is to annul the trial and make a new one. This call is to be attentive to the new judicial scenarios that can develop.
Solidarity with the prisoners of the social war!
Tags: Chile, Joaquín García Chanks, Trial
Posted in Prison Struggle
Sunday, September 9th, 2018
Finally, last Wednesday, September 5, was the reading of the sentences against comrades Kevin and Joaquin, these sentences can be appealed, but for the moment it is unknown what actions their lawyers will carry out.
The sentences were as follows:
KEVIN GARRIDO FERNÁNDEZ: 17 years of prison in maximum security, for possession of explosives and the placement and possession of explosive devices. In addition, sentenced to 61 days in minimum degree for illegal possession of a bladed weapon.
JOAQUÍN GARCÍA CHANKS: 10 years of prison in medium security, for placing explosive devices and a 3-year prison term in maximum security for the crime of illegally carrying a firearm.
For the moment this is what we can tell, as soon as we have more information we will update on the situation of the comrades. We make a call to demonstrate solidarity in the face of the prison sentences dictated against Kevin and Joaquín. No sentence against our comrades should be left without an answer.
SOLIDARITY AND STRUGGLE!
INSURRECTION AND ANARCHY!
FREEDOM TO KEVIN AND JOAQUIN NOW!
–
CHILE: SENTENCIAN A 17 AÑOS A KEVIN GARRIDO Y 13 AÑOS A JOAQUÍN GARCÍA
Finalmente el pasado miércoles 5 de Septiembre se realizó la lectura de las sentencias contra los compañeros Kevin y Joaquín, estas condenas pueden ser apeladas, por el momento se desconoce el accionar a llevar a cabo por lxs abogadxs.
Las sentencias fueron las siguientes:
KEVIN GARRIDO FERNÁNDEZ: a 17 años de presidio mayor en su grado máximo como autor de los delitos de colocación de artefacto explosivo y posesión y tenencia de explosión. Además de 61 días de presidio menor en su grado mínimo por porte ilegal de arma punzante.
JOAQUÍN GARCÍA CHANKS: a 10 años de presidio mayor en su grado medio por colocación de artefactos explosivos y a 3 años de presidio mayor en su grado máximo por el delito de porte ilegal de armas de fuego.
Por el momento es lo que podemos contar, en cuanto se tenga mayor información se actualizará la situación de los compañeros. Hacemos un llamado a demostrar la solidaridad frente a las condenas de prisión dictadas contra Kevin y Joaquín. Ninguna sentencia contra nuestrxs compañerxs puede quedar sin una respuesta.

¡SOLIDARIDAD Y LUCHA!
¡INSURRECIÓN Y ANARQUÍA!
¡LIBERTAD A KEVIN Y JOAQUÍN AHORA!
Tags: Chile, Joaquín García Chanks, Kevin Garrido, Santiago, Trial
Posted in Prison Struggle
Friday, March 10th, 2017
It has been five months since I returned to inhabit the cells of the Maximum Security Section of the High Security Prison and I think it is necessary to refer to both the personal and the prison scenario. The reasons for not writing before are obviously personal; but more than anything it is due to the belief – despite being convinced that sharing experiences generates inexhaustible links – that the virtual platforms and their set of communications is far removed from the real and approaches an abstract idea of the day to day life of jail and that of the individual. Irreducible? Yes, whether or not there is a swing of emotions, neither conviction nor mind falters, but that disgusting idea of the steel martyr behind the bars must fall. By the suicide of the image and the fetish, by the real destructive complicity. (more…)
Tags: Celula Revolucionaria Paulino Scarfo - FAI/FRI, Chile, Eco-Extremism, Individualists Tending Toward the Wild (ITS), Joaquín García Chanks, Santiago
Posted in Prison Struggle
Tuesday, February 14th, 2017
Ya han pasado cinco meses desde que volví a habitar las celdas de la Sección Máxima Seguridad del C.A.S y creo que es necesario referirme tanto a lo personal como al escenario carcelario. Las razones para no escribir antes son, obviamente, personales; pero más que nada son debido a la creencia -a pesar de ser un convencido de que el compartir experiencias genera lazos impagables- de que la plataforma virtual y su conjunto de comunicados se aleja mucho de lo real y se acerca a una idea abstracta del día a día carcelario e individual. ¿Irreductible? Sí, exista o no un vaivén emocional, ni la convicción ni la mente flaquean, pero esa asquerosa idea del mártir de acero tras los barrotes debe caer. Por el suicidio de la imagen y el fetiche, por la real complicidad destructora.
"El pesimismo es el opio de los intelectuales, el optimismo pertenece a los imbéciles. Un realismo fanático y soñador, la conciencia de que no cabemos en este mundo, los valores que defenderemos en cada momento, más el calor cómplice de los que queremos y estimamos".
Hace cinco meses, un poco de la detención:
El 7 de Septiembre, aproximadamente a las cinco de la tarde y a poco más de dos meses del quebrantamiento del arresto domiciliario total dictado por el aparato jurídico, me detuvieron al subir a un bus rural con dirección a algún lugar. (more…)
Tags: Analysis, Celula Revolucionaria Paulino Scarfo - FAI/FRI, Chile, Eco-Extremism, Individualists Tending Toward the Wild (ITS), Joaquín García Chanks, Letter
Posted in Prison Struggle