Posts Tagged 'Juan Aliste Vega'
Saturday, May 30th, 2020
A través de la Red Solidaria Anticarkelaria con Juan y Marcelo esta vez ampliada en una sola voz desde diferentes lugares de Latinoamérica y Europa queremos:
Despedir con profunda emoción a Daniel Vielma, compañero y hermano de origen argentino con el que compartimos un camino de múltiples iniciativas de lucha y solidaridad por la destrucción de las prisiones que cerca de la medianoche de ayer jueves 28 de mayo nos dejara físicamente producto de un cáncer fulminante en su casa en el sector de la Balza Las Perlas en la provincia de Río Negro junto a su compañera de vida Mai y sus hijos Bako, Juan y Diego.
Daniel formó parte de la Red de Solidaridad con Freddy y Marcelo en Neuquén cuando nuestros compañeros fueron detenidos en marzo del 2008 en la Patagonia Argentina y vivieron el encierro carcelario hasta diciembre del 2009 cuando fueron expulsados para ser recién juzgados y condenados por el Estado Chileno el año 2014.
Su entrega y convicción en la búsqueda de posibilidades legales e ilegales para que nuestros compañeros dejaran la prisión y alcanzaran la calle lejos del  Estado Chileno en aquel momento nos mostraron a una persona comprometida profunda y verdaderamente con la lucha contra el poder y su sociedad carcelaria.
En aquel tiempo intenso de múltiples y sucesivas batallas Daniel supo tejer Solidaridad Ofensiva y el recuerdo intacto de su actuar aún perduran en múltiples compañeras/os quienes hoy y desde distintos lugares del mundo unimos nuestros pensamientos para despedir físicamente a este gran guerrero de 39 años que hoy vuelve junto a su madre también fallecida a la localidad Rionegrina de Catriel.
Sabemos de su grandeza valórica, de su entrega incansable, de su permanente caminar para tejer complicidades en lucha constante contra el poder en un aquí y ahora que lo hace quedarse para siempre entre compañeras/os de diferentes latitudes que van hilvanando Resistencias en estos  tiempos álgidos que vive la comunidad humana mundial.
Por todas las presas y presos de la guerra social, revolucionarios, subversivos, anárkikos.
Por las y los presos sociales.
Por un mundo sin prisiones!!
SALUD Y LARGA VIDA AL COMPAÑERO DANIEL VIELMA!!
POR EL Y POR TODAS Y TODOS LOS CAÍDOS: NI UN MINUTO DE SILENCIO, TODA UNA VIDA DE COMBATE!!
ABRE LOS OJOS: ES TIEMPO DE LUCHAR!!
MIENTRAS EXISTA MISERIA, HABRÁ REBELIÓN!!
Para su manada, todo nuestro compañerismo y amor en guerra!!
Red Solidaria Antikarcelaria con Juan y Marcelo.
Viernes 29 de mayo de 2020
Diferentes lugares de Latinoamérica y Europa
Tags: Chile, Daniel Vielma, International Solidarity, Juan Aliste Vega, Marcelo Villarroel Sepúlveda
Posted in Uncategorised
Saturday, May 23rd, 2020
En tiempos de incertidumbre por lo que pueda suceder con la pandemia y todo el contexto social que la envuelve. La lucha está presente en las cárceles, en el confinamiento en casa y en las calles. Es inevitable continuar contra todo pronóstico manteniendo siempre nuestra memoria intacta y las manos activas.
Tras los muros…
En las cárceles la lucha de los/as presos/as para poder acceder a beneficios intrapenitenciarios y salir prontamente a la calle se expresa con diferentes tipos de manifestaciones, las que van desde huelgas, barrotazos, comunicados y hemos podido ver a través de los medios de prensa la fuerza de los motines, sectores de las prisiones controladas, algunas con incendios, también con duros enfrentamientos cuerpo a cuerpo contra los carceleros con varios bastardos heridos -aunque después se han cobrado revancha con sus herramientas- su cobardía ante los disturbios ha quedado en evidencia en varios registros.
En la calle… (more…)
Tags: Chile, Coronavirus, Juan Aliste Vega, Marcelo Villarroel Sepúlveda, Mauricio Morales, Repression, Santiago
Posted in Autonomy
Thursday, March 26th, 2020
Compañeras y compañeros:
Tenemos la feliz oportunidad de comunicar que luego de más de dos años de la crisis epiléptica que alertó de la Malformación Artereovensa del parietal derecho del cerebro ha habido un avance efectivo en el abordaje clínico de la MAV. Es así como el pasado jueves 19 de marzo del 2020, muy temprano en la mañana en medio de un nuevo Estado de Excepción Juan fue trasladado desde la Cárcel de Alta Seguridad y sometido a una radio cirugía, que a través de rayos gamma ejecuto la resección de la malformación en sí. Este procedimiento fue la respuesta del equipo de salud que lo trató desde un comienzo ante los enormes riesgos que significaba una operación de cerebro convencional. Ésta cirugía pudo ser llevada gracias a la salud y fortaleza física con que nuestro compañero ha sabido sortear todos estos años de encierro y en particular con los efectos de una epilepsia sintomática.
Ahora nos encontramos en el comienzo del fin del proceso a pesar de la gran tecnología que ha sido desplegada y del éxito de la intervención los resultados definitivos no son perceptibles antes de un año.
(more…)
Tags: Anti-Prison, Chile, Juan Aliste Vega, Santiago
Posted in Prison Struggle
Thursday, January 16th, 2020
Tags: Anti-Prison, Chile, International Solidarity, Juan Aliste Vega, Marcelo Villarroel Sepúlveda, Santiago, Solidarity Event
Posted in Prison Struggle
Wednesday, August 21st, 2019
Communiqué received together with the photos on 08/16/2019:
I. Street fight in confluence with the new urban guerrilla
As groups, we use revolutionary violence to make visible the obvious contradictions that the systemic and changing operation of capital implies, depending on the State that legitimizes it as the social order of the day.
Each gear justifies the next and is consolidated as a structure under the protection of a judicial apparatus that condemns many to misery, softens abuses and violations of priests condemned to a life of confinement in palaces, and forgives tax crimes within the reach of 1% of Chilean citizens that conserve 26.5% of the wealth; an executive power in charge of justifying and accelerating the measures that favor the wealthy and thirsty group of tyranny that is on duty; a legislative power in charge of discussing among its caste the daily evolution of millions of people… and always protecting their privileged status in power. (more…)
Tags: Antagonist Cells of the New Urban Guerrilla, Antagonistic Nuclei of the New Urban Guerrilla, Arson, Attentat, Chile, Chilectra, Erick Rodríguez, Forces for the Overflow of Civilization, Heather Heyer, Herminia Concha, Insurrectional Column "Ira and Complot" - FAI / FRI, Iván Palacios, Javier Recabarren, Juan Aliste Vega, Karr-kai cell / Antagonist Cores of the New Urban Guerrilla, Kevin Garrido, Marcelo Villarroel Sepúlveda, Michele Angiolillo, Mikhail Zhlobitsky, Sabotage, Santiago, Santiago Maldonado, Sebastián Oversluij, Sebastián Oversluij Seguel, Transantiago
Posted in Direct Action
Monday, April 22nd, 2019


Afiche en solidaridad con los cautivos en guerra Juan Aliste Vega y Marcelo Villarroel Sepúlveda.
Tags: Chile, Flyposter, Juan Aliste Vega, Marcelo Villarroel Sepúlveda, Santiago
Posted in Prison Struggle
Saturday, March 23rd, 2019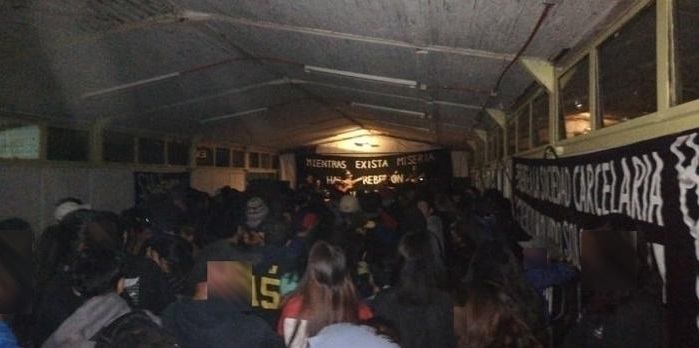 "Tokata Antikarcelaria" en solidaridad con Marcelo Villarroel Sepúlveda en Peñalolén el 15/03/2019.
A 11 años de los hechos en San Martín de los Andes, Argentina
Solidaridad activa, Marcelo Villarroel Sepúlveda a la calle
La expropiación al Banco Security en el centro de Santiago el 18 de Octubre de 2007, la persecución mediática, policial y estatal que se desató contra varios compañeros subversivos cuando ellos tomaron la opción de fugarse para salvaguardar sus vidas fueron golpes que calaron hondo en toda una estructura que se muestra fuerte, intocable e invulnerable.
La detención de los compañeros Marcelo y Freddy el día 15 de Marzo de 2008 en San Martín de los Andes (Argentina) pone fin a su clandestinidad, momento en el que se encontraban con David Cid Aedo, quien es detenido, puesto en libertad y expulsado a Chile con posterioridad. En esta ocasión Marcelo y Freddy son acusados de porte ilegal de armas de guerra, por lo que son condenados a 3 años y 6 meses de prisión. (more…)
Tags: Chile, International Solidarity, Juan Aliste Vega, Marcelo Villarroel Sepúlveda, Santiago
Posted in Prison Struggle
Wednesday, December 12th, 2018
El pequeño sabotaje que realizamos la madrugada del Martes 11 de Diciembre tiene su origen en una persona: Sebastián Oversluij Seguel, el Angry como cariñosamente le decíamos nosotrxs en nuestra intimidad subversiva, fue un compañero insurreccionalista y miembro activo de esta organización.
El Angry aporto en innumerables proyecto revolucionarios, levantando instancias de discusión, bibliotecas barriales (donde el conocimiento se puso a disposición de cualquier persona interesada), opto por una dieta vegana (libre de tortura animal), apoyo tokatas donde se reunían fondos en solidaridad con lxs presxs políticxs y lxs perseguidxs, propago ideas libertarias y antiespecistas en muchísimos lugares por donde anduvo. Colaboro en jornadas de agitación, repartiendo propaganda, armando barricadas, pegando afiches, asistiendo a marchas, levantando huertos, creando canciones, pintando, dibujando, y, por supuesto, saboteando el normal funcionamiento de una que otra institución represiva. Ese era nuestro hermano. (more…)
Tags: Banco Estado, Black December, Chile, International Solidarity, Juan Aliste Vega, Marcelo Villarroel Sepúlveda, Sabotage, Santiago, Sebastián Oversluij Seguel
Posted in Direct Action
Monday, December 3rd, 2018


Fotografía: Lienzo en el Encuentro del Libro y la Propaganda Anarquista en la población La Victoria el 13/10/2018.
La resistencia que hoy mantienen los/as compañeros/as en prisión es real, día a día tienen que convivir con lógicas tan podridas que a veces no se logra imaginar, desde la represión del carcelero, la autoridad penitenciaria, los nefastos códigos entre presos/as y la violencia que está totalmente a la orden del día y que puede culminar con la muerte, como lo fue el pasado 2 de Noviembre de 2018 cuando fue asesinado el compañero Kevin Garrido Fernández.
Esta pérdida es irrecuperable para sus familiares, amores, compañeros/as, para la lucha anticarcelaria y para quienes desde una perspectiva amplia practican la ofensiva contra el Capital y el Estado. A un compañero que actuó en consecuencia de sus ideas se le ha ido la vida a causa de una operación cómplice entre carceleros y presos al servicio de estos, lo que provoca un dolor y rabia inconmensurable, por lo que la indiferencia no es una opción. (more…)
Tags: Anti-Prison, Chile, Juan Aliste Vega, Kevin Garrido, Marcelo Villarroel Sepúlveda, USA
Posted in Prison Struggle
Friday, November 16th, 2018
(Recibimos y difundimos)
Una de las significancias de ser revolucionario, creo yo, pasa por la sensibilidad. Sensibilidad que te permite fijar una posición dentro de esta forma de vida actual impuesta he incrustada bajo la supremacía capitalista de una clase dominante y el conjunto de eslabones estructurales que perpetúan un control sobre la vida de millones de niñas, niños, mujeres y hombres. Hoy el dominio se expande y buscan controlar sus espacios, territorios, tiempos, sentimientos y cualquier atisbo de libertad que aun quede.
La sensibilidad revolucionaria nos permite tomar posición consciente y no solo constatar realidades. Somos enemigos de este Estado, ya con varias décadas de lucha y convicción en la piel, revindicamos el continuo histórico de este hacer subversivo y hoy, 2018 nos situamos en un tránsito de más de una década desde la caería-persecución y posterior prisión que enfrentamos como enemigos de este Estado kapitalista.
Todos estos años como rehenes en sus cárceles dan cuenta de un caminar ininterrumpido donde se han forjado complicidades fértiles en esta decisión de lucha que nos sitúa en la certeza de nuestro hacer subversivo permanente, reinventándonos y apañándonos en un latir libertario. (more…)
Tags: Chile, Juan Aliste Vega, Letter, Santiago
Posted in Prison Struggle
Thursday, August 23rd, 2018
Por la vida y salud de Juan Aliste Vega
Por el fin de las condenas de la justicia militar contra Marcelo Villarroel Sepúlveda
La "Red Solidaria Antikarcelaria con Juan y Marcelo" converge en los momentos en que nos llega la feliz noticia de que nuestro compañero Freddy Fuentevilla Saa logra pisar las calles nuevamente el 18/06/2018 tras 10 años y 3 meses de prisión ininterrumpida. Mientras por otro lado se encuentra la difícil situación de salud del compañero Juan y las duras condenas de la justicia militar que recaen sobre Marcelo. Por lo que como "Red Solidaria" nos empeñamos en agitar y difundir estas dos batallas que están dando los compañeros en prisión. Estas situaciones son delicadas y urgentes, es necesario visualizarlas, ponerlas sobre la mesa. Por lo que llamamos a todos/as las mentes concientes, a los/as autónomos/as, libertarios/as y subversivos/as a apoyar de forma real y concreta a Juan y Marcelo; ¡Aunemos!
– Sobre la situación de Juan
El compañero Juan fue un activo miembro de la guerrilla urbana del Mapu-Lautaro, organización que combatió durante años a la dictadura militar y su posterior transición a la democracia. Bajo la propuesta de la "Guerra Insurreccional de Masas" desarrollaron sabotajes, asaltos a bancos y armerías, atentados explosivos y armados, etcétera. (more…)
Tags: Chile, International Solidarity, Juan Aliste Vega, Marcelo Villarroel Sepúlveda, Santiago
Posted in Prison Struggle
Thursday, August 23rd, 2018


–What is a prison?
Prison is a material structure through which it is intended to inhibit the acts of any person who transgresses the conduct imposed by the State. Thus, punishment and the imposition of socially accepted discipline are the regime in which the captives have to live, by this seeking to annul their actions, ideas and beliefs. These acts may constitute crimes and like the ones that challenge order, be of revolutionary politics. It is with these that we again take a stand – either by supporting or having solidarity with those companions who presently are encarcerated for having carried out subversive actions for a political idea of liberation. The commitment of these companions makes us want to support them in real ways, concretely because we share goals. (more…)
Tags: Chile, International Solidarity, Juan Aliste Vega, Marcelo Villarroel Sepúlveda, Santiago
Posted in Prison Struggle
Sunday, July 15th, 2018
Clarification: Previously we incorrectly described Freddy Fuentevilla as anarchist in this re-post. Fuentevilla was a militant of a Marxist-Leninist organization in the Chilean region, and currently has never positioned himself in the anarchist ideology the same with his comrades who participated in the bank expropriation for which he was sentenced, namely Marcelo Villaroel and Juan Aliste. They are associated with the insurrectional anarchist idea because of their relations with anarchists and having been seen in the anti-authoritarian space, but it is important to be clear about their positions.
Refractario's note: We learn with joy that comrade Freddy has been released. From here, a strong warm hug, after the death threats of Bernales, the jails in Argentina, the Chilean prisons, the trials and farces up until now, time is filled with experiences in the construction of paths of negation. Today new paths are being opened and old ones taken up again, now back in the streets once more! Without ever forgetting Juan and Marcelo's struggle on the medical and juridical military fronts, respectively, we remember Freddy's words during the trial against him:
"Our stories didn't begin on 18th October 2007, as Juan (Aliste) has explained very well, they are a constant. It's not easy to disengage from them, especially when a hunt is unleashed that is not really aimed at getting someone to court, but on the contrary at their physical annihilation, the annihilation that metaphorically is presenting itself today surgically even buried under tons of cement and iron, not for one year, but for many years (…)
I think these words.. what I feel now is gratitude. But to whom? Gratitude to my mother, because I have no mother, I'm lucky in that respect. To la mia compagna, my comrades, my family, my friends and above all my children's unconditional love.
A hug to all, and the necessary strength will be always there. And…
While poverty persists there will be rebellion." (more…)
Tags: Chile, Freddy Fuentevilla Saa, Juan Aliste Vega, Marcelo Villarroel Sepúlveda, Santiago
Posted in Prison Struggle
Friday, December 16th, 2016
Tags: Chile, Flyposter, Freddy Fuentevilla Saa, Juan Aliste Vega, Marcelo Villarroel Sepúlveda, Santiago
Posted in Library
Tuesday, December 6th, 2016
"The big city also has a massive concentration of attack targets. (…) A few combatants can put large contingents of enemy forces in check by means of appropriate actions, the guerrilla must make it very clear that their attacks are directed in principle against all institutions of the enemy class, against all administrative positions, police and trustees but also against senior officials of these institutions, against judges, directors etc; Making it very clear that the war will bring them to the residential quarters of the rulers. (…) It uses surprise as a weapon and it the one that determines the time and location of operations."
– The Modern Capitalist State and the Strategy of Armed Struggle / RAF.
The ideas and practices antagonistic to capital and the state have been a headache for the bourgeois order since it penetrated strongly into Chilean territory centuries ago generating diverse reactions executed by the armed apparatuses of the state whether in dictatorship or democracy.
During the 60s the OPV took power while in the 1970s the various armed Marxist groups were formed to combat the established power of their respective epoch. While the OPP fought during Allende's rule, the MIR, FPMR and Mapu Lautaro fought against the military dictatorship, becoming part of the war against domination and against the state.
During the democratic transition these organization felt the offensive blow of the state and dismantled, however some of their fighters decided not to surrender.
During the 90s resurgent new currents of autonomy and horizontality emerged from the reduced anti-capitalist expression and came to public attention, mainly via demonstrations and street violence. From anonymity, sabotage with explosive devices against different targets of state and capital began to resonate and it was in the following decade when these actions led to anarchy being placed under the watchful eye of police intelligence.
The living expression of this new stage of anti-capitalism began to solidify the new autonomous and libertarian subversion in Chilean territory.
In the minds of agents of power there was no possibility that in the midst of democracy that there were individuals willing to violate and disrupt social peace and capitalist production. Bombings, street fighting, long days of protest accompanied by strong attacks against the police, sabotage, destructive fire and propaganda of insurrectionist ideas via multiform methods began to be part of the new diverse and decentralized praxis without command nor leadership of the anti-capitalist expression, the praxis of the insurrectionary anarchist struggle.
Over time, the state began to restructure itself, armed to the teeth, making its vigilance constant and abundant and introducing its discourse in society under the protection of its ever-faithful friend: the press. Simultaneously, modifications made jail an effective punishment for those who stray from the imposed normality, physical and mental annihilation under tons of concrete, and if possible murdered, this being the ultimate for of punishment for the subversives.
Using these tactics the state classified the subversive struggle as delinquency. For those of us who make it our lives this has no relevance because the vindication of revolutionary honor will always contradict their 'truths'. However we need to understand that this qualifier aims at the prevalence of the interests of the powerful. Therein lies the aim of the insurrectional attack, to strike and to disrupt the power until they are unable to control its disgusting order.
In this way under the prism of the ideas and events exposed we have returned generating a series of actions which have not ceased, and we continue. Today we claim as part of our project: Bullets sent to the parish priest of the Church of the Sacrament in March, robberies in universities for political means in July, the placing of an incendiary device on a Transantiago bus (without passengers) in August. All these actions were claimed by the Death Brigade, Illegalist Band Sebastían O. Seguel and the Hermina Concha Nuclei of Attack, allied to the FAI-FRI are now part of the Antagonistic Nuclei of the New Urban Guerrilla.
On December 2nd, we left a fake explosive device inside the West Military Village located at Av. Pajaritos, Central Station, Santiago, Chile.
Our device consisted of a fire extinguisher with a cell phone wired to it to resemble a remote control (see photo). As we have already noted, the non-placement of an actual explosive device was a political decision. Because although despicable being who deserve to die live in this place there are also workers here day and night who are not our targets.
For this same reason we used fake devices at the Plaza Alameda Mall and on a Transantiago bus (with passengers) in December 2015. It contrast to this was the explosive device we left at the Gendarmerie Reinsertion Center in February of this year which was composed of 1kg of ANFO that was strategically placed next to a gas cylinder.
Now, returning to the morning of December 2nd: This hostile action where the military and police live was designed to demoralize the historical enemy of the revolutionaries. An enemy we will fight with all of our weapons and our forces. From our position we warn those of power: today was a simulation but we have weapons and explosives and we will not hesitate to use them when we decide on the day, time and place to strike.
From now on we warn you: disgusting military, tread with care: Maria Riquelme (Block 4, Apt. 12), Iván Pinto (Block 11, Apt. 24), Luis Orellana (Block 11, Apt. 1123), Oscar Moya (Block 11, Apt. 1124), Sergio Martínez (Block 11, Apt. 1142). Your peace and quiet is over. Today we chose randomly, anybody could be here, with caution we observed them.
Finally it is necessary to send a combative greeting and a sign of complicity to the comrades of the Conspiracy of Cells of Fire (in prison and on the street) in Greece. With this action we wish to humbly contribute to the initiative of the Nemesis Project. We hope that this proposal resonates with every revolutionary and is materialized via concrete actions throughout the world.
Neither do we forget our brother in prison. Marcelo Villarroel, Freddy Fuentevilla and Juan Aliste, nine years since the manhunt began against them. We do not forget how the extinct torturer Alendro Bernales gave his message between the lines via the press: "They walk with death". Neither do we forget the extensive legal process they had to face in a case initiated by the Military Justice which was eventually transferred to Civil Justice by the Military Prosecutor Roberto Reveco. A transfer which resulted in no major change in the predominant desire of power for huge sentences. Even so our brothers remained staunch and immovable, dignified and ungovernable. To you our solidarity.
We also wish to send a symbolic internationalist greeting to the autonomous guerrilla women who give life to the Revolution in Rojava in the Middle East. Women who practise ideas antagonistic to capital, state and patriarchy in the midst of an ongoing military conflict against bastard police and soldiers opposed to freedom and autonomy.
Finally we remember our brother and partner Sebastián Oversluij Seguel, 3 years since his death in an attempted bank robbery on December 11th, 2013 in the commune of Pudahuel, Santiago, Chile. Murdered by the hands of the vigilante William Vera, a military man with a lengthy resume, an assassin of capital with experience in military conflicts overseas.
For all this and more: Attack the Military Corps!
Hostility is fully justified!
War on the enemy in your territory!
Everything continues..We will be back!

Insurrectional Column 'Wrath and Plot' – FAI/FRI,
Antagonistic Nuclei of the New Urban Guerrilla
via Contra Info, translated by Insurrection News

Tags: Antagonistic Nuclei of the New Urban Guerrilla, Arson, Chile, Conspiracy of Cells of Fire, Freddy Fuentevilla Saa, Informal Anarchist Federation (FAI), Insurrectional Column 'Wrath and Plot' – FAI/FRI, International Revolutionary Front, International Solidarity, Juan Aliste Vega, Marcelo Villarroel Sepúlveda, Nemesis Project, Sabotage, Santiago, Sebastián Oversluij Seguel
Posted in Direct Action