Posts Tagged 'Karditsa'
Sunday, September 4th, 2016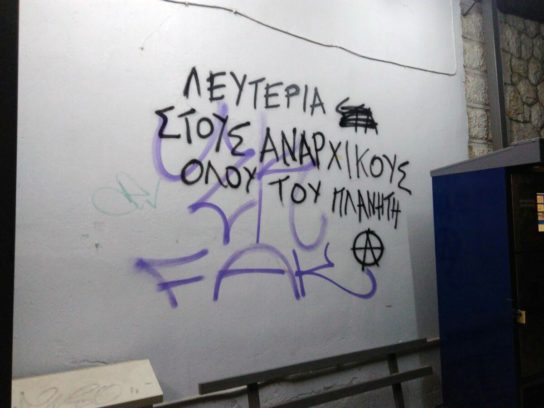 Photo above -"Freedom for anarchists all over the planet".
More pics on Contra-info.
Some days ago, we spray-painted slogans in the centre of Karditsa and blocked ATMs in response to the international call for a week of actions in solidarity with imprisoned anarchists.
We don't forget our imprisoned sisters and brothers throughout the world!
No imprisoned anarchist left alone!
The passion for freedom is stronger than all prisons!
Strength to fugitive comrades!
Anarchists
(September 2nd 2016)
Tags: Greece, International Week for Anarchist Prisoners, Karditsa, Sabotage
Posted in Direct Action
Wednesday, June 29th, 2016
Some Questions and Answers with N. Maziotis, event at Karditsa self-managed space, June 2016 [excerpts]

Q. How can the anarchist/antiauthoritarian space change from being reactive into a real revolutionary movement? In your opinion, what political characteristics should it have, and what kind of organization and aims?
A: It is a question of political positions. Anarchy, or Libertarian or antiauthoritarian communism is a social proposal and organization. The condition to create a truly revolutionary anarchist movement is the existence of political positions and proposals in order to make clear to the people, the masses and workers, what we believe and what aims we have as anarchists. This means that we must take positions on the burning problems and issues of our time that are the result of the capitalist crisis- such as debt, memoranda, the dilemma of staying in or leaving the European Union, and to make clear what is our goal as anarchists, which is none other than the overthrow and destruction of capital and the state and the creation of a stateless, classless society.
These are issues for which the masses of people, the people affected by the crisis and the policies for rescuing the system, have searched and still search answers, yet the anarchist/anti-authoritarian space had nothing different to offer them compared to the proposals of the mainstream parties (besides slogans perhaps). Also beyond the formulation of political positions and proposals it should be clear by whom or in what ways and means our struggle will promote and implement these political positions and proposals- in other words, how we will make Anarchy a reality. (more…)
Tags: Greece, Karditsa, Lambros Foundas, Nikos Maziotis, Pola Roupa, Revolutionary Struggle
Posted in Interviews
Wednesday, April 6th, 2016
Phone call intervention from Korydallos prison isolation basement by imprisoned member of CCF, Christos Tsakalos, during an event to promote the launch of the pamphlet "The Source of Victimization" by Alfredo Cospito. Cospito is jailed in Italy for the FAI armed attack against CEO Roberto Adinolfi of Ansaldo Nucleare.
Good evening comrades (…) I will begin with a phrase I had read somewhere and says "it is at the difficult time of repression, where we prove the level of our consciousness."
Alfredo Cospito's pamphlet "The source of victimization" is not only interesting from a historical perspective, as it describes the situation and degradation of the anarchist movement, after the carnage of Piazza Fontana. It has a special interest because, unfortunately, it is largely reflecting the mentality of victimization that is widespread in the Greek anarchist milieu.
But let's consider things from the beginning …
Speaking of the urban guerrilla in the years after the junta, the focal point was the murder of Christos Kassimis, member of E.L.A. (Epanastatikos Laikos Agonas – Revolutionary People's Struggle) in 1977, in a gunfight with cops at the facilities of the German company A.E.G. in Renti area, during the placement of incendiary bombs. After comes the arrest of Giannis Seriffis, who talks about being framed up by the prosecuting authorities due to his ideas. From 1977 and for many years the vast majority of those arrested either for «terrorist» activity, or conflicts in demonstrations, followed the line of advocacy of the "frame-up". (more…)
Tags: 17 November, Alfredo Cospito, Christos Kassimis, Christos Tsakalos, Christos Tsigaridas, Conspiracy of Cells of Fire, Conspiracy of Cells of Fire : Imprisoned Members Cell, Dimitris Koufodinas, ELA (Revolutionary People's Struggle), Giannis Seriffis, Greece, Karditsa, The Source of Victimization (Zine)
Posted in Autonomy