Posts Tagged 'Konstantinos Yagtzoglou'
Thursday, December 3rd, 2020
EN | PDF: 325 #12 – 'Against the Fourth and Fifth Industrial Revolutions'
ES | PDF: 325 #12 – 'Contra la Cuarta y Quinta Revolución Industrial'
Presenting 56 pages of anti-organisational, insurrectional, anti-civilisation anarchy of the 21st Century. A collection of critical texts and letters from anarchist points of view examining the new changes in production and social control brought about by new technologies which are ushering in a totalising prison-world and the advance of smarter-than-human machines. This issue of 325 builds on the considerations and content of the last issue which took as it's focus the subject of the Technological Singularity. Six years later, the mechanisms, ideologies and impacts of this global dystopian project are nearer and clearer and the texts you will read in this new issue deal with the emerging realities of these technological revolutions.
For the first time, 325 is coming out in 3 languages: First in English, with Spanish and Italian to follow. Printed copies are available, but we also encourage people to print out their own copies and distribute them in their area.
CONTENTS : 325#12
3. Editorial
4. Automation, Robotics & Labour in the 4th & 5th Industrial Revolutions
8. From Riot to Insurrection – Excerpt
9. A Small Criticism of Science and its World
10. Covid-19 World: Epidemics in the era of Capitalism
12. The Fractures of Dominion
13. Coordinated Incendiary Attacks Against Relay Antennas in Grenoble, France
14. The 4th and 5th Industrial Revolutions
17. The Artificial Reproduction of the Human: The Road of Transhumanism
23. Machine Psychology: A Disappearing Act
25. Oblique Look
28. Smartphones, Ringtones, Capital
29. Cashless Societies and Crypto-Currencies: End of the Traditional Era of Banking and Finance
32. Contribution to the 1st International Meeting Against Techno-Sciences by imprisoned anarchist Dino Giagtzoglou
38. Cybernetic Society and its World
48. Against Starlink
50. Space : Part 1
51. To Be Released
53. Direct Action Chronology
ANTI-COPYRIGHT NETWORK 2020
Tags: 325 Magazine, Analysis, Anti-Prison, Anti-technology, Artificial Intelligence (AI), Artificial Reproduction, Biotechnology, Coronavirus, Crypto-Currencies, Cybernetics, Fifth Industrial Revolution, Fourth Industrial Revolution, Insurrection, International Solidarity, Konstantinos Yagtzoglou, Nanotechnology, PDF, Prison Society, Robotics, Sabotage, Starlink, Technological Singularity, Transhumanism, Zine
Posted in Library
Sunday, August 16th, 2020
Just like today, 10 years ago, the Chilean State carried out an extensive repressive operation against comrades and anarchist operations in response to the dozens of bombings against symbols and institutions of the State and Capital. This operation, which led to the arrest of ten anarchists and became known as the "Bombs Case", ended in a fiasco, as the five who were eventually prosecuted were completely acquitted, and were described by the press as the biggest defeat of law enforcement authorities in court history. Today, two of our comrades, Monica and Francisco, who were among those arrested at the time, are again imprisoned in a State that a few months ago slaughtered a massive social uprising that shocked us all.
Arrest and imprisonment are nothing new for our siblings, since in 2013 they were found in the cells of the Spanish State accused of an attack on a cathedral in Zaragoza by the Insurrectional Commando Mateo Morral. The comrades are once again accused of a series of bombings against representatives of the rich, powerful and their defenders in Chilean territory. The attacks included the shipment of two booby-trapped parcels, one of which exploded, leaving eight cops injured (3 of them seriously) at a Santiago police station and the other being located before hitting its target at the subsidiary offices of one of the largest business consortia in Chile (owned by the fourth richest family in Latin America) having as a recipient the head of the legal department, who had served as Minister of Defense and Interior during the crackdown on anarchists known as the "Bombs Case".
After so many years of persecution and imprisonment, relentless struggles inside and outside prisons, they remain steadfast and convinced of the right of the liberation struggle. It is such examples of combatants that have motivated me too to take subversive initiatives and make choices of resistance to domination and exploitation. In such paths of struggle we want to and must walk constantly with love for life and freedom and without fear for death or prison.
With the undimmed memory of Mauricio Morales,
With passion and determination,
With stubbornness and commitment,
With my heads high,
From the bottom of my heart I send a rebellious signal and a big hug to Monica Caballero and Francisco Solar.
REBELLION FIRST AND ALWAYS
Dinos
Special underground section of Koridallos prison
14/08/2020
Tags: 14/14, Francisco Solar, International Solidarity, Konstantinos Yagtzoglou, Letter, Monica Caballero
Posted in Prison Struggle
Tuesday, December 10th, 2019
While the garbage in uniforms occupied for another night Exarchia and the center of Athens, to fulfill the dreams of Mr. Chryssochidis of a dead and safe city, our ways lead to a soft target.
The image of George Orwell "1984" is already reality. The internet of things implements televisions, refrigerators and other electronic stuff in our homes, in order to collect our data, to survey our habits, to transform human life in digital algorithm. They call it Smart City, we call it a totalitarian society.
A company which sells the hard ware of the smart city and also its ideologies, is the security company "Alphacom". Alphacom not only provides this, but also CCTV technology and other equipment for the rich and for authorities, to protect their interests. And last but not least, Alphacom is selling and installing the products of Tyco. Tyco is a mulitinational company, which produces surveillance technologies for prisons worldwide and other security forces.
In the early hours of December 2, we burned the van of Alphacom in front of their shop in Kaisariani.
This fire was lit for anarchist prisoner Dino Giagtzoglou, who wrote a letter to the International Meeting against the Techno-Sciences in Italy (July 2019)
in which he mentions many reasons to fight this part of the capitalist powersystem. We welcome the upcoming research about the players in this game.
This fire was also lit for Loic, still in prison in Hamburg.
Finally, this attack was made in solidarity and sympathy with those persecuted for the Revolutionary Self-Defense case, as well as those persecuted for good intentions, kinship or friendship. Our strength and solidarity are superior to the politics and repressive operations.
Strength to the comrades Michailidis, Athanassopoulou, Chatzivasileiadis, who are in illegality.
Anarchists
via mpalothia
Tags: Alphacom, Arson, Athens, Car Burning, Exarchia, Greece, Konstantinos Yagtzoglou, Sabotage, Solidarity Action, Surveillance, Tyco
Posted in Direct Action
Saturday, September 28th, 2019
Grecia: Aggiornamento sul processo contro l'anarchico Konstantinos Giagztoglou (settembre 2019)
09/26/2019
On Friday, September 20, 2019, in the special courtroom of the Korydallos prison, the trial against anarchist comrade Konstantinos Giagztoglou began.
CASE SUMMARY
Dinos was arrested in October 2017 in an anti-terrorist ambush when he left an apartment in central Athens, which he rented with false ID to help a persecuted comrade. He was arrested with an order issued by Special Investigator Eutychis Nikopoulos for the case of intercepted letter-bomb packages which were sent to officials of the European economic and political elite in the spring of that year. Since then he has been detained and accused of participating in a "terrorist organization", as well as construction and dispatch of explosive devices to officials of financial institutions and rating agencies throughout Europe, as well as an attempted murder for the package that injured Loukas Papadimos, the former prime minister of Greece. The comrade has declared from the first moment of his arrest and in an open letter to the anarchist movement, that renting the apartment was a conscious choice in the context of revolutionary solidarity, but does not accept any of the other accusations. (more…)
Tags: Athens, Greece, Konstantinos Yagtzoglou, Korydallos Prison, Loukas Papadimos, Pola Roupa, Repression, Trial
Posted in Direct Action
Tuesday, September 17th, 2019
IT: Contributo per l'incontro internazionale contro le tecno-scienze (Italia – luglio 2019) dell'anarchico Dino Giagtzoglou, prigioniero dello stato greco
GR: Ντίνος Γιαγτζόγλου: Συνεισφορά Στη Διεθνή Συνάντηση Ενάντια Στις Τεχνο-Επιστήμες
ES: Contribución a la reunión internacional contra las tecnociencias (Italia – julio de 2019) del anarquista Dino Giagtzoglou, prisionero del estado griego
Contribution to the international meeting against the techno-sciences (Italy – July 2019) by anarchist Dino Giagtzoglou, prisoner of the Greek state
Comrades
I start this letter with a certainty. I am sure that our life experiences are very different as well as the starting points of the struggle of each and every one. I also think that with many of you we have different ideological origins and disagreements or contrasts on individual issues. But I firmly believe that the will to resist the plans of Domination, stemming from the awareness of the fundamental social alienation that alienates us from ourselves and nature as a whole, and the revolutionary passion for the destruction of the mega-machine of Power unite us in a common vision of a world free from the shackles of civilization. By going through a variety of analyzes, striding kilometer distances and eliminating in practice the language obstacles, since we recognize that there is the community of struggle for total liberation, we can really keep the flame of the revolt lit and the wager of the social revolution open. I therefore send a warm greeting to the Resistenze Al Nanomondo collective and to all the participants in the international meeting against the techno-sciences, expressing in advance my eagerness to fill the gaps in knowledge, that my absence will undoubtedly cause, by studying your reflections, your conclusions and everything you can get me through the actions and collaborations that will come from your fermentations in Italy.
But let's take things in turn. For 21 months now, I have been pre-trial detained in the Greek prisons because I made the decision, like many fighters around the world, to realize my ideas by taking a battle position in the social war and fighting against power, here and now. So I am in prison because I put my ideas into practice beyond the limits of the law and certainly not by accident. (more…)
Tags: Anti-technology, Artificial Intelligence (AI), Biotechnology, Greece, Italy, Konstantinos Yagtzoglou, Letter, Nanotechnology, Resistenze Al Nanomondo, Technological Singularity, Transhumanism
Posted in Eco Struggle
Wednesday, July 24th, 2019
IT: SOLIDARIETA' A DINOS GIAGTZOGLOU
SOLIDARITY WITH DINOS GIAGTZOGLOU
αλληλεγγύη
Anarchist Dinos Giagtzoglou was arrested in central Athens on 28 October 2017, one of Greece's national days, in an ambush by anti-terrorist police forces as he left a safe house-hideout rented by him under a false name, carrying weaponry.
Initially he got imprisoned in the prison of Larissa, a city 355 km from Athens, with the aim of isolating him from his comrades, family and friends, making the talks with the lawyer extremely difficult and preparing for his trial almost impossible since the case files contain thousands of pages in digital format.
On 21 February 2018, he was transferred back to Athens for a pending trial about an old arrest in clashes with the riot police in the context of a general strike against the Greek government's austerity economic measures in May 2011. After the postponement of this trial he began a hunger strike demanding to be typically transferred to Korydallos prison, close to his place of residence. (more…)
Tags: Athens, Greece, International Solidarity, Konstantinos Yagtzoglou, Korydallos Prison
Posted in Prison Struggle
Tuesday, December 18th, 2018


Italian translation via Anarhija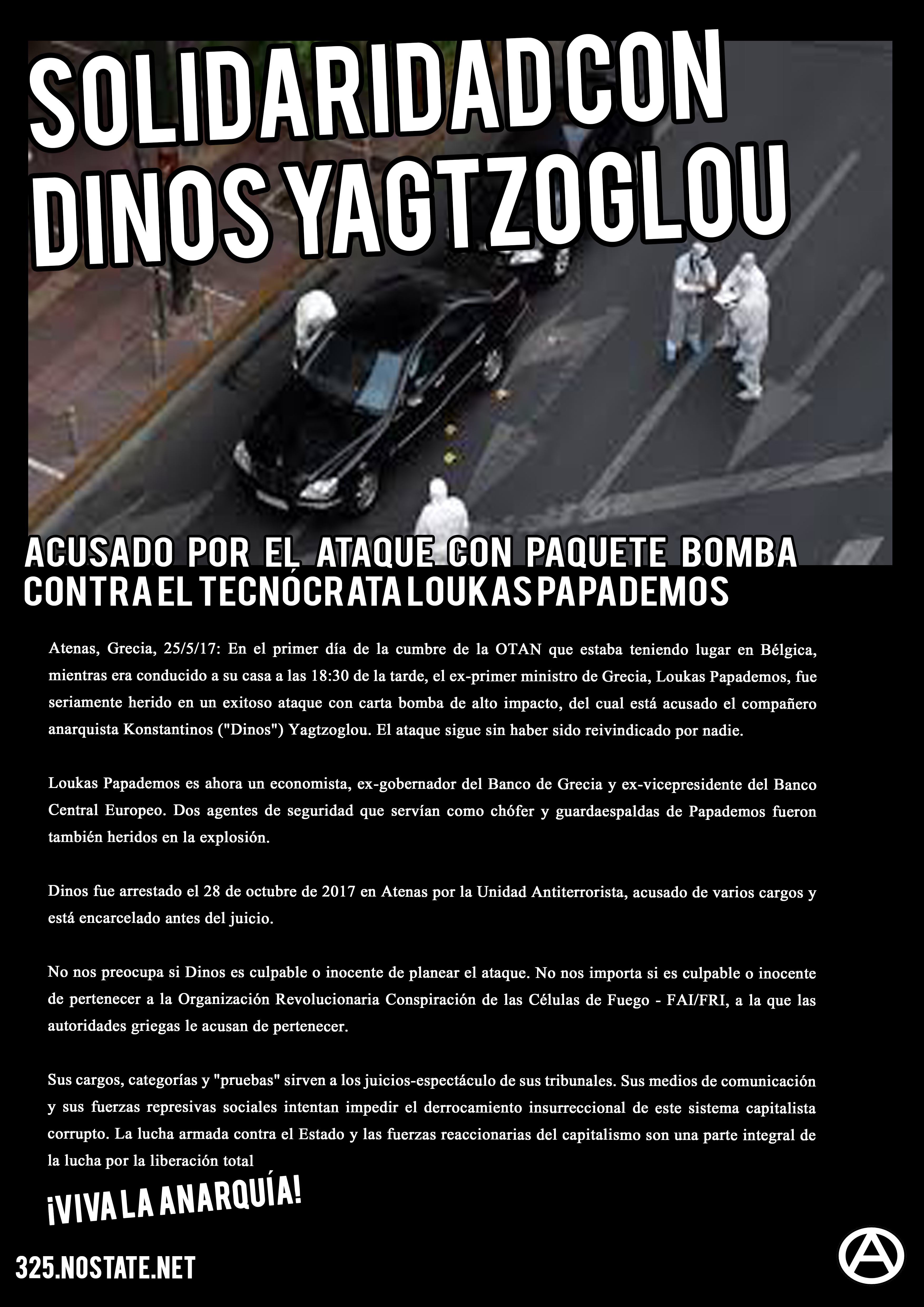 Spanish translation by La Rebelión de las Palabras + PDF
Tags: Athens, Flyposter, Greece, Konstantinos Yagtzoglou, Loukas Papadimos
Posted in Prison Struggle
Thursday, November 23rd, 2017
On 28/10, Konstantinos (Dinos) Yagtzoglou is arrested by armed assassins of the E.K.A.M. in Athens. He is accused of sending a parcel bomb to former technocrat prime minister Loukas Papademos, who was injured by the attack inside his car. The other charges against him are for explosive packages found at the same time as the attack and also the oppressive Article 187A, for participation in a criminal organization, alleged membership of Conspiracy of Cells of Fire, the group that claimed one of the explosive packages.
We do not care for democracy, for the media spectacle and the cop mentality that is the junta of innocence or guilt. We do not play their game of justice, where the pieces are already placed against us, neither for the state that sows terror, the self imposed fear that permeates a passive society. What we care for is the continuation of the armed struggle against the necropolis of authority.
Strength to our anarchist comrade Dinos Yagtzoglou.
Soul and Body, nothing is over, the conflict continues!

Chaotic and Individualist Anarchists
Tags: Athens, Conspiracy of Cells of Fire, Flyposter, Greece, Konstantinos Yagtzoglou, Loukas Papadimos
Posted in Prison Struggle
Monday, November 13th, 2017
On the morning of October 28, 2017, comrade Konstantinos 'Dinos' Yagtzoglou was captured by the anti-terrorist police. The arrest order, issued by Special Prosecutor E. Nikopoulos, was based on accusations of belonging to a terrorist organization and attempted murder for the letter bomb attack against former-Prime Minister Papadimos. The accusations are based on a mixture of genetic material that was allegedly collected and stored from objects following clashes with law enforcement during a demonstration in 2011, in which the comrade was arrested. This mixture, supposedly related to the explosive attack, is alleged to have been found by the police in the remains of the letter bomb, along with the DNA of Papadimos. The charges against the comrade, combined with the material allegedly found in his possession during his arrest have led to him being prosecuted under the 'anti-terrorism law' (187A).
On the same day, a comrade from Konstantinos's circle of friends was arrested. It is a constant tactic of the anti-terrorist unit to target people from an arrested person's family or circle of friends as a form of intimidation, and as an attempt to politically and physically isolate detainees. On October 29, Dinos was brought before the investigating judge for a continuation of the detention order, and was warned that he only had 3 days to prepare for his hearing. (more…)
Tags: Conspiracy of Cells of Fire, Greece, International Solidarity, Konstantinos Yagtzoglou, Loukas Papadimos, Repression
Posted in Prison Struggle
Sunday, November 5th, 2017
[Report elaborated by Sin Banderas Ni Fronteras with press sources and counter information]
On Wednesday 1/11, comrade Konstantinos Yagtzoglou was taken to the judicial chamber, where a prosecutor and a special judge for questions of terrorism ordered that he be taken into custody.
Konstantinos [Dinos] faces charges related to the attack with a letter bomb against former Greek Prime Minister Lucas Papademos, as well as with other charges for explosive packages found in the distribution center of the Post Office, in addition to the infamous Article 187A, of participation in criminal organization, for his alleged membership of Conspiracy of Cells of Fire, the group that claimed the shipment of one of the explosive packages.
Also, the Greek police try to use against the comrade, once again, the "scientific proof" of DNA as "indisputable evidence", stating that there is Konstantinos' DNA in the letter bomb that seriously injured the former Greek Prime Minister on May 25, 2017. (more…)
Tags: Athens, Conspiracy of Cells of Fire, Greece, Konstantinos Yagtzoglou, Loukas Papadimos
Posted in Prison Struggle
Sunday, October 29th, 2017
Grecia – Arrestado un anarquista acusado de pertenecer a la CCF y de haber participado en el ataque contra el ex-primer ministro Papademos [es]
According to info via Athens IMC, comrade Kostantino Y. has been arrested and is suspected by the security forces of being involved in the letter-bomb attack against technocrat ex-prime minister and IMF employee Loukas Papadimos which took place in May 2017. The attack led to deep wounds to Papadimos and injuries to two other people accompanying him inside the vehicle he was in. Papadimos was hospitalised for a month.
The hostage comrade was inflicted an injury to his leg early Saturday morning during his violent kidnapping by the counter-terror unit. Apparently Kostantino is going to be charged with many felonies. Today he will be taken to the investigating judge where there will be a concentration in solidarity at the court.
This repressive action by state forces won't go unanswered and comrades in the struggle internationally should be aware of this latest move.
Corporate media reported from the police that Kostantino had been under surveillance for two weeks before being caught carrying eight forged ID cards, two guns, ammunition, an explosive device rigged with a timer and gunpowder in three hold-alls, a plastic garbage bag and a fanny pack. The police spread in the media also that the comrade was clearing out a safe house rented in a false identity. The police suspect him of links to Conspiracy of Cells of Fire and implicated him in several unsolved letter-bomb actions including the attack against German Finance Minister Wolfgang Schäuble. It doesn't matter if Kostantino Y. is guilty or innocent of the charges, no comrade is left alone!
Solidarity to Kostantino G: 29/10 19:00 Polytechnic Athens
OPEN ASSOCIATION OF SOLIDARITY TO KOSTANTINO Y.
Day / Time: 29/10/2017 at 7 pm
Location: EXARCHIA / GINI
OPEN ASSOCIATION OF SOLIDARITY IN KOSTANTINO Y. FIRST CASUAL INFORMATION. ALL THERE. NO COMRADE IN THE HANDS OF THE STATE.
Tags: Athens, Conspiracy of Cells of Fire, Greece, International Solidarity, Konstantinos Yagtzoglou, Loukas Papadimos, Raids, Repression, Wolfgang Schäuble
Posted in Social Control