Posts Tagged 'Kostas Sakkas'
Tuesday, October 6th, 2020
Giannis Dimitrakis was sentenced to 11.5 years without mitigation for robbery, possession of a weapon and use of a forged document.
Kostas Sakkas was sentenced to 7 years and 10 months on the same charges.
However, both were acquitted of the charges of resistance and possession of drugs that the cops had included in the case file …
The co-accused anarchist comrade Dimitra Syrianou was sentenced to two years in prison with a three-year suspension for simple complicity in robbery, and was released.

Anarchists from Act for freedom now!
Tags: Dimitra Syrianou, Giannis Dimitrakis, Greece, Kostas Sakkas, Repression, Thessaloniki
Posted in Prison Struggle
Wednesday, September 16th, 2020
Refugees demonstrating after the burning of Moria. "Azadi!" Freedom!
In the following report from Greece, anarchists describe the burning of the refugee camp, Moria, and the response countrywide, as well as the latest chapter in other struggles against state repression on a variety of fronts.
A report by Radio Fragmata.
Another month, another report on the situation here in Greece. There has been no pause in the repression of the state, nor any peace for the marginalized and excluded. Another historic squat has been evicted, the economic despair many already face is becoming generalized, society drifts towards the right at the guidance of state and corporate media, and the largest concentration camp housing migrants in all of Europe has been engulfed in flames, displacing thousands.
As in the rest of the world, each morning brings new concerns, new disasters, new forms of precarity. We share the following information in the pursuit of a relentless and borderless solidarity.
-Radio Fragmata, September 2020
Moria Burns—The Greek State Plays Victim
The refugee camp Moria on the island of Lesvos has burned down.
The state claims this was the result of demonstrations by desperate people inside the camp reacting to new measures the police had opportunistically declared in response to an inevitable and now unavoidable outbreak of COVID-19 inside the camp. Some 35 cases have been made public as of early September; considering the intense overcrowding of the camp, the number should be assumed to be much higher. Some wonder whether nearby fascists took the opportunity to set fires under the cover of the refugees' protests. It is certain that some of the villagers wanted those fleeing the flames to burn alive, as they pushed those who tried to flee to the nearby village of Mytilene back towards the blaze. (more…)
Tags: Chania, Coronavirus, Crete, Eviction, Giannis Dimitrakis, Greece, International Solidarity, Kostas Sakkas, Lesvos, Migrant Struggle, Moria, Mytilene, Pavlos Fyssas, Racism, Radio Fragmata, Rosa Nera, Terra Incognita Squat
Posted in No Borders
Thursday, December 26th, 2019
Anarchists claimed responsibility for incendiary attacks on a parking lot for luxury yachts, a security company vehicle, a café owned by a New Democracy politician, and the home of a police reporter.
The following is their statement:
Our lives are flooded with the ultimatums and the dictates of their state, capital and their culture.
In the workplaces, we need to sell our labor power to survive, the bosses' ultimatums are the voice of capitalist development at all costs. The voice of neoliberal expansionism, the voice of the murderous intentions of the employer who cripples our bodies with intensified timetables, the abolition of Sunday holidays, uninsured labor, inadequate security measures, layoffs and extortion.
In our schools, the dictates of the state and of capital are the voices of discipline in the barbarity of our times, the telling of the treacherous history of submission to the powerful, the voices of nationalism and intolerance, the erasure of the memory of each moment of social war. Their aim is to create a new generation of disciplined slaves, always eager to enter the line of capitalist production without consciousness of their role. Without a trace of substantive knowledge of the history of the struggles and uprisings against states and their powers. Accepting their peaceful coexistence with those responsible for poverty and wars. Acknowledging that the struggle is futile and capitalism is the winner of history.
(more…)
Tags: Arson, Athens, Exarchia, Greece, Hunger Strike, Kostas Sakkas, Sabotage
Posted in Direct Action
Monday, June 24th, 2019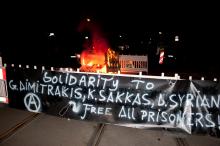 From the urban desert of the danger zone in Friedrichshain we send a signal of our solidarity to Yiannis Dimitrakis, Kostas Sakkas and Dimitra Syrianou. On Monday morning, June 24, we erected a burning barricade on Weidenweg (Street near Rigaer and Liebig) together with a fixed banner (see text on picture). We were waiting with stones to welcome the first patrol car but they needed time to mass up strong forces to enter the area of Rigaer Straße, and we disappeared safe.
(more…)
Tags: Berlin, Burning Barricades, Dimitra Syrianou, Germany, Giannis Dimitrakis, International Solidarity, Kostas Sakkas, Rigaerstrasse, Solidarity Action
Posted in Direct Action
Monday, June 17th, 2019
From the dungeons of the General Police headquarters of Thessaloniki, we send comradely greetings to our comrades who once again stand in solidarity in our new adventures with the police-law repressive mincer.
We declare that we remain strong, with our dignity intact, our principles and values ​​guiding our being. We will stand up to the new sufferings that the rulers of this world are preparing for us.
Not a step back!
Terrorism is wage slavery, no peace with the bosses.
Terrorists and bandits are States and capitalists.
Solidarity is our weapon.
Giannis Dimitrakis
Kostas Sakkas
Dimitra Syrianou
16/6/19
source
Translated by Act for freedom now!
Tags: Bank Robbery, Dimitra Syrianou, Giannis Dimitrakis, Greece, Kostas Sakkas, Letter, Thessaloniki
Posted in Prison Struggle
Friday, June 14th, 2019
On Wednesday 12th of June, three of our anarchist comrades were arrested in Thessaloniki, during expropriating a guarded money transport that was about to refill an ATM at the university hospital AHEPA. They were caught from cops of the counter-terrorism unit just when they were getting in their car to leave from the spot.
The two comrades are Giannis Dimitrakis and Kostas Sakkas, that had already paid the price of their political choice to stand against the authorities of this world, being targeted and serving time in prison.
The third comrade, Dimitra, is accused for cooperation in the expropriation.
There have been searches in their houses and many personal thing have been taken. Media create a wave of terror. Also, in the morning of 13th of June, the comrades were took to the prosecutor. Since now, there are no more details about this case.
We stand by our comrades
Dimitra, Giannis, Kostas, be strong
Solidarity is our weapon
Tags: Giannis Dimitrakis, Greece, Kostas Sakkas, Thessaloniki
Posted in Social Control
Thursday, December 8th, 2016
On November 21st, after a nine-month postponement, my trial commences at the court of appeal. It's been two years since the completion of my trial at the court of first instance, when I was sentenced to 25 years imprisonment for the charges of common complicity to homicide and robbery in connection with the events on Paros island on 10/8/2012. I was acquitted of participation in CCF as well as of direct perpetration of homicide by a majority opinion. It was a political (not judicial) compromise and a result of conflict between the manipulation of this particular case by the police in cooperation with the mainstream media during the first days after my arrest, on the one hand, and the lack of any evidence, along with the solidarity expressed by the audience and the reaction of independent media, on the other. Thereof emerged the temporary Solomonic solution of my partial acquittal of the charges, deferring the prospect of a conclusive decision until a trial at the court of appeal.
Apart from the appeal initiated by myself, in which I upheld a full acquittal of all charges, there was also one more appeal, as of right, initiated by a gentleman called Δράκος [Dragon] –namely, a public prosecutor whose surname obviously adds further symbolism to the witch-hunt orchestrated by the Counter-terrorism Service. Eventually, the division of opinion between the presiding judge, Mr. Hatziathanasiou, – who voted for my conviction for all charges- and the two other members of the court – who chose the more moderate option that eventually prevailed- made room for further manipulation. (more…)
Tags: Athens, Bank Robbery, Frame-up, Giorgos Karagiannidis, Greece, Korydallos Prison, Kostas Sakkas, Tasos Theofilou
Posted in Prison Struggle
Wednesday, August 31st, 2016
Contribution to the international call for solidarity with the imprisoned anarchist comrades (August 23-30)
As a contribution to the international call for solidarity with the imprisoned anarchist comrades (August 23-30), and as a denotation of support to the recently arrested and imprisoned comrades K. Sakkas and M. Seisidis, we hung 2 banners and wrote slogans in Athens, and we hung a banner in Volos.

"There are people unknown to you that watch you from the shadows, while you haunt the anarchists, and they wait for the favorable moment to haunt the haunters on their turn."
STRENGTH TO K. SAKKAS AND M. SEISIDIS
SOLIDARITY WITH ALL THE IMPRISONED ANARCHIST COMRADES
FIRE TO THE PRISONS
LONG LIVE ANARCHY
Initiative of individuals from 'Ochetos'
Tags: Athens, Banner drop, Greece, Initiative of individuals from 'Ochetos', International Week for Anarchist Prisoners, Kostas Sakkas, Marios Seisidis, Volos
Posted in Prison Struggle
Saturday, August 20th, 2016
On August 4th, because of a random police check just outside Sparta, the journey of freedom ends. Two different paths ended, two different beginnings, which however converge on a common purpose. That of freedom. The freedom that was not given to us and was not granted even for a moment. Contrarily, each one of us, in our own way and with our own characteristics, fought very hard for something most consider obvious.
We fought for every free glance to the sky, every free handshake, every free hug, every free breath.
We asserted what the persecutory mechanisms deprived us of, our only weapons the endless desire for freedom, but also the courage we took from the thought that we also continue to fight for those who stayed behind.
On the other hand, on the opposite of freedom and life itself, we came up against the uniformed murderers of the state, the obedient dogs, the servants of the bourgeoisie and its capital. Those who did not hesitate to shoot at us from behind, those who tortured us because we instinctively did the obvious, trying to escape from their hands. (more…)
Tags: Greece, Kostas Sakkas, Letter, Marios Seisidis
Posted in Prison Struggle
Thursday, January 15th, 2015
From actforfree:
THE POLITICAL STATEMENT OF COMRADE KOSTAS SAKKAS READ OUT AT THE TERROR-TRIAL OF KORIDALLOS PRISONS.
I am sending the following text to Athens lawyer Dimitrios Katsaris in order for him to deliver it to his client and my co-accused Giorgos Karagiannidis, in order to read it out in the courtroom during the testimony procedure.
I realize absolutely that what a relative of mine testified during the witnesses' testimonies was done with the best of intentions. However I must clarify that a large part of it does not reflect reality and does not express me as an individual.
Unfortunately the conditions in which I find myself in, my inability to communicate and the restrictions that this implies, led to the misinterpretation of this specific witness on what their role was, as such.
In my following statement my political opinions and positions are analysed to a large degree as well as what my implication is in the case examined in the court.
On December 4th 2010, two days before the anniversary of the murder of Alexandros Grigoropoulos by the forces of repression, I was arrested along with my comrade and friend A.Mitrousias, outside a place in which we were hiding weapons. From the start we clarified that the weapons belonged to us and no one but us. They were not intended to supply any organization and could obviously not be a product for trading. (more…)
Tags: Greece, Kostas Sakkas, Trial
Posted in Prison Struggle
Wednesday, March 12th, 2014
Download here : Dark Nights #40
1. Christodoulos Xiros is still free.
2. Letter from C. Xiros.
3. Letter from the CCF about C. Xiros.
4. Communism by Rodolfo Gonzalez Pacheco.
5. Letter from Christos Tsakalos of the CCF-FAI/IRF.
6. Update on the CCF trial (sessions 89-98).
7. CCF members attack prosecutor Vassilis Foukas.
8. Spain: Short interview by Contra Info with Claudio Lavazza.
9. Call for Solidarity Week – Mexico.
10. Interview with Individualists Tending toward the Wild (ITS).
11. 8th Communique by ITS.
12. Italy: Letter from Elisa di Bernardo (Operation Ardire).
13. France, Paris: Report from anti-police demo.
14. Malmö, Sweden : Fascist knife attack on International Women's Day.
15. Greece: Letter by Kostas Sakkas.
16. Lastly, in brief…

https://server.nostate.net/325-new/html/wp-content/uploads/2014/03/dark-nights-40.pdf
INTERNATIONAL NETWORK OF TRANSLATION & COUNTER-INFORMATION / ACN 2014
Tags: 17 November, Christodoulos Xiros, Christos Tsakalos, Claudio Lavazza, Conspiracy of Cells of Fire, Conspiracy of Cells of Fire : Imprisoned Members Cell, Dark Nights, Elisa Di Bernardo, Greece, Individualists Tending towards the Wild (ITS), Italy, Kostas Sakkas, Mexico, Operation Ardire, PDF, Spain, Zine
Posted in Library
Saturday, September 7th, 2013
via parabellum & nihilist abyss:
I think that now is the time to express my opinion on some things that have happened recently.
Starting, I would like to say that I remain imprisoned for 33 months without being sentenced by any court yet. This is, according to their laws, illegal, abusive, against the rules… As it is now known, the highest limit of pre-trial detention is 18 months. But, by deploying this new strategy of new custodies, which started against our organization and specifically against comrade Haris Hadjimihelakis, the highest limit of pre-trial detention was raised, every time one of us was about to reach it, from 18 to 30 months. The exact same thing happened to me and comrades Giorgos Polydoros and Olga Ekonomidou, whose 30 months pre-trial detention is coming to an end, this September. This has never been applied on an anarchist organization in Greece ever before. (more…)
Tags: Conspiracy of Cells of Fire, Conspiracy of Cells of Fire : Imprisoned Members Cell, Kostas Sakkas, Letter
Posted in Prison Struggle
Wednesday, August 28th, 2013
August 27, 2013 – Responsibility claim for large-scale arson of £16million police firearms training facilities and vandalism of vehicles of the corporate security services:

The (under construction) Police Firearms Training Centre in Black Rock Quarry, Portishead, situated directly beneath the Avon and Somerset Police regional headquarters was our target on the night of 26th August, and we left it with flames licking high. The facility is intended to serve forces across the South West.
After climbing into the quarry we used accelerant to burn the major electrical cables at five junction points throughout the complex, and doused and lighted a pallet of electrical fittings and wires. More than twelve hours later the fire is still burning. It put smiles on our faces to realise how easy it was to enter their gun club and leave a fuck you signature right in the belly of the beast, with a curious fox as our only witness.
On the same night others of us attacked two vehicles near St George, Bristol with paint stripper and by slashing the tyres – one G4S and one Amey. In the UK and globally G4S provide prison and security services and profit from many aspects of prison society. Amey, in a joint venture with GEO transport prisoners in England and Wales and run courthouses in Bristol and North Somerset.
In the City around us the lock down increases; there is a general atmosphere of rising fear and powerlessness; there is more and more surveillance, and security guards with handcuffs appear on more and more doors. Tensions across the world are simmering as people lose faith in the system. As a response to this insecurity the state is militarising it's police with firearms, remote control drones and 'non-lethal' weapons that regularly kill. At the same time they develop the preventative 'soft cop' buffer of community support officers, liaison teams and so on, that are more fitting with the democratic image. They even get some help from leftists such as John Drury from Aufheben with his contributions on crowd control, who is as terrified of the unmanageable as the ruling classes are. The British state is a world leader in counter-insurgency techniques. Their expertise is the result of generations long brutal colonisation, like in India, Kenya and to this day in Ireland. (more…)
Tags: Amey, Angry Foxes Cell, Angry Foxes Cell in collaboration with ACAB, Arson, Badger Cull, Black Rock Quarry, Bristol, Fuck the Law, G4S, GEO, International Solidarity, John Drury, Kostas Sakkas, Police Firearms Training Centre, Portishead, UK
Posted in Direct Action
Sunday, July 7th, 2013
On the afternoon of the 4th of July a banner was hung in Hamburg in solidarity with comrade Kostas Sakkas who at that point was already 1 whole month on hungerstrike. Also a leaflet and Poster in solidarity was distributed.

Solidarity knows no borders!
Freedom for all prisoners!
Tags: Germany, Greece, Hamburg, International Solidarity, Kostas Sakkas
Posted in Prison Struggle
Wednesday, June 26th, 2013
"Brothers in chains, comrades in suffering, the battle is at hand. Soon we will launch our attack, intoxicated with vengeance; the enemy will flee, because the Federation of Sorrow is terrible." —Bruno Filippi
Our action (if it can) can be named PHOENIX PROJECT-PART 3. This is our collective decision to respond to the call from our Greek comrades – (1), (2).
Tonight (June 26) we moved out and brought the fire and burned down the third floor of former Sheraton Hotel, 'The Media Hotel and Tower', in Sahari Mountain Street, Jakarta. Our fire is to respond to the call from our brothers in Greece in the Phoenix project and as a gesture of solidarity to K. Sakkas, anarchist in hunger strike action to reach his freedom. We put the incendiary with timer in one of the trash cans in the karaoke room (which is located on the third floor) and let the fire speak for us.
Bring far our revolutionary greetings to the members of Conspiracy of Cells of Fire; Imprisoned Members Cell, to the 4 anarchists who were arrested in Kozani –we never forget you, for Cospito and Gai, to Carla, Ivan, Juan, Marcelo and Freddy, and to Henry and always to the anarchists prisoners in Greece and Italy, and to other cells of FAI – IRF around the world.
We will never say that we are just a few, but we will let the fire speak on our behalf.

Let's make the Phoenix project as an international project for revenge!

ANGER UNIT
INTERNATIONAL CONSPIRACY FOR REVENGE
IRF – FAI
–
News media link:
http://news.detik.com/read/2013/06/26/231703/2285333/10/ruang-karaoke-hotel-sheraton-gn-sahari-terbakar?9911012
Tags: Alfredo Cospito, Anger Unit / ICR-FAI-IRF, Carla Verdugo, Conspiracy of Cells of Fire, Conspiracy of Cells of Fire : Imprisoned Members Cell, Freddy Fuentevilla Saa, Henry Zegarrundo, Indonesia, Informal Anarchist Federation (FAI), International Conspiracy for Revenge, International Revolutionary Front, International Solidarity, Ivan Silva, Jakarta, Juan Aliste Vega, Kostas Sakkas, Kozani, Marcelo Villarroel Sepúlveda, Nicola Gai, Phoenix Project, RO-FAI (Indonesia Section), Sheraton Hotel
Posted in Direct Action