Posts Tagged 'Kreuzberg'
Wednesday, June 17th, 2020
Liebe Freundi*nnen und Genoss*innen,
nachdem die Polizei am letzten Samstag eine Solidaritätskundgebung für Gefangene in der Türkei willkürlich unterbunden hat, wollen wir auf diesen Termin nochmal besonders aufmerksam machen und euch einladen, am wöchentlichen Protest, teilzunehmen.
(jeden) Samstag, 15 Uhr Oranienplatz (Berlin-Kreuzberg)
Der Kampf der Gefangenen in der Türkei, ob der der revolutionären Anwälte, der Mitglieder von Grup Yorum oder den politischen Gefangenen, steht im Allgemeinen für den Kampf um Gerechtigkeit für alle Menschen und den Widerstand gegen Faschismus.
— Hier ein Bericht der letzten Woche —
Quelle: https://de.indymedia.org/node/88799
[B] Polizei verhindert Solidaritätskundgebung
Eine für Samstag den 13. Juni geplante Kundgebung in Berlin-Kreuzberg konnte nicht statt finden.
Seit mehreren Wochen findet jeden Samstag um 15 Uhr auf dem Oranienplatz in Berlin-Kreuzberg eine Solidaritätskundgebung für Gefangene in der Türkei statt.
Worum geht es bei der dieser Kundgebung? (more…)
Tags: Berlin, Demo, German, Grup Yorum, International Solidarity, Kreuzberg, Repression, Turkey
Posted in Autonomy
Sunday, February 9th, 2020
In the night from Saturday to Sunday (01.-02.02) we threw stones at a patrol car on the Bethaniendamm. Because the driver braked out of initial overconfidence, we were able to destroy the front and side windows.
This is to be understood as the direct answer to the attacks on our demos this weekend. Whether provocative and beating at the unlock demo on Friday or the Sponti in Kreuzberg on Saturday.
Even if you are caught up in common police state fantasies at your congress, you can be sure of one thing; that we always create moments where the balance of power is in our favour and know how to use it.
You can kill us but the idea of freedom will never die.
REVENGE FOR MARIA!
Translator's note:
According to media reports, the patrol car was badly damaged and had to be taken to a garage, the two cops also resigned from duty and one was taken to hospital. The night before, riot police got into clashes with stone throwers in Rigaer Street, damaging several of their vehicles and injuring an officer. More about the murder of Maria.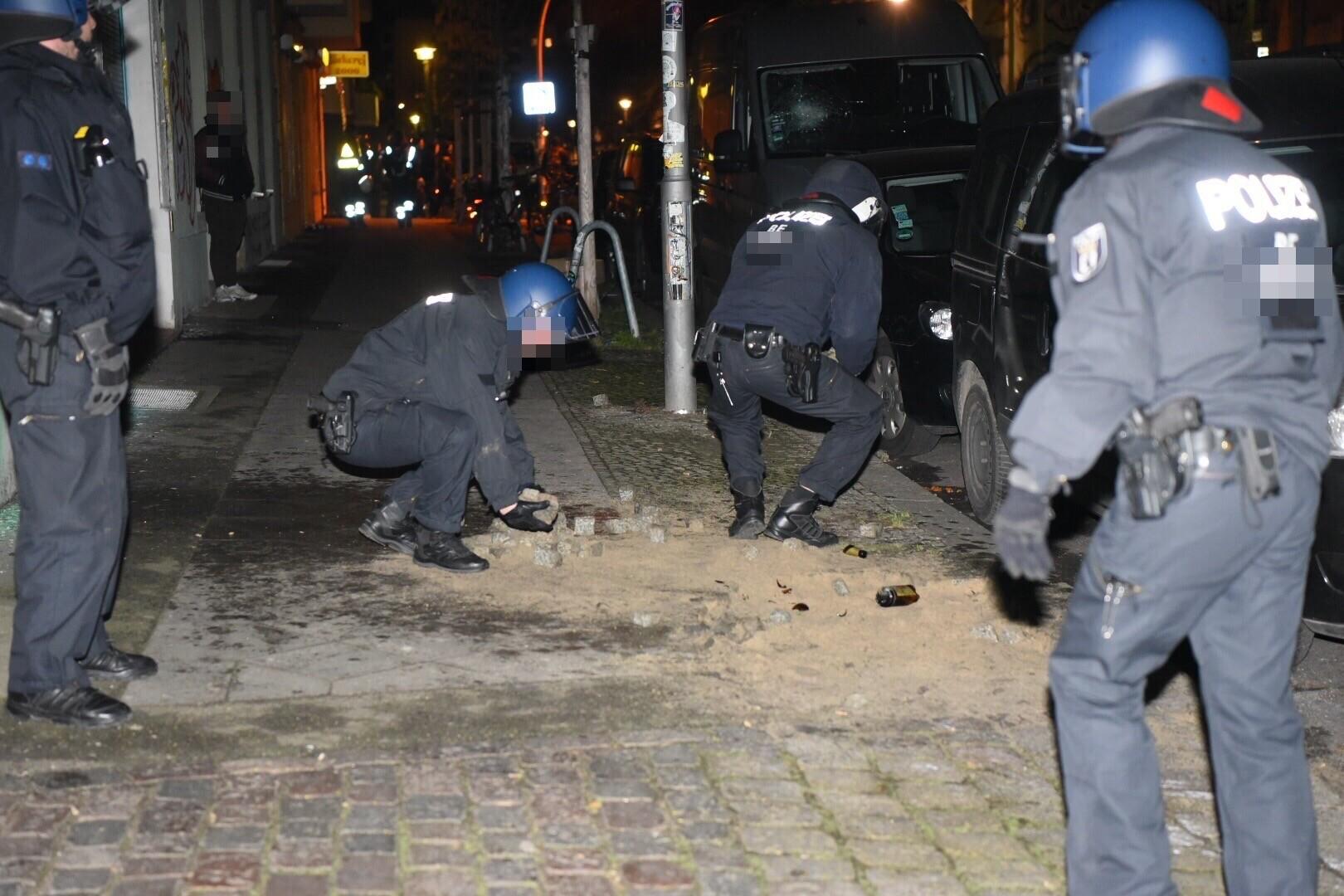 Foto: Pigs collecting stones in Rigaer Street, during riot on 31/01/2020
Tags: Berlin, Germany, Kreuzberg, Maria P., Rigaerstrasse, Riots, Sabotage
Posted in Direct Action
Tuesday, January 10th, 2012
The night of the new year's eve has seen again a lot of different type of protests taking place in Germany against prisons and all forms of detention, as well as against some of those, who daily enforce their existence.
The traditional demonstrations at local prisons saw an increase in their numbers and more cities decided that this was a good way to salute the upcoming year.
In Berlin, the month of December hosted several events under the motto "Behind different windows… but the chains remain the same ones! New year's eve to the prisons – question, demount and destroy the machine of prison!", events ranged from discussion about ongoing trials against comrades, the building of a new detention center at the new Berlin's airport, to a demonstration against the local detention center for immigrants. (more…)
Tags: ABC Berlin, All Cops Are Bastards - Team Kreuzberg 36, Berlin, Bremen, Christian Gauger, Cologne, Dennis J., Dortmund, Dresden, Frankfurt, Freiburg, Friedrichshain, Fuck the Law, Germany, Hamburg, Kreuzberg, Moabit, New Year, Prison demo, Revolutionary Cells (RZ), Sonja Suder, Stammheim, Stuttgart
Posted in Prison Struggle