Posts Tagged 'Kurdish Struggle'
Tuesday, March 26th, 2019
From AMW:
"Revolutionary change will not come as a singular event, nor an immediate exchange of power, but an ongoing struggle to free us all from the bonds of oppression and distribute power to communities of resistance. The illusion that a small group can seize state power and enact the will of the majority has dried up in the gulags, prisons, and killing fields of nation-states around the world. The Cantons of Rojava, a network of councils without the State, has introduced a new revolutionary paradigm… As we formulate our next steps, we harken to Rojava as a model. Just as it is grounded in the Kurdish liberation movement in Rojava, we here must ground ourselves in the black liberation movement against slavery."
–Burn Down the American Plantation (What We're Working Towards), pg 68-69, Revolutionary Abolitionist Movement
Revolutionary Greetings Comrades!
Did you really think for one moment that I was going to remain silent?
I began working with RAM because of Rojava. The Kurdish struggle struck home. Do you realize that these Sisters and Brothers in Northern Iraq and Syria helped fight and defeat ISIS? Yeah! That is right! These beautiful people, who Donald Trump wants to abandon, sacrificed their lives for the good of all. I was careful when I decided to speak out. Right around the time Trump made his announcement that the U.S. would pull out of Syria – George W. Bush had died. It wasn't really good for me to say what I needed to say but now I am going to say it!! (more…)
Tags: International Solidarity, Keith Malik Washington, Kurdish Struggle, Letter, Rojava, USA
Posted in Prison Struggle
Wednesday, March 20th, 2019
Publié sur https://de.indymedia.org/node/28420 le 21.01.2019 par: Autonome Gruppen (groupes autonomes) Cellule "Soledad Casilda Hernáez Vargas":
"Encore une fois, ce sont pas ceux qui le méritent qui se retrouvent dos au mur. La politique se plaît dans le role de médiatrice entre Padovicz(1) et la Liebig34(2) et Padovicz se plaît dans le role du gros capitaliste influent qui malmaine quelques locataire.trices et squatteurs.ses rebelles. Celles et ceux qui voient dans le Nordkiez(3) de Friedrichshain la graine d'une vie meilleure, se retrouvent là, comme toujours. Derrière elles et eux, rien d'autre que le mur. Il n'y a pas de main tendue puissante, et pas non plus d'issue. (more…)
Tags: Afrin, Arson, Berlin, Germany, Kurdish Struggle, People's Defence Units (Y.P.G.), Rojava, Sabotage, Thyssenkrupp, Wiseg, Women's Defense Units (YPJ)
Posted in Direct Action
Monday, January 28th, 2019


"All power to the Kurdish people fighting for their autonomy and liberation."
Ikarus Gang Solidarity. East Borneo, Balikpapan.
Tags: Indonesia, International Solidarity, Kurdish Struggle, Rojava, Syria
Posted in Direct Action
Monday, October 29th, 2018
Elefterya Hambi is an internationalist in northern Syria and is fighting in the YPJ ranks. In an interview, she talks about her reasons why she decided to help create a new social model in Rojava.
Tags: Germany, Hambach Forest, International Solidarity, Islamic State in Iraq and Syria (ISIS), Kurdish Struggle, Rojava, Syria, War, Women's Defense Units (YPJ)
Posted in Interviews
Friday, October 12th, 2018
ES: SIRIA: MUERE ANARQUISTA EN ROJAVA, ŞEHÎD ŞAHÎN QEREÇOX

This epitaph was written by a friend and comrade of Şahin / Waka / Farid

Şehîd Şahîn Qereçox, known as Waka to his many friends, was sadly martyred in the fight against Daesh in Hajin on 6th October. He had been serving in the YPG, fighting for the revolution in Rojava for 4 months. For as long as I'd known him he was a loving comrade and a true revolutionary. I'm still struggling to find the words to describe him – he was so thoughtful and creative he defied simple generalisation. Whatever I write will merely scratch the surface of what he meant to me and so many people. (more…)
Tags: Islamic State in Iraq and Syria (ISIS), Kurdish Struggle, People's Defence Units (Y.P.G.), Rojava, Şehîd Şahîn Qereçox 'Waka', Syria, War
Posted in Anti-Fascist
Thursday, October 4th, 2018
Memorial video for the anarchist internationalist fighter of Rojava Haukur Hilmarsson (Sahin Huseyni). Sehid Sahin has fought against I.S. (DAESH) in Raqqa and martyred while he was defending Afrin from Turkish State's military invasion.
Ruis Rojava
https://www.youtube.com/channel/UCtUPN9d4Y6I8Br8GrrfiFyg
Tags: Afrin, Haukur Hilmarsson, Islamic State in Iraq and Syria (ISIS), Kurdish Struggle, Middle East, People's Defence Units (Y.P.G.), Raqqa, Rojava, Syria, War, YPG International
Posted in Anti-Fascist
Thursday, September 27th, 2018
Erdogan – the stray dog from the Bosporus – will come to Berlin on September 29 and become a terrorist legitimized through the German state government. The warmongers and fascists will meet to resolve further deals on the "refugee issue". While the arms industry pops bottles and the Federal Republic of Germany grants arms exports into the billions, innumerable people are dying in this war. This is the reason for us to disturb, sabotage, and attack this state visit. Not all of us are facing this destruction deedless. Our signs of rage and resistance reached as well our international comrades, who will fight with us on the day the fascist is coming to Germany. Shoulder to shoulder against fascism! Down with Erdogan and his fascist collaborateurs! For freedom! (more…)
Tags: Afrin, Germany, International Solidarity, Kurdish Struggle, Rojava, Sabotage, Syria, Turkey
Posted in Direct Action
Sunday, September 2nd, 2018
With this we take responsibility for the incendiary device we placed in front of the building of the German Society for Foreign Politics (DGAP) in Drake-/Rauchstraße (Tiergarten) in the night of 21.8.18.
13 litres of a petrol-oil-mixture shall be the beginning of putting an end to the undisturbed and fearless existence of the DGAP as a political advisor of the German war society.
Since the beginning of this year increased attacks against the war industry, their profiteers and financiers take and took place over all the German controlled territory. We join these attacks and let the fire speak from our side. War starts here! War on the war!
War starts here, in the halls of politics. War starts everywhere, where people throw away their empathy, to profit from the globalized misery. In the war-industry, the thinktanks of science, in the faceless administration of bureaucracy, in the form of uniformed slaves, who receive and obey orders in rank and file. War starts between human beings, when concurrence and aspiration to power reigns over solidarity and the free development of the individual.
German Security – Profit through war
Through the choice of the DGAP as the target of our incendiary device we declare the ideological architects of German-European hegemonic politics, the scientists and forerunners of a security paradigm which works with as well as alongside of warmongers and in this way are our enemies. What they declare about security is not ours. Their foreign policy is a policy of order. And their order needs tanks against uprisings and frigates against inflatable dinghies, it builds fences against the suppressed and works continuously to extend their ongoing misery. (more…)
Tags: Arson, Berlin, G20, Germany, International Solidarity, Kurdish Struggle, Rojava, Sabotage, Solidarity Action
Posted in Direct Action
Friday, August 17th, 2018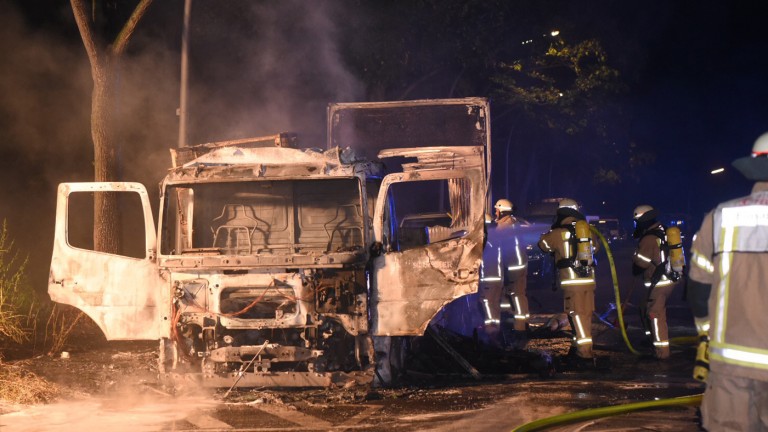 Berlin – Enemy supply lines attacked
We burned a truck of DB Schenker in the night to August 8th in Berlin-Wedding. When Erdogan arrives in Berlin on September 28. / 29., he will find our hostility here. Who rolls out the red carpet for the fascist Erdogan – X Day – is supposed to feel the ashes of the burning city in the nose.
Already since the year 2000, the ESG Elektronicsystem- and Logistics company runs together with its partner Schenker Germany AG (DB Schenker) the headquarters of logistics – called ZEBEL – of the German Armed Forces (Bundeswehr) in Kassel. From this hub with 17.000 square metres occurs the supply of civil partner companies and military repair workshops, which maintain Bundeswehr systems and vehicles. The transport of war material has most priority for DB Schenker. With it, the subsidiary company of Deutsche Bahn is responsible for the logistics and supply with NATO equipment to the Turkish Army in their war against the Kurdish areas. (more…)
Tags: Arson, Deutsche Bahn, G20, International Solidarity, Kurdish Struggle, Sabotage
Posted in Direct Action
Friday, August 25th, 2017
Two activists Markéta Všelichová and Miroslav Farkas were arrested on the 13th of November 2016 while attempting to cross the Habur border crossing from Turkey to Iraq. They were accused of participating in terrorist activity in Northern Syria and taken into custody.
On the 2nd of August they were sentenced to 6 years and 3 months for belonging to the Kurdish defence forces YGP/YPJ (these non-state kurdish groups are fighting Daesh/ISIS, the turkish army which has been repressing Kurds for several decades, and the dictatorial regime of Bashar Al-Asad).
Markéta had been to Rojava twice, according to her own words she joined the defence forces and fell in love with the region and its specific cultural and political situation. This time she and Mirek were on their way to Rojava, where they planned to set up a field hospital for fighters and civilians, and eventually help with defence, as she says herself. Together they made a campaign before their big journey, during which they wanted to acquire the necessary material, while also not being afraid to make lectures about life, fighting and revolution in the region. These public activities also probably raised the interest of Turkish agents.
In an interview Markéta said she feels with people, who risk their life in the fight against evil, that she would like to help Rojava with anything it needs, and that she realizes that as a European she has greater possibilities how to get involved and help. A bit my own way, but with them, as she said. (more…)
Tags: ABC Czech Republic, Czech Republic, Iraq, Kurdish Struggle, Kurdistan, Markéta Všelichová, Miroslav Farkas, People's Defence Units (Y.P.G.), Repression, Rojava, Syria, Turkey, Women's Defense Units (YPJ)
Posted in Prison Struggle
Thursday, April 6th, 2017
On 31st March, a young boy, Reker Ahmed, was brutally beaten by a gang in the area of Croydon whilst waiting for a bus. The gang (of almost 25) approached the boy and after asking where he was from, chased him and attacked him, leaving him with life-threatening injuries. He was only 17 years old and currently applying for asylum in the UK. This attack occurred on the Shrublands Estate, in Shirley, a diverse working-class area and its significance was felt by the local community.
In response to this racist and xenophobic violence, we chose to decorate the neighbourhood with our outrage. In offering a message of solidarity here, we demonstrate our solidarity everywhere; from the U.S to Greece, from Belarus to the Middle East; for all victims of the State, of the border regime and for all victims of hate crime.
We carried out this action as a clear message from the community, but also as a message to the perpetrators. At the time, we were still unsure as to whether this was an attack carried out by people from within the estate, as it would be unlikely and unheard of in such a diverse, close community. However, sadly, the gang consisted of people from many backgrounds. It is the true that nationalism blurs the truth of oppressive class and racial hierarchies and has us identify with our own oppression. However, the response has to our action has revealed exactly what we also suspected; that this was an attack endorsed by self-identifying FASCISTS from likely within the area. (more…)
Tags: Anti-Fascism, Croydon, Graff, Kurdish Struggle, Racism, Reker Ahmed, Solidarity Action, UK
Posted in No Borders
Monday, December 12th, 2016
The statement by TAK said:
"The simultaneous action in Istanbul Vodafone Arena Stadium and Maçka was conducted by our Team Martyr Tirej at 22:30 on 10 December, 2016. Two comrades of ours bravely fell martyr as a result of this action which left some 100 police dead and hundreds of others wounded." The statement noted that ID details of these TAK militants will be announced in the coming days.
TAK continued, stressing that: "The Turkish people are not a direct target of TAK. Our Team Martyr Tirej carried out this action with utmost attention.
However, no comfortable life should be expected in Turkey while the imprisonment of Leader Apo continues, the Turkish-AKP fascism tortures mothers, exposes the bodies of young girls and massacres children in Kurdistan on daily basis. The peoples of Turkey should say stop to this fascism because only the AKP fascism is responsible for this chaos."
https://anfenglish.com/news/tak-claims-responsibility-for-last-night-s-bombing-in-istanbul
http://ekurd.net/falcons-claims-istanbul-attacks-2016-12-11
Tags: Istanbul, Kurdish Struggle, Kurdistan, Kurdistan Freedom Falcons - TAK, Turkey, War
Posted in Direct Action
Tuesday, November 29th, 2016
Numbers of Contra-Coup
Because the Gülen Movement couldn't manage to do coup, Erdoğan and AKP made the coup. Or had to make. The numbers of purges after the coup attempt in Turkey:
30.000 teachers is purged from the education system completely because they have relation with Gülen Movement
20.000 teachers is away from education system (can return back but can't teach this year) related with Gülen Movement.
1000 private schools are closed related with Gülen Movement.
15 universities are closed related with Gülen Movement.
14.000 teachers is away from education system (can return back but can't teach this year) related with PKK and Eğitim-Sen (Syndicate that organizes workers of education matters that is opposition to the government)
75.000 thousand Passports are cancelled that are related with Gülen Movement. And to apply and take Green Passport (Special passport that allows you to go EU without visa) became so much harder. In order to stop people escape to EU and apply for asylum. (more…)
Tags: Gülen Movement, HPG, Kurdish Struggle, Kurdistan, PKK (Kurdish People's Party), Repression, Turkey
Posted in Social Control
Tuesday, November 15th, 2016
The Apoist Youth Initiative has attacked a London-based organization that is close to Diyanet İşleri Başkanlığı (Presidency of Religious Affairs) and the Turkish Islamic Society in Newington Green / London.
The 30 youths who attacked these two fascist organizations declared that they had targeted them because of their dirty policies against the Kurdish freedom movement.
Both organizations were bombarded with fireworks, the windows were smashed and 'Turkey = ISIS (DAESH)' was spray painted on the walls.
The young people declared that similar actions would continue.
via Rojaciwan, translated by Insurrection News
Tags: Apoist Youth Initiative – NRW, Islamic State in Iraq and Syria (ISIS), Kurdish Struggle, London, Turkey, Turkish Islamic Society, UK
Posted in Direct Action
Wednesday, November 2nd, 2016
Update: Apoist Youth Initiative call for resistance to intensify in Europe
We, the Apoist Youth Initiative NRW – Revenge Team Sehîd Alîsêr Firat, claim the attack against the UETD (Union of European & Turkish Democrats) office in Grevenbroich on 28.10.16. This attack was revenge for the execution of two YJA-Star guerrilla fighters. They were executed by the Turkish military after being captured.
The execution of the two guerrilla warriors is symbolic of all ongoing attacks by the Turkish state against the will of the free women in Kurdistan. Through the publication of the video of their execution, the identity of the free women is to be shamed and humiliated. In the video it is clearly visible that the soldiers are using German G3 rifles. Everyone can clearly see in this video that the German state is on the side of the Turkish state in the war against democracy in the Middle East, in the war against the free women.
We repeat again: We will continue to attack all the institutions of the Turkish state until the dictator Erdogan is overthrown, Kurdistan is liberated and women gain their freedom. We are warning all German supporters of the Turkish state one last time: If you do not stop supporting fascism in Turkey, we will also attack you.

Jin Jiyan Azadî!
Bijî Serok Apo!
Long live international solidarity!
Apoist Youth Initiative – NRW
Revenge Team Sehîd Alîsêr Firat
November 1st, 2016
via Linksunten Indymedia, translated by Insurrection News
Tags: Apoist Youth Initiative – NRW, Germany, Grevenbroich, Kurdish Struggle, Kurdistan, Revenge Team Sehîd Alîsêr Firat, Rojava, Sabotage, Turkey, UETD (Union of European & Turkish Democrats)
Posted in Direct Action