Posts Tagged 'Kurdish Struggle'
Sunday, November 8th, 2020
In the night of November 6th we blew up the mailbox of the local Defence Department of the Thales Group, the 8th largest armaments company in the world, at Binzstrasse 18 in Zurich. With our action we join the manifold activities around the internationalist week of action against Turkish fascism and its European sponsors.
Thales, and with it the French state as the main shareholder, plays a central role in the modernization efforts of the Turkish arms industry. Strategically invested in Turkey for more than 25 years, Thales has made a decisive contribution to various projects aimed at supporting the Turkish army in its numerous wars of aggression. To this end, Thales works closely with the largest Turkish defense companies, such as Aselsan in the development and production of rocket launcher systems and infantry helmet cameras, or TAI for the Göktürk satellite system. Both companies are closely linked symbiotically with the gang around dictator Erdogan. (more…)
Tags: Anti-Fascism, International Solidarity, Kurdish Struggle, Sabotage, Switzerland, Thales, Turkey, Zurich
Posted in Direct Action
Friday, July 3rd, 2020
What has been happening in Vienna, Austria these past few days has shown once again how real and dangerous fascism is. No matter where it is, or where it's from, and how little it concerns the political class and its executive arm so long as they can't be called out for it . But that is exactly what we must do. Yesterday. Today. And Tomorrow.
Favoriten, Vienna's tenth district, has a long tradition of being heavily working class and has long been a centre for radical politics, unfortunately on both sides. The Grey Wolves are a highly organized group of Turkish fascists who blindly follow the far right-wing party MHP and by extension the Turkish president Recep Tayyip Erdoğan and his offensive war on Kurdistan and its people. They are portrayed in the bourgeois media as being a loosely knit group of youths, when they are in fact internationally organized and highly dangerous, with the intent of carrying the Turkish war on the Kurdish people out into the world and enforcing their world view. In Vienna, they consider themselves the be the "watchers" of the 10th district, where they regularly disrupt leftwing rallies, intimidate Kurdish and left-wing groups, and try to hinder people from attending cultural events or even drinking alcohol in public during Ramadan.
A Kurdish women's organisation had been holding weekly events for months now towards the supposed end of the current pandemic in Austria. The Grey Wolves have a problem with this. Not only are the Kurdish activists speaking out against the fascist status quo in Turkey and are calling attention to the femicide carried out by the Turkish government, but they are Kurdish and they are women. Provocations started becoming more and more regular, and on Wednesday, 25 June 2020, the rally was attacked outright. The police did show up and try to stop the violence, but they were hopelessly overwhelmed when the Grey Wolves started to mobilise and hundreds of fascists showed up within minutes. The Kurdish women were able to flee into the nearby EKH, a squat that houses a number of Kurdish organisations. (more…)
Tags: Anti-Fascist, Austria, Demo, EKH (Ernst Kirchweger Haus), Grey Wolves (Turkish Fascists), Kurdish Struggle, Migrant Struggle, Squatting, Vienna
Posted in Anti-Fascist
Thursday, January 16th, 2020
13.01.2020: The Şehit Sorxwin Roboskî and the Şehit Soro Amed Revenge Units carried out actions against factories in Başakşehir, Istanbul that supply clothing and equipment to the Turkish military. The Revenge Units issued a written statement explaining their actions that took place on January 11th, 2020:
"On January 11th, our members organized an action against a factory that makes military clothing for the occupying Turkish army. The factory is located in the PİK Dökümcüler Industrial Estate in the Başakşehir district of Istanbul. 8 minibuses owned by the factory were destroyed as a result of this action. At the same time as this action was carried out, members of our unit also sabotaged a factory on another block located in the same industrial estate. This factory manufactures equipment for military vehicles belonging to the occupying Turkish army. (more…)
Tags: Anti-Militarism, Arson, International Solidarity, Istanbul, Kurdish Struggle, Kurdistan, Revenge Units, Rojava, Sabotage, Turkey
Posted in Direct Action
Sunday, December 15th, 2019
Posted on December 10, 2019. Note A2DAY: Ukrainian media, citing the police, report that on December 10 the tower of the operator Vodafone, not Lifecell, was burned in Kiev. A2DAY: "Makhnovists" affinity-group confirmed that due to the mistake tower of another operator was attacked.
Сommuniqué:
In the night of December 10 a group of anarchists burned down the cell tower of Lifecell operator settled by the crossroad of Hostomel road and Big Ring Road in Kyiv. Lifecell is owned by the Turkish company Turkcell. This company is the participant of aggression of Erdogan's regime against the people's self-government in Kurdistan. The latest episode of its criminal politics is the invasion of Turkish army into the Democratic Federation of Northern and Eastern Syria (Rojava) in October 2019.
Turkcell constructs its towers in the areas of Syria occupied by the Turkish government as it happened in Afrin, Shahba and Idlib. This mobile network which is under control of Ankara authorities appears in every place invaded by Erdogan's soldiers. Kurdish guerillas destroy Turkcell towers — we are proud to take the torchlight of the struggle from their hands. Revolutionary resistance and solidarity lie beyond state borders and national boundaries.
We performed an attack against Lifecell/Turkcell also as the response to the violent incident which took place in front of Embassy of Turkey in Ukraine. On October 11 anarchists and people from Kurdish community organized the peaceful demonstration against the aggression of the Turkish state. Embassy workers have attacked demonstrators and smashed a face of one of the female comrades participated in the event. Violence should not be left without a response.
Freedom to the peoples — death to the Empires!
Makhnovists
Tags: Arson, International Solidarity, Kiev, Kurdish Struggle, Lifecell, Rojava, Sabotage, Solidarity Action, Turkcell, Turkcell GSM, Ukraine, Vodafone
Posted in Direct Action
Wednesday, November 20th, 2019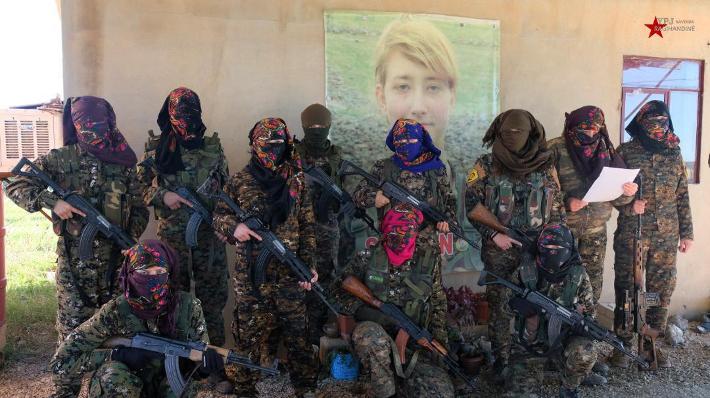 نامه ای از جانب یک آنارشیست انترناسیونالیست در روژاوا
Translation to Persian: Hasse Golkar
via barrikade:
Comrades,
I think it is important now that our voices of Rojava, out of the heart of that battle, are being heard. A fight for the life, for an existence in dignity, for real democracy and for the freedom of all women. I want to tell how the resistance of Serekaniye went on, how the beginning was, how the end was and also what happened in between. Serekaniye right now is in the hands of jihadist groups that are being supported by Turkey, upon approval by the United States. At a time they said there would be a five-day firearm rest…. we didn't believe it for one second. And that's how it was – the attacks didn't stop, maybe they've been reduced, but they continued attacking us with heavy artillery, bombings and airplanes. When there are bombings, there is not much that can be done; hide behind a tree and hope, that they didn't see you running or that they found your place.
Those five days of supposed firearm rest actually have been decisive for the United States and Turkey, to redefine the conflict, to realign the situation of war, confrontation and resistance against our forced withdrawal that no one expected. No one could believe it, after 11 days of resistance, beautiful and very hard at the same time. Leaving the city. The Turkish invasion of Serekaniye did start some days before, 8th of October, with a bombing of our military post that hasn't been answered, for not to unleash what happened later anyway. It was an attempt of the friends to protect the people and the society. But the next day, about 3 to 4 pm, another bombing of a post of the YPG took place, where 5 friends have fallen, and since then they bombed the whole border. (more…)
Tags: Islamic State in Iraq and Syria (ISIS), Kurdish Struggle, Kurdistan, Letter, People's Defence Units (Y.P.G.), Rojava, Serekaniye, Syria, Til Temir, Turkey, War, YPG International
Posted in Autonomy
Thursday, November 14th, 2019
In October 2019 the Turkish state invaded Northern Syria. The target of their aggression was Democratic Federation of Northern and Eastern Syria (Rojava). By the fault of rulers blood is being shed again and peacful people are suffering and dying. The goal of the president of Turkey Erdogan is to destroy revolutionary Autonomy of Syrian Kurds. Revolutionaries of Kurdistan build a society of stateless popular self-management. And Rojava became an example and model for Kurds in Turkey. That is why «Turkish sultan» started a war.
In the night of November 11 we destroyed two cell phone network towers of the Lifecell company settled by the Zahaltsy and Piskivka settlements in Kyiv region. Lifecell is fully owned by Turkish giant TURKCELL, the largest mobile provider of the State of Turkey. As a large corporate tax payer Turkcell appears as the indirect sponsor of the aggression of Erdogan`s regime. There are also widely known connections of the provider with the ruling «Justice and Development Party» which construct the basis of the current system in the country. These are the reasons why we consider the property of Lifecell as a legitimate target for the sabotage.
We stay in solidarity with revolutionaries and people of Kurdistan. They fight the occupation and oppression — for the liberty and social justice. We call to everyone who cares about the situation to participate in the resistance in a manner according to their abilities.
Freedom to the peoples — death to the Empires!

Сell of Revolutionary Solidarity
Tags: Arson, International Solidarity, Kiev, Kurdish Struggle, Lifecell, Rojava, Sabotage, Syria, Turkcell, Turkey, Ukraine, Сell of Revolutionary Solidarity
Posted in Direct Action
Monday, October 28th, 2019
A coalition of Bristol groups blocked all the entrances to BAE and MDBA in Filton this morning, [25/10/19] preventing the arms factories from opening. We stand in solidarity with the people of North and East Syria and against Turkish fascism! #Riseup4Rojava #BoycottTurkey #StopArmingTurkey

via Bristol Kurdish Solidarity Network
Tags: Anti-Fascism, Anti-Militarism, Bristol, International Solidarity, Kurdish Struggle, Rojava, Syria, UK
Posted in Direct Action
Saturday, October 26th, 2019
On Monday, October 21nd, we send a message to several world media. We wrote an e-mail, that the bomb is in Istanbul Airport (Turkish Airlines company) and in MKEK – Mechanical and Chemical Industry company in Ankara.
There was no bomb. We just wanted to start a evacuation. When the police evacuate some place, they block production in this place.
This is sabotage of Turkish economy!
This is sabotage of Turkish army!
This is our support for revolutionary fighters in Rojava!
# Anarchists
Tags: Ankara, Evacuation warning, Istanbul, Kurdish Struggle, MKEK, Rojava, Turkey, Turkish Airlines
Posted in Direct Action
Saturday, October 26th, 2019
Branches of Turkish banks was attacked
Berlin, London, Sofia, Amsterdam, Paris. In these cities was attacked branches of Turkish bank (Işbank). For actions we used manual from the Network of Revolutionary Cells (SRB): "How to start evacuation"
Money from Turkish bank support terrorism of Turkish state. Turkish army killing civil people. For example, they killing a child named Sara Yusuf Hüseyin. Turkish army also killing revolutionary fighters in Rojava. We have to stop it!
Fight against Turkish bank is fight against terrorism!
– Commando Sara Yusuf Hüseyin
Tags: Berlin, Bulgaria, Commando Sara Yusuf Hüseyin, Evacuation warning, France, Germany, Kurdish Struggle, Kurdistan, London, Paris, Rojava, Sofia, Turkey, Turkish bank (Işbank), UK, War
Posted in Direct Action
Saturday, October 26th, 2019
US State gives green light for the Turkish military invasion of Northern Syria
October 7th, 2019
After a period of a hypocritical stance by the American state towards the Kurds of Northern Syria and the other rebellious peoples of the region whom they supported militarily as they gave their lives in battle against ISIS (Islamic State) and their armed forces of men and women liberated one city after another by expanding the revolutionary project of Democratic Confederalism, the US regime has shown its true face by giving the green light to the Turkish state for the military invasion of the region. It is the expected development of the "democratic" American state and the "democratic" West in general. (more…)
Tags: Athens, Greece, International Solidarity, Kurdish Struggle, Kurdistan, Nikos Maziotis, People's Defence Units (Y.P.G.), Pola Roupa, Revolutionary Struggle, Rojava, Syria, War
Posted in Autonomy
Friday, October 11th, 2019
In the afternoon of 9 October the fascist Turkish occupation army and its Islamist murder gangs started their war of aggression against the liberated areas of Rojava. With massive artillery fire and widespread air raids on towns and villages along the Syrian-Turkish border, the front was opened and ground invasion began.
The fascist AKP-MHP regime is turning its threats into reality and under the cynical name 'Operation Sources of Peace' has launched a new campaign of extermination against the people of the region. From the North, jihadist gangs try to advance to the cities and settlements along the border and the villages in the vicinity have become the scene of fierce battles between the self-defence forces of the population and the invading troops. While the fascist invaders attack the civilian population of Rojava under the protection of their heavy weapons, artillery and the bombardment of their war planes, sleeper cells of the Islamic state carry out coordinated attacks in the interior and spread fear and terror. (more…)
Tags: Afrin, Al-Nusra Front, Antifa, International Solidarity, Islamic State in Iraq and Syria (ISIS), Kurdish Struggle, Kurdistan, People's Defence Units (Y.P.G.), Repression, Rojava, Syria, Turkey, War
Posted in Anti-Fascist
Tuesday, March 26th, 2019
From AMW:
"Revolutionary change will not come as a singular event, nor an immediate exchange of power, but an ongoing struggle to free us all from the bonds of oppression and distribute power to communities of resistance. The illusion that a small group can seize state power and enact the will of the majority has dried up in the gulags, prisons, and killing fields of nation-states around the world. The Cantons of Rojava, a network of councils without the State, has introduced a new revolutionary paradigm… As we formulate our next steps, we harken to Rojava as a model. Just as it is grounded in the Kurdish liberation movement in Rojava, we here must ground ourselves in the black liberation movement against slavery."
–Burn Down the American Plantation (What We're Working Towards), pg 68-69, Revolutionary Abolitionist Movement
Revolutionary Greetings Comrades!
Did you really think for one moment that I was going to remain silent?
I began working with RAM because of Rojava. The Kurdish struggle struck home. Do you realize that these Sisters and Brothers in Northern Iraq and Syria helped fight and defeat ISIS? Yeah! That is right! These beautiful people, who Donald Trump wants to abandon, sacrificed their lives for the good of all. I was careful when I decided to speak out. Right around the time Trump made his announcement that the U.S. would pull out of Syria – George W. Bush had died. It wasn't really good for me to say what I needed to say but now I am going to say it!! (more…)
Tags: International Solidarity, Keith Malik Washington, Kurdish Struggle, Letter, Rojava, USA
Posted in Prison Struggle
Wednesday, March 20th, 2019
Publié sur https://de.indymedia.org/node/28420 le 21.01.2019 par: Autonome Gruppen (groupes autonomes) Cellule "Soledad Casilda Hernáez Vargas":
"Encore une fois, ce sont pas ceux qui le méritent qui se retrouvent dos au mur. La politique se plaît dans le role de médiatrice entre Padovicz(1) et la Liebig34(2) et Padovicz se plaît dans le role du gros capitaliste influent qui malmaine quelques locataire.trices et squatteurs.ses rebelles. Celles et ceux qui voient dans le Nordkiez(3) de Friedrichshain la graine d'une vie meilleure, se retrouvent là, comme toujours. Derrière elles et eux, rien d'autre que le mur. Il n'y a pas de main tendue puissante, et pas non plus d'issue. (more…)
Tags: Afrin, Arson, Berlin, Germany, Kurdish Struggle, People's Defence Units (Y.P.G.), Rojava, Sabotage, Thyssenkrupp, Wiseg, Women's Defense Units (YPJ)
Posted in Direct Action
Monday, January 28th, 2019


"All power to the Kurdish people fighting for their autonomy and liberation."
Ikarus Gang Solidarity. East Borneo, Balikpapan.
Tags: Indonesia, International Solidarity, Kurdish Struggle, Rojava, Syria
Posted in Direct Action
Monday, October 29th, 2018
Elefterya Hambi is an internationalist in northern Syria and is fighting in the YPJ ranks. In an interview, she talks about her reasons why she decided to help create a new social model in Rojava.
Tags: Germany, Hambach Forest, International Solidarity, Islamic State in Iraq and Syria (ISIS), Kurdish Struggle, Rojava, Syria, War, Women's Defense Units (YPJ)
Posted in Interviews