Posts Tagged 'Kurdish Struggle'
Thursday, November 14th, 2019
In October 2019 the Turkish state invaded Northern Syria. The target of their aggression was Democratic Federation of Northern and Eastern Syria (Rojava). By the fault of rulers blood is being shed again and peacful people are suffering and dying. The goal of the president of Turkey Erdogan is to destroy revolutionary Autonomy of Syrian Kurds. Revolutionaries of Kurdistan build a society of stateless popular self-management. And Rojava became an example and model for Kurds in Turkey. That is why «Turkish sultan» started a war.
In the night of November 11 we destroyed two cell phone network towers of the Lifecell company settled by the Zahaltsy and Piskivka settlements in Kyiv region. Lifecell is fully owned by Turkish giant TURKCELL, the largest mobile provider of the State of Turkey. As a large corporate tax payer Turkcell appears as the indirect sponsor of the aggression of Erdogan`s regime. There are also widely known connections of the provider with the ruling «Justice and Development Party» which construct the basis of the current system in the country. These are the reasons why we consider the property of Lifecell as a legitimate target for the sabotage.
We stay in solidarity with revolutionaries and people of Kurdistan. They fight the occupation and oppression — for the liberty and social justice. We call to everyone who cares about the situation to participate in the resistance in a manner according to their abilities.
Freedom to the peoples — death to the Empires!

Сell of Revolutionary Solidarity
Tags: Arson, International Solidarity, Kiev, Kurdish Struggle, Lifecell, Rojava, Sabotage, Syria, Turkcell, Turkey, Ukraine, Сell of Revolutionary Solidarity
Posted in Direct Action
Monday, October 28th, 2019
A coalition of Bristol groups blocked all the entrances to BAE and MDBA in Filton this morning, [25/10/19] preventing the arms factories from opening. We stand in solidarity with the people of North and East Syria and against Turkish fascism! #Riseup4Rojava #BoycottTurkey #StopArmingTurkey

via Bristol Kurdish Solidarity Network
Tags: Anti-Fascism, Anti-Militarism, Bristol, International Solidarity, Kurdish Struggle, Rojava, Syria, UK
Posted in Direct Action
Saturday, October 26th, 2019
On Monday, October 21nd, we send a message to several world media. We wrote an e-mail, that the bomb is in Istanbul Airport (Turkish Airlines company) and in MKEK – Mechanical and Chemical Industry company in Ankara.
There was no bomb. We just wanted to start a evacuation. When the police evacuate some place, they block production in this place.
This is sabotage of Turkish economy!
This is sabotage of Turkish army!
This is our support for revolutionary fighters in Rojava!
# Anarchists
Tags: Ankara, Evacuation warning, Istanbul, Kurdish Struggle, MKEK, Rojava, Turkey, Turkish Airlines
Posted in Direct Action
Saturday, October 26th, 2019
Branches of Turkish banks was attacked
Berlin, London, Sofia, Amsterdam, Paris. In these cities was attacked branches of Turkish bank (Işbank). For actions we used manual from the Network of Revolutionary Cells (SRB): "How to start evacuation"
Money from Turkish bank support terrorism of Turkish state. Turkish army killing civil people. For example, they killing a child named Sara Yusuf Hüseyin. Turkish army also killing revolutionary fighters in Rojava. We have to stop it!
Fight against Turkish bank is fight against terrorism!
– Commando Sara Yusuf Hüseyin
Tags: Berlin, Bulgaria, Commando Sara Yusuf Hüseyin, Evacuation warning, France, Germany, Kurdish Struggle, Kurdistan, London, Paris, Rojava, Sofia, Turkey, Turkish bank (Işbank), UK, War
Posted in Direct Action
Saturday, October 26th, 2019
US State gives green light for the Turkish military invasion of Northern Syria
October 7th, 2019
After a period of a hypocritical stance by the American state towards the Kurds of Northern Syria and the other rebellious peoples of the region whom they supported militarily as they gave their lives in battle against ISIS (Islamic State) and their armed forces of men and women liberated one city after another by expanding the revolutionary project of Democratic Confederalism, the US regime has shown its true face by giving the green light to the Turkish state for the military invasion of the region. It is the expected development of the "democratic" American state and the "democratic" West in general. (more…)
Tags: Athens, Greece, International Solidarity, Kurdish Struggle, Kurdistan, Nikos Maziotis, People's Defence Units (Y.P.G.), Pola Roupa, Revolutionary Struggle, Rojava, Syria, War
Posted in Autonomy
Friday, October 11th, 2019
In the afternoon of 9 October the fascist Turkish occupation army and its Islamist murder gangs started their war of aggression against the liberated areas of Rojava. With massive artillery fire and widespread air raids on towns and villages along the Syrian-Turkish border, the front was opened and ground invasion began.
The fascist AKP-MHP regime is turning its threats into reality and under the cynical name 'Operation Sources of Peace' has launched a new campaign of extermination against the people of the region. From the North, jihadist gangs try to advance to the cities and settlements along the border and the villages in the vicinity have become the scene of fierce battles between the self-defence forces of the population and the invading troops. While the fascist invaders attack the civilian population of Rojava under the protection of their heavy weapons, artillery and the bombardment of their war planes, sleeper cells of the Islamic state carry out coordinated attacks in the interior and spread fear and terror. (more…)
Tags: Afrin, Al-Nusra Front, Antifa, International Solidarity, Islamic State in Iraq and Syria (ISIS), Kurdish Struggle, Kurdistan, People's Defence Units (Y.P.G.), Repression, Rojava, Syria, Turkey, War
Posted in Anti-Fascist
Tuesday, March 26th, 2019
From AMW:
"Revolutionary change will not come as a singular event, nor an immediate exchange of power, but an ongoing struggle to free us all from the bonds of oppression and distribute power to communities of resistance. The illusion that a small group can seize state power and enact the will of the majority has dried up in the gulags, prisons, and killing fields of nation-states around the world. The Cantons of Rojava, a network of councils without the State, has introduced a new revolutionary paradigm… As we formulate our next steps, we harken to Rojava as a model. Just as it is grounded in the Kurdish liberation movement in Rojava, we here must ground ourselves in the black liberation movement against slavery."
–Burn Down the American Plantation (What We're Working Towards), pg 68-69, Revolutionary Abolitionist Movement
Revolutionary Greetings Comrades!
Did you really think for one moment that I was going to remain silent?
I began working with RAM because of Rojava. The Kurdish struggle struck home. Do you realize that these Sisters and Brothers in Northern Iraq and Syria helped fight and defeat ISIS? Yeah! That is right! These beautiful people, who Donald Trump wants to abandon, sacrificed their lives for the good of all. I was careful when I decided to speak out. Right around the time Trump made his announcement that the U.S. would pull out of Syria – George W. Bush had died. It wasn't really good for me to say what I needed to say but now I am going to say it!! (more…)
Tags: International Solidarity, Keith Malik Washington, Kurdish Struggle, Letter, Rojava, USA
Posted in Prison Struggle
Wednesday, March 20th, 2019
Publié sur https://de.indymedia.org/node/28420 le 21.01.2019 par: Autonome Gruppen (groupes autonomes) Cellule "Soledad Casilda Hernáez Vargas":
"Encore une fois, ce sont pas ceux qui le méritent qui se retrouvent dos au mur. La politique se plaît dans le role de médiatrice entre Padovicz(1) et la Liebig34(2) et Padovicz se plaît dans le role du gros capitaliste influent qui malmaine quelques locataire.trices et squatteurs.ses rebelles. Celles et ceux qui voient dans le Nordkiez(3) de Friedrichshain la graine d'une vie meilleure, se retrouvent là, comme toujours. Derrière elles et eux, rien d'autre que le mur. Il n'y a pas de main tendue puissante, et pas non plus d'issue. (more…)
Tags: Afrin, Arson, Berlin, Germany, Kurdish Struggle, People's Defence Units (Y.P.G.), Rojava, Sabotage, Thyssenkrupp, Wiseg, Women's Defense Units (YPJ)
Posted in Direct Action
Monday, January 28th, 2019


"All power to the Kurdish people fighting for their autonomy and liberation."
Ikarus Gang Solidarity. East Borneo, Balikpapan.
Tags: Indonesia, International Solidarity, Kurdish Struggle, Rojava, Syria
Posted in Direct Action
Monday, October 29th, 2018
Elefterya Hambi is an internationalist in northern Syria and is fighting in the YPJ ranks. In an interview, she talks about her reasons why she decided to help create a new social model in Rojava.
Tags: Germany, Hambach Forest, International Solidarity, Islamic State in Iraq and Syria (ISIS), Kurdish Struggle, Rojava, Syria, War, Women's Defense Units (YPJ)
Posted in Interviews
Friday, October 12th, 2018
ES: SIRIA: MUERE ANARQUISTA EN ROJAVA, ŞEHÎD ŞAHÎN QEREÇOX

This epitaph was written by a friend and comrade of Şahin / Waka / Farid

Şehîd Şahîn Qereçox, known as Waka to his many friends, was sadly martyred in the fight against Daesh in Hajin on 6th October. He had been serving in the YPG, fighting for the revolution in Rojava for 4 months. For as long as I'd known him he was a loving comrade and a true revolutionary. I'm still struggling to find the words to describe him – he was so thoughtful and creative he defied simple generalisation. Whatever I write will merely scratch the surface of what he meant to me and so many people. (more…)
Tags: Islamic State in Iraq and Syria (ISIS), Kurdish Struggle, People's Defence Units (Y.P.G.), Rojava, Şehîd Şahîn Qereçox 'Waka', Syria, War
Posted in Anti-Fascist
Thursday, October 4th, 2018
Memorial video for the anarchist internationalist fighter of Rojava Haukur Hilmarsson (Sahin Huseyni). Sehid Sahin has fought against I.S. (DAESH) in Raqqa and martyred while he was defending Afrin from Turkish State's military invasion.
Ruis Rojava
https://www.youtube.com/channel/UCtUPN9d4Y6I8Br8GrrfiFyg
Tags: Afrin, Haukur Hilmarsson, Islamic State in Iraq and Syria (ISIS), Kurdish Struggle, Middle East, People's Defence Units (Y.P.G.), Raqqa, Rojava, Syria, War, YPG International
Posted in Anti-Fascist
Thursday, September 27th, 2018
Erdogan – the stray dog from the Bosporus – will come to Berlin on September 29 and become a terrorist legitimized through the German state government. The warmongers and fascists will meet to resolve further deals on the "refugee issue". While the arms industry pops bottles and the Federal Republic of Germany grants arms exports into the billions, innumerable people are dying in this war. This is the reason for us to disturb, sabotage, and attack this state visit. Not all of us are facing this destruction deedless. Our signs of rage and resistance reached as well our international comrades, who will fight with us on the day the fascist is coming to Germany. Shoulder to shoulder against fascism! Down with Erdogan and his fascist collaborateurs! For freedom! (more…)
Tags: Afrin, Germany, International Solidarity, Kurdish Struggle, Rojava, Sabotage, Syria, Turkey
Posted in Direct Action
Sunday, September 2nd, 2018
With this we take responsibility for the incendiary device we placed in front of the building of the German Society for Foreign Politics (DGAP) in Drake-/Rauchstraße (Tiergarten) in the night of 21.8.18.
13 litres of a petrol-oil-mixture shall be the beginning of putting an end to the undisturbed and fearless existence of the DGAP as a political advisor of the German war society.
Since the beginning of this year increased attacks against the war industry, their profiteers and financiers take and took place over all the German controlled territory. We join these attacks and let the fire speak from our side. War starts here! War on the war!
War starts here, in the halls of politics. War starts everywhere, where people throw away their empathy, to profit from the globalized misery. In the war-industry, the thinktanks of science, in the faceless administration of bureaucracy, in the form of uniformed slaves, who receive and obey orders in rank and file. War starts between human beings, when concurrence and aspiration to power reigns over solidarity and the free development of the individual.
German Security – Profit through war
Through the choice of the DGAP as the target of our incendiary device we declare the ideological architects of German-European hegemonic politics, the scientists and forerunners of a security paradigm which works with as well as alongside of warmongers and in this way are our enemies. What they declare about security is not ours. Their foreign policy is a policy of order. And their order needs tanks against uprisings and frigates against inflatable dinghies, it builds fences against the suppressed and works continuously to extend their ongoing misery. (more…)
Tags: Arson, Berlin, G20, Germany, International Solidarity, Kurdish Struggle, Rojava, Sabotage, Solidarity Action
Posted in Direct Action
Friday, August 17th, 2018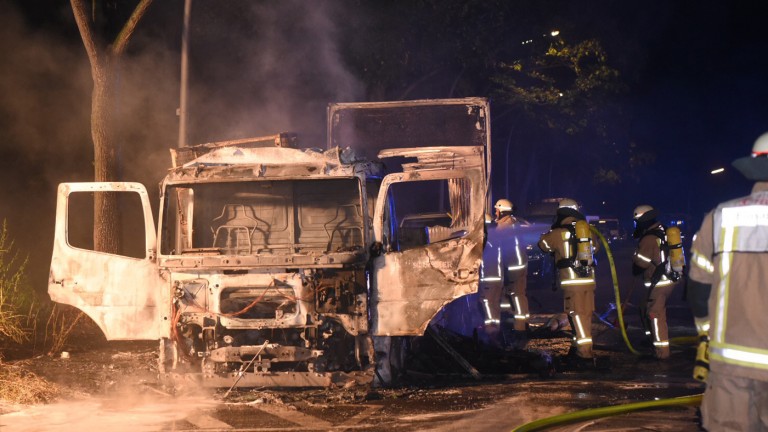 Berlin – Enemy supply lines attacked
We burned a truck of DB Schenker in the night to August 8th in Berlin-Wedding. When Erdogan arrives in Berlin on September 28. / 29., he will find our hostility here. Who rolls out the red carpet for the fascist Erdogan – X Day – is supposed to feel the ashes of the burning city in the nose.
Already since the year 2000, the ESG Elektronicsystem- and Logistics company runs together with its partner Schenker Germany AG (DB Schenker) the headquarters of logistics – called ZEBEL – of the German Armed Forces (Bundeswehr) in Kassel. From this hub with 17.000 square metres occurs the supply of civil partner companies and military repair workshops, which maintain Bundeswehr systems and vehicles. The transport of war material has most priority for DB Schenker. With it, the subsidiary company of Deutsche Bahn is responsible for the logistics and supply with NATO equipment to the Turkish Army in their war against the Kurdish areas. (more…)
Tags: Arson, Deutsche Bahn, G20, International Solidarity, Kurdish Struggle, Sabotage
Posted in Direct Action