Posts Tagged 'Kurdish Struggle'
Friday, August 17th, 2018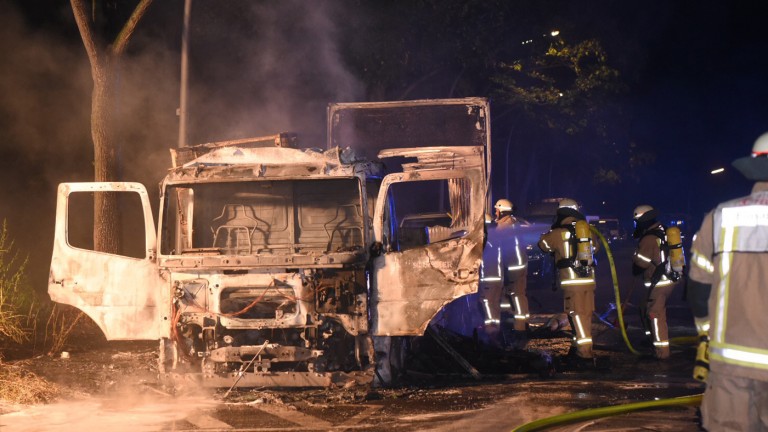 Berlin – Enemy supply lines attacked
We burned a truck of DB Schenker in the night to August 8th in Berlin-Wedding. When Erdogan arrives in Berlin on September 28. / 29., he will find our hostility here. Who rolls out the red carpet for the fascist Erdogan – X Day – is supposed to feel the ashes of the burning city in the nose.
Already since the year 2000, the ESG Elektronicsystem- and Logistics company runs together with its partner Schenker Germany AG (DB Schenker) the headquarters of logistics – called ZEBEL – of the German Armed Forces (Bundeswehr) in Kassel. From this hub with 17.000 square metres occurs the supply of civil partner companies and military repair workshops, which maintain Bundeswehr systems and vehicles. The transport of war material has most priority for DB Schenker. With it, the subsidiary company of Deutsche Bahn is responsible for the logistics and supply with NATO equipment to the Turkish Army in their war against the Kurdish areas. (more…)
Tags: Arson, Deutsche Bahn, G20, International Solidarity, Kurdish Struggle, Sabotage
Posted in Direct Action
Friday, August 25th, 2017
Two activists Markéta Všelichová and Miroslav Farkas were arrested on the 13th of November 2016 while attempting to cross the Habur border crossing from Turkey to Iraq. They were accused of participating in terrorist activity in Northern Syria and taken into custody.
On the 2nd of August they were sentenced to 6 years and 3 months for belonging to the Kurdish defence forces YGP/YPJ (these non-state kurdish groups are fighting Daesh/ISIS, the turkish army which has been repressing Kurds for several decades, and the dictatorial regime of Bashar Al-Asad).
Markéta had been to Rojava twice, according to her own words she joined the defence forces and fell in love with the region and its specific cultural and political situation. This time she and Mirek were on their way to Rojava, where they planned to set up a field hospital for fighters and civilians, and eventually help with defence, as she says herself. Together they made a campaign before their big journey, during which they wanted to acquire the necessary material, while also not being afraid to make lectures about life, fighting and revolution in the region. These public activities also probably raised the interest of Turkish agents.
In an interview Markéta said she feels with people, who risk their life in the fight against evil, that she would like to help Rojava with anything it needs, and that she realizes that as a European she has greater possibilities how to get involved and help. A bit my own way, but with them, as she said. (more…)
Tags: ABC Czech Republic, Czech Republic, Iraq, Kurdish Struggle, Kurdistan, Markéta Všelichová, Miroslav Farkas, People's Defence Units (Y.P.G.), Repression, Rojava, Syria, Turkey, Women's Defense Units (YPJ)
Posted in Prison Struggle
Thursday, April 6th, 2017
On 31st March, a young boy, Reker Ahmed, was brutally beaten by a gang in the area of Croydon whilst waiting for a bus. The gang (of almost 25) approached the boy and after asking where he was from, chased him and attacked him, leaving him with life-threatening injuries. He was only 17 years old and currently applying for asylum in the UK. This attack occurred on the Shrublands Estate, in Shirley, a diverse working-class area and its significance was felt by the local community.
In response to this racist and xenophobic violence, we chose to decorate the neighbourhood with our outrage. In offering a message of solidarity here, we demonstrate our solidarity everywhere; from the U.S to Greece, from Belarus to the Middle East; for all victims of the State, of the border regime and for all victims of hate crime.
We carried out this action as a clear message from the community, but also as a message to the perpetrators. At the time, we were still unsure as to whether this was an attack carried out by people from within the estate, as it would be unlikely and unheard of in such a diverse, close community. However, sadly, the gang consisted of people from many backgrounds. It is the true that nationalism blurs the truth of oppressive class and racial hierarchies and has us identify with our own oppression. However, the response has to our action has revealed exactly what we also suspected; that this was an attack endorsed by self-identifying FASCISTS from likely within the area. (more…)
Tags: Anti-Fascism, Croydon, Graff, Kurdish Struggle, Racism, Reker Ahmed, Solidarity Action, UK
Posted in No Borders
Monday, December 12th, 2016
The statement by TAK said:
"The simultaneous action in Istanbul Vodafone Arena Stadium and Maçka was conducted by our Team Martyr Tirej at 22:30 on 10 December, 2016. Two comrades of ours bravely fell martyr as a result of this action which left some 100 police dead and hundreds of others wounded." The statement noted that ID details of these TAK militants will be announced in the coming days.
TAK continued, stressing that: "The Turkish people are not a direct target of TAK. Our Team Martyr Tirej carried out this action with utmost attention.
However, no comfortable life should be expected in Turkey while the imprisonment of Leader Apo continues, the Turkish-AKP fascism tortures mothers, exposes the bodies of young girls and massacres children in Kurdistan on daily basis. The peoples of Turkey should say stop to this fascism because only the AKP fascism is responsible for this chaos."
https://anfenglish.com/news/tak-claims-responsibility-for-last-night-s-bombing-in-istanbul
http://ekurd.net/falcons-claims-istanbul-attacks-2016-12-11
Tags: Istanbul, Kurdish Struggle, Kurdistan, Kurdistan Freedom Falcons - TAK, Turkey, War
Posted in Direct Action
Tuesday, November 29th, 2016
Numbers of Contra-Coup
Because the Gülen Movement couldn't manage to do coup, Erdoğan and AKP made the coup. Or had to make. The numbers of purges after the coup attempt in Turkey:
30.000 teachers is purged from the education system completely because they have relation with Gülen Movement
20.000 teachers is away from education system (can return back but can't teach this year) related with Gülen Movement.
1000 private schools are closed related with Gülen Movement.
15 universities are closed related with Gülen Movement.
14.000 teachers is away from education system (can return back but can't teach this year) related with PKK and Eğitim-Sen (Syndicate that organizes workers of education matters that is opposition to the government)
75.000 thousand Passports are cancelled that are related with Gülen Movement. And to apply and take Green Passport (Special passport that allows you to go EU without visa) became so much harder. In order to stop people escape to EU and apply for asylum. (more…)
Tags: Gülen Movement, HPG, Kurdish Struggle, Kurdistan, PKK (Kurdish People's Party), Repression, Turkey
Posted in Social Control
Tuesday, November 15th, 2016
The Apoist Youth Initiative has attacked a London-based organization that is close to Diyanet İşleri Başkanlığı (Presidency of Religious Affairs) and the Turkish Islamic Society in Newington Green / London.
The 30 youths who attacked these two fascist organizations declared that they had targeted them because of their dirty policies against the Kurdish freedom movement.
Both organizations were bombarded with fireworks, the windows were smashed and 'Turkey = ISIS (DAESH)' was spray painted on the walls.
The young people declared that similar actions would continue.
via Rojaciwan, translated by Insurrection News
Tags: Apoist Youth Initiative – NRW, Islamic State in Iraq and Syria (ISIS), Kurdish Struggle, London, Turkey, Turkish Islamic Society, UK
Posted in Direct Action
Wednesday, November 2nd, 2016
Update: Apoist Youth Initiative call for resistance to intensify in Europe
We, the Apoist Youth Initiative NRW – Revenge Team Sehîd Alîsêr Firat, claim the attack against the UETD (Union of European & Turkish Democrats) office in Grevenbroich on 28.10.16. This attack was revenge for the execution of two YJA-Star guerrilla fighters. They were executed by the Turkish military after being captured.
The execution of the two guerrilla warriors is symbolic of all ongoing attacks by the Turkish state against the will of the free women in Kurdistan. Through the publication of the video of their execution, the identity of the free women is to be shamed and humiliated. In the video it is clearly visible that the soldiers are using German G3 rifles. Everyone can clearly see in this video that the German state is on the side of the Turkish state in the war against democracy in the Middle East, in the war against the free women.
We repeat again: We will continue to attack all the institutions of the Turkish state until the dictator Erdogan is overthrown, Kurdistan is liberated and women gain their freedom. We are warning all German supporters of the Turkish state one last time: If you do not stop supporting fascism in Turkey, we will also attack you.

Jin Jiyan Azadî!
Bijî Serok Apo!
Long live international solidarity!
Apoist Youth Initiative – NRW
Revenge Team Sehîd Alîsêr Firat
November 1st, 2016
via Linksunten Indymedia, translated by Insurrection News
Tags: Apoist Youth Initiative – NRW, Germany, Grevenbroich, Kurdish Struggle, Kurdistan, Revenge Team Sehîd Alîsêr Firat, Rojava, Sabotage, Turkey, UETD (Union of European & Turkish Democrats)
Posted in Direct Action
Sunday, October 30th, 2016
Freedom For All Resisting Women In The Name of
AYLA AKAT ATA and GÜLTAN KIŞANAK
The attacks, detentions and arrests towards the people and their representatives as a part of the ongoing state violence in Kurdistan since July 2015 have reached its peak in the last 3 days. Gültan Kışanak, as the first Co-Mayor of Diyarbakır Metropolitan Municipality and resisted for two years against the tortures in Diyarbakir Prison during the military coup in 1980, was taken into custody on 25th October 2016; the municipality building was blockaded and raided by hundreds of police.
On 26th October 2016, the people who gathered in front of the municipality building to protect their will had been attacked with impunity via water cannons and teargas, and, many people were battered and detained.
During this attack, the women who resisted in front line are specifically targeted. As well as many of our women comrades have been detained, co-speaker of KJA, Ayla Akat Ata, has also been battered and detained, and, the advocate and family visit is prohibited for five days. (more…)
Tags: Diyarbakır, KJA - Congress of Free Women, Kurdish Struggle, Kurdistan, Raids, Repression, Turkey
Posted in Social Control
Sunday, September 4th, 2016
PDF: ISIS AND TURKEY
ISIS and Turkey File
The Democratic Self-Administration of Rojava Foreign Relations Commisssion

Introduction
It is not a secret to any observer the relationship between Turkey's ruling Justice and Development Party (AKP) with all the armed groups in northern Syria. It began in Ras Alain and did not end in Afrin. The AKP's arguments revolve around changing the Syrian regime, bringing democracy to Syria, protecting Christians and Sunnis and unifying the country. These arguments have proven to be mere pretexts used by the AKP to intervene in Syria. The only goal of the AKP is to fight any democratic project for the future of Syria. To achieve this, the AKP has co-operated with the so-called Islamic State (Daesh) through providing training, supplying arms and facilitating the crossing of Daesh fighters to Syria through its borders.
Here are some compelling evidence for this cooperation through documents and confessions obtained by the People's Protection Units (YPG) throughout their operations in Rojava – north Syria.
Tags: Islamic State in Iraq and Syria (ISIS), Kurdish Struggle, Kurdistan, Lions of Rojava, PDF, People's Defence Units (Y.P.G.), Repression, Rojava, Syria, Turkey, War, Women's Defense Units (YPJ)
Posted in Library
Sunday, September 4th, 2016
PDF: Kongreya Star
From the Committee for Diplomatic Relations of Kongra Star.
Kongreya Star is a confederation of women's movements throughout the region of Rojava, a predominantly Kurdish area of northern Syria, also referred to as West-Kurdistan. While Kurds make up the majority of Rojava and most of the population is Muslim, the area is home to many different peoples, including Arabs, Assyrians and Ezidis, as well as a large Christian minority and many other smaller groups. One year after the Syrian Civil War began, Rojava declared its autonomy from both the Assad regime and the various other armed organisations active in the war.
The women's movement in Rojava was founded in 2005 and originally called Yekîtiya Star. Under the fierce oppression of Bashar Al-Assad's Ba'ath regime, women in towns and villages across the northern areas of Syria began to come together and organise themselves, creating a strong basis for the confederated women's movement.
Tags: KJA - Congress of Free Women, Kongra Star, Kurdish Struggle, Kurdistan, PDF, Rojava, Syria
Posted in Library
Wednesday, August 31st, 2016
On 24 August 2016 Turkish Special Forces together with elements of the so-called Free Syrian Army started a cross-border offensive against the Northern Syrian town of Jarablus. According to official statements by both, Turkish officials and representatives of the FSA, target of this offensive is Islamic State as well as Kurdish People's Defense Units (YPG).
It was clear from the start that only Kurds would be targeted. During the last 5 days not a single confrontation took place between Turkish/FSA forces and ISIS. But from the beginning YPG and Syrian Democratic Forces (SDF) – the most effective forces on ground against ISIS – are being attacked by Turkish state forces.
The first day of the 'Euphrates Shield' operation, what Turkish officials have called an 'assault on Islamic State and YPG terrorists' as result of Turkish shelling of Kurdish majority neighborhoods in the east and west of Jarablus, at least 49 civilians have been killed. (more…)
Tags: Iraq, Islamic State in Iraq and Syria (ISIS), Kurdish Struggle, Kurdistan, Lions of Rojava, People's Defence Units (Y.P.G.), REPAK Kurdish Women's Relation Office, Repression, Rojava, Syria, Turkey, War
Posted in Autonomy
Thursday, August 25th, 2016
From KJA – Congress of Free Women.
I CLAIM MY LEADERSHIP, MY LAND AND MY FREEDOM
On 15 August 2016, a military coup d'etat was attempted in Turkey. Within a few hours, heavy weaponry tank and plane attacks killed over 260 people and injured hundreds. State forces bombed many public institutions, including the parliament, and opened a helicopter fire over the civilian people. This chaos experienced, indeed, keeps repeating in Turkey since the formation of the nation-state over the course of past 200 years.
The denial of truths in society and the politics of annihilation executed by power holders present the root causes of his chaos. The denial and annihilation politics are experienced as wars, deaths, tortures, impoverishment, coups and fascism in the society. When the possibility of a life in freedom and dignity diminishes, resistances, conflicts, and wars culminate, where the resisting people have the final say in history. (more…)
Tags: Abdullah Ocalan, KJA - Congress of Free Women, Kurdish Struggle, Repression, Rojava, Syria, Turkey, War
Posted in Prison Struggle
Monday, April 18th, 2016
The centre of Free Women's Congress (KJA) Association was raided anomalously by police on April 10, 2016, around 05:00 am. The Association was raided without any prior notification and in an unusual hour that none of the administrators were there. 16 politicians, including 6 women who are members, administrators and activists of KJA, were detained in the same time with similar illegal methods. Our 4 women members, Çimen Işık, Pero Dündar, Olcay Kanlıbaş and Zozan Toprak are imprisoned after they were judged in the court on April, 11.
The police raid is totally anomalous and targets to destroy generally the democratic organization as an essential element of democracy, and specifically the organization of women. While all of our computers were stolen in the raid, our archive was also taken by the police. This crime is tried to be covered up with a "confidentiality order". Seizing all the computers means the cessation of the Association's actions even it is possible to backup all of the documents and keep on our investigations. (more…)
Tags: Diyarbakır, KJA - Congress of Free Women, Kurdish Struggle, Raids, Repression, Turkey
Posted in Social Control
Thursday, August 13th, 2015
Vatan Budak who was wounded in Suruç bombing passed away.
We lost our comrade, Vatan Budak who was wounded in Suruç (Pirsus) bombing and in intensive care for 16 days. Vatan was the member of United Anarchist Attack.
He is the 5th anarchist comrade killed in Suruç blast.
His funeral took place today in Gaziosmanpaşa, İstanbul.
This neighbourhood is predominantly fascist and his family is one of the few Kurdish families living there. Because of great threat of violence and danger to his family flags and banners were somehow restricted. They were fully displayed only in the cemetery, where speeches were made bidding him last farewell. He was buried under black and red flag.
Different anarchist groups and individuals were present.
Instead of a minute of silence – a whole life in struggle!
One person was reported arrested on their way to the funeral, but we haven't got more info.
Tags: Istanbul, Kurdish Struggle, Repression, Suruç, Turkey, United Anarchist Attack, Vatan Budak
Posted in Uncategorized
Sunday, March 22nd, 2015
Yesterday, Kurdish people and their supporters confronted the street presence of Daesh-supporting Islamic-fascists at their protest stall outside a Boots chemist store in High Road, Wood Green in the late afternoon. The Islamists use the stall to promote Sharia Law and the Islamic State. Police came and protected the few fascists from the angry crowd, but quickly the Islamists packed up and left the area. The Kurdish people and their supporters made a procession to their community centre to celebrate their new year of Newroz. There were no arrests.
Video here, with running commentary by some local kids debating the scene who caught the footage on their fone –
Tags: Anjem Choudary, Demo, Islamic Roadshow, Islamic State in Iraq and Syria (ISIS), Kurdish Struggle, Kurdistan, London, Newroz, UK, Wood Green
Posted in Anti-Fascist