Posts Tagged 'Kurdistan'
Thursday, January 16th, 2020
13.01.2020: The Şehit Sorxwin Roboskî and the Şehit Soro Amed Revenge Units carried out actions against factories in Başakşehir, Istanbul that supply clothing and equipment to the Turkish military. The Revenge Units issued a written statement explaining their actions that took place on January 11th, 2020:
"On January 11th, our members organized an action against a factory that makes military clothing for the occupying Turkish army. The factory is located in the PİK Dökümcüler Industrial Estate in the Başakşehir district of Istanbul. 8 minibuses owned by the factory were destroyed as a result of this action. At the same time as this action was carried out, members of our unit also sabotaged a factory on another block located in the same industrial estate. This factory manufactures equipment for military vehicles belonging to the occupying Turkish army. (more…)
Tags: Anti-Militarism, Arson, International Solidarity, Istanbul, Kurdish Struggle, Kurdistan, Revenge Units, Rojava, Sabotage, Turkey
Posted in Direct Action
Wednesday, November 20th, 2019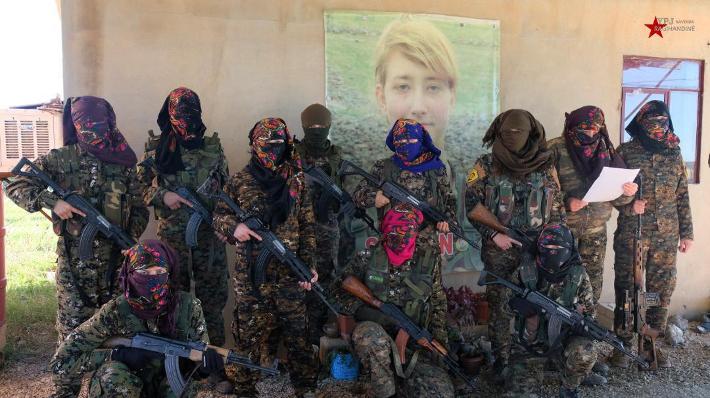 نامه ای از جانب یک آنارشیست انترناسیونالیست در روژاوا
Translation to Persian: Hasse Golkar
via barrikade:
Comrades,
I think it is important now that our voices of Rojava, out of the heart of that battle, are being heard. A fight for the life, for an existence in dignity, for real democracy and for the freedom of all women. I want to tell how the resistance of Serekaniye went on, how the beginning was, how the end was and also what happened in between. Serekaniye right now is in the hands of jihadist groups that are being supported by Turkey, upon approval by the United States. At a time they said there would be a five-day firearm rest…. we didn't believe it for one second. And that's how it was – the attacks didn't stop, maybe they've been reduced, but they continued attacking us with heavy artillery, bombings and airplanes. When there are bombings, there is not much that can be done; hide behind a tree and hope, that they didn't see you running or that they found your place.
Those five days of supposed firearm rest actually have been decisive for the United States and Turkey, to redefine the conflict, to realign the situation of war, confrontation and resistance against our forced withdrawal that no one expected. No one could believe it, after 11 days of resistance, beautiful and very hard at the same time. Leaving the city. The Turkish invasion of Serekaniye did start some days before, 8th of October, with a bombing of our military post that hasn't been answered, for not to unleash what happened later anyway. It was an attempt of the friends to protect the people and the society. But the next day, about 3 to 4 pm, another bombing of a post of the YPG took place, where 5 friends have fallen, and since then they bombed the whole border. (more…)
Tags: Islamic State in Iraq and Syria (ISIS), Kurdish Struggle, Kurdistan, Letter, People's Defence Units (Y.P.G.), Rojava, Serekaniye, Syria, Til Temir, Turkey, War, YPG International
Posted in Autonomy
Saturday, October 26th, 2019
Branches of Turkish banks was attacked
Berlin, London, Sofia, Amsterdam, Paris. In these cities was attacked branches of Turkish bank (Işbank). For actions we used manual from the Network of Revolutionary Cells (SRB): "How to start evacuation"
Money from Turkish bank support terrorism of Turkish state. Turkish army killing civil people. For example, they killing a child named Sara Yusuf Hüseyin. Turkish army also killing revolutionary fighters in Rojava. We have to stop it!
Fight against Turkish bank is fight against terrorism!
– Commando Sara Yusuf Hüseyin
Tags: Berlin, Bulgaria, Commando Sara Yusuf Hüseyin, Evacuation warning, France, Germany, Kurdish Struggle, Kurdistan, London, Paris, Rojava, Sofia, Turkey, Turkish bank (Işbank), UK, War
Posted in Direct Action
Saturday, October 26th, 2019
US State gives green light for the Turkish military invasion of Northern Syria
October 7th, 2019
After a period of a hypocritical stance by the American state towards the Kurds of Northern Syria and the other rebellious peoples of the region whom they supported militarily as they gave their lives in battle against ISIS (Islamic State) and their armed forces of men and women liberated one city after another by expanding the revolutionary project of Democratic Confederalism, the US regime has shown its true face by giving the green light to the Turkish state for the military invasion of the region. It is the expected development of the "democratic" American state and the "democratic" West in general. (more…)
Tags: Athens, Greece, International Solidarity, Kurdish Struggle, Kurdistan, Nikos Maziotis, People's Defence Units (Y.P.G.), Pola Roupa, Revolutionary Struggle, Rojava, Syria, War
Posted in Autonomy
Friday, October 11th, 2019
In the afternoon of 9 October the fascist Turkish occupation army and its Islamist murder gangs started their war of aggression against the liberated areas of Rojava. With massive artillery fire and widespread air raids on towns and villages along the Syrian-Turkish border, the front was opened and ground invasion began.
The fascist AKP-MHP regime is turning its threats into reality and under the cynical name 'Operation Sources of Peace' has launched a new campaign of extermination against the people of the region. From the North, jihadist gangs try to advance to the cities and settlements along the border and the villages in the vicinity have become the scene of fierce battles between the self-defence forces of the population and the invading troops. While the fascist invaders attack the civilian population of Rojava under the protection of their heavy weapons, artillery and the bombardment of their war planes, sleeper cells of the Islamic state carry out coordinated attacks in the interior and spread fear and terror. (more…)
Tags: Afrin, Al-Nusra Front, Antifa, International Solidarity, Islamic State in Iraq and Syria (ISIS), Kurdish Struggle, Kurdistan, People's Defence Units (Y.P.G.), Repression, Rojava, Syria, Turkey, War
Posted in Anti-Fascist
Wednesday, August 21st, 2019
For three weeks already the offensive of the United Revolutionary Movement of the Peoples HBDH (Turkish: Halkların Birleşik Devrim Hareketi) continues unabated. For weeks now the fascist AKP-MHP regime and its supporters in the whole of Turkey and the occupied Northern Kurdistan have been shaken by endless fire and bomb attacks of the militias and guerrilla forces of the revolutionary alliance.
The United Revolutionary Movement of Peoples was founded on March 12, 2016 and is the front organization of various revolutionary, socialist and communist parties and organizations of Turkey and Kurdistan. In the HBDH the Kurdish Freedom Movement in leadership of the Kurdistan Workers Party PKK unites with the revolutionary left of Turkey to a common front in the struggle against AKP-MHP fascism, for the liberation of the occupied Kurdistan and the establishment of a socialist Turkey.
Simultaneously with the renewed rise of the threats of Turkish fascism against the Democratic Federation of Northeast Syria, the militias and guerrilla units started a new offensive in the heart of Turkish colonialism. In the following some of the past actions are summarized:

Declaration of 30 June
On the 29.06 at 16.00 o'clock, in the district Datca of Muğla, Palamutbükü, a sabotage action against a television station was accomplished. The United Revenge Militia of the Peoples confessed to the action with which a television station was met, which legitimizes fascism with its propaganda of lies. Tourists from home and abroad were warned against using Turkey as a holiday destination. Nobody should travel to the areas used by AKP-MHP fascism as the main source of financing for war and massacres.

Declaration of 02 July
In a statement signed with United Revenge Militia of Peoples, the group confessed to a sabotage action against the Grand Efe Hotel and surrounding hotels in the Özdere region in the Menderes district of Izmir. Two hotels had to be evacuated as a result of the action. The group threatened with further attacks against tourist destinations and called on domestic and foreign tourists to stay away. Otherwise they would have to face the reality and pain of the dirty war. The group called on the oppressed, workers, women and youth to stand against fascism. (more…)
Tags: Anti-Fascism, Arson, Attentat, Insurrection, International Solidarity, Kurdistan, PKK (Kurdish People's Party), Rojava, Sabotage, Social War, Turkey, United Revolutionary Movement of Peoples (HBDH), War
Posted in Direct Action
Wednesday, August 15th, 2018
In front of the expansion of the Middle-East War and the new Iran-Iraq revolutionary waves: Towards an International Meeting in Kurdistan
Comrades,
In the last decades, the capitalist society as a whole is splitting up more and more into two great hostile armies directly facing each other: Bourgeoisie and Proletariat. Our epoch, the epoch of the deepening of the global industrial and commercial crisis and thereby increasing class struggle around the world has already passed various stages of development, through which the proletariat has exceeded its first stage of the isolated and sporadic phenomena. The growth of the class war will more and more take on an increasingly international form. And despite of the capitalist war in the Middle East, and new attempts by global capitalism to widen the circle of the war under the pretext of striking Iran's nuclear weapons, proletariat in Iran has joined-up the current international wave of class struggle. The strikes and demonstrations in Iran have spread to over 249 cities in all of Iran's 31 provinces. These revolutionary waves did not set an end in Iran, before the proletariat in Iraq entered this historical wrestling ring.
​In July 2018, a new wave of the class struggle in Iraq, with 30 victims killed and 700 injured during the past 10 days, more than 50 police and security men were wounded – proletariat in Iraq too started moving towards the universal scene of the class struggle. During the same week, demonstrations erupted in all towns and cities in central and south Iraq, where dozens of demonstrators were wounded, and hundreds arrested. (more…)
Tags: Baghdad, Insurrection, International Solidarity, Iraq, Kurdistan
Posted in Autonomy
Tuesday, October 24th, 2017
No to State, No to war. Yes for self-administration and the Social revolution
Immediate call to all our comrades Anarchists and Libertarians wherever they are
A direct and special call to our comrades Anarchists and Libertarians Arabic-speaking
No to State, No to war. Yes for self-administration and the Social revolution
For years and years we, anarchists and libertarians in Iraqi "Kurdistan", Europe and other countries all our publicities and our slogan have been about Yes for self-administration in everywhere and for all the communities, but No to State.
We raised our voice against the Kurdistan Regional Government (KRG) and its very recent scenario of referendum on "independent Kurdish State". We are very sure the other anarchists among Arab, Turkish, Assyrian and others had the same attitude. We also believe the same attitude from our anarchist comrades throughout the world to say no to State, authority, nationalism and to be against the nationalist and against pro-fascist war. (more…)
Tags: Anti-War, Civil War, International Solidarity, Iraq, Kurdish-Speaking Anarchist Forum (KAF), Kurdistan, Revolution, Syria, Turkey, War
Posted in Autonomy
Friday, August 25th, 2017
Two activists Markéta Všelichová and Miroslav Farkas were arrested on the 13th of November 2016 while attempting to cross the Habur border crossing from Turkey to Iraq. They were accused of participating in terrorist activity in Northern Syria and taken into custody.
On the 2nd of August they were sentenced to 6 years and 3 months for belonging to the Kurdish defence forces YGP/YPJ (these non-state kurdish groups are fighting Daesh/ISIS, the turkish army which has been repressing Kurds for several decades, and the dictatorial regime of Bashar Al-Asad).
Markéta had been to Rojava twice, according to her own words she joined the defence forces and fell in love with the region and its specific cultural and political situation. This time she and Mirek were on their way to Rojava, where they planned to set up a field hospital for fighters and civilians, and eventually help with defence, as she says herself. Together they made a campaign before their big journey, during which they wanted to acquire the necessary material, while also not being afraid to make lectures about life, fighting and revolution in the region. These public activities also probably raised the interest of Turkish agents.
In an interview Markéta said she feels with people, who risk their life in the fight against evil, that she would like to help Rojava with anything it needs, and that she realizes that as a European she has greater possibilities how to get involved and help. A bit my own way, but with them, as she said. (more…)
Tags: ABC Czech Republic, Czech Republic, Iraq, Kurdish Struggle, Kurdistan, Markéta Všelichová, Miroslav Farkas, People's Defence Units (Y.P.G.), Repression, Rojava, Syria, Turkey, Women's Defense Units (YPJ)
Posted in Prison Struggle
Thursday, April 6th, 2017
Ameer deported today, miserable Polish Internal Security Agency in action
Do you remember Ameer ?
We were writing about him and his situation several times, following his situation from the very beginning. Here you can find more information.
Yesterday (05-04-2017) provincial court in Przemyśl released Ameer from arrest. The court said that Ameer is staying in Poland legally, there were no reasons to arrest him. Secret documents from Internal Security Agency (an opinion on a piece of paper) didn't prove that he was – or is – guilty of any crime. (more…)
Tags: Deportation, Iraq, Irbil, Kurdistan, Poland
Posted in No Borders
Monday, December 12th, 2016
The statement by TAK said:
"The simultaneous action in Istanbul Vodafone Arena Stadium and Maçka was conducted by our Team Martyr Tirej at 22:30 on 10 December, 2016. Two comrades of ours bravely fell martyr as a result of this action which left some 100 police dead and hundreds of others wounded." The statement noted that ID details of these TAK militants will be announced in the coming days.
TAK continued, stressing that: "The Turkish people are not a direct target of TAK. Our Team Martyr Tirej carried out this action with utmost attention.
However, no comfortable life should be expected in Turkey while the imprisonment of Leader Apo continues, the Turkish-AKP fascism tortures mothers, exposes the bodies of young girls and massacres children in Kurdistan on daily basis. The peoples of Turkey should say stop to this fascism because only the AKP fascism is responsible for this chaos."
https://anfenglish.com/news/tak-claims-responsibility-for-last-night-s-bombing-in-istanbul
http://ekurd.net/falcons-claims-istanbul-attacks-2016-12-11
Tags: Istanbul, Kurdish Struggle, Kurdistan, Kurdistan Freedom Falcons - TAK, Turkey, War
Posted in Direct Action
Tuesday, December 6th, 2016
**UPDATE** via Kurdish Question
People's Protection Units (YPG) volunteers, American Michael Israel (27) from Colorado and German Anton Neshek (Zana Ciwan), were killed by Turkish warplanes on 29 November according to another international volunteer fighting alongside the pair against the Islamic State group (IS/ISIS/ISIL), north of Raqqa. [updated].
On his Facebook page, the international volunteer, who was amongst the group killed by Turkish warplanes wrote:
"We were taking a small village when we got hit by Turkish jets in the night. Two of my friends, Anton and Michael were killed among many others. I'm staying to finish out my six months. Fuck Erdogan and Fuck Turkey."
The YPG have informed both men's families. (more…)
Tags: Islamic State in Iraq and Syria (ISIS), Kurdistan, Lions of Rojava, People's Defence Units (Y.P.G.), Raqqa, Rojava, Syria, Turkey, War, Women's Defense Units (YPJ)
Posted in Uncategorised
Tuesday, November 29th, 2016
Numbers of Contra-Coup
Because the Gülen Movement couldn't manage to do coup, Erdoğan and AKP made the coup. Or had to make. The numbers of purges after the coup attempt in Turkey:
30.000 teachers is purged from the education system completely because they have relation with Gülen Movement
20.000 teachers is away from education system (can return back but can't teach this year) related with Gülen Movement.
1000 private schools are closed related with Gülen Movement.
15 universities are closed related with Gülen Movement.
14.000 teachers is away from education system (can return back but can't teach this year) related with PKK and Eğitim-Sen (Syndicate that organizes workers of education matters that is opposition to the government)
75.000 thousand Passports are cancelled that are related with Gülen Movement. And to apply and take Green Passport (Special passport that allows you to go EU without visa) became so much harder. In order to stop people escape to EU and apply for asylum. (more…)
Tags: Gülen Movement, HPG, Kurdish Struggle, Kurdistan, PKK (Kurdish People's Party), Repression, Turkey
Posted in Social Control
Wednesday, November 2nd, 2016
Update: Apoist Youth Initiative call for resistance to intensify in Europe
We, the Apoist Youth Initiative NRW – Revenge Team Sehîd Alîsêr Firat, claim the attack against the UETD (Union of European & Turkish Democrats) office in Grevenbroich on 28.10.16. This attack was revenge for the execution of two YJA-Star guerrilla fighters. They were executed by the Turkish military after being captured.
The execution of the two guerrilla warriors is symbolic of all ongoing attacks by the Turkish state against the will of the free women in Kurdistan. Through the publication of the video of their execution, the identity of the free women is to be shamed and humiliated. In the video it is clearly visible that the soldiers are using German G3 rifles. Everyone can clearly see in this video that the German state is on the side of the Turkish state in the war against democracy in the Middle East, in the war against the free women.
We repeat again: We will continue to attack all the institutions of the Turkish state until the dictator Erdogan is overthrown, Kurdistan is liberated and women gain their freedom. We are warning all German supporters of the Turkish state one last time: If you do not stop supporting fascism in Turkey, we will also attack you.

Jin Jiyan Azadî!
Bijî Serok Apo!
Long live international solidarity!
Apoist Youth Initiative – NRW
Revenge Team Sehîd Alîsêr Firat
November 1st, 2016
via Linksunten Indymedia, translated by Insurrection News
Tags: Apoist Youth Initiative – NRW, Germany, Grevenbroich, Kurdish Struggle, Kurdistan, Revenge Team Sehîd Alîsêr Firat, Rojava, Sabotage, Turkey, UETD (Union of European & Turkish Democrats)
Posted in Direct Action
Sunday, October 30th, 2016
Freedom For All Resisting Women In The Name of
AYLA AKAT ATA and GÜLTAN KIŞANAK
The attacks, detentions and arrests towards the people and their representatives as a part of the ongoing state violence in Kurdistan since July 2015 have reached its peak in the last 3 days. Gültan Kışanak, as the first Co-Mayor of Diyarbakır Metropolitan Municipality and resisted for two years against the tortures in Diyarbakir Prison during the military coup in 1980, was taken into custody on 25th October 2016; the municipality building was blockaded and raided by hundreds of police.
On 26th October 2016, the people who gathered in front of the municipality building to protect their will had been attacked with impunity via water cannons and teargas, and, many people were battered and detained.
During this attack, the women who resisted in front line are specifically targeted. As well as many of our women comrades have been detained, co-speaker of KJA, Ayla Akat Ata, has also been battered and detained, and, the advocate and family visit is prohibited for five days. (more…)
Tags: Diyarbakır, KJA - Congress of Free Women, Kurdish Struggle, Kurdistan, Raids, Repression, Turkey
Posted in Social Control