Posts Tagged 'Kuwasi Balagoon'
Friday, December 23rd, 2016
[Note: December 2016 marks both what would have been Kuwasi's 70th birthday and the 30th anniversary of his death (murder) from AIDS-related illnesses while serving a life sentence on charges related to the robbery of a Brinks armored car undertaken to fund guerrilla activities.]
I became acquainted with Kuwasi Balagoon in the 1990s through his writings and the writings of revolutionaries that knew and fought alongside him. What is clear is that Kuwasi had an intense love for New Afrikan people and all oppressed people, and an equally intense hatred for racist and oppressive authority, and dedicated the bulk of his life in defense and liberation of all oppressed people. First as a member of the Central Harlem Committee for Self-Defense and later as a Black Panther and soldier within the Black Liberation Army. Soldier is really a misnomer, because a soldier is one who follows orders and the dictates of authority without question. And that wasn't Kuwasi. We see that Kuwasi was rebellious as a young kid and later in his stay in the military. Kuwasi can best be defined as a warrior who lived to fight.
Sundiata Acoli, a comrade of Kuwasi's within the Black Liberation Army, wrote that if we had read Kuwasi's poem "I'm a Wildman" we would know Kuwasi, because he was a wildman – and that we need more of today. Sundiata also wrote that Kuwasi hated authority. I don't know when Kuwasi officially or theoretically became an anarchist, but it's clear that he was always an anti-authoritarian. He exemplified that through the numerous actions he carried out, from bucking in the military to the numerous prison breaks after being captured, which one isn't supposed to do simply because authority says you should. It's against the law, right?
Well, Kuwasi didn't give a flying fuck about the law. He understood to really be free, one must act outside the law and destroy the lawmakers and their authoritarian institutions. Kuwasi's trial statement says it all – it's brilliant, defiant, and clearly shows what we should be about. I'm sure Kuwasi caught a lot of grief and heartache for becoming an anarchist because it's seen as a white thing, just as Ashanti Alston spoke about. But I'm sure Kuwasi said fuck you to those who criticized him for being an anarchist.

Micheal Kimble
Tags: Black Liberation Army, Black Panther Party, Kuwasi Balagoon, Michael Kimble, Racism, Sundiata Acoli, USA
Posted in Prison Struggle
Saturday, December 5th, 2015
From Wildfire

Download Issue #3: PDF
It seems fitting that we are releasing this issue now, in December. Following the letter from imprisoned anarchists in Greece and the call for international activity, Black December rages on, writing the memory of our fallen comrades with words, banners, stones, and fire. In that spirit, we dedicate this third issue of Wildfire to the memory of New Afrikan anarchist and Black Liberation Army combatant Kuwasi Balagoon, and earth liberationist William Avalon Rogers.
Kuwasi Balagoon was killed by medical neglect while doing a life sentence for an expropriation in which two police and one guard were killed. Kuwasi died from an AIDS-related illness on December 13, 1986. William Avalon Rogers took his own life while in jail on charges related to arsons committed by the Earth Liberation Front. He died on the winter solstice, December 21, 2005. This month will mark the ten year anniversary of Avalon's death.
We write this not as a reminder of the risks inherent in struggle, nor to emphasize the brutality of the state. We remember Kuwasi and Avalon because their lives have created small spaces in our own lives where domination ceases and freedom blooms. We remember Kuwasi and Avalon because they have inspired us to act, in our own ways, against order. We remember Kuwasi and Avalon because we want to continue the struggles to which they gave their lives.
Most of all, we remember Kuwasi and Avalon because so many others involved in the struggles for black liberation, earth liberation, animal liberation, and anarchy remain behind bars. We intend to see all of these comrades free, and until that day, to act in solidarity with their struggles and with prison revolts wherever they happen.
Unwavering solidarity to all rebellious prisoners!
Memory is a weapon.
CONTENTS
– "A Balanced Approach" by Lacino Hamilton
– "The Freedom Movement" by Terrence Adderly
– A letter from Casey Brezik
– "Who Should Step Down?" by Jose Villareal
– News from Alabama by anonymous
– A response to Sean Swain by Christopher Reynolds
– A response to issue #1 by Anarcho-Faheem
– A reply to Michael Kimble by Sean Swain
– "Work Strikes: A Response" by Michael Kimble
– "Buckin in the BOP" by anonymous
– Call for a Black December
– A chronology of some actions August-November 2015
Tags: Avalon, Black December, Black Liberation Army, Casey Brezik, Christopher Reynolds, Jose Villareal, Kuwasi Balagoon, Lacino Hamilton, Michael Kimble, PDF, Sean Swain, Terrence Adderly, USA, Wildfire (Prison Zine), Zine
Posted in Library
Thursday, December 3rd, 2015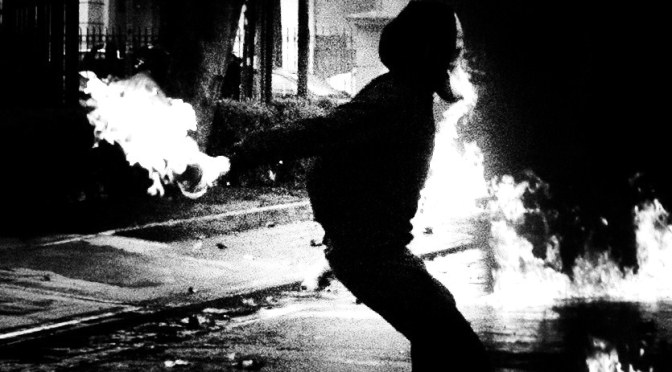 From Anarchy Live:
Just as a worm struggles in resistance against the foot that crushes it so do we anarchists struggle and fight for the total destruction of a world system of coercive authority and domination in all of its manifestations and that wants to crush our spirits of resistance.
Kuwasi Balagoon, revolutionary extraordinaire and unrepentant anarchist within the Black Liberation Army, fell at the hands of the state of New York, USA in December 1986 through medical neglect.
In memory of this New Afrikan anarchist soldier I take the initiative to compose my contribution to the strategy of total annihilation of the state and its institutions by which the state exercises its power.
For me devising a strategy to destroy the state is simple. Attack the symbols of power using all tactics including improvised ammunitions, molotovs, demonstrations, etc. In other words, our strategy should be by any means necessary, including everything and excluding nothing. The debate about the fetishization of direct action needs to end. Direct action and counter-info projects both contribute to the destruction of power. Kuwasi understood this and so did Alexandros. The only strategy left to us is action/attack and that's what Alexandros and Kuwasi both knew and practiced. We can do no less. The war continues to wage, find your place on the battlefield.

Michael Kimble
Tags: Black December, Black Liberation Army, Kuwasi Balagoon, Letter, Michael Kimble, USA
Posted in Prison Struggle
Friday, October 18th, 2013
Contact person: Agili Chuj For Immediate Release
Telephone contact: 434-305-4531
Email contact: abclonewolf (at) yahoo (dot) com
Political Prisoners in the U.S.: Systematically Neglected and Ignored
North American Anarchist Black Cross Medical Justice Committee statement on the state of health care of Political Prisoners in the U.S.
Denver, October 16, 2013 – On October 4, 2013, the world lost one of its greatest fighters in the struggle against oppression and injustice. Herman Wallace spent 41 years in solitary confinement after being targeted by the state for his work against racism and oppression from within the prison system. Amnesty International and mainstream news sources recently highlighted the release of Herman Wallace from prison. Tragically, Herman was able to breathe the air of freedom for only 3 days before he passed away. Herman was denied any kind of compassionate release by the state of Louisiana, despite his advanced liver cancer and the prognosis of a mere two months to live. Though it was the circumstances of his original conviction that compelled a judge to grant Herman his freedom, it was the state's lack of concern for his medical condition that led to the resurgence of public and media interest in his case. (more…)
Tags: Abdul Majid, Albert Nuh Washington, Angola 3, Bashir Hameed, Black Liberation Army, Black Panther Party, Chelsea Manning, Herman Wallace, Jalil Muntaqim, Kuwasi Balagoon, Leonard Peltier, Lynne Stewart, Mutulu Shakur, North American Anarchist Black Cross Medical Justice Committee, Oso Blanco (Byron Shane Chubbuck), Robert Seth Hayes, Tom Manning, USA
Posted in Prison Struggle