Posts Tagged 'Letter'
Thursday, January 2nd, 2020
[Round Robin] We receive and spread:
This piece has finally arrived. Juan had mentioned it in his letters. We thought it had been censored. In fact it was confirmed that on 4th October 2019 an investigating judge seized it as he considered it "instigation to commit a crime" or some form of incitement to "anarchist activity" and seized it in order to protect the forces of order.
We agree with Juan's desire to have it spread and ask you to publish it.
"How do you prevent a drop of water from drying up? Let it go to the sea."
In this text I tell how my arrest on 22nd May 2019 went. I tell it as a matter of fact and not to denounce the illegality of police methods or as a victim's tale.
Above all I don't want the way my arrest went and what happened during the transfer to Brescia police headquarters to be something secret between myself and the Digos who arrested me. I sincerely don't want to have anything in common with them. I don't want to share anything with them, especially my anxieties or "what can't be said" for fear of a taboo, as an unwritten pact between "macho gentlemen" that might undermine my virility (?!).
And finally the words spoken in the police station by a Digos cop dressed as a rock biker (probably from Trento police station, given his knowledge of me…) who advises me in a "friendly" manner, like a brother or a father, to only write personal letters to friends and not communiques to be circulated publicly. This made me think that spreading what happened could be a good option.
Just before my arrest I was walking in the mountains and took a path where I encountered a big dog that started to get ugly with me. This is the path that I'd have taken on the way back. I have great respect for dogs and avoid them if I can, so on the way back I decided to take the main road towards Tavernola. (more…)
Tags: Italy, Juan Antonio Sorroche Fernandez, Letter, Repression
Posted in Prison Struggle
Thursday, January 2nd, 2020
ES: Diciembre Negro
FR: Décembre Noir
Black December
"Black December" is now 10 years old and Mauricio Morales was the detonator.
Do you remember? They haven't stopped, those ideas and practices that rose (in)surged from the collective desire proposed by multiple anarchic individuals who put it to the test.
Indeed, the struggle is an essay that claims its execution and that must be experienced through practice to understand all the potentials that it offers us. Theorisations that are not tested in practice will always remain unknown.
We have verified (in/with praxis) that determination (individual will) can generate common moments and framesworks of collective struggle through active propositions. The problems in the (at least in what is committed as the F.A.I.–F.R.I.) project begins when it's own postulates proposed by this informal organization model are ignored. They are:
1 – Seditious solidarity.
2 – Anarchic campaigns.
3 – Communication between groups and related individuals.
We know that the informal organization (also called T.I.A. in Latin America) at an international level (with or without acronyms) has its limitations, especially when the various insurgent tendencies are inclined to dispute discursively between themselves instead of complementing each other, both in the theoretical as in the practical.
Total liberation does not mean alienation or fratricidal alienation or competition among the active groups.
Who in one way or another rejoices in the end of "obrerismo mendicante", which delegated all activism to obsolete organizations in the era of technological capital. We see in the years of the new anarchism of praxis that appeals are of no use for ourselves.
It is not a reflection of what it says. Be what is said and say what is done, it is what makes the verb meaningful and gives weight to the word.
I once read somewhere about: "Language creates a reality and reality creates a language… ".
This they have understood (even better than us) those Italian inquisitors and hence their fixation with public debates and what everyone wrote.
[Operation] "Ardire" (because it is bold to talk about what we dream), "Scripta Manent" (because the written word endures) and thus all the repression of this last decade has been limited to prosecuting all that is desired, everything written or said and aimed at all sabotage carried out by anarchists.
Unfortunately, what is written as much as it remains (if not assumed so in the first instance) does not alter material reality… and, unfortunately, interpretive juggling either. Or put another way: the chemical formula of the tritolo is not tritolo.*
We are already getting used to repeating slogans ("Fight Week", "Black December", etc.) without worrying and worrying about the most important: our affinity groups and practical organization.
A – Procure material and economic means.
B – Carry out anarchic campaigns and do not start a new proposal until the previous one is terminated.
Only acting as one hand will each finger have power and sense.
I do not question other groups of the "Anarchist Galaxy" but, only and exclusively, those that are inspired by the F.A.I./F.R.I./C.C.F. to act.
Our power can only be in the sum of action groups that act coordinated on all three points.
We must recognize that the legacy (both theoretical and practical) of the subversive project F.A.I.-F.R.I.-C.C.F., is here to stay.
In addition, both "Black International Editions", and "Black International of Praxis" continue their editorials and mutual knowledge.

For Black December!
For conscious and organized action!
Long live anarchy!
Long live the companions in war!

Gabriel Pombo Da Silva,
Last days of the year 2019.
*Trinitrotoluene – TNT
Tags: Black December, Black International, Black International of Anarchists of Praxis, Conspiracy of Cells of Fire, Gabriel Pombo da Silva, Informal Anarchist Federation (FAI), International Revolutionary Front, Letter, Mauricio Morales, Operation Ardire, Operation Scripta Manent
Posted in Direct Action
Tuesday, December 10th, 2019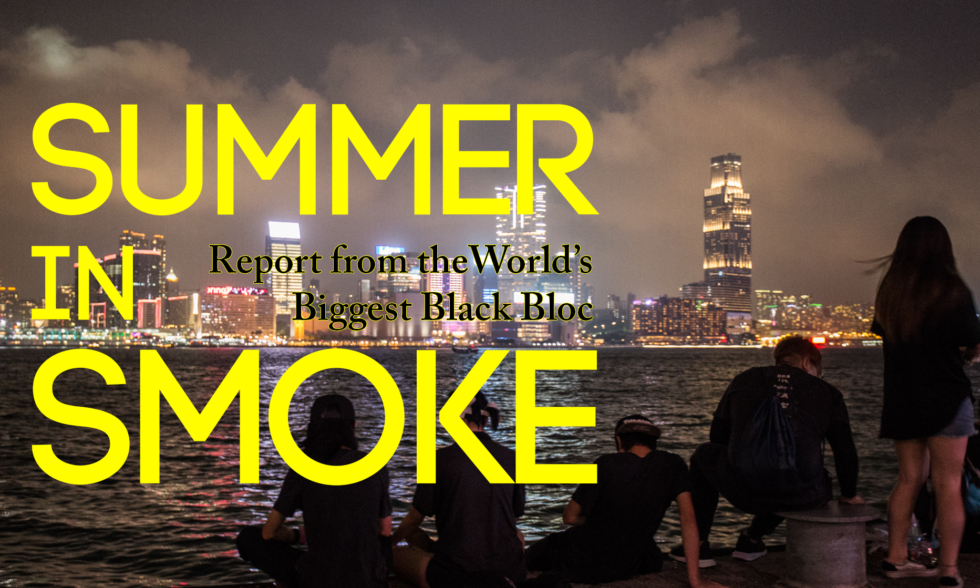 The following article was submitted to Chuang by Vitalist International. It is an account of events in Hong Kong over the summer and early fall of 2019, much of it from a firsthand perspective. We provided minor edits and designed the layout, but otherwise reproduce the piece here in more or less its original form. While the main thrust of the article is in agreement with our own views of events in Hong Kong, the piece is an intake and the opinions expressed here belong to its authors. At the bottom, we've included a gallery (provided by the authors) of 70+ posters, memes, graffiti and other graphics used in the movement.
für Sandra in liebendem Angedenken
by Vitalist International
It was only a matter of time before it happened. The protesters and the cops both knew it. On October 1st, a teenager was shot point-blank in the chest by police. The bullet missed his heart by approximately three centimeters.
Thousands of Hong Kongers gathered the next evening at a playground to fold paper cranes and wish the young protester a speedy recovery. They held banners saying "stop shooting our children!" and used the flashlights on their smartphones as torches to light up the night. In the center of the playground, a thousand origami cranes spelled out "Hong Kongers, Add oil!", a Chinese expression which has come to define the movement, meaning roughly: don't stop, keep going, add fuel to the fire. Within an hour, the protesters were setting up barricades in the streets and throwing molotovs at the nearest police headquarters.
The movement that began as a protest against a proposed extradition agreement with China has now entered its fourth month of unrest, with no end in sight. The bill — now withdrawn — would have granted the Chinese State unprecedented authority to extradite dissidents, criminals, and refugees to be processed in the shadowy court system of the mainland. Coming on the heels of 2012's Moral and National Education Law and 2014's Electoral Reform Bill,[i] this amendment was only the latest attempt at slowly dismantling the region's tenuous political arrangement of "One Country, Two Systems." With the movement rapidly evolving into widespread resistance against Chinese control, and the Hong Kong government declaring a State of Emergency, the situation has reached a political stalemate, with violence escalating on both sides. (more…)
Tags: Analysis, Arson, Black Bloc, China, Dictatorship, Hong Kong, How to make Molotovs, Intelligent Surveillance, International Solidarity, Letter, Repression, Revolution, Riots, Sabotage, Social Insurrection, Surveillance, Xinjiang
Posted in Autonomy
Tuesday, December 10th, 2019
Well, as you know, I continue to be in the prison of Brians I, and I should not be surprised that the fascist torturers continue, those who like to insult, humiliate, harass and beat the prisoners, but in Module I of this prison, what is happening is beyond the unthinkable.
In this module we have a jailer named Pablo and as usual, the prisoners know him as Don Pablo. This individual has several complaints of mistreatment of prisoners, so it is strange that he continues to work in a prison and dealing with people, when he is at least a psychopath.
This jailer works normally on Monday, Tuesday double shift and Wednesday until noon. This past Monday, the 11th, he apparently had one of those psychotic outbreaks because already in the morning he began first with the barber of the module, in front of other prisoners, asking him "Are you dumb or what, what do you think, what is it? Do you want me to break your face?"
Then, near noon, to another prisoner, in this case a fate of the dining room, he said words shouting like the others: "You are shit, you are not worth anything, you are a cockroach, you are nothing and cease to exist". In the afternoon, and continuing with his vocabulary, there was a prisoner destined for the workshop that was talking on the phone with his family. This prisoner was calling out of the usual schedule because when he comes up from the workshops, at noon later than one o'clock and in the afternoon after seven o'clock, this schedule is agreed after hours with the director of this jail and with the captain of the Module, and I agreed with it myself because those at the workshops could not call during normal business hours. (more…)
Tags: Amadeu Casellas, Catalan Independence, Catalunya, Letter, Prison Labour, Spain
Posted in Prison Struggle
Sunday, December 8th, 2019
—To Joaquín García Chanks and Marcelo Villarroel Sepúlveda, comrades and co-conspirators.
"For I am the sworn poet of all the intrepid rebels of the entire world,
And whoever comes with me leaves peace and routine behind,
And you play to lose your life every moment."
Walt Whitman, To a frustrated European revolutionary (1856), Leaves of Grass.
"… where there is danger, what grows saves us."
Friedrich Hölderlin, Patmos.
A month and six days after the insurrection began, Anarchy is still alive in the Chilean region. It is an unprecedented event in Chile and Latin America. It has been the kairos of Anarchy: the emancipatory moment that occurs in the relevant time and place, the bold incarnation of a pronounced denial of the State and of all authority.
The echo of the old anarchic slogan "Neither God nor State nor Patriarchy" rumbled throughout the southern geography and has made hearts vibrate from Cape Horn to the banks of the Sama and Camarones rivers.
It is evident that in their daily subversive work, the insurrectionary anarchism of the informalist tendency, maximized their potentialities and also explored their difficulties and their own limits, using ephemeral junctions – mutating from one place to another – that allowed them (via conflict and various contingencies) to sketch out the chromatic possibilities of their theoretical-practical background and, encourage unmanageable disobedience, concentrating specifically on individual actions and / or small affinity groups aimed at attack and expropriation.
However, dynamite was missing. Diesel and gasoline failed. The attack was spared. There was a lack of expropriations. The headquarters of ALL political parties were not demolished. No prisons or madhouses were assaulted. We lashed out at the symbols but missed the target. A gigantic bonfire is still pending for the hundreds of flags that are seen on the marches (including the red and black ones, because ALL the flags are full of blood and shit). This shortage has allowed the power of denial to divert to be "triumphant", instead of injecting the conflict with life and going beyond the institutional songs that already threaten to impose the peace of the grave. (more…)
Tags: Analysis, Chile, Gustavo Rodriguez, Letter, Revolution, Riots, Santiago, Social Insurrection
Posted in Autonomy
Thursday, December 5th, 2019
To Joaquín García Chanks and Marcelo Villarroel Sepúlveda, comrades and co-conspirators.

"… every revolutionary opinion draws its strength from the secret conviction that nothing can be changed."
George Orwell, The Road to Wigan Pier.
"Alicia: How long does it last, forever?
White Rabbit: Sometimes just for a moment."
Lewis Carroll, Alice in Wonderland.
The discontent are the new starting point of the impetuous popular protests that run through the geography of the globe. Hong Kong, France, Algeria, Iraq, Haiti, Lebanon, Catalonia, Ecuador, Bolivia and Chile, are the lavish protagonists of the wave of massive urban revolts that shakes the world.
While it is true that these profuse protests have very particular triggers that explain them (specifically Hong Kong and Catalonia, with their independentist rallies), it would be naive to think that this accumulated rage is disconnected. The increase in the costs of goods and services, coupled with austerity – with its consequent loss of jobs and unequal economic survival as global growth slows down – are the common denominator of most of these mobilizations.
However, it is undeniable that these protests also share another great backdrop that far exceeds the economic analysis and that very conveniently is not addressed in the means of mass domestication and intentionally escapes the analysis of political scientists and apologists of domination: anti-government convulsion, a tiredness against those who govern and, against all political parties, whatever their ideological color. A feature that withholds the absence of leadership and / or leaders and facilitates the ephemeral realization of Anarchy. (more…)
Tags: Analysis, Chile, Gustavo Rodriguez, Letter, Riots, Santiago
Posted in Autonomy
Sunday, December 1st, 2019
(November 23rd, 2019)
Days after being followed and days after my home in Ano Patissia was being watched by the anti-terrorist unit, I published a political statement that also includes a report about the events on 27/10/2019 [1].
Later, 09/11/2019, the anti-terrorist cops that were near my house started acting differently. At the same time, anti-terrorist unit repression against the movement became more severe, like arresting comrades with the accusation of being involved in the revolutionary organization "Organization of Revolutionary Self-Defense".
10/11/2019, 22:00 to 22:30, while I was going home, I saw many undercover cops around my home, more than usual in the past few weeks. I decided to not go home and publish immediately the information in Indymedia Athens about this event [2].
11/11/2019, in the evening, while my flatmate and his friend were coming out of the building, 15 to 20 anti-terrorist cops stopped them. First, anti-terrorist cops handcuffed them, put them in the car and probably 30 minutes later the anti-terrorist cops entered my home with the key that they took from my flatmate. Anti-terrorist cops started searching the house. After that, they arrested my flatmate with the accusation of having a military knife that was found in our home. (more…)
Tags: Abtin Parsa, Athens, Greece, Iran, Letter, Migrant Struggle, Organization for Revolutionary Self-Defense, Racism, Repression
Posted in Social Control
Wednesday, November 27th, 2019
21/11/2019
PUBLIC STATEMENT
Since Saturday 9th of November, following the police raid at a man's home, which has been his declared residence for many years, this man and one more, a persecuted fighter and political prisoner in the past, have been incarcerated in the cells of the Greek state, facing heavy charges. The regime's propaganda media, which take on the job of spreading the scenarios of the repression mechanisms, portray the two arrested as well as myself as members of the armed organization Revolutionary Self Defense, who have been preparing, according to the suspicions of the "counter"-terrorist agency, new attacks. Starting from these arrests and with the added excuse of the search for me, the state has unleashed a mass operation of terrorism against anarchists and the wider social movement. Such efforts, which are pillars of the timeless counter-revolutionary strategy of the rulers, have been dealt with several times by the movement, by its stamina, its broad solidarity and by continuing and intensifying the struggle. Being at the epicenter of this operation I ought to make a public statement about my political stance and the characteristics of the regime's current aggression that is directed against society and the movement.
In addition, the condition of the two imprisoned persons (who are now political prisoners since they are persecuted in the framework of such an operation), my personal responsibilities, and justice urge me to speak publicly about the real background of the facts.
By definition, an organization of armed resistance needs arms. However, the weapons by themselves do not constitute an organization. Even a weapon that has been identified as a tool of a specific organization and which, as such, carries a symbolic value on top of the practical capacity of every weapon, is not sufficient, by itself, to maintain an organization of political activity. Rather, what is necessary is a collective body that carries on the public presence of the organization through its deeds.
It is an objective fact that the organization Revolutionary Self Defense has been inactive for years. By reading its public texts and particularly its specific political goals, one comes to the undoubted conclusion that for a long period the particular organization has abandoned its field of struggle. For sure, there has not been a lack of occasions to act. The capitalist aggression has been ceaselessly intensified, by all governments. The subordinate classes are sucked dry for the sake of the banking system for over a decade. Killings continue at the hands of state murderers and bosses. Just like the police murders of Zak Kostopoulos and Ebuka Mamasubek, or the indirect killings of prisoners in the prisons and of migrants at the borders and in the concentration camps. Squats, which comprise the open bases of the anti-capitalist movement, spaces in which the world of solidarity, equality and freedom is built here and now, are receiving one attack after the next from the beginning of the SYRIZA government until today. Throughout the globe, the oppressed are revolting and fighting, having to face the murderous counter revolutionary state mechanisms. In Latin America, anarchists and indigenous peoples are abducted and executed by order of multinational companies. (more…)
Tags: Athens, Dimitris Chatzivasileiadis, Greece, Letter, Organization for Revolutionary Self-Defense, Raids, Repression
Posted in Prison Struggle
Wednesday, November 20th, 2019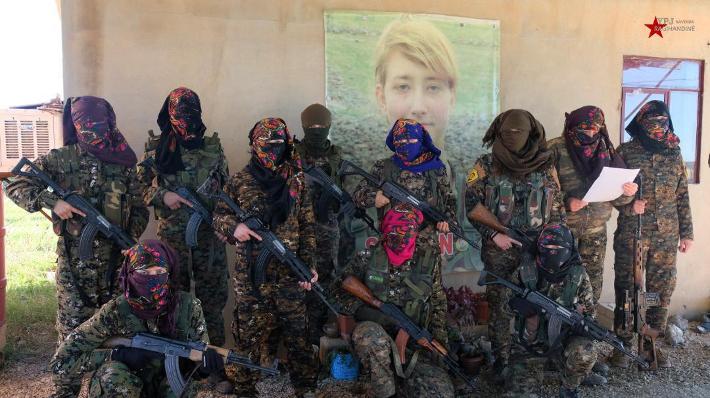 نامه ای از جانب یک آنارشیست انترناسیونالیست در روژاوا
Translation to Persian: Hasse Golkar
via barrikade:
Comrades,
I think it is important now that our voices of Rojava, out of the heart of that battle, are being heard. A fight for the life, for an existence in dignity, for real democracy and for the freedom of all women. I want to tell how the resistance of Serekaniye went on, how the beginning was, how the end was and also what happened in between. Serekaniye right now is in the hands of jihadist groups that are being supported by Turkey, upon approval by the United States. At a time they said there would be a five-day firearm rest…. we didn't believe it for one second. And that's how it was – the attacks didn't stop, maybe they've been reduced, but they continued attacking us with heavy artillery, bombings and airplanes. When there are bombings, there is not much that can be done; hide behind a tree and hope, that they didn't see you running or that they found your place.
Those five days of supposed firearm rest actually have been decisive for the United States and Turkey, to redefine the conflict, to realign the situation of war, confrontation and resistance against our forced withdrawal that no one expected. No one could believe it, after 11 days of resistance, beautiful and very hard at the same time. Leaving the city. The Turkish invasion of Serekaniye did start some days before, 8th of October, with a bombing of our military post that hasn't been answered, for not to unleash what happened later anyway. It was an attempt of the friends to protect the people and the society. But the next day, about 3 to 4 pm, another bombing of a post of the YPG took place, where 5 friends have fallen, and since then they bombed the whole border. (more…)
Tags: Islamic State in Iraq and Syria (ISIS), Kurdish Struggle, Kurdistan, Letter, People's Defence Units (Y.P.G.), Rojava, Serekaniye, Syria, Til Temir, Turkey, War, YPG International
Posted in Autonomy
Tuesday, November 12th, 2019
On November 9th, 2019, an anti-terrorist operation led to two arrests, charging them with robbery and involvement in a terrorist organization. At the same time, authorities are looking for another comrade in order to give him the same accusations, while arresting a close female comrade on lesser charges.
FREEDOM TO THE THREE COMRADES CHARGED.
STRENGTH TO THE COMRADE WANTED FOR THE SAME CASE.
Message from anarchist comrade Vangelis Stathopoulos from the GADA central anti-terrorist headquarters:
Once again I find myself in GADA accused of acts that do not concern me and in fact it is because I have not stopped fighting against the state and power. The scenarios elaborated by the counter-terrorism do not bother me. I will continue to fight steadfast either outside or inside the prisons.
Vangelis Stathopoulos – GADA dungeon

[From actforfree.nostate.net].
Tags: Athens, Greece, Letter, Organization for Revolutionary Self-Defense, Raids, Repression, Vaggelis Stathopoulos
Posted in Social Control
Tuesday, November 5th, 2019
ES | ESTADOS UNIDOS: UN MENSAJE DE ERIC KING – COMPAÑERO ANARQUISTA ENCARCELADO
October 8th, 2019
Here are the things I hear most:
What are you doing, we heard this, I don't think so, we'll see, maybe, Chow!, Count!, who's mess is this, who's shaking the bars, lights out, mail call, rec call, you want a shower, clean this mess, nope not today, not happening, I'll check on it, put in a cop-out request, doubt it, quit trashing my tier, cuff up…
Sometimes I spend hours pondering revenge fantasies, most time I think of my wife and kiddos. Fourteen months in segregation minus 4 days at Grady County, plus 6 at McCreary. We haven't been in the same room since August 11th, 2018. Now these bastards drag me back to Colorado to force more time, and have the audacity to block our family visits, due to a bad check from 15 years ago. Maybe people who read this will be disgusted by this news.
That said, I'm hurting friends. Being attacked sucks. Being charged with new federal charges for that attack is sickening. Never forget how horrible these people are. This system exists from the top to the bottom which is why reform is such a joke. You don't reform cancer, you destroy it. We must destroy this system.
Until all are free,
RIP Tom Manning & Willem, never forgotten
–EK
From : Fire Ant 5
Tags: Eric G. King, Isolation, Letter, Repression, USA
Posted in Prison Struggle
Tuesday, November 5th, 2019
On the context of Revolt
We have witnessed an apparently unforeseeable phenomenon; from a practically harmless claim, thousands of youths gave free vent to their fatigue, facing their daily lives destroying symbols and flags, fears, lies and, why not, certain ways. It's not possible to try to analyse, perhaps in vain, the reason for such a situation in this short text; I don't think it is necessary to classify events in terms of superficiality and claiming slogans or to attribute this catharsis to an accumulation of situations; sometimes things are simpler.
Today I am smiling with happiness at the explosion of the order of things, the momentary rupture of the status quo, the burning of the symbols of lies and misery; I am enjoying the potential of this outbreak. Let's not deceive ourselves, it would be naïve to think that Revolt brings our values or our politics with it. That after the cathartic feast the counter of suffering incurred by existence will be zeroised or go to an inevitable becoming anarchist; the coming about of the Revolt must be enjoyed, the essential will that undermines all immobility, the flames of a momentarily chaotic becoming which can only survive with constant combustion to thus keep up its fearless beauty. Today I am smiling for a gift that no one gave me.
Joaquín García Chanks
24th October 2019
—
Translated from Italian by act for freedom now!
via: insuscettibilediravvedimento
Tags: Chile, Joaquín García Chanks, Letter, Santiago
Posted in Prison Struggle
Friday, October 25th, 2019
The situation with my parole remains bizarrely uncertain, and it has now become obvious that it is not the parole board that is deciding matters but the Justice Ministry itself. Unfortunately my Judicial Review fell at the first hurdle after my initial optimism when the first judge to consider my case decided there did appear to be a breach of proper legal procedure in the way the Justice Ministry refused to refer my case back to the parole board when the board's supposed dissatisfaction with the length of time the probation service had arranged for me to spend in a parole hostel if released was put to rest when the hostel concerned informed the board that they were prepared to accept me for as long as was considered necessary.
The judge then gave the Justice Ministry 21 days to present a defence as to why I remained in prison still when there was clearly no real public protection justification for my continued imprisonment. 21 days later the Justice Ministry presented a "defence" claiming that it wasn't just the issue of a long-term hostel place that had influenced the parole board's decision to deny my release, but also my "aggressive anti-authority authority", which it was unable to give any specific examples of in terms of breaches of discipline reports, etc. This was a blatant moving of the goalposts and unfortunately the different judge this time to consider the case, and who had obviously been "briefed" about my prison history and politicisation, swallowed the re-manufactured bullshit to justify my continued imprisonment and dismissed my action. (more…)
Tags: John Bowden, Letter, Repression, UK
Posted in Prison Struggle
Saturday, October 12th, 2019
There is a group of prisoners who although imprisoned for non-political offences subsequently become politicised or radicalised whilst in jail, and in both the USA and Britain this is a phenomenon that has become increasingly widespread.
In the USA during the 1960s and 70s the radicalisation of ordinary black prisoners, in particular, was fostered by the centrality of imprisonment in the experience of black activists and revolutionaries like Malcolm X (who described prisons as "universities of revolution"), Eldridge Cleaver, George Jackson, H Rap Brown, Angela Davis and others. George Jackson described his own politicisation succinctly: "I met Marx, Lenin, Trotsky, Engels, and Mao when I entered prison and they redeemed me".
Thus those whom W.E.B. Dubois described as an "army of the wronged" increasingly defined themselves as political prisoners who were the products of an oppressive political-economic order. This belief underpinned the praxis of radical groups such as the Black Panthers and Symbionese Liberation Army, and prisons were seen as the epicentre of a broader social and political revolution. The call for recognition of radicalised prisoners claim to political status underpinned prisoners' demands in a series of protests that punctuated the 1970s in U.S. Prisons such as Folsom, Soledad, San Quentin and, later, Attica. (more…)
Tags: Anti-Prison, Black Panther Party, Irish Republican Prisoners, John Bowden, Letter, Prison, Prison Abolition, Prison Industrial Complex, Racism, UK
Posted in Prison Struggle
Saturday, September 21st, 2019
BURNING HEARTS CANNOT BE LOCKED AWAY
FREEDOM FOR THE THREE ON THE PARK BENCH!
On the night of 8 July 2019, three of our comrades were arrested on a park bench. On the same night there were several house searches in various districts of Hamburg, during which some of the people were forced out of their beds with weapons. The suspicion, according to the Attorney General's Office, was the preparation of an arson attack. On 9 July, the three were brought before the magistrate. Two of them were remitted from custody and the third had her arrest warrant suspended, with conditions – she has to report once a week and is not allowed to leave the country – and she has been on the outside ever since. A evaluation trial for the pre-trial detention was requested by the defence and then withdrawn two weeks later. A new date is not foreseeable at the moment.
Currently DNA was taken from the two prisoners for comparison. The person outside did not have to give any DNA, since the alleged traces found are only male DNA. The two in custody are doing well, considering the circumstances. Since the LKA (State criminal police office) officials are present at every visit, the visits that take place twice a month for one hour depend on the LKA calendars. Telephone calls (1 hour per month) and letters are also monitored, listened to and read by the LKA,
the prison and the General Prosecutor's Office. Accordingly, there is never a moment of private communication between the two and their friends or family. It is clear to them what this place should do to them – but they keep their heads up and share solidarity and contact with fellow prisoners. (more…)
Tags: Germany, Hamburg, Letter, Park Bench 3
Posted in Prison Struggle