Posts Tagged 'Letter'
Monday, July 24th, 2017
We are spreading news of the arrest of a comrade from Genoa, Riccardo, on Friday 7th July in Hamburg during the revolt against the G20.
Riccardo has seen his lawyers, is doing well and his spirits are high.
On 18/07 a hearing confirmed that Riccardo and all those arrested be remanded in custody. In 15 days an appeal trial will be held to decide if imprisonment is to be continued until the trial. The charges haven't been formulated yet.
We reconfirm our solidarity with all those arrested in Hamburg.
Freedom for all!
If you want to write to Riccardo or send him reading material, his address (name, surname, date of birth and address of the prison where is being held) is:
RICCARDO LUPANO
09/06/1985
JVA BILLWERDER
DWEERLANDWEG 100
22113 HAMBURG – GERMANY (more…)
Tags: G20, Germany, Hamburg, Letter, Riccardo Lupano
Posted in Prison Struggle
Friday, July 21st, 2017
There is currently a massive population of "post-tariff" life sentence prisoners over-crowding British Prisons. Lifers who remain detained long beyond the time originally recommended by the judiciary or secretary of state, which includes prisoners sentenced under the IPP ('Imprisonment for Public Protection') Law. Although this law has been scrapped, it has left a legacy of thousands of prisoners still languishing in jail. Britain has more life sentenced prisoners than the whole of Europe combined, a consequence of a "lock em up and throw away the key" culture and mentality that pervades the bourgeois judiciary and justice apparatus, as well as a Parole Board that exists just to legitimise what is in reality the unlawful detention of thousands of prisoners. "Preventative Detention" was created by the Nazi Party in Germany in 1939 to "cleanse" society of anti-social elements and Britain is a zealous inheritor of that instrument of repression, while British prisons are now little more than modern day concentration camps, full of prisoners with no hope of release.
The collaboration of the Parole Board in unlawfully detaining Post-Tariff lifers who represent little or no actual risk to the community was typified in a parole judgement on my own case in June 2017, when after 37 years of my imprisonment, more than ten years beyond the original judicial recommendation, the board denied my release for nakedly political reasons. Officially, the position of the Parole Board when considering the release of post-tariff life sentence prisoners is determined by evidence of continued "risk to the public" and whether it is necessary for "public protection". If there is evidence, release is denied. (more…)
Tags: John Bowden, Letter, Repression, UK
Posted in Prison Struggle
Friday, April 28th, 2017
The struggles of the Palestinian political prisoners are directly and inextricably
connected with the overall struggle of the Palestinian people. 70 percent of the
Palestinian families have at least one member that has been imprisoned for
action against the state of Israel. 20 percent of the total population has been
imprisoned at least once in their life while according to other estimations 40
percent of the male population has been imprisoned at some point in their life
within the past 30 years.
Another revealing manifestation of the situation the Palestinian strugglers find
themselves in while inside the Israeli prisons is the fact that until 1999 "mild
torture" during interrogation was considered legitimate practice by law. These
tortures included- among others – deprivation of sleep, immobilization in an
uncomfortable body posture, loud music, exposure to extremely cold or hot
temperatures, placement of malodorous cloths over the face etc. In 1999 the
supreme court of Israel upheld that in certain cases these practices were illegal
and thus imposed some restrictions. These restrictions did not, however, rule
out force-feeding as illegal in accordance with the UN provisions.
On the 1st of May 2000 almost 1000 out of the 1650 Palestinian political
prisoners participated in a large-scale hunger strike that lasted one month,
demanding better living conditions, better treatment by the guards, family visits,
abolition of the solitary confinement, access to healthcare and release of political
prisoners. During the solidarity demonstrations seven Palestinians lost their
lives while one thousand got injured. Meanwhile, sixty Israelis got injured, too.
On the 31st of the same month the government of Israel satisfied some of the
demands. (more…)
Tags: Andreas-Dimitris Bourzoukos, Antonis Stamboulos, Argiris Dalios, Dimitris Politis, Fivos Harisis, Gaza, Giannis Michailidis, Giorgos Karagiannidis, Greece, Grigoris Sarafoudis, Hamas, Hunger Strike, International Solidarity, Israel, Korydallos Prison, Letter, Palestine, Popular Front for the Liberation of Palestine (PFLP), Tasos Theofilou
Posted in Prison Struggle
Tuesday, April 25th, 2017
SCRIPTA MANENT
The prosecution in Turin have decided to put an entire anarchist tendency on trial: anti-organisation Anarchism. This isn't a sensationalist and defensive overstatement, it's what Turin's investigating judge, Anna Ricci, enacted with the arrest warrants issued in July 2016, and enforced in September, probably to avoid disrupting the summer holidays of some pubic official.
The inquisitors' choice is clear from the ridiculous framework that appeared in the arrest warrant papers, a product of the deleterious encounter between the mind of some cop and the rushed reading of a wikipedia summary.
The framework gives shape to a repressive-Manichean vision of a 'social anarchy', a good and harmless one, and an (anti-social and anti-classist) 'individual anarchy', violent and palatable to repression, whose method is the 'anti-organization model'. (more…)
Tags: Analysis, Anna Beniamino, CNA Italia, Informal Anarchist Federation (FAI), Italy, Letter, Nucleo Olga FAI/FRI, Operation Scripta Manent, Repression
Posted in Social Control
Thursday, March 9th, 2017
Here we publish a letter from our anarchist comrade who is locked up in a German prison, in Köln, since several months. She is accused of carrying out a bank robbery in Aachen and is already facing the trial. She wrote this letter in the context of the 8th of March, International Day of Women's Struggle.
Down with patriarchy: On the social, racist & patriarchal problems faced by women in prison
It is generally well known that German society is rife with inequality. The upper classes are secure and cared for, they have no existential concerns and, despite all the wider problems of the world, they are able to offer their children a promising future which is not available to the under classes. Whilst a small minority of people are able to get richer, the majority are left to exist on the bare minimum, working for a shitty low wage and constantly being pushed towards pointless consumption so that the profit driven system that we live in can continue to function. (more…)
Tags: Aachen, Bank Robbery, Germany, Letter
Posted in Prison Struggle
Tuesday, February 14th, 2017
Ya han pasado cinco meses desde que volví a habitar las celdas de la Sección Máxima Seguridad del C.A.S y creo que es necesario referirme tanto a lo personal como al escenario carcelario. Las razones para no escribir antes son, obviamente, personales; pero más que nada son debido a la creencia -a pesar de ser un convencido de que el compartir experiencias genera lazos impagables- de que la plataforma virtual y su conjunto de comunicados se aleja mucho de lo real y se acerca a una idea abstracta del día a día carcelario e individual. ¿Irreductible? Sí, exista o no un vaivén emocional, ni la convicción ni la mente flaquean, pero esa asquerosa idea del mártir de acero tras los barrotes debe caer. Por el suicidio de la imagen y el fetiche, por la real complicidad destructora.
"El pesimismo es el opio de los intelectuales, el optimismo pertenece a los imbéciles. Un realismo fanático y soñador, la conciencia de que no cabemos en este mundo, los valores que defenderemos en cada momento, más el calor cómplice de los que queremos y estimamos".
Hace cinco meses, un poco de la detención:
El 7 de Septiembre, aproximadamente a las cinco de la tarde y a poco más de dos meses del quebrantamiento del arresto domiciliario total dictado por el aparato jurídico, me detuvieron al subir a un bus rural con dirección a algún lugar. (more…)
Tags: Analysis, Celula Revolucionaria Paulino Scarfo - FAI/FRI, Chile, Eco-Extremism, Individualists Tending Toward the Wild (ITS), Joaquín García Chanks, Letter
Posted in Prison Struggle
Monday, February 13th, 2017
The annual fascist "Lukov March" is again planned for the 18/02/2017, the date marked by Bulgarian fascists as it was when the Communist rebel Violeta Yakova killed him as part of the class war and resistance against the then fascist regime.
In reaction to the barbaric affront that the Bulgarian fascists and their lumpen commit yearly there is also a yearly anti-Lukov March demonstration organised. The anti-Lukov March is more then just symbolic opposition to fascists in Bulgaria; it is also symbolic opposition of the crimes that the fascists commit against all human decency. For example when the fascists from the Bulgarian National Union make illegal identification checks on public streets, or when the Bulgarian National Resistance makes ambush attacks on human rights demonstrators in trams. The beating and assault of a random Bulgarian man in the park with the "excuse" that they thought he was a Roma. The anti-Lukov protests are general symbolic opposition not simply to General Lukov, it is against the crimes committed by his modern day acolytes. The fascist political parties such as Ataka and the Patriot Front. It is against the crimes committed by the fascist street gangs such as National Resistance and the NAZI football formations such as Sector B. (more…)
Tags: Bulgaria, Jock Palfreeman, Letter, Lukov March, Neo-Nazis, Racism, Sofia
Posted in Anti-Fascist
Wednesday, February 1st, 2017
Note from Insurrection News: The following text by imprisoned compañeros Fabián Durán, Enrique Guzmán, Nicolás Rojas and Joaquín García was written in response to the cowardly attacks by prison guards against the imprisoned compañeras Tamara Sol, Tato and Claudia that took place at the San Joaquin women's prison on January 11th and 12th. In response to these brutal and cowardly attacks friends and relatives of the compañeras quickly mobilized and held a demonstration outside the prison on January 13th. Banners were displayed outside the prison, slogans were shouted and also painted on the prison walls. Riot police eventually attacked the demonstration with water cannons and arrested 5 compas. Although the demonstration was suppressed it sent a clear message to the prison authorities that attacks against imprisoned revolutionary compas will be immediately responded to. You can see some photos from the demonstration here.

Chilean Prisons: Words in solidarity with Tamara Sol, Tato and Claudia
From the modules of the maximum security section we salute each of the compas kidnapped by the state, who day by day, with dignity and pride, face the prison reality in each of its expressions and forms.
A few days ago we learned in a more or less partial form of the cowardly attack by the prison guards against the compañeras Tamara Sol, Tato and Claudia. We are fully aware of how repetitive these actions have become, whether as punishment, isolation or an eternal package but the recurrence prevents normalization, this gives us more strength, to ourselves and to our convictions. Each day we become more acutely eager for revenge against the prison society and those who defend it. (more…)
Tags: Chile, Enrique Guzmán, Fabián Durán, Joaquín Garcí, Letter, Nicolás Rojas, Repression, Tamara Sol
Posted in Prison Struggle
Wednesday, February 1st, 2017
Careful who you call comrade!
Tuesday, 24 January, on the outskirts of Vigo (Mos), a deployment of about 60 armed men between the Guardia Civil and secret agents, searched (and almost destroyed) the house where Gabriel Pombo da Silva had lived for a few months with his partner Elisa Bernardo. At dawn the two were violently awakened, handcuffed and separated … aim: to find firearms and explosives! The search lasted about eight hours and in spite of the means employed (dogs and high technology radar tools), gave no results … among the things seized there is the usual "interesting" anarchist material, cameras, maps of various cities, some cable and old malfunctioning cell phones.
While Elisa, despite the repeated threat of being placed under arrest unless she revealed the much desired hiding place, remained free, Gabriel was arrested on charges of "illegal possession and trafficking of weapons and explosives and armed group". During the 24 hours' detention (the release of the comrade happened, in fact, the next day) the facts were bitterly reconstructed. (more…)
Tags: Elisa Di Bernardo, Gabriel Pombo da Silva, Galicia, Letter, Operation Ardire, Operation Buyo, Operation Scripta Manent, Repression, Spain, Vigos
Posted in Social Control
Thursday, December 29th, 2016
For my part I did not know Angry, but his death (to which I was not indifferent) brought him close to me via his writings, drawings, songs and the memories of other people that they relived with great affection and that allowed me and allows others to go beyond the day of December 11 and take a deeper meaning from the memory of a compañero and also of others. A sense of recognition of the person himself, of a being who took the step of defying himself, the society and this civilization of domination by compelling himself to live another life that was not established or pre-fabricated. With the ups and downs, contradictions and successes that come from rebellious decisions and wills.
The memory of which I speak comes from a feeling of affinity with the compañero and certain experiences, practices, desires, feelings and ideas that fill our life with a sense of self, pride and the impulse to walk along a similar path of struggle and confrontation, of desires and creation. (more…)
Tags: Chile, Letter, Natalia Collao, Sebastián Oversluij Seguel
Posted in Prison Struggle
Wednesday, November 23rd, 2016
During the almost three years that we have been confined by different prisons of the Spanish State, there is one aspect that particularly calls attention to its determinant importance in prison life; we refer to the dispersion.
The dispersion corresponds to a policy of Penitentiary Institutions implemented by the socialist government in the mid-1980s, which consists of transferring determined prisoners to distant prisons many kilometers from their place of residence. In many cases these transfers are incessant and see the prisoners forced to go through various prisons in a short period of time preventing them from establishing themselves and establishing lasting relationships with others. The purpose of this policy was to curb the riots and protests inside the prisons that had been occurring during those years by drastically removing prisoners considered hostile to the prison system. (more…)
Tags: Francisco Solar, Letter, Monica Caballero, Spain
Posted in Prison Struggle
Wednesday, November 2nd, 2016
Note: This text was written by Alfredo during his recent hunger-strike which began on October 3rd and ended on October 25th when prison authorities released him from isolation.
Prison of Ferrara – Italy
Letter of anarchist comrade Alfredo Cospito
Valentina, Danilo, Anna, Marco, Sandro, Daniele, Nicola friends, brothers, sisters, comrades were arrested and rearrested.
I should narrate the same old story about another fabrication. Instead, I want to talk about the reason why they were arrested. Brothers and sisters were arrested because they attacked, they were tired of waiting, they ignored the decisions of the majority and took action.
I remain optimistic and in high spirits because the logic of "1 + 1 = 2" tells me that the comrades who struck are still free, therefore they are able to strike again.
The power does not repress randomly. Today it wants to isolate and to annihilate part of anarchist movement, a "small" as it may be it was able to break the chains that tied it to the "old social anarchy".
A social anarchism that in suicidal and compulsive way looks for "consensus at any costs". Diluting continuously its aspirations.
This vision that "never goes beyond" is very convenient for power, on the contrary it fears those anarchists who refuse that "consensus" ties their hands, because they believe that only out of the action (not made of abstract theories or searching-pursuing of "people") can the strategy be born, the path to follow.
I don't want comment the "charges" and so-called "evidences". The only thing I would say is that the brothers and sisters of FAI-FRI have always claimed with head held high, in front of black-robed pigs, their own merits, their own actions, taking the responsibilities, spitting in the pigs' faces, as we did in Genoa.
My main priority is not to get out of prison at all costs, but to get out with head held high without having denied anything of what I was, and I am.
I will get out by hook or by crook, it will all depends on my strength, on my abilities, on the strength of my brothers and sisters outside, but definitely I will get out with head held high.
My ideal complicity goes to brothers and sisters of the "Cooperativa Artigiana Fuoco ed Affini"-FAI, to brothers and sisters of FAI-RAT(Rivolta Anonima Tremenda) and to brothers and sisters of Narodnaja Volja – FAI, whoever they are, wherever they are.
My ideal complicity goes to anarchism of praxis, which in new forms is rising in most of the world, after a long hibernation.
Forward, without fear.
The future is ours.
Thought and Dynamite
Alfredo Cospito

via CNA, Traces of Fire, InsurrectionNews
Tags: Alfredo Cospito, Informal Anarchist Federation (FAI), Italy, Letter, Operation Scripta Manent
Posted in Prison Struggle
Sunday, October 30th, 2016
NON SERVIAM – I WILL NOT SERVE YOU
"Worse than enslavement is getting used to it…"
Life in the modern civilized world comprises false representations, false patterns, and false formalities. Formalities that determine our upbringing within a family, our education, our professional career, our relationships, our emotions, our smiles or tears. Patterns that castrate the scope of our perception so that our thoughts are directed onto a moving walkway going only one direction. Representations that disguise the system's functions and pathogenies so that we see life unfold only on stage, and never wonder what's hidden backstage. So, the thousands of suicides of desperate debtors is just another statistic among the unpleasant consequences of the economic crisis, the impoverishment of the so-called third world is just an unfortunate fact, and its wounds will heal by charity organizations, the countless dead of modern crusades, the unfortunate victims of the absurdity of war, and the convict slaves in American prisons are simply antisocial elements that provide social services to Democracy.
Prison itself is exile from life; a non-place and non-time behind the screen of a decent society, to make the ugliness that bothers the eyes of reputable citizens unseeable. Prisons are a proof of the perverse intelligence of authoritarian minds. They're built onto walls echoing the screaming and weeping of thousands of people who've learned to sleep with anguish and despair. Prison is the country of captivity, the country where one learns to kneel before the "Forbidden", a landfill for the disposal of human waste, an industrial dump where the social machine's hazardous waste ends up. For most people, however, for all those who never learned to doubt, to question, to look beyond the obvious, prison is a security wall necessary to protect their peaceful and quiet life. (more…)
Tags: Athens, Attica (Prison Uprising), Conspiracy of Cells of Fire, Greece, Informal Anarchist Federation (FAI), International Revolutionary Front, International Solidarity, Korydallos Prison, Letter, Operation Scripta Manent, Prison Labour, Prison Labour Strike, Racism
Posted in Prison Struggle
Sunday, October 30th, 2016
Hello. My name is Lukáš Borl. I am 34 years old and recently I am held in custody prison in Czech republic – Europe. I am an anarchist and I express my solidarity with all oppressed and exploited people around the World regardless their origin, sexual orientation or gender. From this perspective I decided to send few words of solidarity to the prisoners in USA where, according to the information available to me, a general strike of working prisoners began on 9.9.2016. Regardless what they've done, regardless how the Criminal Procedure is categorizing it, I want to express my support to every striking person in prisons around USA.
Every person without exception has a right to respect and human dignity. All prisons trample this right in different ways. For example, a person whose dignity was taken away by prison is additionally exposed to exploitation by working there. As prisoners, you labor hard under hard conditions and often in danger to your own health. Time spent at work is managed by bosses, and the products of this work are taken by capitalists. On one side, there is the growing wealth of corporations, and on the other, you: the humiliated and exploited people who create the profit produced by their work. The implacable antagonism of these two worlds is obvious. If you decided to go on strike, then, it is a legitimate form of a struggle for ending exploitation. I understand this struggle and I support it. I want to let you know that your struggle is also mine. We share the same reality as human beings suffering under the control of the capital and state. (more…)
Tags: Czech Republic, Letter, Lukáš Borl, Prison Labour, Prison Labour Strike, Racism, USA
Posted in Prison Struggle
Sunday, October 30th, 2016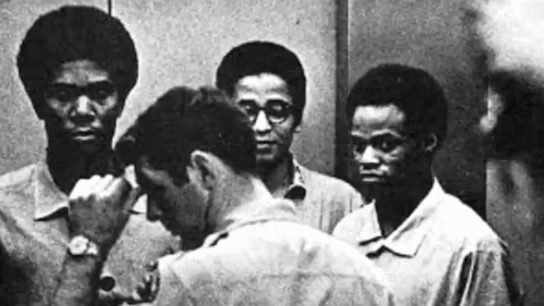 "Gentlemen, the Dragon Will Fly Out"
In Support of September 9th Mobilization in US Prisons
"Gentlemen, the dragon will fly out" is a saying attributed to prisoner George Jackson. On August 21st 1971, holding a pistol, he opened all the cells in an adjustment unit, taking jailers hostage. George Jackson was killed in his attempt to escape…
Since September 9th, prisoners in the United States have called for action against slavery.
A multitude of "invisible" slaves (there are about 2.5 million prisoners in the United States) are condemned to forced labor, or as jailers of their own selves (internal work in prisons, cleaning, repairs, technical operations), or as cheap meat in the service of corporate behemoths (Honda, McDonald's, Wendy's, Victoria's Secret, Starbucks, and many others). Besides, the 13th amendment to the US constitution clearly states: "neither slavery nor involuntary servitude, EXCEPT as a punishment for crime whereof the party shall have been duly convicted…" To put it simply, detainees are considered slaves as part of their punishment.
Prisons in America—and not just there–aren't only bars, walls, surveillance cameras or lockdowns. They're also an enormous lucrative business. Prisons are a dirty dealing for continuously supplied shackled labor force without name and without voice. They represent a modern slave trade, making billion-dollar profit, that not only supplies the companies-caretakers but also the industry of lawyers, judges, cops, corrections officers, private prisons. (more…)
Tags: Attica (Prison Uprising), Conspiracy of Cells of Fire, Fleeta Drumgo, George Jackson, Greece, Informal Anarchist Federation (FAI), International Revolutionary Front, International Solidarity, John Clutchette, Korydallos Prison, Letter, Michael Kimble, Prima Linea, Prison Industrial Complex, Prison Labour, Prison Labour Strike, Racism, Red Army Faction (RAF), USA, Weather Underground
Posted in Prison Struggle