Posts Tagged 'Letter'
Thursday, May 26th, 2016
May 25, 2015
Please accept our apologies for the sparse updates that have come out the last couple of months regarding Jay Chase.
As you may know, Jay received a one year sentence after pleading in Cook County to assault on a correctional officer. We support Jay in pleading out to one year versus rolling the dice and potentially getting 3-5 more years tacked on his sentence. His judge in that case was the same as in the original NATO 3/entrapment case and no one had any thoughts that this time, he would be fair, or cognizant of Jay's terminal illness he struggles with daily (Huntington's Disease).
To make matters worse, Jay recently found out he lost one full year of good time which pushes his release date back to November 6, 2017. This loss of good time is based on incident reports or 'tickets' Jay received while vigorously and persistently demanding treatment for the terminal illness and Hepatitis C. It is a cruel irony that the Illinois Department of Corrections not only medically neglects its own prisoners but then punishes anyone for speaking out and demanding treatment. This is about neglect and indifference that is bigger than Jay's specific case- a point he makes clearly in letters sent out from solitary, which brings us to the reason for this dispatch. (more…)
Tags: Jared Chase, Letter, USA
Posted in Prison Struggle
Thursday, May 26th, 2016
"The only thing that I'm afraid of is the time…The detriment of remembrance that looks like a second death for those who are gone… Time is a friend of death…Unless we stop the hands of the clock and fill our journals with days that those who are gone were dreaming of… Then death will have no power and our dead will live on in our hearts."
On May 22th 2009 the anarchist Mauricio Morales gets killed while carrying a bomb in order to place it at the prison wardens' school in Chile.
Many believe that our struggle is futile… They don't believe that a minority of defiant anarchists can attack the governmental beast.
Still they're forgetting that always a minority -like detonators- overturn history and derail what has been considered as a given yesterday.
Others believe that we are romantics and that it isn't worth sacrificing ourselves for others… Yet, as it has been written somewhere "The revolutionary anarchist doesn't sacrifice him/herself for the society, but instead he/she sacrifices the existing society. The constant anarchist revolution isn't a sacred duty that has to be carried out by selfless ascetic martyrs. Instead, it encapsulates the individual insurrection as well, since it's this point where our change meets with the change of the world…"
So even if we die, it's because we have truly lived…
This is the reason that we don't believe in mortuaries, but in actions, words and meanings that are carrying our souls within the centuries…
Seven years after his death, we are still meeting again with Mauricio Morales through the words of the anarchist Emma Goldman:
"I don't know which of you has read the wonderful prose piece of Gorki that is called the Snake and the Hawk.
The Snake cannot understand the Hawk.
"Why don't you get some rest here in the dark, in the beautiful, slippery dampness?" asked the Snake. "Why flying in the skies? Don't you know of the dangers that lurk there, the violence and the storm that are waiting for you and the gun of the hunter that will knock you down and destroy your life?" But the Hawk didn't pay any attention. It spread its wings and flew in the welkins; its triumphant song was heard and echoed in the skies.
One day the Hawk was knocked down, its blood was gushing out of its heart and then the snake said "Fool, I've warned you, I told you to stay where I was, in the dark, in the beautiful, warm dampness, where no one could find you and harm you…" But with its last breath, the Hawk answered "I have flown in the welkins, I've ascended in immense heights, I have seen the light, I have lived, I have lived!"

For Mauricio Morales…
For the comrades that are gone…
Conspiracy of Cells of Fire – Urban Guerilla Cell
Gerasimos Tsakalos
Christos Tsakalos
Olga Economidou
George Polydoros
Tags: Athens, Chile, Conspiracy of Cells of Fire, Conspiracy of Cells of Fire - Urban Guerilla Cell, Conspiracy of Cells of Fire : Imprisoned Members Cell, Greece, Letter, Mauricio Morales
Posted in Cognitive Liberty
Thursday, May 12th, 2016
They say, in prison, that the most insidious drug is hope…
Hope for a good transfer, a convenient cell, a good court-decision, a sentence reduction on appeal, a semi-free status with electronic surveillance, for license approval, a suspension, an early release.
Hope is prison's (and democracy's) velvet bat. The prisoner now suppresses them-self in exchange for any of the above…
The price for the common prisoners in order to keep their hope alive is to become prison snitches, to be quiet, not to participate in demonstrations, to be a part of the anonymous statistics of the prison population and generally to invisibly serve their sentences with their head down.
The price for political prisoners is to renounce the armed struggle or even to capitulate with their silence…
In the "Years of Lead" in Italy, that usually happened by public declarations renouncing the armed struggle, often followed by telltale testimonies that led to fighters' arrests. (more…)
Tags: Analysis, Christos Tsakalos, Conspiracy of Cells of Fire, Conspiracy of Cells of Fire : Imprisoned Members Cell, Greece, Informal Anarchist Federation (FAI), International Revolutionary Front, Korydallos Prison, Letter
Posted in Prison Struggle
Wednesday, May 11th, 2016
On May 1st, 2016, prisoners in Alabama will be staging a workstrike at a number of Alabama prisons.
My reasons for shutting down is simple, I want to bring as much pain and disorder to the state (ADOC) as I can as an individual in any way that I can. I don't give a fuck about "changing any laws" because they are the mechanism that is used to keep people from being free. Fuck the law! The only true freedom is when we act outside of the law.
But in the cause of solidarity I'm asking all outside rebels to express their solidarity with the striking prisoners through free direct action. Join us, protest at an Alabama prison, burn some shit down/up, drop some banners, just cause some fucking chaos. Shit is getting real in Alabama prisons, not that it wasn't already.
It's going down! Fire to the prisons and the society that creates them, upholds them, and maintains them. Fuck peace! Locking humans in cages is not peace.
In Love & Rage,
Michael
For more info see: freealabamamovement.com
Tags: Alabama, Letter, Michael Kimble, Prison Labour Strike, USA
Posted in Prison Struggle
Wednesday, May 11th, 2016
It's been about four months since the action campaign of Black December finished. The subversive experience of Black December and the density of anarchist action that developed was a springboard for fermentation and discussions for the reconstruction of anarchist methods in an informal shape. The actions in reference to Black December have continued until today, while cycles of discussions in and out of prisons have reached a number of conclusions, proposals and positions, that have as a common reference point the desire for intensification of our attack on the sites of power.
One part of those discussions was the proposal for an informal anarchist platform that lays the foundations for an informal coordination for diverse anarchist actions, thus enabling them to set in motion autonomous struggle campaigns with our own initiatives and forces, thus producing for ourselves the events and strategies we think necessary for today. A choice that reflects our desire to create centers of autonomous thinking and acting for those who challenge the existing social system. Following the initiative of the comrades from Rethymno, there was the proposal for the informal anarchist platform to be named The Insurrectionary Association of Theory and Practice, a proposal has been accepted by some comrades and is an open and simultaneously informal coordination structure that is still being worked on by those comrades who wish to adhere to it. (more…)
Tags: Black December, Fuck the Nations - Squat the World, Greece, Insurrectionary Association of Theory and Practice, Letter, Nikos Romanos
Posted in Autonomy
Monday, April 18th, 2016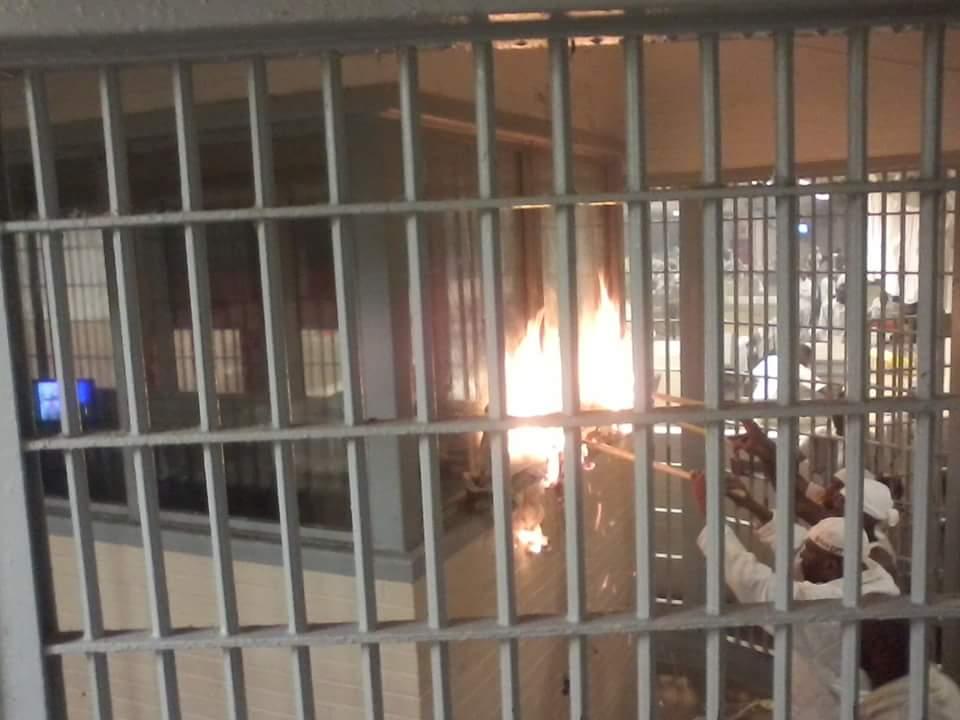 Friday, Feb. 12, 2016 – Monday, Feb. 15, 2016
What began as a confrontation between prisoners from different regions of Alabama – namely, B'ham and Montgomery, with B'ham being the largest – escalated into two short riots against the pigs. After the prisoners squashed the beef among themselves without any violence, two pigs ran into C-dorm, which houses 114 prisoners and was informed that there was no problem and everything was under control.
One pig (Tate) tried to bogart his way through a crowd of prisoners and was immediately stabbed a number of times. After the two pigs ran out the dorm, one bloodied the warden, Carter Davenport, who has a reputation as an extremely sadistic, disrespectful, and nasty scumfuck fascist, who was recently removed from his post as warden at St. Clair maximum security prison for assaulting a prisoner, and reassigned as warden at Holman in 2015. He was stabbed after entering C-dorm like some kind of god. (more…)
Tags: Alabama, Letter, Michael Kimble, Prison Riots, USA
Posted in Prison Struggle
Saturday, April 9th, 2016
The Human Brain Project (HBP) began in 2013; it is a research project with an ultimate goal to be achieved within the next 8 years: to create IT simulation of the functioning of the human brain. A massive project made possible only by the billion euros financing granted by the European Commission in the context of the programme 'FET- Future and Emerging Technologies'.
Techno-sciences as an investment
The programme represents a sort of 'New Deal' for the new millennium: to advance scientific convergence in futuristic, therefore risky from an economic point of view, fields in order to come out with even more technological applications that can produce profits in both a social (that is to say control over society) and economic context.
The projects competing for this massive financing were six, one more fearsome than the other. They all had in common a techno-scientific convergence intended to develop new 'revolutionary' technological applications in the dystopia in which we are living. For example, the objective of one of the competing projects was to reconstruct all the biological processes of the human body virtually, so as to create a universally standardized model of a patient, which could be personalized by simply changing its anatomic, physiological and genetic characteristics1. (more…)
Tags: Anti-technology, Biotechnology, BlueGene/Q Lemanicus, Brain Mind Institute, Cineca, Henry Markram, Human Brain Project, Italy, Letter, Luca Bernasconi, Switzerland
Posted in Eco Struggle
Sunday, April 3rd, 2016
WITH NO TRACE OF REMORSE
This experience is the starter of the development on both a political and a personal level. Imprisonment is an almost inevitable experience for anyone who has decided to join the armed struggle. But the question, as in every experience, is whether and how to take advantage of it.
The birth of the prison has always been built upon cultivation and perpetuation of validation of submission of those who do not conform to the predefined standards of society. However, there are some people whose desire for freedom burns their hearts in a way that does not allow them to accept the role imposed on them as part of the prison automation, even for a single moment during their imprisonment. When it comes to these people, prison fails miserably in its purpose, and despite the walls and bars that stand around them capturing their bodies, they themselves remain rebellious and actually free. Neither souls nor spirits fit in cages.
Let's start at the very beginning. First of all, as anarchists that have declared war on all aspects of the modern civilized world, we know well that in order to become dangerous, it is necessary to use all kinds of means. Armed propaganda was, is and will remain an integral part of the diverse anarchist struggle. Theory is undoubtedly a very useful tool yet it validates its original meaning only when reflected in the respective action. It is essential to establish a clear dividing line between the enemy and us, since liberation from the system requires its practical rejection. Resistance cannot stop where the penal code begins. (more…)
Tags: Aggeliki Spyropoulou, CCF Escape case, Greece, Korydallos Prison, Letter
Posted in Prison Struggle
Sunday, April 3rd, 2016
I salute the comrades who participate in the yearly meeting of International Red Help. Comrades from Greece participate for the first time in this meeting, members of the solidarity assembly for political prisoners in Greece who surely will inform you about the situation in Greece with regards to political prisoners, solidarity and generally the political situation in Greece.
From my side I will inform you about some recent events that took place here. On February 21st the wanted comrade, Pola Roupa, on whom a bounty has been set, attempted to hijack a helicopter in order to break myself, as well as other political prisoners condemned for armed struggle, out of the prison of Korydallos. Unfortunately, the hijack failed due to the reaction of the pilot, who turned out to be an ex-policeman and was armed. Fortunately, the comrade got away safe and unhurt. (more…)
Tags: Greece, Letter, Nikos Maziotis, Pola Roupa, Revolutionary Struggle
Posted in Prison Struggle
Wednesday, March 30th, 2016
Joseph Konopka is an individual in America who is currently serving 13 years in prison for 2 felony acts of conspiracy to commit acts of terror. He was also charged with 6 felony counts of arson and vandalism, as well as trespassing, and sentenced to an additional 10 years. However, these charges were later dropped on a federal appeal. Konopka was arrested in 2002, by Chicago Police after he was caught hoarding potassium cyanide and sodium cyanide in an unused Chicago Transit Authority storeroom in the Chicago 'L' Blue Line subway. Konopka had picked the locks on several doors and disused rooms in the tunnels. Konopka had formed the group 'Realm of Ch@os' who were responsible for 28 power failures and 20 other service interruptions at various Wisconsin power plants. They also committed arson, disrupted radio and television broadcasts, disabled an air traffic control system, sold bootlegged software, and damaged an internet service provider's computer system. It was established that Konopka and his group caused more than 50 acts in various Wisconsin counties that affected more than 30,000 power consumers and caused more than $800,000 in damage.
CONSPIRACY: BLACK_RAINBOW received & transcribed:
'22 Mar. 2016
Greeting from America's second finest facility. I believe the local constabulary has rejected some of your correspondence – 'it contains numbers and symbols that cannot be translated.' Can't entirely blame 'em, I find some of it a bit baffling myself… Not sure I am really your target demographic, what with all the wifi neuroviruses and such.
The following rant may explain why – you're welcome to publish it if you like.
Western society is to an ever greater degree becoming a construct in which interaction and liberties are mediated by machines. This can engender a mindset among freedom-oriented people that technology is a tool of the oppressor and should be shunned. That mindset is wrong.
When Europeans invaded the Americas (and Africa), the indigenous peoples feared the invaders technology and generally failed to adopt it until too late, if at all. When Europeans again tried to suppress the nascent American nation with superior technology (i.e. better guns, a navy), the Americans responded in kind and then some [more]. Whose strategy was superior? Ask a Cherokee. Ask an Inca or an Aztec if you can find one.
The problem with technology isn't the technology per se, it's the sociopolitical structures that implement it. Machines make great impartial arbiters, and provide a way to have rules without rulers – think Bitcoin, of TCP/IP. A technocracy can be the epitome of freedom or fascism: it's up to the programmers. Open to scrutiny and understood by all, or closed corporate hegemony. Transparent and provably trustworthy, or declared trustworthy by CEO's and spooks. (more…)
Tags: Chicago, Joseph Konopka 'Dr Ch@os', Letter, USA, Wisconsin
Posted in Prison Struggle
Thursday, March 24th, 2016
Text of Nikos Maziotis about the operation of escape from Koridallos prison and the sentence of life imprisonment handed down in the 2nd Revolutionary Struggle trial
The attempt to escape from Koridallos prison by helicopter on February 21st 2016 – an operation carried out by comrade Pola Roupa, member of Revolutionary Struggle – was a revolutionary act, a guerrilla action for the liberation of political prisoners. It was a means of continuation of Revolutionary Struggle's activity, a response to the State's repressive operations against our organisation and other political prisoners, comrades who are in prison for armed activity as well. It was therefore an exemplary solidarity act of great and unique importance. The prison escape operation was a step towards continuing armed revolutionary activity; promoting the struggle for the overthrow of the State and Capital; overturning the establishment's policy of bailout programs imposed by the troika of the country's supranational bosses, the EC, ECB and IMF, to which the ESM has been added with the enactment and implementation of the third memorandum program by the SYRIZA-led government. Armed struggle in the present circumstances is more timely and necessary than ever. The failure of this operation won't bend us. We will struggle as long as we live and breathe. (more…)
Tags: Athens, Commando Lambros Foundas - Revolutionary Struggle, Greece, Korydallos Prison, Lambros Foundas, Letter, Nikos Maziotis, Pola Roupa, Revolutionary Struggle
Posted in Prison Struggle
Friday, March 18th, 2016
Prison is a milestone in the revolutionaries' path towards freedom. It's an intermediary stop, but not the end.
The authority often chooses the subtraction from mathematics. Like when they subtract lives with bombings in the warzones of their energy-generating and geopolitical interests, like when they subtract refugees from the cityscapes, entombing them in isolated concentration camps, like they subtract the smallest crumbs of the underpaid wage slavery, beating more brutally with whips, bodies that have gotten used to rickets, like when they want to subtract everyone who defies them, by locking them up inside prisons…

In this way, every revolutionary anarchist is facing the biggest contradiction. They are fighting for freedom and yet they're flirting with the captivity of the prison, they love life so much and yet death from the guards of authority wants to ambush them.
In these years that we are in prison, our steps have gotten used to be calculated inside the barbed wires, our eyes have learnt by heart every centimetre of these few cubic meters of the forecourt, but our minds have never been captured by the iron fences.
How can you let yourself capitulate, when you are facing on one side the provocative wealth of those in power and on the other side tearful eyes of a child at a concentration camp, on one side the mafia of the politicians, judges and journalists who are counting people like louses of the earth and on the other side men and women who are committing suicide because of the standoffs of the economic crisis, looking in garbage to find food, sleeping in the streets, on one side armies of happy slaves being dazzled from the storefronts and the screens of a fake life and on the other side the bad bevy of loneliness and silence being your only companion.
We don't intend to capitulate with the tyranny of authority, neither get used to living like slaves.
We know that freedom isn't something that can be given away… neither can it be bestowed… Our freedom blossoms from the blood and the sacrifices of our struggle. Even if once again, our desirable rendezvous with freedom has been postponed because of the dastardliness of one pilot- former policeman- and the helicopter that never reached its destination, that doesn't mean that we will give up…
We are fully aware that the recovery of our freedom will be only achieved through revolutionary violence, which will attack against the monopoly of the sadistic violence of the power.
A freedom that in our opinion is the SAME with the continuation of urban guerilla, in order to escalate the anarchist struggle. A freedom that will walk on top of the debris of this aged world and its monuments… prisons, courts, parliaments, police departments, concentration camps, labs of the technological totalitarianism…
With certitude and determination of those who will risk everything for liberation, putting again the conundrum at the table… "Freedom or Death…"
A decision… we are fighting till the end
Never repentant
Never defeated
The struggle continues…
Comradely greetings to the anarchist member of Revolutionary Struggle Pola Roupa
The members of Conspiracy of Cells of Fire – FAI/IRF
Giorgos Polydoros
Olga Economidou
Gerasimos Tsakalos
Christos Tsakalos
Radiofragmata Translation Project
* The Free Besieged is an unfinished collection of poems composed by Dionysios Solomos that was inspired by the third siege of Missolonghi (1825–1826), where the Greek rebels held out for almost a year before they attempted a mass breakout, which however resulted in a disaster, with the larger part of the Greeks slain.
Tags: Christos Tsakalos, Conspiracy of Cells of Fire, Gerasimos Tsakalos, Giorgos Polydoros, Greece, Informal Anarchist Federation (FAI), International Revolutionary Front, Korydallos Prison, Letter, Olga Economidou, Pola Roupa
Posted in Prison Struggle
Thursday, March 17th, 2016
Osman Evcan, who is imprisoned in the prisons of the Turkish state from 1992 and identifies himself as a vegan anarchist since 2003, is fighting a tough struggle for the rudimentary conditions of living, like the achievement of mail, telephone communication, information etc, with the main point being the vegan alimentation right. Since the 22th of February, he is carrying his 4th hunger strike for the same reasons, in a very short period of time from the last one, as they transferred him recently in L type prisons, losing everything he had achieved till now with his former exhausting hunger strikes.
We barely know him personally, but we cannot help but feel moved by the fact that in a country-war zone, an imprisoned comrade is choosing and insisting to raise the matter of total liberation of life from the shackles of civilization and authority. An imprisoned comrade who refuses to feed himself with corpses of animals, which have been tortured by the meat industry and all the derivatives of pain, who refuses to become a cogwheel in this bloodthirsty capitalist machine which is destroying and plunders the earth.
We ourselves have experienced the disdain and irony in our non anthropocentric struggle attitude; even inside the antiauthoritarian milieu in Greece, usually in the name of "something more important", as if there can be an impartial prioritization of the struggle. That's why this has an additional importance for us to point out the hunger strike of this comrade in Greece as well, aside from the obvious support and solidarity that Osman needs at this tough moment.
UNTIL THE LAST CAGE IS DESTROYED
NO ONE IS FREE

Dimitris Politis
George Karagiannidis
Yannis Michailidis
Radiofragmata Translation Project
Tags: Dimitris Politis, Giorgos Karagiannidis, Greece, Letter, Osman Evcan, Turkey, Yannis Michailidis
Posted in Prison Struggle
Tuesday, March 15th, 2016
Received from blackdiamondprisonersupport:
To all Revolutionary prisoners and Anarchist comrades:
After my imprisonment in 1988 for armed robberies in California, I became politicized through participation in the 1991 Folsom Prison Hunger Strike. After more than a decade in solitary confinement in Pelican Bay SHU, where interacted with members of the Black Guerrila Family (BGF), Aryan Brotherhood (AB), and Mexican Mafia (EME), I had become deeply involved in political struggle with the prison abolition movement. I was convicted for Prisoner Resistance actions in two 1995 attacks on an Associate warden at New Folsom state prison and a Sacramento District Attorney prosecutor in the courthouse, I was beaten and tortured in multiple 'cell extractions' by armed teams of pigs. I was sentenced to multiple 25 years-to-life terms in state prison. (more…)
Tags: Black December, Conspiracy of Cells of Fire, Informal Anarchist Federation (FAI), Jennifer Gann, Letter, USA
Posted in Prison Struggle
Monday, March 14th, 2016
via contrainfo:
Below is the first part of the comrade's long letter; originally published in Greek on Athens IMC (March 8th 2016).
Under other circumstances, this text would be written by Revolutionary Struggle. However, the outcome of the attempt to break out the comrade Nikos Maziotis of Koridallos prison obliges me to speak personally.
On February 21st [2016], I attempted to break out Revolutionary Struggle member Nikos Maziotis by helicopter. The operation was planned so that other political prisoners could join us, who wished to make their way to freedom. Details of the plan, how I managed to evade the security measures and board the helicopter armed, have no special significance and I will not refer to them; despite the fact that there has been a lot of misinformation. Just for the sake of clarity, I will only mention that the plan was not based on any previous helicopter prison escape, it is not associated with any findings of plans not yet implemented, and I do not have any relation to another fugitive person despite media portrayals to the contrary. Also, this attempt was not preceded by any escape plan that "was wrecked", as reported by some media.
A quarter of the journey after our takeoff from Thermisia in Argolida, I took out my gun and I asked the pilot to change course. Of course, he did not understand who I am, but he realised it was an attempted prison break. He panicked. He attacked me pulling out a gun – a fact he "omitted". Also because they will likely try to refute the fact he was armed, I remind everyone that there are publicly available reports about the discovery of two mags in the helicopter. One was mine, but the second wasn't mine. The second mag was from his own gun, which he dropped from his hands during our scuffle during flight. And as for me, of course I had a second mag. Would I go to such an operation with only one mag?
He lost control of the helicopter and shouted in panic "we will get killed". The description that was presented of a helicopter substantially unmanageable is true. But these images did not result from my actions, but his. The helicopter was losing altitude and swirled in the air. We flew a few meters over electricity wires. I screamed to him to pull up the helicopter, to do what I tell him so no one will get hurt.
Within no time at all, we were on the ground. Those who speak of a dispassionate reaction of the pilot, apparently judging from the result, don't know what they are talking about.
Instead of doing what I told him to do, he preferred to risk crashing with me in a collision of the helicopter, which didn't happen by chance. It goes without saying that upon entering the helicopter and trying to gain control of it, to direct it to the prisons, I had made my decision. If he refused to do what I told him, I would naturally react. Those who claim I was responsible for the uncontrolled descent of the helicopter, from 5,000 feet to the ground, what did they expect? That I would have said "if you don't want to come to the prisons, never mind"? I fired my gun and we engaged – both armed – in a scuffle during flight.
He preferred to risk crashing with me on the mountain than to obey. When we finally landed on the ground with speed, even though I knew the operation was lost, I had every opportunity to execute him. I consciously decided not to do so. Although I knew that with this decision I was endangering my life or freedom, I did not execute him even though I had the chance. He himself knows this very well. The only factor that held me back was my political conscience. And I took this decision, risking my own life and possibility to get away.
Regarding the prison escape operation itself, it's obvious that all possible safety measures were taken in order to safeguard the undertaking against the armed guards patrolling the prison perimeter, and I even carried a bulletproof vest for the pilot as well. In this case, the purpose was to make the prison break happen in a way that would ensure the lowest possible risk for the helicopter, the comrades and, of course, the pilot. I acted with the same thought when we landed on the ground; despite the fact that the operation failed because of the pilot; despite the fact that he was armed. I essentially put his life over my own life and safety. But I am to reconsider this specific choice.
Organising to break out Nikos Maziotis was a political decision, as much as it was a political decision to liberate other political prisoners as well. It was not a personal choice. If I wanted to only liberate my comrade Nikos Maziotis, I wouldn't have chartered a large helicopter – a fact that made the operation's organising more complex. The aim of the operation was the liberation of other political prisoners as well; those who actually wanted, together with us, to make their way to freedom.
This action, therefore, despite its personal dimensions that are known, was not a personal choice but a political one. It was a step in the path to Revolution. The same goes for every action I have carried out and for every action I will make in the future. These are links in a chain of revolutionary planning aimed to create more favourable political and social conditions, for broadening and strengthening revolutionary struggle. Below I will refer to the political basis of this choice; but first I have to talk about facts, and the way I have operated until now in regard to some of these facts.
As I previously mentioned, every action I carry out concerns an act related to political planning. In the same context, I expropriated a branch of Piraeus Bank on the premises of Sotiria Hospital in Athens last June [2015]. With this money, in addition to my survival in "clandestinity", I secured the organising of my action and financing of the operation for the liberation of Nikos Maziotis and other political prisoners from Koridallos women's prisons. The reason I refer to this expropriation (I couldn't care less about the penal consequences of this admittance) is because, at this time, I consider it absolutely necessary to disclose how I operate in regard to the safety of civilians, who in certain circumstances happen to be present in revolutionary actions I am involved in, and my perspective about this issue on the occasion – always mutatis mutandis – of the prison escape attempt.
In the case of the expropriation of Piraeus Bank branch, what I mentioned to the bank clerks when we walked into the bank was that they should not press the alarm button, because this would endanger their own safety, since I wasn't willing to leave the bank without the money. I did not threaten them, nor would they ever be in danger because of me. They would only be in danger because of the police, if cops arrived at the spot and we subsequently had an armed clash. And the police would only arrive if any clerks pressed the bank alarm. This was a development which they themselves wanted to avoid. Because people who happen to be present in every such action are not afraid of those trying to expropriate, but instead the police intervening. Besides, it's really stupid for anyone to attempt to defend money belonging to bankers. And for the record, when a female clerk told me "we ourselves are also poor people," I suggested to her that we step over to a "blind" spot, where cameras can't see us, to let her have 5,000 euros, which she did not accept, apparently out of fear. If she had accepted the money, she can be sure I would not speak publicly about it. And one detail: what I was holding was a medical apron to conceal my gun while waiting outside the bank; it was not a towel(!), as mentioned several times.
In every period of time, in the struggle for Revolution – as is also the case in all wars – at times the revolutionaries are obliged to seek the assistance of civilians in their fight. The historical examples are too many – an attempt to document them would fill an entire book, and this isn't the time to expand on the matter – both in Greece and in armed movements and organisations in other countries. In such cases, however, we essentially ask them to take sides in a war. Once someone refuses to assist, their stance is not just about the particular practice, but an overall hostile stance against the struggle. They endanger or cancel undertakings, they put the lives of fighters in danger, they throw obstacles in the way of a revolutionary process. They take a position against a social and class war.
Neither at Piraeus Bank branch nor during the attempted helicopter escape did I make my identity known. Therefore, no one involved in these cases knew that those were political actions. But after the failed escape attempt, and given that – as I already mentioned – I had the opportunity to kill the pilot but I didn't, risking my own life, I have to make the following public: from now on, whenever I need the assistance of civilians again, and if I deem it necessary, I will make my identity known from the outset. Since my mission in any case concerns the promotion of the struggle for overthrowing the criminal establishment, let everyone know that any possible refusal of cooperating and effort of obstructing the action will be treated accordingly.
I am, of course, aware of the personal details of the pilot, but I did not threaten his family. I would never threaten families and children.
This is my balance sheet after the escape attempt, one I must make public.
THE PRISON ESCAPE OPERATION WAS A REVOLUTIONARY CHOICE
[…]
I ATTEMPTED THE PRISON ESCAPE FOR SOCIAL REVOLUTION
ALL MY LIFE I STRUGGLE FOR SOCIAL REVOLUTION
I WILL CONTINUE TO STRUGGLE FOR SOCIAL REVOLUTION
Pola Roupa
member of Revolutionary Struggle
Tags: Greece, Korydallos Prison, Letter, Nikos Maziotis, Pola Roupa, Revolutionary Struggle
Posted in Prison Struggle