Posts Tagged 'Letter'
Wednesday, December 30th, 2015
TO ALL COMRADES WHOSE ACTS HAVE GIVEN ME MOMENTS OF FREEDOM
"Only in those moments when our tension for freedom encounters with praxis do we really manage to live anarchy, here and now. Unfortunately the dream we carry in our hearts is too great to avoid the risk of finding ourselves up against the monstrous wall of authority raised in defense of the state and capital. When we really put our life at stake, inevitably we end up confronting the hardness that's inherent in the struggle: death and prison."
Nicola Gai; anarchist comrade held prisoner in Italy, who has assumed responsibility for his participation in the attack claimed by Olga Cell of FAI-FRI (the shooting of Roberto Adinolfi, the chief executive of Ansaldo Nucleare)
Shortly before the end of the trial of the 4th consecutive case against the Conspiracy of Cells of Fire, and against me personally as an anarchist who has assumed responsibility for his participation in the CCF, I'd like to say some things not to the court, but rather to all comrades whose action gave impetus and substance to the Phoenix Project.
For obvious reasons, all imprisoned members of the CCF saluted the comrades of Sole–Baleno Cell (a cell of sympraxis between Conspiracy of Cells of Fire and Consciousness Gangs), a gesture which initially cost us our prosecution for incitement [in Greek, moral instigation] to 4 Acts of the Phoenix Project: explosive attack on personal vehicle of the Koridallos prison director in Athens, explosive attack on personal vehicle of a chief warden serving at Nafplion prison, incendiary attack on a hotel unit in Indonesia, and parcel-bomb mailing to a former commander of the antiterrorist police unit in Athens.
The competent authorities realised in hindsight that the accusation of inciting the attack in Indonesia, claimed by Anger Unit/International Conspiracy for Revenge FAI/IRF, would never stand up in court, so the particular charges were dropped even before the stage of court proceedings.
However, as far as the other attacks are concerned, I am offended by the incitement charges brought against me, because as an anarchist I abhor hierarchical relationships of any level; on the other hand, these charges help me understand that domination feels threatened when anarchist guerillas, even from a position of captivity, seek to make their mark and connect with the struggle outside the prison walls by saluting the hostilities waged by their comrades. Domination feels threatened when it realises that the condition of incarceration is not nearly enough to crush the combative energy of anarchist prisoners. This alone is enough for entire indictments for incitement to attacks to be drafted. In no case, however, is it enough to break my morale and my will to connect myself with all comrades holding a combative position. (more…)
Tags: Athens, Black December, Black International of Anarchists of Praxis, Conspiracy of Cells of Fire, Conspiracy of Cells of Fire : Imprisoned Members Cell, Greece, Informal Anarchist Federation (FAI), International Revolutionary Front, Korydallos Prison, Letter, Nicola Gai, Nikos Romanos, Panagiotis Argirou, Phoenix Project, Trial
Posted in Prison Struggle
Friday, December 25th, 2015
On Thursday, November 5th, I'm asked to apologize to the first court conducted for 2.5 years now against the Conspiracy of Cells of Fire . It is the trial for the 250 attacks of the organization.
In a courtroom inside the prison, full of judges, cameras, cops, secret police, anti-terror police, a few relatives and even fewer friends and comrades, they judge the actions of the Conspiracy of Cells of Fire.
But how to fit in a room of a few square meters our actions that tried to challenge the wise and obedient history of our time…
An action which interrupted the eternal sleep of quiet 'peaceful' people for several nights, agitated through the explosion of the enslaved silences of the metropolis and with our proclamations denied the rules of a life where the bosses' violence is always present and we are constantly absent…
Through our attacks, we wanted to smash the tyranny of a brutal reality. We intend to overturn the balance of terror of a mechanically routine life. We tried to cancel the compromise with the death of caused by the wage slavery, the technological control, the boredom and empty relationships.
We wanted to make war with the "peace" of the banks, the judges, the rich, the cops, the fascists, the journalists, the politicians, but also with the "peaceful" citizens who instead of crying out, and being enraged and act, they're hiding in resignation and grow old along with their furniture … These "peaceful" and law-abiding citizens are the most responsible of all, because through their "quietness" they allow ugliness to rule our lives. (more…)
Tags: Athens, CCF Escape case, Christos Tsakalos, Conspiracy of Cells of Fire, Conspiracy of Cells of Fire : Imprisoned Members Cell, Greece, Informal Anarchist Federation (FAI), International Revolutionary Front, Korydallos Prison, Letter, Trial
Posted in Cognitive Liberty
Friday, December 25th, 2015
FROM CHILE, FROM BLACK ANARCHY, SHARING SOME EXPERIENCES.
Since the democratic state dismantled and wiped out the leftist armed
struggle organizations which continued operating once the dictatorship
ended in the early 90s, there have been the ideas and practices of
horizontality and direct action from revolutionary autonomous
environments and related to anarchy – and also the Mapuche resistance,
which have positioned themselves as protagonists of radical struggle
against Capital, the State and authority in Chile.
We have decided to be involved with strength, conviction and engagement to
fight against all forms of authority. Some of us have previously gone
through various practices and anti-capitalist speeches, but it has been
the practice and reflections emanating which have led us to consider
ourselves as anarchic individuals, denying every "ism" and claiming the
anti-authoritarian character of anarchy as the essence of the struggle
against domination.
We have forged our struggle's identity going through a path that is drawn
both from our own experience and other comrades' in different times and
places. In this journey we do not deny even a small part, but on the
contrary, we think each step is a part of a radical but always
unfinished learning process that interests us to put into dialogue with
other related comrades around the world. And we know very well what we
do not want, neither leaders nor vanguard organizations or specialists;
neither bourgeois nor popular power. (more…)
Tags: Black December, Chile, Letter, Mapuche, Mauricio Morales, Santiago, Sin Banderas Ni Fronteras
Posted in Autonomy
Saturday, December 19th, 2015
What's up comrades?! Good to see you've taken at least a vague interest in my support site. I appreciate that. Some people might already know who I am, either through correspondence or possibly because they were unfortunate enough to have known me in the past, before I caught this case. Lol. For those of you who don't know me, or haven't heard from me in so long, I want to make this post for you. I want to tell you who I am now because, like everyone, I too have grown and matured through time. Hopefully, I'll continue to do so.
Currently, I'm serving 12 years for a botched/failed assassination attempt on Governor Jay Nixon's life. I'll spare the details for my next post. For now, it's only relevant that I'm serving 85% of those 12 years and will be eligible for parole in November 2020. Five years from now. (more…)
Tags: Casey Brezik, Letter, Missouri, USA
Posted in Prison Struggle
Saturday, December 12th, 2015
24/11/2015

MY FIRST EXPERIENCES IN ISTANBUL
THE LIFE OF A SYRIAN REFUGEE IN TURKEY HAS NO VALUE
It happens that the conditions inside the refugee camps in Syria are very very bad. Even the simplest needs of life cannot be satisfied since there is no clean water or good food or cloth to protect us from the winter. There is not enough heat inside the nylon tents where 10 or more people live. The situation is worsening every day.
That's the reason why they decided to seek shelter elsewhere and leave the refugee camps in Syria. So they decided to enter into Turkish territory as refugees, believing that the living conditions in Turkey where better. But unfortunately it was not for the best but for the worst. Because in Turkey they don't have the most basic human rights, just because they are refugees and not tourists. Turkish factory owners started to exploit them, taking advantage of their situation of extreme need for a piece of bread. This is how the Syrian worker in Turkey can work up to 16 hours a day and most of the days of the week in exchange for a piece of bread and the house rent.
Their wage is less than that of the Turkish worker. They have no health insurance to be covered from accidents. To make things worst the unions don't organize them.
The factory owners take advantage of this and use the government and the police. The refugees are arbitrary detained.
Here in Turkey, in Istanbul, we saw with our own eyes what happened with 2 young Syrian refugees who were detained under the bogus charge of committing theft. They spent 40 days in prison suffering beatings, tortures, humiliation and starvation. They lived the brutality of the Turkish police.
This is how Turkey receives the Syrian refugees.
Abu Al Braa, co-author of the book "Syria Under Fire"
Tags: Abu Al Braa, Letter, Syria, Turkey
Posted in No Borders
Saturday, December 12th, 2015
Correspondent in Syria – 7 November of 2015
The true cause of the Syrian genocide: A civil war of exploiters and plunderers of Syria against the Syrian people, which has already been held for 4 years, to punish and to massacre the hungry who fight for bread.
As winter arrives, the price of the dollar increases, wage sinks and millions are without a job and become refugees…
The bombs continue to fall on us… but resistance does not surrender
EITHER WE DIE OF HUNGER OR FIGHT TO LIVE
Thus it was from 2011, when we, the oppressed and exploited rebelled for bread and freedom.

From the Syrian resistance, Declaration of the Brigade Leon Sedov
Little by little the autumn cold is paving way to the harsh winter in a Syria massacred by the holy alliance between Putin, the Ayatollahs, Hezbollah, and Bashar, blessed by the Pope and under Obama's orders.
However we are facing not only bombs from NATO, Russia and Bashar which never cease to fall on our heads and those of our families; now also the scourge of a harsh winter is looming, aggravated by the sharp shortage of food, the high cost of living that has been imposed today in our cities and towns -reduced almost to rubble- and a total or partial power failure and the scarce provision of something elemental as it is the drinking water and water for hygiene and irrigation. (more…)
Tags: Al-Nusra Front, Brigade León Sedov, Islamic State in Iraq and Syria (ISIS), Letter, Syria, War
Posted in Anti-Fascist
Friday, December 11th, 2015
A 5 años del asesinato de 81 cabrxs en una prisión del Estado Chileno
(San Miguel).
Hoy nos parece necesario transmitir nuestros pensamientos y sentires
para combatir la prisión y el olvido hoy desde nuestra realidad.
Día a día las prisiones ejecutan el asesinato de millones de seres en el
mundo. Vivir dentro de las jaulas de la humanidad significa tortura
constante. La institución carcelaria como una estructura social, mental,
y física concreta el propósito del Estado de mantener su actual sistema
de dominación, legitimando a través de ella la lógica del poder, en la
cual el Estado se alza como protector de una ciudadanía pasiva que
contribuye en su mantención y existencia sin jamás cuestionarla.
(more…)
Tags: Chile, Letter, María Paz Vera, Natalia Alvarado, Nataly Casanova, Repression, San Miguel prison
Posted in Prison Struggle
Tuesday, December 8th, 2015
From seanswain.org:
Black December is coming, and none too soon. We've hashed out our theories and we've analyzed our reality, we know what kind of future we want and what we are going to have to tear apart in order to get it. The time for philosophizing and talking it out has ended and we face the inevitable moment of conflict with the forces of control and conformity and subjugation.
December really is the perfect starting point, here in the U.S. anyway. It's the darkest month of the year, the most non-daylight hours to carry our acts of resistance and rebellion. Also, in the cold, everyone wears ski masks. So, a rebel about to strike a Walmart or a police car or some fascist administrator's house doesn't look quite as conspicuous as he or she might look in, say, July or August in the same gear.
Having read the Black December proposals, I would like to speak to those who are, so far, paralyzed by fear and skepticism, who still don't believe that we can undertake radical, militant actions against the common enemy, that political violence even of the clandestine variety is doomed, and that it's okay to "play" at being anarchists, but it's foolhardy for us to put our proverbial money where our mouths are. (more…)
Tags: Black December, Letter, Sean Swain, USA
Posted in Prison Struggle
Monday, December 7th, 2015
Dear Friends,
I want to salute the event organized in solidarity with the African
American political prisoner Mumia Abu-Jamal, who is imprisoned at the
State Correctional Institution at Mahanoy a medium security prison in
Pennsylvania. For 30 years, Mumia was a resident of death row until he
was sentenced to life imprisonment without possibility of parole.
I had the opportunity to read the book «From Death Row» and remember the
fortitude and temperance to face prison. Mumia belonged to a generation
of militants for black liberation and self-reliance of African American
communities against repressive onslaught of State and US capitalism,
repression comeback today as seen in the systematic executions of young
blacks, as like Laquan McDonald, who was killed at age 17. (more…)
Tags: 14/14, Black Liberation Army, Black Panther Party, Chile, Hans Niemeyer, Letter, Mumia Abu-Jamal
Posted in Prison Struggle
Thursday, December 3rd, 2015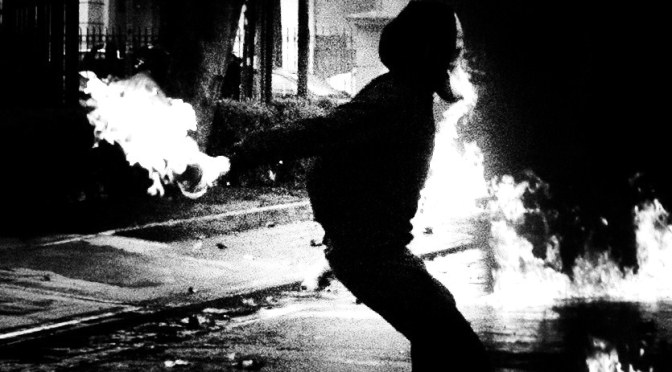 From Anarchy Live:
Just as a worm struggles in resistance against the foot that crushes it so do we anarchists struggle and fight for the total destruction of a world system of coercive authority and domination in all of its manifestations and that wants to crush our spirits of resistance.
Kuwasi Balagoon, revolutionary extraordinaire and unrepentant anarchist within the Black Liberation Army, fell at the hands of the state of New York, USA in December 1986 through medical neglect.
In memory of this New Afrikan anarchist soldier I take the initiative to compose my contribution to the strategy of total annihilation of the state and its institutions by which the state exercises its power.
For me devising a strategy to destroy the state is simple. Attack the symbols of power using all tactics including improvised ammunitions, molotovs, demonstrations, etc. In other words, our strategy should be by any means necessary, including everything and excluding nothing. The debate about the fetishization of direct action needs to end. Direct action and counter-info projects both contribute to the destruction of power. Kuwasi understood this and so did Alexandros. The only strategy left to us is action/attack and that's what Alexandros and Kuwasi both knew and practiced. We can do no less. The war continues to wage, find your place on the battlefield.

Michael Kimble
Tags: Black December, Black Liberation Army, Kuwasi Balagoon, Letter, Michael Kimble, USA
Posted in Prison Struggle
Friday, November 27th, 2015
From ABC Istanbul:
We visited vegan anarchist prisoner Osman Evcan at Kocaeli no:1 high security prison on his 16. Day of hunger strike. It is obvious that in parallel with the elections on November, the state fascism and oppression techniques have a reflection on the prisons. Because of the anarchist, vegan, libertarian ideas that Osman Evcan was fighting for, for many years; the pressure on him increases. Osman Evcan is now faced with F Type Prisons intimidation policies. His access to vegan food is blocked. And he is facing the imposition : "obey or die". Osman Evcan continues his resistance under worsening conditions of imprisonment. And he made it clear that he is determined to continue his indefinite hunger strike with the will of total freedom. During our visit he was full of hope and told us to not to leave the arenas that organized violence is terrorizing. And he underlined that, the only way is resistance and struggle. And Osman Evcan also builds this hunger strike with a perception of psychological resistance that is against the fear and witch-hunt politics that is wanted to be created and calls us for action and to motivate ourselves for our rights arising from our existence. We shouldn't let Osman Evcan and ourselves to be destroyed by the wheels of obedience mechanisms based on destroying all kinds of denial and objection. Let's listen to the call of Osman Evcan who built his life on ideas based on solidarity, struggle and not harming any living being, and these ideas are bringing him to death. We want to share Osman Evcan's letter on his reasons to start the hunger strike. Until all cages and prisons are destroyed!
ABC İstanbul
–

About informing public opinion about my indefinite hunger strike:
I am a prisoner in Kocaeli no:1 F type prison. Because I am vegan I don't eat meat or any kind of animal products and I avoid using any kind of products made out of animal bodies. I chose to live this way because it's related to animal liberation and animal rights. (more…)
Tags: ABC Istanbul, Animal Liberation, Kocaeli No:1 F Type Prison, Letter, Osman Evcan, Supreme Vegan Power, Turkey, Type-F Prisons
Posted in Prison Struggle
Thursday, November 26th, 2015
via Contra-Info:
Our friend and comrade has been in prison for over 4 months now and is currently being held in "Untersuchungshaft" in Germany. Here are a few words that reached us from the dungeons.
With midnight always in one's heart,
And twilight in one's cell,
We turn the crank, or tear the rope,
Each in his separate Hell,
And the silence is more awful far
Than the sound of a brazen bell.
After having been arrested and taken to prison in a small border town somewhere in South-Eastern Europe, and having had the "pleasure" of spending three weeks in its state-hotels, I now find myself in the claws of the German state. At the moment of writing I still do not know when I will be free again; no "official" accusation has been sent, no court date has been set. In theory, "U-haft" can take up to six months- depending on the wishes and whims of prosecutors and judges however this period can be extended. So far i have not been wrecking my head over it too much. The insecurity of not knowing what will happen next, or when, is one of the more difficult things in this situation, but i refuse to torture myself with questions that for now remain unanswerable. Whatever is to come, I will face it with my head held high. (more…)
Tags: Bank Robbery, Germany, Letter
Posted in Prison Struggle
Wednesday, November 18th, 2015
Below is a letter from long-term prisoner Thomas Meyer-Falk about a friend of his who is in indefinite detention in Germany. For more information write to:
Thomas Meyer-Falk
c/o JVA (SV)
Hermann-Herderstr. 8
D 79104 Freiburg
GERMANY
www.freedom-for-thomas.de
www.freedomforthomas.wordpress.com

Woman imprisoned for sex without a condom
In Germany in 2014 a 29 year old woman was sentenced to four years in prison for having sex without using a condom. Because the court deemed her a threat to public safety, Preventative Detention – indefinite imprisonment – was added.

The story:
Jaqueline was a young woman who was in love with life, she hung around the surroundings of a biker club and had a few partners. Years before she had caught HIV, but was taking medication for it and therefore hadn't become ill. (more…)
Tags: Germany, HIV, Letter, Thomas Meyer Falk
Posted in Prison Struggle
Tuesday, November 17th, 2015
Siamo anarchici e siam molti
E la vostra inane legge
Non ci doma né corregge
Né ci desta alcun terror
Guerra, guerra e guerra sia!
L' ideal per cui pugnamo
No, non teme i vostri orror
Siam ribelli, e forti siamo,
il terror degli oppressor!
I potenti della terra
Anarchist chant
"Anyone with some common sense, who has even a distant notion of what the nature of the No Tav movement is and of the ethical framework within which this struggle expresses its 20-year-long resistance, can see that I was not there with the intent to pursue terror or worse". Mattia
"On the other hand, those who struggle have learned, with intelligence, to channel even those strong and impetuous passions that are born of the many hits we took, like when a friend lost an eye from a tear gas grenade or when another came close to death". Niccolò

"Military and paramilitary attacks, indiscriminate violence and weapons of war belong to states and those who emulate them". Chiara
"We are accused of having acted to strike people or at least of having no regard for their presence, as if we had no regard for the lives of others…In relation to the accusation of terrorism I have no intention of defending myself. The solidarity we were shown from the moment of our arrest up until the present day has gone far to dismantle this daring incrimination". Claudio

"Your words, as well as sounding proud, sound just, in the sense that they are both ethically upstanding and attuned". Open letter to Chiara, Niccolò, Mattia and Claudio
"The prosecution wanted to create dissociations, namely, to push the movement to distance itself from its own power… We can say, quite plainly, that the movement held out by fully grasping what was at stake… The demands made by the prosecution are what in lawyers' jargon is called 'fence-sitting'. Go ahead and give them the minimum sentence, but convict them of terrorism". Open letter to Chiara, Niccolò, Mattia and Claudio
We can quite plainly say that the 'movement' has secured yet another victory. Not only has it managed to market a watered-down, inoffensive and whiny version of sabotage, but simultaneously, it has used its superior "ethical code" to blacklist all violent direct action that goes beyond striking a compressor with a Molotov. The courts have also won, by managing to impose boundaries that good kids shouldn't cross, if they want to avoid anything more than a sounding spanking.
For that matter, the victory for the courts has been sweeping, because through the terroristic prospect of years and years of prison, they made sure that comrades themselves – with their own statements – were the ones to draw up the boundaries that could not be crossed. (more…)
Tags: Alfredo Cospito, Italy, Letter, Nucleo Olga FAI/FRI, Roberto Adinolfi, Sabotage, TAV
Posted in Social Control
Monday, September 28th, 2015
It is a longstanding as well as an infamous tactic of the State — particularly of the police-judicial mechanism — to use fabricated charges against relatives so as to hold them hostage and put pressure on fighters and political prisoners. It was done in 2002 [against Angeliki Sotiropoulou, wife of 17N prisoner Dimitris Koufontinas], it was done in 2010 [against Marie Beraha, wife of Revolutionary Struggle prisoner Kostas Gournas], and it was done again in March 2015 [against Evi Statiri, wife of CCF prisoner Gerasimos Tsakalos, but also against Athena Tsakalou, mother of the Tsakalos brothers]. This is because the repressive policy applied against imprisoned members of armed organisations is an ongoing process of political extermination by any means.
After its capitulation on February 20th, the SYRIZA-led government was faced with the first class confrontation — that is, the hunger strike of political prisoners during Spring — and was compelled to vote favorably — among others – on an amendment that theoretically opened the way for the relatives of CCF members to be released. Today, after being refused her liberation six times by judicial councils, Evi Statiri, companion of an imprisoned member of the organisation, is still in prison. Her case is the clearest proof, not only of the acceptance of a state of emergency surrounding the memorandum by the government of the Left, but also of the strict application of a state of exception for political prisoners.
For those in society who had the clarity and determination to approach the 'no' vote in the referendum in a class manner and to oppose every memorandum, though without being able to take the next step forward, the question of an alternative way other than the one of delegation or relinquishment, which all the bourgeois parliamentary forces are charting, is more pressing than ever. And this is no other way than struggle and solidarity. Evi's way…
SOLIDARITY WITH EVI STATIRI
on hunger strike since September 14th 2015
Kostas Gournas
September 15th 2015
–

via contrainfo
Tags: Athens, Evi Statiri, Greece, Hunger Strike, Korydallos Prison, Kostas Gournas, Letter, Revolutionary Struggle, SY.RIZ.A.
Posted in Prison Struggle