Posts Tagged 'Letter'
Monday, December 7th, 2015
Dear Friends,
I want to salute the event organized in solidarity with the African
American political prisoner Mumia Abu-Jamal, who is imprisoned at the
State Correctional Institution at Mahanoy a medium security prison in
Pennsylvania. For 30 years, Mumia was a resident of death row until he
was sentenced to life imprisonment without possibility of parole.
I had the opportunity to read the book «From Death Row» and remember the
fortitude and temperance to face prison. Mumia belonged to a generation
of militants for black liberation and self-reliance of African American
communities against repressive onslaught of State and US capitalism,
repression comeback today as seen in the systematic executions of young
blacks, as like Laquan McDonald, who was killed at age 17. (more…)
Tags: 14/14, Black Liberation Army, Black Panther Party, Chile, Hans Niemeyer, Letter, Mumia Abu-Jamal
Posted in Prison Struggle
Thursday, December 3rd, 2015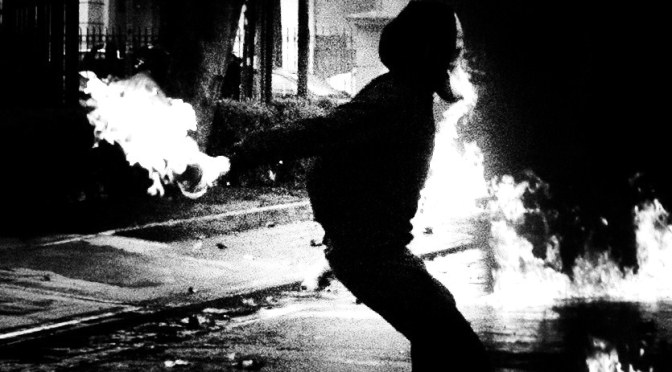 From Anarchy Live:
Just as a worm struggles in resistance against the foot that crushes it so do we anarchists struggle and fight for the total destruction of a world system of coercive authority and domination in all of its manifestations and that wants to crush our spirits of resistance.
Kuwasi Balagoon, revolutionary extraordinaire and unrepentant anarchist within the Black Liberation Army, fell at the hands of the state of New York, USA in December 1986 through medical neglect.
In memory of this New Afrikan anarchist soldier I take the initiative to compose my contribution to the strategy of total annihilation of the state and its institutions by which the state exercises its power.
For me devising a strategy to destroy the state is simple. Attack the symbols of power using all tactics including improvised ammunitions, molotovs, demonstrations, etc. In other words, our strategy should be by any means necessary, including everything and excluding nothing. The debate about the fetishization of direct action needs to end. Direct action and counter-info projects both contribute to the destruction of power. Kuwasi understood this and so did Alexandros. The only strategy left to us is action/attack and that's what Alexandros and Kuwasi both knew and practiced. We can do no less. The war continues to wage, find your place on the battlefield.

Michael Kimble
Tags: Black December, Black Liberation Army, Kuwasi Balagoon, Letter, Michael Kimble, USA
Posted in Prison Struggle
Friday, November 27th, 2015
From ABC Istanbul:
We visited vegan anarchist prisoner Osman Evcan at Kocaeli no:1 high security prison on his 16. Day of hunger strike. It is obvious that in parallel with the elections on November, the state fascism and oppression techniques have a reflection on the prisons. Because of the anarchist, vegan, libertarian ideas that Osman Evcan was fighting for, for many years; the pressure on him increases. Osman Evcan is now faced with F Type Prisons intimidation policies. His access to vegan food is blocked. And he is facing the imposition : "obey or die". Osman Evcan continues his resistance under worsening conditions of imprisonment. And he made it clear that he is determined to continue his indefinite hunger strike with the will of total freedom. During our visit he was full of hope and told us to not to leave the arenas that organized violence is terrorizing. And he underlined that, the only way is resistance and struggle. And Osman Evcan also builds this hunger strike with a perception of psychological resistance that is against the fear and witch-hunt politics that is wanted to be created and calls us for action and to motivate ourselves for our rights arising from our existence. We shouldn't let Osman Evcan and ourselves to be destroyed by the wheels of obedience mechanisms based on destroying all kinds of denial and objection. Let's listen to the call of Osman Evcan who built his life on ideas based on solidarity, struggle and not harming any living being, and these ideas are bringing him to death. We want to share Osman Evcan's letter on his reasons to start the hunger strike. Until all cages and prisons are destroyed!
ABC İstanbul
–

About informing public opinion about my indefinite hunger strike:
I am a prisoner in Kocaeli no:1 F type prison. Because I am vegan I don't eat meat or any kind of animal products and I avoid using any kind of products made out of animal bodies. I chose to live this way because it's related to animal liberation and animal rights. (more…)
Tags: ABC Istanbul, Animal Liberation, Kocaeli No:1 F Type Prison, Letter, Osman Evcan, Supreme Vegan Power, Turkey, Type-F Prisons
Posted in Prison Struggle
Thursday, November 26th, 2015
via Contra-Info:
Our friend and comrade has been in prison for over 4 months now and is currently being held in "Untersuchungshaft" in Germany. Here are a few words that reached us from the dungeons.
With midnight always in one's heart,
And twilight in one's cell,
We turn the crank, or tear the rope,
Each in his separate Hell,
And the silence is more awful far
Than the sound of a brazen bell.
After having been arrested and taken to prison in a small border town somewhere in South-Eastern Europe, and having had the "pleasure" of spending three weeks in its state-hotels, I now find myself in the claws of the German state. At the moment of writing I still do not know when I will be free again; no "official" accusation has been sent, no court date has been set. In theory, "U-haft" can take up to six months- depending on the wishes and whims of prosecutors and judges however this period can be extended. So far i have not been wrecking my head over it too much. The insecurity of not knowing what will happen next, or when, is one of the more difficult things in this situation, but i refuse to torture myself with questions that for now remain unanswerable. Whatever is to come, I will face it with my head held high. (more…)
Tags: Bank Robbery, Germany, Letter
Posted in Prison Struggle
Wednesday, November 18th, 2015
Below is a letter from long-term prisoner Thomas Meyer-Falk about a friend of his who is in indefinite detention in Germany. For more information write to:
Thomas Meyer-Falk
c/o JVA (SV)
Hermann-Herderstr. 8
D 79104 Freiburg
GERMANY
www.freedom-for-thomas.de
www.freedomforthomas.wordpress.com

Woman imprisoned for sex without a condom
In Germany in 2014 a 29 year old woman was sentenced to four years in prison for having sex without using a condom. Because the court deemed her a threat to public safety, Preventative Detention – indefinite imprisonment – was added.

The story:
Jaqueline was a young woman who was in love with life, she hung around the surroundings of a biker club and had a few partners. Years before she had caught HIV, but was taking medication for it and therefore hadn't become ill. (more…)
Tags: Germany, HIV, Letter, Thomas Meyer Falk
Posted in Prison Struggle
Tuesday, November 17th, 2015
Siamo anarchici e siam molti
E la vostra inane legge
Non ci doma né corregge
Né ci desta alcun terror
Guerra, guerra e guerra sia!
L' ideal per cui pugnamo
No, non teme i vostri orror
Siam ribelli, e forti siamo,
il terror degli oppressor!
I potenti della terra
Anarchist chant
"Anyone with some common sense, who has even a distant notion of what the nature of the No Tav movement is and of the ethical framework within which this struggle expresses its 20-year-long resistance, can see that I was not there with the intent to pursue terror or worse". Mattia
"On the other hand, those who struggle have learned, with intelligence, to channel even those strong and impetuous passions that are born of the many hits we took, like when a friend lost an eye from a tear gas grenade or when another came close to death". Niccolò

"Military and paramilitary attacks, indiscriminate violence and weapons of war belong to states and those who emulate them". Chiara
"We are accused of having acted to strike people or at least of having no regard for their presence, as if we had no regard for the lives of others…In relation to the accusation of terrorism I have no intention of defending myself. The solidarity we were shown from the moment of our arrest up until the present day has gone far to dismantle this daring incrimination". Claudio

"Your words, as well as sounding proud, sound just, in the sense that they are both ethically upstanding and attuned". Open letter to Chiara, Niccolò, Mattia and Claudio
"The prosecution wanted to create dissociations, namely, to push the movement to distance itself from its own power… We can say, quite plainly, that the movement held out by fully grasping what was at stake… The demands made by the prosecution are what in lawyers' jargon is called 'fence-sitting'. Go ahead and give them the minimum sentence, but convict them of terrorism". Open letter to Chiara, Niccolò, Mattia and Claudio
We can quite plainly say that the 'movement' has secured yet another victory. Not only has it managed to market a watered-down, inoffensive and whiny version of sabotage, but simultaneously, it has used its superior "ethical code" to blacklist all violent direct action that goes beyond striking a compressor with a Molotov. The courts have also won, by managing to impose boundaries that good kids shouldn't cross, if they want to avoid anything more than a sounding spanking.
For that matter, the victory for the courts has been sweeping, because through the terroristic prospect of years and years of prison, they made sure that comrades themselves – with their own statements – were the ones to draw up the boundaries that could not be crossed. (more…)
Tags: Alfredo Cospito, Italy, Letter, Nucleo Olga FAI/FRI, Roberto Adinolfi, Sabotage, TAV
Posted in Social Control
Monday, September 28th, 2015
It is a longstanding as well as an infamous tactic of the State — particularly of the police-judicial mechanism — to use fabricated charges against relatives so as to hold them hostage and put pressure on fighters and political prisoners. It was done in 2002 [against Angeliki Sotiropoulou, wife of 17N prisoner Dimitris Koufontinas], it was done in 2010 [against Marie Beraha, wife of Revolutionary Struggle prisoner Kostas Gournas], and it was done again in March 2015 [against Evi Statiri, wife of CCF prisoner Gerasimos Tsakalos, but also against Athena Tsakalou, mother of the Tsakalos brothers]. This is because the repressive policy applied against imprisoned members of armed organisations is an ongoing process of political extermination by any means.
After its capitulation on February 20th, the SYRIZA-led government was faced with the first class confrontation — that is, the hunger strike of political prisoners during Spring — and was compelled to vote favorably — among others – on an amendment that theoretically opened the way for the relatives of CCF members to be released. Today, after being refused her liberation six times by judicial councils, Evi Statiri, companion of an imprisoned member of the organisation, is still in prison. Her case is the clearest proof, not only of the acceptance of a state of emergency surrounding the memorandum by the government of the Left, but also of the strict application of a state of exception for political prisoners.
For those in society who had the clarity and determination to approach the 'no' vote in the referendum in a class manner and to oppose every memorandum, though without being able to take the next step forward, the question of an alternative way other than the one of delegation or relinquishment, which all the bourgeois parliamentary forces are charting, is more pressing than ever. And this is no other way than struggle and solidarity. Evi's way…
SOLIDARITY WITH EVI STATIRI
on hunger strike since September 14th 2015
Kostas Gournas
September 15th 2015
–

via contrainfo
Tags: Athens, Evi Statiri, Greece, Hunger Strike, Korydallos Prison, Kostas Gournas, Letter, Revolutionary Struggle, SY.RIZ.A.
Posted in Prison Struggle
Saturday, August 22nd, 2015
EL COMETA PASARÁ ETERNAMENTE.
Cuando llegó la propuesta de ayunar por la semana de agitación en memoria
del Pelao Angry mi corazón se revoloteó entero, mi interior dijo vamos y
decidí desafiar a la cana y a mi cuerpo. No es fácil ayunar en una cana tan
plástica como Santiago 1, toda la alimentación de aquí no ayuda en nada
para hacer ayunos y dañarte lo menos posible.
Ahora compartiré lo que siento individualmente por recordar a Pelao.
Físicamente compartimos 2 veces pero esto no hace que me sienta cercanx,
leyendo su libro y compartiendo con seres que lx conocían ha hecho que
cuando lo traigo a mí sienta emociones liberadoras, son sensaciones
encontradas, pero todo el rato trato de deconstruir la idealización de la
muerte física sin "apologizar" el contexto en el que murió. Viene a mí una
sensación de tranquilidad sabiendo que físicamente se fue enfrentándose en
ese arrojo que tanto le gustaba, ese arrojo puro y hermoso que hace
destruir de cualquier forma la civilización. (more…)
Tags: Chile, Javier Pino, Letter, Santiago 1, Sebastián Oversluij Seguel
Posted in Prison Struggle
Friday, August 21st, 2015
Saludos compañerxs, junto con darles todos mis cariños escribo estas
palabras en respuesta al llamado de agitación en memoria de nuestro
hermano caído en combate Sebastián Oversluij, llevado a cabo en esta
semana. En mi posición actual de preso no fueron los muchos los detalles
de los cuales me pude enterar de este llamado pero frente a la
iniciativa individual y colectiva hecha por compañerxs surge en mi la
necesidad de hacerme presente aunque sea con el gesto solidario más
mínimo, tomando las armas que tenga a mi alcance para continuar en
actitud de guerra recordando a aquellxs que dieron su vida y su muerte
en la lucha contra el Poder, la Autoridad y su Dominación. Por eso
durante el día jueves junto al comparo Ignacio Muñoz encerrado en el
módulo 34, hicimos ayuno entendiendo que nuestra corporalidad puede y
debe ser tensionada como un frente más desde dónde atacar. Y aunque el
ayuno o huelga de hambre no haga un correlato con el carácter que le fue
dado a este llamado más enfocado al empapelar las calles con afiches,
rayado, dibujos, panfletos, murales, etc; creo que cada individuo con
cada una de sus particularidades, posibilidades y contexto debe aportar
en las instancias que surjan de la memoria y busquen generar una
proyectualidad del conflicto. (more…)
Tags: Chile, Letter, Santiago, Sebastián Oversluij Seguel, Sergio Alvarez
Posted in Prison Struggle
Thursday, August 13th, 2015
[Translated by Sin Banderas Ni Fronteras]
Anarchic comrade Sergio Alvarez was arrested on Wednesday, July 15 in the context of clashes between police and hooded people who came out from an university in the city of Santiago. After being beaten and spending the night on a police station, he was taken to a judge and paraded as a trophy to the journalistic carrion´s cameras. At that time, walking with his head up and guarded by police, he shouted out loud: "The war continues, long live anarchy!"
After being formalized for possession of incendiary device, disorder and aggression against the police, a judge decided to leave him in total house arrest for three months, during investigation. However, following an appeal by the prosecution, Sergio had to enter this Wednesday, July 27 to "Santiago 1" prison.
(more…)
Tags: Chile, Letter, Riots, Santiago, Sergio Alvarez, Sin Banderas Ni Fronteras
Posted in Prison Struggle
Monday, July 13th, 2015
As is well known, the repressive attack by the state against Revolutionary Struggle in 2010, as an historical fact, was a counterpart to the signing of the first memorandum by the Papandreou government and bringing the country under the authority of the IMF, the ECB, and the EU. As was said at the time by a government official, our arrests prevented "a large terrorist attack that would have ended the economy," a statement proving the dangerousness of the action of Revolutionary Struggle at a critical juncture for the regime.
The first trial against the organization was in the period of the application of the first memorandum, developments that included controlled bankruptcy proceedings and imposed a social policy of genocide and euthanasia towards segments of the population that caused thousands of deaths so far, and poverty, hunger and misery. When the first trial started in October 2011, we had stated that the trial was conducted in a period awaiting formal bankruptcy of the country, which did not happen then, because there was unveiled a controlled bankruptcy regime in order to save the lenders, the then holders of Greek bonds and to defend the Eurozone from the risk of transmission of the Greek crisis.
It is an irony of history that ultimately the bankruptcy of Greece is associated with the days of the leftist Syriza government almost four years later, which announced a referendum on the question YES or NO to the proposals of lenders for the new memorandum that they will sign. Along with the bankruptcy of the country comes the bankruptcy of the left social-democratic illusions that promised state interventions in favor of the workers and the poor of the EU inside a globalized neoliberal environment. (more…)
Tags: Athens, Greece, Korydallos Prison, Letter, Nikos Maziotis, Revolutionary Struggle, SY.RIZ.A.
Posted in Autonomy
Thursday, July 9th, 2015
Dear comrades,
We send you our warmest revolutionary greetings in solidarity with the two comrades who are arrested by the Spanish state for being fighters for humanity.
This attack against the two comrades who went to Rojava to fight there against the fascist Daesh gangs, is not only an attack against them and your party, its an attack against the international revolutionary movement and against all people who fight against fascism and imperialism. In this moment they attack two of yours but they mean to attack all of us. In this situation the international solidarity is our biggest weapon.
The comrades fought in a legitimate and rightful struggle in Rojava and the people of Rojava will never forget what they did there! We are strongly condemn this repression of the Spanish bourgeois state. Resistance and the fight for humanity, freedom and democracy is not terrorism!
Long live international solidarity!
Long live the international freedom battalion!
Long live the legitimate and rightful fight in Rojava!
Long live PML (RC)!
With revolutionary greetings,
MLKP
Turkey/Kurdistan
International Bureau
Tags: International Brigades (Anti-ISIS/Daesh), International Solidarity, Islamic State in Iraq and Syria (ISIS), Kurdistan, Letter, Marxist-Leninist Party of Turkey (MLKP), Repression, Rojava, Spain, Turkey, War
Posted in Social Control
Thursday, June 18th, 2015
To our brothers, comrades, relatives, loved ones and people in solidarity with us, to the public.
In 54/53 (Nataly / Juan, Guillermo) days from the beginning of our hunger strike, on Friday, June 5, we end our mobilization, which was a response to the repressive maneuvers power unleashed this time against us, against our emotional and solidarity environment. We decided to stand on our feet and to publicize our situation, without letting the designs of power to realized, which through legal/police/media/ suppressive tricks seeks to perpetuate isolation, silence and absolute submission. We decided to mobilize through a joint decision, a horizontal agreement, far from levels and hierarchies, which the lovers of power and the law seek to replicate in each and every group of people. It is the most dignified way of being in this world of bowed heads and prizes for any kind of boss.
(more…)
Tags: Chile, Guillermo Durán Méndez, Hunger Strike, Juan Flores Riquelme, Letter, Natalie Casanova Muñoz, Santiago
Posted in Prison Struggle
Wednesday, June 3rd, 2015
Greetings comrades and those in affinity. I'd like to send out some words as an anarchist, taking as good the many positions and visions that anarchism can adopt, all equally valid when they are seeking to destroy power, authority and the State.
I think that is the beauty of our ideas and in my opinion all these trajectories can coexist and merge in search of much longed for total liberation. I want to express my hatred, disgust and contempt for everything that concerns the State, power, authority and in particular that instrument of annihilation called prison, which uses isolation as its main weapon.
I have always maintained that anarchists must prepare themselves and be aware that at any moment the day can come when they will have to face prison and, in my opinion, this is logical, because if you try to destroy the State, it will try to arrest you in order to nullify you, paralyze and destroy you. (more…)
Tags: Letter, Madrid, Operation Piñata, Paul Jara "Pol", Soto del Real, Spain
Posted in Prison Struggle
Wednesday, June 3rd, 2015
+ "For Spyros", by the Conspiracy of Cells of Fire.
20 May 2015 – Greek police terror operation results in the arrest of two comrades and the execution of Spiros Dravilas:
Living a dignified path under the most adverse conditions
The police operation in Nea Aghialos on 20.5.2015 was crowned as a "success". The TV cannibals stand over our friend's dead body and scream: Grigoris Tsironis, Spiros Christodoulou and the deceased Spiros Dravilas are ruthless robbers and blood-thirsty murderers.
Grigoris was and remains a comrade. From his first arrests, a result of his participation in the Polytechnic occupation in 1995 and the struggles against the regeneration of Exarchia square in 1997, up to his participation in dozens of dynamic interventions of the anarchist movement and his active presence as a worker in the courier syndicate, Grigoris was always by our side. A fugitive as of January 2006 after the expropriation of a National Bank on Solonos street, he lived ten years of battle and survival against capitalism and its repressive mechanisms.
With a bounty on his head since 2009 for the same case and targeted all these years, he managed to maintain his humanity and militancy despite the adversities and the hunt set up against him by the modern persecution squad.
Spiros Christodoulou was and remains an unrepentant proletarian who carved and carves his own dignified path under the most adverse conditions: prison and illegality.
Just like Spiros Dravilas… He had tasted it from the age of 21 when he first came into contact with the harsh reality of incarceration. (more…)
Tags: Athens, Greece, Grigoris Tsironis, Letter, Repression, Spiros Christodoulou, Spyros Dravilas
Posted in Social Control