Posts Tagged 'Liebig 14'
Wednesday, January 8th, 2020
On the 6th of January, we chose to open a banner amidst the crossroad of Liebig and Rigaer Strasse and attack a police car in order to show our solidarity with the threatened house projects in Berlin and the evicted squats in Athens.
The banner says: "Solidarity with Squats in Greece – Revenge 4 Koukaki Eviction".
When it was installed across the street, a patrol car arrived and was attacked with stones by the backup team and forced to flee.
There are some similar conditions for the anarchist movement in Berlin and Athens, for example the aim of the government to eliminate us and take our neighborhoods and occupied spaces. Despite the differences between the movement in Germany and Greece, the enemy is the same. The smell of garbage in uniforms is the same, the barriers of the prison is the same. Ultimately, the goal of these two states are the same, to eliminate the resistance of the fighting anarchist movements.
(more…)
Tags: Athens, Banner drop, Berlin, Eviction, Germany, Liebig 14, Liebig34/XB, Rigaer 94, Rigaerstrasse, Solidarity Action, Squatting
Posted in Direct Action
Sunday, January 24th, 2016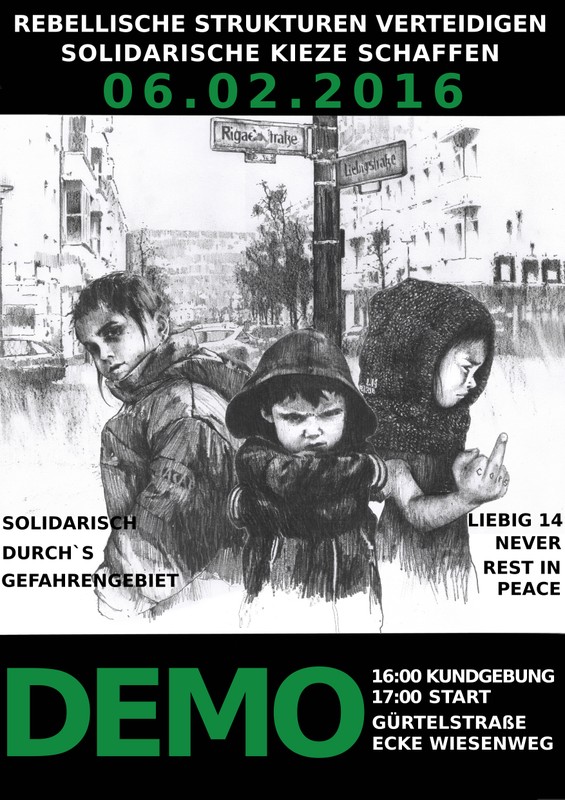 After the major offensive on Rigaer 94 by 500 cops, SEK, a K-9 unit and a helicopter, the northKiez of Friedrichshain is still under siege. There are constant controls all around Rigaerstraße and the streets are patrolled by massive swathes of cops.
We take the attack on the night of 13.01.2016 on Rigaer 94 and the assault on Liebig34 on the same evening as an attack on all of us! It is an affront to all of us that resist, organise, plan, act and network every day; against all those that cannot pay their rents anymore and get displaced.
To the cops and politicians speculation to be able to force us into capitulation and resignation by repression we respond: Forget it! We will not yield a centimeter! Now more than ever!
We are calling everyone, to go out on the streets with us on February 6th to fight against 'danger zones', police terror and displacement.
Call to action:
Defend rebellious structures, create neighbourhoods of solidarity!

Saturday 6th February 2016 | Berlin
Gathering at 16:00 in front of Wagenplatz Rummelplatz, Gürtelstrasse 26
Demonstration at 17:00 (be on time!)
Tags: Berlin, Demo, Fuck the Police, Germany, Liebig 14, Liebig34/XB, Rigaer 94
Posted in Autonomy
Friday, February 11th, 2011
"We have come to terms with the extent of the damage done to our individual lives, our planet, what could laughably be called the remains of some *community* (now a politicians' poisoned term – we see nothing reflective of what community means to us in this society) by the ravaging of capitalism, the State, social hierarchies of race and gender and our own seeming inability to confront and systematically destroy these entities as they suffocate us. This realisation can too often lead to paralysis or chasing one's own tails in a frenzy of self-righteous *activism* that leaves participants exhausted, the quality of their struggle cheapened, and our enemies unfazed. We have assessed the terrain in which we find ourselves and pledged a trajectory of wild rage despite the spell of tranquility that society attempts to cast, living passion and experimentation despite the inertia and obsession with dead objects this society fetishizes, and real affinity despite the empty shell of social networks and meaningless interaction we are sold as leisure or *community*. Many tools are ours in this lived resistance – but none of these find any context when not held up against a relentless and determined assault on the open prison that unfolds everywhere our enemies tread."
"Recently, the international anarchist current suffered a blow as a squatted self-organised space, *Liebig-Strasse 14* in the city of Berlin in the occupied territory claimed by the German State, was evicted by the cops. 35 or more comrades were arrested in the building and 2,500 came to the streets in anger – in the spirit of the finest reflection of our disgust and solidarity being the strengthened continuation of our attack everywhere, the struggle against gentrification and the class and social war that surrounds it (as fought in Berlin) was continued as we visited the Dick Lovett BMW garage out by Cribbs Causeway on Tuesday night. Between 40 and 50 BMW vehicles awaiting sale at the rear of the car showroom had their paintwork ruined, scratched and paintstrippered – done in this way so as not to trigger the car alarms.
We have only one question – Where next?
This action dedicated to Lukas Winkler, Stephanie Träger, Sven Maurer – squatters who fought their eviction in Munich, now imprisoned. Also to all prisoners in struggle – either side of the walls."
BRISTOL HIT AND RUN BRIGADE
Tags: Bristol, Dick Lovett BMW, Germany, Liebig 14, Lukas Winkler, Munich, Solidarity Action, Stephanie Träger, Sven Maurer, UK
Posted in Direct Action
Wednesday, January 19th, 2011
Liebig 14 is one of Berlin longest running autonomous housing projects, serving as a space for collective living as well as community and political organising for over 20 years. After a 4 year legal process the owners of the building have finally been given legal permission to evict the house on the 2nd of February 2011. Squatted shortly after the fall of the wall in what was a derelict area of east Berlin, Liebig 14's attempted eviction is just one symptom of a rampaging processes of gentrification which is rapidly forcing poorer residents out of the city centre and tearing apart the city's radical infrastructure. Liebig 14 is proud to be a part of a long history of autonomous spaces in Berlin and around the world. In working against capitalism, social hierarchy and discrimination, autonomous spaces take small but concrete steps towards wider political emancipation and self-determined living. The eviction of Liebig 14 will be a loss not only to Berlin's alternative project infrastructure but also a wider attack on projects everywhere attempting to build alternative, more socially just, and more sustainable modes of social organization. Solidarity with free spaces under threat in Berlin, Amsterdam, London and worldwide is key if we are to sustain these vital resources.
Stop gentrification from tearing apart our cities!
Support autonomous spaces!
Save Liebig 14!
Tags: Autonomous Spaces, Berlin, Eviction, Germany, Liebig 14, Riot
Posted in Autonomy, Social Control
Tuesday, January 26th, 2010
On December 29th, 2009 Tobias P. was released from Moabit prison. As expected, the public prosecutor's office represented by Pamela Kaminski has filed a complaint against rescinding the arrest warrant. Although no written justification has been published yet, an examination of the case by the next highest authority, the District Court, will most likely follow, which would result in reimprisonment in case the District Court allows the objection. (more…)
Tags: Arson, Berlin, Germany, Liebig 14, Liebig34/XB, Toby
Posted in Prison Struggle
Wednesday, December 30th, 2009
On the 29 December 2009, a comrade from Berlin, who was imprisoned for the arson of 3 expensive cars in the area of Friedrichshain was released from remand pending the further investigation. It seems the "granite" evidence that was used to keep him in the jail was not so "granite" under legal examination.
ACAB
Tags: Arson, Berlin, Germany, Liebig 14, Liebig34/XB, Toby
Posted in Prison Struggle
Thursday, December 3rd, 2009
Update: 29 December 2009, Toby has been released on remand, looks like the "granite" evidence turns out to not be so "granite".
On the night of 15 November, three posh cars got torched in Friedrichshain, Berlin, as almost every night happens. However, the police arrested a younger comrade who they accuse of two of the arsons. They said he would have also carried gasoline for firelighters on himself. Straight away in the morning, some tabloid press published his pictures and full name and address, since he lives in a houseproject, the Liebig 14 (on the corner of Rigaerstrasse) which is due to be evicted. (more…)
Tags: Arson, Berlin, Germany, Liebig 14, Liebig34/XB, Repression, Rigaerstrasse, Toby
Posted in Social Control