Posts Tagged 'Liebig34/XB'
Wednesday, January 8th, 2020
On the 6th of January, we chose to open a banner amidst the crossroad of Liebig and Rigaer Strasse and attack a police car in order to show our solidarity with the threatened house projects in Berlin and the evicted squats in Athens.
The banner says: "Solidarity with Squats in Greece – Revenge 4 Koukaki Eviction".
When it was installed across the street, a patrol car arrived and was attacked with stones by the backup team and forced to flee.
There are some similar conditions for the anarchist movement in Berlin and Athens, for example the aim of the government to eliminate us and take our neighborhoods and occupied spaces. Despite the differences between the movement in Germany and Greece, the enemy is the same. The smell of garbage in uniforms is the same, the barriers of the prison is the same. Ultimately, the goal of these two states are the same, to eliminate the resistance of the fighting anarchist movements.
(more…)
Tags: Athens, Banner drop, Berlin, Eviction, Germany, Liebig 14, Liebig34/XB, Rigaer 94, Rigaerstrasse, Solidarity Action, Squatting
Posted in Direct Action
Tuesday, July 23rd, 2019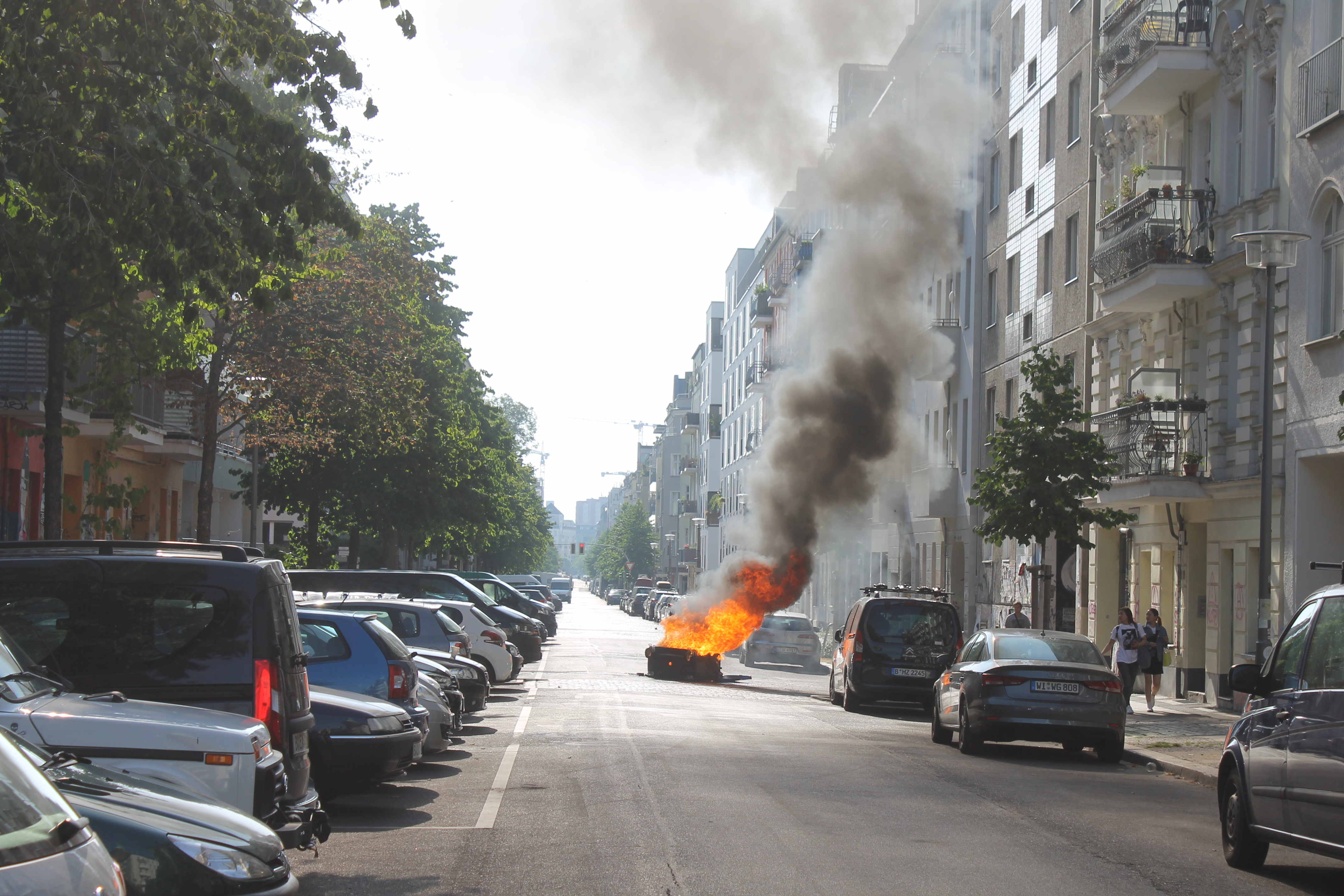 This morning [20/7], the cops of the LKA 5.21 unit under the command of Kranich raided Liebig34. Unusual was the saturday, unusual the mix of units from different departments. New were a few civil cop faces, not new: the repression.
The reason for this raid was probably stones thrown from the house during the last few weeks. After the cops collected stones from the Dorfplatz around 2:30 this morning, they obtained a court order and search warrant to search part of our house and returned around 6:30 a.m.. They came through the backyard and the front door, sawed the doors and barris, picked them up and thus forcibly gained access to our project. A lawyer was quickly on the scene and was able to observe and testify. Altogether the cops were about three hours in the house, having searched officially and intensively three connected rooms and the attic. They also snooped around in unlocked private rooms, tore posters from the walls, knocked over furniture, cut internet cables and destroyed windows. (more…)
Tags: Berlin, Germany, Liebig34/XB, Raids, Repression, Rigaerstrasse
Posted in Social Control
Monday, July 22nd, 2019
Received Saturday 20 July
This morning 6:30, the police broke into Liebig34 to search evidence and DNA in one room. The reason is an attack with stones against repression forces on Friday night. Soon after many riot police vans and a helicopter arrived, a barricade was burning in Rigaer Street. After some hours police left, no one was arrested. There is a call for resistance tonight and solidarity actions. More info as it comes.
https://twitter.com/Liebig34Liebig
https://twitter.com/rigaer94
Tags: Berlin, Eviction, Germany, Liebig34/XB, Raids, Rigaerstrasse
Posted in Social Control
Saturday, July 13th, 2019
The Fight for Liebig34 goes further.
The Court hearing for the eviction of our anarcha-queer-feminist housing project will take place on the 20th of September 2019. Padovicz wants to snitch away the house, while the politicians are trying to keep our mouths shut. Both parties are awaiting a final court decision. We do not let any cis-men decide about the future of our anarcha-queer-feminist project, cause simply no one should decide about us, but ourselves.
The last weeks in Nordkiez
Lateley, the presence of cops in our neighbourhood increased massively. Helicopters are flying daily and nightly over our roofs. Multiple police vans drive through our streets and ID-controls become part of everyday normality.
Also, during our self-organized neighbour fest in which a lot of children participated, the cops reacted in an aggressive way, trying to ruin our day. Several persons sympathising with our project, have been arrested and taken into custody. The arrests of these friends were very violent and sexist. Whether it's about getting a coffee in the morning at the other side of the street or having dinner in front of our house, the cops find ways to intimidate us. The system of state tries to silence us by all means. As a consequence, we face daily confrontation with the cops. However, their provocation is not something we allow to set us back or keep us small. It is something that encourages us to resist.
We are aware that their violent behaviour is purely a reaction on our mobilization in our joint-fight against gentrification, patriarchy and capital. All of this, shows us, that our battle against "the city of the rich and powerful" is effectively starting to worry the establishment.
A glance into our future
It remains important to not let them take away Dorfplatz and the neighbourhood, but to show presence, since we want to shift life and summer to the streets in Berlin. Let us all together. Let us express to Padovicz and everyone else what we think of this court date which we received. Be creative and support us with solidarity actions. Further, it's fundamental that the focus is not only on the eviction day of Liebig34, but that decentralized actions happen everywhere at any moment.
We won't be robbed of our desires and conviction when our house will be evicted. The fight against capital and patriarchy is not solely connected to one day or one project. Let's form rebellious feminist gangs!
We will continue to battle further for a life free of hierarchies, away from patriarchy and capitalism. For a liberated society in which living spaces are no commodities in a consumerist world.
Liebig34
https://de.indymedia.org/node/34491
Join us Day X: https://vimeo.com/325552190
Follow us on https://twitter.com/Liebig34Liebig
Tags: Berlin, Eviction, Germany, Liebig34/XB, Rigaerstrasse
Posted in Autonomy
Sunday, April 21st, 2019
As many people might already know, our lease agreement with real estate speculator Padovicz -who owns more than 2,000 properties in Berlin-, expired at the end of 2018. Since then, we have been living without a contract in the Liebig34, love our house as always and are ready to defend it. Padovicz and the Senate won't get us out of here either, because this is our house! Today we want to update you about our current situation.
What happened so far:
Almost a year ago, in April 2018, we addressed a letter to our house owner Gijora Padovicz in which we announced our interest to stay "legally" in our house after 2018. There was no reply. In the summer, city councillor Florian Schmidt asked us to initiate a dialogue with the owner. This brought long discussions: too little what could be expected from it, too much what should have been discarded from our convictions. Nevertheless, the curiosity, the interest in gaining information and the hope in finding ways to keep and save our house, despite all our reservations, led to a meeting between individuals from the Liebig34 and Florian Schmidt. The later offered to organize a meeting with Padovicz, to which we, as a collective agreed to in order to receive direct and concrete information from the owner. (more…)
Tags: Berlin, Eviction, Germany, Liebig34/XB
Posted in Autonomy
Saturday, March 23rd, 2019
Liebig34.Restera.Bruyante.Sale. Résistante… et plus que jamais! + Video
Vous l'avez probablement déja entendu: le bail du squat anarchiste, queer et féministe "Liebig34" situé à Berlin-Friedrichshain prend fin aujourd'hui, le 31/12/18. Dès demain, le 01.01.19, le projet est menacé d'expulsion. Mais juridiquement, avant que nous puissions être expulsé.es, Gijora Padovicz, spéculateur immobilier et propriétaire de notre maison, doit porter plainte contre l'association et les habitant.es de la Liebig34. Une perquisition pourrait être le premier pas pour vérifier qui sont les habitant.es. Chez nos ami.es de la Rigaer94, on a pu voir à quoi une telle perquisition pourrait ressembler. Le passé a pu montrer encore et encore, que les keufs n'agissent pas forcément sur une base juridique solide et qu'ils peuvent expulser des squats dans toute "illégalité". Donc, tout est possible. (more…)
Tags: Berlin, Germany, Liebig34/XB, Squatting, Video
Posted in Autonomy
Sunday, January 24th, 2016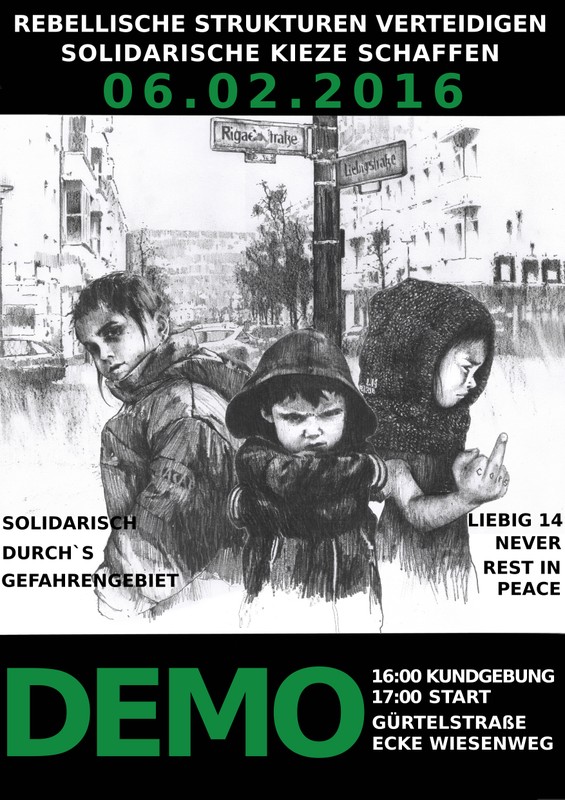 After the major offensive on Rigaer 94 by 500 cops, SEK, a K-9 unit and a helicopter, the northKiez of Friedrichshain is still under siege. There are constant controls all around Rigaerstraße and the streets are patrolled by massive swathes of cops.
We take the attack on the night of 13.01.2016 on Rigaer 94 and the assault on Liebig34 on the same evening as an attack on all of us! It is an affront to all of us that resist, organise, plan, act and network every day; against all those that cannot pay their rents anymore and get displaced.
To the cops and politicians speculation to be able to force us into capitulation and resignation by repression we respond: Forget it! We will not yield a centimeter! Now more than ever!
We are calling everyone, to go out on the streets with us on February 6th to fight against 'danger zones', police terror and displacement.
Call to action:
Defend rebellious structures, create neighbourhoods of solidarity!

Saturday 6th February 2016 | Berlin
Gathering at 16:00 in front of Wagenplatz Rummelplatz, Gürtelstrasse 26
Demonstration at 17:00 (be on time!)
Tags: Berlin, Demo, Fuck the Police, Germany, Liebig 14, Liebig34/XB, Rigaer 94
Posted in Autonomy
Tuesday, January 26th, 2010
On December 29th, 2009 Tobias P. was released from Moabit prison. As expected, the public prosecutor's office represented by Pamela Kaminski has filed a complaint against rescinding the arrest warrant. Although no written justification has been published yet, an examination of the case by the next highest authority, the District Court, will most likely follow, which would result in reimprisonment in case the District Court allows the objection. (more…)
Tags: Arson, Berlin, Germany, Liebig 14, Liebig34/XB, Toby
Posted in Prison Struggle
Wednesday, December 30th, 2009
On the 29 December 2009, a comrade from Berlin, who was imprisoned for the arson of 3 expensive cars in the area of Friedrichshain was released from remand pending the further investigation. It seems the "granite" evidence that was used to keep him in the jail was not so "granite" under legal examination.
ACAB
Tags: Arson, Berlin, Germany, Liebig 14, Liebig34/XB, Toby
Posted in Prison Struggle
Thursday, December 3rd, 2009
Update: 29 December 2009, Toby has been released on remand, looks like the "granite" evidence turns out to not be so "granite".
On the night of 15 November, three posh cars got torched in Friedrichshain, Berlin, as almost every night happens. However, the police arrested a younger comrade who they accuse of two of the arsons. They said he would have also carried gasoline for firelighters on himself. Straight away in the morning, some tabloid press published his pictures and full name and address, since he lives in a houseproject, the Liebig 14 (on the corner of Rigaerstrasse) which is due to be evicted. (more…)
Tags: Arson, Berlin, Germany, Liebig 14, Liebig34/XB, Repression, Rigaerstrasse, Toby
Posted in Social Control