Posts Tagged 'Lisbon'
Monday, March 21st, 2016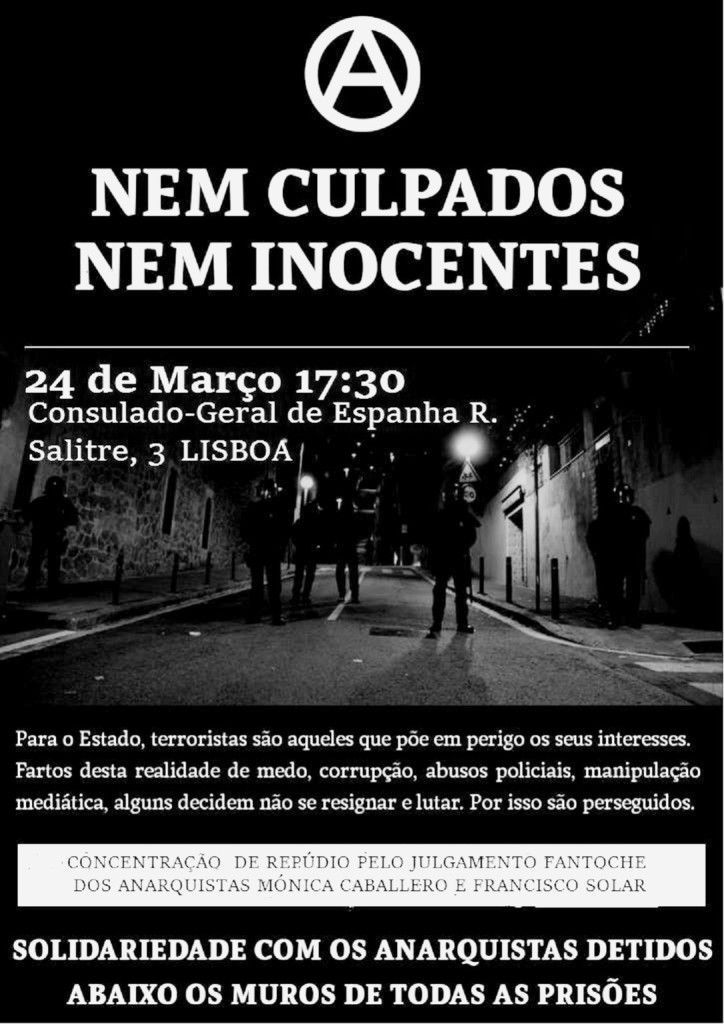 NEITHER GUILTY NOR INNOCENT
For the State, terrorists are those that endanger its interests. Fed up with this reality of fear, corruption, police abuses, media manipulation, some decide not to give up, and fight. For this they are persecuted.
Thursday 24th March at 17:30
Consulate General of Spain
3, Salitre St., Lisbon
We gather to oppose the parody trial against the anarchists Mónica Caballero and Francisco Solar.
SOLIDARITY WITH IMPRISONED ANARCHISTS
TEAR DOWN THE WALLS OF ALL PRISONS
solidárixs

-via contrainfo
Tags: Demo, Embassy, Francisco Solar, Lisbon, Monica Caballero, Portugal, Solidarity Action
Posted in Prison Struggle
Monday, August 3rd, 2015
2nd Fair of Subversive Editions
On September 25, 26, and 27, in Lisbon, the 2nd Fair of Subversive Editions will return. We want this to once again be an open space for debate and the exchange of ideas critical of this reality we wish to subvert. We continue to believe that books, magazines, periodicals, zines, music, video, and debates are still important vehicles in the assault on this society that we reject, and in the search for alternatives that free us from the relations of domination it is based on. If you participate in a publishing group, bookstore, distro of subversive and non-party material, we invite you to come and participate.
To reserve your space at the Fair of Subversive Editions contact: mostradedicoesubversivas@riseup.net

www.mostradedicoesubversivas.tk (updating)
Tags: Anarchist Gatherings, Fair of Subversive Editions, Lisbon, Portugal
Posted in Autonomy
Thursday, March 28th, 2013
We're back!
Here comes the 6th Anarchist Bookfair, which will take place on the 24th, 25th and 26th of May 2013 in Lisbon at the Amigos do Minho (in Intendente), with the every year renovated goal of creating an autonomous space, open to all, for the dissemination and discussion of the anarchist ideas.
In this year's program of the Bookfair, besides the usual stalls, two debates are scheduled. On one hand, we want to discuss the actuation and limitations of the media industry and its possible alternatives. On the other, we'll debate the role of libraries as a privileged space for meeting, reflection, discussion and sharing.
It is intended that the Bookfair incentives the edition of books and other anarchist publications and its reading. We continue to believe that anarchy is the alternative to the violence of the state, the arrogance of the capital, the "progress" of the technique and the damages of subservient journalism.
http://feiradolivroanarquista.blogspot.pt

feiradolivroanarquista (at) gmail (dot) com
Tags: Anarchist bookfair, Anarchist Gatherings, Lisbon, Portugal
Posted in Autonomy
Wednesday, October 13th, 2010
12 October 2010
Lisbon cathedral woke up on the 12th of October with paintbombs and spraypainted.
"The S.E.F and the church go hand in hand. Let both go up in flames!"
(S.E.F. is the Serviço de Estrangeiros e Fronteiras)
"Solidarity with comrades in Belgium. Fire to the detention centres!"
Tags: Belgium, Fuck the Church, Lisbon, Portugal, Serviço de Estrangeiros e Fronteiras, Solidarity Action
Posted in Direct Action, No Borders
Wednesday, December 2nd, 2009
On the 25th of April 2007 happened in Lisbon an anti-authoritarian demo against fascism and capitalism. Close to 500 people took part on a march through one of the city's richest areas, where paint was thrown at shops, banks and a riot cop van and slogans were spray painted on walls. To this shamelessness the guards of democratic order replied with a police charge and beatings against the demonstrators and everyone who were passing-by. (more…)
Tags: Anti-Authoritarian, Lisbon, Portugal
Posted in Prison Struggle