Posts Tagged 'Loukas Papadimos'
Saturday, September 28th, 2019
Grecia: Aggiornamento sul processo contro l'anarchico Konstantinos Giagztoglou (settembre 2019)
09/26/2019
On Friday, September 20, 2019, in the special courtroom of the Korydallos prison, the trial against anarchist comrade Konstantinos Giagztoglou began.
CASE SUMMARY
Dinos was arrested in October 2017 in an anti-terrorist ambush when he left an apartment in central Athens, which he rented with false ID to help a persecuted comrade. He was arrested with an order issued by Special Investigator Eutychis Nikopoulos for the case of intercepted letter-bomb packages which were sent to officials of the European economic and political elite in the spring of that year. Since then he has been detained and accused of participating in a "terrorist organization", as well as construction and dispatch of explosive devices to officials of financial institutions and rating agencies throughout Europe, as well as an attempted murder for the package that injured Loukas Papadimos, the former prime minister of Greece. The comrade has declared from the first moment of his arrest and in an open letter to the anarchist movement, that renting the apartment was a conscious choice in the context of revolutionary solidarity, but does not accept any of the other accusations. (more…)
Tags: Athens, Greece, Konstantinos Yagtzoglou, Korydallos Prison, Loukas Papadimos, Pola Roupa, Repression, Trial
Posted in Direct Action
Tuesday, December 18th, 2018


Italian translation via Anarhija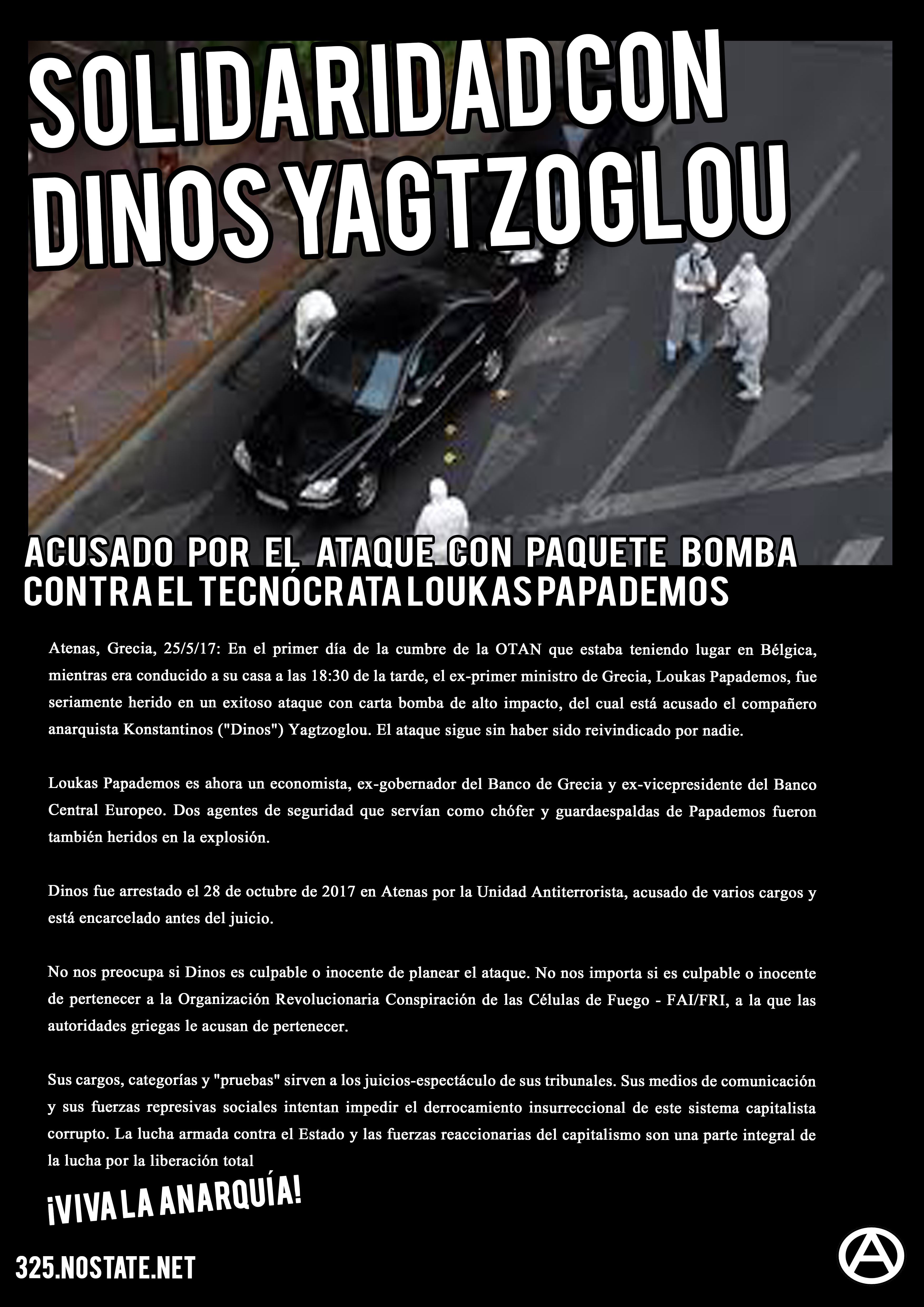 Spanish translation by La Rebelión de las Palabras + PDF
Tags: Athens, Flyposter, Greece, Konstantinos Yagtzoglou, Loukas Papadimos
Posted in Prison Struggle
Thursday, November 23rd, 2017
On 28/10, Konstantinos (Dinos) Yagtzoglou is arrested by armed assassins of the E.K.A.M. in Athens. He is accused of sending a parcel bomb to former technocrat prime minister Loukas Papademos, who was injured by the attack inside his car. The other charges against him are for explosive packages found at the same time as the attack and also the oppressive Article 187A, for participation in a criminal organization, alleged membership of Conspiracy of Cells of Fire, the group that claimed one of the explosive packages.
We do not care for democracy, for the media spectacle and the cop mentality that is the junta of innocence or guilt. We do not play their game of justice, where the pieces are already placed against us, neither for the state that sows terror, the self imposed fear that permeates a passive society. What we care for is the continuation of the armed struggle against the necropolis of authority.
Strength to our anarchist comrade Dinos Yagtzoglou.
Soul and Body, nothing is over, the conflict continues!

Chaotic and Individualist Anarchists
Tags: Athens, Conspiracy of Cells of Fire, Flyposter, Greece, Konstantinos Yagtzoglou, Loukas Papadimos
Posted in Prison Struggle
Monday, November 13th, 2017
On the morning of October 28, 2017, comrade Konstantinos 'Dinos' Yagtzoglou was captured by the anti-terrorist police. The arrest order, issued by Special Prosecutor E. Nikopoulos, was based on accusations of belonging to a terrorist organization and attempted murder for the letter bomb attack against former-Prime Minister Papadimos. The accusations are based on a mixture of genetic material that was allegedly collected and stored from objects following clashes with law enforcement during a demonstration in 2011, in which the comrade was arrested. This mixture, supposedly related to the explosive attack, is alleged to have been found by the police in the remains of the letter bomb, along with the DNA of Papadimos. The charges against the comrade, combined with the material allegedly found in his possession during his arrest have led to him being prosecuted under the 'anti-terrorism law' (187A).
On the same day, a comrade from Konstantinos's circle of friends was arrested. It is a constant tactic of the anti-terrorist unit to target people from an arrested person's family or circle of friends as a form of intimidation, and as an attempt to politically and physically isolate detainees. On October 29, Dinos was brought before the investigating judge for a continuation of the detention order, and was warned that he only had 3 days to prepare for his hearing. (more…)
Tags: Conspiracy of Cells of Fire, Greece, International Solidarity, Konstantinos Yagtzoglou, Loukas Papadimos, Repression
Posted in Prison Struggle
Sunday, November 5th, 2017
[Report elaborated by Sin Banderas Ni Fronteras with press sources and counter information]
On Wednesday 1/11, comrade Konstantinos Yagtzoglou was taken to the judicial chamber, where a prosecutor and a special judge for questions of terrorism ordered that he be taken into custody.
Konstantinos [Dinos] faces charges related to the attack with a letter bomb against former Greek Prime Minister Lucas Papademos, as well as with other charges for explosive packages found in the distribution center of the Post Office, in addition to the infamous Article 187A, of participation in criminal organization, for his alleged membership of Conspiracy of Cells of Fire, the group that claimed the shipment of one of the explosive packages.
Also, the Greek police try to use against the comrade, once again, the "scientific proof" of DNA as "indisputable evidence", stating that there is Konstantinos' DNA in the letter bomb that seriously injured the former Greek Prime Minister on May 25, 2017. (more…)
Tags: Athens, Conspiracy of Cells of Fire, Greece, Konstantinos Yagtzoglou, Loukas Papadimos
Posted in Prison Struggle
Sunday, October 29th, 2017
Grecia – Arrestado un anarquista acusado de pertenecer a la CCF y de haber participado en el ataque contra el ex-primer ministro Papademos [es]
According to info via Athens IMC, comrade Kostantino Y. has been arrested and is suspected by the security forces of being involved in the letter-bomb attack against technocrat ex-prime minister and IMF employee Loukas Papadimos which took place in May 2017. The attack led to deep wounds to Papadimos and injuries to two other people accompanying him inside the vehicle he was in. Papadimos was hospitalised for a month.
The hostage comrade was inflicted an injury to his leg early Saturday morning during his violent kidnapping by the counter-terror unit. Apparently Kostantino is going to be charged with many felonies. Today he will be taken to the investigating judge where there will be a concentration in solidarity at the court.
This repressive action by state forces won't go unanswered and comrades in the struggle internationally should be aware of this latest move.
Corporate media reported from the police that Kostantino had been under surveillance for two weeks before being caught carrying eight forged ID cards, two guns, ammunition, an explosive device rigged with a timer and gunpowder in three hold-alls, a plastic garbage bag and a fanny pack. The police spread in the media also that the comrade was clearing out a safe house rented in a false identity. The police suspect him of links to Conspiracy of Cells of Fire and implicated him in several unsolved letter-bomb actions including the attack against German Finance Minister Wolfgang Schäuble. It doesn't matter if Kostantino Y. is guilty or innocent of the charges, no comrade is left alone!
Solidarity to Kostantino G: 29/10 19:00 Polytechnic Athens
OPEN ASSOCIATION OF SOLIDARITY TO KOSTANTINO Y.
Day / Time: 29/10/2017 at 7 pm
Location: EXARCHIA / GINI
OPEN ASSOCIATION OF SOLIDARITY IN KOSTANTINO Y. FIRST CASUAL INFORMATION. ALL THERE. NO COMRADE IN THE HANDS OF THE STATE.
Tags: Athens, Conspiracy of Cells of Fire, Greece, International Solidarity, Konstantinos Yagtzoglou, Loukas Papadimos, Raids, Repression, Wolfgang Schäuble
Posted in Social Control
Monday, October 9th, 2017
Since the following news did not get a wide distribution outside Greece in the international counter-information networks when it appeared in May 2017, and as the corporate news also attempted to mitigate and 'play-down' the impact of this attack, we rely this info to highlight that everything continues and nothing is over.
On 25 May, on the first day of the 2017 NATO summit taking place in Brussels, Belgium, whilst being driven back to his home at 6:30 in the early evening, the ex-prime minister of Greece, Loukas Papadimos was injured in a successful high-impact letter-bomb attack that remains unsolved and unclaimed. The incident took place in central Athens, a few blocks from the Athens Polytechnic in the central part of that city. The device detonated inside an armoured-car with accompanying police security detail, and humiliated those security services and the authorities who shut down the area containing the vehicles transporting Papadimos, beginning a counter-terror investigation.
Loukas Papadimos is now a senior economist, former governor of the Bank of Greece and former vice-president of the European Central Bank. The letter-bomb arrived at his home after undergoing checks which did not detect the explosive material. Two security officers serving as driver and bodyguard to Papadimos were also injured in the explosion. The explosion of the device inside the customised vehicle added to the pressure of the bomb, leading to injuries to Papadimos' eyes, chest, abdomen and legs and he was brought to the hospital for surgery for the non-life threatening wounds. The other victims of the bomb also were taken to hospital suffering less severe injuries. The attack was hailed by the authorities as the worst act of violence against a senior figure in the Greek establishment in decades.
The Greek State is terrified that the operational methods have developed and evolved to defeat their security apparatus. If this high profile target can be reached then all of them are in reach.
Technocrats, ticks, parasites – The violence and fear will come to your homes as you try to inject it into ours – Long live anarchy.
Tags: Athens, Attentat, Economic Crisis, European Central Bank, Greece, Letter Bomb, Loukas Papadimos
Posted in Direct Action