Posts Tagged 'Madrid'
Wednesday, December 26th, 2018
On Friday December 21 the comrade was transferred to Madrid, to Soto del Real prison. As far as we know there are no restrictions on incoming or outgoing post, so it would be really nice if everyone were to write to her. Here is her new address:
Lisa Dorfer
Módulo 15
Centro Penitenciario Madrid V
Carretera M609 km.3,5
28791 Soto del Real
Madrid
Spain
Monday, December 31 at 10.30 gathering outside the WAD-RAS prison.
Translated by Act for Freedom Now!
Source
Tags: Germany, Lisa, Madrid, Prison Transfer, Soto del Real, Spain
Posted in Prison Struggle
Tuesday, November 20th, 2018
Claims received by the comrades in Madrid in solidarity with the comrades arrested on October 29. The companions ask for diffusion and translation:
1. https://contramadriz.espivblogs.net/2018/11/20/a-martillazos-contra-los-cajeros-de-carabanchel-solidaridad-anarquista/
2. https://contramadriz.espivblogs.net/2018/11/20/ataque-a-inmobiliaria-en-carabanchel-guerra-a-la-especulacion-capitalista/
3. https://contramadriz.espivblogs.net/2018/11/16/madrid-ataques-quot-simbolicos-quot-a-cajeros/
4. https://contramadriz.espivblogs.net/2018/11/16/madrid-cajero-en-llamas-en-carabanchel/
5. https://contramadriz.espivblogs.net/2018/11/12/madrid-sabotajes-a-cajeros-automaticos-en-solidaridad-con-les-companeres-detenides/
Tags: International Solidarity, Madrid, Repression, Sabotage, Solidarity Action, Spain
Posted in Direct Action
Wednesday, November 7th, 2018
Last Monday, October 29, the Information Brigade went to the houses of two anarchist comrades in Madrid to arrest them. They are charged with the crime of damages caused by the burning of a Bankia ATM in the Vallekas neighborhood during the week of action on the anniversary of the arrest of Comrade Lisa, who is currently in the custody of the German state sentenced to 7 years and accused of robbing a bank.
It is not the first nor the last time that the State represses any indication of direct anarchist action. The State has been improving its repressive machinery for some time. Proof of this is the proliferation of surveillance cameras (as in this case) and the taking of DNA and the coordination with other police bodies at European level (as in the case of Lisa or those hunted and imprisoned for the events at the [Hamburg] G20, which had its last chapter in the Spanish State on October 19 with house searches of comrades in Palencia and Madrid).
These arrests, in the way they have been carried out, mean a change of repressive strategies away from the media's spectacularization of past police operations against anarchist environments (Pandora, Piñata, Pandora II, Ice). The goal is the same, however: intimidation, fear and the consequent paralysis of the struggle. (more…)
Tags: International Solidarity, Madrid, Repression, Spain
Posted in Social Control
Thursday, September 27th, 2018
During the International Week of Solidarity with Anarchist Prisoners more than a dozen ATMs in different neighborhoods of Madrid were sabotaged. The tools for these types of sabotage and simple and easy: hammers and sprays.
We understand solidarity as a continuity of the struggle that has led to our compañerxs being held in the prisons of the State. Anarchist solidarity is much more than just a written word or doing assistance work with the prisoners. This
solidarity is materialized via attacks against the structures of capitalism and State, and seeks to deepen the conflict through direct action.
Down with the walls of the prisons. Long live anarchy.
For the compañerxs hit by Operation Scripta Manent!
For the compañerxs facing repression following the Hamburg G20 summit!
For the Indonesian anarchists prosecuted after May 1st!
For Lisa and all the anarchist prisoners!
Anarchists
Tags: G20, International Week for Anarchist Prisoners, Madrid, Operation Scripta Manent, Sabotage, Spain
Posted in Direct Action
Wednesday, November 23rd, 2016
Month of Solidarity and Fight for Okupation (squatting). From the 19th of November to the 19th of December
Web (Spanish): https://okupamadrid.espivblogs.net/
We understand okupation (squatting) as a tool of fight whose main purpose is far from the idea of shaping recreational places. It is an strategy to fight, theoretically and practically, against property as a key pillar of capitalist democracy. Okupation (squatting) is beyond merely logistic. It brings partnership among comrades, builds affinity networks and solidarity, as well as create meeting points to discuss, share experiences or to make out some self criticism. Okupation is not and end but a mean that allows us to organize ourselves and conspire. It is a tangible expression of the notion of "Do it yourself".
The power has done everything to erase any self-management projects since they prove our capacity to organize ourselves outside the system.
For that purpose, many strategies have been deployed. From harsh repression; raids, arrests, police farce, to "kinder" strategies based on negotiation. Despite superficial differences, the final end of these strategies is the control and domestication (of our ideas and practices) of social movements. (more…)
Tags: Madrid, Spain, Squatting
Posted in Autonomy
Friday, July 1st, 2016
AMENAZA DE DESALOJO EN MADRID
ESOA La Dragona: "Lo que el PP no ha podido hacer en 7 años, lo pretende hacer en 7 meses Ahora Madrid"
Sobre el ESOA La Dragona de Madrid pesa una amenaza de desalojo. El pasado martes convocaron una rueda de prensa para exponer sus posiciones y dar a conocer su plan de lucha.
El ESOA La Dragona comienza a funcionar en el año 2008 tras liberar activistas y jóvenes vecinos del madrileño barrio de La Elipa un edificio abandonado durante más de 25 años perteneciente al cementerio de La Almudena.
El cementerio se encuentra actualmente gestionado por la empresa mixta de servicios funerarios FUNESPAÑA S.A., cuyo principal accionista es la multinacional española Mapfre. El gobierno del Partido Popular otorgó la concesión a esta empresa durante 20 años a cambio de tan solo 100 pesetas, lo que le valió una imputación al entonces alcalde de Madrid, Francisco Álvarez del Manzano, por un delito de prevaricación y malversación de fondos públicos. (more…)
Tags: ESOA La Dragona, Eviction, Madrid, Spain
Posted in Autonomy
Monday, June 27th, 2016
Every heart is a time bomb
On 13th April 2016 the Mossos d'Esquadra in collaboration with the German police raided three places, two of which were private homes and one was the squat Blokes Fantasma.
The repressive operation concluded with the arrest of our comrade, for whom there was a European arrest warrant after Germany accused her of participating in a bank expropriation in the country in 2014.
The comrade has been held in solitary confinement in the prison of Soto del Real (Madrid) since 14th April and has expressed her opposition to being extradited; but judge Angela Murillo of the fourth section of the Audiencia Nacional gave in (as usual) to the request of the German state and on 26th May she ordered our comrade to be extradited within 10 days, after which she'll be put in a maximum security prison.
The prosecutor in Aachen (Germany) is the same one that issued a European arrest warrant on 24th June 2015 against a Dutch anarchist comrade, who was arrested on the Greek-Bulgarian border and imprisoned for two months.
She was then extradited to Cologne, where she spent 4 months in jail, also charged with expropriating a German bank in 2013. She was released on bail on 16th December 2015 and is awaiting trial. (more…)
Tags: Aachen, Bank Robbery, Barcelona, Catalunya, Germany, Madrid, Repression, Soto del Real, Spain
Posted in Prison Struggle
Tuesday, June 14th, 2016
Some days ago, as we had already taken the extradition of the comrade arrested on 13th April for granted, we got news that extradition to Germany would be postponed for a month, a postponement decided by the Audiencia Nacional in response to our lawyer's request as preparation of her marriage documents had begun before her arrest. As soon as the tribunal's decision was made known, the comrade was transferred to the women's prison of Brieva (Avila), from where we thought they were making arrangements for the flight to Germany.
From the prison we received her words, which we are going to publish immediately. At the moment the comrade is being held once again in the prison of Soto del Real (Madrid), in solitary confinement and with the possibility to go to the exercise yard with the other prisoners, at least until 30th June, the day when the delay for the wedding ceremony expires.
In the meantime we are making a callout for solidarity with the comrade in the streets, for support to all imprisoned fighters and for showing deep contempt at the system that keeps them kidnapped in order to defend its miserable order.
Words from the comrade arrested on 13th April:
Comrades, I'm writing from the prison of Brieva, Avila, where I've been just taken after a month and a half of imprisonment in Soto del Real, Madrid, always in FIES and solitary confinement. I wanted to write earlier but communications and information are very slow and restricted, so I haven't done so till now.
I truly appreciate all the gestures and demonstrations of solidarity and support.
(more…)
Tags: Avila, Bank Robbery, Brieva, Germany, Madrid, Soto del Real, Spain
Posted in Prison Struggle
Tuesday, February 23rd, 2016
via contramadriz:
We call for solidarity with our comrades Monica and Francisco, the week
of February 29 to March 6, to inform and make visible their situation!
THEY CAN'T STOP US
On 8, 9 and 10 March 2016 the trial against the anarchists Monica Caballero and Francisco Solar will be held at the National Court in Madrid. The two comrades are more than two years in pre-trial detention.
The charges against them are three of [property] damage, conspiracy and membership of a criminal organization with terrorist aims, which is why the prosecution calls for a sentence of 44 years in prison for each.
Their arrests were the first in a series of anti-terrorist operations in Catalonia, Madrid and Palencia, operating under the name of Operation Pandora and Piñata totaling more than 40 people charged to be part of this alleged "terrorist" organization. (more…)
Tags: Francisco Solar, GAC (coordinated anarchist groups), Madrid, Monica Caballero, Operation Pandora, Operation Piñata, Repression, Spain, Trial
Posted in Prison Struggle
Thursday, November 5th, 2015
If last week we awoke to 9 comrades arrested in Barcelona and Manresa, of which one has to stay in prison [Enrique Costoya Allegue] and the rest have been released pending trial in an extension of Operation Pandora, and the extension of preventive prison to Mónica and Francisco, yesterday, November 4, we awoke to a new beat. In this case, Operation Ice in which they have been arrested 5 companions of the collective Straight Edge Madrid. Again the state hits.
The allegations, belonging to a criminal organization with terrorist aims, damages and apology of terrorism.
The henchmen of the Information Brigade of the National Police say they have found material for making explosives, gunpowder and bomb-making manuals.
It alleges them responsible for the attack with incendiary devices against four bank branches in Madrid as well as other actions in Barcelona. In addition, as has become customary, they are accused of relations with GAC (Grupos Anarquistas Coordinados) – coordinated anarchist groups.
In this case, they have seized documents and propaganda concerning Anarchist groups, for them a confirmation of their coordinated relationship with them, referring specifically to the comrades arrested last March 30 in Operation Piñata.
So it goes in the Spanish state, operation after operation still beating us.
But whatever they do they will not get us to stop fighting.

Freedom for anarchist prisoners!
Solidarity with the repressed!
Innocent or guilty, just anarchists!
Death to the state and long live anarchy!!!!!
via ContraMadriz.
Write to Enrique:
Enrique Costoya Allegue
CP Madrid V Soto del Real
Ctra M-609, km3,5 Módulo 15
28791 Soto del Real (Madrid)
Spain
Tags: Enrique Costoya Allegue, GAC (coordinated anarchist groups), Madrid, Operation Ice, Operation Pandora, Operation Piñata, Repression, Spain, Straight Edge Madrid, Straight-Edge
Posted in Social Control
Monday, October 26th, 2015
Note: A 'concentration' literally means a 'concentration' of comrades; a demo of small number but never insignificant. Solidarity to the two imprisoned compas.
Tuesday, October 27. 9:00 am. C / C Genoa / Farcía Gutierrez. National audience. (Madrid)
On Tuesday October 27 the hearing of two of the arrested in the case of November 2013 is at the National Hearing. After spending nearly two years on remand, (November 13 completes two years), the judges will have to solve if they prolong the two year custody or give bail to those awaiting trial.
Therefore, this Tuesday at 9:00 we will be with them at the gates of the audience, because they are not alone, because we will not slow our solidarity.
They can lock us up but it will not stand.
DEATH TO THE STATE AND LONG LIVE ANARCHY
————–
If they enacted the extension of preventive detention to see you all 20:00 pm in the Plaza de Tirso de Molina

From ContraMadriz
Tags: Francisco Solar, Madrid, Monica Caballero, Spain, Trial
Posted in Prison Struggle
Tuesday, July 7th, 2015
URGENT: 2 SPANISH MEMBERS OF INTERNATIONAL BRIGADE ARRESTED
During this morning, the repressive forces of the Spanish State are carrying out the arrest of the comrades who have been fighting the fascist forces of DAESH (Islamic State) in Rojava. Due to the lack of further information, we ask you for support, solidarity and spreading the message.
The homes of the comrades were searched by investigators of the Provincial Brigade Intelligence Office of the Madrid police. These comrades are two militants of the Partido Marxista-Leninista (Reconstrucción Comunista) that are accused by the police of appearing in the video above. Police said that the two activists came into Syria via Turkey and Germany. They are accused of participating in an armed conflict outside Spain without the permission of the State, of collaborating with a terrorist organization (this is probably the PKK – Kurdish People's Party being described here), use of military weapons and explosive devices, and of seriously undermining Spanish national interests. Reconstrucción Comunista is an organization composed of members of the Communist Youth who have broken with the Partido Comunista de España, PCE. Its founding members initially were active in this organisation before founding their own organization, close to the MLKP (Marksist-Leninist Komünist Partisi – Turkey) in 2009.
WE WANT THE SPANISH MEMBERS OF THE INTERNATIONAL BRIGADE WHO HAVE FOUGHT ISIS TO BE RELEASED WITHOUT CHARGES!
DEFENDING THE CIVIL POPULATION FROM ISIS TERRORIST ATTACKS CAN'T BE PERSECUTED!
FREEDOM FOR THE ANTIFASCIST COMBATANTS!
INTERNATIONALIST SOLIDARITY IS NOT A CRIME!
Info from Marxist-Leninist Party (Reconstrucción Comunista), 6th July 2015, via RHI-SRI – Secours Rouge.
–
Update – International Brigade comrades Paco & Martos released on conditional bail
According to the Spanish mainstream press, National Court judge Eloy Velasco has released Paco and Martos, the two comrades from the International Brigade who fought for six months against Daesh / Islamic State in Rojava. The two comrades have been charged with membership of a 'terrorist organization' along with associated charges and have been released on conditional bail. The conditions of the comrade's bail are weekly reporting to the police, surrendering of their passports and a ban on leaving the country.
Solidarity with Paco and Martos!
The Spanish state must drop the charges!
International Solidarity is not a crime!
Tags: International Brigades (Anti-ISIS/Daesh), Islamic State in Iraq and Syria (ISIS), Kurdistan, Madrid, Marxist-Leninist Party (Reconstrucción Comunista), Marxist-Leninist Party of Turkey (MLKP), People's Defence Units (Y.P.G.), PKK (Kurdish People's Party), Repression, Rojava, Spain, Syria, War
Posted in Social Control
Wednesday, June 3rd, 2015
Greetings comrades and those in affinity. I'd like to send out some words as an anarchist, taking as good the many positions and visions that anarchism can adopt, all equally valid when they are seeking to destroy power, authority and the State.
I think that is the beauty of our ideas and in my opinion all these trajectories can coexist and merge in search of much longed for total liberation. I want to express my hatred, disgust and contempt for everything that concerns the State, power, authority and in particular that instrument of annihilation called prison, which uses isolation as its main weapon.
I have always maintained that anarchists must prepare themselves and be aware that at any moment the day can come when they will have to face prison and, in my opinion, this is logical, because if you try to destroy the State, it will try to arrest you in order to nullify you, paralyze and destroy you. (more…)
Tags: Letter, Madrid, Operation Piñata, Paul Jara "Pol", Soto del Real, Spain
Posted in Prison Struggle
Monday, March 30th, 2015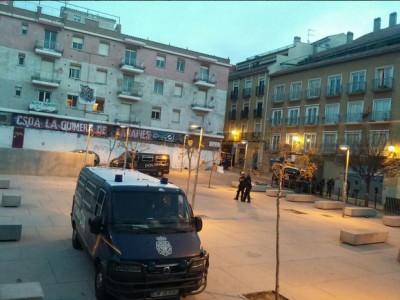 UPDATE: Operation Piñata – Five comrades imprisoned, ten conditionally bailed, address for three of the prisoners
Via squat.net:
This morning in Operation Piñata (following Pandora in December) cops have raided social centres and arrested people (at least 26) in Barcelona, Madrid, Palencia and Granada.
La 13-14 in Madrid announced it was being raided this morning.
CSOA La Redonda in Granada released a communique condemning the raids, which they said occurred without a warrant.
Centro Social (re)Okupado La Quimera in Lavapies, Madrid was evicted. It also stated no warrant was shown after its doors were smashed at 06:30 and added:

"This is just another attack on the anarchist movement with intent to criminalize and victimize our struggle."
Other raided social centres were la Magdalena and La Enredadera de Tetuán.
In solidarity!
On squat.net:
Estado español: Zarpazo represivo, al menos 26 detenciones. Desalojan el CSOA La Quimera

La policia espanyola deté 27 persones en una operació contra col·lectius anarquistes
Tags: Barcelona, Catalunya, Granada, Madrid, Operation Pandora, Operation Piñata, Palencia, Raids, Repression, Spain, Squatting
Posted in Social Control
Friday, January 30th, 2015
Action in solidarity with Mónica, Francisco and the Operation Pandora prisoners
In the night of January 16th, 2015, responding to the call of solidarity with those who have suffered reprisals in "Operation Pandora", we sabotaged 16 ATMs.
Freedom for all!
We want them home now!
Solidarity is our best weapon
– ContraInfo
Tags: ATM, Francisco Solar, Madrid, Monica Caballero, Operation Pandora, Sabotage, Solidarity Action, Spain
Posted in Direct Action