Posts Tagged 'Madrid'
Tuesday, September 22nd, 2020
NUEVA NORMALIDAD: EL TECNOMUNDO
JORNADAS DE REFLEXIÓN Y CRÍTICA CONTRA LA SOCIEDAD TECNOCIENTÍFICA
2 Y 3 DE OCTUBRE. MADRID
– Para descargar el texto para imprimir, pincha aquí.
Viernes 2 de octubre.
18:30h. "Actualización de los casos represivos del estado e internacional. Caso Bankia."
19:00h. Charla: "Herramientas de control social que nos ha traído la COVID-19, la distancia social y el confinamiento."
Local Anarquista Motín C/Matilde Hernández, 47 Vista Alegre u Oporto.
Sábado 3 de octubre.
13:00h. "Presentación de la revista "Libres y Salvajes", n.º 5.
17:00h. "Actualización de casos represivos a nivel estatal e internacional. Operación Arca."
18:00h. Mesa redonda: "La anarquía frente al Tecnomundo: Debate sobre cómo afrontar la situación actual."
EOA La Emboscada, C/Azucena, 67. Tetuán.
– (more…)
Tags: 5G, Anti-technology, Artificial Intelligence (AI), Biotechnology, Contra toda Nocividad (Zine), Coronavirus, Madrid, Nanotechnology, Smart Cities, Solidarity Event, Spain, Surveillance, Technological Singularity
Posted in Eco Struggle
Saturday, September 19th, 2020
+ Amenaza Inminente de Desalojo del Ateneo Libertario de Vallekas
El pasado 16 de septiembre se volvió a dejar constancia de que la solidaridad y la acción directa es la mejor arma de la que disponemos como medio de defensa frente al Estado y la represión. Alrededor de 150 personas de vallekas y otros barrios de la ciudad se plantaron en la puerta del Ateneo para impedir el desalojo del espacio. No se trata solo del desalojo de un espacio, es la defensa de la okupación como herramienta de lucha en la guerra social, como herramienta para crear con nuestras propias manos, al margen de partidos e instituciones, espacios de lucha, encuentro y aprendizaje.
Y lo conseguimos (gracias a todos y a todas). Contamos con un tibio despliegue de periodistas, furgonas de la policía municipal y el comisario del distrito. Debido a la fluencia de solidarias, la secretaria judicial no tuvo más remedio que pasar de largo. Ahora, cualquier día y sin previo aviso, el Ateneo puede ser desalojado.
Más especial resulta esta muestra de solidaridad si tenemos en cuenta como se esta desplegando el discurso represivo sobre vallekas (y los barrios obreros de Madrid en general): criminalización mediática, constante señalamiento de los medios y la clase política por los casos de Covid-19, persecución a las personas migrantes, abusos policiales, videovigilancia, multas y una persecución especialmente intensificada a la okupación en los últimos meses. Todo ello con la retina cargada de imágenes como las colas del hambre, que no cesan, los desahucios y desalojos, que no cesan, los centros de salud, colapsados, los trabajadores hacinados en el metro y esperando que un político les diga si pueden salir a la calle para algo que no sea trabajar para nuestros patrones. Esa es la lógica del estado y el capital para los pobres y los barrios donde vivimos.
La lucha continua por muchas y variadas formas, la solidaridad no tiene límites ni barreras, y va más allá de los días concretos de desalojos: bancos, inmobiliarias, especuladores, policías, medios de co- municación, políticos y empresarios siguen ahí, manejando y gestando las condiciones de nuestra explotación. Llamamos a extender la solidaridad en todas sus formas.
Este domingo convocamos nuevamente jornadas de resistencia en el Ateneo, y seguimos con el llamamiento: el viernes de la semana del desalojo del Ateneo, manifestación a las 20H en vallekas en solidaridad con los espacios okupados. El lugar exacto lo confirmaremos el día del desalojo.
¡Solidaridad con los espacios okupados!
¡Ningún desalojo, ningún desahucio sin respuesta!
¡Okupación, resistencia y acción directa!
ateneolibertariovallekas@riseup.net
ateneolibertariovk.noblogs.org
Tags: Ateneo Libertario de Vallekas, Eviction, Madrid, Repression, Spain
Posted in Autonomy
Thursday, September 10th, 2020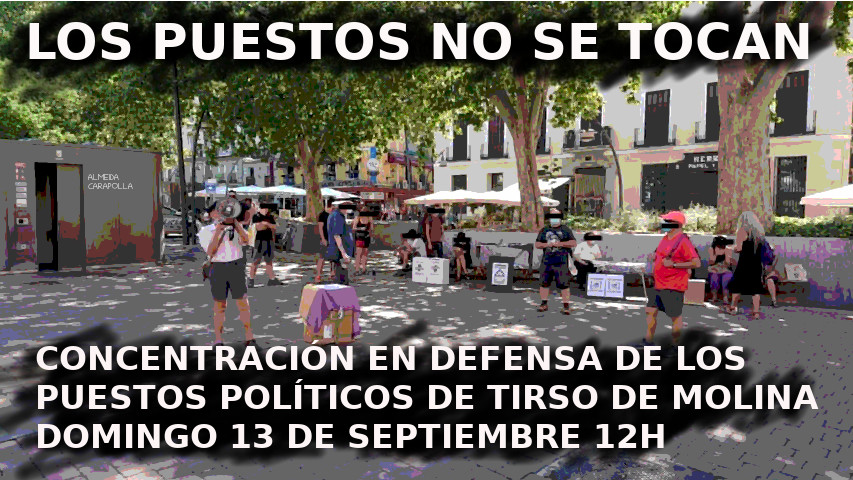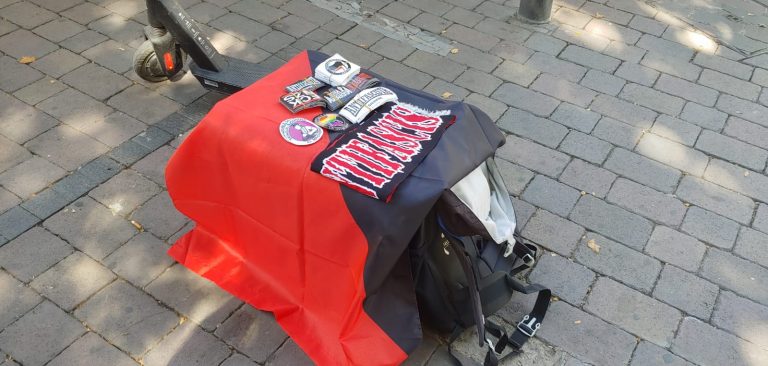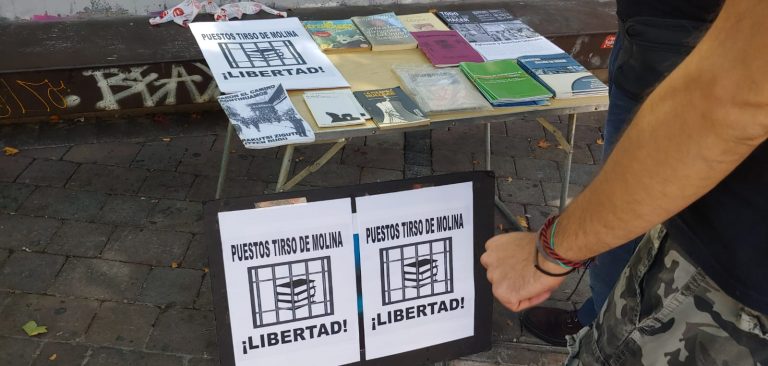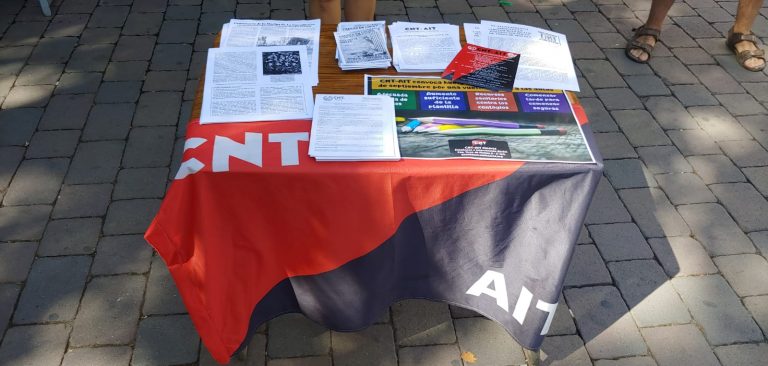 Since last July 19, the date on which the municipal police evicted us from the Tirso de Molina square with the threat of sanctions and seizure of the stands, we have been gathering every Sunday to protest against this arbitrary decision by the City Council. We maintain that it is a political decision rather than a health one, since that day we were complying with the measures imposed by the Community; masks, distance between the stalls, hand disinfection gels, if we add to this that the space in the plaza is wide and the number of stalls that we set up that morning was small, it was not possible that there would be crowds.
In fact, the only official justification we received from the agents was not having a license and the assertion that "El Rastro was closed by municipal order." The reality is that El Rastro continues to be closed as of today since the stalls do not accept the City Council's reform plans that seek to end the emblematic market as we know it and also know that for more than three decades political stands lack licenses. For this reason, we are convinced that the Pandemic is only an excuse to eliminate political positions that spread ideas and free culture, and it is clear that Tirso de Molina and El Rastro are also part of the gentrification plans that we have been suffering in the area in recent years. (more…)
Tags: Coronavirus, El Rastro, Eviction, Madrid, Repression, Spain, Tirso de Molina
Posted in Autonomy
Thursday, September 3rd, 2020
EN | Madrid: Imminent threat of eviction of the Ateneo Libertario de Vallekas
PDF: Panfleto
AMENAZA INMINENTE DE DESALOJO DEL ATENEO LIBERTARIO DE VALLEKAS
A finales de agosto recibíamos una bonita notificación del juzgado en el que se nos comunicaba que el día 16 de septiembre se personaría en el espacio la policía y el cerrajero para proceder al desalojo. Nuestro espacio lleva dos años sirviendo como lugar de actividades, debates, asambleas, gimnasio y punto de encuentro e impulso de diversas iniciativas libertarias.
Tags: Ateneo Libertario de Vallekas, Demo, Eviction, Madrid, Repression, Spain
Posted in Autonomy
Sunday, August 2nd, 2020
EN | Madrid – Series of lectures: "Anarchy in times of pandemic"
[Madrid] Ciclo de charlas: "LA ANARQUÍA EN TIEMPOS DE PANDEMIA"
Viernes 7 de agosto
19:00: Actualización informativa sobre represión al anarquismo en Madrid y a nivel internacional
Breve repaso informativo de los casos represivos contra el anarquismo en Madrid (caso bankia y Operción Arca), la represión en Italia en las diferentes operaciones, Grecia, Chile, Francia… Un breve repaso a la ofensiva del Estado contra el anarquismo.
20:00 "Covid-19: La anarquía en tiempos de pandemia"
La pandemia está acelerando diversos procesos de reajuste y transformación de las condiciones de dominación. Ante este secreto a voces, se potencia un ambiente de pánico global que ha venido incrementándose gracias al cotidiano achicamiento del mundo, de la mano de la velocidad y, la complejidad e intensidad de la interconexión planetaria. (more…)
Tags: Anarchist Gathering, Coronavirus, Gustavo Rodriguez, Madrid, Spain
Posted in Autonomy
Wednesday, July 22nd, 2020
El pasado domingo 19 de julio, como se venía haciendo desde hace décadas, los puestos políticos del Rastro han vuelto a colocar de forma colectiva sus mesas en la plaza de Tirso de Molina en Madrid. A las once de la mañana hemos recibido la visita de unos agentes de la policía municipal, con órdenes de levantar los puestos y sancionarnos si nos negábamos a ello, diciéndonos en primer lugar que carecíamos de licencia y que además el Rastro estaba cerrado por ordenes del Ayuntamiento. Ante nuestras insistentes peticiones de explicaciones dado que no entendemos por que el Ayuntamiento procede ahora de esta manera solicitándonos unas licencias que saben de sobra que no tenemos han respondido llamando a más refuerzos de policía municipal, mientras trataban inútilmente de excusar, aludiendo a reales decretos, la realidad de esta decisión del equipo de gobierno de Almeida: los puestos políticos molestan en la
plaza de Tirso de Molina. Nada han comentado sobre aforos, medidas de seguridad sanitaria, o algo que tuviera que ver con la salud pública como motivo por el que nos impiden montar los puestos: la pandemia es una excusa perfecta para arrebatarnos para siempre nuestro espacio los domingos sin generar demasiada oposición. O eso creen.
Una compañera que se ha negado a recoger su puesto ha sido sancionada y su material requisado, mientras los compañeros del sindicato CNT, que tiene reconocido por el Ayuntamiento el derecho a montar puesto tras un pleito judicial derivado del intento de desalojo de los puestos en el año 1992 han decidido recogerlo en solidaridad con los demás puestos de la plaza. Hay que decir además que los puestos estábamos cumpliendo escrupulosamente la normativa al respecto de las medidas sanitarias: separación de dos metros entre los puestos, geles desinfectantes para las manos, mascarillas, etc. y que no se estaba produciendo en la plaza ningún tipo de aglomeración hasta que ha llegado la policía. (more…)
Tags: Eviction, Madrid, Repression, Spain, Tirso de Molina
Posted in Autonomy
Wednesday, June 17th, 2020
EN | Charity machinery or revolutionary solidarity?
PDF: ¿Maquinaria de la caridad o solidaridad revolucionaria?
"…establecer, fuera de toda política burguesa, la solidaridad de la acción revolucionaria…"
Las redes de apoyo mutuo, las redes vecinales, el voluntariado (o los asalariados), los bancos de alimentos, todo el inmenso aparato surgido en pocas semanas para contener las desastrosas consecuencias económicas y sociales que la pandemia ha provocado han acaparado la atención de muchas, bien sea por altruismo, bien sea por pura y simple necesidad. Y es normal, dado que como en cualquier crisis que atraviese el sistema capitalista, las consecuencias más graves las sufren en mayor medida aquellos que previamente a la crisis estaban ya jodidos, es decir, los y las pobres, en Madrid o en Sebastopol. Los capitalistas siguen una sencilla lógica: socializar las pérdidas, cuando las haya, y acaparar los beneficios, siempre. Es una de las lógicas que atraviesan una sociedad dividida entre explotados y explotadores, entre gobernados y gobernantes. (more…)
Tags: Analysis, Coronavirus, Flyposter, Madrid, Repression, Revolutionary Solidarity, Spain
Posted in Autonomy
Wednesday, June 10th, 2020
PDF: Mundo Covid-19 #3
PDF: Mundo Post Covid-19
Tags: Coronavirus, Madrid, Mundo Covid-19, PDF, Spain, Zine
Posted in Library
Saturday, May 9th, 2020
Weeks after our initial incarceration we are finally being released, little by little. Released, we say, because very few stayed indoors of their own accord. Of course some did, but most had no choice. Media hysteria censured of any alternative, fines, police intimidation and beatings are enough to keep even the most rebellious souls locked up. The monster came out of the mist only to retreat again, no one knowing when it might return to rear its ugly head.
Yet, here in southern Europe, we were not abandoned during quarantine. Not forgotten like the dead. Carrefour kept its shelves stocked. If one persisted toilet paper could be found and hoarded. Amazon never let us down, but at $10,000 a second that's hardly surprising. Orange supplied in times of need, but with society's upsurge in demand on telecommunications an upgrade from this archaic 4G is essential. In a period of hibernation, as they have chosen to label it, big industry enjoyed a midnight feast while the others were forced to sleep. It would appear that Holzmann's 'creative destruction' is exactly what we're witnessing: a good old deep clean, forcing the clutter into the corners to make space for the elegant new furniture.
The scientific bombardment shows little sign of slowing up. The facts, figures, graphs, lofty titles and even heftier wallets continue to force upon us a story that must be accepted. Our ideas, experiences and lives are nothing but fake news in a New Normality where the only trustworthy sources are the party-pledges of our favorite periodicals. Everyone's got an opinion yet to refuse the transcribed plot is to be in support of murder. Numbers skyrocketed, then relaxed, but death continues to rain down, yet all we see on the bleak walk to the shop and back are the faces we once smiled at, averting our gaze.
The life we are now living was drawn from a model that transitioned us from fascism, says the cop, gun pressed gently into the lower back. We're lucky to have had this time together, says the husband, brushing his wife's hair across the bruise beneath her eye. Many countries won't have had the privileges granted to us, announces the director of an NGO, looking out of his window over the Madrid skyline. (more…)
Tags: Analysis, Coronavirus, Madrid, Repression, Spain
Posted in Social Control
Friday, April 17th, 2020
2º de "Madrid Cuarentena City", mediados de abril, publicación por la guerra social en tiempos de estado de alarma.
En este número podéis encontrar:
-Todo va a ir bien.
-Trabajo, producción y consumo. La rueda de la explotación continúa.
-Crónica de la guerra social en estado de alarma.
-La solidaridad como arma.
-La ciudad: caldo de cultivo para enfermedades y control social
-De aquellos fangos estos lodos.
-Llamamiento a extender la okupación: "Okupa la cuarentena" (more…)
Tags: Coronvirus, Madrid, Madrid Cuarentena City, PDF, Spain, Zine
Posted in Library
Saturday, April 11th, 2020
On May 13, 2019, two comrades were arrested in Madrid; their houses and the squatted anarchist space La Emboscada were searched by the police. Since then, they have been awaiting trial under the accusation of terrorism, being investigated in relation to different actions against repressive bodies, banks, political parties and real estate.
We do not care if they are innocent or guilty, if they are criminals or terrorists. We do not want to legitimize their spectacle, nor a judicial and political system that the State has created for it's own interests. The only definition that we recognize, and in which we recognize ourselves in complicity, is that of being anarchists. Because we fight to recover our life and our autonomy against this authoritarian system.
For us, the best way to show solidarity is to continue with the struggles we share, that is why so many companions, beaten daily by the system, are present in them and inspire them. A wink of complicity, be they criminals, terrorists or simply anarchists.
Their cages don't stop us
https://quemandoarcas.noblogs.org
Tags: Flyposter, International Solidarity, La Emboscada, Madrid, Raids, Repression, Spain
Posted in Social Control
Thursday, April 9th, 2020
Translated by Anarchists Worldwide, from Madrid Quarantine City:
"I'm looking out for mine and you're looking out for yours, listen to your watch, its ticking is a murmur"
Confinement has disastrous consequences for one of the most important pillars of our lives: personal relationships. These are being forced to distance themselves, to break down, to replace the contact of the flesh with the isolation of bits and screens. It is not like when someone you love marches through life situations to some remote place, where you are certain that the bond will surely be dusty but intact on return, or that it will live on in memory; but there you have the support of all the other relationships on which we rely in our daily lives. This quarantine situation has forcibly interrupted the course of our social interactions overnight, confining our lives to the isolation module. Some people are lucky, and at least (at least because it doesn't fill the gap left by estranged ties) they can get through the confinement with people they love and on whom they can rely on to support each other, but what about the people who live alone? Who will hear their cries for help when anxiety-ridden suicide knocks on their door? What about the women who have their own jailer at home? It is said that the police will be on the lookout for calls about gender-based violence, but we cannot expect the police to solve these problems, even less so when we know that most of the time they contribute to the humiliation and vexation of the abused woman. Besides, will you really be able to pick up the phone when you're locked up with someone who dominates you, will you be able to go outside? The femicide figures show us that the answer is no. And what about those who don't have a place to live? The ones the military will "help" and "relocate". We shouldn't trust anything the army says they'll do when we're not looking because we're locked up at home.
And to add another rock to the rucksack, social panic has not only caused individual people to break their bonds, but to try to break those who try to resist. You scold from the balconies for walking together in the street, for shaking hands, hugging, kissing… Collective anxiety on the basis of "I'm staying at home and you're taking it as a joke". But talking about whatsapp, skype, social networks and other alternatives provided by technology is not even remotely valid to escape from the swamp of anxiety and madness in which we have been sunk. You need contact, you need to walk with someone without thinking that a patrol car is going to give you a ticket for keeping friendship ties and not falling into hysteria.
What will happen when we can go back out on the street and we don't know how to relate in a group, face to face in the square? When social anxiety is widespread and we have to unite and fight against the shitty world we live in?
Let's not let social panic and state control destroy the most valuable things we have, let's strengthen our bonds to be unbreakable chains that sweep away domination.
Tags: Analysis, Anti-Psychiatry, Anti-technology, Coronavirus, Isolation, Madrid, Repression, Spain
Posted in Cognitive Liberty
Tuesday, April 7th, 2020
Translated by Enough 14 from Madrid Cuarentena City:
We've been in a state of emergency for over a week now. The destructive capacity of the virus is no longer in question. But we would like to make some notes on its non-clinical consequences and on its origins.
Whether the COVID-19 virus came about because of a bat or an American attempt that has gotten out of hand, to disable the Chinese economy, we think is irrelevant now. This virus, like others before in history that massacred entire populations in the Amazon, Mesoamerica, Africa and Oceania, is a biological phenomenon. But the context in which it was born, how it spreads and how it is managed are social issues. This virus is the result of a system that commodifies every process, object, relationship or living being on earth. Spread rapidly across the macro-concentration of labour and the consumer corpus of cities, which feeds itself from agro-industry and intensive livestock farming. A flow of human assets (5 billion people fly around the planet each year) at frenetic speeds, reflected in 200 characters and 5000 likes.
It is precisely this effort to artificialize everything, even our emotions, everything being driven by profit, seeing the world through a screen, allowing our mind to be colonized by "efficiency", which has led to a gradual loss of the "human", of the "living". Facilitating such extreme measures, in which there are only two reasons to get out of the house (work and consume) have entered in a way that is not exaggeratedly traumatic. At the same time, it is proposed to us as a way to escape the same technophile dynamics that have led us to disaster. If we add fear to it, the rule of fear, we end up losing our way and reinterpret concepts like responsibility or solidarity.
(more…)
Tags: Coronavirus, International Solidarity, Madrid, Repression, Spain, Technological Singularity
Posted in Social Control
Sunday, March 29th, 2020
PDF: MANIFIESTO HUELGA
Salud compañerxs!
Esperamos que todxs os encontréis lo mejor posible, dada la nueva situación de "pandemia" y Estado de Alarma, con el siguiente recorte de libertades, que nos está tocando vivir.
Por aquí hemos estado dándole vueltas a cómo podemos responder de algún modo ante esta nueva coyuntura política, económica y social que afecta a todo el mundo en su globalidad.
Y nos ha parecido acertado, para empezar, sumarnos a la convocatoria internacional de huelga de alquileres e hipotecas, convocada para el día 1 de Abril. (more…)
Tags: Coronavirus, Madrid, Rent Strike, Spain
Posted in Autonomy
Saturday, March 28th, 2020
Sale a la luz el primer número de una nueva publicación anarquista en Madrid, en tiempos de Estado de Alarma, por la extensión de la guerra social.
Contenido:
-Hacia aguas desconocidas
-Que vuelvan las huelasgas. Que proliferen las okupaciones. Que lleguen los saqueos
-Sobre el ataque a nuestros lazos
-Crónica de motines, fugas y sucesos en las cárceles y CIES a causa de la crisis del coronavirus
-¿Volver a dónde? ¿Volver a qué?
Hacia aguas desconocidas
Llevamos más de una semana en estado de emergencia. La capacidad destructiva del virus no es algo ya cuestionable. Pero nos gustaría
hacer unos apuntes sobre sus consecuencias no clínicas y sobres sus orígenes.
(more…)
Tags: Coronavirus, Madrid, Repression, Spain, Zine
Posted in Library