Posts Tagged 'Makassar City'
Thursday, September 10th, 2020
Women and fishermen from Kondingareng Island, Makassar City and NGO activists from ASP and KIARA blockaded the Boskalis ship Queen of the Netherlands in Galesong-Makassar waters. The action was carried out to stop the marine sand mining activities by the Boskalis ship which is damaging the environment and reducing the income of fishermen. The impact of mining activity has also created social conflict among the traditional fishermen.
Boskalis, the Indonesian state and its officials have been waging a campaign of terror against fishermen who oppose mining. Last August, Indonesian police sank 3 of the fishermen's boats and criminalized 3 of them for fighting against the mining.
The fishermen struggle autonomously and use direct action on many occasions such as intercepting mining boats and forcibly stopping mining activities.
Solidarity with the fishermen of Kondingareng Island!
via Anarchists in so-called Melbourne.
Tags: Blockade, Boksalis (Dutch Company), Ecological Destruction, Indonesia, Kondingareng Island, Makassar, Makassar City, Mining, Netherlands
Posted in Eco Struggle
Sunday, July 19th, 2020
As anarchists we believe, direct action and insurrection is the soul of anarchism itself, while prison and humiliation are the consequences of every direct action we take.
If humiliation is the answer to every direct action, then pacifism is the answer right? Unfortunately not, giving up on pacifism means letting our necks stepped and getting stepped again!
Our comrades in Tangerang and Makassar have decided to fight back against state oppression and must now be locked up in prison, and this is our duty to ensure they are not alone! We did a little decoration in an unused building a few days ago as our solidarity, let's make and spread solidarity!
Our hugs and love for Makassar and Tangerang anarchist prisoners. Fire for prison! No anarchy without abolition of prisons and police!
Tulungagung Anarchist Individual Network
via Palang Hitam Indonesia / Anarchist Black Cross Indonesia
Free All Anarchist Prisoners
Tags: Graffiti, Indonesia, International Solidarity, Makassar, Makassar City, Solidarity Action, Tangerang, Tulungagung
Posted in Prison Struggle
Thursday, December 12th, 2019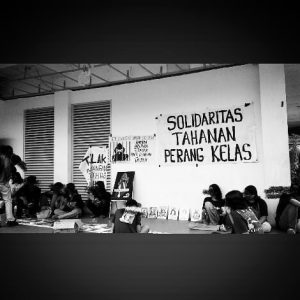 Surrendering to state domination is the death of living for humans, contempt in the face of this is freedom and independence.
Free choice to continue to survive and assemble all forms of power to keep burning and ready to burn all threats, to fight all forms of dictation of power, oppression and all forms of capitalism domination.
There is only one war, namely CLASS WAR !!!
CLASS WAR – FIGHTING SOLIDARITY

Solidarity is a Weapon
Palanghitam Anarkis / ABC Indonesia | More info: 1, 2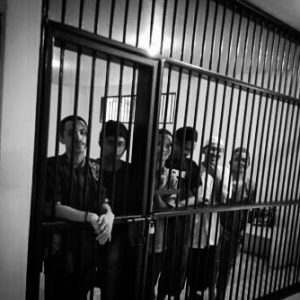 Tags: ABC Indonesia, Indonesia, International Solidarity, Makassar, Makassar City
Posted in Prison Struggle
Sunday, September 14th, 2014
Updates: On the poster written about Pandang Raya inhabitants who are now living in the shelter, they need help. It can be read on the poster. The slogan said "Pandang Raya Haven't Lost!" They need donation such as money, medicines, clothes, bed, etc. Contact person is written on the poster.
VIDEOS:
This is the link of previous battle years ago:
http://www.youtube.com/watch?v=Fv15BLM-lCU
This is the link of the recent battle:
http://www.frequency.com/video/tolak-digusur-warga-makassar-bentrok/192969033?cid=5-191
This is the videos covering all of the demolition
https://www.facebook.com/video.php?v=10203145756220330
Never forget, Never Forgive!
"And as the damned soul rises, so does the fire!"
More updates soon.
Tags: Flyposter, Flyposters, Indonesia, Makassar, Makassar City, Padang Raya, Pandang Raya
Posted in Autonomy
Friday, September 12th, 2014
FR: Makassar (Indonésie): l'expulsion du quartier squatté de Pandang Raya n'aura pas eu lieu sans résistance…
NEWS:
Pandang Raya (Makassar) has been demolished to the ground. Friday 12 September, at 5 o'clock in the morning. Pandang Raya inhabitants and other rebels, build a barricade across the street with wood, tires, and rocks. At 6am, there's appearance of pigs without uniform watching the blockade. Two of them watching the blockade close by. About an hour more, police vehicles filled with 600 pigs in uniform, including 365 the notorious Brimob (special police–my ass). Not long after that the battle began: Pandang Raya combatants throw molotovs, rocks, and other traditional weapon (such as arrows). The resistance were responded by huge blows of water canons and after that, large numbers of gangsters, who claimed that they got orders from Court of Law tried to entered the fights but were denied by the pigs because they don't carry their ID's. At 8.30 the pigs have successfully break the resistance. Other combatants have successfully fled from police arrest. But 9 person were arrested. Afterwards, several years of organizing side by side with anti-authoritarians, leftist, and other organisations; creating library and meeting place; in which Pandang Raya have already become their own 'Cinema Paradiso', have been destroyed to the ground entirely using big excavators and other heavy machines. The last stand and they were lost.
Ps: Rich people and their politicians, and also with their dogs or pigs in uniform, wanted Pandang Raya to be developed for their business purposes due to its strategic geographical location in the city.
In need of solidarity! Not money. Not banners.
But full frontal attacks of every political institution abroad and every fucking developer.
Let the fire rhyme!
The last stand and another battle is lost?
After Karawang and then Pandang Raya, which is next? Wait and see? More formal meetings? More worthless gossips and dead-end ideological subdivisions. An act of war is not negotiation. And how useless the so-called movement when this sort of thing comes.
More updates soon.
Tags: Goman Waisa, Indonesia, Makassar, Makassar City, Padang Raya, Pandang Raya, Squatting, Village Struggle
Posted in Social Control
Thursday, March 29th, 2012


Rough translation from kokemi:
Wednesday 21 March 2012 – The people's anger exploded yesterday in Makassar. People who are members of the Makassar People's Movement Makassar made an action of denial in front of the UNHAS Campus gate as a part of a series of fuel price hike rejection actions in some areas of Indonesia.
Dozens of people were boycotting the gas stations and they handed out gasoline free of charge to users of motorcycles and to public transport drivers. LPG delivery vehicles were looted and gasoline distributed free of charge to users of the road. Demonstrators also looted filling stations, looting and burning of coca-cola machines as well as the official Pertamina fuel tank transporters.
Action was stopped by campus bureaucrats. But before the actions are stopped the demonstrators are face to face with police equipped with shields, water canon and tear gas. It ended with the arrest of two protesters.
The people react with stones in hand, and angry hearts. Some areas also perform the same reaction, and pray that this is not the conclusion.
"We are angry," said graffiti on walls and LPG vehicles from the action. Well, do not let all the anger and rage be mediated and represented, by whoever.
–
Anti-Authoritarian Flyer from Manado
For us, protesting the increase in fuel prices is merely one partial action that is not essential. For us, being trapped in the logic of the economy and political issues is a shallow analysis of the commodification of life under capitalism and the State. Whether the price of fuel rises or not, it won't change the fact that each of us remain consumers whose only role is to buy. Each of us remain low-cost workers whose role is to produce the commodities that we will buy. Each of us remain zombies who don't have anything other than the obligation to continue being ruled, oppressed, tortured, consumed and to accumulate all the things we don't need.
The deprivation of lives, their dreams and loves, is too simple if merely contained in economic issues such as rising fuel prices. We are too angry to understand that it is far more important for us to define and reclaim our lives, than simply following the glamour party of false opposition: to protest or support raising the price of fuel.
Demand more! This is an attempt for the possible to break out of impossibility, and the hypocrisy and shallowness of life at present.
And what do we want?
Total destruction of society and its entire infrastructure today. The simultaneous collapse of the State and Capital. The collapse of the political and economic tyranny that is the torturer and ties that bind society: civilisation.
This is the main reason behind the distribution of this flyer, together with peaceful demonstrations taking place in almost every city in Indonesia. Our involvement is to interrupt Capital and the State in various ways, including the moments that these demonstrations are taking place, because we consider a good demonstration to be one that clearly shows the face of recuperation.
And what do we demand?
Find your anger and let it flow in the streets. Destroy all property that you consider deserves to be destroyed. Directly attack Capital and the State, although there is no future for them.
*URBAN INSURRECTION FOR THE POSSIBILITY OF A LIFE THAT IS PRESENTLY IMPOSSIBLE*
*(This flyer was distributed during a protest against increasing fuel prices that was held in Manado, 27 March 2012, as a statement of the position of several anarchists that consciously joined the action but refused to submit to the propaganda and sensationalism of the Left and the reformists). *
(Thanks to the translator. Original from Negasi.)
From disaccords.wordpress.com
Tags: Fuel Prices, Indonesia, Makassar City, Riots
Posted in Direct Action
Monday, February 13th, 2012
From Negasi (Indonesian counter-info website):
"Better to burn out than go out slowly.
Destruction of property is not violence. Violence is when you do it against an individual, and that's not what we do. After all, those properties are produced by workers paid little."
Hidayat, social combatant from Makassar, in prison after being caught over the action of solidarity to the insurgents occupying the Bima Sape harbor where eight people were shot dead by police.
Tags: Bima, Hidayat, Indonesia, Letter, Makassar, Makassar City, Repression
Posted in Prison Struggle
Tuesday, February 7th, 2012
News via Kokemi: Update – Comrade Hidayat is back inside the prison…
This news story is one of the horrors of life in prison, concerning being held in prisons that are contained therein inside the prison. Our comrade Hidayat being undertaken at this time, he was isolated in a room captured, called "Red cells", the prison mini small-sized 2m x 1m, dark and dirty mental intimidation and terror of the state apparatus.
From the reports, comrade Hidayat was held captive for five days in jail also smaller than this size. Besides he reports he often gets intimidation and beatings, Comrade Hidayat also never received the package of food and beverages that he was sent. And our hearts are very painful, access to meet with him is limited. None was allowed to meet. According to information passed along, comrade Hidayat always is targeted by some extortion scenarios which are done by the prison apparatus and the prisoners who are also a finger in the hands of prison officials. (more…)
Tags: Bima, Hidayat, Indonesia, Makassar, Makassar City, Repression
Posted in Prison Struggle
Thursday, January 12th, 2012
From kokemi. Rough automatic translation follows. Solidarity with the struggle for freedom in Indonesia. Liberty for Hidayat!
Kamerad Hidayat pagi tadi dipindahkan ke rumah tahanan
Kurang lebih dua minggu sudah menurut hitungan kami, kamerad Hidayat mendekam di balik terali besi milik institusi yang paling brutal dimuka bumi ini.
Pagi tadi sekitar pukul 10.00 WITA (tanggal 12 januari 2012) Pihak Polrestabes Makassar telah memindahkan Kamerad Hidayat di Rumah Tahanan di jalan Sultan Alauddin, Setelah sebelumnya dipenjarakan di kantor Polrestabes Makassar guna menjalani penyidikan dan pendalaman kasus tersebut. (more…)
Tags: Bima, Hidayat, Indonesia, Makassar City, Repression
Posted in Prison Struggle
Friday, January 6th, 2012
From negasi-negasi & kokemi via hidup biasa:
Makassar Police Headquarters have finally charged our comrade Hidayat, who is accused of damaging Police outposts during a demonstration supporting the people of Bima. According to the police, Hidayat's status has been changed to 'accused' because they have sufficiently strong evidence to justify this higher level. They also claim to have video and photo evidence.
Hidayat participated in a solidarity action that took place in Makassar on 26th December 2011 against the brutal police clearance of the anti-mining protest in Bima, where thousands of people had occupied Sape port. From what we have managed to find out, he was arrested secretively in the crowds between Jalan Gunung Bawakaraeng and Karebosi Link. (more…)
Tags: Bima, Hidayat, Indonesia, Makassar City, Repression
Posted in Prison Struggle
Tuesday, November 30th, 2010
29 December 2010
From corporate media:
"A group of men threw Molotov cocktails at a Makassar Police post early Monday morning, one day after a local Pizza Hut restaurant was attacked.
The post was not occupied during the attack and no casualties were reported."
Tags: Attack, Indonesia, Makassar City, Molotovs
Posted in Direct Action
Sunday, November 28th, 2010
28 November 2010
"More than a dozen individuals in 'motorcycle gang' threw Molotov cocktails on Pizza Hut restaurant of Pettarani branch in city of Makassar. The action was conducted 04.30 in the morning. Door and windows were smashed and the Molotovs caused an enormous fire inside. The perpetrators also left an anti-capitalist message on the front of the door. Greetings of the coming insurrection."
Tags: Attack, Indonesia, Makassar City, Molotovs, Pizza Hut
Posted in Direct Action
Monday, February 8th, 2010
28 January 2010
More than 50 youth with black hoodies attacked and destroyed PTPN central office in Makassar City, South Sulawesi. The action was conducted during the 100 days anniversary of SBY-Boediono's corrupt government that was celebrated by large number of mass demonstration. Police with motorbikes come to chase the "black-hooded almamater" and no one got arrested. No communiques and statement was made by the group. PTPN (state-owned plantation companies) is a notorious institution since the Soeharto New-Order regime up to now. An institution who are responsible for taking over peasants land, destroying environment, and selling forest and land
for private business. For more comprehensive and one example of PTPN case written in english click to this link.
Tags: Black Bloc, Indonesia, Makassar City, Militant Youth, PTPN
Posted in Direct Action