Posts Tagged 'Makassar'
Wednesday, February 19th, 2020
February 19th, 2020. Makassar, Indonesia.
According to the court's decision, our comrades (Supriadi, Anto, Haerul, Alif, Agus, and Faruddin) were sentenced to prison for 1 year and 6 months, they were charged under art. 506 About Actions Against the law and art. 170 regarding acts of violence/destruction carried out jointly.
*Note: On September 26, They were arrested during the nationwide protests in Indonesia in September 2019. Insurrectionary anarchists in Makassar claimed responsibility for blocking a highway and attacking state vehicles.
Don't let them feel alone, solidarity never stop, anywhere!
Smash the state!
Tags: Indonesia, International Solidarity, Makassar, Trial
Posted in Prison Struggle
Thursday, December 12th, 2019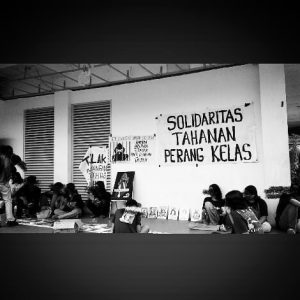 Surrendering to state domination is the death of living for humans, contempt in the face of this is freedom and independence.
Free choice to continue to survive and assemble all forms of power to keep burning and ready to burn all threats, to fight all forms of dictation of power, oppression and all forms of capitalism domination.
There is only one war, namely CLASS WAR !!!
CLASS WAR – FIGHTING SOLIDARITY

Solidarity is a Weapon
Palanghitam Anarkis / ABC Indonesia | More info: 1, 2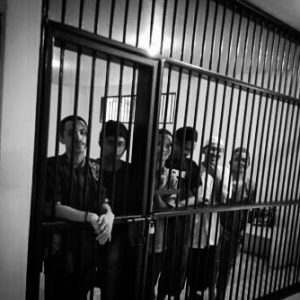 Tags: ABC Indonesia, Indonesia, International Solidarity, Makassar, Makassar City
Posted in Prison Struggle
Wednesday, October 30th, 2019
via anarchistsworldwide:

TEGAKLAH SEPERTI DI AWAL!
Kepada kawan yang masih setia di jalan pedang pemberontakan, terimalah cinta semesta di dada kalian. Jumlah kami adalah sejumlah semut yang ada di bumi manusia. Akan terus ada, meski berkali-kali dilibas senjata.
Haerul, Agus, Faruddin and Alif adalah para anarkis yang ditangkap karena terlibat dalam aksi pembakaran mobil plat merah (mobil negara) di makassar, Sulawesi Selatan beberapa saat lalu.
Haerul, Agus, Faruddin and Alif adalah para anarkis yang ditangkap karena terlibat dalam aksi pembakaran mobil plat merah (mobil negara) di makassar, Sulawesi Selatan beberapa saat lalu.

solidaritas sampai semuanya bebas!!!
******
ASKED AS IN THE BEGINNING!
To friends who are still loyal in the way of the sword of rebellion, accept universal love in your bosom. Our number is the number of ants that exist on human earth. It will continue to exist, even though there are many weapons.
Haerul, Agus, Faruddin and Alif were anarchists who were arrested for involvement in the burning of a red plate car (a state car) in Makassar, South Sulawesi some time ago.

solidarity until everything is free!!!
Tags: Indonesia, International Solidarity, Makassar, Repression, Sulawesi
Posted in Social Control
Thursday, September 26th, 2019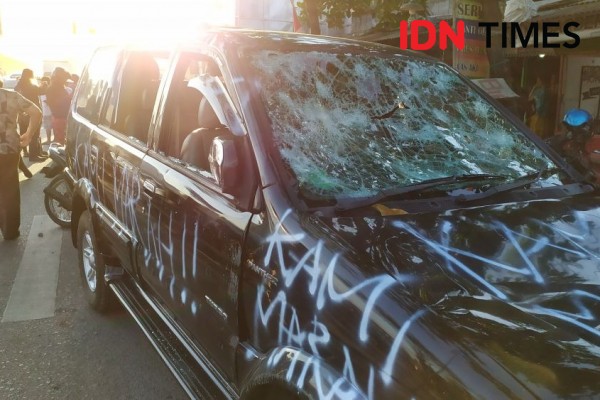 A demonstration outside Hasanuddin University (Unhas) I, Makassar Perintis Independence Street, took place as a series of demonstrations of community and student alliances of various regions. During the end of the demo today, comrades stopped two official state cars, brought the drivers out and trashed the vehicles. According to corporate media 19 people were arrested in the nearby area in a police round-up.
At September, 26, 2019, two cars of the Forestry Service South-Sulawesi Province (Makassar-Indonesia) had been damaged, by breaking all the windshields and then turning it in the middle of the road.
Here is the communique from that action:
1. We are angry because the country along with the Army and Police violently chased, evicted, fired, and killed our brothers in Papua, Kulon Progo, Urut Sewu, Bara barayya and Polongbangkeng.
2. We are angry because the government continues to attack us with torturous rules.
3. We are angry because the capitalists continually try to destroy our lives, destroy nature, burn forests, heap the oceans, destroy mountains, displace the living space of each species, build artificial buildings, to control what we should and should not consume.
4. We are angry because the media are preaching everything that is not important, eliminating cases of murder until the slaughter and continuing to work with the authorities to destroy the struggle of our combatants who fight for a better life.
5. There is no compromise for rulers and capitalists.
Below are link/news about that action:
https://nasional.tempo.co/read/1252801/unjuk-rasa-di-makassar-rusuh-massa-merusak-mobil-pelat-merah/full&view=ok
https://sulsel.idntimes.com/news/sulsel/aanpranata/unjuk-rasa-di-depan-unhas-dua-mobil-dinas-dirusak/full
Tags: Demo, Indonesia, Makassar, Riots, Sabotage, Sulawesi
Posted in Direct Action
Thursday, August 22nd, 2019
Makassar, Indonesia, August 21st, 2019: Dozens of Makassar citizens took direct action (blocking the road) in front of the Hasanuddin University to convey solidarity with West Papuans who received racist acts and violence from the military, police and ultra-nationalist civil militias.
As for what is written on the banner:
MAKASSAR CITIZENS SOLIDARITY FOR PAPUA

1. STOP TORTURING PAPUANS RIGHT NOW!
2. PAPUANS ARE FREE TO CHOOSE THEIR OWN WAY (TO FREEDOM)
3. TNI (Indonesian Armed Forces), POLRI (Indonesian Police Force) AND FASCIST CIVIL MILITIAS, STOP YOUR RACIST ACTS, YOU DICK SHIT!
via Anarchists Worldwide.
Tags: Demo, Indonesia, International Solidarity, Makassar, Police Brutality, Racism, Repression, Solidarity Action, West Papua, West Papua Independence
Posted in Direct Action
Sunday, October 14th, 2018
COMMUNIQUE
The State and Capitalism are an inseparable unit of criminals and destroyers. Many bigoted leaders are gathering to consolidate their crimes. Eventually there will be a situation where the workers, the fishermen, the urban poor and all sectors of society who are subjected to oppression will reach a boiling point of anger and disgust.
Capitalism, which is a social relation, has turned the masses of humanity into passive human beings, limiting themselves only to the creation of profit. The purpose of work is to keep the world revolving around society being divided into two classes: the Bourgeoisie and the Proletariat, or more simply put- the oppressor and the oppressed. (more…)
Tags: Bali, Demo, Indonesia, International Monetary Fund (IMF), Makassar, World Bank Group
Posted in Direct Action
Sunday, September 14th, 2014
Updates: On the poster written about Pandang Raya inhabitants who are now living in the shelter, they need help. It can be read on the poster. The slogan said "Pandang Raya Haven't Lost!" They need donation such as money, medicines, clothes, bed, etc. Contact person is written on the poster.
VIDEOS:
This is the link of previous battle years ago:
http://www.youtube.com/watch?v=Fv15BLM-lCU
This is the link of the recent battle:
http://www.frequency.com/video/tolak-digusur-warga-makassar-bentrok/192969033?cid=5-191
This is the videos covering all of the demolition
https://www.facebook.com/video.php?v=10203145756220330
Never forget, Never Forgive!
"And as the damned soul rises, so does the fire!"
More updates soon.
Tags: Flyposter, Flyposters, Indonesia, Makassar, Makassar City, Padang Raya, Pandang Raya
Posted in Autonomy
Friday, September 12th, 2014
FR: Makassar (Indonésie): l'expulsion du quartier squatté de Pandang Raya n'aura pas eu lieu sans résistance…
NEWS:
Pandang Raya (Makassar) has been demolished to the ground. Friday 12 September, at 5 o'clock in the morning. Pandang Raya inhabitants and other rebels, build a barricade across the street with wood, tires, and rocks. At 6am, there's appearance of pigs without uniform watching the blockade. Two of them watching the blockade close by. About an hour more, police vehicles filled with 600 pigs in uniform, including 365 the notorious Brimob (special police–my ass). Not long after that the battle began: Pandang Raya combatants throw molotovs, rocks, and other traditional weapon (such as arrows). The resistance were responded by huge blows of water canons and after that, large numbers of gangsters, who claimed that they got orders from Court of Law tried to entered the fights but were denied by the pigs because they don't carry their ID's. At 8.30 the pigs have successfully break the resistance. Other combatants have successfully fled from police arrest. But 9 person were arrested. Afterwards, several years of organizing side by side with anti-authoritarians, leftist, and other organisations; creating library and meeting place; in which Pandang Raya have already become their own 'Cinema Paradiso', have been destroyed to the ground entirely using big excavators and other heavy machines. The last stand and they were lost.
Ps: Rich people and their politicians, and also with their dogs or pigs in uniform, wanted Pandang Raya to be developed for their business purposes due to its strategic geographical location in the city.
In need of solidarity! Not money. Not banners.
But full frontal attacks of every political institution abroad and every fucking developer.
Let the fire rhyme!
The last stand and another battle is lost?
After Karawang and then Pandang Raya, which is next? Wait and see? More formal meetings? More worthless gossips and dead-end ideological subdivisions. An act of war is not negotiation. And how useless the so-called movement when this sort of thing comes.
More updates soon.
Tags: Goman Waisa, Indonesia, Makassar, Makassar City, Padang Raya, Pandang Raya, Squatting, Village Struggle
Posted in Social Control
Thursday, January 31st, 2013
(KOMUNIKE VERSI BAHASA INDONESIA)
Perjuangan kami tidak dapat dibatasi dalam terma-terma peradaban. Kami tak dapat dimengerti. Kami liar dan merupakan musuh peradaban. Tidak hanya negara dan kapital, tapi seluruh peradaban: kami menentang seluruhnya.
Kami adalah mereka yang dengan bangga menanggalkan kedamaian sosial, melangkah keluar dari zona-zona nyaman kami dan melakukan serangan terhadap apa yang kami benci. Kami mendeklarasikan perang terhadap peradaban dan seluruh propertinya dan bergabung dalam perang gerilya urban internasional bersama saudara-saudari seperjuangan kami di Federasi Informal Anarkis dan Front Revolusioner Internasional.
Kami mengklaim dan mengambil tanggung jawab atas aksi pembakaran terhadap mobil dan rumah Wakil Sekretaris DPD Demokrat (partai pemenang pemilu 2009) di Sumatera Selatan, aksi pembakaran terhadap 4 mesin ATM di Makassar, dan serangan terhadap dua gardu listrik di Jakarta selama seminggu terakhir.
Aksi-aksi kami dipersembahkan sebagai solidaritas terhadap perjuangan petani Ogan Kemilir Ilir, kepada pemberontak di Papua: Buktar Tabuni dan Dominikus Sorabut yang ditahan oleh pemerintah Indonesia, kepada seluruh perjuangan anti tambang yang tersebar dan mekar di sepanjang pesisir selatan Jawa, dan kepada masyarakat adat di Kalimantan, Mentawai, Jambi dan Papua.
Kami juga mengirimkan salam revolusioner teruntuk Tukijo: petani pemberani dan terhormat dari Kulon Progo, teruntuk tahanan-tahanan kasus NO TAV, tahanan-tahanan ELF di Amerika Serikat, teruntuk Marco Camenisch dan Gabriel Pombo da Silva, juga teruntuk para tahanan anarkis yang tidak pernah mundur dan tunduk di bawah hukum.
Juga kepada organisasi-organisasi revolusioner: Konspirasi Sel-sel Api (KSA) dan Perjuangan Revolusioner (PR) di Yunani, seluruh seksi dan fraksi dari Front Pembebasan Bumi (FPB) dan Front Pembebasan Hewan (FPH) di seluruh dunia, Individu-individu Yang Liar (IYL) di Meksiko, dan seluruh sel Federasi Informal Anarkis/Front Revolusioner Internasional (FIA/FRI).
Kepada para kamerad Konspirasi Internasional untuk Balas Dendam: mari bakar habis kemeleratan dan perbudakan!
Hingga pada keruntuhan peradaban!
Hingga pada kebebasan utuh dan kehidupan liar!
Front Pembebasan Bumi
Fraksi Indonesia

(ENGLISH VERSION COMMUNIQUE)
Our struggle can't be limited under civilization terms. We out of it. We are wild and we are enemies of civilization. Not only the state and capital (in old terms of anarchism), but all the civilization: we are against it.
We are the ones who proudly throw out the social peace, walk out from our comfort zones and carried an attack actions against what we hate. We are declaring war against civilization and it's property and join in the international urban guerrilla warfare with all our brothers and sisters in Informal Anarchist Federation and International Revolutionary Front.
We claim and take responsibility for arsons against car and shop belonging to the Vice Secretary of Demokrat in South Sumatera (winning party of 2009 general election), arsons against 4 ATMs in Makassar, and actions against two electrical substations during last week in Jakarta.
Our actions are dedicated to the farmers struggle in Ogan Kemilir Ilir, to the rebels in Papua: Buktar Tabuni and Dominikus Sorabut who are imprisoned by the Indonesian State, to the struggles against mining which spread and blossomed in south coast of Java, and to the natives in Kalimantan, Mentawai, Jambi and Papua.
We also want to send our revolutionary greetings to Tukijo: brave and dignified farmer from Kulon Progo, to the NO TAV prisoners in Italia, to the ELF prisoners in USA, to Marco Camenisch and Gabriel Pombo da Silva and to all anarchist prisoners who never step down and bow under the law.
Also to revolutionary organizations: Conspiracy of Cells of Fire (CCF) and Epasnatatikos Agonas (EA) in Greece, all the sections and fractions of Earth Liberation Front (ELF) and Animal Liberation Front (ALF) around the world, to Individualidades Tendiendo a lo Salvaje (ITS) in Mexico and to all cells of Informal Anarchist Federation/International Revolutionary Front (FAI/IRF).

To our comrades of International Conspiracy for Revenge: let's burn down this misery and slavery!
Till the collapse of this civilization!
Till to the total freedom and wild life!

Earth Liberation Front
Indonesian Fraction
Tags: ALF, Arson, ATM Burned, Buktar Tabuni, Conspiracy of Cells of Fire, Dominikus Sorabut, Earth Liberation Front, ELF- Indonesian Fraction, Gabriel Pombo da Silva, Indigenous Struggle, Individualists Tending towards the Wild (ITS), Indonesia, Informal Anarchist Federation (FAI), International Conspiracy for Revenge, International Revolutionary Front, International Solidarity, Jakarta, Kulon Progo, Makassar, Marco Camenisch, Ogan Kemilir Ilir, Revolutionary Struggle, Sabotage, TAV, Tukijo
Posted in Direct Action
Tuesday, January 15th, 2013
Last night (14 January), around 02.00 am, three ATMs of Bank Mandiri were attacked with incendiary devices. The walk-in units had their doors and windows blown out by the force of the explosion. One of the machines was totally destroyed, while another machine was also partially destroyed.
Tags: Arson, ATM Burned, Bank Mandiri, Indonesia, Makassar
Posted in Direct Action
Tuesday, March 6th, 2012
Dear comrades,
From the bottom of my heart and an ardent yearning to be with you, I wanted to write this short letter in order to let all my friends know that "a fire still burns in our hearts that cannot be extinguished".
Being in this place is not something I wished for, but also it should not be a cause for regret. We are aware and we understand that rebellion against the State is vital, but it also entails risks. If anarchists attack something that others hold sacred, then those people will not be able to tolerate anarchism. That is what underlies all our fears. Whenever someone opposes and seeks to destroy something we hold sacred, of course we will resist with all our strength. (more…)
Tags: Bima, Hidayat, Indonesia, Kulon Progo, Letter, Makassar, Mining, Padang Raya, PT Sumber Mineral Nusantara mining
Posted in Prison Struggle
Monday, February 13th, 2012
From Negasi (Indonesian counter-info website):
"Better to burn out than go out slowly.
Destruction of property is not violence. Violence is when you do it against an individual, and that's not what we do. After all, those properties are produced by workers paid little."
Hidayat, social combatant from Makassar, in prison after being caught over the action of solidarity to the insurgents occupying the Bima Sape harbor where eight people were shot dead by police.
Tags: Bima, Hidayat, Indonesia, Letter, Makassar, Makassar City, Repression
Posted in Prison Struggle
Tuesday, February 7th, 2012
News via Kokemi: Update – Comrade Hidayat is back inside the prison…
This news story is one of the horrors of life in prison, concerning being held in prisons that are contained therein inside the prison. Our comrade Hidayat being undertaken at this time, he was isolated in a room captured, called "Red cells", the prison mini small-sized 2m x 1m, dark and dirty mental intimidation and terror of the state apparatus.
From the reports, comrade Hidayat was held captive for five days in jail also smaller than this size. Besides he reports he often gets intimidation and beatings, Comrade Hidayat also never received the package of food and beverages that he was sent. And our hearts are very painful, access to meet with him is limited. None was allowed to meet. According to information passed along, comrade Hidayat always is targeted by some extortion scenarios which are done by the prison apparatus and the prisoners who are also a finger in the hands of prison officials. (more…)
Tags: Bima, Hidayat, Indonesia, Makassar, Makassar City, Repression
Posted in Prison Struggle
Wednesday, December 28th, 2011
Comrades in Indonesia sent this report:
Protests in Makassar (26/12) with an issue about police brutality that killed residents in Bima, had turned into a mass rampage. In the protests that followed more than 300 people, they attacking police post at Sudiman street, by throwing stones and other hard objects.
The action was called by Forum Rakyat Menggugat (Forgat) starting from 11 o'clock to roll out free speech in front of the Mandala Monument for over three hours. Various representatives from every organizations spoke and read their statements.
The masses moved north toward Karebosi. Right at the intersection, the masses started throwing objects at the police post spontaneously. They also throwing at BNI bank right next to the police station.
The masses moved back to the east of town, past the Mesjid Raya Road to go to the next action point namely Flyover kilometers 4. The masses throwing things at other Police stations in that location.
The destruction targets are generally of police facilities and the capitalism symbols such as banks, and the political symbol such as political billboards. Protesters claimed that what happened in Bima and elsewhere is caused by the greed of capitalism to exploit the environment which then threaten people's lives.
Sadly, our comrade, Yayat (Unhas student), was arrested by police. The police didn't release him until now.
Ps: This is Indonesia language link for this info.
Tags: Bima, Indonesia, Makassar, Police Brutality, Solidarity Action
Posted in Direct Action
Tuesday, April 5th, 2011
4 April 2011
'International Conspiracy for Revenge' (ICfR) have taken responsibility for burning another BCA (Bank Central Asia) ATM in Indonesia, in an action against the capitalist exploitation of Indonesian resources and state repression. BCA are handling finances for the industrial development of Kulon Progo. The actions are directly revindicated by flyers which were left at the scene which were the same as in a number of other incidents around the country.
The communique situates the actions in the context of revenge for the brutal oppression inflicted upon the people of Kulon Progo, Bima, Takalar, Padang Raya, Makassar, Jogja, Persil IV Medan, Buyat and Papua by the Indonesia state and multi-national corporations such as PT Indomines and BCA. The claim also denounced the role of the mainstream media, bureaucrats, police and the military.
The ATM was completely destroyed with the money inside, CCTV system burned out, and ATM unit gutted. There were no injuries reported and it was only witnessed when several people drove past the ATM noticing a fire.
More Info:
Previous ATM attack against Bank Central Asia, Makassar, Indonesia
Position Paper by Coastal Inhabitants of Kulon Progo
Indonesian Intifada – Direct Action Info Indonesia
Social War – Disturbance – Insurrection
Tags: ATM Burned, Bank Central Asia, Bima, Buyat, Indonesia, International Conspiracy for Revenge, International Revolutionary Front, Jogja, Kulon Progo, Makassar, Manado, Padang Raya, Papua, Persil IV Medan, PT Indomining, Solidarity Action, Takalar
Posted in Direct Action