Posts Tagged 'Marcelo Villarroel Sepúlveda'
Tuesday, February 11th, 2020
ACERKA DE LA RESISTENCIA A LA PRISIÓN Y LA NECESIDAD DE EXTENDER LA LUCHA AUTÓNOMA ANTIKARCELARIA.
Una breve mirada a las experiencias de lucha desde el encierro, sus énfasis y los kontextos en ke se han desarrollado.
«Sin ningún Comité Central ni ninguna jerarquía que clasifique nuestrxs miembrxs, solo podemos conocer caras extrañas como amigxs a través de sus acciones. Lxs queremos, Ixs abrazamos, al igual que sabemos que otrxs lo harán. Otras células, secciones, grupos.»
Brigada de la Cólera
1970.-
En tiempos de agudización del konflikto social la kárcel es el principal instrumento de kontrol y kastigo para kienes no se someten y se rebelan.
Históricamente el dominio a través de todos sus dispositivos ke sostienen el poder, la autoridad, el mundo de las jerarkías, el patriarkado y el kapital a usado la sanción normalizadora para kombatir toda forma de Resistencia ke atake y amenace su paz social.
Sin ir más lejos no fue sino en la diktadura de Pinochet en donde esta dinámika afectó masiva y sistemátikamente a miles y miles de Rebeldes ke la kombatieron entregando los mejores días de sus vidas.
Se reformuló el marko jurídiko fundado en la doktrina de seguridad nazional ke veía un enemigo interno al ke había ke aplastar bajo la exkusa de «kombatir el káncer marxista» según la voz de los genocidas de la époka.
Operaba la pútrida «justicia militar»:
Miles de muertxs, desaparecidxs, exiliadxs, perseguidxs, violentadxs, torturadxs son el rekuerdo imborrable y el triste legado de la refundación kapitalista neoliberal del imperio yanky a través de la insurrexión militar burguesa del genocida ejército chileno. (more…)
Tags: 14/14, Anti-Prison, Chile, Dictatorship, General Pinochet, International Solidarity, Isolation, Letter, Mapuche, Marcelo Villarroel Sepúlveda, Repression, Torture
Posted in Prison Struggle
Thursday, January 16th, 2020
Tags: Anti-Prison, Chile, International Solidarity, Juan Aliste Vega, Marcelo Villarroel Sepúlveda, Santiago, Solidarity Event
Posted in Prison Struggle
Wednesday, August 21st, 2019
Communiqué received together with the photos on 08/16/2019:
I. Street fight in confluence with the new urban guerrilla
As groups, we use revolutionary violence to make visible the obvious contradictions that the systemic and changing operation of capital implies, depending on the State that legitimizes it as the social order of the day.
Each gear justifies the next and is consolidated as a structure under the protection of a judicial apparatus that condemns many to misery, softens abuses and violations of priests condemned to a life of confinement in palaces, and forgives tax crimes within the reach of 1% of Chilean citizens that conserve 26.5% of the wealth; an executive power in charge of justifying and accelerating the measures that favor the wealthy and thirsty group of tyranny that is on duty; a legislative power in charge of discussing among its caste the daily evolution of millions of people… and always protecting their privileged status in power. (more…)
Tags: Antagonist Cells of the New Urban Guerrilla, Antagonistic Nuclei of the New Urban Guerrilla, Arson, Attentat, Chile, Chilectra, Erick Rodríguez, Forces for the Overflow of Civilization, Heather Heyer, Herminia Concha, Insurrectional Column "Ira and Complot" - FAI / FRI, Iván Palacios, Javier Recabarren, Juan Aliste Vega, Karr-kai cell / Antagonist Cores of the New Urban Guerrilla, Kevin Garrido, Marcelo Villarroel Sepúlveda, Michele Angiolillo, Mikhail Zhlobitsky, Sabotage, Santiago, Santiago Maldonado, Sebastián Oversluij, Sebastián Oversluij Seguel, Transantiago
Posted in Direct Action
Saturday, June 1st, 2019
Palabras enviadas por distintxs compañerxs y proyectos anárquicxs para las jornada "Memoria y kontrakultura" en recuerdo del compañero Mauricio Morales.
PALABRAS DEL COMPAÑERO MARCELO VILLARROEL
EN: Statement by Anarchist Prisoner Marcelo Villarroel on the 10th Anniversary of the Death of Mauricio Morales
A 10 años de la muerte en kombate de Mauricio Morales… A todxs lxs ke konfontan el presente desde la autonomia, kon memoria insurrekta, en resistencia y subversion!!
Hace 10 años murió Mauricio Morales Duarte, el punky maury. Una noche de fines de mayo se eskuchó un estruendo, en las inmediaciones del centro sur de santiago, en las cerkanias de la eskuela de gendarmeria el punky maury partia en su eterna bicikleta a la ruta de akellxs ke han perdido la vida en este ejercicio kotidiano de kerer ser libres konfrontando al dominio en todos los espacios de la realidad.
En ese entonces estaba prisionero en la unidad 11 de newken Argentina kuando en una fria mañana de mayo supe de lo sucedido. El inevitable dolor de la perdida se multiplikó asi komo la rabia y el orgullo. Desde un kompañerismo no afin manifiesto mi reiterado respeto a tu opción de vida en lucha komo aporte a la tensión anarkista e insurrexional komo expresión inekivoka de la guerra social. (more…)
Tags: Biblioteca Anarquista Flecha Negra, Bolivia, Chile, Marcelo Villarroel Sepúlveda, Mauricio Morales, Santiago
Posted in Autonomy
Monday, April 22nd, 2019


Afiche en solidaridad con los cautivos en guerra Juan Aliste Vega y Marcelo Villarroel Sepúlveda.
Tags: Chile, Flyposter, Juan Aliste Vega, Marcelo Villarroel Sepúlveda, Santiago
Posted in Prison Struggle
Saturday, March 23rd, 2019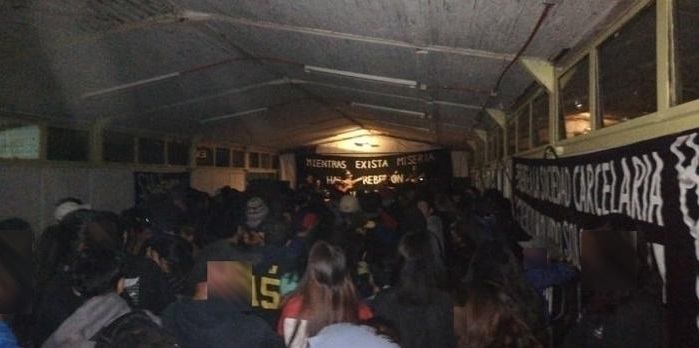 "Tokata Antikarcelaria" en solidaridad con Marcelo Villarroel Sepúlveda en Peñalolén el 15/03/2019.
A 11 años de los hechos en San Martín de los Andes, Argentina
Solidaridad activa, Marcelo Villarroel Sepúlveda a la calle
La expropiación al Banco Security en el centro de Santiago el 18 de Octubre de 2007, la persecución mediática, policial y estatal que se desató contra varios compañeros subversivos cuando ellos tomaron la opción de fugarse para salvaguardar sus vidas fueron golpes que calaron hondo en toda una estructura que se muestra fuerte, intocable e invulnerable.
La detención de los compañeros Marcelo y Freddy el día 15 de Marzo de 2008 en San Martín de los Andes (Argentina) pone fin a su clandestinidad, momento en el que se encontraban con David Cid Aedo, quien es detenido, puesto en libertad y expulsado a Chile con posterioridad. En esta ocasión Marcelo y Freddy son acusados de porte ilegal de armas de guerra, por lo que son condenados a 3 años y 6 meses de prisión. (more…)
Tags: Chile, International Solidarity, Juan Aliste Vega, Marcelo Villarroel Sepúlveda, Santiago
Posted in Prison Struggle
Sunday, February 17th, 2019
PDF: Kolektivo Kamina Libre. Diciembre 2018
"No podemos alimentar la amnesia, el silencio o kualkier tipo de
inkonsecuencia ke tienda a obviar la existencia de una realidad ke está
presente en Chile (…)".
–Kolektivo Kamina Libre. 2002.
Con esta nueva y última edición buscamos multiplicar algunas palabras que fueron emitidas desde diferentes cárceles de Chile por los compañeros miembros del Kolektivo Kamina Libre (1997-2004) quienes estuvieron más de una década en prisión por haber combatido la dictadura militar y la democracia solapada. (more…)
Tags: Chile, Kolektivo Kamina Libre, Marcelo Villarroel Sepúlveda, PDF, Zine
Posted in Library
Wednesday, December 26th, 2018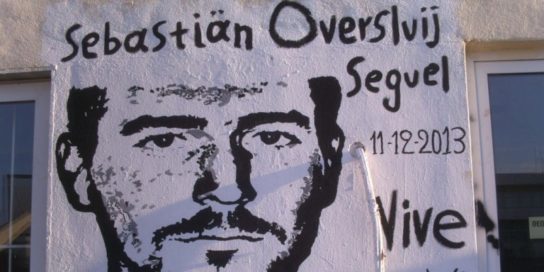 Nota: Palabras leídas en actividad conmemorativa por el -Angry- en la Biblioteca Antiautoritaria Sebastián Oversluij ubicada en algún lugar de Santiago de Chile el 23/12/2018.
"Al ke roba porke no tiene komida va a dar kon sus huesos a la kárcel de por vida… Al ke si tiene komida pero odia a los bankeros y les roba el dinero ke reparte entre sus kompañerxs". (Kanción de Rap)
En la kárcel y en la kalle la memoria sin axión kotidiana es komo un kuerpo sin alma, komo un kúmulo de palabras vacías ke se usan sin darle koherencia real a nuestras konvixiones antagónikas… Por ello la importancia esencial de mantener vivxs entre nosotrxs a todxs nuestrxs hermanxs ke han kaído en la lucha direkta y frontal kontra el Poder, el Dominio y toda Autoridad. (more…)
Tags: Chile, Marcelo Villarroel Sepúlveda, Santiago, Sebastián Oversluij Seguel, Solidarity Event
Posted in Prison Struggle
Monday, December 17th, 2018
Desde la kárcel de alta seguridad hago llegar estas palabras de saludo en Resistencia para este encuentro de Solidaridad Antikarcelaria en donde konfluyen la konciencia aktiva de lucha kontra el poder y la insistencia en la konstruxión kolektiva de una memoria antiautoritaria ke no olvida a sus presxs, kaídxs y a todxs kienes no renuncian ni abandonan el konflikto por la liberación total.
Los tiempos son de lucha konstante, de definiciones permanentes en kuanto a nuestra existencia komo individuxs ke nos rebelamos frente a lo existente. El miedo y la indolencia, el oportunismo, el silencio y olvido no pueden ganar terreno entre kienes entregan lo mejor de sus días kombatiendo la totalidad de la oferta de vida ciudadana ke nos impone la democracia, el estado y el kapital.
La kárcel, komo destino posible para kienes se rebelan, es un espacio ke el poder usa para intentar domestikar, a lxs de espíritu libre e indómito. No hay lugar de encierro trankilo, ni kárcel buena, no hay nada en estos lugares ke se pueda replikar salvo la voluntad de Resistir toda la estruktura podrida de cemento y metal penitenciario. (more…)
Tags: Chile, Letter, Marcelo Villarroel Sepúlveda, Santiago
Posted in Prison Struggle
Wednesday, December 12th, 2018
El pequeño sabotaje que realizamos la madrugada del Martes 11 de Diciembre tiene su origen en una persona: Sebastián Oversluij Seguel, el Angry como cariñosamente le decíamos nosotrxs en nuestra intimidad subversiva, fue un compañero insurreccionalista y miembro activo de esta organización.
El Angry aporto en innumerables proyecto revolucionarios, levantando instancias de discusión, bibliotecas barriales (donde el conocimiento se puso a disposición de cualquier persona interesada), opto por una dieta vegana (libre de tortura animal), apoyo tokatas donde se reunían fondos en solidaridad con lxs presxs políticxs y lxs perseguidxs, propago ideas libertarias y antiespecistas en muchísimos lugares por donde anduvo. Colaboro en jornadas de agitación, repartiendo propaganda, armando barricadas, pegando afiches, asistiendo a marchas, levantando huertos, creando canciones, pintando, dibujando, y, por supuesto, saboteando el normal funcionamiento de una que otra institución represiva. Ese era nuestro hermano. (more…)
Tags: Banco Estado, Black December, Chile, International Solidarity, Juan Aliste Vega, Marcelo Villarroel Sepúlveda, Sabotage, Santiago, Sebastián Oversluij Seguel
Posted in Direct Action
Monday, December 3rd, 2018


Fotografía: Lienzo en el Encuentro del Libro y la Propaganda Anarquista en la población La Victoria el 13/10/2018.
La resistencia que hoy mantienen los/as compañeros/as en prisión es real, día a día tienen que convivir con lógicas tan podridas que a veces no se logra imaginar, desde la represión del carcelero, la autoridad penitenciaria, los nefastos códigos entre presos/as y la violencia que está totalmente a la orden del día y que puede culminar con la muerte, como lo fue el pasado 2 de Noviembre de 2018 cuando fue asesinado el compañero Kevin Garrido Fernández.
Esta pérdida es irrecuperable para sus familiares, amores, compañeros/as, para la lucha anticarcelaria y para quienes desde una perspectiva amplia practican la ofensiva contra el Capital y el Estado. A un compañero que actuó en consecuencia de sus ideas se le ha ido la vida a causa de una operación cómplice entre carceleros y presos al servicio de estos, lo que provoca un dolor y rabia inconmensurable, por lo que la indiferencia no es una opción. (more…)
Tags: Anti-Prison, Chile, Juan Aliste Vega, Kevin Garrido, Marcelo Villarroel Sepúlveda, USA
Posted in Prison Struggle
Thursday, August 23rd, 2018
Por la vida y salud de Juan Aliste Vega
Por el fin de las condenas de la justicia militar contra Marcelo Villarroel Sepúlveda
La "Red Solidaria Antikarcelaria con Juan y Marcelo" converge en los momentos en que nos llega la feliz noticia de que nuestro compañero Freddy Fuentevilla Saa logra pisar las calles nuevamente el 18/06/2018 tras 10 años y 3 meses de prisión ininterrumpida. Mientras por otro lado se encuentra la difícil situación de salud del compañero Juan y las duras condenas de la justicia militar que recaen sobre Marcelo. Por lo que como "Red Solidaria" nos empeñamos en agitar y difundir estas dos batallas que están dando los compañeros en prisión. Estas situaciones son delicadas y urgentes, es necesario visualizarlas, ponerlas sobre la mesa. Por lo que llamamos a todos/as las mentes concientes, a los/as autónomos/as, libertarios/as y subversivos/as a apoyar de forma real y concreta a Juan y Marcelo; ¡Aunemos!
– Sobre la situación de Juan
El compañero Juan fue un activo miembro de la guerrilla urbana del Mapu-Lautaro, organización que combatió durante años a la dictadura militar y su posterior transición a la democracia. Bajo la propuesta de la "Guerra Insurreccional de Masas" desarrollaron sabotajes, asaltos a bancos y armerías, atentados explosivos y armados, etcétera. (more…)
Tags: Chile, International Solidarity, Juan Aliste Vega, Marcelo Villarroel Sepúlveda, Santiago
Posted in Prison Struggle
Thursday, August 23rd, 2018


–What is a prison?
Prison is a material structure through which it is intended to inhibit the acts of any person who transgresses the conduct imposed by the State. Thus, punishment and the imposition of socially accepted discipline are the regime in which the captives have to live, by this seeking to annul their actions, ideas and beliefs. These acts may constitute crimes and like the ones that challenge order, be of revolutionary politics. It is with these that we again take a stand – either by supporting or having solidarity with those companions who presently are encarcerated for having carried out subversive actions for a political idea of liberation. The commitment of these companions makes us want to support them in real ways, concretely because we share goals. (more…)
Tags: Chile, International Solidarity, Juan Aliste Vega, Marcelo Villarroel Sepúlveda, Santiago
Posted in Prison Struggle
Sunday, July 15th, 2018
Clarification: Previously we incorrectly described Freddy Fuentevilla as anarchist in this re-post. Fuentevilla was a militant of a Marxist-Leninist organization in the Chilean region, and currently has never positioned himself in the anarchist ideology the same with his comrades who participated in the bank expropriation for which he was sentenced, namely Marcelo Villaroel and Juan Aliste. They are associated with the insurrectional anarchist idea because of their relations with anarchists and having been seen in the anti-authoritarian space, but it is important to be clear about their positions.
Refractario's note: We learn with joy that comrade Freddy has been released. From here, a strong warm hug, after the death threats of Bernales, the jails in Argentina, the Chilean prisons, the trials and farces up until now, time is filled with experiences in the construction of paths of negation. Today new paths are being opened and old ones taken up again, now back in the streets once more! Without ever forgetting Juan and Marcelo's struggle on the medical and juridical military fronts, respectively, we remember Freddy's words during the trial against him:
"Our stories didn't begin on 18th October 2007, as Juan (Aliste) has explained very well, they are a constant. It's not easy to disengage from them, especially when a hunt is unleashed that is not really aimed at getting someone to court, but on the contrary at their physical annihilation, the annihilation that metaphorically is presenting itself today surgically even buried under tons of cement and iron, not for one year, but for many years (…)
I think these words.. what I feel now is gratitude. But to whom? Gratitude to my mother, because I have no mother, I'm lucky in that respect. To la mia compagna, my comrades, my family, my friends and above all my children's unconditional love.
A hug to all, and the necessary strength will be always there. And…
While poverty persists there will be rebellion." (more…)
Tags: Chile, Freddy Fuentevilla Saa, Juan Aliste Vega, Marcelo Villarroel Sepúlveda, Santiago
Posted in Prison Struggle
Tuesday, October 24th, 2017
To read and share…
NO TRIALS, NO CONDEMNATIONS!!! MARCELO TO THE STREETS NOW!!!
[EN]
https://tormentasdefogo.espivblogs.net/2017/10/18/concerning-the-juridical-situation-of-our-comrade-marcelo-villaroel-sepulveda-or-how-states-revenge-perpetuates-itself-in-silence/
[PT]
https://tormentasdefogo.espivblogs.net/2017/10/18/sobre-a-situacao-juridica-do-nosso-companheiro-marcelo-villarroel-ou-como-a-vinganca-do-estado-perpetua-em-silencio/

International revolutionary solidarity to Marcelo Villarroel Sepúlveda!
Tags: Chile, Letter, Marcelo Villarroel Sepúlveda
Posted in Prison Struggle