Posts Tagged 'Maria P.'
Sunday, February 9th, 2020
In the night from Saturday to Sunday (01.-02.02) we threw stones at a patrol car on the Bethaniendamm. Because the driver braked out of initial overconfidence, we were able to destroy the front and side windows.
This is to be understood as the direct answer to the attacks on our demos this weekend. Whether provocative and beating at the unlock demo on Friday or the Sponti in Kreuzberg on Saturday.
Even if you are caught up in common police state fantasies at your congress, you can be sure of one thing; that we always create moments where the balance of power is in our favour and know how to use it.
You can kill us but the idea of freedom will never die.
REVENGE FOR MARIA!
Translator's note:
According to media reports, the patrol car was badly damaged and had to be taken to a garage, the two cops also resigned from duty and one was taken to hospital. The night before, riot police got into clashes with stone throwers in Rigaer Street, damaging several of their vehicles and injuring an officer. More about the murder of Maria.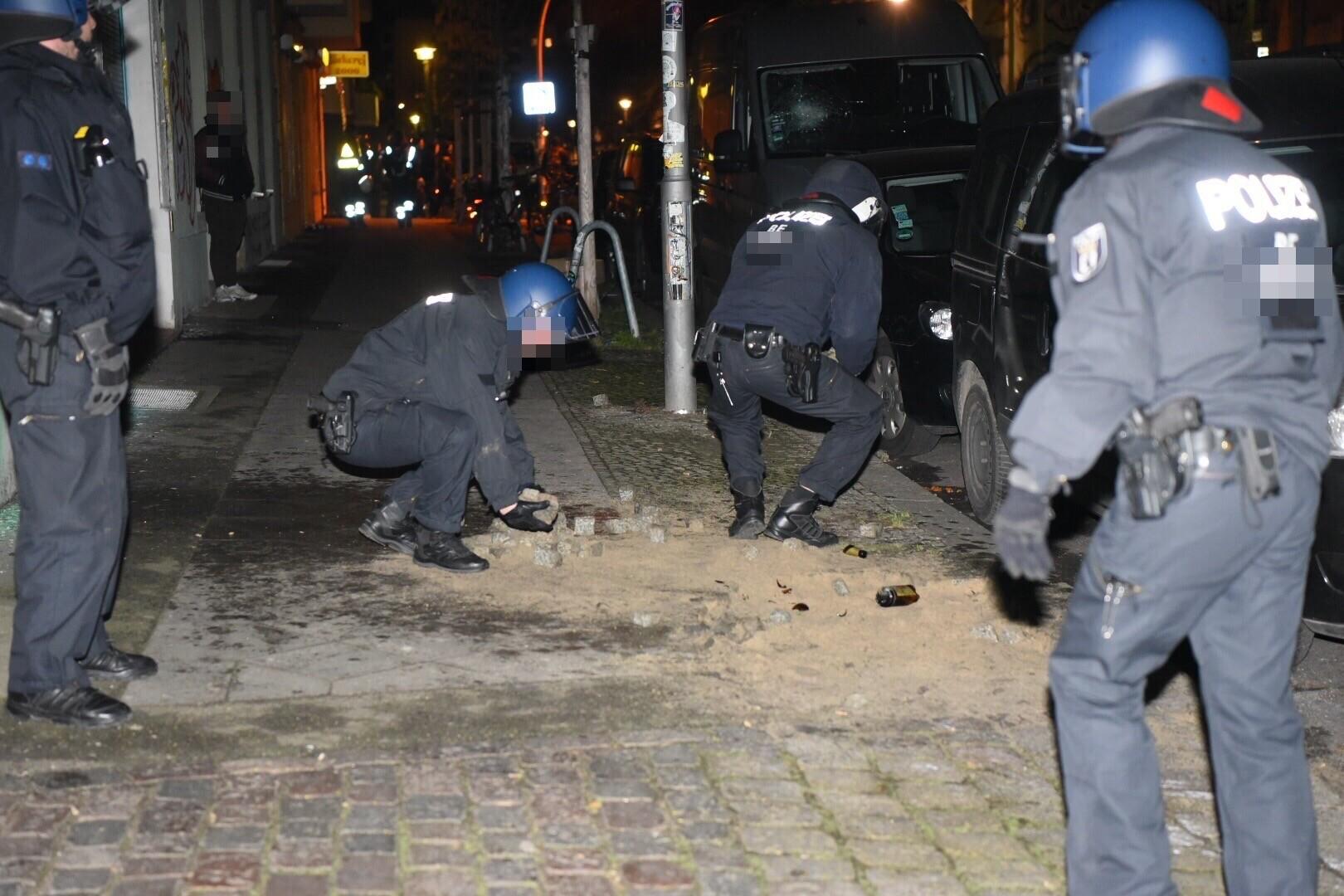 Foto: Pigs collecting stones in Rigaer Street, during riot on 31/01/2020
Tags: Berlin, Germany, Kreuzberg, Maria P., Rigaerstrasse, Riots, Sabotage
Posted in Direct Action
Saturday, February 1st, 2020
On Friday 24.01 around 4.00 a.m, the cops of the police station 51 (Wedekindwache), raided the flat of Maria P. on Grünberger Straße 46, after her flatmate's phone call, and shot her dead. Police reports and its careful reproduction through mass media profile Maria as a mentally ill person attacking the cops with a knife. At the same time the state, police and the mass media are targeting persons with mental health issues, suggesting that this 'diagnosis' is enough for their potential execution.
The day after the murder, people gathered in solidarity and started a spontaneous demo in Maria's neighbourhood. This demo was attacked by the cops, completing in this way the image of zero tolerance while actively defending the provocative statements of the police union (GdP) and the public prosecutor's office which said that they are currently assuming that their colleagues have behaved correctly.
Berlin is a city based on the alternative tourism industry and a facade of diversity tolerance, promoting a progressive city image, which offers as products, ideas such as antiracism, antisexism and veganism/vegetarianism without hesitating to rely on the 'friendly' police forces (da für dich) to ensure citizen's peace and security when needed. (more…)
Tags: Anti-Psychiatry, Berlin, Demo, Germany, Maria P., Police Brutality, Repression
Posted in Social Control