Posts Tagged 'Mauricio Morales'
Sunday, June 14th, 2020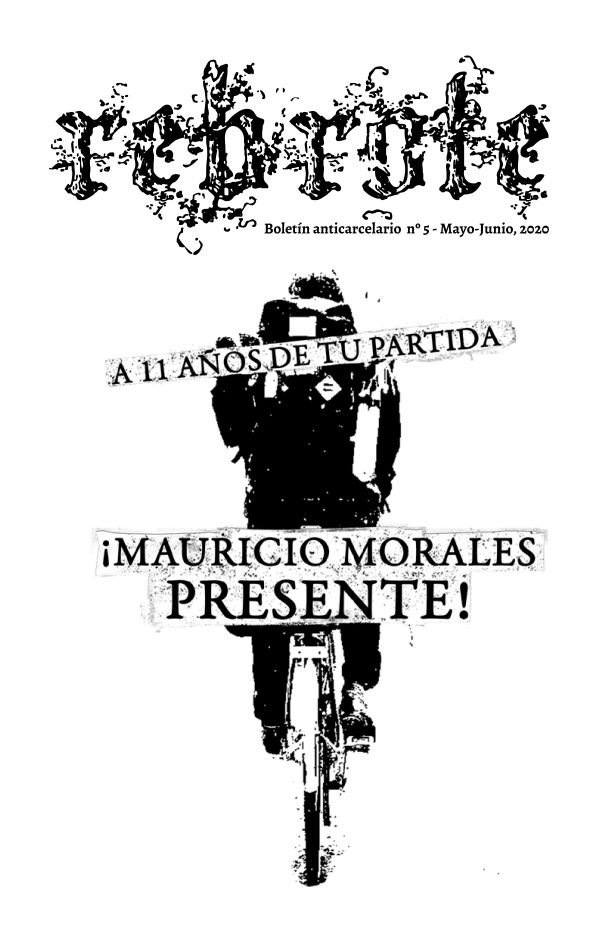 Palabras previas
Compañerxs, tenemos el gusto de compartir con ustedes la publicación de un nuevo número del boletín anticarcelario Rebrote.
Anhelamos profundamente que los gestos de solidaridad hacia lxs presxs se sigan proliferando a pesar de este complicado contexto de crisis y control social, en donde las expresiones del apoyo mutuo entre marginadxs se diversifican con la finalidad de sobrevivir mientras el aumento de la militarización de las calles pareciera volverse algo ya cotidiano. (more…)
Tags: Anti-Prisons, Chile, Mauricio Morales, PDF, Rebrote, Santiago, Zine
Posted in Library
Tuesday, June 9th, 2020
We share with you this album in memory of Mauricio Morales Duarte, who died in May 22,2009 when he tried to attack the Escuela de Gendarmería de Chile (Chilean jailer's academy).
https://esquejediscos.bandcamp.com/album/maurico-andr-s-del-ghetto
MAURICIO ANDRÉS DEL GHETTO.
Compilado por la memoria del Punky Mauri.
Recopilación musical con la colaboración de compañerxs de distintos territorios y generaciones, como también de hermanxs cuyas valiosas vidas fueron arrebatadas en la acción.
A la memoria del compañero Mauricio Morales Duarte, caído en combate hace 11 años, cuando decide atacar la Escuela de Gendarmería con un artefacto explosivo de fabricación casera.
Este disco en su mayoría se basa en el libro "Mauri, la ofensiva no te olvida. Textos del compañero anarquista Mauricio Morales", editado en Septiembre del año 2009; y en audios re-encontrados de pensamientos y posiciones hechos música, es decir, es el propio Mauri quien expone sus ideas y sentires.
Si bien el "Panky Mauri" al final de sus días defendió ideas individualistas y antisociales, eso no quiere decir que no deambulara por distintas iniciativas territoriales o inclusive populares, en barrios y bibliotecas en donde se desenvolvió como sujeto crítico y activo.
Con Mauricio Morales Duarte y Pelao Angry en la Memoria, presentes en la Acción Anárquica; entre Libros, Foros, Fuego y Pólvora Negra.
Released May 22, 2020
Tags: Chile, Mauricio Morales, Maurico Andrés del Ghetto, Santiago
Posted in Autonomy
Wednesday, May 27th, 2020
A 11 años de tu muerte en axión:
Mauricio Morales presente en la insurrección permanente, en la lucha Kontra el poder y toda autoridad hasta ke este podrido mundo estalle.
"La vida es lucha constante, es sobrepasar a la monotonía y lo estático, Es pelear a muerte.
Reflexiono al día. Olas a la semilla de la calma.
Agudos sonidos al bosque de sueños, Espero risueño la muerte filosa con el pecho duro y lleno de vida."
Punky Maury.-
Ya van 11 años desde ke akella noche del 22 de mayo del 2009 un poderoso estruendo remeciera los alrededores de la Escuela de Gendarmería en el barrio matta, zona centro sur de Santiago de Chile.
La explosión no kalculada hirió de muerte al jóven anarkista de axión Mauricio Morales Duarte kien se dirigía a atakar el lugar donde se forman por dékadas los peores seres humanos ke la sociedad moderna ha parido: los karceleros, Guardias de prisiones, esbirros sikarios al servicio del orden de los rikos y su ley. (more…)
Tags: Chile, Letter, Marcelo Villarroel Sepúlveda, Mauricio Morales, Santiago
Posted in Prison Struggle
Sunday, May 24th, 2020
It's been 11 years since your last ride… 11 years… and we were all surprised when it was the first anniversary of your death, Mauri. The years go by, but something always remains, right?
For those of us who knew you and for those of us who knew you after your death, it has been 11 years of having you around, 11 years of continuing to propagate, breaking in, bothering, laughing loudly or in whispers, stubbornly propagating the Black Death.
How much has happened in these years, there is no rational measure that can quantify it. There are those who will say that we have lost, others that we have gained a lot, what is really important is that we continue… and that anarchy, as a concrete practice against any form of domination, as a permanent exercise, continues unrestrained. And that is why our dead people enjoy excellent health and continue to laugh, today already in other laughs.
How much you would have enjoyed the streets in these months, we smile when we imagine the answer, but you were, Mauri, in memorable days, in the chaos and its sweet deliriums. You were there, because there are those who insist on going out with you to the chaos. (more…)
Tags: Chile, Germany, International Solidarity, Mauricio Morales
Posted in Uncategorised
Saturday, May 23rd, 2020
En tiempos de incertidumbre por lo que pueda suceder con la pandemia y todo el contexto social que la envuelve. La lucha está presente en las cárceles, en el confinamiento en casa y en las calles. Es inevitable continuar contra todo pronóstico manteniendo siempre nuestra memoria intacta y las manos activas.
Tras los muros…
En las cárceles la lucha de los/as presos/as para poder acceder a beneficios intrapenitenciarios y salir prontamente a la calle se expresa con diferentes tipos de manifestaciones, las que van desde huelgas, barrotazos, comunicados y hemos podido ver a través de los medios de prensa la fuerza de los motines, sectores de las prisiones controladas, algunas con incendios, también con duros enfrentamientos cuerpo a cuerpo contra los carceleros con varios bastardos heridos -aunque después se han cobrado revancha con sus herramientas- su cobardía ante los disturbios ha quedado en evidencia en varios registros.
En la calle… (more…)
Tags: Chile, Coronavirus, Juan Aliste Vega, Marcelo Villarroel Sepúlveda, Mauricio Morales, Repression, Santiago
Posted in Autonomy
Friday, May 22nd, 2020
Presentamos un nuevo libro de la Internacional Negra Ediciones, proyecto internacionalista de difusión anárquica que, desde voluntades anarcoinsurreccionales informales y sediciosas, vuelve a resurgir en
español, portugués e italiano con un nuevo título: «Diálogos Incendiarios: por la propagación de la sedición anárquica», cimentado en el intercambio epistolar en torno al curso de la guerra anárquica entre los compañeros Alfredo Cóspito, Gustavo Rodríguez y Gabriel Pombo da Silva.
Hemos decidido de manera consciente hacer este lanzamiento el 22 de mayo, en oportuna celebración del Día del Caos, recordando al compañero anarquista Mauricio Morales, quien un día como hoy en el año 2009 dejó
esta vida luchando contra el Poder al estallar la bomba que cargaba en su mochila, la cual detonó antes de tiempo a pocos metros de la Escuela de Gendarmería de Chile.
Dedicamos este libro a todxs nuestrxs compañerxs en prisión alrededor del mundo, con especial dedicatoria al compañero Alfredo Cóspito encarcelado en Italia y, al querido Gabriel Pombo Da Silva, quien fuera detenido en Portugal y extraditado a Estado español en el momento que este libro salía a la luz. Enviamos toda nuestra fuerza al compañero Gabriel frente a esta nueva venganza de las autoridades por su eterna
lucha irreductible.
Este libro contará de versiones impresas que circularán en espacios afines, entre compañerxs y proyectos anárquicos diversos alrededor del mundo. Invitamos a apoyar activamente su difusión compartiendo su versión digital, imprimiendo ejemplares y/o realizando presentaciones y lanzamientos allí donde existan voluntades dispuestas a hacer hasta lo imposible por propagar el Caos y extender la guerra anárquica.
Voluntades y colaboradorxs editoriales de Internacional Negra Ediciones.
22 de mayo de 2020.
edicionesinternacionalnegra@riseup.net (Chile)
internacionalnegramx@riseup.net (México)
internacionalnegra-br@riseup.net (Brasil)
black-international-editions-it@riseup.net (Italia)
–
PDF: Diálogos Incendiarios – PORTUGUÊS
Apresentamos um novo livro da Internacional Negra Edições, projeto internacionalista de difusão anárquica que, desde as vontades anarco-insurrecionais, informais e sediciosas, volta a brotar em espanhol, português e italiano, com uma nova publicação: "Diálogos Incendiários: Pela Propagação da Sedição Anárquica", concretizado a partir da troca de idéias sobre o rumo da guerra anárquica, que tiveram, mediante cartas, os companheiros Alfredo Cóspito, Gustavo Rodriguez e Gabriel Pombo da Silva.
Decidimos fazer este lançamento no dia 22 de maio, oportuna rememoração do Dia do Caos, em memória do companheiro anarquista Mauricio Morales, quem, num dia como hoje, no ano 2009, se despediu da vida lutando contra o poder, quando a bomba que carregava na mochila explodiu acidentalmente a poucos metros da Escola de Agentes Penitenciários do Chile.
Dedicamos este livro a todxs nossxs companheiros em prisão mundo afora, especialmente para os companheiros Alfredo Cóspito, encarcerado na Itália e para o querido Gabriel Pombo da Silva, que foi detido em Portugal e extraditado para Espanha, no momento em que este livro saía à luz. Mandamos toda nossa força para o compa Gabriel diante desta nova vingança das autoridades contra sua irredutível luta.
Este livro tem versões impressas que circularão nos espaços afins, entre companheiros e em diversos projetos anárquicos ao redor do mundo. Convidamos a apoiar ativamente sua difusão compartilhando sua versão
digital, imprimindo exemplares ou realizando atividades e apresentações ali onde existam vontades dispostas para fazer o impossível pela propagação do caos e a expansão da guerra anárquica.
Vontades e colaborações editorias da Internacional Negra.
22 Maio 2020.
internacionalnegra-br@riseup.net (Brasil)
internacionalnegramx@riseup.net (México)
edicionesinternacionalnegra@riseup.net (Chile)
black-international-editions-it@riseup.net (Italia)
Tags: Alfredo Cospito, Black International, Gabriel Pombo da Silva, Gustavo Rodriguez, Mauricio Morales, PDF, Zine
Posted in Library
Thursday, May 21st, 2020


PDF: Hermosamente violento para imprenta
"Hermosamente Violento. Reflexiones-Tensiones In Memoriam" en recuerdo de Mauricio Morales
Esta breve revista salió de imprenta el 2019, a 10 años de la muerte del compañero anarquista Mauricio Morales. Hoy en una nueva conmemoración de su muerte, entre la revuelta, la pandemia y la agudización del control social decidimos liberar esta publicación con los únicos objetivos de propagar la memoria de lxs anarquistas muertos y el combate a la autoridad.
Hoy como ayer nuestra memoria es negra, nuestro corazón también.
*Un 22 de Mayo….
*Un instante en la Guerra Social
*Los estruendos siguen resonando en la Memoria
*Nuestra Memoria Negra sabe traspasar los años y las fronteras
*Algunas divagaciones sobre Memoria Iconoclasta
Tags: Chile, Mauricio Morales, PDF, Santiago, Zine
Posted in Library
Sunday, April 26th, 2020
SOLIDARIDAD CON LXS PRESXS Y COMPAÑERXS MOVILIZADXS EN LA CÁRCEL DE ALTA SEGURIDAD Y A LO LARGO DE LAS CÁRCELES DE CHILE.
¡MAURICIO MORALES PRESENTE!
Imagen: carcelero en llamas por ataque molotov contra furgón de Gendarmería en disturbios en el exterior de la Universidad de Santiago de Chile (enero 2012).
Tags: Anti-Prison, Chile, Flyposter, Mauricio Morales, Santiago
Posted in Prison Struggle
Thursday, January 2nd, 2020
ES: Diciembre Negro
FR: Décembre Noir
Black December
"Black December" is now 10 years old and Mauricio Morales was the detonator.
Do you remember? They haven't stopped, those ideas and practices that rose (in)surged from the collective desire proposed by multiple anarchic individuals who put it to the test.
Indeed, the struggle is an essay that claims its execution and that must be experienced through practice to understand all the potentials that it offers us. Theorisations that are not tested in practice will always remain unknown.
We have verified (in/with praxis) that determination (individual will) can generate common moments and framesworks of collective struggle through active propositions. The problems in the (at least in what is committed as the F.A.I.–F.R.I.) project begins when it's own postulates proposed by this informal organization model are ignored. They are:
1 – Seditious solidarity.
2 – Anarchic campaigns.
3 – Communication between groups and related individuals.
We know that the informal organization (also called T.I.A. in Latin America) at an international level (with or without acronyms) has its limitations, especially when the various insurgent tendencies are inclined to dispute discursively between themselves instead of complementing each other, both in the theoretical as in the practical.
Total liberation does not mean alienation or fratricidal alienation or competition among the active groups.
Who in one way or another rejoices in the end of "obrerismo mendicante", which delegated all activism to obsolete organizations in the era of technological capital. We see in the years of the new anarchism of praxis that appeals are of no use for ourselves.
It is not a reflection of what it says. Be what is said and say what is done, it is what makes the verb meaningful and gives weight to the word.
I once read somewhere about: "Language creates a reality and reality creates a language… ".
This they have understood (even better than us) those Italian inquisitors and hence their fixation with public debates and what everyone wrote.
[Operation] "Ardire" (because it is bold to talk about what we dream), "Scripta Manent" (because the written word endures) and thus all the repression of this last decade has been limited to prosecuting all that is desired, everything written or said and aimed at all sabotage carried out by anarchists.
Unfortunately, what is written as much as it remains (if not assumed so in the first instance) does not alter material reality… and, unfortunately, interpretive juggling either. Or put another way: the chemical formula of the tritolo is not tritolo.*
We are already getting used to repeating slogans ("Fight Week", "Black December", etc.) without worrying and worrying about the most important: our affinity groups and practical organization.
A – Procure material and economic means.
B – Carry out anarchic campaigns and do not start a new proposal until the previous one is terminated.
Only acting as one hand will each finger have power and sense.
I do not question other groups of the "Anarchist Galaxy" but, only and exclusively, those that are inspired by the F.A.I./F.R.I./C.C.F. to act.
Our power can only be in the sum of action groups that act coordinated on all three points.
We must recognize that the legacy (both theoretical and practical) of the subversive project F.A.I.-F.R.I.-C.C.F., is here to stay.
In addition, both "Black International Editions", and "Black International of Praxis" continue their editorials and mutual knowledge.

For Black December!
For conscious and organized action!
Long live anarchy!
Long live the companions in war!

Gabriel Pombo Da Silva,
Last days of the year 2019.
*Trinitrotoluene – TNT
Tags: Black December, Black International, Black International of Anarchists of Praxis, Conspiracy of Cells of Fire, Gabriel Pombo da Silva, Informal Anarchist Federation (FAI), International Revolutionary Front, Letter, Mauricio Morales, Operation Ardire, Operation Scripta Manent
Posted in Direct Action
Saturday, July 13th, 2019
PDF: 32 La Bomba 32 Mayo 2019 [especial]
"Porque cuando en su corazón la libertad, el amor y la anarquía acompañan sus latidos: La anarquía no muere en la boca, prevalece en las manos activas".
Mauricio Morales, anarquista muerto en acción el 22/05/2009.
Tags: Chile, La Bomba Zine, Mauricio Morales, PDF, Santiago, Zine
Posted in Library
Friday, June 7th, 2019
Con esta acción reivindicamos a nuestro compañero Mauricio Morales, quien murió al decidir atacar al sistema dominante a través de la acción directa: Nos adjudicamos la colocación de un artefacto incendiario en el sector de Lo Ovalle.
Nuestra acción resulta luego de afinar nuestras ideas y convicciones, elegimos organizarnos para vandalizar un transporte (que representa el capitalismo industrial). (more…)
Tags: Banda incendiaria Punky Mauri, Chile, International Solidarity, Mauricio Morales, San Miguel, Santiago
Posted in Direct Action
Saturday, June 1st, 2019
El domingo 19 de mayo, con amor y rabia dimos vida a la actividad "Memoria y Kontrakultura" conmemorando 10 años de la muerte en acción del Punki Mauri.
En esencia la Anarquía es anticarcelaria, por lo mismo generamos un espacio para difundir la movilización que está ocurriendo en las distintas cárceles del territorio contra la ley 321 que transforma la libertad condicional de un derecho a un beneficio penitenciario y además duplica el mínimo de tiempo en prisión necesario para poder optar a la condicional. (more…)
Tags: Chile, CSO Sacco and Vanzetti, Mauricio Morales, Santiago, Solidarity Event
Posted in Autonomy
Saturday, June 1st, 2019
Palabras enviadas por distintxs compañerxs y proyectos anárquicxs para las jornada "Memoria y kontrakultura" en recuerdo del compañero Mauricio Morales.
PALABRAS DEL COMPAÑERO MARCELO VILLARROEL
EN: Statement by Anarchist Prisoner Marcelo Villarroel on the 10th Anniversary of the Death of Mauricio Morales
A 10 años de la muerte en kombate de Mauricio Morales… A todxs lxs ke konfontan el presente desde la autonomia, kon memoria insurrekta, en resistencia y subversion!!
Hace 10 años murió Mauricio Morales Duarte, el punky maury. Una noche de fines de mayo se eskuchó un estruendo, en las inmediaciones del centro sur de santiago, en las cerkanias de la eskuela de gendarmeria el punky maury partia en su eterna bicikleta a la ruta de akellxs ke han perdido la vida en este ejercicio kotidiano de kerer ser libres konfrontando al dominio en todos los espacios de la realidad.
En ese entonces estaba prisionero en la unidad 11 de newken Argentina kuando en una fria mañana de mayo supe de lo sucedido. El inevitable dolor de la perdida se multiplikó asi komo la rabia y el orgullo. Desde un kompañerismo no afin manifiesto mi reiterado respeto a tu opción de vida en lucha komo aporte a la tensión anarkista e insurrexional komo expresión inekivoka de la guerra social. (more…)
Tags: Biblioteca Anarquista Flecha Negra, Bolivia, Chile, Marcelo Villarroel Sepúlveda, Mauricio Morales, Santiago
Posted in Autonomy
Saturday, June 1st, 2019
"Burn all prisons, with or without walls!" – The call for a Subversive May, as an extension of the proposal for an Anarchist May 1st in Berlin, is understood by us as a call to extend the attack on different levels. We agree with the idea not to confine ourselves to one day but to constantly and unpredictably attack the functioning of existing society and prove that its security is an illusion.
The apparatus of power includes not only the murderers of the State, but also the mercenaries of the private security companies. Securitas vehicles once parked undisturbed in the GESOBAG housing estate where they act as security guards to prevent the intervention of cops during conflicts with tenants or tensions with the property management. Securitas is also engaged in surveillance work in prisons and public spaces worldwide. (more…)
Tags: Alfredo Cospito, Anahi Salcedo, Arson, Berlin, Dimitris Koufodinas, Dimitris Koufontinas, Germany, Informal Anarchist Federation (FAI), International Revolutionary Front, International Solidarity, Mauricio Morales, Securitas
Posted in Direct Action
Saturday, June 1st, 2019
[Hunger Strike By Prisoner Dimitris Koufontinas Ends in Success – AMW]
Athens, Greece: Responsibility Claim for the Arson Attack against Eurobank branch
We were taught that everything is commodity, everything can be exchanged. We didn't understand the small print of history: that we are commodity too; working power that is exchanged with peanuts, prayers and curses, and a daily reverence to alienation, to the shattering of every human dignity. We referred to the wage slavery as our highest value and intention. We didn't feel the waves of history carving our skin, we didn't feel the razor blades of political economy chiseling our motion.
We 've shown discipline to our times' teachings, which are nothing more than the dominant narrative that wants us producing and consuming machines, that wants for itself the monopoly of the decision about what is included and what is excluded by its normativity. A dominant narrative by a dominant world that leaves its bloody marks on us everyday, fracturing the individual, feeding it with oppression and neuroses, killing every desire for experimentation and vitality and replacing them with miserable micro-rivalries and intrigue, disguising the emptiness. (more…)
Tags: 17 November, Anahi Salcedo, Arson, Athens, Dimitris Koufodinas, Dimitris Koufontinas, Greece, International Solidarity, Mauricio Morales, Revolutionary Solidarity, Sabotage
Posted in Direct Action