Posts Tagged 'Mauricio Morales'
Wednesday, September 9th, 2015
El día jueves 24 de agosto a eso de las 2 am colocamos un artefacto explosivo de fabricación casera compuesto por una botella plástica de medio litro rellena de pólvora negra , mechas detonantes y de iniciación. Adheridas a un cigarrillo que sirvió como retardo, todo únido a dos camping gas (gas butano) en la entrada de una de las sedes del circulo de suboficiales de la policía federal argentina ubicada en Alberti entre Chile y Mexico del barrio porteño de Balvanera. A pesar de que las cámaras sigan nuestros pasos, contamos con buenos amigxs y la determinación e imaginación creativa para evadir la seguridad de esta paz social.
Con este gesto nos solidarizamos con las y los compañeros anarquistas fugados y encarcelados en distintas partes del mundo. Que son ejemplos de lucha y convicción!
El poder es quien ejerce el monopolio de la violencia, la jurídicamente justificable, no solo la policial (la económica, la mediática, la social, el discurso democrático).
Por eso ESTAMOS con los amotinadxs, con los fugadxs, con los pibes y las pibas encerradas en los penales y psiquiátricos de argentina (y el mundo) "comunes" y anónimos que se rebelan, con los "suicidados" asesinados por el servicio penitenciario.
Memoria y vindicación a SERGIO "URUBU" TERENZI, MAURICIO MORALES Y SEBASTIAN OVERSLUIJ
Hagamos practica la libertad, enfrentemos la resignación. Exaltemos la vida!
Saludos y ánimos.
Algunos anarquistas y nihilistas
Tags: Argentina, Buenos Aires, International Solidarity, Mauricio Morales, Sabotage, Sebastián Oversluij Seguel, Sergio Urubu Terensi
Posted in Direct Action
Friday, May 29th, 2015
(Athens, 22/05/2015)
Inter Arma received and translated:
"My hands don't get used to the artificial connection in virtual universes. Connected lives in wireless networks, my eyes search for the eternal fire of rebellion among the multitude of corpses and only in isolated gazes, the conscious individual emerges with dagger eyes that resists dying in the democratic cemetery. Before going to sleep I embrace chaos as an idea that liberates my body and my mind Because after all, it makes me feel alive. I do not want to search for the grail that will liberate future societies. My fingers search for the bloody flight of the destruction of the chains of the rhythmic fire, of the close fire of power and its masters."

Mauricio Morales Duarte
This day, six years ago, comrade Mauricio Morales was heading to the school for prison guards in Santiago, in distant Chile, when suddenly the bomb, which he intended to place there, exploded prematurely depriving him of his life. Six years later, today at dawn, we carried out a double arson attack as a minimum tribute to the memory of the comrade.
We mined a two-storey building on Vouliagmenis avenue in Elliniko, where the offices of the insurance company Groupama Insurance (a subsidiary of the multinational banking group with the same name) and the offices of the multinational shipping company McQuilling Partners are co-located, placing four improvised incendiary devices. With this action we do not anticipate an impact on or the understanding by neither the willingly obedient mass of peaceful citizens nor the irredentist "professionals" of the movement. Of course, the recognition and appropriation of anarchist violent action by young comrades is a positive perspective. However, we do not see this as a condition or constraint for going on the offensive. That would be hypocritical, because part of our mentality and orientation, beyond the theoretical constitution and practice, remains the constant satisfaction of our instincts and desires, something which is far from negligible. (more…)
Tags: Arson, Athens, Commando Emile Henry, Greece, Groupama Insurance, Mauricio Morales, McQuilling Partners
Posted in Direct Action
Wednesday, May 27th, 2015
PDF: folletohermosamenteviolentx
Saludos queridxs compañerxs… a continuación publicamos las palabras
enviadas y leídas para la actividad "Hermosamentx Violentx" del 17 de
Mayo en la Okupacion La Kolera, ademas del diptico repartido para
aquella jornada.
Buscamos difundir y expandir la insurrecta memoria, esa que construimos
entre todxs. Hoy distintas palabras en distintos idiomas y desde
distintas aristas llegan buscando acuchillar el olvido junto con la
multiplicacion imparable de gestos y actividades en recuerdo del Mauri.
Agradecemos a cada compañerx que participo y colaboro con esta actividad
y en las expansiones de otras que contribuyen a traer al presente al
punky mauri. Saludamos las distintas iniciativas que se han organizado
durante estos dias en recuerdo y combate. (more…)
Tags: Adriano Antonacci, Aggeliki Spyropoulou, Carlos Gutiérrez Quiduleo, Chile, Conspiracy of Cells of Fire, CSO Sacco and Vanzetti, Freddy Fuentevilla Saa, Gianluca Iacovacci, Guillermo Durán Méndez, Juan Aliste Vega, Juan Flores Riquelme, Marcelo Villarroel Sepúlveda, Mauricio Morales, Natalia Collao, Zine
Posted in Prison Struggle
Friday, May 8th, 2015
From Insurrection News:
An Informal Anarchist Federation (FAI) – International Revolutionary Front (IRF) cell based in Chile calling itself Grupo Kapibara have released a communique claiming responsibility for an incendiary attack against a substation of the electricity provider Chilectra in Santiago on 06.05.15.
According to the communique a timed incendiary device containing 1.2 liters of gasoline and 400 grams of polystyrene was placed in a room inside the substation. The timing mechanism was set to activate half an hour after placement of the device but for unknown reasons activation did not occur until several hours later.
The communique states that the action was carried out in order to strike a destructive blow against the techno-industrial system in defense of Mother Earth. The communique also contains expressions of solidarity with the anarchist nihilist prisoner Spyros Mandylas held captive in Greece, the comrades Nataly, Juan and Guillermo on hunger strike in Chile and the comrades Sol, Tato and Javier, also imprisoned in Chile. Mention is also made of fallen anarchist Punky Mauri who died in 2009 while attempting to place a bomb at the prison warden's school in Santiago, Chile.

LONG LIVE FAI-IRF / LONG LIVE THE BLACK INTERNATIONAL
Tags: Arson, Chile, Chilectra, Grupo Kapibara FAI-FRI, Informal Anarchist Federation (FAI), International Solidarity, Mauricio Morales, Santiago
Posted in Direct Action
Saturday, May 2nd, 2015
Empezó Mayo…
Próximos a cumplir 6 años desde la partida en combate de nuestro
compañero anarquista Mauricio Morales durante aquel 22 de Mayo del 2009,
tras la detonación accidental de un artefacto explosivo en las cercanías
de la Escuela de Gendarmeria.
Desde esa fecha hasta hoy, año tras año, una serie de actividades y
gestos a lo largo y ancho del mundo se expanden combatiendo el olvido y
transformando en presente de acción el recuerdo revolucionario. (more…)
Tags: Anarchist Gatherings, Chile, CSO Sacco and Vanzetti, Mauricio Morales, Santiago
Posted in Autonomy
Monday, June 2nd, 2014
via inter-arma:
A true life may end too soon,
but a meaningless one may not even really begin
The restless war against this world and its civilization has its own calendar. A calendar of fire, in whose pages, thousands of moments of hostilities between anarchists of Praxis and dominion, come alive. A calendar of memory against oblivion, which tries to cover within its dark veil all these moments, when anarchy armed itself and went on the offensive.  A calendar of honor for all our brothers, who fell fighting in the dangerous journey for Dignity, Freedom and Anarchy. But even if they fell, they are not lost. They live among us. They are present in every moment of war against the existent, in every moment when conspiracies and dark plans of attack are woven. They live through acts of vengeance and they will continue to live as long as there are armed consciences ready to put their negations into action.
A calendar, in which our brother, anarchist comrade Mauricio Morales, has his own page written with the ink of memory, which seeks revenge…
"Arm yourselves and become violent, beautifully violent, until everything is blown up… Arm yourselves and fight state terrorism, burn, conspire, sabotage and be violent, beautifully violent, physically violent, deliberately violent…"

Mauricio Morales
On the 22nd of May, 2009, a black day dawns in its darkness. Our brother Mauricio Morales, putting his words into action, headed to the prison wardens' school in Santiago, Chile, planning to blow it up. But the bomb he was carrying exploded prematurely and he fell dead before he was able to fulfill his plan of attack.
But our comrade was not forgotten. For five years now, dozens of attacks all around the world, were dedicated to him, honoring him in the way he deserves to.
In our world we do not weep for our dead, we do not perform memorials, sticking to miserable customary formalities. We carry our dead in our hearts. We carry them with us, in the fierce moments, where anarchist attack disturbs the order of this world.
Anarchy has neither victims, nor heroes.
Anarchy has a memory of living forms that honored their lives with their deaths and not shadowy zombies, which day by day honor their slow death with their life.
Mauri is on our side. He is the comrade we never met but shared with him the same passion for the destruction of this world. We shared with him the same desire to act aggressively, promoting continuous anarchist insurrection. Any of us could have been in his place and so we feel that he is one of us and we will never forget him…
Nothing is over
We still have much to do…
For us, for our dead…
"Because the eyes of the dead –our dead- are bright meteor, which roam in the infinite to find their way to us…
The eyes of our dead tell us about the "why" of life, showing  us the secret flame, which burns our mystery…"
Renzo Novatore

Conspiracy of Cells of Fire FAI/IRF – Imprisoned Members Cell
Andreas Tsavdaridis – Commando Mauricio Morales – FAI/IRF
Tags: Andreas Tsavdaridis, Chile, Conspiracy of Cells of Fire, Conspiracy of Cells of Fire : Imprisoned Members Cell, Greece, Informal Anarchist Federation (FAI), International Revolutionary Front, Korydallos Prison, Letter, Mauricio Morales
Posted in Uncategorized
Friday, May 23rd, 2014
Communique censored by the pacifist-judiciary of Indymedia UK:
RESPONSIBILITY CLAIM – SOLIDARITY KNOWS NO LAW
We firebombed the courthouse in central Yate, on 22nd May. 10 camping gas canisters were enough to devastate the front lobby, with a homemade napalm mixture as the detonator. We chose the early hours to avoid any injuries. Social war doesn't sleep: at any given time, irrepressibles somewhere are awake and angry, raging against impositions of the governing system which wants us as its cogs. That night it happened to be us.
New and bigger custody centers; more restrictive laws, injunctions and "anti-social behavior" legislation; legal aid reduced to entrap the poor; phonelines for snitching; different shades of cops embedding themselves throughout the layers of society; probation schemes to reinsert convicts into the world of wage-slavery and consumerism; a whole prison-world of concrete cities and surveilled data-streams overseen by the powerful, armed with CCTV, biometrics and electronic tagging to defend their wealth and social order…
And also carrying out this authoritarian disciplining of the individual, are the courts. Enforcers of human misery, shamelessly applying laws drawn up by the upper classes, politicians and business leaders. Stamping down to subdue people who are mostly trying to find means of survival while capitalism pits all against all.
The justice system tries to pass itself off as the only protection from the very same desperation and imbalances that civilized society creates. Its real function is and has always been to protect and sanctify property and privilege above all: and to usurp free communities or individuals capacity for autonomy, retaliation or reconciliation. (more…)
Tags: Arson, FAI - Conscience & Fury, Fuck the Law, Informal Anarchist Federation (FAI), International Revolutionary Front, International Solidarity, Mauricio Morales, Sabotage, UK, Yate, Yate Magistrates Court
Posted in Direct Action
Sunday, July 14th, 2013
FAI/IRF
PHOENIX PROJECT – Part 4 [Parts 1, 2, 3 &… 5]
"Be proud of your actions, because it is through disobedience and insurrection that a bright ray of human beauty is born! Hello anarchists of praxis! Hello brothers and sisters!"
Renzo Novatore

Some thought that we raised a white flag. Some thought we forgot our imprisoned brothers and sisters and sunk in the social swamp, next to the two-legged herd. The bosses, journalists, politicians, society and the ridiculous "anarchist" bureaucrats thought they got rid of us.
For all those, Project Phoenix is a punch in the gut. A punch in the gut because the new anarchist urban guerrilla is here and tears down the desires of all these worms to terminate our actions. Old groups are activated and new are created, with the promise to give life to the nightmares of authority and its subjects.
Comrade G.Tsakalos has been held on remand for 32 months when the limit is 18. We do not care about the provisions of the constitution.
We do not desire the cleansing of institutions, we fight for their destruction. We know that the law is a weapon in the hand of dominance, just like we know that our ten imprisoned brothers and sisters will not be liberated with legal procedures.
We believe authority is total of values which in the core is the citizen-mass human, who lies in the muck of stagnation, where everyone forgets their name and responsibilities. But even in this disgust some have a name. One of them is Dimitris Horianopoulos. During his service as a commander of the anti-terrorist force, the operation against the R.O. CCF was carried out. Horianopoulos is nothing more than a piece of garbage of the complexity of security and the fact that he has retired does not mean that we forgot him. The same goes for the rest of the scumbags in his department. They should know that they are on the top of the target list of FAI/IRF.
We take responsibility for the sending of a parcelbomb to the scumbag mentioned above, which was, unfortunately, detected.
We dedicate our attack to the UNREPENTANT and PROUD members of the CCF, as well as all imprisoned anarchists of praxis, wherever they are. We send our LOVE and RESPECT to all anarcho-individualists, nihilists, and iconoclasts who discovered the fountain of life in the attack.
WE DO NOT BOW OUR HEADS TO NO ONE!
P.S. It was announced that the parcel was ignited after falling down in the post office. The parcel we sent was absolutely safe for anyone not a target. The mechanism activates ONLY if the envelope is opened and not if it falls or gets shaken. We do not know what happened. The only sure thing is that the package was opened.

INFORMAL ANARCHIST FEDERATION
INTERNATIONAL REVOLUTIONARY FRONT
COMMANDO MAURICIO MORALES
–
via actforfree/boubourAs
Tags: Commando Mauricio Morales, Conspiracy of Cells of Fire : Imprisoned Members Cell, Dimitris Horianopoulos, Gerasimos Tsakalos, Greece, Informal Anarchist Federation (FAI), International Revolutionary Front, Letter Bomb, Mauricio Morales, Phoenix Project
Posted in Direct Action
Tuesday, June 4th, 2013
Download: Dark Nights #34 – Corrected
June issue of Dark Nights dedicated to the combative memory of Mauricio Morales.
Other contents include: CCF trial reports; Letter from A.Theofilou; Letter from anarchist prisoners Fivos Harisis & Argiris Dalios; Update on Gabriel Pombo da Silva by Marco Camenisch; Italy: 'Operation Ardire' – Update; Belgium: 'Operation Ashes': Comrades' houses raided; Catalunya: Raids and arrests as 5 anarchists are jailed in Madrid.
For a black plague that spreads the virus of anarchy.
http://325.nostate.net/wp-content/uploads/2013/06/dark-nights-34.pdf
Anti-Copyright Network 2013
International Translation & Counter Information
Tags: Conspiracy of Cells of Fire, Conspiracy of Cells of Fire : Imprisoned Members Cell, Dark Nights, Gabriel Pombo da Silva, Marco Camenisch, Mauricio Morales, Operation Ardire, PDF, Zine
Posted in Library
Saturday, June 1st, 2013
from hommodolars, translated by waronsociety:
It was around 2 pm on May 22 when over a dozen compañerxs covered up and with faces concealed decided to launch a direct action in memory of our compañero Mauricio Morales (El Punky Mauri). They took the intersection of Grecia Avenue and Doctor Johow, at the outskirts of the University of $hile, erected barricades and posted themselves to wait for the fanatics of order with 100 molotov cocktails.
Upon the arrival of the armed force of capital, the combatants got ready to attack, with all their material, without a breather; the trees would serve as cover while the shadows of the faceless bodies regrouped to attack again. The confrontations lasted about 30 minutes, without any compañerx being wounded, or indeed captured by the lapdogs of power.
The retreat was launched at the moment when the compañerxs used up all their attacking material. Neither their tear gas, nor their chemical water, nor their pellets were able to stop the action and the fury of the hooded compañerxs.
This action is framed within the commemoration of the unfortunate death of our compañero Mauricio Morales, a result of the unfortunate explosion of his explosive device. Four years after your death, those who carry fire in their hearts, fury in their minds, and thousands of insurrectionary actions in their hands do not forget you. We are not among those who idealize your death as heroic, or that of a martyr, you were just another brother, another compañerx, and therefore like many who launched the various forms of offensive against capital.
Compañero Mauricio Morales: a warrior, not a martyr!
Freedom to the political prisoners and fire to the prison society!
Contents of the leaflets found in the place:
On May 22, 2009, Mauricio Morales, an anarchist compañero, died fighting against exploitation, misery, the prison system… Today we remember your spirit of struggle, as a warrior, without putting anyone at risk… Like everything that you blew up, you blew yourself up as well. But you fly forever in our hearts.* Because no compañerx killed or imprisoned is forgotten.

FROM MEMORY TO THE STREET, PUNKY MAURI IS PRESENT

(click here if the embedded video does not work)
Tags: Chile, Mauricio Morales, Solidarity Action, Video
Posted in Direct Action
Tuesday, May 28th, 2013
Who believed that May would pass without direct action?
With fire we responded again.
Recalling the warrior Mauricio Morales and showing solidarity with the comrades imprisoned in Temuco, we set fire to the entrance of the National Association of Prison Guards, located at Santa Monica steps in downtown Cumming Street of the city of Santiago, on Sunday May 12. With this we add a new action to those which have already been claimed by other groups in "alternative medias" but silenced by the "official release".
We said in our previous attack on a property of Gendarmerie of Chile in January this year, we will not let the torturers be tranquil in their dens. The criticism of the authoritarian system and prison facilities cannot be separated from the direct attack on those who try to break the will of our rebel imprisoned comrades. Prison guards have decided voluntarily to live as enemies of freedom and are active contributors to domination, in exchange for shares of power that materialize in confinement and to humiliate our prisoners and their families.
In April, the anti-authoritarian comrade Ariadna Torres was punished in the Women's Prison of Temuco for insulting a judge and the jailers who seized a letter from the companion to the outside.
We sent a copy of this email again to the jailers of Chile so that they know that our anarchist comrades, anti-authoritarians and revolutionary prisoners in Chile are not for the authorities little games, and for every attack the answer will come back with fire, explosions and shrapnel.
We ask comrades of action why there has been a decline in violent activity against the enemy? One thing is the excitement of the street-fighting, but in May there has been fewer direct attacks and planned bombings, arson and sabotage against the wealthy, and also their system of misery. That the anti-authoritarian attacks are sustained over time and not by a police story, depends on us. That the option for revolutionary violence and its connection with the anti-authoritarian struggle (and its various forms of being implemented) be not just a youth fashion, depends on us. Boosting and multiplying the direct actions in quantity and quality depends only on our will.
In May, we remember those comrades murdered by the State in Chicago in 1886; to Daniel Menco, young man killed in 1999; to young Rodrigo Cisternas, worker killed by police in Chile in 2007 after being crushed by a police vehicle with a backhoe; to the compa Henry prisoner since May of last year in Bolivia [currently on house arrest]; and Nicola Gai and Alfredo Cospito, prisoners in Italy, imprisoned for a year accused of the shot to the leg of a boss of a scientific nuclear company.
Regards to the clandestine comrades and prisoners worldwide.
MAURICIO MORALES LIVES IN DIRECT ACTION.
Insurrectional Anti-authoritarian Cell Panagiotis Argyrou, affinity of the FAI/FRI. Chile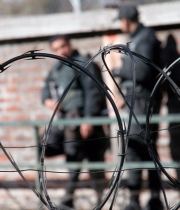 Tags: Alfredo Cospito, Arson, Chile, Conspiracy of Cells of Fire, Conspiracy of Cells of Fire : Imprisoned Members Cell, Greece, Henry Zegarrundo, Informal Anarchist Federation (FAI), International Revolutionary Front, International Solidarity, Italy, Mauricio Morales, Nicola Gai, Panagiotis Argirou, Santiago
Posted in Direct Action
Friday, May 24th, 2013
No experience can be summarized with a bit of ink and paper.
Even less the experience of someone who decided to provoke the dominators with every possible way and any place. There are no pages which can effectively illustrate someone who died while fighting against authority. Inside these pages therefore, is not the whole of Mauri's life.
We do not condense all of his experiences and the moments our paths met.
We honestly desire that this is not the last collection of his writings.
We are not owners of his thoughts, the events he experienced or his analyses.
We hope that more material related to him will come to light, not as a fetish, not as a day on the calendar, but probably as a memory longing its moment.
MAURI, THE INSURRECTIONISTS DO NOT FORGET YOU
Mauricio Morales Book – Contents (Greek Language)
Communication with the solidarity assembly and receiving of copies: sal.spf(at)gmail.com
Communication with the imprisoned members of the R.O. CCF: sinomosiapf(at)riseup.net
Tags: Black International of Anarchists of Praxis, Chile, Greece, Mauricio Morales
Posted in Library
Tuesday, May 29th, 2012
Dark Nights is an anarchist & anti-prison PDF freesheet to download and print out on the fly.
4 pages A4 – PDF Download free.
Contents:
1: Scandalous thoughts – a few notes on civil anarchism.
2: In Memory of Mauricio Morales – Solidarity letter from the Imprisoned Members of the Conspiracy of Cells of Fire.
3: Action Chronology.
http://325.nostate.net/library/dark-nights-20.pdf
Anti-Copyright Network 2012
International Network of Counter-Information & Translation
Tags: Anarchist Federation (UK), Chile, Conspiracy of Cells of Fire : Imprisoned Members Cell, Dark Nights, Greece, Informal Anarchist Federation (FAI), Libcom, Mauricio Morales, PDF, Scandalous thoughts – a few notes on civil anarchism, Zine
Posted in Library
Thursday, May 24th, 2012
From culmine, transl waronsociety:

22 May 2012
I'd like to lay down in a soft bed, fragranced with roses…
"Watch out for thorns," they tell me.
And what do I care? Given that thorns are not lacking in life,
I prefer those of roses that give so much joy along with the pain.
Today, Tuesday May 22nd 2012, at 3:00 AM we placed an explosive device which contained 3 sticks of dynamite in the electric energy source of one of the primary vertebrae of the capitalist system: the bottling industry of "Coca-Cola" located on Av. Juan Tanca Marengo Km 4.5 in the city of Guayaquil.
We have heard it and read it, that phrase resonating every time greater in our heads, and in this opportunity as in the future ones, we neither image nor want nor could remain paralyzed: This time upright, proud and dignified we furiously add our cry to the unison of the indomitable spirits: "NO WARRIOR IS ALONE."
That no warrior is alone, that solidarity between anarchists is more than a written word, that memory is never lost!, we go due to the same sense that those words draw out in us, because it is the voice of our brothers and sisters who call to us, it is the blood that demands to be liberated, that ferociously shouts and wildly revenges, and again we cannot nor want to be deaf to that voice.
Since 2009, May 22 will never be a normal day, it cannot be a normal day for those who declare themselves in permanent war on the system, it will never be a normal day for those who feel close to one who gave expression to his life with the same attack, to the indomitable contradiction: to MAURICIO MORALES DUARTE, Punki Mauri; who — like each one of those who delve into the attacks against power — knew the fate that is latent in this, here there are only two certain ways: "DEATH OR PRISON." And he took it on as such, as the inevitable, without lowering the gaze, without doubt, without casting lots. In the same way that we carry the whole soul tattooed in our principles.
Beautiful and voracious is the way of this war, beautiful and voracious in all its branches and in all its tactics, inaccessible to the bland in spirit and idea. For them only remains the "elite critique," the university reasoning, the non-life of citizenry, the work with the enemy.
There are certain individuals or cells who loudly proclaim: "we do not need dates," "we are the negation of sense" or etc. Well who cares, regardless of whether one believes each cell or individual, we do not remain calm on this and other days when our brothers and sisters have fallen, when the powder, the dynamite, the anfo, the books and bullets do not suffice us, because they are part of us and because at the time we are all part of a legacy of indomitable and implacable spirits who decisively confront authority.
On this occasion we also want to greet the compas of the CCF; Eat and Billy; Rami Syrianos; compa Tortuga and the compas in Chile; the cells that don't give up in Chile, Greece, Bolivia, Peru and Italy; the prisoners everywhere and those who have gone into clandestinity, strength for all of you!
Punki Mauri, your desire for freedom is a bomb that is contagious!
We walk in the night
with a sun in our minds
and with two great stars of gold
at our burning eyes
Bruno Fillipi Cell of Iconoclastic Individuals
Very proud members of the FAI-FRI
Tags: Billy, Bruno Fillipi Cell of Iconoclastic Individuals / FAI-IRF, Coca Cola, Conspiracy of Cells of Fire : Imprisoned Members Cell, Eat, Ecuador, Guayaquil, Informal Anarchist Federation (FAI), International Revolutionary Front, International Solidarity, Luciano Pitronello Schuffeneger, Mauricio Morales, Rami Syrianos
Posted in Direct Action
Thursday, May 24th, 2012
325 receives and transmits:
22 May 2012

The purpose of guerrilla attack is to spread the struggle into different territories and facets of life. Finance, judicial, communications, military and transport infrastructure will continue to be targets of the new generation of urban low-intensity warfare – the Informal Anarchist Federation (FAI) / International Revolutionary Front.
The means for this struggle are always close at hand. On the morning of May 22nd we struck two points on the railway routes into Bristol, on the outer sides of Patchway (northern) and Parson Street (southern) stations. By lifting the concrete slabs running alongside the tracks and burning out the signalling cables found in the trench underneath, before carriages came on the line. We specifically chose these places so that employees of the Ministry of Defence, as well as military industry companies Raytheon/Thales/HP/QuinetiQ etc., in the business park near Filton Abbey Wood station, and the corporate hub of Bristol, near the Temple Meads station, were amongst the affected. Normal services weren't restored until the evening.
The potential spread of such blockages in general poses a significant problem for the flow of commodities and for making sure that labour exploitation arrives on time, key concerns for transnational capitalism.
Such actions are a time-honoured method of disturbing the 'social peace' myth: from similar sabotages in France; cash courier vehicles getting destroyed in Crete; the night-time smashing of train station ticket machines in Australia; resistance to highway developments eating even further into wild landscapes (such as Khimki forest in Russia) whilst displacing animals and people who are still refusing to assimilate into industrial civilisation (such as Bolivia's TIPNIS project in one of the most biodiverse regions in the world); to the iconic seizure and arson of the city bus in London last August. Not to mention our comrades of FAI/Fires on the Horizon, in Athens, and FAI/Individuals Conspiring for the Destruction of the Existent, in Curicó, defiant with their barricades…
Everywhere the bosses want us scurrying around their metropolis, like consignments of human flesh in alienating containers on pre-determined routes, in a frenetic hustle for survival, there is and will continue to be every reason to forcefully intervene in the smooth flow of the daily grind.
In the United Kingdom of clockwork control and domestication, we're some of the 'unpatriotic ones' who find the 2012 Olympics, with the ensuing spectacle of wealth (when so many here struggle to feed themselves and their families), harmful developments and escalating police state, frankly offensive. But no union or movement calls our shots, and we have no inhibition to use guerrilla activity to hurt the national image and paralyze the economy however we can. Because simply, we don't want rich tourists – we want civil war.
Anarchy is unavoidable.
Riot 2012.
– Informal Anarchist Federation (FAI) – May 22nd Group (*)
(* – "Because when your heart beats, it beats freedom, love, and anarchy: Anarchy doesn't die in the mouth, it prevails in active hands." – Mauricio 'Mauri' Morales.
On the 22nd of May 2009, Chilean anarchist Mauricio Morales died on an operation to attack the school for prison guards in Santiago.
In the struggle for meaningful existence, 'freedom' and 'life' are things worth the risk of losing in order to truly win them. Mauri 'lost' the last one… but that wild instinct never dies, the bet is still on, and today Mauri we will see to it that anarchy lives!
To Billy Augustan and Reyhard 'Eat' Rumbayan, fighters of the Indonesian FAI in prison for burning a bank (and to the wanted of that case, never forgetting our comrades in clandestinity) – you may not know us, but we are your co-conspirators, and the same for any being who attacks for individual, collective and Earth liberation. Stay strong and proud.
Lastly, we dedicate these words to the five anarchists arrested in the USA in early May, who, planning to blow up a bridge in the Cuyahoga Valley national park in Cleveland, were infiltrated by a government agent who sold them fake explosives.)
Tags: 2012 Olympics, Billy, Bolvia, Bristol, Chile, Cleveland 5, Eat, FAI / May 22nd Group, Informal Anarchist Federation (FAI), International Revolutionary Front, International Solidarity, Khimki, Mauricio Morales, Russia, Sabotage, UK
Posted in Direct Action