Posts Tagged 'Mayday'
Tuesday, May 19th, 2020
Episode number 34 (05/2020) of "B(A)D NEWS – Angry voices from around the world", a monthly news program from the international network of anarchist and antiauthoritarian radios, consisting of short news segments from different parts of the world, is now online.
Length: 1:22 h
You'll also find the audio on A-Radio Berlin's new website.
In this episode you will hear contributions from:
1. Free social radio 1431AM:
• Hunger strike of V. Dimakis
• 1st of May in Greece
• Some words about Grup Yorum, the hunger strikes and the deaths of 3 comrades.
2. A-Radio Berlin:
• Interview on the film "Radical Resilience" about political burnout and how to avoid it.
3. FrequenzA:
• The audio is from two internationalist, which are based in Rojava at the moment, about their thoughts and analysis of the impact of COVID-19 on the society there and why it makes sense to fight the capitalist system worldwide.
4. Radio Fragmata:
• Updates on situation in Greece and coronavirus (May Day 2020, New environment destructive policy, police brutality, refugees struggles and fascists attacks, anarchist and revolutionary prisoners situation, mutual aid actions)
5. Invisible Radio:
• Voices of people from Moria camp and Last incidents in prisons and camps in Greece
Other audios from A-Radio Berlin in English here:
https://www.aradio-berlin.org/en/audios-2
Or visit the anarchist 24/7 online stream from the Channel Zero Network:
http://channelzeronetwork.com/
Enjoy!
A-Radio Berlin
Tags: 1st May, Anarchist Radio, Anarchistisches Radio Berlin, Athens, Coronavirus, Free Social Radio 1431AM, Frequenz(A), Greece, Grup Yorum, Hunger Strike, International Solidarity, Interview, Invisible Radio, Mayday, Migrant Struggle, Moria, Racism, Radio, Radio Fragmata, Repression, Rojava, Syria
Posted in Autonomy
Monday, May 11th, 2020
Like last year, the autonomous MayDay was full of surprises! And these surprises have caught the cops off guard and we are happy about that!
It started in the night from 30.04. to 01.05. with a demonstration in the Ölberg district, accompanied by fireworks and other great lights and (sound) effects. On our way through the Elberfelder Nordstadt some neighbours at their windows celebrated with us that the 1st of May has begun. So we were able to start the day in good spirits with strike two under difficult conditions. Already with the first strike last year we could catch the cops on the wrong foot and thus trick the cop apparatus. From that point on, we managed to break through the de facto suspension of the right to demonstrate for a short time. At least for a short period of time we were able to make the darkness glow.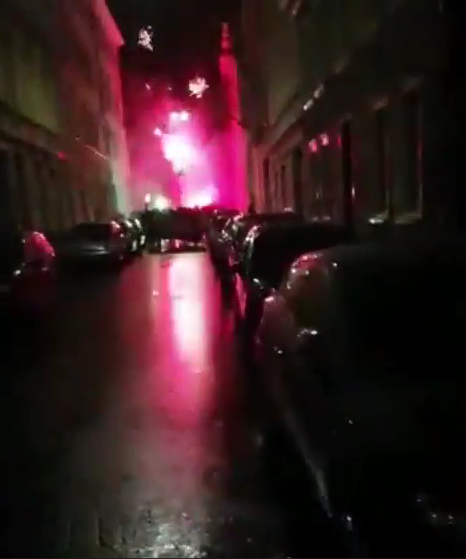 Tags: 1st May, Demo, Germany, International Solidarity, Mayday, Wuppertal
Posted in Direct Action
Monday, May 4th, 2020
Another May Day, another cell tower set alight. A small act in the earliest hours, but an escalation beyond the norm. And we never want to return to 'normalcy.' We don't know the difference between 4G and 5G. All we know is we want none of it.
The tower's proximity to a train yard, a major pharmaceutical company's office, and other military/mercenary enterprises in the Philadelphia Navy Yard was intended to interfere with their operations, however small the impact. It should also be a reminder that no one is untouchable if you have the appropriate determination. And this particular act was quite easy.
The first flame was a warm hug for the comrade Badger, allegedly on the run after a series of similar incidents in Bristol. Stay free!
The ensuing smoke a signal to the comrades undergoing the Scripta Manent persecution in Italy… we stand with you!

For freedom,
for anarchy!

Bristling Badger Brigade
Tags: 1st May, 5G, Arson, Huw 'Badger' Norfolk, International Solidarity, Mayday, Operation Scripta Manent, Philadelphia, Sabotage, Solidarity Action, USA
Posted in Direct Action
Monday, May 4th, 2020
For autonomous, decentralized May Day, we torched an Amazon van in Los Angeles County.
We could not sit idly by and watch the spread of COVID-19 turn ICE detention centers into full blown death camps
Amazon provides the cloud servers that hosts the Investigative Case Management system, the database utilized by ICE and other Federal agencies to compile public and private data to track and deport immigrants. Amazon plays a role in every raid; every family separation; and every death at the hands of ICE. It was the goal of this action to raise the stakes for companies like Amazon that provide critical border enforcement infrastructure.
In solidarity with with migrants currently on hunger strike in ICE facilities throughout the country. In solidarity with warehouse and grocery workers engaging in wildcat strikes on May Day.
Against the imposition of borders and the proliferation of the surveillance state
Anarchist Fire
#DestroyWhiteSupremacy
#MayDayStrike
Tags: 1st May, Amazon (Company), Arson, Coronvirus, Immigration Customs and Enforcement (ICE), Los Angeles, Los Angeles County, Mayday, Migrant Struggle, Sabotage, USA
Posted in Direct Action
Monday, March 9th, 2020
Here is a report from the Texas political prisoner Xinachtli, discussing his conditions of confinement and asking for people to show solidarity on May Day:
"Love is contraband in Hell, cause love is an acid that eats away bars. But you, me, and tomorrow hold hands and make vows that struggle will multiply." – Comrade Assata Shakur, Black Liberation Army (in exile in Cuba)
In the spirit of revolutionary proletarian internationalism, from within the belly of this racist, fascist, neo-colonial military stockade, also known as the Guantanamo of Texas prisons, from the occupied territories of the U.S. Southwest under siege for over 500 years, I salute you, and thank you and all freedom-loving peoples of the world, who support me, the Texas prisoner freedom struggles, and the global fight against monopoly capitalism and imperialism.
Viva la revolucion obrera! Viva la lucha! Long live the struggle!
Since my return trip from Polunsky in Livingston, TX, from my Hep C medical treatment, I found a "new administration" in ad. seg. (meaning solitary confinement), more repressive than the last one when I left here in July 2019. Since my return on October 18, 2019, I have been repeatedly assigned to a "disciplinary segregation" cellblock, more punitive than the regular ad. seg. cellblock. I mean, the pigs claim it is just a temporary 30-day "assignment", but they keep repeating me on it, saying it is due to "overcrowding overflow", but of over 500 ad. seg. prisoners, who they could easily "rotate", they have singled me out for repeated assignments to this merry-go-round, under false pretexts. (more…)
Tags: 1st May, Anti-Prison, International Solidarity, Letter, Mayday, Racism, Repression, Texas, USA, Xinachtli
Posted in Prison Struggle
Friday, May 24th, 2019
POLITICAL STATEMENT OF FRONT ANTI FASIS BANDUNG (BANDUNG ANTI FASCIST FRONT) ON FUND FROM INTERNATIONAL SOLIDARITY AFTER BANDUNG MAYDAY 2019
Police brutality during International Labour Day May 1st of 2019 in some cities, has append dark record of state apparatus to civil society's life. In Bandung, more than 700 comrades raided, striped off, bald-shaved, spray-painted, beaten up, and others worst things ever done to them by police. Same things also happen to comrades in others city such as Jakarta, Surabaya, Malang, and Makasar, they happened to be the victim of police brutality. That occurrence arouse many condemn to police and military from around the world.
As respond, many solidarity comes from individuals and organization toward the 2019 Mayday movement. Some Indonesian organizations then raise funds locally even internationally, as solidarity to those comrades who raided and threaten brutally by the police.
Until now, we "Front Anti Fasis Bandung" (Bandung Anti Fascist Front) have agreed to:
1. Have never run any fund raising nor receive any donation from International Solidarity.
2. Any necessity related to legal advocation and etc, is handled by local self-powered.
3. We still need all our comrades abroad to organize mass movement, campaign, political statement, and mobilization as a display of International Solidarity for us.
We'd like to sincerely say our biggest thanks to all of our solidarity comrades whose until today still shown their support and keep the flame of resistance on fire!
LONG LIVE DISOBEDIENCE!
-FRONT ANTI FASIS BANDUNG-
Tags: 1st May, Bandung, Front Anti Fasis Bandung (Bandung Anti Fascist Front), Indonesia, International Solidarity, Mayday
Posted in Anti-Fascist
Wednesday, May 15th, 2019
Since the end of November, as the Gilet Jaune's movement develops, cops and banks are being regularly attacked. In such a context, the 1st of May could have been a radical break in this world made of borders and wars. It could have been the continuation of the 16th of March's riots and, to put it in perspective, an attack against the life-breaker industry called authority.
Nationalists and Regionalists flags are all over the place, all over our grounds, and at the same time the courts are filling up the prisons as the french state announced that it'll be able to imprison 10,000 more people in the next 10 years, not to mention the Administrative Detention Center and psychiatric wards, and as the capitalistic speech tells us to smile as we die more and more in the inside. Work is just another way of saying « Kill me ». (more…)
Tags: 1st May, France, Mayday, Paris, Repression
Posted in Social Control
Tuesday, May 14th, 2019
Political Statement of Front Anti Fasis Bandung (Bandung Anti Fascist Front) on State Brutality during May Day 2019 in Bandung
We, Front Anti Fasis Bandung (Bandung Anti Fascist Front), hereby condemn and curse every brutal act that the State carried out via its repressive state apparatus against the masses at the 2019 May Day demonstration in Bandung. We also condemn every form of violation to human rights that the State carried out against the arrested comrades in Bandung Police Station and in the Mobile Brigade base in Jatinangor. Furthermore, we also condemn these wretches for their savage actions against May Day demonstrations in many other areas. As for other condemnations, we say to ever State element that took part in the repression of May Day 2019 in Bandung the following: (more…)
Tags: 1st May, Anti-Fascism, Antifa, Bandung, Front Anti Fasis Bandung (Bandung Anti Fascist Front), Indonesia, Mayday, Police Brutality, Repression
Posted in Anti-Fascist
Saturday, November 10th, 2018
Trial update for the Mayday case 2018.
Information update from the Prisoners in Yogyakarta as of now, they are as well as can be expected. Even though comrade BV is experiencing shortness of breath, and now it's beginning to get better.
The trial process is very long, especially for comrade BV, AM, and W. Those whose the trials already happened on 8.11.18 have already proceeded to the trials of pleading (defendent's defence), and before that they already receive the demands from the Public Prosecutor with a maximum penalty of 10 months at their trial on 1.11.18 at the Sleman District Court. At the moment they are being retained at Cebongan Prison, Sleman awaiting the following trial process with the agenda for the verdict to be handed down on 22.11.18.
We will keep updating information for you with further developments.
TILL ALL ARE FREE
More Information
Instagram: palang__hitam
Web: palanghitam.noblogs.org
Email: civilrebellion@riseup.net
Tags: Indonesia, Mayday, Repression, Trial, Yogyakarta
Posted in Prison Struggle
Monday, October 15th, 2018
Some Yogyakarta prisoners are free!
Here are some Yogyakarta prisoners who have been released after undergoing trial and reading the verdict:
– MD detention decision of 5 months, the term of detention served, free October 9, 2018.
– OO for 5 months detention decision, deducted the period of detention served, free October 9, 2018.
– MI and MEA prisoner decision 5 months 15 days, detained prison term, free 14 October 2018.
– ZW and AMH detention decision 5 months 15 days, the detention period will be deducted, free October 14, 2018.
There are still other prisoners undergoing the trial process including Ucil (BV).
We will provide updates on any developments in the trial as soon as the information is available.
Nobody is free until everybody is free!
(Info via Palang Hitam Indonesia / Anarchist Black Cross Indonesia)
–
Sebagian tahanan Yogyakarta sudah bebas!
Berikut adalah beberapa tahanan Yogyakarta yang sudah dibebaskan setelah menjalani sidang dan pembacaan putusan:
MD putusan tahanan 5 bulan, bebas 9 Oktober 2018
OO putusan tahanan 5 bulan, bebas 9 Oktober 2018
MI dan MEA putusan tahanan 5 bulan 15 hari, bebas 14 Oktober 2018
ZW dan AMH putusan tahanan 5 bulan 15 hari, bebas 14 Oktober 2018
Hari ini, Senin 15 Oktober 2018 sidang dilakukan untuk MC dengan kesaksian dari BV dan AM.
Perkembangan persidangan akan segera kami kabari kembali.
Tidak ada yang bebas sampai semuanya bebas!
Tags: Brian Valentino (Ucil), Indonesia, Mayday, Repression, Trial, Yogyakarta
Posted in Prison Struggle
Thursday, August 30th, 2018
Not Ideological Solidarity but Critical Revolutionary Solidarity: A Personal Reflection of Yogyakarta/Indonesia Anarchist Black Cross (Palang Hitam)

Knowledge chooses its project,
each project is new and chooses its moments,
each moment is new, but simultaneously emerges from
the memory of all the moments that existed before
The Interior of the Absolute
It is fair to say that the Black Cross were initiated after the May Day event in Yogyakarta 2018, a demonstration/blockades that ended up in a riot between the so-called "local people" and the demonstrators (many, even the so-called Student Organization involved in the organizing blamed the Black Clad anarchists for igniting the riot and provoked property destruction, and to their surprised the graffiti that call to "Kill the Sultan", until now there have been no one claimed this). Therefore, even Palang Hitam now are progressing their activities to other places and helping other revolutionaries who are facing the same legal consequences or just being in the grassroots conflict to provide medical aid, its "over-lapping" solidarity still meant that Palang Hitam were originated, initiated, and activated by the comrades who are "on the list" (of the powers that be) and those who are completely not on the list but decided to actively participated. So, in order to specified the location of these comrades, mainly central java, it is fair to say that Palang Hitam is Palang Hitam Yogyakarta or Central Java.
What being said in this short critical reflection are based on specific geographical and historical understanding of the anarchist movement or the revolutionary movement of individuals against state and capitalism in Indonesia. There's no need to say about the contrast between our geographical location and our comrades in the west and those who are also in the global south, especially considering prison solidarity in its historic sense. Indonesia, have plenty of oral history about prison rebellion and rebellious individuals, but these were almost never written, these were almost like mythopoesis among criminals for generation and some even become so legendary that it always inspired rebellion each time there's a prisoner get beaten very severely or until they die. It is obvious there's almost no official history of them because, who want to write about these violent, lawless, and cool individuals? Even the so-called radical academics tend to avoid this subject. (more…)
Tags: Analysis, Brian Valentino (Ucil), Indonesia, Mayday, Repression, Yogyakarta
Posted in Prison Struggle
Monday, May 4th, 2015
Tags: Black Bloc, EXPO Milan 2015, Fuck the Police, Italy, Mayday, Milan, Riots
Posted in Direct Action
Friday, May 1st, 2015
The events of May 1886 that took place in Chicago are a turning point in the history of the revolutionary labor movement.
It was not only the fight of the workers to reduce working hours to eight hours daily that featured in this fight and led to the global fight of the proletariat for an 8 hour work day, but it was also a response of the workers to a crackdown by the bosses, and the murder of workers at the McCormick factory. This response was "Workers in arms" which called for a reaction of the working class to the killings of the bosses. It was the armed reaction of the workers when police ordered the dissolution of the Hay Market Square protest that was called against the killings of the strikers at the McCormick factory. The armed tradition of the working class and revolutionary movement was at that time closely related to unionism and the struggle for an 8 hour work day, better working conditions, wage increases, social security. And all this was seen to some extent, as a stage on the way to the abolition of the capitalist system.
Such struggles, which were inspired by the events of May 1886 in Chicago erupted in many countries over the next few years in France, in Italy, Spain, Russia, Mexico, Argentina and they were characterized by the use of armed violence on the part of workers.
Unfortunately a large part of the labor movement adopted an approach that considered armed practices as "provocation" and practices of "individual terrorism" that harm the labor movement and were therefore condemnable. There is the view, for example, that the events of the Hay Market Square with the throwing of a bomb and the armed scuffle against the police that followed were an intentional provocation to justify the murder of several of the assembled workers, but also the conviction and execution by hanging of the organizers of the Hay Market Square protest. (more…)
Tags: Golden Dawn, Greece, International Solidarity, Letter, Mayday, Nikos Maziotis, Pavlos Fyssas, Revolutionary Struggle, Switzerland, SY.RIZ.A.
Posted in Autonomy
Tuesday, April 14th, 2015
YES MAYDAY | NOEXPO
INTERNATIONAL WORKERS' DAY IN MILAN
After seven years of crisis the precarious pride has become rage and indignation against the burgeoning unemployment and the growth of poverty imposed by BCE & IMF to most of the population with austerity policies, particularly in Italy, Greece and the rest of the Latin Europe. Social slaughter, plunder of wealth and common goods, the end of the public city are the bases upon which governments build their response to the economic crisis.
The whole urban environment is the heart of many overwhelming social tensions. It is dominated by profit-based logics, soil consumption, the speculative spiral and the showcase city formula, in which the territorial branding is everything and inhabitants needs count as nothing, which leads to environmental exploitation, militarization of life, as we see in Val Susa, attack against our city back streets.
Italy deeply suffers precariousness, exploitation, repression. Corresponds to our need of places for political activism and criticism their evacuation and closure. (more…)
Tags: Demo, EXPO Milan 2015, Fuck Work, Italy, Mayday, Milan, Riots
Posted in Autonomy
Saturday, March 28th, 2015
Fuck the Police – Fuck the Tories – Fuck the lot of them – All Fucking Wankers
http://www.classwarparty.org.uk/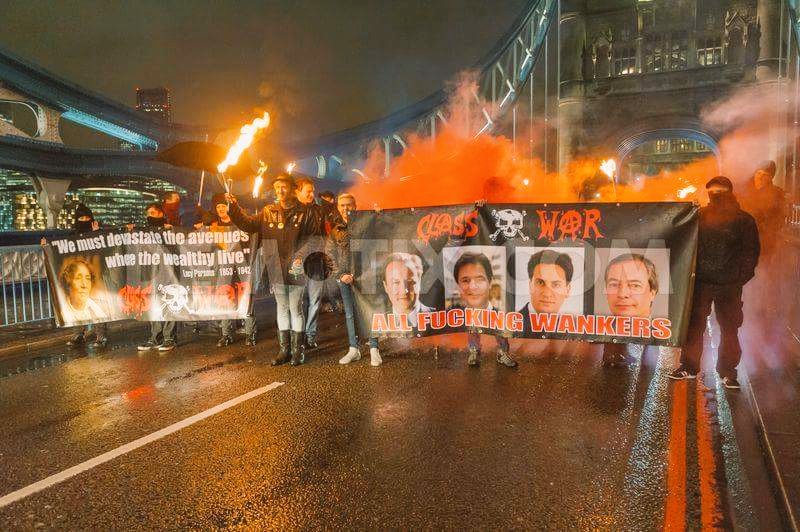 Tags: Class War (UK), Demo, Fuck School, Fuck the Church, Fuck the Elections, Fuck the Law, Fuck the Mainstream Media, Fuck the Police, Fuck the Queen, Fuck Work, Fuck You Tesco, Mayday, Police Bastards
Posted in Uncategorized