Posts Tagged 'Mexico'
Friday, June 17th, 2011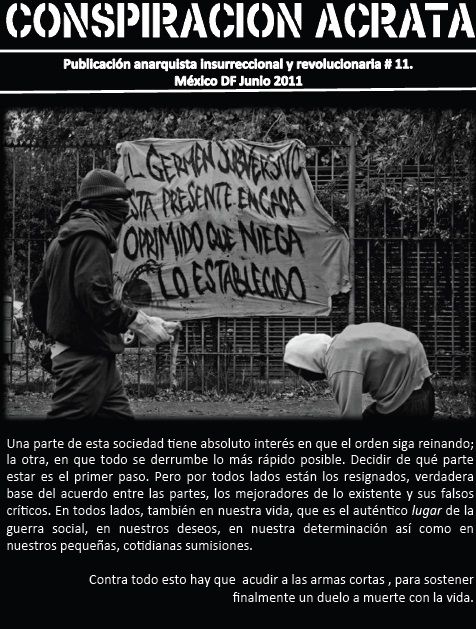 New edition of the Mexican anarchist publication, "Conspiración Acrata", #11.
–
– Editorial.
– Noticias incendiarias y acciones mundiales.
– Marcha, meeting y planton, y de paso un buen raspon que avala el martirologio libertario x. CIA.
– III. Afinidad y organización informal. Alfredo Maria Bonanno.
– Nosotrxs y lxs muertxs que se los llevo el viento.
– De la teoria a la practica x: Giannis Dimitrakis.
– Acciones, sabotajes, comunicados.
– Algunos escritos, poemas del compañero Mauricio Morales.
– Algunas noticias incendiarias de Mexico y el Mundo.
– Comunicado de las barricadas incendiarias en C.U.
– Articulos de opinion Acrata.
– Anarquismo del sigo XXI: La insoslayable necesidad de abandonar todo lo ajeno x: Gustabo Rodriguez.
– Un texto que fue enviado y que el congreso no quiso difundir.
– Mauri: la ofensiva no te olvida: Comunicados de Acciones en Mexico para el Mauri.
– Reseña de la actividad en solidaridad con lxs compas del caso bombas.
– Contra portada: Poema de Gabriel Pombo da Silva.
link: aqui
Tags: Conspiracion Acrata, Mexico, Publications
Posted in Library
Wednesday, June 8th, 2011
The following communique was originally published in the Finnish anarchist portal Takku.net. During the last weekend an Islamist blogger tried to take credit for the bomb and molotov cocktails, until an anarchist communique was published on Monday 6.6.11, putting the attacks within the anti-state/anti-capitalist frame of struggle. Mainstream media news can be found here: 1 & 2
From the comrades:
"Tuesday night 13.4.2011 we burned five dumpsters at Pukinmäki train station in Helsinki. We also wrote some slogans for free spaces on some walls.
During the next two nights we burned dumpsters at several places in the city of Vantaa.
Tuesday 19.4. we attacked the police; we set up a bonfire on the street, and when the police showed up, we greeted them with stones and paint bombs. The police responded by attacking the nearby Social Centre Satama, which they found empty after a long siege and assault inside.
During the night 31.5.-1.6. in the district of Pukinmäki, Helsinki, we closed the Kenttätie-road, frequently used by the police, by setting several dumpsters on fire.
Early Friday morning 3.6. in the Helsinki district of Pasila, we put a bomb under Turvatiimi's (a private security company) car. Although the bomb was fully functional, we decided not to explode it, to ensure that bystanders and workers in other nearby companies wouldn't be put in danger. This is also why we placed the bomb so that everyone in the courtyard could see it.
Early Saturday morning 4.6. we attacked two gas stations with molotov cocktails in the Helsinki district of Tapaninvainio.
Monday morning 6.6. we called bomb threats to the following embassies: Belarus, Russia, Spain, Mexico, Chile, United States, Germany, Greece, Italy.
We chose these countries because of the ongoing struggles there. We wanted to make the representatives of these countries feel a bit of the fear, that our anarchist comrades face in their everyday struggle against the violence machine of the state.
With these attacks we want to show our solidarity to the comrades of Social Centre Satama and their struggle for free space. We also send revolutionary greetings to the Roma migrants in Helsinki, who are oppressed daily by the violent apparatus of the state.
With these attacks we also express our support to every anarchist prisoner, and want to remind that the struggle will continue despite the attempts at repression by the state. The time of empty talk is over, long live anarchy!"
Tags: Arson, Belarus, Bomb threats, Chile, Finland, Germany, Greece, Helsiniki, International Solidarity, Italy, Mexico, Roma, Russia, Sabotage, Social Centre Satama, Spain, Turvatiimi, United States
Posted in Direct Action
Sunday, May 29th, 2011
from Culmine, translated by War on society:
The 23rd of May, at 2am, we set off an explosive device in the branch of BBVA-Bancomer located at Calzada Ignacio Zaragoza and Agua Caliente in the Iztacalda Delegación of Mexico City.
The target chosen is not accidental. This bank, Spanish in origin, is the second largest bank in Latin America and the first in management of pensions and securities. These are some of their "corporate responsibility" strategies: fomenting military conflict in the world by financing armament companies and armament trade, financing of cluster bombs (used by Gadafi to bombard Misrata in Libya), laundering drug trafficking money, financing of highly polluting projects (the Heavy Crude Pipeline (OCP) in Ecuador, Gasyrg pipeline in Bolivia, ENCE mega-papermill in Uruguay and financing of open-pit mining in Chile and Peru), financing of Repsol YPF and Iberdrola (which product energy in part from fossil fuels) contributing thus to CO2 emissions and climate change.
Although Mr. Mancera labors to disqualify this morning's action, speaking of hooligan youth with their faces covered, through this communique we want to say that we have motives for attacking these symbols of capital. In the face of what we consider strategies of extermination, we will respond with fire until the last of these neocolonial companies disappears from this country and from the world.
We claim this action as a form of solidarity with our imprisoned comrades in Chile. With this action we also remember compañero Mauricio Morales who fell dead when an explosive device went off that was to be used against the School of the Gendarmería.
Solidarity knows no borders. Nor does insurrectional action.
For the destruction of the capitalist system
For the freedom of the 14 political prisoners of $hile
For the freedom of our imprisoned Mexican comrades Adrián Magdaleno and Braulio Durán
For the freedom of our imprisoned comrades in Greece, Belarus and EU
In memory of Mauricio Morales and Patricia Heras

CRIA (Insurrectional Anarchist Revolutionary Cell)
Tags: 14/14, Adrián Magdaleno, BBVA-Bancomer, Braulio Durán, Chile, CRIA (Insurrectional Anarchist Revolutionary Cell), International Solidarity, Mauricio Morales, Mexico, Mexico City, Patricia Heras
Posted in Direct Action
Sunday, May 29th, 2011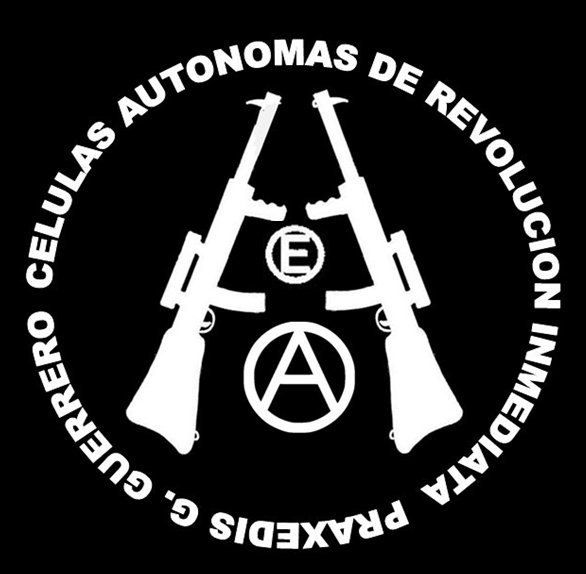 from Culmine, translated by War on society:
We claim ourselves the agents of the following attacks with explosives:
*The placement and detonation of the explosive device that blew up in the Santander [bank] at Tlalpan and Normandía streets, Mexico City.
*Explosive device against a Starbucks located on the commercial avenue "Paseo de la Reforma," Mexico City.
The morning of the 22nd of May of 2009, a warrior for freedom left us, but he will never be forgotten, he will live forever in the anti-authoritarian offensive, which is directed against the promoters of insane violence and of social control. Punk Mauri died in combat, struggling against the enemy, fighting for his ideas, despite what the enemies of our rebellion say, comrade Mauri died in the direct solidarity struggle with the comrades caged in the prisons of the state.
What happened yesterday is our way of remembering him, of showing what between ourselves stays alive–the spirit of that iconoclastic warrior: attacking those he always attacked, committing an outrage against the system of domination and the social peace that he, like us, loathed. Without mediation in our struggle and with our firm convictions. His words remind us every day that we must not take even one step back, that beyond our fronts there lies a capitalist world that needs to explode. One bomb, two, three…. Arm yourself and become violent, beautifully violent, until everything explodes… Arm yourself and combat the terrorism, burn, conspire, sabotage and become violent, beautifully violent, naturally violent, boldly violent… Anarchy does not die in the mouth, it prevails in active hands… were his words and his action.
The targets against which we directed our attack this time are part of the machinery by which the state/capital continue to remain intact. The banks and capitalist businesses are what dominate the world in this new stage of capitalism: technological capitalism. They are who, with the ownership of the economy, make, direct, and control the life of millions of slaves of the illusory well-being, the life of a society submissive to the longings to receive crumbs from power. Not to mention the banking institutions finance the construction of new public and private prisons in which they exploit the prisoners for the supposed purpose of reinsertion, obviously a reinsertion into capitalist society. They are in part those responsible for sexism, misogyny, destruction of the environment…
The devices were made from metal cans, butane gas canisters, screws and dynamite. All these actions are minimized by the inferiorist [a play on the words "inferior" and "interiorista" meaning person in the ministry of the interior – transl] Miguel Mancera in a clear intention to cover up the anarchist offensive and who, on seeing his order upset and his security evaded, with decaying arguments and explanations intends to explain the components of our devices, our form of action and our motives, which he certainly will never understand, since our motive is to annihilate the system that protects him. His lie-laden declarations contradict the version he gave to a TV journalist after the explosive attack against the Santander in Navarte in April of last year.

A greeting of solidarity to compañero Gabriel Pombo… We are with you… always with the rebels!!!
"We are not in agreement with what they impose on us and we will destroy those who press on us many problems we will have to face but more will be the reasons to struggle nothing imports on us that we have to fight now that our struggle will never finish… We will not allow them to control our lives and we will struggle against all authority not only the bad times will exist, there also will be moments of great joy. We should initiate subversive actions to stop thus power from reaching freedom…"
STRUGGLE!!! STRUGGLE!!! STRUGGLE!!! UNTIL THE END!!!
STRUGGLE!!! STRUGGLE!!! STRUGGLE!!! FOR YOUR FREEDOM!!!
For freedom, for anarchy…. For the multiplication of bombings and actions against the state/capital!!!
Against the prison society and the police state!!!
For the expansion of the social war on all fronts!!!
Mauricio Morales… Presente!!!!
At war against the state:
Autonomous Cells for Immediate Revolution – Praxedis G. Guerrero
Tags: Autonomous Cells for immediate Revolution - Praxedis G: Guerrero, Gabriel Pombo da Silva, Mauricio Morales, Mexico, Santander Bank, Starbucks
Posted in Direct Action
Wednesday, May 11th, 2011
From Culmine, translated by War On Society (the text was sent to the Congress but they did not care to share it):
we receive and publish:

* Some Revolutionary Insurrectional Anarchist individuals
Greetings to the First Anarchist Congress of Mexico. We introduce ourselves as individuals who, in sharing the concerns that we explain below, have realized that these concerns are shared by comrades elsewhere who are involved, as we are, in public or open struggle and also in clandestine or insurrectional struggle–this being the reason that we prefer to communicate in writing with the goal of safeguarding our anonymity, not out of cowardice but for our own security. (more…)
Tags: First Anarchist Congress of Mexico, Letter, Mexico, Some Revolutionary Insurrectional Anarchist individuals
Posted in Autonomy
Wednesday, March 23rd, 2011
Quick translation of the suppressed news from Mexico of an explosive attack against one of the most notorious and vilified multinational corporations : Monsanto. The CARI-PGG take responsibility for attacking this biotech agribusiness giant.
Comunicado de las CELULAS AUTONOMAS DE REVOLUCION INMEDIATA / PRAXEDIS G. GUERRERO (CARI-PGG)
Claim of sending a parcel bomb to Monsanto – CARI-PGG
Comunicado: Release:
During the week of 22 to 27 February we sent a parcel bomb to the head of Monsanto Mexico, which was made in the same way as the explosive packets which were sent to the two prison directors. We know that news of this package was merely hidden like last two and also the last one which was sent to the Embassy of Chile [for the 14 August Hungerstrikers].
…
But many people will wonder why Monsanto?.
Monsanto is one of the world's most powerful companies that own most patents of genetically modified corn among other patents. Monsanto for its history of existence, dating from 1901, is dedicated to destroying the planet through different ways: pollution of rivers, oceans and ecosystems through the discharge of fertilizers and agrichemicals, destruction of native cultures and their customs, privatization of Nature, poisoning the land, making it infertile, producing transgenic corn and preventing people from planting native corn anymore or Creole. Monsanto contributed to pollution, death and illness of millions of Vietnamese during the war between Vietnam and the United States. At that time 80 million liters of herbicides (chemicals) were sprayed on Vietnam, in an area of ​​approximately 1.5 million hectares, to clear forests and facilitate the bombing of the population. Among the products to be sprayed was Agent Orange, a powerful defoliant.
These chemicals destroy forests, rice fields, entire crops, poisoned the waters and caused serious environmental damage, plus poison people and cause diseases like cancer and birth defects.
Monsanto has hired the world's largest mercenary company "Blackwater" to spy on activists dissatisfied with their destructive activity, saying that Blackwater and Total Intelligence could infiltrate the environmental movement if it was necessary, Monsanto paid $ 127,000 Total Intelligence in 2008 and $ 105,000 in 2009.
…
For these and many other reasons, we have to attack this biotech company and those who remain standing.
Against these companies that threaten nature all our actions have to be as radical and powerful as the damage they perpetrate against the planet. We know that in time (or at least that's what is wanted), the director of Monsanto Mexico and all the individuals who support this company will not sleep easy, expecting at any given night a powerful explosion will destroy their house. Ask the agents of Monsanto who has infected livestock when they discharge their toxins in the water, just ask Monsanto who has has forced thousands of peasants to sell and consume genetically modified product and those who simply refuse stripping them through repression about terrorism, ask them about their complicit governments and their paramilitaries.
We see no moral reason why we should care about these entrepreneurs and their bourgeois families, rich and powerful, who feel they own the world and feel the right to modify and manipulate life on this planet at will, justified only by having money, having 'manners', having cars; – to have food every day, just to throw most of it away. They have enriched themselves at our expense and cost of our families, our loved ones and our comrades in struggle, that unfortunately come into this commercialized world of work by not having many other options or alternatives.
These companies and their families, their wealth from the exploitation of nature and animals, destroy ecosystems, poisoning rivers and oceans.
…

An eye for eye, tooth for tooth!!!

Capitalism is a social relationship and capitalists have names and address!!!

Autonomous Cells for the Immediate Revolution – Praxedis Gilberto Guerrero
Tags: Autonomous Cells of the Immediate Revolution – Praxedis G. Guerrerro, Biotechnology, Globalisation, Letter-bombs, Mexico, Monsanto Corporation
Posted in Direct Action
Friday, March 11th, 2011
Comunicado de las CELULAS AUTONOMAS DE REVOLUCION INMEDIATA/PRAXEDIS G. GUERRERO (CARI-PGG)
"During the week of the 22nd to the 27th of February this year [2011], we sent two explosive packets to the directors of two penitentiaries; to the director of the Reclusorio Preventivo Varonil Norte and to the director of Centro Varonil de Readaptación Psicosocial (CEVAREPSI), both of which are prisons in Mexico City, as we know it this action was completely covered up and censured. (more…)
Tags: 14/14, Anti-Psychiatry, Autonomous Cells of the Immediate Revolution – Praxedis G. Guerrerro, Centro Varonil de Readaptación Psicosocial (CEVAREPSI), Chile, GDF, GDF Suez, International Solidarity, Letter-bombs, Mexico, Reclusorio Preventivo Varonil Norte
Posted in Direct Action
Monday, February 28th, 2011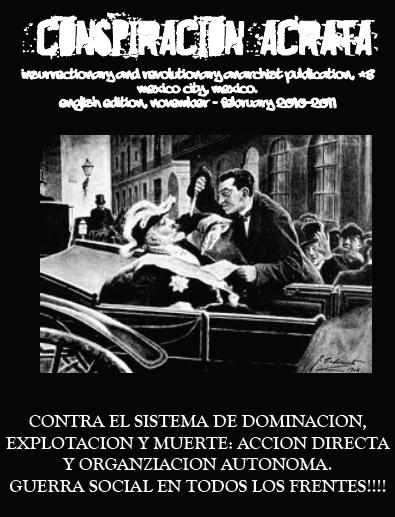 Insurrectionary and revolutionary anarchist publication
Mexico city – Mexico
English edition – February 2010-2011
"Salud! This here is one more number of the insurrectionary and revolutionary anarchist publication that we call CONSPIRACION ACRATA. This project was born during the month of March of 2009 as a medium for the diffusion of the insurrectional anarchist struggle. During this time we have completed 8 editions, with this being the most recent. This edition, completely in English (except the addition of the editorial) was made with the aim of spreading the social war that is being fought in Mexico to English speaking countries, this special edition is a compilation of texts, news, critiques, communiqués from anarchist and eco-anarchist cells in Mexico as well as various texts that were edited for past editions. This publication was also formed from the importance of the diffusion of revolutionary anarchist ideas that are often strongly criticized by individuals who feel they have the role of the judge of the revolution, and instead of putting forth objective critiques, only assert prejudiced and condemnatory critiques which aim to isolate the anarchist compañer@s of action from the entire movement."
Tags: ALF, Autonomous Cells of the Immediate Revolution – Praxedis G. Guerrerro, Conspiracion Acrata, ELF, Mexico, PDF
Posted in Library
Wednesday, January 26th, 2011
On the 23 January 2010 the Chilean Embassy in Mexico received two explosive letter devices which were immediately noticed by Embassy civil servants, who then alerted the Secretariat of Mexican Public Security. The building was evacuated and 24 hours later Mexican police confirmed that the packets contained explosives and threats against the ambassador of Chile in Mexico – Germán Guerrero Pavez. The devices were neutralized.
Autonomous Cells of the Immediate Revolution – Praxedis G. Guerrerro took responsibility for this latest attack against the Chilean State through an internet message.
This incident has been 'quietened down' by the Chilean and Mexican governments, international media plus European authorities, who are not willing to give the "oxygen of publicity" to this latest attack on the global media-stage, during the precarious trial of the Conspiracy of Cells of Fire, after the December letter-bombs against various States, which hit international media headlines, prompting the Italian Informal Anarchist Federation to respond with two explosive parcels for the Chilean and Swiss embassies in Rome. Growing insurrectional tendancies will not be censored out of the media, nor will the attacks end. Anarchism will only spread, become more developed and will overcome the institutions of hierarchy and finance.
The action was dedicated to the prisoners of the Chilean State who are fighting for their dignity and freedom, the indigenous people of the Mapuche, who are fighting for their land and self-determination, as well as dedicated to the Revolutionary Organisations Conspiracy of Cells of Fire and Revolutionary Struggle in Greece. Anarchist prisoner Gabriel Pombo da Silva also gets a mention, with a quote from him ending the final section: "Siempre con l@s rebeldes!!!!"
Download the Communique (PDF / Spanish Language)
–
More information:
Communique from Conspiracy of Cells of Fire – Call for an Informal Anarchist Federation – International Network
–
AGAINST THE VIOLENCE OF CAPITAL – OUR STRUGGLE IS ONE
Tags: 14/14, Autonomous Cells of the Immediate Revolution – Praxedis G. Guerrerro, Chile, Conspiracy of Cells of Fire, Gabriel Pombo da Silva, Informal Anarchist Federation (FAI), Informal Global Federation / Anarchist Network, International Revolutionary Front, International Solidarity, Letter-bombs, Mapuche, Mexico
Posted in Direct Action
Wednesday, December 1st, 2010
Time passes and everything stays the same… It could be for some like this, describing the reality that whips many of us, under a pessimistic pretext, like at the end of their conviction. Repression goes up a level, hate against the poor, destruction of the environment, exploitation of human dignity, assassinations of lives, like the small wild life that remains on this planet called Earth. Nothing has changed. Little we have influenced in the disruption of this reality, of this world that our free minds don't belong to. If nothing has changed it's perhaps for the lack of obligation, of courage and of conviction. For many this all seems like a game, to stand with a placard, yell a slogan, reform a law, only to alleviate their sense of guilt… but for many others this is serious, the thing here is, to what point one is seriously willing to go? (more…)
Tags: Autonomous Cells of the Immediate Revolution – Praxedis G. Guerrerro, Conspiracy of the Cells of Fire, Global, Greece, International Solidarity, Mexico, Revolutionary Struggle, Social War
Posted in Direct Action, Prison Struggle
Sunday, December 20th, 2009
From the 20th December 2009 to the 1 January 2010, Gabriel Pombo da Silva, anarchist imprisoned in Aachen, Germany, has declared a hungerstrike which prisoners from at least three jails in Chile including Axel Osorio have stated they will join. Marco Camenisch (in Switzerland), Jonatan (Sweden), Juan Carlos, Francisco, Honorio and Alberto (Spain), Diego (Argentina), Sergio, Mike, Evelin, Luca and Pasquale (Italy) have also said they will participate. Many other prisoners are expected to join, in solidarity with the struggle of Gabriel and in a common collective refusal of authority and the prison system. Gabriel hoped it might make the Christmas celebrations seem even more ridiculous than usual. (more…)
Tags: Aachen, Anonymous Anarchist Action, Chile, Gabriel Pombo da Silva, Hungerstrike, Italy, Mexico, Spain, Switzerland
Posted in Prison Struggle