Posts Tagged 'Minneapolis'
Wednesday, December 26th, 2018
In the early hours of Christmas morning, Santa visited De Roma Art Glass. But Santa didn't leave any presents, instead he super glued the locks.
De Roma Art Glass is owned by the most notorious neo-nazi in Minneapolis, Julius De Roma.
No holiday cheer for fascists.
Solidarity with all those fighting fascism and authority worldwide!
Tags: Anti-Fascism, De Roma Art Glass, Julius De Roma, Minneapolis, Neo-Nazis, Sabotage, USA
Posted in Direct Action
Monday, November 9th, 2015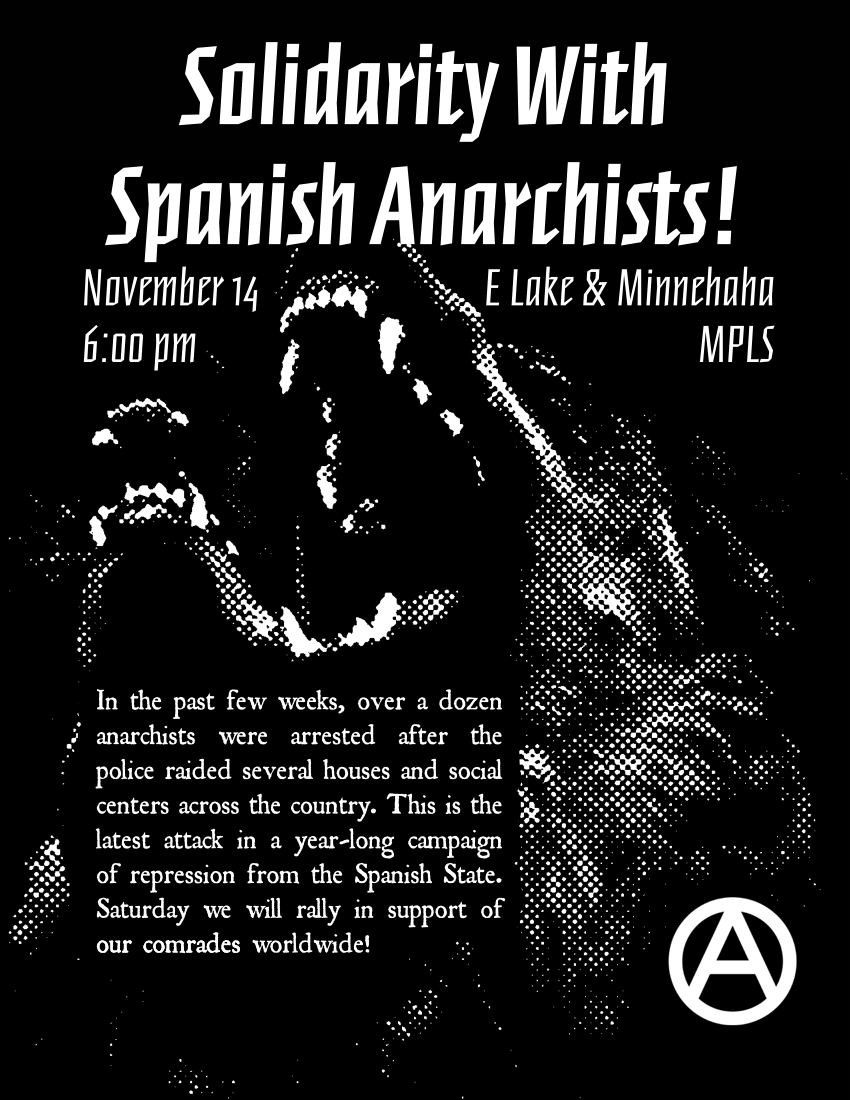 Updated: Here's the reportback.
Almost a year ago, the Spanish State began a campaign of repression against anarchists, arresting dozens, including nine in late October, and five more in November of this year. Their imprisonment is justified with the invention of a fictional terrorist group, the GAC-FAI-IRF. No attack has ever been claimed with this set of acronyms, and the GAC (Coordinated Anarchist Groups) are only the authors of a recent book, Contra la Democracia (eerily similar to the Tarnac Affair and The Coming Insurrection in France, 2008).
On Saturday we will rally in solidarity with those arrested, at 6:00pm at the corner of E Lake St & Minnehaha Ave in Minneapolis.
More info here: Efecto Pandora & Conflict MN.
Tags: Catalunya, Demo, GAC (coordinated anarchist groups), International Solidarity, Minneapolis, Spain, USA
Posted in Social Control