Posts Tagged 'Minneapolis'
Friday, June 19th, 2020
Welcome to the 35th edition of Bad News. This is our Angry Voices From Around The World for June, 2020. A report from the international network of anarchist and anti-authoritarian radios.
If you'd like to get involved in the network or want to hear more – send an email to a-radio-network@riseup.net.
Check out all the shows look for the a-radio-network collection on archive.org or at our website, a-radio-network.org.
Contents:
1. The Final Straw Radio:
• Interview about the liberation of a former Sheraton Hotel in Minneapolis.
2. A-Radio Berlin:
• Interview about a new feminist campaign in Germany to raise awareness to the abortion topic.
3. Radio Fragmata:
• Updates on the general situation, the movement and the struggles in Greek territory.
4. Invisible Radio:
• Voices of people from Moria camp
5. R.O.S.E. (Athens):
• News from Greece.
Tags: Anarchist Radio, Anarchistisches Radio Berlin, Anti-Prison, Athens, Berlin, Final Straw Radio, George Floyd, Germany, Greece, International Solidarity, Invisible Radio, Migrant Struggle, Minneapolis, Moria, R.O.S.E (Athens), Racism, Radio, Radio Fragmata, Repression, USA
Posted in Autonomy
Saturday, June 6th, 2020
White supremacist apologist and president of Police Officers Federation of Minneapolis (police union) Bob Kroll is attempting to get charges dropped and reinstate the four murderers of George Floyd to their former positions on MPD.
He could use a house visit!
His home residence is :
6589 145th Circle N
Hugo, MN 55038
Verified with tax parcel id records:
https://maps.co.washington.mn.us/WCGIS/
WashPost already tried visiting, but 'no-one home,' pulled over by cop and intimidated after leaving residence:
Bob Kroll, the Minneapolis police union chief who hasn't responded to calls and messages seeking comment, called the cops on a reporter who knocked on his door https://t.co/lMHhZYbibB pic.twitter.com/bYAKg2cNsc

— Mark Berman (@markberman) June 4, 2020
—
Tags: Bob Kroll (Pig), Fuck the Police, George Floyd, Minneapolis, Police Brutality, Racism, USA
Posted in Anti-Fascist
Wednesday, December 26th, 2018
In the early hours of Christmas morning, Santa visited De Roma Art Glass. But Santa didn't leave any presents, instead he super glued the locks.
De Roma Art Glass is owned by the most notorious neo-nazi in Minneapolis, Julius De Roma.
No holiday cheer for fascists.
Solidarity with all those fighting fascism and authority worldwide!
Tags: Anti-Fascism, De Roma Art Glass, Julius De Roma, Minneapolis, Neo-Nazis, Sabotage, USA
Posted in Direct Action
Monday, November 9th, 2015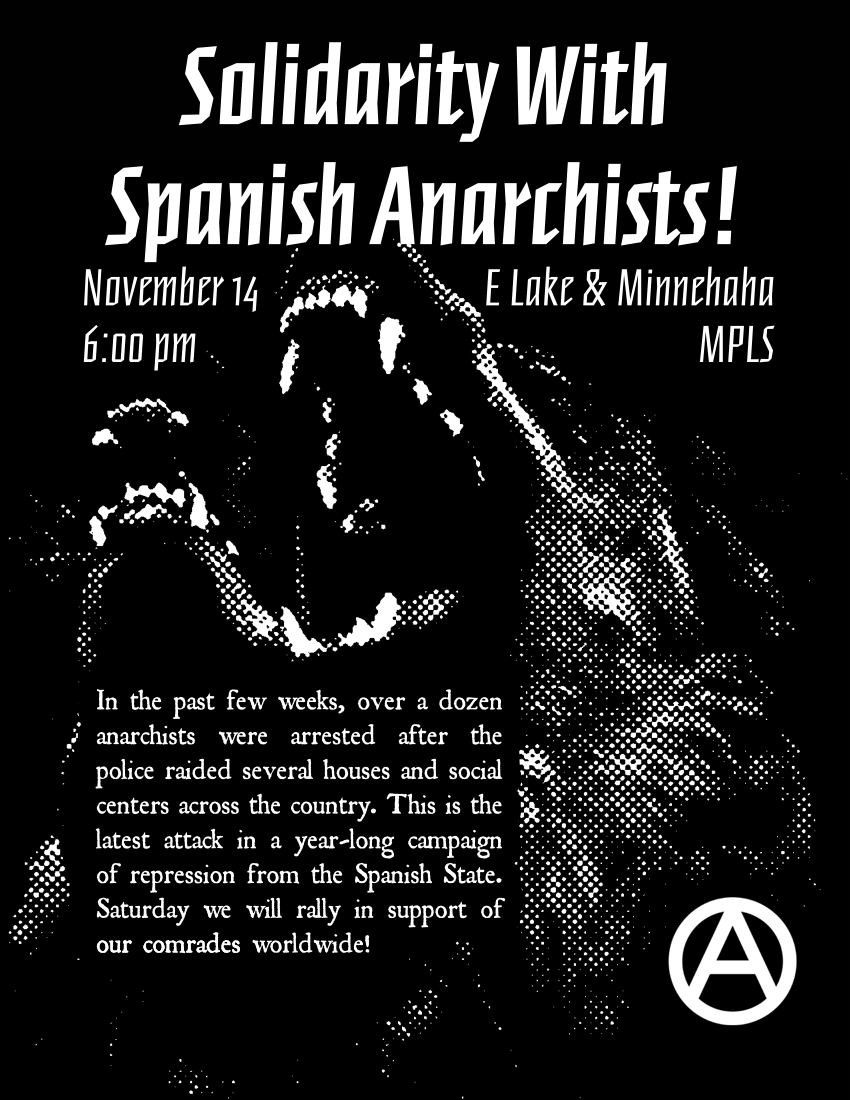 Updated: Here's the reportback.
Almost a year ago, the Spanish State began a campaign of repression against anarchists, arresting dozens, including nine in late October, and five more in November of this year. Their imprisonment is justified with the invention of a fictional terrorist group, the GAC-FAI-IRF. No attack has ever been claimed with this set of acronyms, and the GAC (Coordinated Anarchist Groups) are only the authors of a recent book, Contra la Democracia (eerily similar to the Tarnac Affair and The Coming Insurrection in France, 2008).
On Saturday we will rally in solidarity with those arrested, at 6:00pm at the corner of E Lake St & Minnehaha Ave in Minneapolis.
More info here: Efecto Pandora & Conflict MN.
Tags: Catalunya, Demo, GAC (coordinated anarchist groups), International Solidarity, Minneapolis, Spain, USA
Posted in Social Control