Posts Tagged 'Monica Caballero'
Friday, October 30th, 2020
Como ya es conocido, lxs compañerxs se encuentran en prisión desde julio acusadxs de distintos ataques explosivos ocurridos en julio del 2019 y febrero del 2020. El proceso judicial en su contra continua abierta al igual que el plazo investigativo, sin mayores novedades.
En la situación particular de cada unx, podemos informar que:
Francisco aún permanece encarcelado en la Sección de Máxima Seguridad de la Cárcel de Alta Seguridad, y durante el último tiempo ha vivido dos allanamientos realizados por personal policial de inteligencia en colaboración con los carceleros. Esta incautación se tradujo en la requisa de los apuntes de la defensa del compañero, bosquejos de textos además del hostigamiento permanente y continuo por parte de la fiscalía que ha solicitado estos allanamientos.
Mónica, por su parte, se encuentra en el Modulo de Connotación Publica en la cárcel de San Miguel, enfrentándose a una fuerte y completa censura de la comunicación durante semanas. Sin poder entrar ni sacar ninguna carta bajo ningún formato, finalmente y tras varias insistencias la administración carcelaria constituyo un protocolo para que la compañera pueda sacar cartas, pero al mismo tiempo prohibió que se le envíen cartas por correo directamente a la cárcel. En vista a esta situación se ha levantado provisoriamente la siguiente dirección para que compañerxs de otras latitudes envíen su correspondencia y podamos entrarla: Sta Isabel 0151 local 6. Providencia. Santiago
A pesar de las aperturas y desconfinamiento, en las cárceles siguen sin visitas y solo mediante llamadas y videollamada monitoreadas por gendarmería.

¡Solidaridad con Mónica y Francisco!
Tags: Chile, Francisco Solar, International Solidarity, Monica Caballero, Repression, Santiago
Posted in Prison Struggle
Friday, September 11th, 2020
Desde los inicios de lo que hoy conocemos como dominio y civilización, la cosificación y explotación de lo salvaje ha reducido la vida a simples productos y servicios, y por lo tanto, necesita que estos sean movilizados y dirigidos hacia y dentro de las grandes urbes, siguiendo con esto las trayectorias trazadas por los artífices del modelo económico imperante en los distintos períodos de la historia conocida.
El transporte de la mercancía ha resultado ser desde entonces un órgano vital para el Poder y sus propósitos de control sobre los territorios que hoy denominan ciudades. La organización y la forma en que se rige el ritmo de la vida en estos lugares, responde solo a los intereses y el beneficio de unos pocos orquestadores de este sistema de consumo y muerte.
Las máquinas que día a día recorren las innumerables carreteras y calles transportando mercancía humana, son igualmente incinerables que las que transportan mercancías extraídas de la tierra. Ambos tipos cotidianamente mueven a través de las innumerables carreteras y calles, tanto en el Wallmapu como en $antiago, lo que llaman "recursos"; unos producto de la explotación de la tierra, otras para la explotación humana. Así es como se mantiene el flujo de la devastación de la tierra, y así se mantiene el flujo de la devastación de nuestras vidas. (more…)
Tags: Arson, Black September, Chile, Claudia López, Francisco Solar, Jhonny Cariqueo, Joaquín García Chanks, José Huenante, Juan Aliste Vega, Macarena Valdés, Marcelo Villarroel Sepúlveda, Monica Caballero, RED (Ex-Transantiago Bus Company), RP Global (Company), Sabotage, San Miguel, Santiago, Transantiago, Wallmapu
Posted in Direct Action
Friday, September 4th, 2020
Para lxs antagonistas a este sistema de terror el ingreso a la cárcel siempre es un trago amargo y siempre duele.
La prisión y yo somos viejas conocidas, en mas de una ocasión me han sentado en su mesa, con los años hemos cambiado y ambas hemos aprendido la una de la otra… pero por mas tiempo que pase escencialmente la cárcel y yo seguimos siendo las mismas. La cárcel aun es el monstruo fagocitador de poderes que crece con la sumisión y el arrepentimiento, yo continuo con los mismos deseos sediciosos de antaño.
Lxs poderosxs lograron encerrar mi cuerpo inquieto, trataron de custodiarlo por muchos años, pero aunque esté enjaulada, mi corazón sigue afuera lejos de alambrados, altos muros y ojos vigilantes… el gris de este lugar solo me toca superficialmente.
El presidio es otro escenario mas de lucha en el camino de la confrontación, el enfrentamiento antiautoritario para mi no ha terminado, solamente ha cambiado de forma.
Queridos Juan Aliste, Joaquín García, Marcelo Villarroel y Dinos Giagtzoglou sus palabras son una bocanada de aire fresco en esta celda.
¡Queda mucho por construir y destruir!
Solidaridad activa con los presos politicos mapuche en huelga de hambre.
Viva la Anarquía!

Monica Caballero S.
Presa anarquista.
Santiago Chile
Septiembre 2020.
–
Letter from imprisoned comrade Monica Caballero in San Miguel prison
For those opposed to this system of terror, prison is always a bitter pill and it always hurts.
Prison and I are old acquaintances, on more than one occasion I have sat at his table, over the years we have changed and we have both learned from one another… but no matter how much time I spend in prison, I remain the same. Prison is still the monstrous phagocyte of power that grows with submission and repentance, and I continue with the same seditious desires of yester-year.
The powerful succeeded in locking up my restless body, they tried to guard it for many years, but even though it is caged, my heart is still out there far from fences, high walls and watchful eyes… the grey of this place only touches me superficially.
The prison is another place of struggle on the road to confrontation, the anti-authoritarian confrontation for me has not finished, it has only changed shape.
Dear Juan Aliste, Joaquín García, Marcelo Villarroel and Dinos Giagtzoglou's words are a breath of fresh air in this cell.
There is still much to build and to destroy!
Active solidarity with the Mapuche political prisoners on hunger strike

Long live Anarchy!
Monica Caballero S.
Anarchist prisoner.
Santiago Chile
September 2020.
Tags: Chile, International Solidarity, Letter, Monica Caballero, San Miguel prison, Santiago
Posted in Prison Struggle
Monday, August 17th, 2020
ES | Comunicado de Joaquín García Chancks/ Santiago Chile
It seems that Denial does not give rise to any unshakable Truth, Reason or Logic, that from the fight against the falsehood of the existent, only a path sown with doubts results, in which the present and the future are blurred, with a diffuse tinge, a dense fog in which it will always be difficult to navigate, but there is something that brings clarity back to this path; It is the compass of confrontation that appears as the reason behind the inseparable notion of a symbiosis of theory and practice, the point of view of an existence, sometimes errant.
The dynamic of the combat shakes existence to bring it back to life, endowing it with the Fieriness that boredom and monotony often extinguish; the construction of an antagonistic existence then brings with it the capacity to live far from the virtuality imposed by a normality dictated life, the blow by blow of the joyful attack, impeller of the mythical creative destruction and the suffering of when we are not the ones who attack, of prison, death, which flirts with subversion, are the flavors of life, real life, bitter drinks and ambrosia.
Today we are drinking from that bitter drink; two dear brothers and sisters are arrested and charged with placing multiple explosive devices, including the one sent to former Interior Minister Rodrigo Hinzpeter and one sent to the fifty-fourth police station in Huechuraba. It is undeniable that both beautiful attacks speak of historical continuity, of the blow of memory that does not forget. The Power disrupted and fearful with the arrest of the alleged perpetrators, who remember, that the revolt was not the culmination of a rebel ecstasy, it is the creation, the turning point of hundreds of lives in combat.
A big hug from afar, full of love, affection and strength for you, Monica Caballero and Francisco Solar.
Long live Anarchy.
Joaquín García Chanks.
Cas. Santiago Chile
14 August 2020

Translated by AWW.
Tags: Chile, Francisco Solar, Joaquín García Chanks, Letter, Monica Caballero, Santiago
Posted in Prison Struggle
Sunday, August 16th, 2020
Just like today, 10 years ago, the Chilean State carried out an extensive repressive operation against comrades and anarchist operations in response to the dozens of bombings against symbols and institutions of the State and Capital. This operation, which led to the arrest of ten anarchists and became known as the "Bombs Case", ended in a fiasco, as the five who were eventually prosecuted were completely acquitted, and were described by the press as the biggest defeat of law enforcement authorities in court history. Today, two of our comrades, Monica and Francisco, who were among those arrested at the time, are again imprisoned in a State that a few months ago slaughtered a massive social uprising that shocked us all.
Arrest and imprisonment are nothing new for our siblings, since in 2013 they were found in the cells of the Spanish State accused of an attack on a cathedral in Zaragoza by the Insurrectional Commando Mateo Morral. The comrades are once again accused of a series of bombings against representatives of the rich, powerful and their defenders in Chilean territory. The attacks included the shipment of two booby-trapped parcels, one of which exploded, leaving eight cops injured (3 of them seriously) at a Santiago police station and the other being located before hitting its target at the subsidiary offices of one of the largest business consortia in Chile (owned by the fourth richest family in Latin America) having as a recipient the head of the legal department, who had served as Minister of Defense and Interior during the crackdown on anarchists known as the "Bombs Case".
After so many years of persecution and imprisonment, relentless struggles inside and outside prisons, they remain steadfast and convinced of the right of the liberation struggle. It is such examples of combatants that have motivated me too to take subversive initiatives and make choices of resistance to domination and exploitation. In such paths of struggle we want to and must walk constantly with love for life and freedom and without fear for death or prison.
With the undimmed memory of Mauricio Morales,
With passion and determination,
With stubbornness and commitment,
With my heads high,
From the bottom of my heart I send a rebellious signal and a big hug to Monica Caballero and Francisco Solar.
REBELLION FIRST AND ALWAYS
Dinos
Special underground section of Koridallos prison
14/08/2020
Tags: 14/14, Francisco Solar, International Solidarity, Konstantinos Yagtzoglou, Letter, Monica Caballero
Posted in Prison Struggle
Tuesday, August 11th, 2020
Active and revolutionary solidarity for our imprisoned comrades.
Tags: Chile, Francisco Solar, International Solidarity, Monica Caballero, Santiago
Posted in Prison Struggle
Monday, August 10th, 2020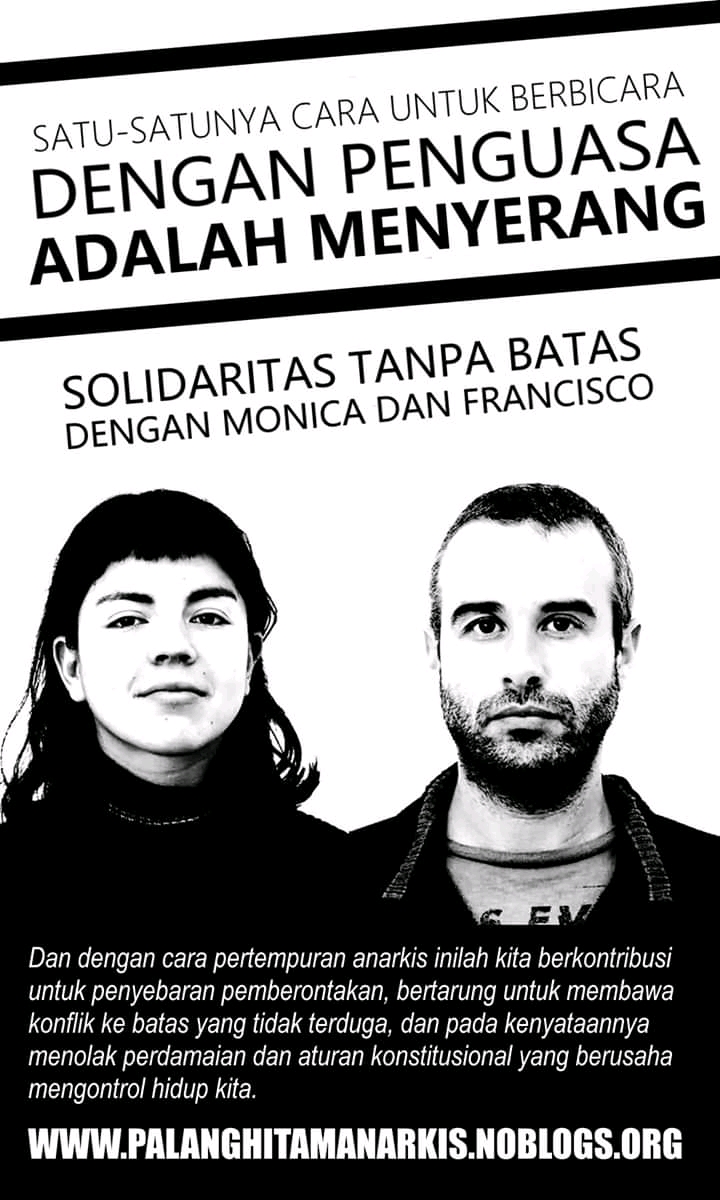 From Indonesia… To Chile…
Palang Hitam Indonesia / Anarchist Black Cross Indonesia menerbitkan poster solidatas untuk tahanan anarkis Mónica Caballero dan Francisco Solar dari Chile. Sebarkan solidaritas!!
Tautan unduhan:
• File PDF
• File JPG
Solidaritas kami akan lebih kuat dari tembok penjara mereka!! Free Monica and Francisco!
Tags: ABC Indonesia, Chile, Francisco Solar, Indonesia, International Solidarity, Monica Caballero
Posted in Prison Struggle
Wednesday, August 5th, 2020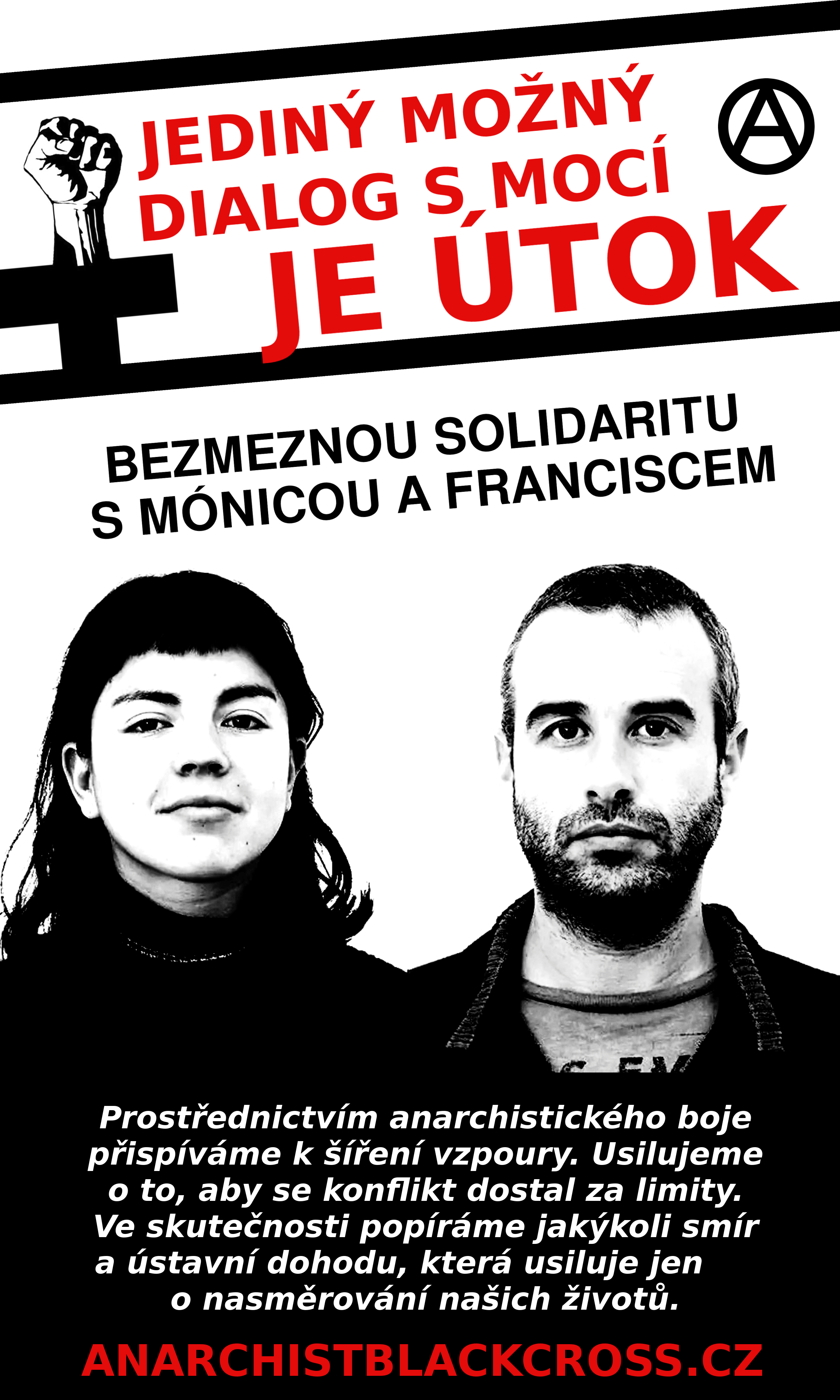 Anarchist Black Cross (Czech) created a new poster in solidarity with Mónica Caballero and Francisco Solar.
Our solidarity is stronger than their prisons!
Tags: ABC Czech Republic, Flyposter, Francisco Solar, International Solidarity, Monica Caballero
Posted in Prison Struggle
Monday, August 3rd, 2020
Tags: Anarquia.info, Chile, Flyposter, Francisco Solar, Monica Caballero
Posted in Prison Struggle
Sunday, August 2nd, 2020
PT | Porto Alegre, Brasil: Barricada incendiária e faixas ao amanhecer em solidariedade com Mônica e Francisco
Porto Alegre. Burning barricade and banners at dawn in solidarity with Mônica and Francisco. In front of the enemy: Indomitable!!!
Since last Friday, July 24th, we have felt the imprisonment of two anarchists Mônica Caballero and Francisco Solar, known enemies of the State and of domination. They spent years arrested first in Chile for the Bombs Case, and then in Spain, more than 4 years kidnapped, accused of attacking a basilica, a Catholic church. And today, they are kidnapped again by the Chilean state accused of sending two explosive packages, one against a police station famous for leading repression and the other against former Interior Minister Rodrigo Hinzpeter, an old repressor and boss of sending the bullets from his office, what some would call the intellectual author of the crimes of the Chilean state. They are also accused of being responsible for two explosive devices left in the building of a luxury real estate company, Tánica. (more…)
Tags: Brazil, Burning Barricades, Francisco Solar, International Solidarity, Monica Caballero, Porto Alegre, Solidarity Action
Posted in Direct Action
Thursday, March 9th, 2017
Read the communique from Monica and Francisco on contra-info.
SANTIAGO – Chilean Anarchists, Monica Caballero and Francisco Solar, arrived this morning at Santiago's International Airport, after having been expulsed from Spanish custody and deported back to their home country.
Monica and Francisco had been charged under Spanish Anti-terrorism legislation for the alleged bombing of the Basilica del Pilar Church in Zaragoza, on Oct 2nd, 2013, and were arrested a month after the incident. Spanish prosecution initially sought a 44 year sentence for the accused, but instead received a 12 year sentence in 2014. The Defense took Monica and Francisco's case to the Spanish Supreme Court, where the sentence was further reduced to 4 and a half years this past December, having dropped one of the initial charges. (more…)
Tags: 14/14, Chile, Francisco Solar, Monica Caballero, Santiago
Posted in Prison Struggle
Thursday, February 16th, 2017
According to corporate media in Spain and Chile, the Audiencia Nacional (National Court) of Spain decided on January 30 to commute the rest of Mónica and Francisco's sentence to expulsion. The lawyers of the comrades are thought to have requested for article 89 of the Spanish Penal Code to be invoked which allows for foreign citizens serving more than one year's imprisonment to have their sentence replaced with expulsion from the Spanish state. The comrades had their original sentence of 12 years reduced on appeal to 4 years and 6 months last December which means they have now served more than a third of their sentence.
It is expected that following police bureaucratic processes that the comrades will be flown by Spanish police to Chile where they will be handed over to Chilean police and then released back onto the street.
More news as it becomes available.

via insurrectionnews
Tags: Chile, Francisco Solar, Monica Caballero, Spain
Posted in Prison Struggle
Saturday, December 17th, 2016
On December 16, the Supreme Court reduced the sentences of comrades Mónica Caballero and Francisco Solar, accused of placing a bomb in the Cathedral-Basilica of Our Lady of the Pillar in Zaragoza in October 2013, repealing the initial sentence of 12 years that was dictated by the National Court to 4 years and 6 months.
This decision was made after partially received an appeal by the defense for the comrade Francisco Solar, who asked that they should not be convicted for the crimes of terrorist damage and separate injuries as if they were the result of two different actions as it was originally in the National Court. In addition the defense noted that the comrades took care when they placed a small homemade device to attack the religious symbol of established power and that they did not intend to cause any injury to any person. To reinforce this defense it noted that at the time of the attack the Basilica was closed to the public and that in addition the device did not contain shrapnel and that they gave a warning before the device was detonated. (more…)
Tags: Francisco Solar, GAC (coordinated anarchist groups), Informal Anarchist Federation (FAI), International Revolutionary Front, Monica Caballero, Spain
Posted in Prison Struggle
Wednesday, November 23rd, 2016
During the almost three years that we have been confined by different prisons of the Spanish State, there is one aspect that particularly calls attention to its determinant importance in prison life; we refer to the dispersion.
The dispersion corresponds to a policy of Penitentiary Institutions implemented by the socialist government in the mid-1980s, which consists of transferring determined prisoners to distant prisons many kilometers from their place of residence. In many cases these transfers are incessant and see the prisoners forced to go through various prisons in a short period of time preventing them from establishing themselves and establishing lasting relationships with others. The purpose of this policy was to curb the riots and protests inside the prisons that had been occurring during those years by drastically removing prisoners considered hostile to the prison system. (more…)
Tags: Francisco Solar, Letter, Monica Caballero, Spain
Posted in Prison Struggle
Monday, May 30th, 2016
On the morning of May 23rd in complicity with the full moon we decided to attack, in a city taken by police and military, we joined the night which makes us invisible and provides anonymity and secrecy. We torched a Banamex branch by placing tires in front of it and watering them with gasoline. So we illuminated the darkness and struck a blow, it's a fleeting moment, but it's a moment we enjoy and that for a few seconds makes us feel a little freer, releasing the fire that slowly eats away at the awful branch and it's ATMs. We decided to videotape it so that everyone can see that some actions are easy to carry out, to encourage all comrades to take action wherever they are.
It is undeniable, we are everywhere. We see banks and those responsible for them as direct generators of poverty and social inequality. Banks are the temples where the "God" of money comes and goes, where misery is managed, where that "God" is placed above any form of life. (more…)
Tags: Arson, Banamex Bank, Conspiracy of Cells of Fire, Fernando Barcenas, Francisco Solar, Informal Anarchic Individualities, International Solidarity, Mauricio Morales, Mexico, Monica Caballero, Sabotage, Sebastián Oversluij Seguel, Tamara Sol
Posted in Direct Action