Posts Tagged 'Mosul'
Sunday, May 31st, 2015
Samantha Jay is an American volunteer with the Peshmerga in Iraq, please consider donating to her medical aid project. Strength to those who confront the tyranny and despotism of the Islamic-fascists. For freedom and liberty!

https://www.facebook.com/pages/Samantha-Jay-Heval-Viyan/477039709115913
https://www.gofundme.com/rbrh5w6x
Tags: Iraq, Islamic State in Iraq and Syria (ISIS), Kurdistan, Mosul, Samantha Jay, War
Posted in Autonomy
Sunday, May 31st, 2015
New page for Lions of Rojava (the last one was shut down):

https://www.facebook.com/pages/The-Lions-Of-Rojava/845769785510897
Also see:
https://www.facebook.com/pages/Volunteers-for-the-Lions-of-Rojava/740646939367672
Note: The YPG recruits volunteers through attraction to the cause and does not in any shape of form attempt to indoctrinate or "groom" people to travel to Rojava to join our cause. We are not like Daesh [ISIS]. The Lions of Rojava clearly explains to each individual the reality of the conflict in Rojava, the risks of travelling to the region and the expectations of the YPG. The safety of all volunteers is paramount. We always encourage the thousands of young westerners who have approached us to consider other ways to help the Kurdish and Ezidi people in the struggle against Daesh such as donating to charity or volunteering with humanitarian groups.
The YPG is not a militant militia, we are a Peoples Protection Unit that is organized under democratic, secular, gender equal and ecological principles that has formed in the absence of a functional government in Syria and the presence of a barbaric extremist Islamist threat. Our goal is to liberate all people from the tyranny and evil of Daesh and to construct a free and stable and democratic country.
(more…)
Tags: Counter-info, Insurrection, Iraq, Islamic State in Iraq and Syria (ISIS), Kurdistan, Lions of Rojava, Mosul, Rojava, Syria, Turkey, War
Posted in Autonomy
Friday, January 2nd, 2015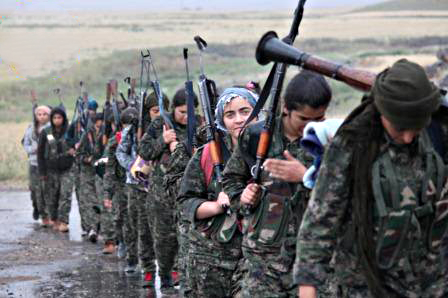 YPG/YPJ eliminate 24 ISIS/Daesh fanatics on New Year's Day
KOBANI – The terrorist group of ISIS which had planned to occupy Kobani within a week has failed because of the heroic resistance of YPG/YPJ fighters.
This is 108th days of barbaric attacks by ISIS on Kobani, where YPG/YPJ are gaining more ground and eliminating terrorists.
Our forces managed to liberate "Maktaba Resh" and "water tank" areas south of 48 street when it carried out operations against the terrorist groups of Daesh led to killing 24 terrorists, seizing 5 bodies beside an amount of weapons and ammunition.
During these clashes three of our fighters martyred after a heroic resistance.
YPG Media Centre
01.01.2015
–

7 terrorists killed on 31st December by YPG/YPJ
KOBANI– The historic resistance against the terrorist attacks of Daesh (ISIS) terror organization in Kobani continued on the 107th day. Conducting non-stop operations, our forces of the People's Defense Units (YPG) and the Women's Defense Units (YPJ) are advancing inside the city.
An assault operation was conducted against numerous terrorist-occupied areas in Maktaba Resh area inside the city. After heavy clashes, our forces were able to liberate the southern and eastern sides of this region from terrorists. In the battle on this area 6 members of Daesh terrorist forces were confirmed killed.
Our forces also managed to seize a number of the terrorists' weapons and ammunition in Maktaba Resh area after search and mop-up operation, the weapons captured on this area are: 7 AK-47 rifles, 2300 bullets for AK-47, 30 AK-47 magazines, 2 RPG-7 rocket launchers, and 7 vz. 24 plus a filming device.
In the north-east of Kobani, our forces led an operation against the terrorist groups. During the assault on Kaniya Kurda neighborhood a minor battle was experienced where 1 terrorist was confirmed killed.
YPG Media Centre
Dec. 31, 2014
–
Report 2014: Greatest resistance expressed by The YPG/YPJ Defense Units against Daesh (ISIS) terrorists
In 2014 we have witnessed terrorist attacks by the terror organization of Daesh (ISIS) against people and the forces who would stand in the face of their barbaric mentality.
Women, children, and the elderly were not salvaged from their brutality. Along with Daesh terrorism, the earlier attacks by the Free Syrian Army, several Islamic battalion, and the forces affiliated to the Syrian Regime were in order to light the fire of war in the cities that normal life was ongoing, against the civilians. Not just inside the Syrian borders, the terrorist forces of Daesh (ISIS) faced towards Iraq and started a war with the Iraqi army and Peshmerga forces of the Kurdistan Regional Government, in an attempt to instill fear in people's hearts, and controlled several strategic areas.
On the 10th of June 2014, Daesh terrorists could occupy the city of Mosul in Iraq and seize large numbers of weapons and military equipment, adding to their military supplies that already were controlled in Syria from the Syrian Regime and the Free Syrian Army. While taking control of some of Syria and Iraq's oil and gas fields, the terrorist group tried to enlarge its controlled territory from North of Aleppo up to Hasakah outskirts, north of Mosul to Takrit and up near Baghdad. (more…)
Tags: Aleppo, Baghdad, Insurrection, Iraq, Islamic State in Iraq and Syria (ISIS), Kubani, Kurdistan, Lions of Rojava, Mosul, People's Defence Units (Y.P.G.), Rojava, Sinjar, Syria, War, Women's Defense Units (YPJ)
Posted in Autonomy