Posts Tagged 'Nantes'
Wednesday, October 17th, 2018
Destroy the Prison Society
Spie is a company the builds prisons and more broadly is an essential wheel in the machinery that controls us, monitors us, imprisons us and deports us. So I destroyed one of their trucks this Tuesday, October 16th between 3 and 4AM on Captain André David street in Nantes. 2 plastic bottles filled with a mixture of 2/3 gasoline and a third of engine oil, with blocks of lighters cellotaped against the bottle and placed behind the tires. Then there is more to light and ciao, hasta la malekoum…
Freedom for everyone, with or without papers!
A madman against the state and its minions
Tags: Arson, France, Nantes, Sabotage, SPIE (Prison Industry)
Posted in Direct Action
Thursday, July 5th, 2018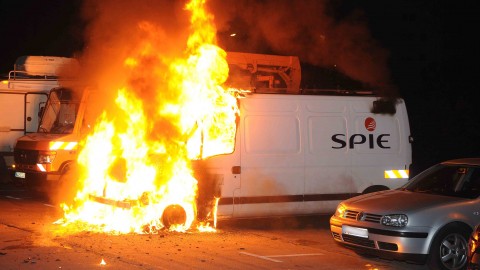 05.07.18: The wave of exuberant hatred for the arbitrariness of uniformed individuals spills once more across the borders of France to us. For the last two nights in Nantes, hundreds of teenagers have destroyed shops, set fire to cars and attacked the CRS (Compagnies Républicaines de Sécurité / general reserve of the French National Police) with Molotovs.
Aboubakar was executed on Tuesday night in a suburb of Nantes in his car by a police officer after he was placed under arrest during a vehicle inspection…
The police spread their version that they were in danger and it was in self-defense. It is obvious that the 'legitimacy' of the murder that they make public is found only in the self-created legitimacy of the police apparatus. Since we refuse to recognize that law, there can never be legitimacy for execution by a cop. (more…)
Tags: ABC Berlin, Arson, Germany, Nantes, Solidarity Action, SPIE (Prison Industry)
Posted in Direct Action