Posts Tagged 'Nikos Romanos'
Saturday, July 13th, 2019
Nikos Romanos free he was released today 11/7/19, from Korydallos Prison, having served the sentences imposed on him.
The comrade was arrested in February 2013 along with three other comrades for a double armed robbery, at the Agricultural Bank and the Hellenic Postbank in Velvento, Kozani.
via Actforfree
Tags: Athens, Greece, Nikos Romanos
Posted in Prison Struggle
Saturday, April 15th, 2017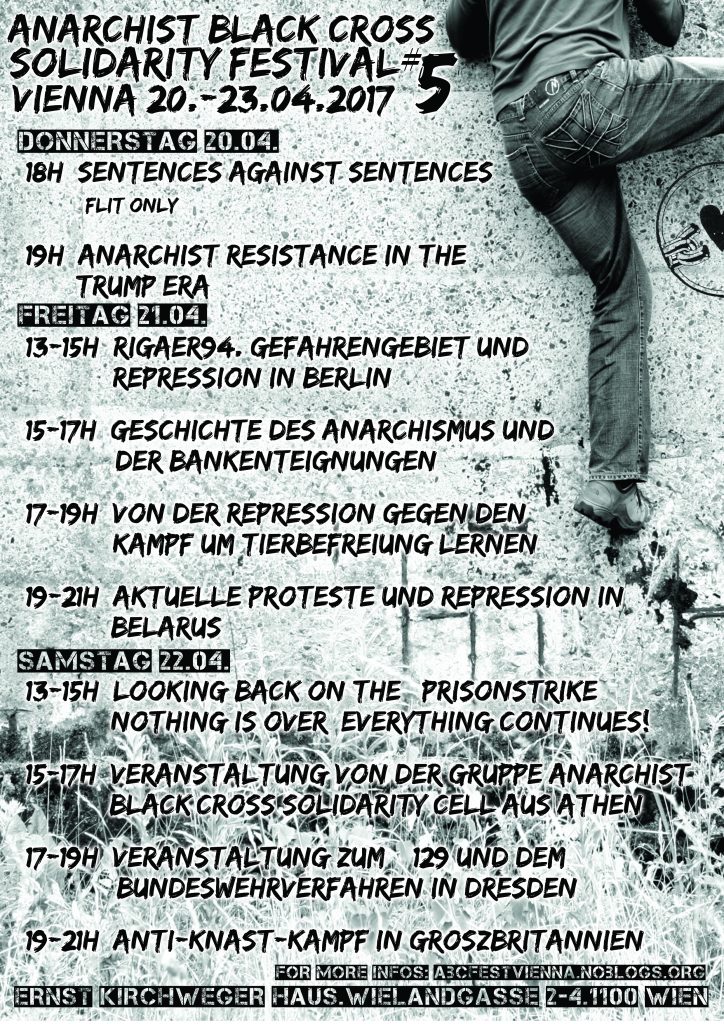 [Vienna] Solidarity event of "Anarchist Black Cross – Solidarity Cell" with imprisoned comrades of Koridallos prison (Athens) @ ABC FESTIVAL VIENNA (20. – 23. April 2017)

"As anarchists, we perceive the need of a multiform anarchist struggle, posing the issue of attack against state and vassalage that is imposed, with every means possible, here and now." (from the self presentation text of the ABC Group)
In this event the comrades from "ABC – Solidarity Cell" will talk about the importance of solidarity with anarchist prisoners and the connection of struggles inside and outside the walls.
Further, the talk will contain a deconstruction of the meaning of the 'anarchist movement' and the myth of the district of Exarchia.
"(…) we do not consider that the action of our anarchist comrades is finished after imprisonment or repression." (from the self presentation text of the ABC Group)
During the event there will be the presence of three anarchist prisoners, via Live-Connection, from Koridallos prison:

– Nikos Romanos
– Panagiotis Argyrou – CCF-Metropolitan Violence Cell/FAI-IRF
– Olga Oikonomidou – CCF-Urban Guerrilla Cell/FAI-IRF
They will talk about the following topics:
– The conditions in prisons and the situation of anarchist prisoners in Greece.
– The importance of solidarity assemblies for the anarchist prisoners and the connection of struggles inside and outside the walls.
– The choice and the importance of the armed struggle, the claim of responsibility for direct actions and the particulars of participation in armed organisations, and the importance and consignment of those choices.
– The choice of jail-breaking.
– The position of women in the armed struggle.
It will be also possible to raise questions to the comrades in prison, so the communication will be in both directions.
Some words from anarchist prisoner Panagiotis Argyrou dedicated to the ABC Festival:
There are times when you feel a certain kind of strength inside you.
This may be happening for different reasons each time but undoubtedly it is always a very positive feeling. Such a kind of strength a prisoner may feel when he/she discovers that there are other individuals wanting a touch, a contact, a communication, a conversation with him/her. It is a very strong feeling, a unique one, the feeling of a great strength filling you all over and this is something priceless. This feeling that you are not alone, that there are other comrades wanting to share moments, experiences or whatever, with you, is something so valuable that only freedom itself can compare with it. So let me thank you very much for the opportunity you offer me to have some contact even if it is for so little. I wish that the future brings us more opportunities so that one day we can have the chance to have a live talk outside the walls. A big warm hug,
Panagiotis Argyrou, member of CCF-FAI
Contacts:
ABC Solidarity Cell Website: https://abcsolidaritycell.espivblogs.net
E-Mail: abcsolidaritycell@riseup.net
Nikos Romanos State prison of Korydallos – Mens prison-ward A', P.C.
18110, Korydallos, Athens
Panagiotis Argyrou State prison of Korydallos – Mens prison-ward A',
P.C. 18110, Korydallos, Athens

Olga Oikonomidou State prison of Korydallos – Womens prison, P.C. 18110,
Korydallos, Athens
Other events @ the ABC Festival Vienna you can find here.
Location:

ERNST KIRCHWEGER HAUS
Wielandgasse 2-4
1100 Wien
Tags: ABC - Anarchist Solidarity Cell, ABC Wien, Anarchist Gatherings, Austria, Conspiracy of Cells of Fire, Exarhia, Greece, International Solidarity, Nikos Romanos, Olga Economidou, Panagiotis Argirou, Vienna
Posted in Prison Struggle
Saturday, June 11th, 2016
"A contribution to the International Day of Solidarity with Long-Term Anarchist Prisoners"
Many things have been stated about the value of solidarity, and everything has its importance because it contributes to the attempt of giving meaning to a sense that constitutes a vital ingredient for our plans and actions. I will try to state in my own way an existential aspect of solidarity obviously through my own experiences. Solidarity means first of all emotions. Beautiful, wild, but most of all authentic emotions. Emotions that constitute the driving force for the growth of anarchist dynamics, which are liberating and beloved sounds and senses in the city, by yelling slogans, building barricades and by throwing blazing bottles that target the servants of authority. Solidarity doesn't mean identification, but complicity with everyone that chose to engrave liberating routes in the map of the anarchist insurrection. It's a relationship and within this relationship experiences are being developed and common desires are being produced for the destruction of this world, not in a vague future, but first of all within ourselves and then around us. Destruction to the degenerated relationships that this world is producing, in its depictions, in its symbols, in its officials and in its loyal servants. (more…)
Tags: Athens, Greece, June 11th Solidarity, Korydallos Prison, Letter, Nikos Romanos
Posted in Prison Struggle
Wednesday, May 11th, 2016
It's been about four months since the action campaign of Black December finished. The subversive experience of Black December and the density of anarchist action that developed was a springboard for fermentation and discussions for the reconstruction of anarchist methods in an informal shape. The actions in reference to Black December have continued until today, while cycles of discussions in and out of prisons have reached a number of conclusions, proposals and positions, that have as a common reference point the desire for intensification of our attack on the sites of power.
One part of those discussions was the proposal for an informal anarchist platform that lays the foundations for an informal coordination for diverse anarchist actions, thus enabling them to set in motion autonomous struggle campaigns with our own initiatives and forces, thus producing for ourselves the events and strategies we think necessary for today. A choice that reflects our desire to create centers of autonomous thinking and acting for those who challenge the existing social system. Following the initiative of the comrades from Rethymno, there was the proposal for the informal anarchist platform to be named The Insurrectionary Association of Theory and Practice, a proposal has been accepted by some comrades and is an open and simultaneously informal coordination structure that is still being worked on by those comrades who wish to adhere to it. (more…)
Tags: Black December, Fuck the Nations - Squat the World, Greece, Insurrectionary Association of Theory and Practice, Letter, Nikos Romanos
Posted in Autonomy
Wednesday, April 27th, 2016
"The proposal unfolded, the rebellion was generalized, some people undertook to respond to the call, fighters were active and the clock started to move: with different activities ranging from roadblocks, blockades, marches, closing of schools, explosive attacks everywhere, arsons, and other acts. All was called forth by this insurrectionary project, a coupling of theory and practice in action, a convergence between thought, analysis, action and proposals for destruction."
– From a responsibility claim of anonymous comrades in Mexico for three bomb attacks against targets of authority, in the framework of Black June
For us, the month that passed was a testing ground for the informal coordination of anarchist action, at the same time being an experimental attempt for a political coexistence of comrades from different political origins and outlooks, who while maintaining their political autonomy would contribute to the realization of a subversive plan oriented around four key political directions: direct action, diversity of tactics and theories, the desire for a common coordination, and informal organization.
The campaign of Black December was a gathering point for the strategic direction of informal organization and to restart the continuous anarchist uprising in our own territory and internationally. This is why I think it was worthwhile, both for the prospects of enlarging anarchist attack and to look for paths where anarchist practices will meet, so that everyone who participated in this subversive undertaking will not just stay where they are, but will look for the right means to ensure the continuing informal coordination of anarchist action, defining our own coordinates within the social war and thus shaping those conditions that will allow us to strengthen and empower a polymorphic front to diffuse the seed of continuous anarchist insurrection in the metropolises of the world. (more…)
Tags: Analysis, Black December, Greece, Korydallos Prison, Nikos Romanos
Posted in Autonomy
Friday, January 22nd, 2016
Yesterday on the 20th of January another sudden search was once again conducted inside the cells housing imprisoned members of the anarchist organization Conspiracy of Cells of Fire (CCF) as well as anarchist prisoner Nikos Romanos at Section A of Korydallos Prison.
The search was coordinated by prison official Victoria Marsioni who had previously made threats against CCF members involving disciplinary transfers to other facilities after they hung a banner in solidarity with the hunger strike of anarchist Evi Statiri.
It is most certain that Marsioni is not acting independently but receives orders from above and this recent search is merely another addition to a systematic exercise of pressure against the imprisoned members of the CCF, which is orchestrated by high ranking officials of the 'leftist' Ministry of Justice and Counter-Terrorism Police.
(via Athens Indymedia, Insurrection News, translated by BlackCat)
Tags: Athens, Conspiracy of Cells of Fire, Conspiracy of Cells of Fire : Imprisoned Members Cell, Greece, Korydallos Prison, Nikos Romanos, Raids, Repression
Posted in Prison Struggle
Wednesday, December 30th, 2015
TO ALL COMRADES WHOSE ACTS HAVE GIVEN ME MOMENTS OF FREEDOM
"Only in those moments when our tension for freedom encounters with praxis do we really manage to live anarchy, here and now. Unfortunately the dream we carry in our hearts is too great to avoid the risk of finding ourselves up against the monstrous wall of authority raised in defense of the state and capital. When we really put our life at stake, inevitably we end up confronting the hardness that's inherent in the struggle: death and prison."
Nicola Gai; anarchist comrade held prisoner in Italy, who has assumed responsibility for his participation in the attack claimed by Olga Cell of FAI-FRI (the shooting of Roberto Adinolfi, the chief executive of Ansaldo Nucleare)
Shortly before the end of the trial of the 4th consecutive case against the Conspiracy of Cells of Fire, and against me personally as an anarchist who has assumed responsibility for his participation in the CCF, I'd like to say some things not to the court, but rather to all comrades whose action gave impetus and substance to the Phoenix Project.
For obvious reasons, all imprisoned members of the CCF saluted the comrades of Sole–Baleno Cell (a cell of sympraxis between Conspiracy of Cells of Fire and Consciousness Gangs), a gesture which initially cost us our prosecution for incitement [in Greek, moral instigation] to 4 Acts of the Phoenix Project: explosive attack on personal vehicle of the Koridallos prison director in Athens, explosive attack on personal vehicle of a chief warden serving at Nafplion prison, incendiary attack on a hotel unit in Indonesia, and parcel-bomb mailing to a former commander of the antiterrorist police unit in Athens.
The competent authorities realised in hindsight that the accusation of inciting the attack in Indonesia, claimed by Anger Unit/International Conspiracy for Revenge FAI/IRF, would never stand up in court, so the particular charges were dropped even before the stage of court proceedings.
However, as far as the other attacks are concerned, I am offended by the incitement charges brought against me, because as an anarchist I abhor hierarchical relationships of any level; on the other hand, these charges help me understand that domination feels threatened when anarchist guerillas, even from a position of captivity, seek to make their mark and connect with the struggle outside the prison walls by saluting the hostilities waged by their comrades. Domination feels threatened when it realises that the condition of incarceration is not nearly enough to crush the combative energy of anarchist prisoners. This alone is enough for entire indictments for incitement to attacks to be drafted. In no case, however, is it enough to break my morale and my will to connect myself with all comrades holding a combative position. (more…)
Tags: Athens, Black December, Black International of Anarchists of Praxis, Conspiracy of Cells of Fire, Conspiracy of Cells of Fire : Imprisoned Members Cell, Greece, Informal Anarchist Federation (FAI), International Revolutionary Front, Korydallos Prison, Letter, Nicola Gai, Nikos Romanos, Panagiotis Argirou, Phoenix Project, Trial
Posted in Prison Struggle
Wednesday, December 9th, 2015
via ContraInfo:
In the fiery craters of our inner volcanoes, made with the lava of emotion and the fire of passion, we've fed our lust for life… And to Society that wanted to impose its laws and its morals on us, we will firmly respond with our "no," while all others repeat their cowardly "yes."(Enzo Martucci)
In the early hours of Friday December 4th [in Lycabettus area in Athens], we approached the house of the high priest of corruption, and former Minister of PASOK party, Kostas Laliotis and placed incendiary devices at his home entrance and his car.
As has rightly been said, the responsibilities of those who have served in administration centres of the capitalist machine can neither be forgotten nor retire.
Kostas Laliotis has been one of the most corrupt politicians following the metapolitefsi [transitional period after the fall of the Greek military junta]; his name and trajectory are linked to greed, deception, scheming, interwoven interests and arrogance, all of which are basic and integral characteristics of puppets staffing the political personnel of capitalist domination.
Maggots like Kostas Laliotis and his likes should be beaten or shot; they should see their houses burn, and live their miserable and crappy life in fear.
The fires of anarchist insurgency that lit at the house of a powerful former state official of the establishment was a contribution to the call for a Black December, which is spreading inside and outside the prisons all over the world, creating a multifaceted insurrectionary anarchist front that, having informal coordination, the acceptance of multiformity and the lasting anarchist insurgency as tools, crystallises the prospect of a generalised anarchist offensive against the world of Power.
Our captive comrades Nikos Romanos and Panagiotis Argirou have put an idea on the table of anarchist dialectics. They have proposed an idea relating to a theme any of us could set at the edge of a month of coordinated actions – actions originating from the entire spectrum of anarchist practices, from public gestures to guerrilla actions.
It is a proposal that opted to set the seven years since the assassination of comrade Alexandros Grigoropoulos as a theme, so as to test an experimentation of an informal coordination of multiform anarchist action in practice.
Those who have the appropriate analytical tools understand that it is a proposal concerning any anarchist individuality or collectivity that's not clinging to theoretical patterns or immersed in apathy and reformism.
This is also why the kneelers of petty politics and professional search of disagreements do not lose the opportunity to shoot the arrows of their slanderous criticism once again.
But, as much as the "official" anarchist circles of cafes and gossip want to engage in mudslinging and slander, they cannot hide their discontent with the fact that the apathy which permanently pervades them is revealed in the clearest way.
Now, leaving aside those skilled in political speculation, let us talk about the essence of this proposal.
We believe anarchy must pose a real threat to the State, and to do this, anarchy needs to stay away from vanguards, leaderships, press offices, away from the logics of political cleansing and expulsions.
Informal organising doesn't need to arise from agreements in charters and proclaimed positions one has to embrace. In our anarchy, every individual and every group can contribute to a theme, a campaign, a strategy by synchronising and coordinating their action, irrespective of whether they share common political backgrounds.
To evolve spontaneity, which often prevails in the anarchist milieu, does not mean anarchy has to turn into a party; all that is needed for the feasibility of a formulation of strategies and actions chosen to be put in motion is a will to act and communicate with other comrades.
For we love the kind of anarchy that travels through the streets of fire, occupies space and time in the metropolises, and creates strongholds for the diffusion of anarchist theory and practice. The kind of anarchy that blows up the pillars of normality, robs our lost time, and throws the morals of this world into fire.
This kind of anarchy does not fit in the hypocritical respectabilities of this society, nor does it make concessions on its discourse or practices to be pleasing to the social majority.
Surely there's so much to say, but what comes first is intensifying our attacks, thickening the chaotic paths of liberatory struggle.
We will be back soon
Guerrilla signals to the FAI cells who have actively supported Black December in Greece, Chile, Spain, and those currently preparing their attacks; to the comrades of the Anarchist Insurgent Movement (M.I.A.) from Brazil; to all arsonists and rioters who set fire to the symbols of domination.
Strength and solidarity to all anarchist comrades inside and outside the prisons who support Black December with texts, translations, posters, flyers, graffiti and banners that complete the mosaic of multiform anarchist action.
A hug full of affection to our brothers and sisters who are locked up in prisons in Spain, Chile, Switzerland, Italy, Mexico, Germany, the US, and elsewhere; to Mónica Caballero, Francisco Solar, Marco Camenisch, Alfredo Cospito and Nicola Gai, Juan Aliste, Freddy Fuentevilla and Marcelo Villarroel, Juan Flores, Guillermo Durán, Nataly Casanova, Enrique Guzmán, Thomas Meyer-Falk, Ignacio Muñoz, Tamara Sol, Michael Kimble, and all other captive comrades whom we have unwittingly forgotten to mention.
For a Black December
For the upsurge of anarchist insurgency
Freedom for those in prison cells

Alexandros Grigoropoulos Cell/Informal Anarchist Federation (FAI-IRF)
Source: Athens IMC
translated by Black International
Tags: Alexandros Grigoropoulos Cell / FAI, Alexis Grigoropoulos, Arson, Athens, Black December, Greece, Informal Anarchist Federation (FAI), International Revolutionary Front, International Solidarity, Kostas Laliotis, Nikos Romanos, Panagiotis Argirou, Sabotage
Posted in Direct Action
Thursday, November 12th, 2015
325 receives and transmits:
To Comrade Nikos Romanos and all the young fighters who are imprisoned in the
jails of Troika and Syriza,
We attach the appeal to the international day of struggle for December 12th
that we want to propel with you.
From the south of Argentina we want to send you a warm hug. You are not
alone, we are together!
Here the oil and mine imperialist companies plunder our natural sources
with impunity and get huge profits with our muscles and bones, with daily
shifts of 12 and 14 hs per day. Every time we fight for our rights they
chase us, repress us, imprison us and convict us with the government and
its justice.
Thus on December 12, 2013, the Videlist justice convicted us for fighting
in 2006 against outsourcing and against a tax on our wages that bosses and
government cinically call it "tax on profits". It is a robbery to our low
wages, even more in the south where the cost of living is two times higher
than the rest of the country.
For this fight, four of us are convicted for life and there are six
comrades who received a sentence of 5 years. (more…)
Tags: Argentina, Greece, International Solidarity, Mining, Nikos Romanos, SY.RIZ.A.
Posted in Prison Struggle
Thursday, November 12th, 2015
Full coverage of Black December via Contra-Info on this #tag.
Also read: International call for a Black December.
I hate the individual who bends his body under the weight of an unknown power, of some X, of a god.
I hate, I say, all those who, surrendering to others, out of fear, out of resignation, a part of their power as a man, are not only crushed themselves but crush me, and those I love, under the weight of their frightful cooperation or their idiotic inertia.
I hate, yes, I hate them, for I sense it, I do not bow before the officer's braid, the mayor's sash, the capitalist's gold, moralities or religions; for a long time I have known that all of this is just baubles that can be broken like glass.
— Joseph Albert (Libertad)
There are times in history when the randomness of some events can cause dynamic variables, able to almost entirely paralyse the social space-time.
It was Saturday night, on 06/12/2008, when the culmination of a conflict between two worlds took place in just a few moments. On one hand, the youthful, enthusiastic, spontaneous and impetuous insurrectionary violence; on the other hand, the official state institutional organ that, legitimately, claims the monopoly on violence through repression.
No, it was not about an innocent kid and a paranoid cop found in the wrong place at the wrong time, but a rebellious young comrade who attacked a patrol car, in an area where clashes with the forces of repression were common, and a cop who patrolled the same area and, out of a personal perception about the honour and reputation of the police, decided to confront the troublemakers on his own. It was a conflict between two opposing forces: on one Insurgency, on the other Power, with the main protagonists of this conflict each representing their own sides.
The murder of Alexandros Grigoropoulos by the cop Epameinondas Korkoneas, and the large-scale riots that ensued, caused a powerful, high-tension social electroshock, because the image of "social peace" was shattered and the existence of these two opposing worlds was made visible, in the most manifest way, triggering situations from which there was no easy return, at least not without a creation and manifestation of events whose momentum nobody could any longer pretend they did not notice, they did not see, they did not hear, they did not take into account. (more…)
Tags: Alexis Grigoropoulos, Black December, Conspiracy of Cells of Fire, Conspiracy of Cells of Fire : Imprisoned Members Cell, Greece, Informal Anarchist Federation (FAI), International Revolutionary Front, International Solidarity, Korydallos Prison, Nikos Romanos, Panagiotis Argirou, Sebastián Oversluij Seguel
Posted in Direct Action
Thursday, October 15th, 2015
Political parties' kiosks torched and vandalized (Athens, 19/09/2015)
Inter Arma received and translated:
On Saturday 19/9 at dawn, we tried to disrupt even temporarily the conformism of the petty masses. As the crowd was sharpening its passivity, ready once again to show its complicity by supporting the authoritarian structure, we tried to actively declare our complicity with the anarchist prisoners, who carry out their own fight against the isolation and alienation their are subjected to in the condition of imprisonment.
Evi Statiri, partner of Gerasimos Tsakalos, is on a hunger strike since 14/9 demanding only the termination of her unjustified detention. Evi Satiri, victim of the authority's generalized power expansion strategy is imprisoned in the cells of democracy since 2/3 when she arrested together with Angeliki Spyropoulou and Athena Tsakalou in Salamina and is accused of being member of a terrorist organization without any evidence whatsoever. It is certain that Evi is not held hostage by the state by accident. Authority, beyond the psychological test to which it wishes to put the comrades of CCF in order to avenge them for their consistent and uncompromising aggressive attitude, has a much more dangerous target in its plans. The democratic totalitarianism of order, legality, safety, quietness, commodities, and economic domination wants to eliminate everything that questions the choices which the masses are allowed to consume from its one-dimensional reality of the spectacle.
The total expansion of a reality with predefined movement limits doesn't allow its questioning, much more the transfer from the abstract space of ideas to the physical armed confrontation with the materializations of institutional power. Those who negate the existent, should firstly be punished and eliminated and secondly, since no punishment can erase events, have their choices isolated, marginalized, ridiculed and communicated in the rational control tanks and their bearers. Anarchists urban guerrillas who attempt a radical deconstruction of modern life, should literally disappear from the social terrain in order for the smooth operation of the system and it is a natural consequence by which no one should be surprised that family members and friends are prosecuted, following their choice to have relationships with people whose history should be deleted from the social memory.
Under these conditions we wanted to disrupt the daily flow of news, information and events of an election campaign, we placed incendiary devices at two election kiosks, one of the Communist Party and one of SYRIZA in Ano Patissia, and vandalized one kiosk of ND (New Democracy) in Kifissia. Although there are many reasons to attack these political parties, the choice was essentially arbitrary, so we will not bother explaining any special reasons for these attacks since as anarcho-nihilists we are hostile towards every political structure. The time frame of the attack however was not arbitrary at all. Our choice to attack a day before the elections was aimed to disrupt the democratic spectacular relations where domination demonstrates its ideological omnipotence. Elections also are fully adapted to the existence of the modern slave who was asked to give away a life whose rights have already been taken, to the hands of a specialist. The votes deposited in the ballot box bear the imprints of an abandoned life and a rented consciousness whose every desire is the product of social imperatives, independent only to the extend that it confirms the one-dimensional civilization of the authoritarian world.
It is obvious that the choices and issues of anarchist prisoners have no place within the borders of domination and that is why we as anarchists take up the task of establishing the flow of our own world against those who in the face of the fear of a chaotic life chose to seek refuge in the smoothness of authoritarian realism. In contrast with the procedures for managing the masses, the issues concerning anarchist comrades are directly linked to us and we are prepared to assist them when necessary. Far from reproducing nihilistic intellectualism and the commodified notion of violence for violence, expressed by discontented crowds, let us go on the offensive always according to our desire for action. Let us put an end to the graphic reproduction of phrases spoken too many times and harmless slogans and let us begin to live the war for which so much ink has been spilled.
Immediate release of the hunger striker Evi Statiri, not because her imprisonment is "illegal" or "unjust" but because we demand it.
Immediate granting of educational prison leaves to Nikos Romanos
WAR ON DEMOCRACY
DEATH TO LAW
DEATH TO SOCIETY

Nihilists for the total attack against the existent
Tags: Aggeliki Spyropoulou, Arson, Athena Tsakalou, Athens, CCF Escape case, Conspiracy of Cells of Fire, Evi Statiri, Greece, Nihilists for the total attack against the existent, Nikos Romanos, Sabotage, Solidarity Action
Posted in Direct Action
Thursday, October 15th, 2015
Incendiary attack against the office of Ch. Athanasiou (Lesvos, 02/10/2015)
Inter Arma received and translated:
«…modern totalitarianism can be defined as the establishment, by means of the state of exception, of a legal civil war that allows for the physical elimination not only of political adversaries but of entire categories of citizens who for some reason cannot be integrated into the political system. … Since then, the voluntary creation of a permanent state of emergency (though perhaps not declared in the technical sense) has become one of the essential practices of contemporary states, including so-called democratic ones».
Giorgio Agamben
(State of Exception: The State of Exception as a Paradigm of Government)
After the discovery of the anarchist organization's Conspiracy of Cells of Fire escape plan, from Koridallos Prison, at the beginning of the year, the "benevolent" institution of Alexandras avenue and the, several times, corrupted Counter Terrorism Unit (Special Violent Crime Squad) coordinated an unprecedented attack against the organization's relatives and friendly environment, which was attended by the equivalent propaganda, during the election period. Two months later, after detentions, arrests and calls for interrogation to family and friends, on March 2nd, the crescendo of this media dissonance reached its highest point when the Counter Terrorism Unit puppets landed to Salamina island and arrested the wanted comrade Aggeliki Spiropoulou, who sought refuge in the home of Athena Tsakalou, mother of Christos and Gerasimos Tsakalos, imprisoned C.C.F. members, while, during Aggeliki's arrest, Gerasimos' wife, Evi Statiri, was also at home, and was also arrested on charges of harboring a criminal, that was later upgraded to accession and participation in the organization. The two women are transferred like cop's trophies to GADA, among cameras and crime reporters and are pre-trial detained, under a fast-track procedure. The 60-year-old mother of the Tsakalos brothers, who – unasked – came along to the prosecutor in charge, was also pre-trial detained. The imprisoned members of the organization and A. Spiropoulou declared the beginning of a hunger strike, demanding only the immediate release of their relatives. After 32 days of a hard hunger strike, the comrades' and the solidarity movement's struggle is victorious, since a specific amendment is passed in the Parliament, concerning the release of detainees' relatives. However, despite the release of Ath. Tsakalou under the most serious restrictive conditions, Evi Statiri remains imprisoned, as her successive requests for release, are emotively rejected by the special appellate magistrate Eftihis Nikopoulos and the judicial councils under the presidency of Isidora Poga (she also rejected the request for lifting of the restrictive conditions of A. Tsakalou, on the grounds that there's no reason for her to visit her children in prison as well as going to the Nikaia General Hospital, to do a necessary medical examination) and Erieta Halevidou.
From the above, we come to the conclusion that the passing of the amendment was a gross persiflage of the hunger strikers – for which the first-time-left SYRIZA government's Minister of Justice, Nikos Paraskevopoulos, bears personal responsibility – and that the organization members' relatives' hostage situation is an insidious emotional blackmail by the law enforcement authorities – whose prestige had been damaged by the discovery of the escape plan – against the imprisoned comrades, who, all these years, remain uncompromising in the cells of Democracy. For those who are aware of the CCF case, it is clear that the prosecution of the organization members' relatives, was the peak of an escalating treaty, formed in the recent years by the police-judicial complex of the Greek state, which uses the specific case as a tank of prosecutions against anarchist comrades from the whole spectrum of the anarchist milieu and seek to isolate the imprisoned urban guerrillas, establish fear within the insurrectional circles, through making the detainees an example and through their persistent hostage situation of the restrictive conditions imposed, and prevent new comrades from the choices of the anarchist fight and the urban guerrilla warfare, creating this way a permanent state of emergency, in which everyone can be imprisoned, just because they are related to C.C.F. as comrades – friends – relatives.
So, after 6 months of pre-trial detention, on September 14th, 2015, Evi Statiri begins a hunger strike, in order to put an end to her continuing captivity… Within the frame of Evi's struggle, early morning of Friday, October 2nd, we chose to attack the office of the Member of Parliament and former Minister of Justice, Charalabos Athanasiou, in the center of Mytilene.
Our attack was an act of solidarity, rage and memory. It was a solidarity signal to Evi who, during those days, with her body as a weapon, asserted her freedom, against the criminalization of the family and friendly relationships of the political prisoners. Evi stood up towards the fear of the Authority's shadow, that wished to wreak its revenge on her companion, Gerasimos Tsakalos, and punish her for the years she has stood by him. Her victorious hunger strike and her release proved that if you choose to face the fear straight in the eyes, fear will be scared and will retreat…

It was an act of rage for the days and the work of Ch. Athanasiou. Athanasiou, as a modern inquisitor, is the head of a judicial clique (among which also is the Advocate of the Supreme Court E. Goutzamani, who from the same place as Athanasiou) that, through scheming and machinations "set" judicial cases, do favors to their own people, extort in the interests of the conservative oligarchy of the mobsters of Mount Athos (Efraim case) and the loathsome priesthood… In spite of the leaks of the ND (New Democracy) Press Office on his forthcoming dismissal from the ministerial chair, during the government reshuffle of that period, due to his "inexpedient" handling of the Golden Dawn case, the former president of the Union of Magistrates and Prosecutors remained in place as political supervisor of the Greek Justice, in some mysterious way, pertained to the godparenthood of Antonis Samaras' kinfolk with a local lobby of magnates and personal friends. After covering the accounting scandal in which he played a leading part, through the concealment of his assets, Athanasiou purports to be the chastiser of the dissidents and the political prisoners. He was the Minister of Justice who inaugurated the high-security prisons (type C), in Domokos, for urban guerrillas and "dangerous" convicts serving long sentences. Even after his retirement from the ministry, he attended to let his foster children in the appropriate posts of power, in order for them to complete his work. King of the castle, the special appellate magistrate E. Nikopoulos (planted in this position by Athanasiou and his uncle Vasilis Nikopoulos, former president of the Supreme Court, who is involved in a pedophilia case in Northern Greece, defending an Archimandrite and threatening witnesses). E. Nikopoulos, strictly following the instructions of his mentor Ch. Athanasiou, launches a fierce counter-terrorism campaign. He is responsible for the shut-off of anarchist Nikos Romanos' educational leaves, as well as initiator of the most fascist persecution of relatives of political prisoners, with the pre-trial detaining of A. Tsakalou and E. Statiri.
It was an act of memory, as the persecution of political prisoners' relatives, the new places of exile and the murdering restrictive orders (ban on leaving the Salamina island for A. Tsakalou, ban on distancing over 1km away from her home and ban on the communication with her companion G. Tsakalos for E. Statiri) bring back in mind other iron-clad periods. Periods during which thousands of people were transferred to Makronisos island, to Ai Stratis and other places of oblivion, for the regime fear to win. Periods during which the family of Athanasiou worked with the Germans snitching on guerrillas. In fact his father, who was a well-known traitor, when captivated by guerrillas, was spared… It seems that spying was the legacy left by the father to his son, who's today, in turn, chasing anarchists.
Moreover, we're sending another message, through our attack: The responsibilities of those who serve the power are neither forgotten nor are retired… Those who play with our comrades' lives, who built walls and raise bars in order to keep us apart, those who have blood on their gown, should not feel secure, never and nowhere… Our enemy always has a name and an address!
Evi's victorious struggle is just a snapshot of the overall fight that we want to give… From Mytilene to Agrinio, from Komotini to Crete, messengers of the insurrection and anarchy sabotage the regularity of a life going by so confidently and so painfully, like a well-tuned clock… From the attacks against courts and pre-election political parties' kiosks to the squat of the TEI of Athens, from the open assemblies to the vandalism of election centers, from the street and squares interventions to the gatherings, from the comrade's G. Tsakalos hunger strike in solidarity to the attempt of squat of governing party offices (ANEL) in the center of Athens, from the banners, the posters, to the gathering outside the hospital where Evi was hospitalized, this is our world against theirs, against the laws, the judges and their uniforms… We are the provocateurs of their peaceful sleeping, we are the practical theory of the insurrection, we are the first waves before the tsunami that will drown out the authoritarian culture!

«So the bet remains to us, every anarchist cell and individuality that promotes continuous attack and rebellion, to prove that there will be no truce with the enemy neither now nor ever. Particularly in times of repressive operations one does not step back, but instead reignites the attack outbreaks in order to become truly dangerous. To remain a threat as an internal enemy at the heart of the system. Because everything that rolls downhill, stops only when it finds an obstacle in front of it, otherwise it will continue to do so indefinitely by continuously increasing speed, carrying away anything of inferior proportions. It is a live wager, without end, but with continuity, evolution and one direction only… liberation, anarchy.»
Olga Ekonomidou, imprisoned member of C.C.F. – F.A.I.
WHOEVER FORGETS THE PRISONERS OF THE ANARCHIST – REVOLUTIONARY WAR, WILL SOON FORGET THE WAR ITSELF
SOLIDARITY AND STRENGTH TO THE ANARCHISTS OF PRAXIS ALL OVER THE WORLD
FREEDOM TO THE POLITICAL PRISONERS
HONOUR FOR EVER TO SPIROS DRAVILAS

Insurrectionals from the Frontier
PS.1. The rumors that human lives were put in danger are totally untrue, as the only inhabited apartment is on the 5th floor and has immediate access to neighboring rooftop. We suggest your sending the cost of the damage suffered by the communal area of the building and the dentist, to the Charity Shops of the Metropolis of Mytilene, guild of which Athanasiou and Gkoutzamani are founding members. We think that the Metropolitan Jacob and all together with him, will be glad to launder "black" money from their funny businesses, with a donation…
2. Given that, lately, after the transition of dozens of riot police officers, the island has turned into a vast pigsty, which is common knowledge, the local decision makers along with the local lobotomized citizens – who are sometimes being emotively disinterested, sometimes express their xenophobic gregarious instincts and sometimes benefit, through a vulgar toutism, from the refugee crisis, should keep in mind that their disgraces do not go unnoticed, their moves are being noted and, sooner or later, they will face the cost of their choices…
Tags: Aggeliki Spyropoulou, Arson, Athena Tsakalou, CCF Escape case, Charalabos Athanasiou, Conspiracy of Cells of Fire, Evi Statiri, Greece, Informal Anarchist Federation (FAI), Insurrectionals from the Frontier, International Revolutionary Front, Lesvos, Mytilene, Nikos Romanos, Solidarity Action, Type C prisons
Posted in Direct Action
Thursday, August 13th, 2015
PDF: Dark Nights #42
1. 'In Cold Blood' by CCF/FAI-IRF.
2. 'The Fleas and the Jackal' by L.
3. International Solidarity Week for Imprisoned Anarchists – August 23-30 2015.
4. Direct Action Chronology.
5. Letter from anarchic nihilist comrade Sergio Alvarez.
6. Letter from Anarchist prisoner Claudio Lavazza.
7. Vatan Budak, wounded in Suruç bombing died.
8. Anarchist Ignacio Munoz Delgado detained for carrying an explosive device.
9. Update about imprisoned comrades Javier Pino and Natalia Collado.
10. Solidarity with Evi Statiri, Athena Tsakalos and Nikos Romanos.
Resist / Organise / Replicate
https://server.nostate.net/325-new/html/wp-content/uploads/2015/08/dark-nights-42.pdf
Tags: Athena Tsakalou, Claudio Lavazza, Conspiracy of Cells of Fire, Conspiracy of Cells of Fire : Imprisoned Members Cell, Dark Nights, Evi Statiri, Ignacio Munoz Delgado, International Week for Anarchist Prisoners, Javier Pino, Natalia Collao, Nikos Romanos, PDF, Sergio Alvarez, The Fleas and the Jackal, Vatan Budak, Zine
Posted in Library
Tuesday, July 14th, 2015
Inter Arma received and translated:
In the past 10 days there have been interventions with hundreds of leaflets in Orestiada, Alexandroupoli, Thessaloniki and Komotini from comrades and friends of the Anarchist Squat UTOPIA A.D., concerning the cases of comrade Nikos Romanos and Evi Statiri and Athina Tsakalou.
Tags: Alexandroupoli, Anarchist Squat Utopia A.D. (Komotini), Athina Tsakalou, Evi Statiri, Komotini, Nikos Romanos, Orestiada, Thessaloniki
Posted in Prison Struggle
Friday, July 10th, 2015
Tell us a little bit about what has happened concerning the academic leave of absence you have demanded within the new judicial framework after your hunger strike in November-December 2014.
It goes like this: I completed 1/3 of the course as required by the new regulation and I made the request for educational leave. From that point on began the theater of the absurd. The prison board decided that the new regulation cannot be put into effect, it requires a joint ministerial decision and so it sent the request to the special appellate magistrate E. Nikopoulos, in line with the previous law. Nikopoulos issued a negative response because there is no ministerial decision and one cannot get into the merits of the application as the new judicial framework annuls and takes the place of the prior one. Based on the negative opinion of Nikopoulos, the Board rejected the leave request in its turn as the decision of the trial judge is binding.
In light of this fait accompli, SYRIZA -which during the hunger strike concentrated on electioneering and brutal political exploitation on the backs of the people who made up the polymorphic solidarity movement- plays the role of Pontius Pilate, just like its predecessors. But of course this should come as no surprise since we are talking about politicians- that is to say, total bastards, political swindlers, opportunists, hypocrites and professional chameleons, who for a small time wore the costume of the humanist to serve certain political purposes. Of course there are more important reasons for that development, but I'll keep this explanation for a later question. Concerning the progress of my case, theoretically speaking, there should be a ministerial decree to implement the new regulation, but I don't think there is much possibility for that to happen. (more…)
Tags: Athens, Greece, Korydallos Prison, Nikos Romanos, SY.RIZ.A., Type C prisons
Posted in Interviews