Posts Tagged 'Oakland'
Friday, March 13th, 2015
On Wednesday, March 11th, the District Attorney's office pushed in court for Dante Cano to be hit with a felony charge for vandalism. The one police officer in court claimed that after hearing a window being hit, he saw a person in black running in a sea of other people in black. Several moments later, Dante was in police custody, despite no evidence actually linking him to the crime. We are asking people to
please help bail Dante out of jail, which will increase his changes of defending himself in court. We also call on everyone to continue to support the Ferguson 3, youths arrested during the first night of the rebellion in the Bay Area. (more…)
Tags: Dante Cano, Ferguson, Oakland, Police Bastards, Racism, USA
Posted in Prison Struggle
Wednesday, February 25th, 2015
Spread around. Lumpen-proletarian rebel arrested recently in Oakland, CA USA at anti-police demonstration. Squatter and anarchist. Facing serious charges. Help get word out.
Dante Cano is currently being held in Santa Rita jail for participation in a demonstration against police brutality and murder in the Bay Area and across the United States. At the time of his arrest, police in near-by Emervyville had just killed Yuvette Henderson in early February. At the same time, police also had just shot people in San Jose, East Oakland, and also the courts had exonerated the police that shot and killed Alex Nieto in San Francisco. This happened against a back-drop of ongoing police murder and violence across the US as well as a deep and furious revolt in the Bay Area against this murder and repression. (more…)
Tags: California, Dante Cano, Oakland, Police Bastards, Police Brutality, Repression, Trial, USA
Posted in Prison Struggle
Thursday, February 5th, 2015
Last week, Nicanor Cortez was arrested for his alleged participation in property destruction in the anti-police riots in Oakland, California, during late November and December. He faces seven counts of felony vandalism and a misdemeanor charge for concealing his face with a mask. Specifically, he is accused of smashing the windows of the Oakland Tribune [newspaper], the police internal affairs division, as well as other businesses.
This is a call for action in solidarity with our captured comrade. When the state captures our comrades we must answer that aggression with unrelenting fire and attack on the bastions of capitalist power. Strike hard wherever you are. Don't let them take one of us without fury and destruction.
Harness the flame while you still have breath.
Wildfirecell
Tags: Fuck the Police, International Solidarity, Nicanor Cortez, Oakland, Repression, USA
Posted in Social Control
Thursday, October 27th, 2011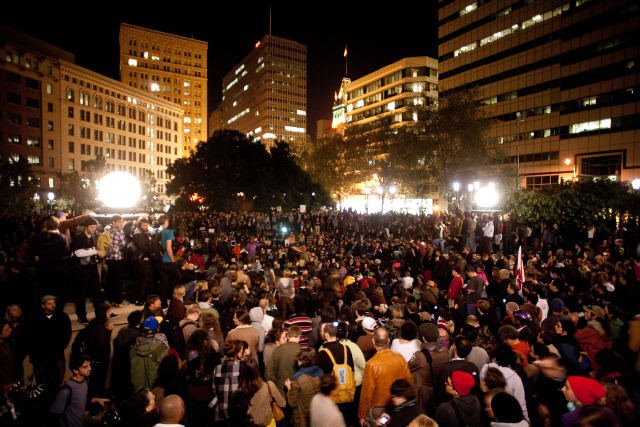 325 receives and transmits : Source
Below is the proposal passed by the Occupy Oakland General Assembly on Wednesday October 26, 2011 in reclaimed Oscar Grant Plaza. 1607 people voted. 1484 voted in favor of the resolution, 77 abstained and 46 voted against it, passing the proposal at 96.9%. The General Assembly operates on a modified consensus process that passes proposals with 90% in favor and with abstaining votes removed from the final count.
PROPOSAL:
We as fellow occupiers of Oscar Grant Plaza propose that on Wednesday November 2, 2011, we liberate Oakland and shut down the 1%.
We propose a city wide general strike and we propose we invite all students to walk out of school. Instead of workers going to work and students going to school, the people will converge on downtown Oakland to shut down the city.
All banks and corporations should close down for the day or we will march on them.
While we are calling for a general strike, we are also calling for much more. People who organize out of their neighborhoods, schools, community organizations, affinity groups, workplaces and families are encouraged to self organize in a way that allows them to participate in shutting down the city in whatever manner they are comfortable with and capable of.
The whole world is watching Oakland. Let's show them what is possible.
The Strike Coordinating Council will begin meeting everyday at 5pm in Oscar Grant Plaza before the daily General Assembly at 7pm. All strike participants are invited.
Stay tuned for much more information and see you next Wednesday.
Since this announcement, social media has been abuzz with calls for a US-wide General Strike and a Global General Strike!
Tags: #Occupy, Economic Crisis, General Strike, Oakland, Occupy Oakland General Assembly, Oscar Grant, Oscar Grant Plaza, USA
Posted in Autonomy