Posts Tagged 'Operation Piñata'
Tuesday, February 23rd, 2016
via contramadriz:
We call for solidarity with our comrades Monica and Francisco, the week
of February 29 to March 6, to inform and make visible their situation!
THEY CAN'T STOP US
On 8, 9 and 10 March 2016 the trial against the anarchists Monica Caballero and Francisco Solar will be held at the National Court in Madrid. The two comrades are more than two years in pre-trial detention.
The charges against them are three of [property] damage, conspiracy and membership of a criminal organization with terrorist aims, which is why the prosecution calls for a sentence of 44 years in prison for each.
Their arrests were the first in a series of anti-terrorist operations in Catalonia, Madrid and Palencia, operating under the name of Operation Pandora and Piñata totaling more than 40 people charged to be part of this alleged "terrorist" organization. (more…)
Tags: Francisco Solar, GAC (coordinated anarchist groups), Madrid, Monica Caballero, Operation Pandora, Operation Piñata, Repression, Spain, Trial
Posted in Prison Struggle
Thursday, November 5th, 2015
If last week we awoke to 9 comrades arrested in Barcelona and Manresa, of which one has to stay in prison [Enrique Costoya Allegue] and the rest have been released pending trial in an extension of Operation Pandora, and the extension of preventive prison to Mónica and Francisco, yesterday, November 4, we awoke to a new beat. In this case, Operation Ice in which they have been arrested 5 companions of the collective Straight Edge Madrid. Again the state hits.
The allegations, belonging to a criminal organization with terrorist aims, damages and apology of terrorism.
The henchmen of the Information Brigade of the National Police say they have found material for making explosives, gunpowder and bomb-making manuals.
It alleges them responsible for the attack with incendiary devices against four bank branches in Madrid as well as other actions in Barcelona. In addition, as has become customary, they are accused of relations with GAC (Grupos Anarquistas Coordinados) – coordinated anarchist groups.
In this case, they have seized documents and propaganda concerning Anarchist groups, for them a confirmation of their coordinated relationship with them, referring specifically to the comrades arrested last March 30 in Operation Piñata.
So it goes in the Spanish state, operation after operation still beating us.
But whatever they do they will not get us to stop fighting.

Freedom for anarchist prisoners!
Solidarity with the repressed!
Innocent or guilty, just anarchists!
Death to the state and long live anarchy!!!!!
via ContraMadriz.
Write to Enrique:
Enrique Costoya Allegue
CP Madrid V Soto del Real
Ctra M-609, km3,5 Módulo 15
28791 Soto del Real (Madrid)
Spain
Tags: Enrique Costoya Allegue, GAC (coordinated anarchist groups), Madrid, Operation Ice, Operation Pandora, Operation Piñata, Repression, Spain, Straight Edge Madrid, Straight-Edge
Posted in Social Control
Sunday, June 21st, 2015
An "anti-repression" demonstration brought together nearly 500 people this Saturday, June 13, 2015 in Barcelona under the slogan "if they attack us for our struggles, we will respond with struggle," it was called in solidarity with incarcerated and persecuted comrades following operations 'Piñata' (two are still detained, three others released under judicial control) and 'Pandora' and more generally against the repression of squats, and those who struggle against the state and this society.
(more…)
Tags: Barcelona, Catalunya, Demo, Operation Pandora, Operation Piñata, Repression
Posted in Direct Action
Saturday, June 6th, 2015
On June 1 we got the great news that three of the five comrades being held in preventive detention, accused of being part of a terrorist group under Operation Piñata (including one who was already arrested and imprisoned in Operation Pandora) are being released without bail. They still have all their charges and have to sign in frequently at court, and two of them are prohibited from leaving the country.
Operation Pandora was launched in December in Catalunya, and Operation Piñata on March 30 all across the Spanish state but focused in Madrid. The operations resulted in the arrests of 26 anarchist comrades (plus the arrests of over a dozen more for resisting the raid on a social center) on anti-terrorism charges, the raids of dozens of houses and social centers, the theft of cash, and the seizure of computers, harddrives, phones, etc.
(more…)
Tags: Barcelona, Catalunya, Demo, GAC (coordinated anarchist groups), Informal Anarchist Federation (FAI), International Revolutionary Front, International Solidarity, Operation Pandora, Operation Piñata, Repression, Spain
Posted in Social Control
Wednesday, June 3rd, 2015
Greetings comrades and those in affinity. I'd like to send out some words as an anarchist, taking as good the many positions and visions that anarchism can adopt, all equally valid when they are seeking to destroy power, authority and the State.
I think that is the beauty of our ideas and in my opinion all these trajectories can coexist and merge in search of much longed for total liberation. I want to express my hatred, disgust and contempt for everything that concerns the State, power, authority and in particular that instrument of annihilation called prison, which uses isolation as its main weapon.
I have always maintained that anarchists must prepare themselves and be aware that at any moment the day can come when they will have to face prison and, in my opinion, this is logical, because if you try to destroy the State, it will try to arrest you in order to nullify you, paralyze and destroy you. (more…)
Tags: Letter, Madrid, Operation Piñata, Paul Jara "Pol", Soto del Real, Spain
Posted in Prison Struggle
Saturday, April 11th, 2015
**NB: There is a demonstration organised for Brighton at the Clock-Tower on Sunday 12th at 6pm**
Last Monday (April 30th) there was a new repressive strike against the anarchist movement in Spain. Thirty-eight people were arrested in a police operation under the name 'Operación Piñata'. Fifteen of them are facing charges of terrorism and five are in preventive imprisonment. The raids were carried out on private homes, social centres and squatted spaces in Madrid, Barcelona, Palencia and Granada.
These police raids were carried out in a very open way, trying to create the maximum social alarm. The media have published the names of the people arrested and the groups they are involved in, presenting the fake police accusations as fact. They talk about 'anarchist terrorism' and organisations with leaders, hierarchical infrastructures and various 'capitation' methods the arrested allegedly use to 'fund' their 'illegal' activities.
These raids are a continuation of police operation 'Operación Pandora', which took place last December within the context of the increasingly repressive politics employed by the Spanish government. (more…)
Tags: ABC Brighton, Brighton, Catalunya, Demo, International Solidarity, Operation Pandora, Operation Piñata, Spain, UK
Posted in Direct Action
Monday, March 30th, 2015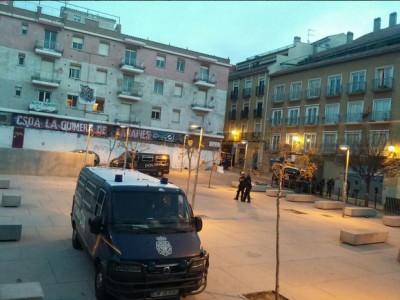 UPDATE: Operation Piñata – Five comrades imprisoned, ten conditionally bailed, address for three of the prisoners
Via squat.net:
This morning in Operation Piñata (following Pandora in December) cops have raided social centres and arrested people (at least 26) in Barcelona, Madrid, Palencia and Granada.
La 13-14 in Madrid announced it was being raided this morning.
CSOA La Redonda in Granada released a communique condemning the raids, which they said occurred without a warrant.
Centro Social (re)Okupado La Quimera in Lavapies, Madrid was evicted. It also stated no warrant was shown after its doors were smashed at 06:30 and added:

"This is just another attack on the anarchist movement with intent to criminalize and victimize our struggle."
Other raided social centres were la Magdalena and La Enredadera de Tetuán.
In solidarity!
On squat.net:
Estado español: Zarpazo represivo, al menos 26 detenciones. Desalojan el CSOA La Quimera

La policia espanyola deté 27 persones en una operació contra col·lectius anarquistes
Tags: Barcelona, Catalunya, Granada, Madrid, Operation Pandora, Operation Piñata, Palencia, Raids, Repression, Spain, Squatting
Posted in Social Control