Posts Tagged 'Papua'
Tuesday, January 28th, 2020
PDF: Jurnal Anarki – Edisi Menjelang Badai
INTRO.
EDITORIAL.
KIDUNG BAGI UNABOMBER PART I.
KIDUNG BAGI UNABOMBER PART II.
KETIKA MASYARAKAT MEMBESARKAN HITLER.
KRITIK ATAS PRIMATA, EVOLUSI, DAN ANARKISME.
PRIMATA, EVOLUSI, DAN ANARKISME.
TEKNOFASIS KAPITALISME.
GERAKAN SOSIAL, MUSIK, DAN SEORANG HERRY SUTRESNA.
MAYDAY 2019: DUNIA ADALAH MILIK MEREKA YANG MUDA.
ARSITEKTUR DAN APOKALIPS – IVAN THEO.
TETEK BATOK.
BAGAIMANA ANAK PEMBURU DAN PERAMU BELAJAR – PETER GRAY.
PAPUA BARAT, KOLONIALISME, DAN SOLIDARITAS TANPTA BATAS – VERONIKA KOMAN.
KEBANGKITAN GLOBAL FASISME.
DOMESTIKASI DAN ANARKI PRIMAL – KEVIN TUCKER. [">EN]
MERENGKUH KEKOSONGAN KREATIF: SEKELUMIT KISAH RENZO NOVATORE
Tags: 1st May, Analysis, Anti-Fascism, Ecological Destruction, Herry Sutresna, Indigenous Struggle, Indonesia, Jurnal Anarki, Nazi, Papua, PDF, Renzo Novatore, Ted Kaczynski, West Papua, West Papua Independence, Zine
Posted in Library
Sunday, September 16th, 2018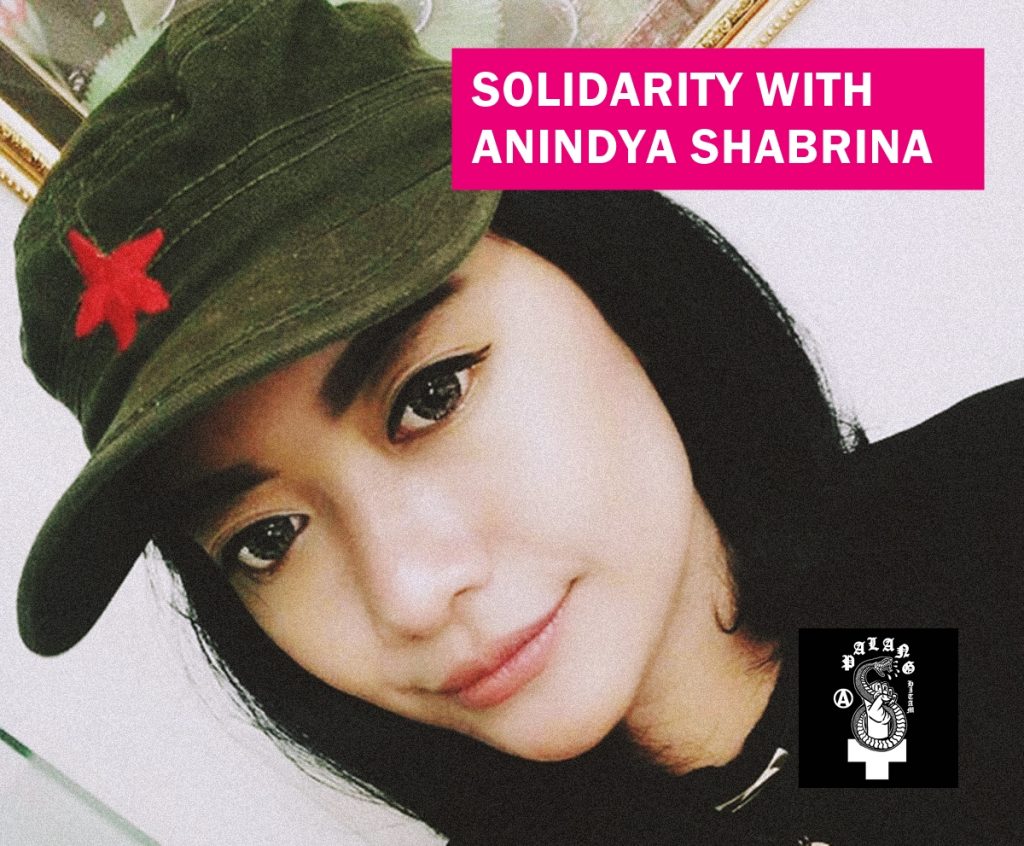 One of the women activists of the National Student Front (FMN) and also a radical feminist who is active as editor in chief of Merah Muda Memudar (MMM), Anindya Shabrina, was threatened with criminalization after complaining of sexual abuse cases by police officers she experienced during the forced dissolution of discussions of Papuan students in Surabaya at Friday, July 6, 2018.
Papuan students living in a student dormitory on Kalasan, Surabaya, East Java held a film screening of the 1998 Biak Papua bloody tragedy. When film discussions were underway, police intelligence entered the dormitory, which was immediately followed by other police officers and Satpol PP personnel. Papuan students standing near the door and discussing the event with the police were dragged out and provoked by the police. (more…)
Tags: Indonesia, Papua, Repression
Posted in Social Control
Tuesday, April 5th, 2011
4 April 2011
'International Conspiracy for Revenge' (ICfR) have taken responsibility for burning another BCA (Bank Central Asia) ATM in Indonesia, in an action against the capitalist exploitation of Indonesian resources and state repression. BCA are handling finances for the industrial development of Kulon Progo. The actions are directly revindicated by flyers which were left at the scene which were the same as in a number of other incidents around the country.
The communique situates the actions in the context of revenge for the brutal oppression inflicted upon the people of Kulon Progo, Bima, Takalar, Padang Raya, Makassar, Jogja, Persil IV Medan, Buyat and Papua by the Indonesia state and multi-national corporations such as PT Indomines and BCA. The claim also denounced the role of the mainstream media, bureaucrats, police and the military.
The ATM was completely destroyed with the money inside, CCTV system burned out, and ATM unit gutted. There were no injuries reported and it was only witnessed when several people drove past the ATM noticing a fire.
More Info:
Previous ATM attack against Bank Central Asia, Makassar, Indonesia
Position Paper by Coastal Inhabitants of Kulon Progo
Indonesian Intifada – Direct Action Info Indonesia
Social War – Disturbance – Insurrection
Tags: ATM Burned, Bank Central Asia, Bima, Buyat, Indonesia, International Conspiracy for Revenge, International Revolutionary Front, Jogja, Kulon Progo, Makassar, Manado, Padang Raya, Papua, Persil IV Medan, PT Indomining, Solidarity Action, Takalar
Posted in Direct Action