Posts Tagged 'Paris'
Thursday, June 6th, 2013
Via contra-info:
Short statement about the comrades' death:
"In the night of Wednesday, June 5th, 2013, as he was leaving a clothes store near the Gare Saint-Lazare in Paris, Clément Méric, 18, antifascist and trade-unionist, was beaten to death by members of a far right group. He had left the city of Brest to study political science in Paris. He fell victim to the growing violence of the far right, which has increased over the last months. He died from his injuries at the Pitié-Salpêtrière hospital the same night.
All our thoughts go out to his family and loved ones to whom we express our complete solidarity.
His friends and comrades"
Tags: France, Paris, Repression
Posted in Anti-Fascist
Sunday, June 2nd, 2013
from indymedia, translated by waronsociety:
Over the past few nights in Paris, the screens of two ATMs were cracked, we were thinking of the anarchist comrade Henry Zegarrundo, imprisoned by the Bolivian State for a year now (he was arrested on May 29, 2012, held in prison and recently released to house arrest).
All the States, the prisons, all the banks are of this world that we hate, let's attack them!
* * *
Paris: Acción en solidaridad con Henry Zegarrundo
desde indymedia, trad. waronsociety:
Durante las últimas noches en París, se rompieron las pantallas de dos cajeros automáticos, estabamos pensando en el compañero anarquista Henry Zegarrundo, enjaulado por el Estado boliviano desde hace un año (detenido el 29 de mayo de 2012, mantenido en prisión preventiva y mas reciente en arresto domiciliario).
Todos los Estados, las carceles, los bancos son de este mundo que odiamos, los ataquemos!
Tags: Bolivia, France, Henry Zegarrundo, International Solidarity, Paris
Posted in Direct Action
Sunday, May 19th, 2013
[Dans le lien ci-dessous, vous pourrez consulter le n°9 de Lucioles, bulletin anarchiste de Paris et sa région. Nous évitons avec attention d'annoncer les sorties de ce bulletin sur des sites confus comme indymedia, et comptons donc sur les sites des camarades et compagnon/nes anarchistes et anti-autoritaires pour faire tourner l'info. Bien à vous, et vive l'anarchie!]
http://luciolesdanslanuit.blogspot.fr/search/label/Num%C3%A9ro%209
Tags: France, Lucioles, Paris, PDF, Zine
Posted in Library
Monday, February 11th, 2013
From Nantes IMC:
On the night of 3 to 4 February, the local CGT office at 13 RUE PIERRE BONNARD in the 20th arrondissement, saw all its windows explode.
This is because of their screws and their dirty work of confinement.
Through this attack, we want to send a full salvation of strength and determination to those who, in the jail of Roanne and also raise their heads to face prison and loose keychain uniforms. (For the record: http://nantes.indymedia.org/article/26893 and http://nantes.indymedia.org/article/26961)
On this occasion we also carry a combative message for Marco Camenisch and all rebels who do not let themselves be overwhelmed by the horror of prison, or by the horror of this society in its entirety.
This all sounds the cry of rebellion, which is also a cry of joy:

Death to prison
Long live freedom.
Tags: CGT, France, Paris, Sabotage
Posted in Direct Action
Thursday, January 31st, 2013
On the night of January 28 to 29, we pierced the window of the local CGT at 1 rue de Nantes (Paris 19th).
This is a direct message to the CGT and its dirty prison warders in response to the call for solidarity with the prisoners in Roanne.
We also take this opportunity to send a warm revolutionary hug to Mike, imprisoned in Chambéry (a letter from him here).
des béliers solidaires
Source: Nantes Indymedia
Nb: The CGT (General Confederation of Labor), which historically has ties to both anarcho-syndicalism and the French Communist Party (PCF) is now the major trade union confederation in France. Prison guards are unionized within the CGT.
Tags: CGT, France, Mike, Paris, Repression, Roanne, Sabotage, Solidarity Action
Posted in Prison Struggle
Thursday, April 12th, 2012


21 March 2012
From the press:
A bomb of artisan manufacturing has exploited this Wednesday in front of the Indonesia Embassy in Paris, without causing casualties, although damage.

"The Embassy of Indonesia in Paris reported an explosion at one of the intersections near the building to the 5.20 hours", has confirmed the Coordinating Minister for Legal Affairs, political and security of Indonesia, Djoko Suyanrto.
Suyanrto has indicated that there is no victims among people working in the diplomatic headquarters. "The Ambassador is in place, but has been unable to move away", the Indonesian official said. Nevertheless, yes there has been material damage, the Windows are broken.
Questioned about the reasons for this attack, Suyanrto has pointed out that, for the moment, is unknown what was the target of the bomb.
Police sources consulted by the daily Le Parisien reported that several witnesses have seen three men placed a package near the Embassy of Indonesia in Paris, located in the 16th district.
Tags: Attack, France, Indonesia, Paris
Posted in Direct Action
Monday, March 5th, 2012
NO TAV: Gathering and road blocks in Paris, France.
Paris – Saturday 3rd March 2012. About fifty people answered the solidarity call of the NO TAV movement. During the gathering, speeches on the events in Val Susa and the mobilizations all over Italy, then the points of the meetings: what are we going to do besides the solidarity, simple but necessary, with the prisoners; how can we bring the movement to France; what are the links between this movement and us? Followed by policemen in plain clothes at a certain distance, the small group started marching and blocked the traffic in Sebastopol and on Rue de Rivoli, and eventually reached Place du Chalet, where a demo for the Syrian people was being held.
–
NO TAV – Solidarity from Peru, Italian embassy visited.
On the night of 29th February we visited the Italian embassy in Lima and left there a banner reading: 'SOLIDARITY WITH THE PEOPLE THAT STRUGGLE FOR THE LAND! NO TAV!' We also dubbed a ridiculous baroque-like painting on the wall with graffiti. As we were being chased by the watch dogs of power, we disappeared in the darkness.
In this country the struggle is against mines, in Italy it is against the high speed railway. May resistance to the destructive projects of the State and capital go beyond all borders! Against all harmfulness and in defence of the Earth. Self-organization and Direct Action everywhere!
NO TAV – NO CONGA – FREEDOM FOR ALL

Anarchists
Tags: France, International Solidarity, Italy, Lima, Paris, Peru, Solidarity Action, TAV, Val Susa
Posted in Eco Struggle
Thursday, December 15th, 2011
7/12/11 – Frankfurt, Germany : CEO Josef Ackermann is the intended target of a fully operational explosive parcel which is mailed to Deutsche Bank headquarters. Bank security staff identify the device during x-ray screening, and it is later neutralised by police. A claim of responsibility is recovered from the device, which is published in the corporate press.
9/12/11 – Rome, Italy : Chief Director Marco Cuccagna of Italy's tax collection office, Equitalia, receives a letter-bomb which explodes after he opens it, causing damage to his hands, blowing off part of his finger and almost blinding him after his glass desk shatters in the explosion.
12/12/11 – Paris, France : The Greek embassy in Paris is the target of a third explosive device which is identified and neutralised.
Amidst the wave, mainstream media report that envelopes containing bullets and threatening letters are mailed to Italian Justice Minister Paola Severino and Rome Mayor Gianni Alemanno. An additional parcel of vengeance was received by Equitalia on the 15th December, but was identified and neutralised. A note inside the latest package said "don't kill yourself, rebel: death to usurers!"

Here is a translation of the claim of responsibility that accompanied the package bomb to the central headquarters of Deutsche Bank in Frankfurt:

FREEDOM AND HAPPINESS FOR OUR BROTHER GABRIEL POMBO DA SILVA. DEATH TO THE BANKS THAT STRANGLE THE PEOPLE.
THREE PARCEL BOMBS IN THESE DAYS ARE TRAVELLING TOWARD BANKS AND BANKERS, TICKS AND LEECHES. WITH THESE SMALL BUT RESOLVED ACTIONS, WE OF THE EAT & BILLY ITALIAN CELL JOIN IN THE NEW ANARCHIST INTERNATIONAL, THE INFORMAL ANARCHIST FEDERATION AND INTERNATIONAL REVOLUTIONARY FRONT. WE HAVE THIS NAME IN SOLIDARITY WITH THE INDONESIAN FAI, WITH OUR BROTHERS EAT AND BILLY. WE DON'T NEED SPECIALISTS OF ACTION, ANYONE CAN ARM THEIR OWN HANDS, ANYONE CAN ASSEMBLE THEIR OWN GIFT PACKAGE. WAR ON THE EUROPE OF THE BANKERS, DEATH TO THE LEECHES THAT GOVERN US.
LONG LIVE THE INDONESIAN FAI
LONG LIVE THE C.C.F.
VIVA THE NEW ANARCHIST GUERRILLA
VIVA THE FAI/IRF
FREE EAT AND BILLY CELL FAI/IRF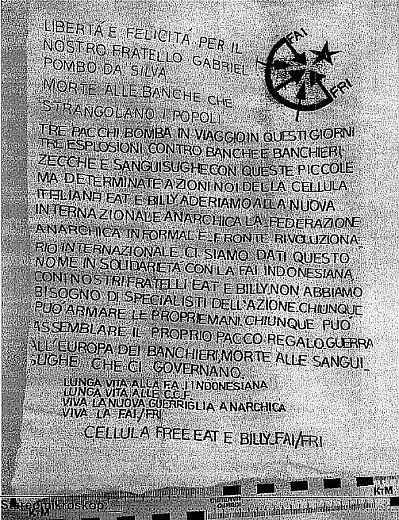 Tags: Billy, Deutsche Bank, Eat, Equitalia, France, Frankfurt, Free Eat & Billy Cell FAI/IRF, Germany, Greece, Greek Embassy, Indonesia, Informal Anarchist Federation (FAI), International Revolutionary Front, International Solidarity, Italy, Letter-bombs, Paris, RO-FAI (Indonesia Section), Rome
Posted in Direct Action
Tuesday, January 25th, 2011
Anti-Terrorist detention of 3 people for Graffiti
On January 12th, three people have been arrested in Belleville, Paris. They are accused of graffiti in solidarity with the revolt in Maghreb. The slogans were: "Algérie – Tunisie / Insurrection", "Vive l'anarchie". (more…)
Tags: Algeria, France, From Sidi Bouzid to Bab-el-Oued, Graffiti, Keep Bombing, Paris, Poster, Revolution, Tunisia
Posted in Social Control
Friday, March 5th, 2010
On February 15th, at 6am in the morning, 7 people were place in custody and had their homes searched in Paris as part of an investigation into the support around the rebellion at the Vincennes dentention center, and against the machinery of deportation. Here is some more information and updates about these arrests… (more…)
Tags: France, Migrant Struggle, Paris, Repression, Vincennes
Posted in No Borders
Saturday, February 20th, 2010
Terrorism- The Show
On Monday, February 15th, six people have been arrested in Paris- and their homes searched. One more person has been arrested on Tuesday. Several parents' houses have been also searched on Monday. Cops took the computers, some flyers and brochures, and seemed to look for specific clothes. (more…)
Tags: France, Paris, Prison Society, Repression
Posted in Social Control